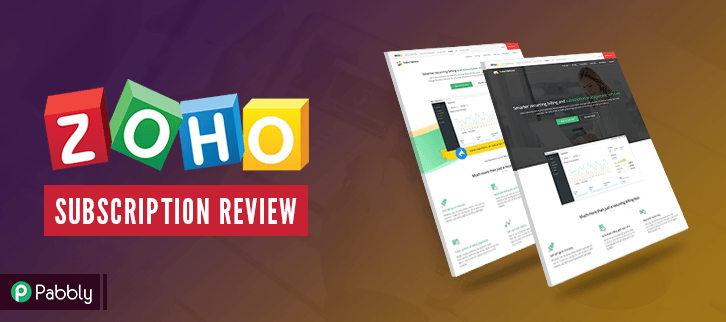 Have you been battling with managing your subscription plan and billing your customers on a regular basis?
It's a common fact that managing any subscription business is not an easy task hence to simplify your day-to-day tasks it is wise to implement Zoho Subscriptions in your business.
Zoho Subscriptions is a cloud based software which provides services like subscription management, recurring billing, dunning management, invoicing etc. Zoho also offers free access to its other apps like Zoho Books, etc.
If you are not aware of what this software is, then go through the Zoho Subscriptions review as it describes every available feature, their uses and the pricing plan.
Zoho Subscriptions Review –
In order to access the benefits of Zoho Subscriptions, all you need to do is sign up for their services either via filling the form or signing up through social media accounts like Google+, Yahoo, Facebook, LinkedIn or Twitter.
As soon as you log in you will notice –
7 Core Functionalities Of Zoho Subscriptions viz.
Let's dive in for deep analysis of every feature –
---
1. Quickly Analyze Key Metrics Via Dashboard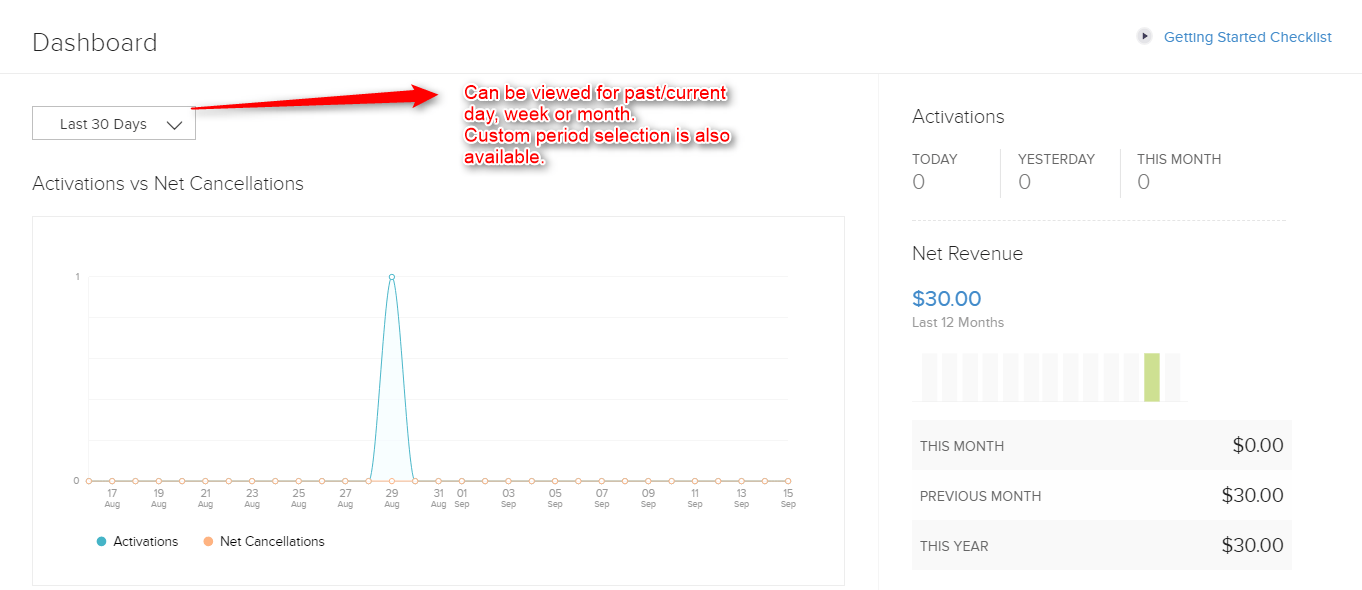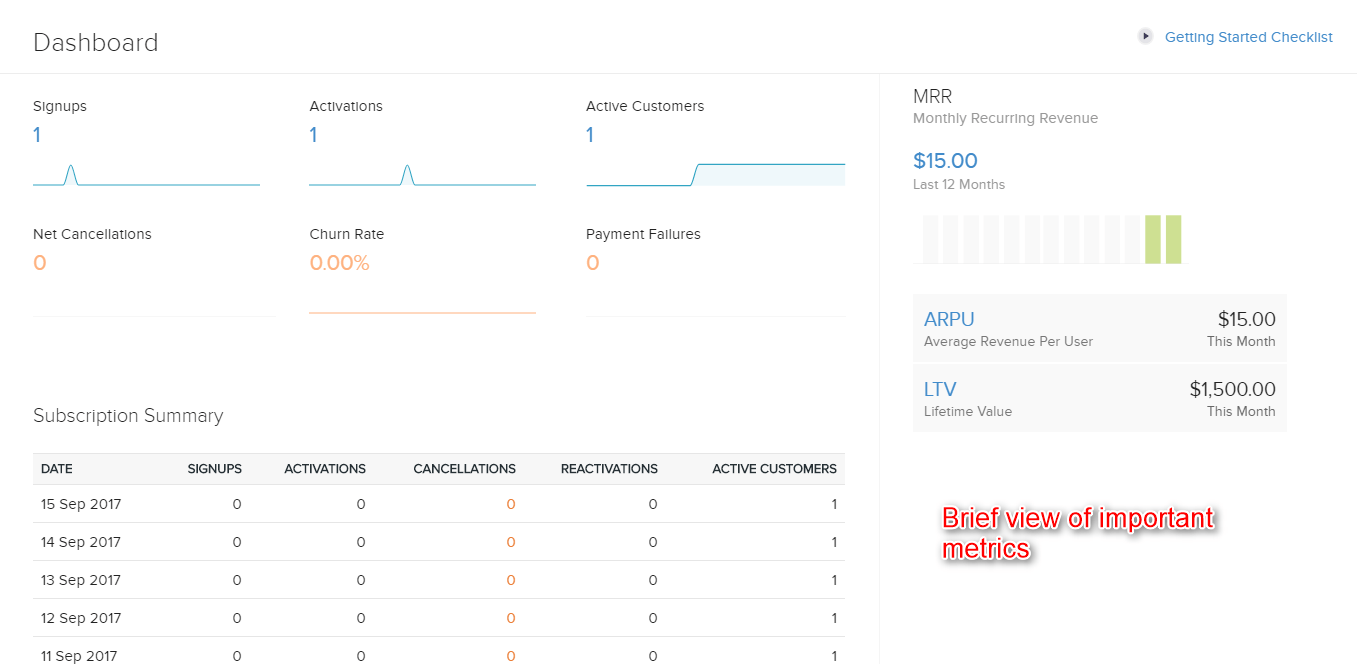 As soon as you log in, Zoho Subscriptions' dashboard is technically a home page which shows brief information on key metrics like MRR, ARPU, LTV, signups, activations, churn rate, subscription summary, etc.
If you wish to see the detailed breakdown of metrics, just click on it and you will be redirected to the Reports

tab.
2. Create New Custom Plans & Products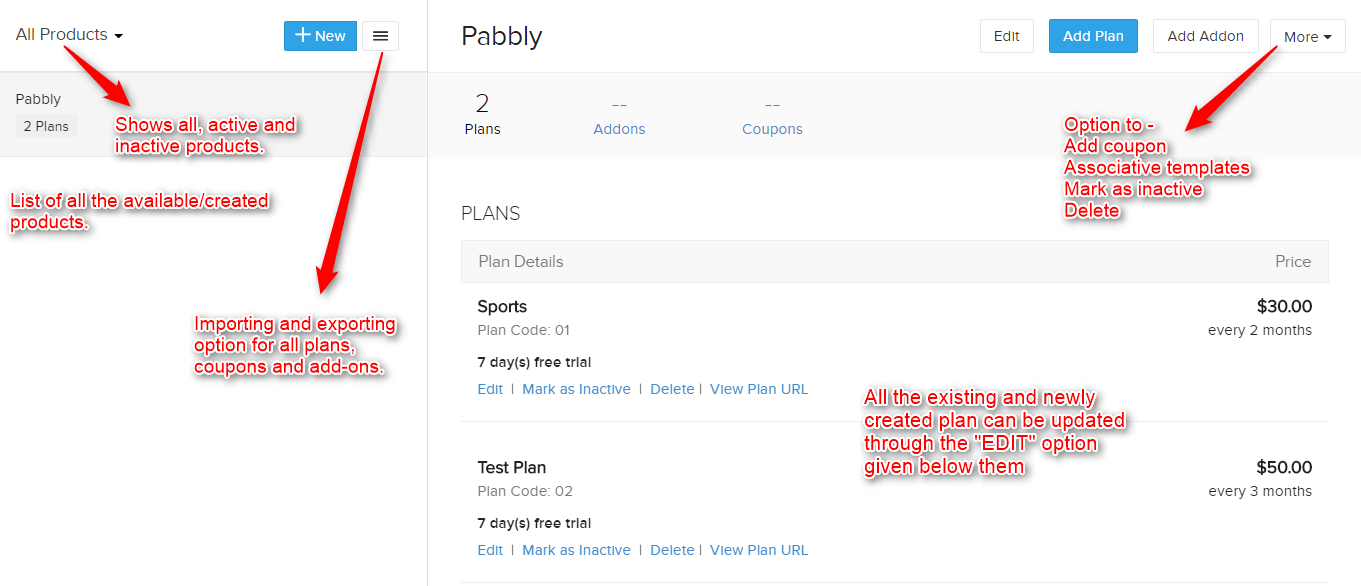 In order to create new products –
Once you click on the "+New" button, a popup will appear –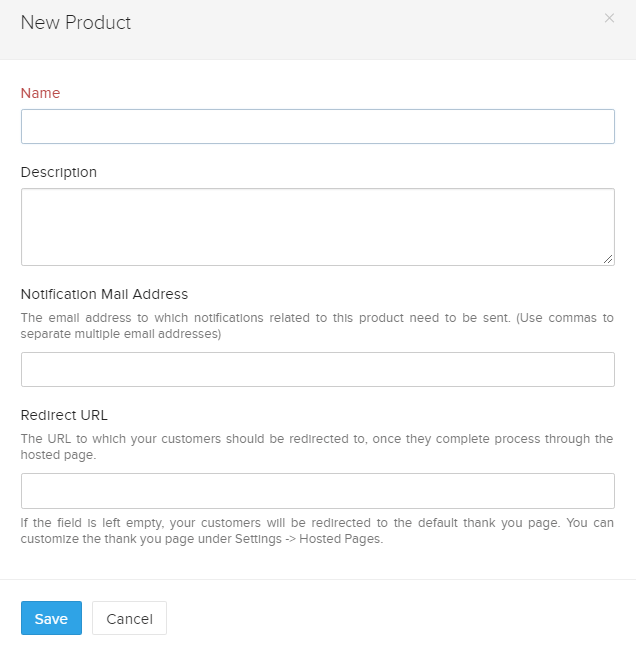 After entering all the required details, click on Save button to create a new product.
Similarly, you can create a new plan like so –

After clicking on the Add Plan button, a form will appear –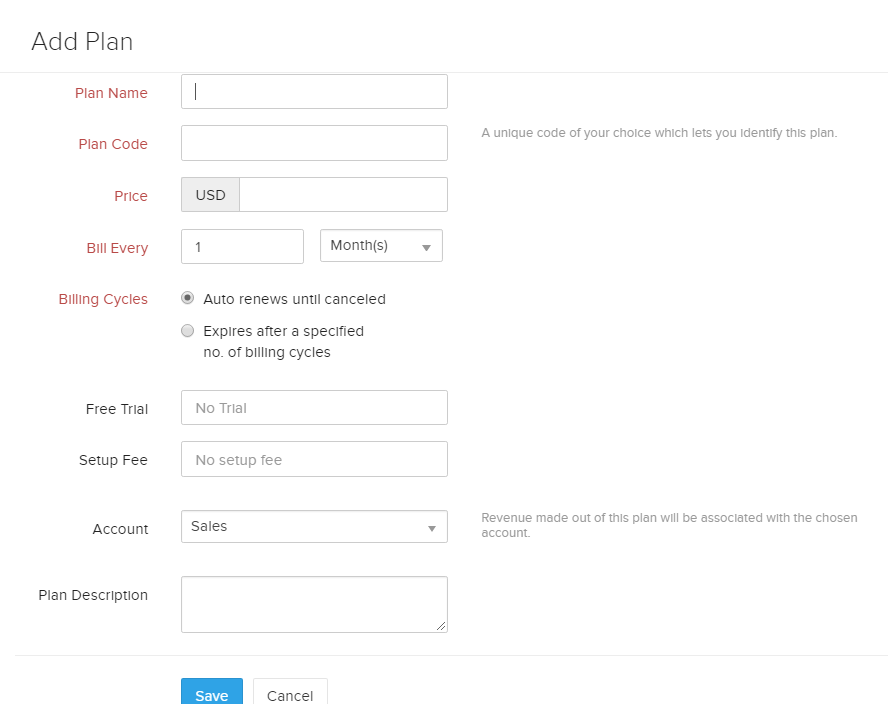 Please note that every product can have multiple plans and just like you have created multiple products and plans, you can also add coupons and add-ons.
3. Get To Know Your Customers & Their Activities

To add new customers, simply click on "+New" button and you will be presented a "New Customer" form –

There are separate tabs for Other Details, Address, Custom Fields and Notes which you need to fill. And, if you click on "Save & Create Subscription" button, your new customer will be added and you will be redirected to the "Subscriptions" menu in order to set a recurring billing schedule.
Later, you can also view complete details of your customers by clicking on their names.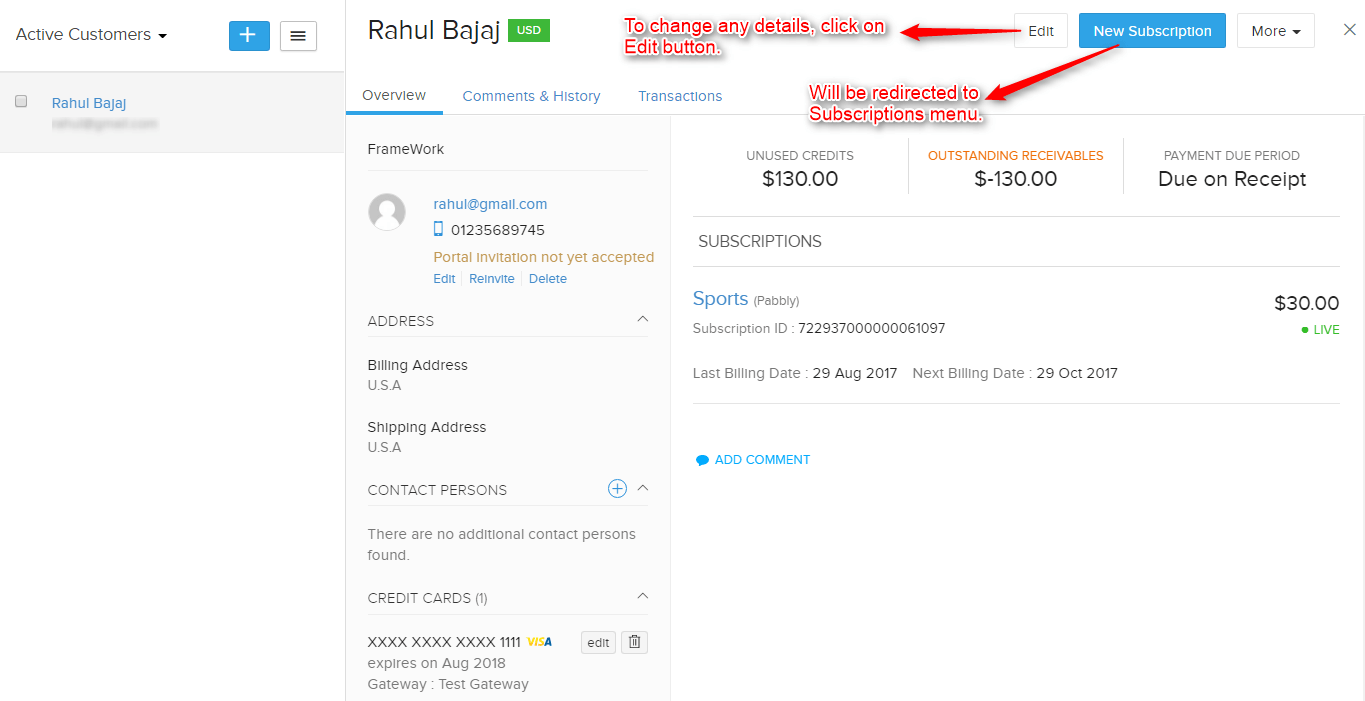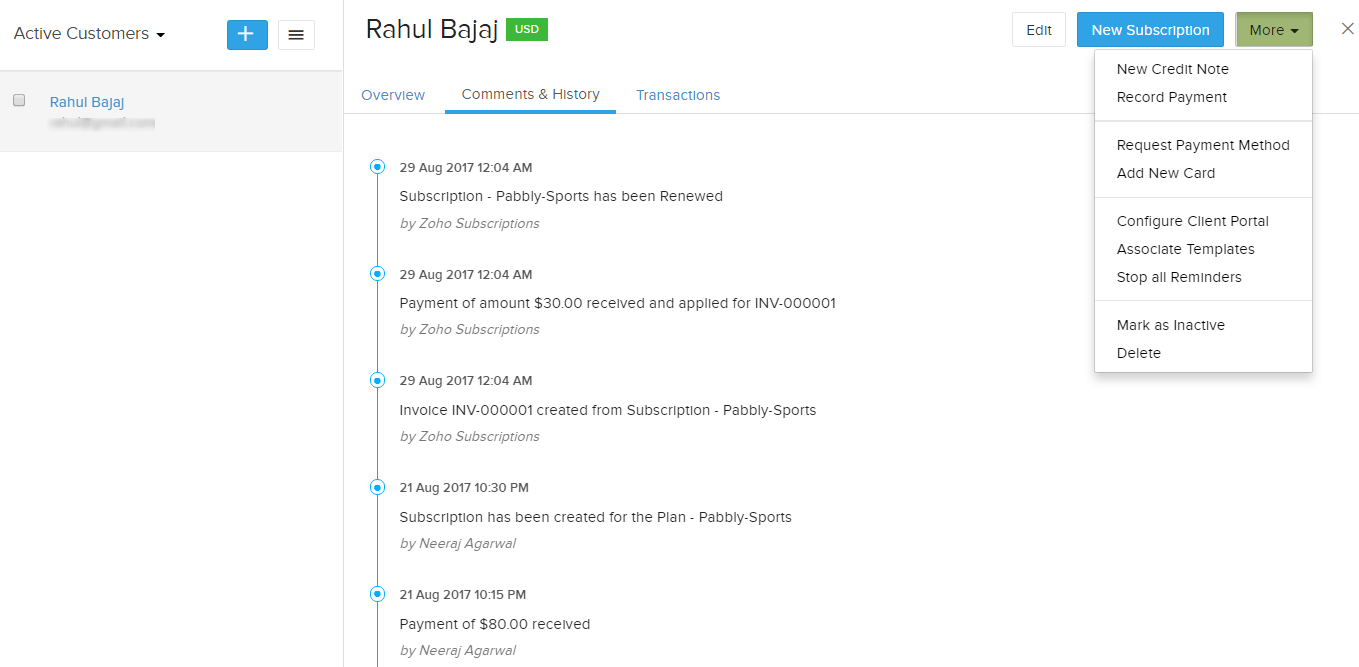 That's it. With just a few clicks, you can effortlessly add new customers, update their details, monitor their comments, transaction history and create a new subscription for them.
4. Manage Your Subscription Plans
Zoho Subscriptions is known for its efficient subscription management. The home page of Subscriptions menu lists all the customers, their current subscription plan, plan status and their billing dates.

Subscription filters include various options like active, trial, unpaid, non-renewing, etc. and also provides "New Custom View" option which allows you to create your personalized filter.
In order to add new subscription plan, you have to click on "+New" button. Also, you can sort the list by plan name, creation date, customer name, etc.


After filling all the details, click on "Continue" button and you will be redirected to –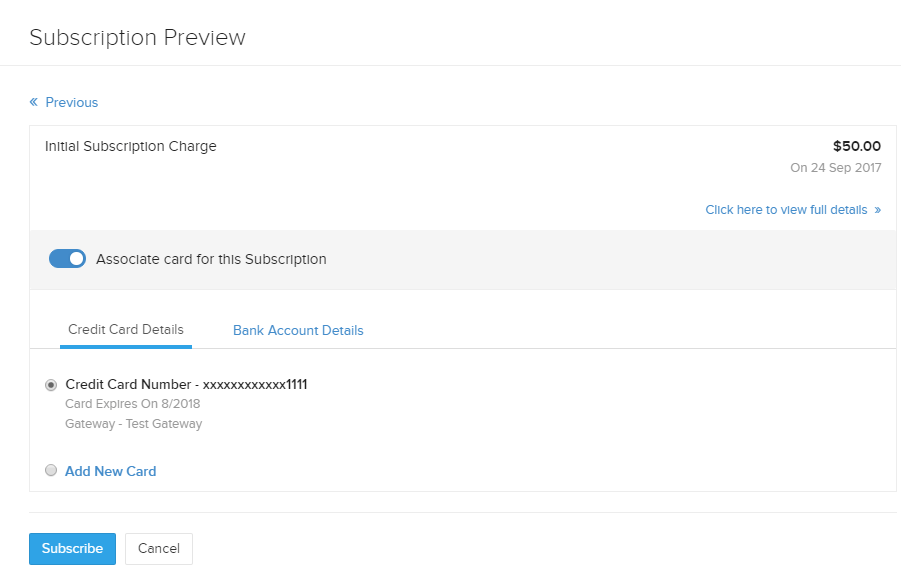 Lastly, click on "Subscribe" button to create a new subscription plan.
If you wish to view details about your plans, you can click on the required subscription on the Subscriptions menu homepage.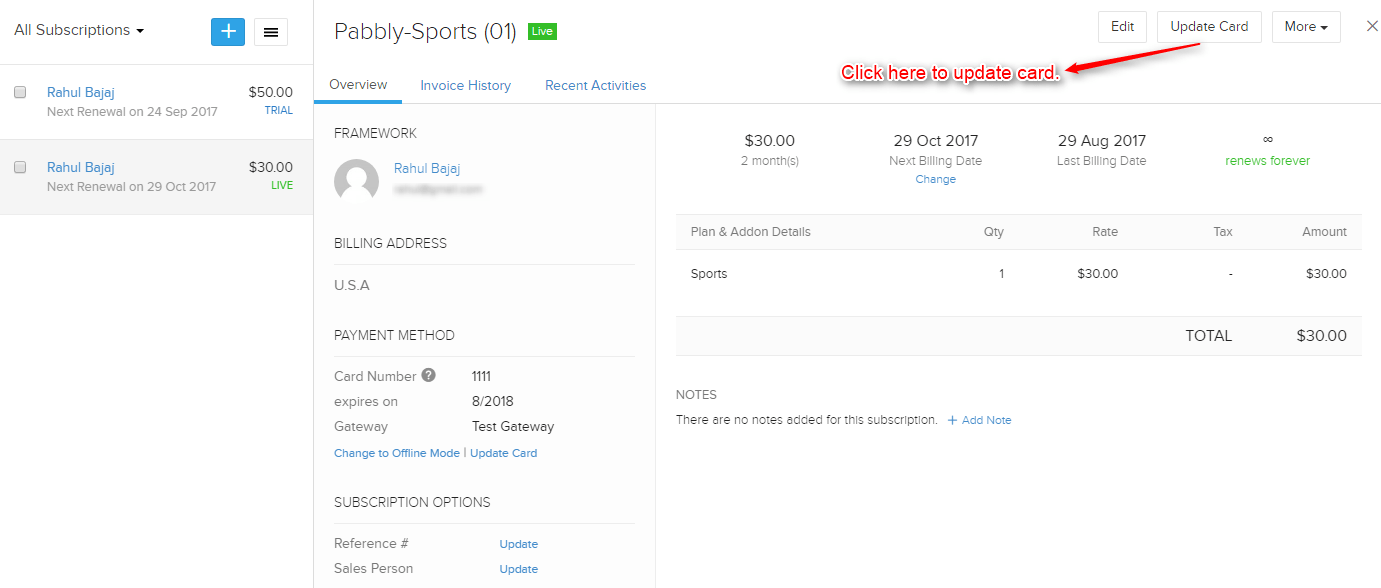 Invoice History and Recent Activities can also be viewed –


To view details about invoices, click on the required invoices and you will be redirected to "Invoices" menu.
5. Send Recurring Invoices To Your Customers
For the purposes of documenting the services and products that you have charged your customers for, you have to send detailed invoices to your customers.
Zoho Subscriptions provides a highly satisfying invoicing feature. Once you have added customers and they have chosen their subscription plan, you can send a recurring or one-time invoice to your customers.

Click on the required invoice and you will be redirected to its details page –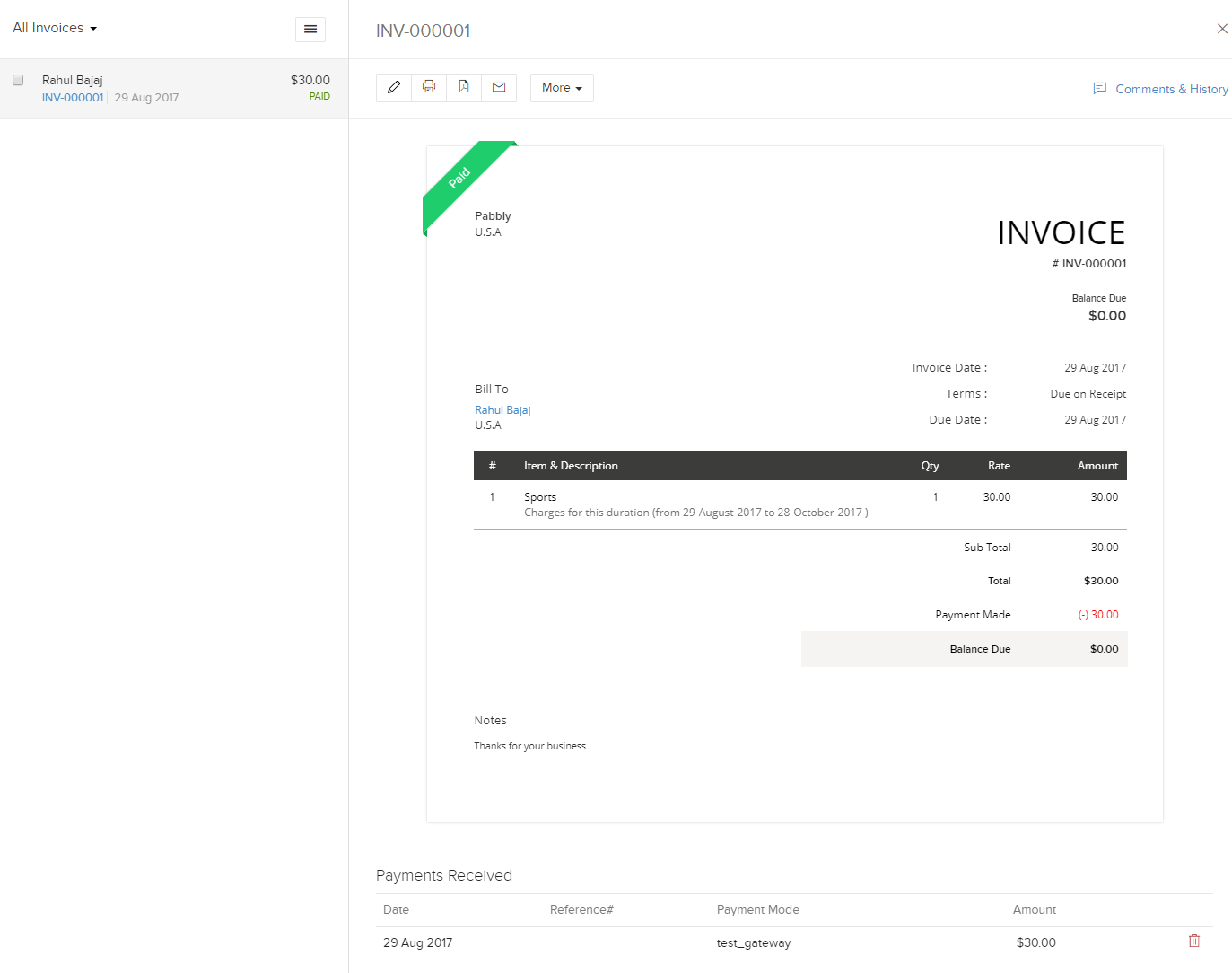 The invoice viewing option also allows you to print, download the invoice in PDF format, email it to your colleagues and most importantly edit it.
The "More" drop-down menu allows you to update Custom Fields, Billing and Shipping Address.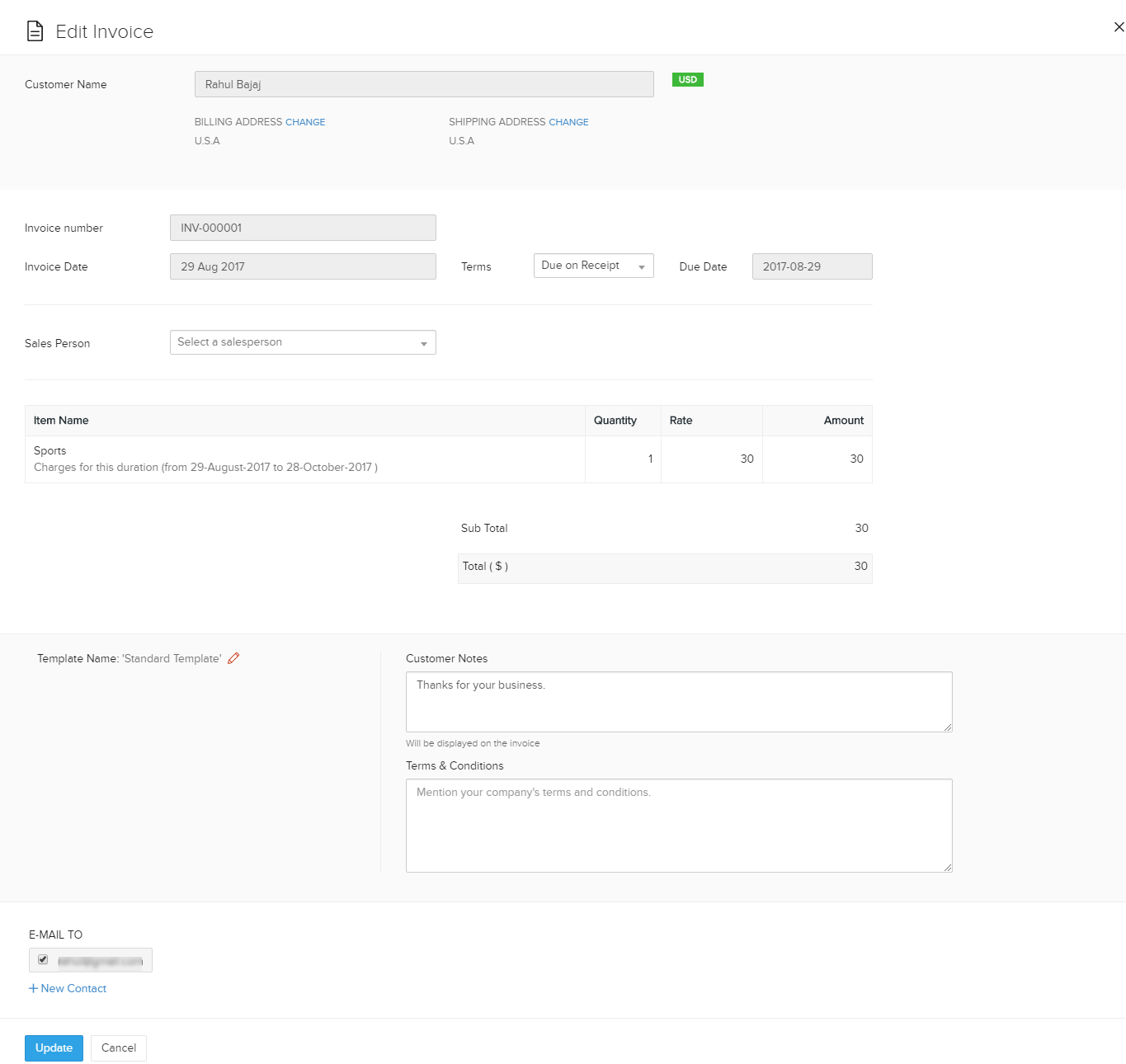 Click on the "Update" button and your invoice editing will be saved.
6. Keep A Tab On All The Occurring Events.
Zoho Subscriptions allows you to monitor all the recent events of your business like New Subscription, Upgrade, Downgrade, Renewal, Payment Failure, Refund, Card Expired, etc.

If you want to view the complete event data, you have to click on the individual event and it will redirect you to the details –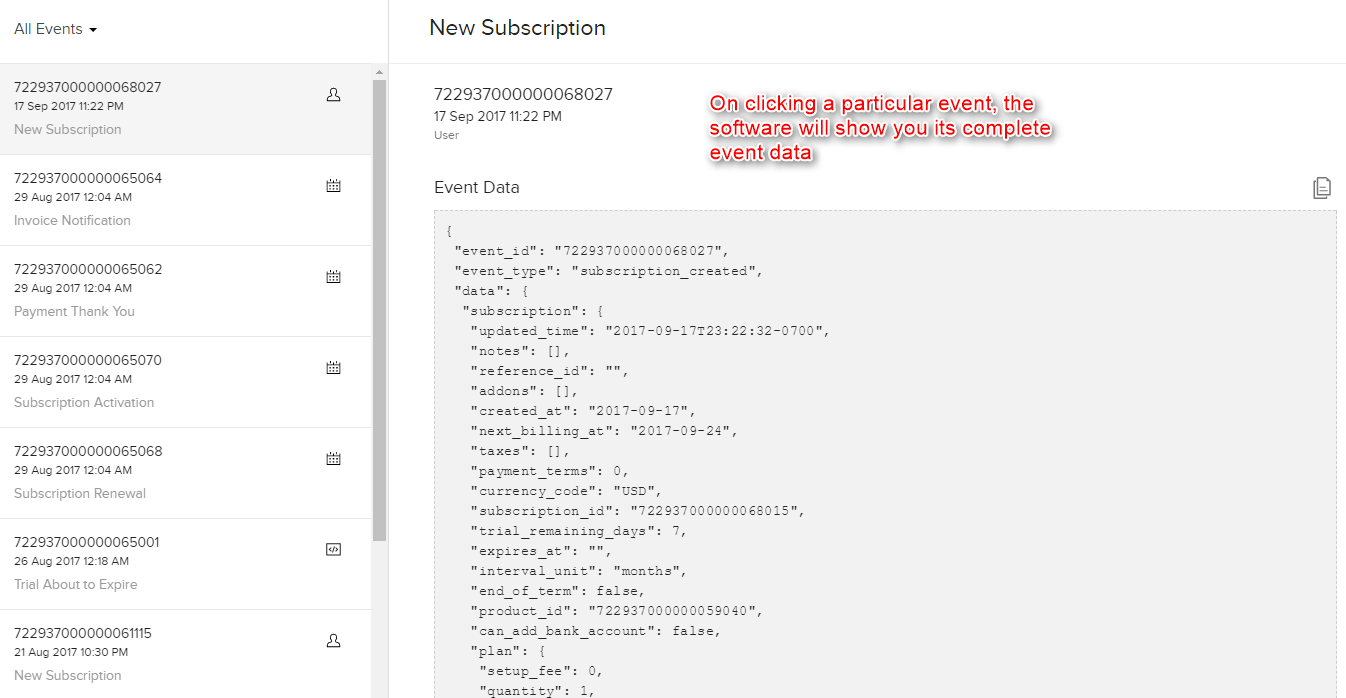 7. Analyze Your Business By Generating Custom Reports
At last, the final tool that will help you analyze your business growth is Zoho Subscriptions' Reporting feature. It facilitates you to visualize your business performance, print it or export it in the CSV format.
The reporting feature allows you to generate custom reports on –
Subscriptions

Revenue

Transactions

Sales

Activity
In order to generate reports on subscriptions follow the path –
Reports → Subscriptions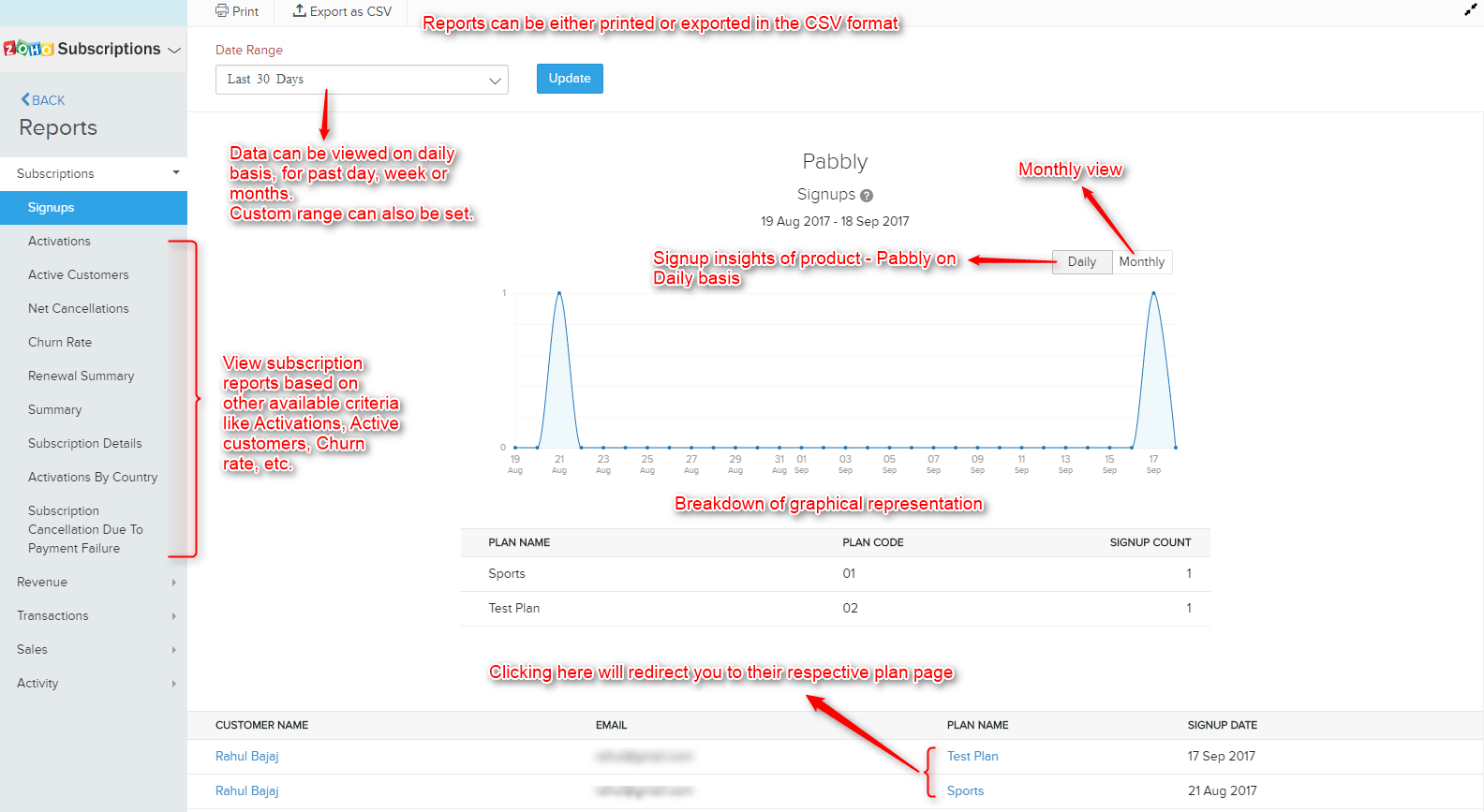 To view other details related to subscriptions like Activations, Active Customers, Churn rate, etc. simply click on the required sub menu.
To generate report on your business revenue, follow the path –
Reports → Revenue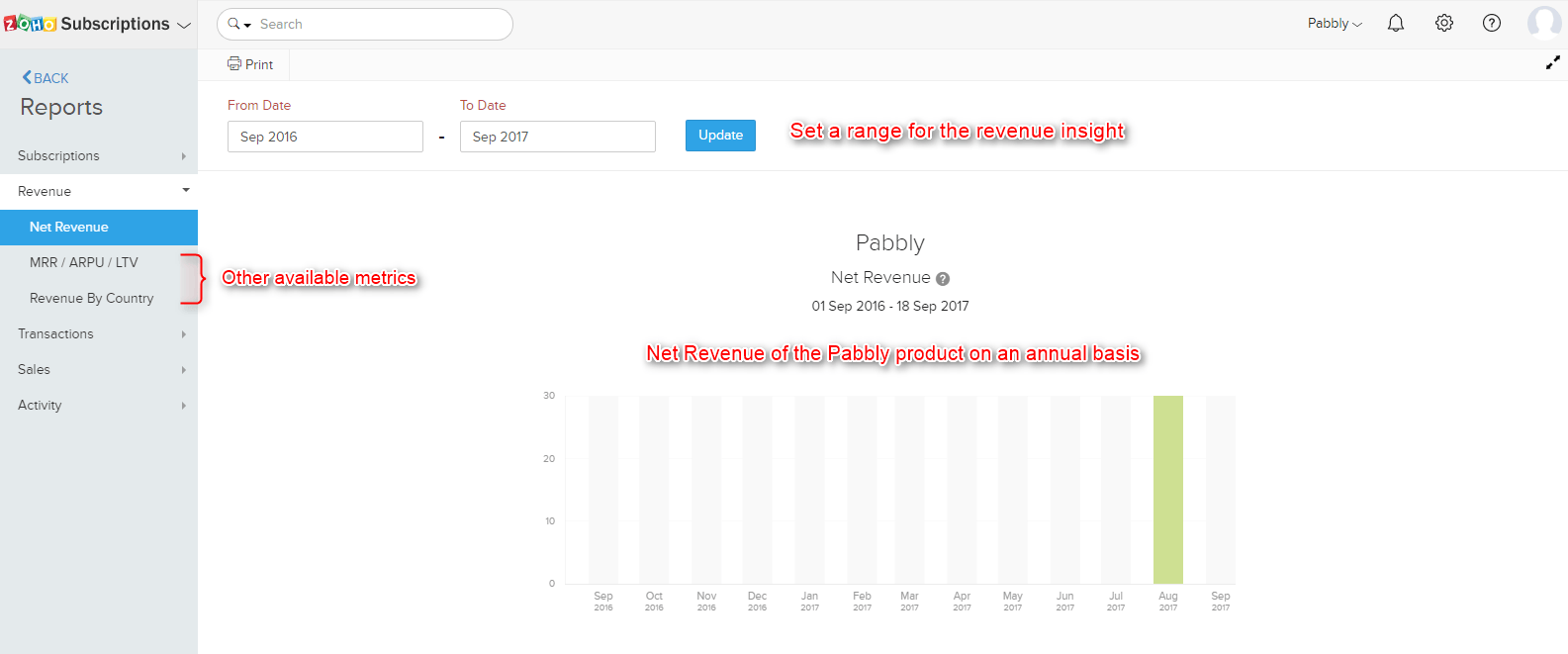 If you wish to know your monthly recurring revenue, ARPU and LTV then simply click on the respective metrics option.
Zoho Subscriptions also generates reports on transactions.
Reports → Transactions

The details of Payment, Failures, Refunds can also be fetched out.
Details for Sales by plans and add-ons can also be fetched like so –
Reports → Sales

And, lastly, you can monitor the Activity of API usage.
Reports → Activity

Apart from these core features, you will also notice following characteristics in the header section –
All the

integrable Zoho apps

like Zoho Books, Zoho Expense, Zoho Inventory, Zoho Checkout, Zoho Invoice and all the other apps for communication, sales and marketing, etc.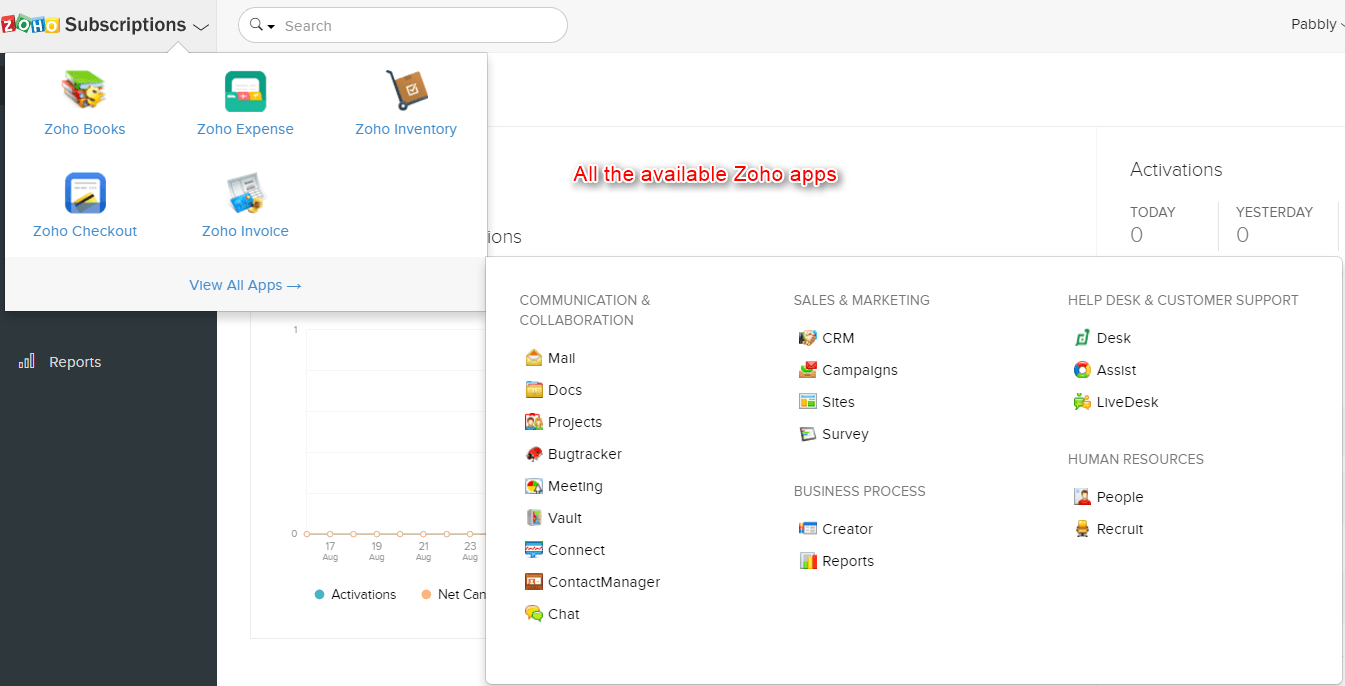 Clicking on any of the listed apps will redirect you to its dedicated web page. You won't have to sign up for those services as Zoho offers one account for all Zoho apps.
The search bar

 will fetch out results from customers, invoices, subscription or events section.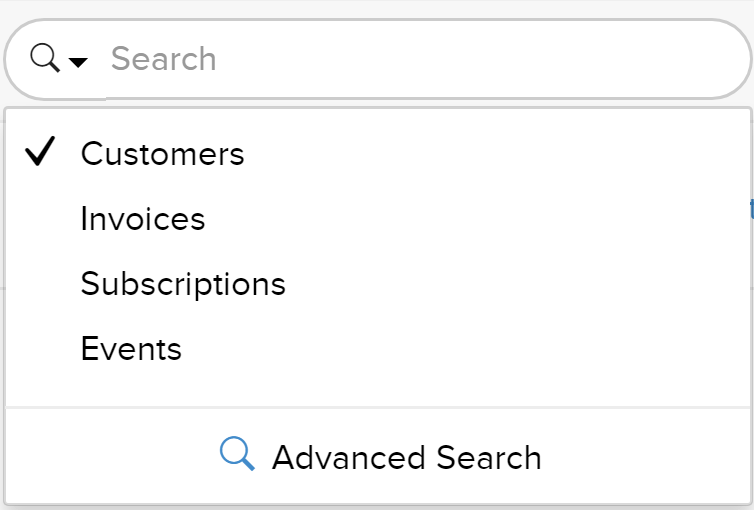 My Account

 settings to personalize your account details.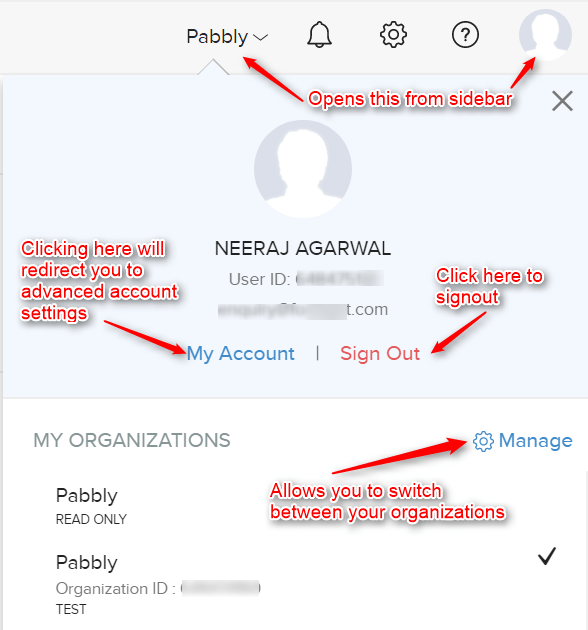 Clicking on the "My Account" link will redirect you to –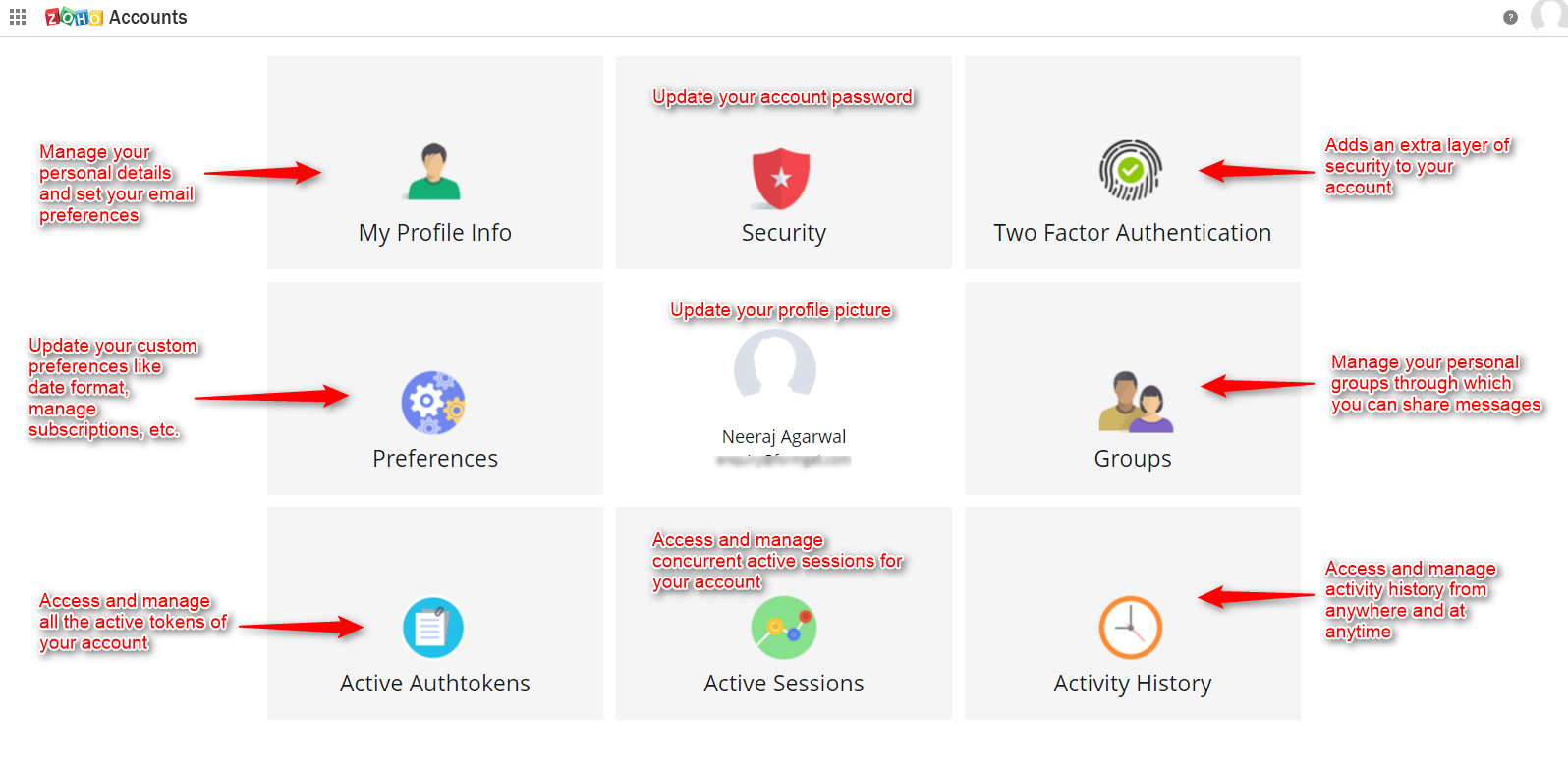 Clicking on any of the advanced account setting options will redirect you to their own web page. Also, "Manage" link will redirect you to the page where it shows your organizations –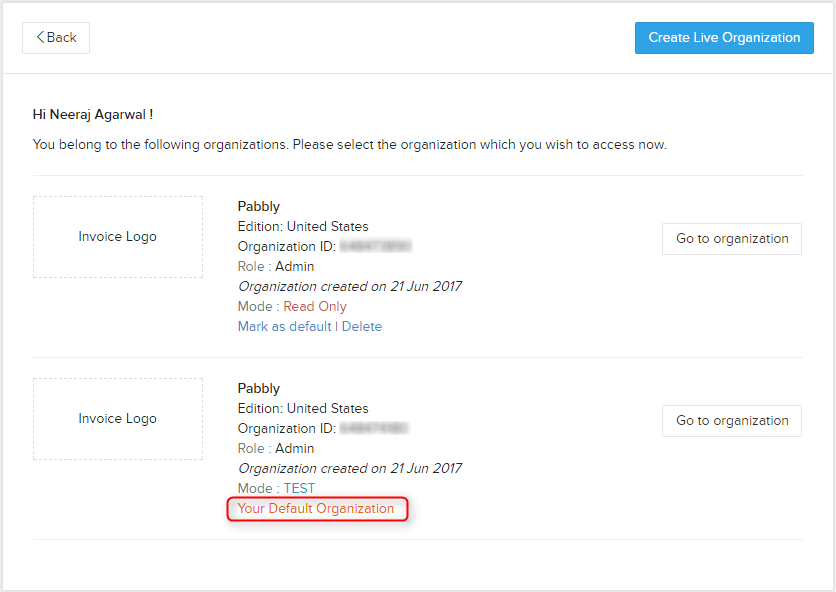 Stay informed via in-app Notification alerts

.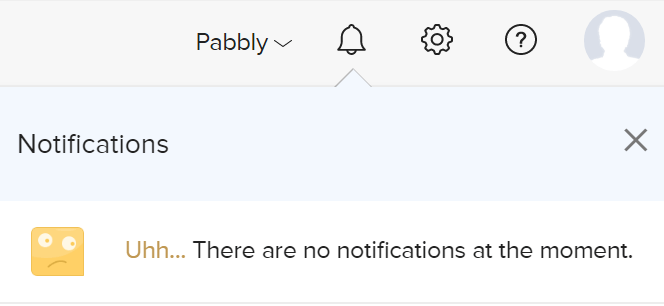 It shows all the recent and past activity notifications that occurred in your account.
Settings

for organization profiles, taxes, currencies, hosted pages, email templates, etc.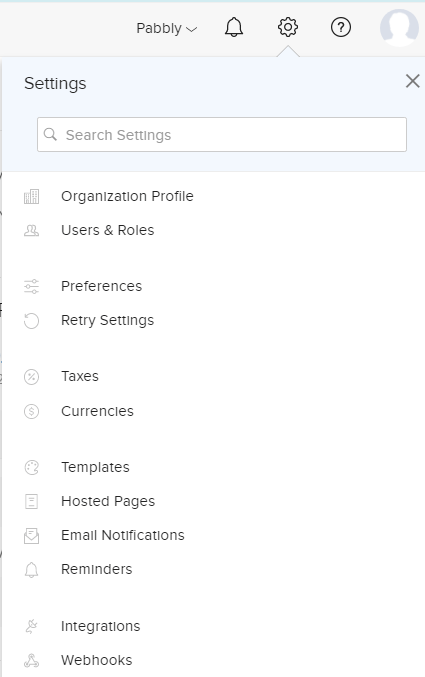 If you don't find your setting, you can search it in the search box given above.
But in order to update or configure any setting, simply click on it –
Settings → Organization Profile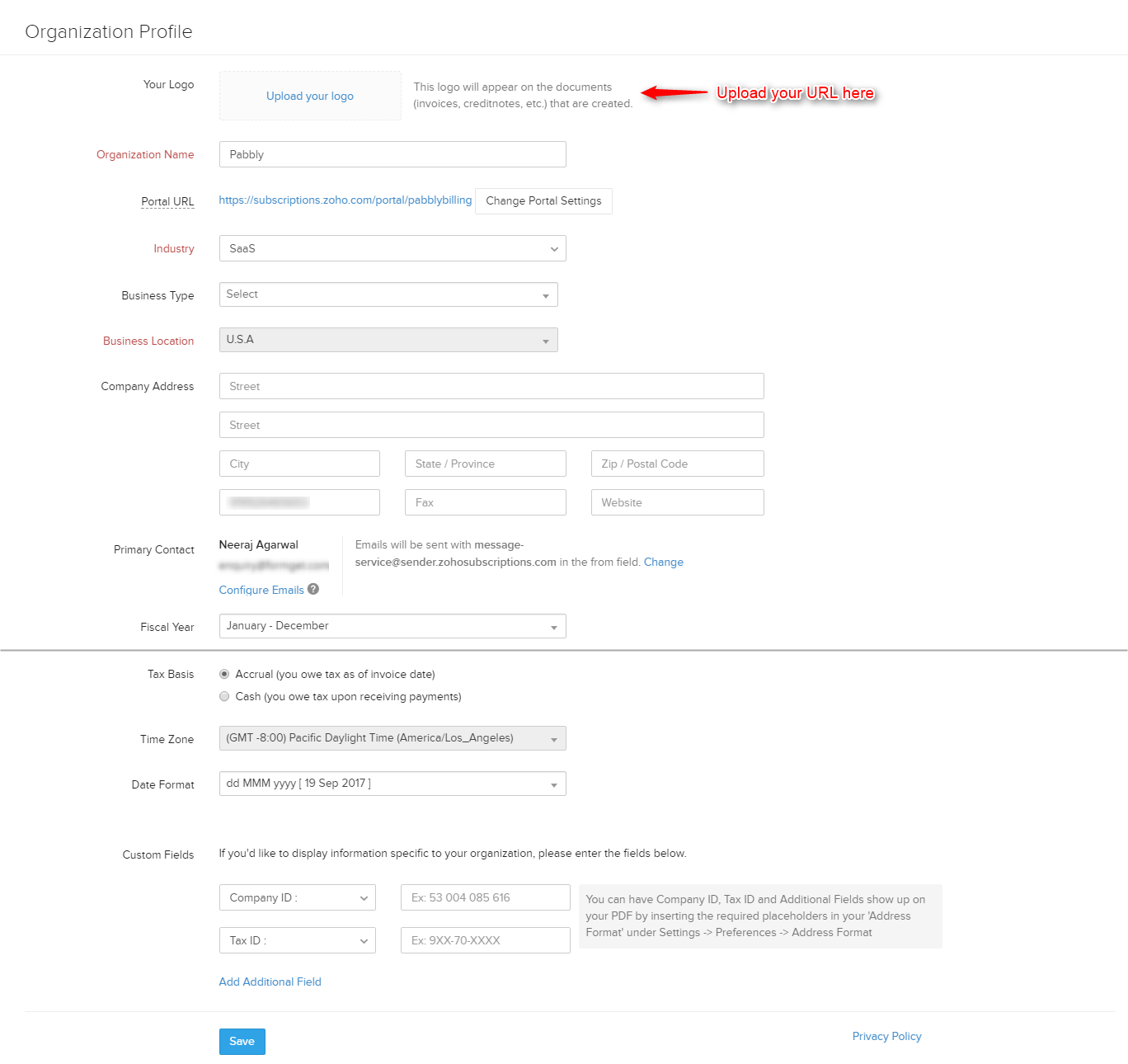 Settings → Users & Roles


New roles can have a few or lot of access but first, it has to be configured by clicking on the "New Role" button.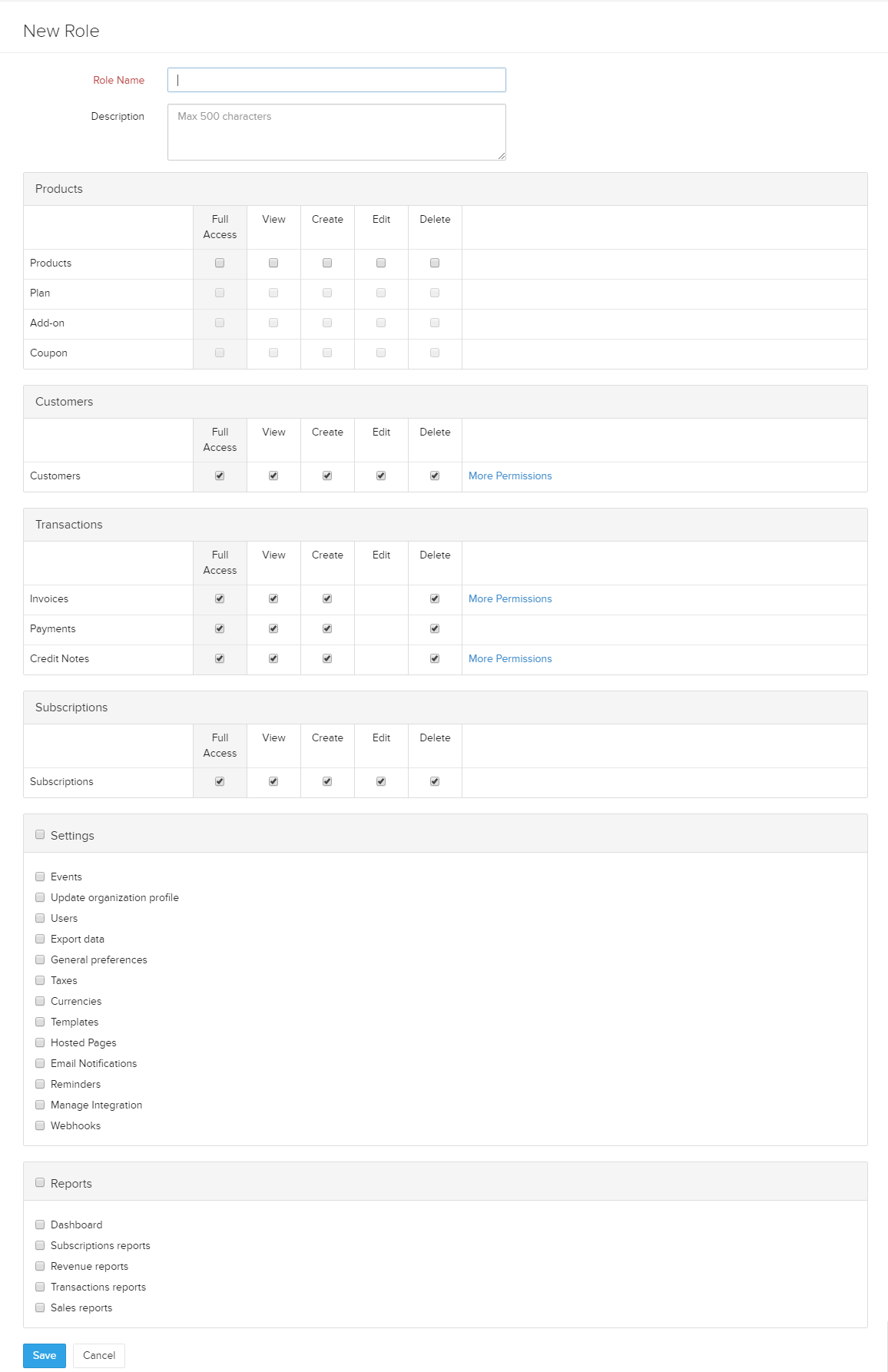 Settings → Preferences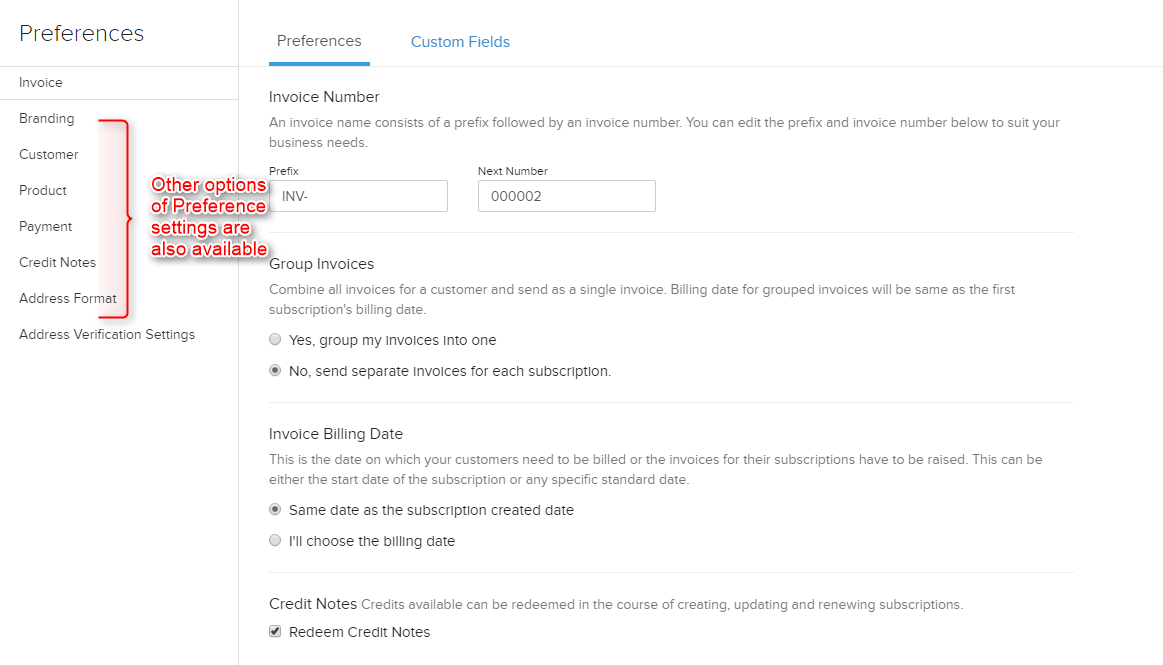 You can also set up other Preference settings like Branding, Customer, Product, Payment, etc.
Settings → Retry Settings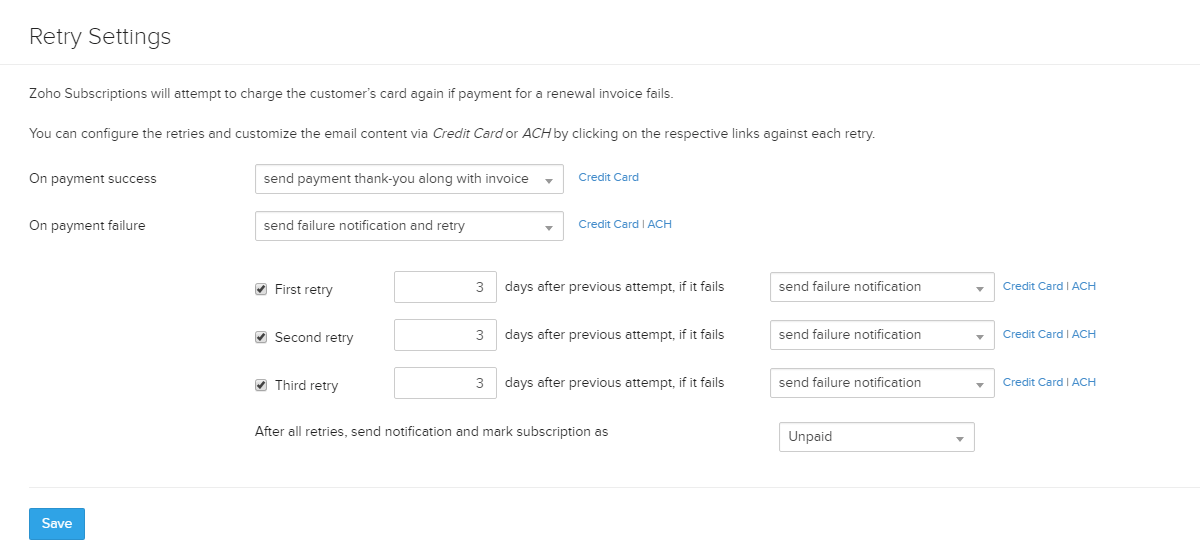 Settings → Taxes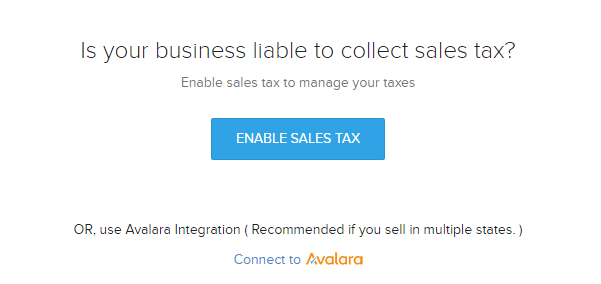 Settings → Currencies

Settings → Templates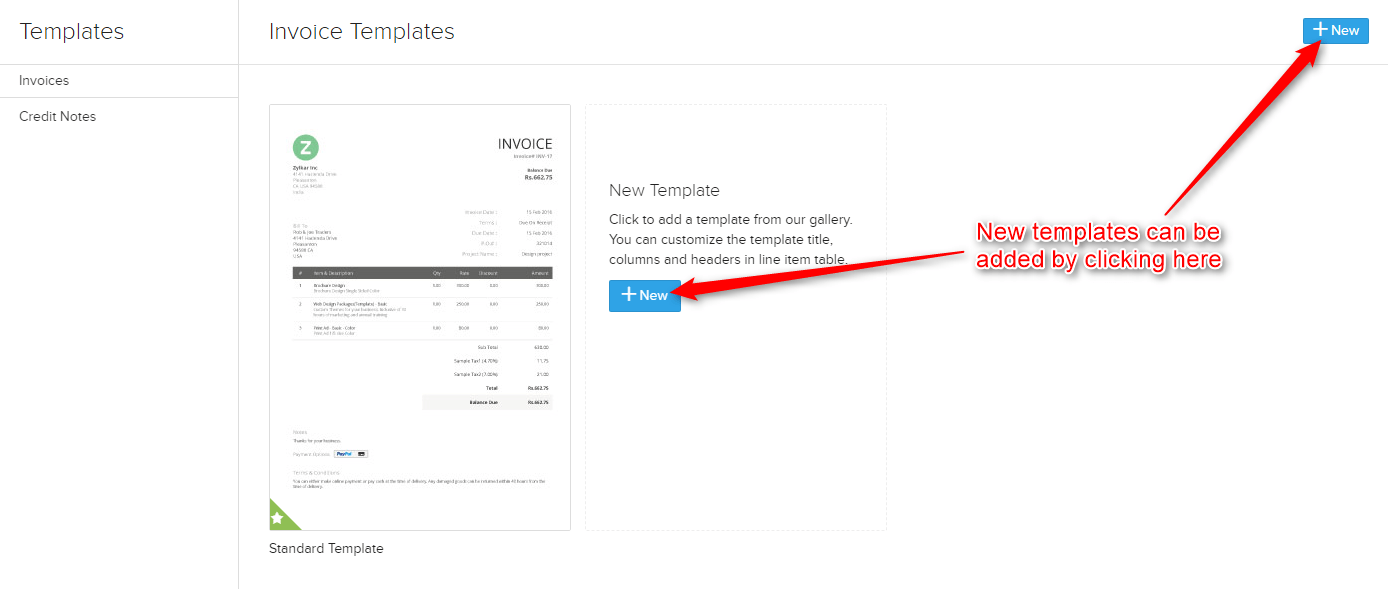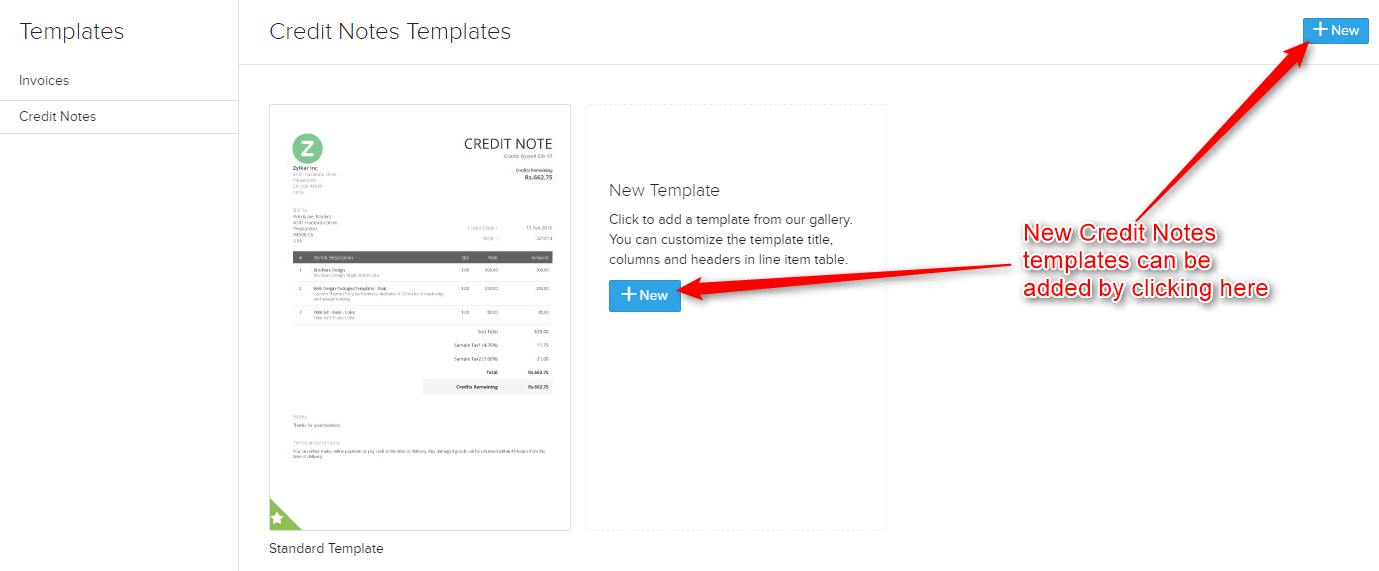 Settings → Hosted Pages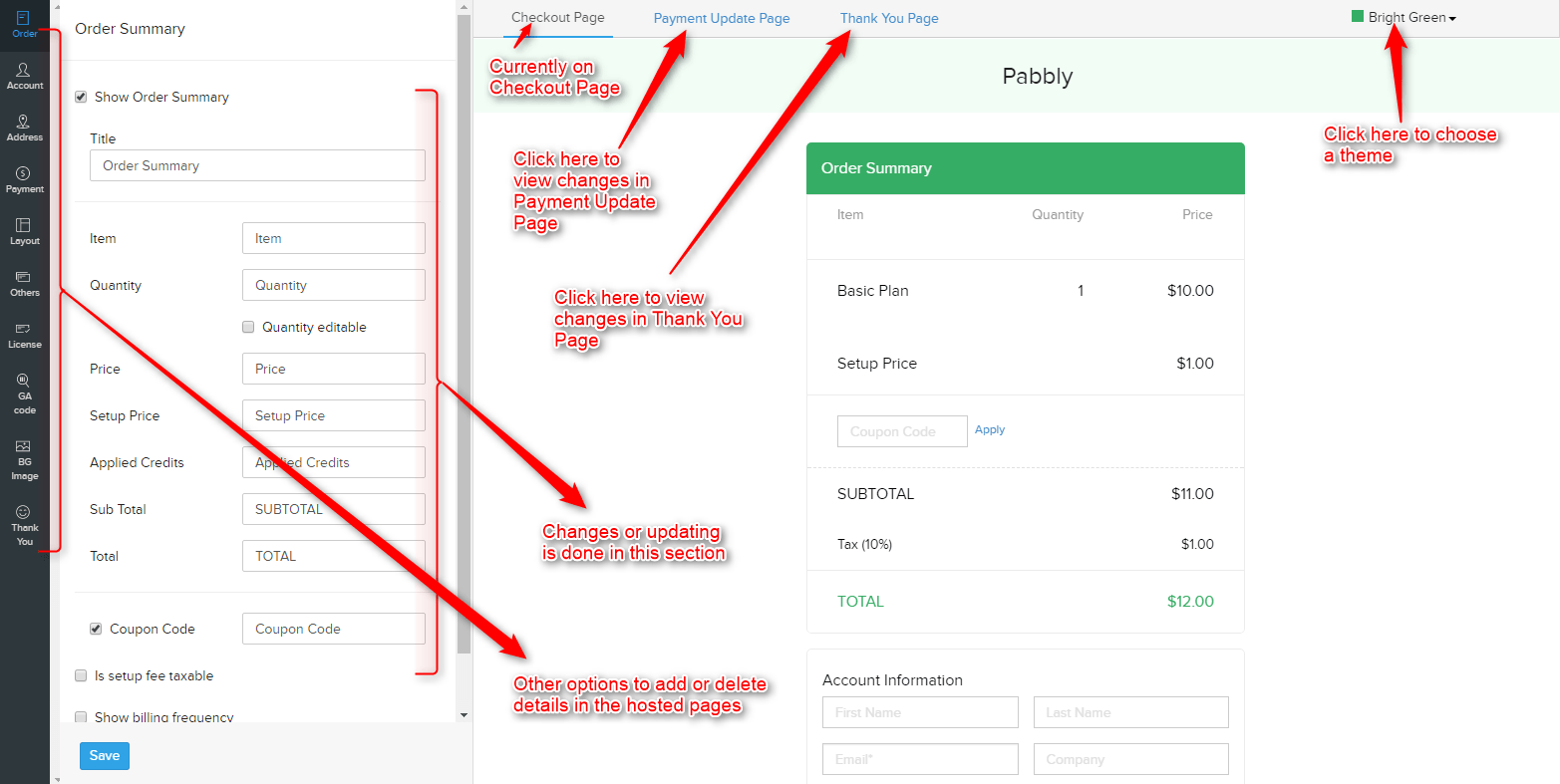 Please note that the above image is just the visible part of the web page. To view the full page you have to scroll down.
Also, there are several other options that can be added or deleted from the hosted pages like Order Summary, Account Information, Payment Information, etc. and these are available in the left sidebar.
Settings → Email Notifications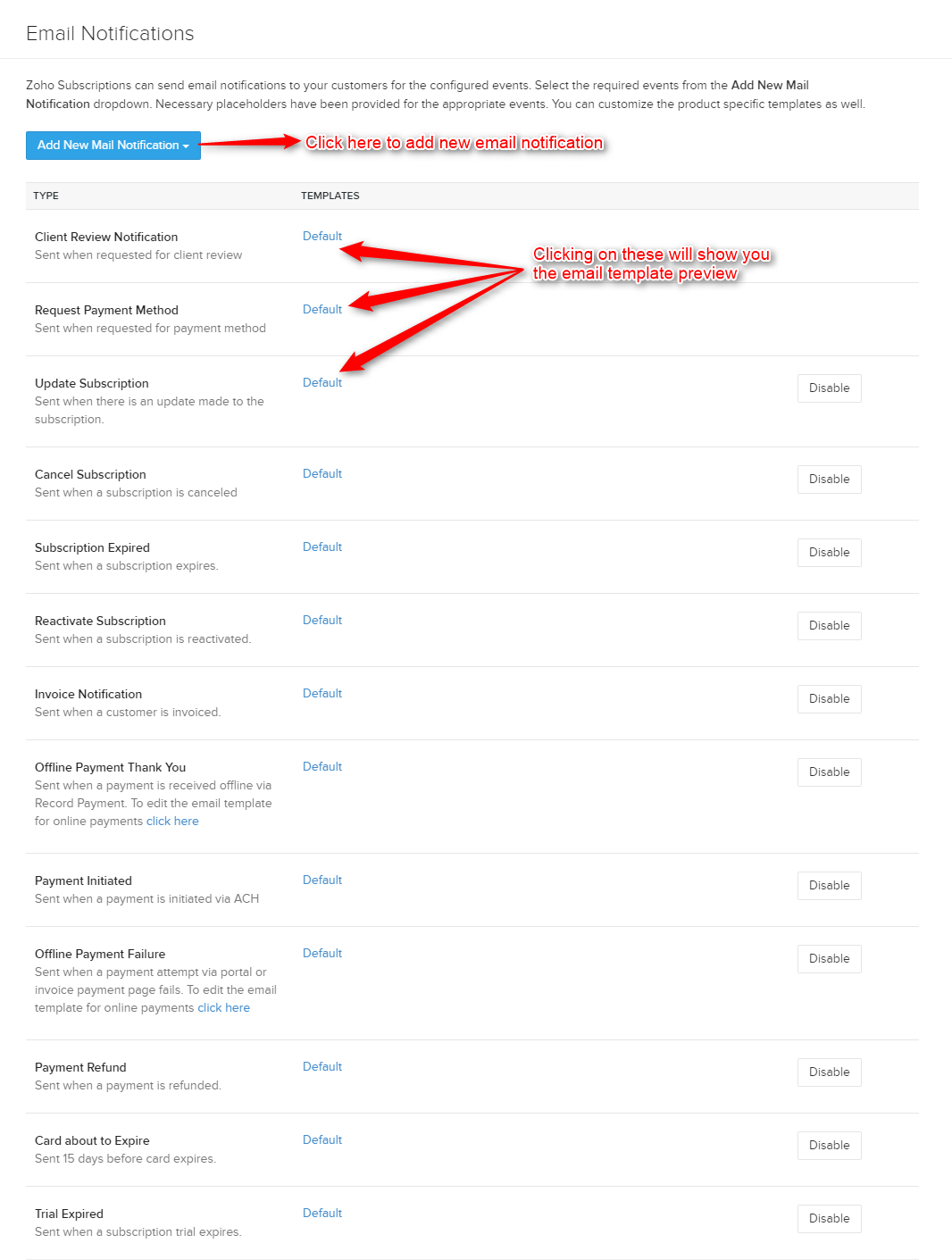 Settings → Reminders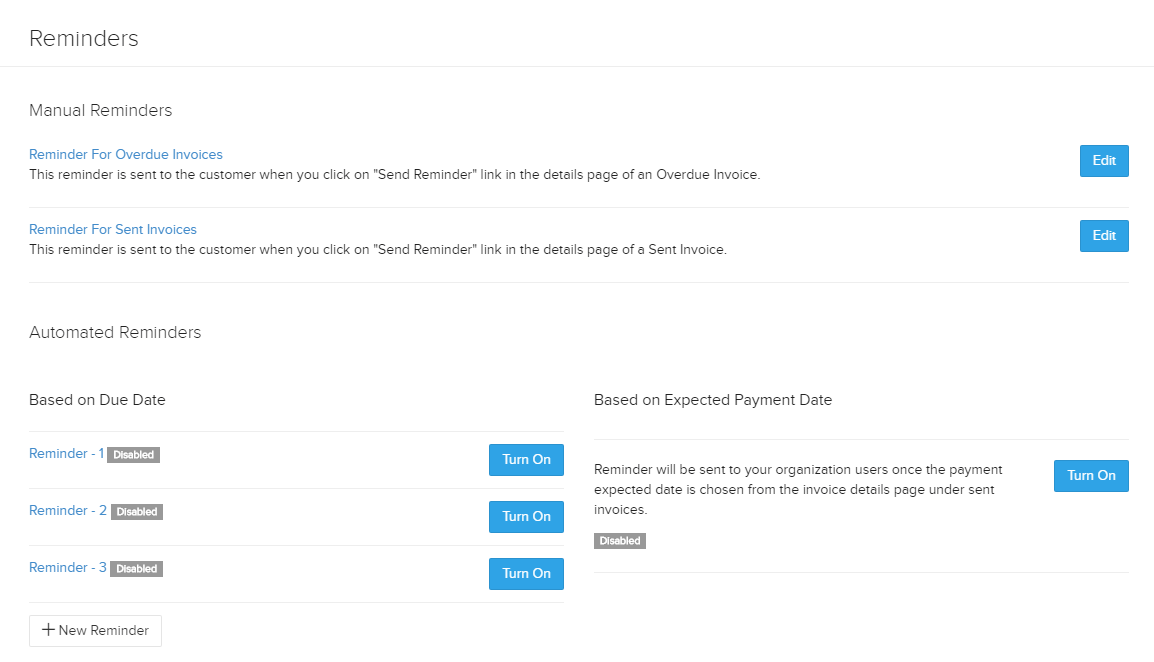 Settings → Integrations
Online Payments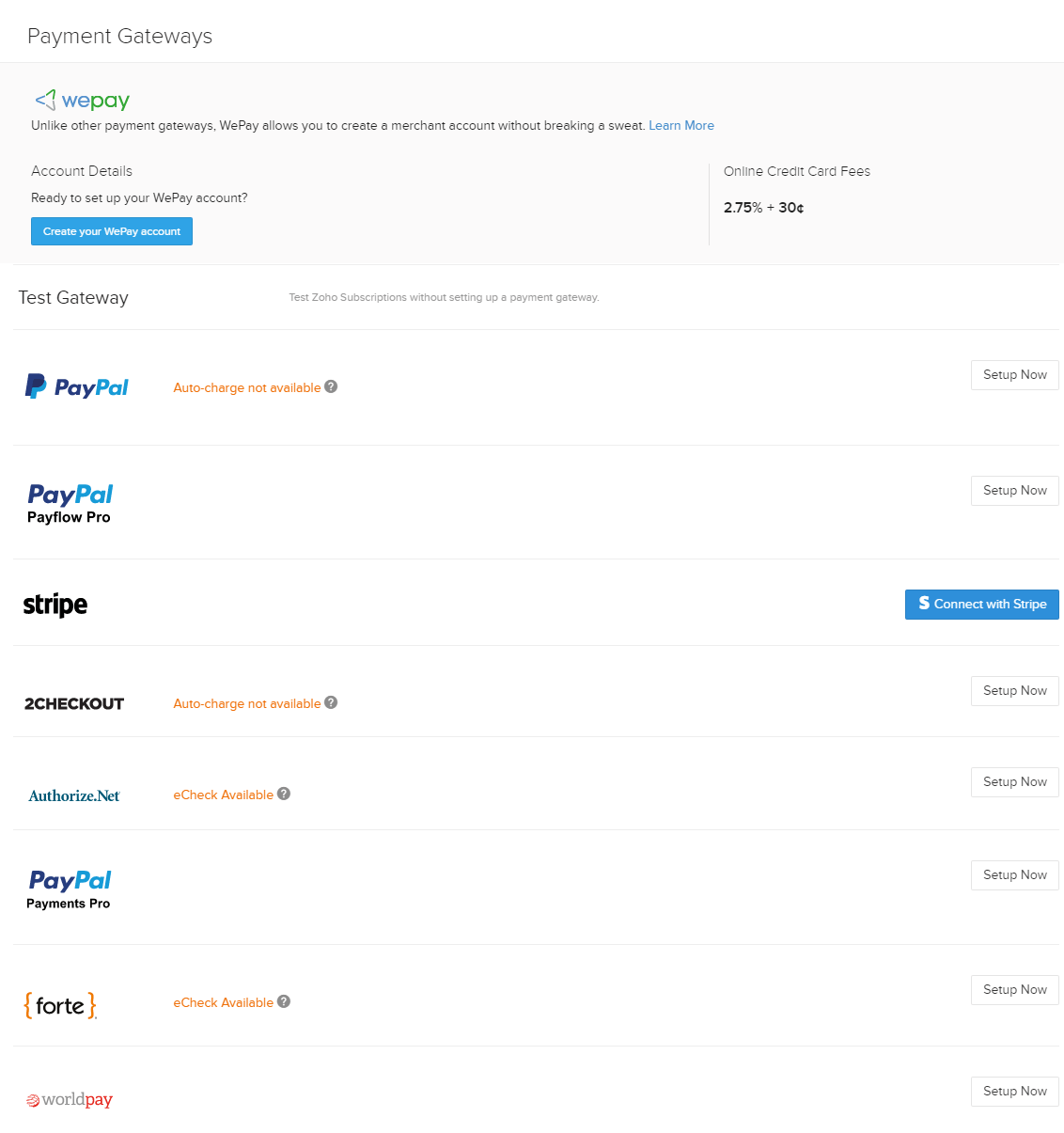 Zoho Apps

Other Apps

Zoho Subscriptions ZSC Key

Settings → Webhooks

Help & support

system

to help you overcome your hurdles.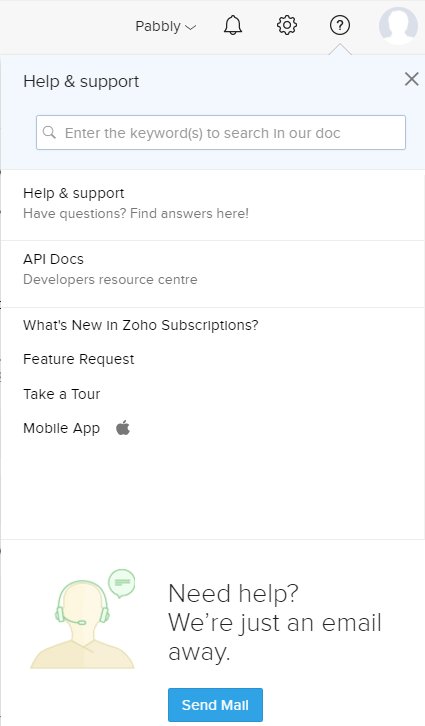 If you are facing any problem or got stuck anywhere, Zoho Subscriptions provides a reliable help & support system.
If you have any question in your mind regarding Zoho Subscriptions and it's setup, you can click on "Help & Support" tab and you will be redirected to an elaborated support page.
For API related queries you will be redirected to the API Documentation page and similarly, for other details, you will land on their dedicated page.
---
Conclusion
Now that you have read the Zoho Subscriptions review and understood all the functionality of this efficient recurring billing and subscription management software, it's time for you to implement it in your business to monitor your overall growth.
Zoho Subscriptions comes in two affordable pricing plans viz.
Standard

– $29/month ($290/year) for an organization having 500 customers and 3 users.

Professional

– $69/month ($690/year) for an organization having unlimited customers and users.
It's noticeable that Zoho Subscriptions offers 2 months off on yearly plans.
Ultimately, if you wish to know more about other software then consider reading following blogs too –
Done with implementing Zoho Subscriptions?
Now that you have read the Zoho Subscriptions review and successfully implemented it, have you considered about your business marketing?
To help you with it, we would like you to follow the latest marketing trend and opt email marketing for your business.
And, one of the most promising email marketing service that comes in my mind is MailGet Bolt.