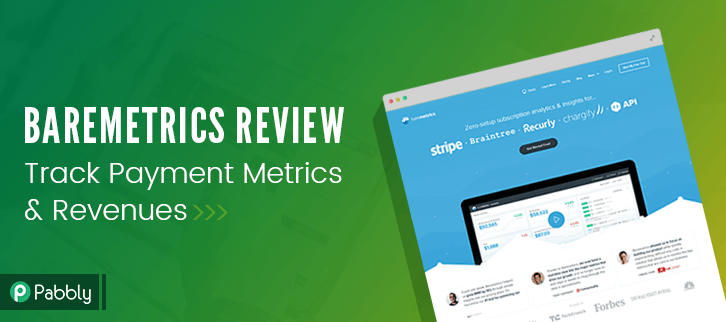 Baremetrics is one of the optimal subscription analytics software suitable for businesses which are offering subscription products.
It shows ample of metrics related to subscription such as
Monthly Recurring Revenue (MRR)

Customer Lifetime Value (LTV)

Churn Rate

Upgrades

Cancellations

Coupons Redeemed, etc. which are very efficacious for the growth of your business.
So, integrate your subscription-based business with Baremetrics analytics software, and get all your business revenues and payment metrics at a single place as it gives abundant features.
Pricing Package of Baremetrics
It provides 4 basic pricing plans all along with 14 days free trial pack.
Startup Plan – If your business generates MRR upto $10,000 then this plan is perfect for you as it charges $50/month only. The features you find here are email reports, instant notifications, slack notification. and much more.
Professional Plan – For the Professional plan, you have to pay $100 per month and you can manage recurring revenues upto $50,000 every month. Attributes you get with this plan is historical metrics, forecasting, plan comparisons, etc.
Business Plan – If You want to manage recurring revenue upto $200,000 per month, then you can switch to Business plan which charges only $250/month which includes some additional features like revenue breakouts, goals, customer profiles, and a lot more.
Enterprise Plan – With Enterprise plan you can manage monthly recurring revenues upto $500,000 by just simply paying $500 per month. It also has all the features that Startup, Professional and Business plan gives.
In addition with it, if you want to recover your fail payments then you can pay an extra charge of payment recovery system, whose pricing starts from
$25/month for upto $10K MRR to $500/month for upto $1M MRR
So, get login with this amazing subscription tracking tool and easily explore it.
Let's Set Up An Account For Tracking Your Business Revenues & Payments With Baremetrics –
The Baremertics review consists of 7 modules which are –
At very first you have to create a Baremetrics account for that, you can click on its Free trial option which is mentioned on the right side of the website and this account will be free for 2 weeks.
After this, you will be redirected to login page where you have to fill some basic details like –
Creator Name

Company Name

Business Email Address

Passcode
Now your Baremetrics account is created!
1. Integration – Connect Data From Any Platform
Then, you will find a window as shown below –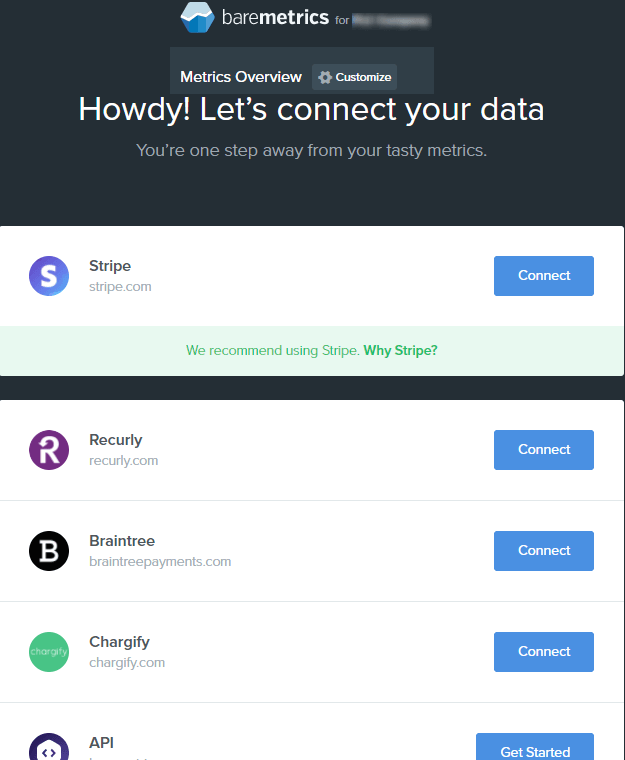 Here, you have to connect with the above-given software.
If you connect with Stripe then you will find something like this –

After completion of this process, your Stripe account will be integrated with Baremetrics.
Similarly, you can also integrate
Recurly
Chargify
Braintree
Soon, Baremetrics will also give integration of –
Chargebee

iTunes Connect

Google Play

Zuora
Then after finishing the integration process, you will be directed to the front panel of this analytics software.
Following image will make you clear about the services and options that you will get on Baremetrics front-end.
Modules That Baremetrics Front Panel Gives –
Dashboard
Trail Insights
Forecast
Customers
Recover
Support
Profile
2. Dashboard: A Part Which Displays Stats & Metrics Of  Your Business
The forepart of your Baremetrics dashboard will look like this, where you will be able to see all the stats of your business metrics at a time.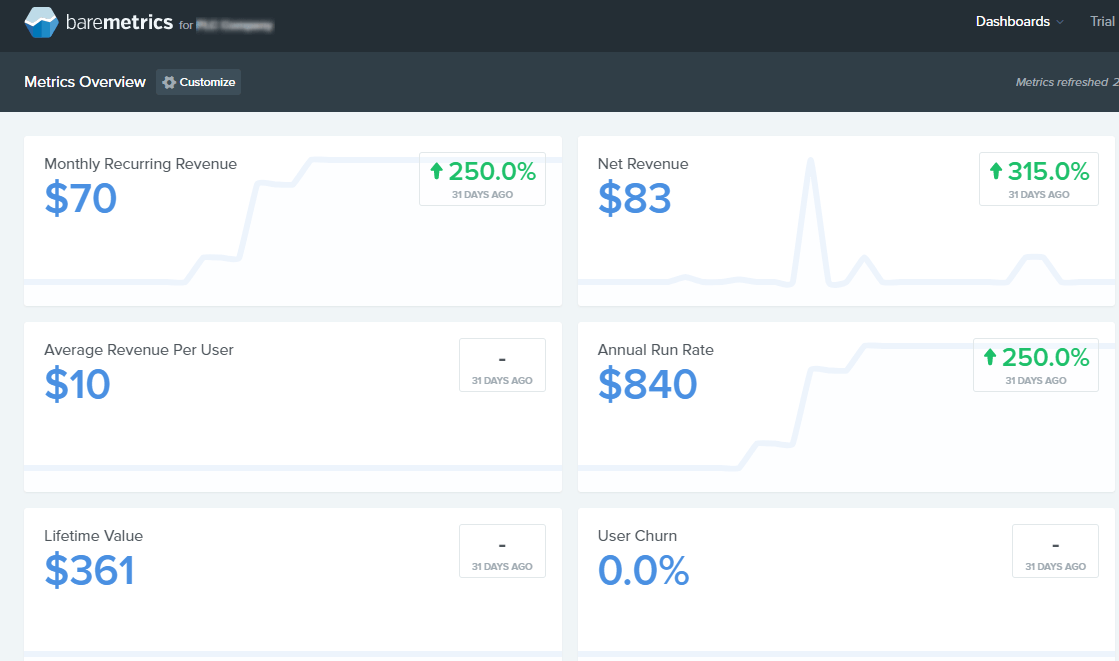 In this segment, you will get an option "Customize" with which you can customize your dashboard view. When you will click on it, it will open a drop-down which contains all the key metrics that Baremtrics provide.
All you have to do is put a Right Tick on the elements that you wish to display on the dashboard.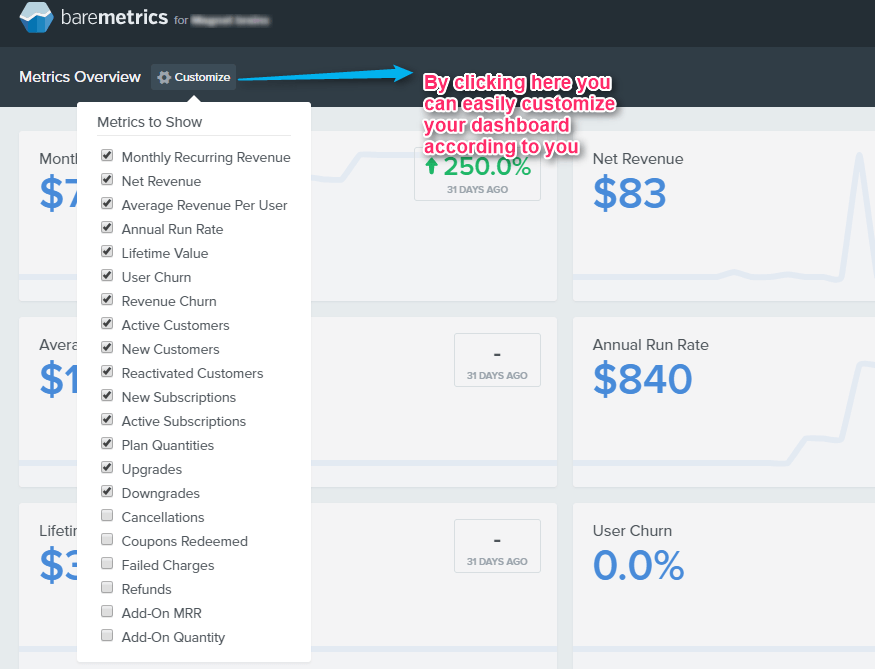 This is the first option you will find in the header part of the Baremetrics front panel. When you will put a cursor over it a dropdown will open as shown in image –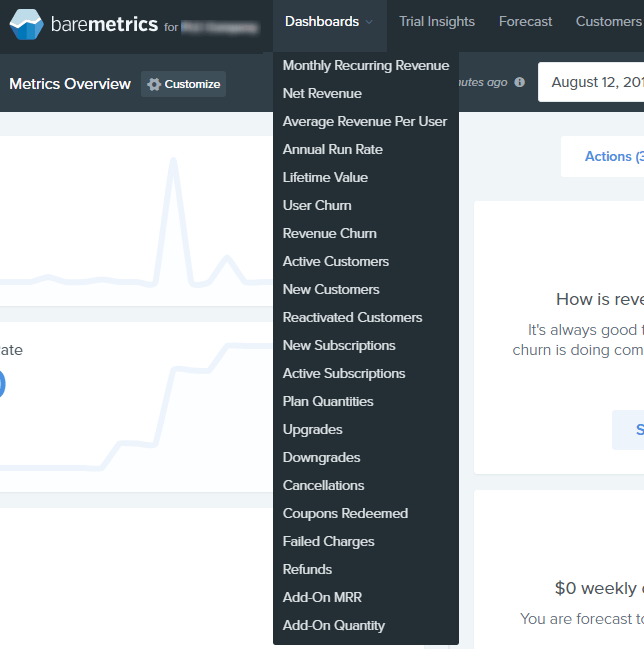 You can easily see the individual stats of all 21 key metrics of your business by simply clicking on your desired option like – Monthly Recurring Revenue, Net Revenues and more.
Monthly Recurring Revenue – When you will click on the MRR then you will be able to see the stats of recurring revenues only.
Stats will be display like this –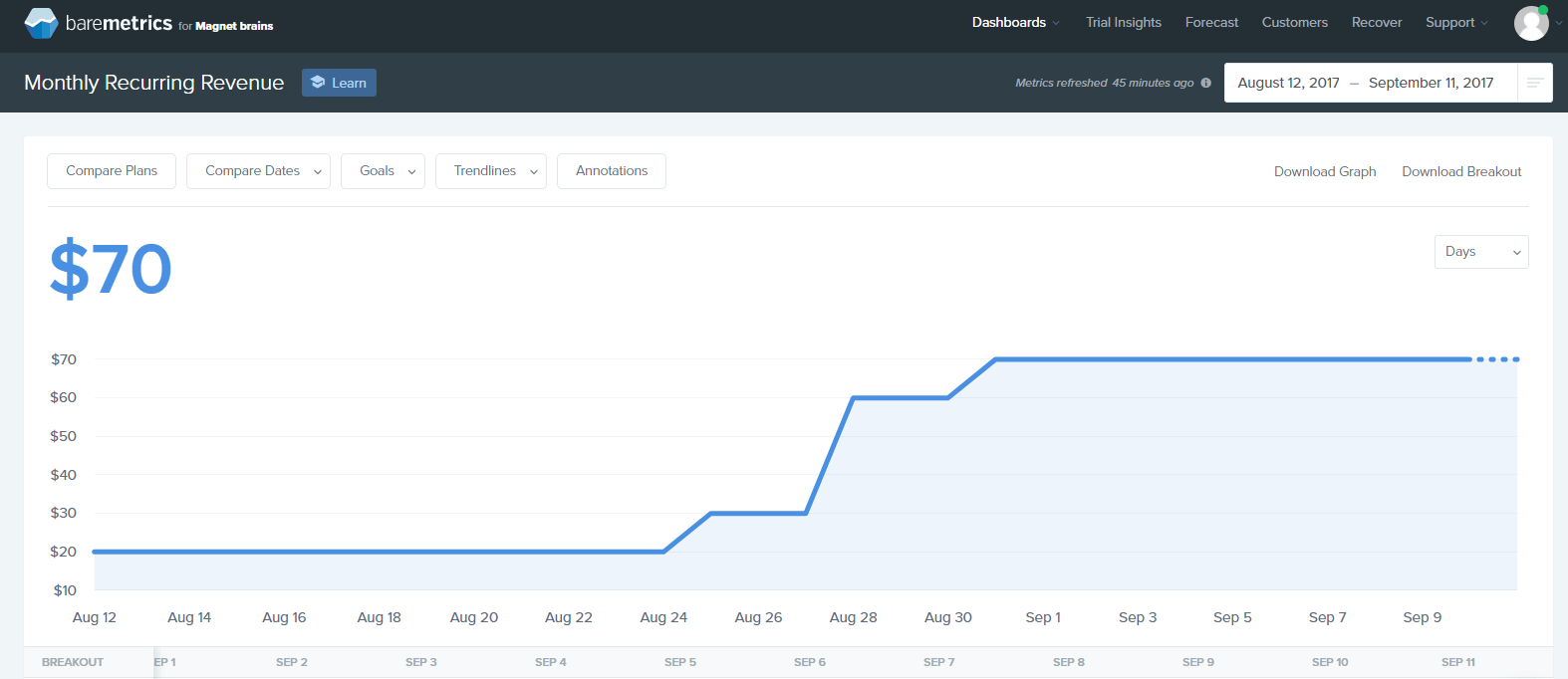 Also, you can customize the data according to you i.e. you can also see the stats of past 30 days, last 3 months, last 6 months, last year and many previous year data also.
Simply click on the option which is present at the top-right side of the dashboard, the following image will make you very clear about it.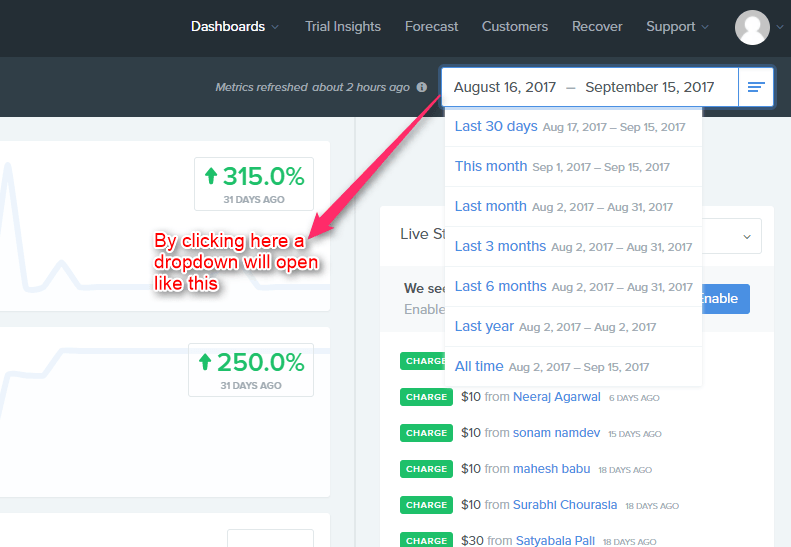 Net Revenue – In the same way, you can see the data of net revenue in a graphical format.

Similarly, you can also see individual data representation of metrics like average revenue per user, annual run rate, lifetime value, user churn, etc
3. Trial Insights – Check Your Payment Metrics
The trial insights give you the tasty trial metrics of the transactions that you made using the payment processor.
4. Forecast – Project The Flow Of Your Business
This feature will provide information about 3 aspects which are Cash Flow, Monthly Recurring Revenue, and Customers. You can see the detail description –
Cash Flow
Here you will get information about active subscription, revenue growth, customers. And you can also download CSV file of this data on the daily, weekly or monthly basis.

Similarly, you can also get linear and exponential stats of
Monthly Recurring Revenues
Customers
All this information will help you know more about the state of your business in real-time.
5. Customers – Keep Eye On Your Customer Retention
This panel will provide you information about the active customers. And it will also display the current MRR, plan, signed up time and total charge.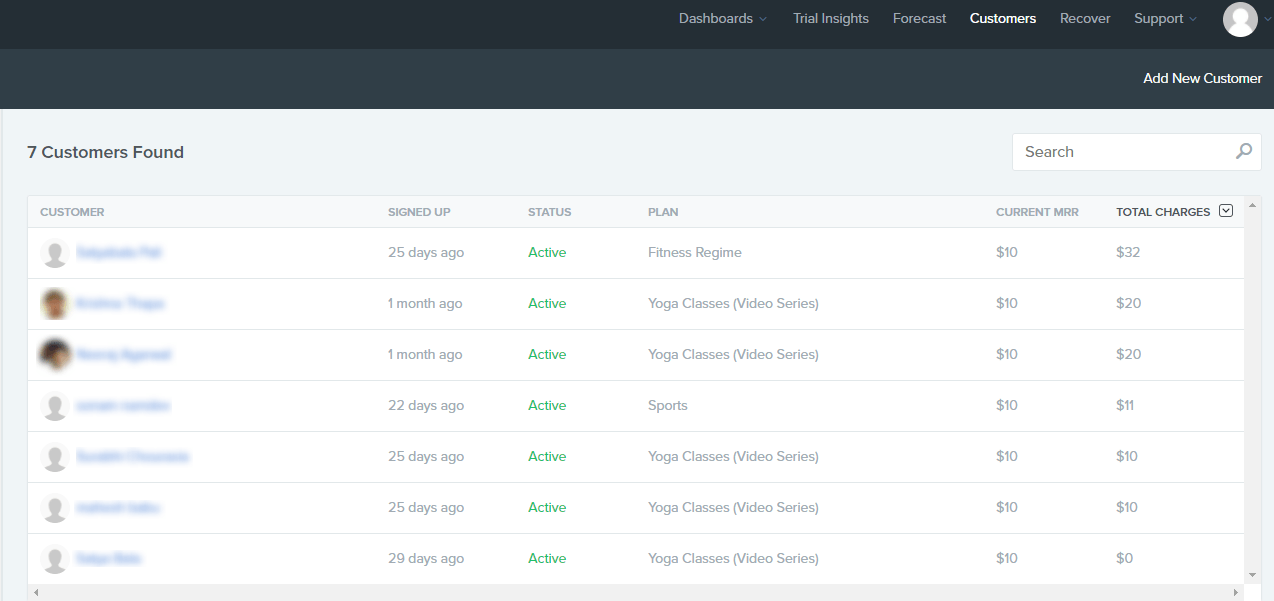 This option is present on the left side of customer details. By simply turn it on/off you can manage the following terms.
6. Recover – Retrieve Your Fail Transactions
From here you can easily recover your failing payments. This provides automatic emails and customized payment forms to help you retain your revenues.
But this feature is available on paid accounts only. The pricing list is mentioned as follows –
7. Support – Get Instant Solution Of Your Problems
If you have any queries or any problem related to the functionality, pricing, or anything else you can directly contact Baremetrics support team which are available 24×7. Following are the ways to reach them out.
Chat with us
Email us
Tweet us
Slack it up
Help center
Status page
8. Profile – Customize Your Personal Data
This you will find when you take the cursor on the profile circle given at top right-side of the dashboard.
Notification
Changes
Setting
Manual Subs
Log out
1. Notification
Set the notification according to your requirement.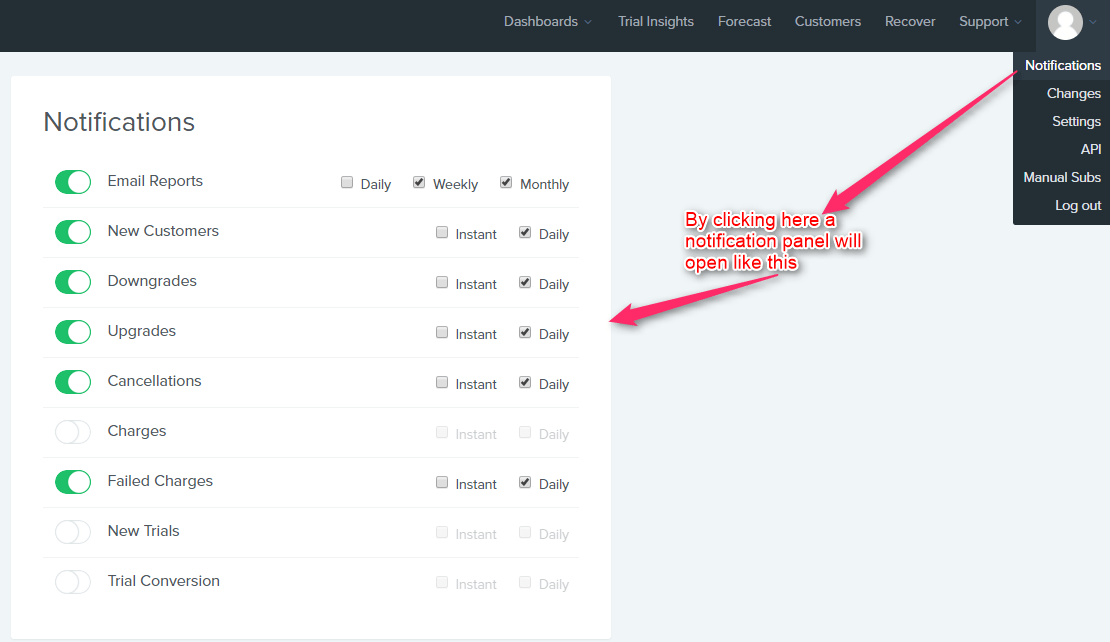 2. Changes
You can see the change that was made in your account.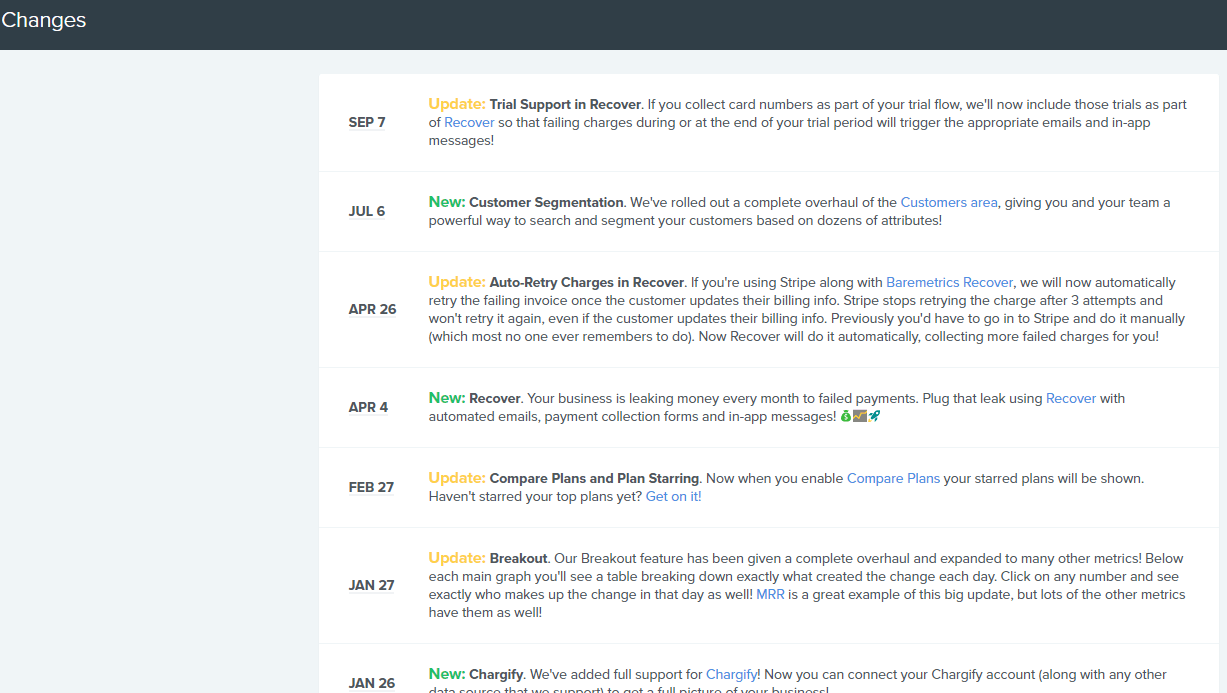 3. Setting
Company Details

Team Members

Billing & Invoicing

Data Settings

Data Connections

Slack Integration

Plan Management

API Keys
 

Company Details

– Share your company details like name, phone number, address so that you can customize Baremetrics just for you!


Team Members – Share all your important metrics with your teammates.
Billing & Invoices – Manage credit card information, can review your past invoices, change your plan or can cancel your account.
Data Setting – You can customize data how you wish to display it.
Data Connections – Connect your Stripe, Recurly, Chargify, Braintree account with this software.
Slack Integration – Also can connect slack account.
Plan Management – Here you can easily maintain your plans and can bring them on the top.
API Key – This key help you connect Baremetrics through the third party.
4. Manual Subs
This feature enables you to create a manual subscriptions plan for those customers who are not connected with a processor.

5. Log out
When you are done with your analysis work then from here you can log-out your account and make it safe secure.
Conclusion
Hope this documentation helped you in every manner. So, don't waste any more time just integrate Baremetrics with your business and keep eye on each and every essential metrics.
For more related information on payment analytics software and subscription management tools, just go through the following blogs –