---
Subscription management & invoice billing can be a tiring and unmanageable process when you have so many clients.
And if you have a good number of customers, then you might need to collect their details at a single place like the plan they opted for, contact number, address, generate invoices, and much more…
Though you can do all this offline using paper and pen, does it ensure efficiency and security?
Probably not!
Therefore to handle the huge data generated from the business transactions efficiently you will need subscription management & recurring billing software that can help you out by managing all the data at a place and handles every aspect of your subscription business.
In addition, it will also simplify the process of information extraction, saves time and effort in managing payments, reporting, payment failure retries, charging tasks.
---
"Go Through The Comparison Of Best Subscription Management & Recurring Billing Software"
---
If you are still searching for the subscription billing software, you have reached the best place. After deep and thorough research, we have listed out 10 Recurring Billing Software including their features and price details.
Let's explore the list of 10+ best subscription management software and find out the best one!
---
"Pabbly Subscriptions is the only software that does not restricts you on Revenue and Customers"
As we have already mentioned above that this subscription billing software lets you generate unlimited revenue as well as enables you to add limitless customers. And the interesting thing is that it doesn't charge any additional fees for doing that. Also, it offers lifetime access to its system without charging any EXTRA TRANSACTION FEES & TAXES.
---
Best Feature – "Unlimited Revenue + Products + Plans"
---
Moreover, with Pabbly Subscriptions Billing, you can create unlimited products & plans, sell them via checkout pages, track customer & subscription details from respective sections and send the bills, invoices via email. Besides, it is the only recurring billing software that has an inbuilt Affiliate management module.
---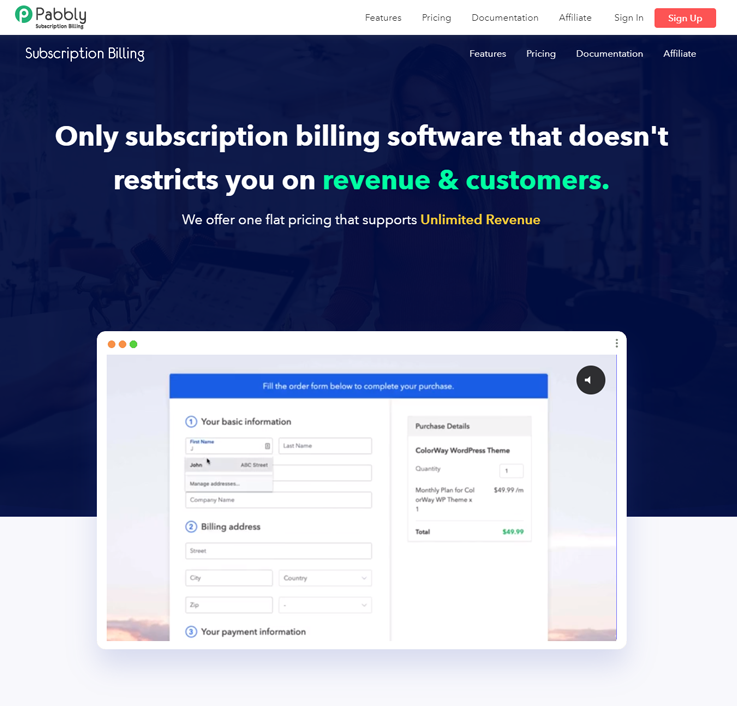 ---
On the contrary, Pabbly Subscriptions is a stand-alone application for all your subscription billing needs that fit in your budget and offer more. It is efficacious in managing your entire subscription-based business right from payments to subscriptions to reporting.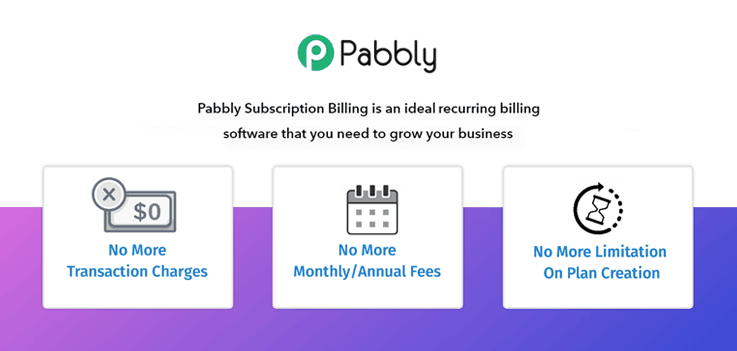 Let's have a look at the exemplary features of Pabbly Subscriptions:
Built-in Affiliate Management Module:
Only Pabbly Subscriptions is the recurring billing software that has a pre-integrated affiliate management module that helps you to easily manage your affiliates.
Client/Customer Portal Integration:
The software comes with an integrated customer portal that lets your customers to view/update their account details, subscriptions or even cancel their subscriptions themselves.
You will get quick insights into your subscription business health like MRR, Net Revenue, Churn Rate, etc. directly from its intuitive dashboard.
Substitutes Manual Management With Automation:
You can automate all your recurring and one-time payments and also generates invoices for each of them. While the calculation of taxes can be a hassled task, Pabbly Subscriptions automatically calculates taxes for you and ensures a smooth flow of work.
Pabbly Subscriptions is here to take your business to global heights by supporting you with accepting multiple payment gateways such as PayPal, Stripe, Authorize.net, Razorpay, etc. and by letting different people use different payment options.
Further, you can customize your payment page by adding your own logo, tag-line, banner, etc.
PSB comes with a dunning feature that acts as a savior at the time of denied or failed payments. Additionally, for every failed payment, it will take the charge and notify your subscriber about it. After performing this work, it then constantly send follows up so you will never lose a subscription.
Pabbly Subscriptions lets you add an unlimited number of customers, products, promo codes, and coupons in a few clicks without any technical codings. And, all of this can be smoothly managed in a single dashboard. Also, it provides you with an API-key through which you can integrate with any web-page.
Pricing –
Pabbly Subscriptions offer various pricing plans. You can choose a monthly or annual subscription plan at an affordable price and grow your revenue without any customer limits.
Pabbly charges a flat monthly fee of $39/month for collecting unlimited sales revenue and unlimited number of customers without any transaction charges
While the yearly plan costs $19/month, with which you get 6 months free. Hence, you save 50%.
---

Important!
Hearing a success story always leaves with an awed feeling.
Isn't it?
And, what if I say you can create your success story with Pabbly Subscriptions?
Yes, Pabbly Subscriptions is here to offer its widest range of solutions to all your subscription billing needs at just $19 for a month.
---
Read some more related articles on subscription & payments:
---
2. Billsby – Subscription Management and Recurring Billing Software
Billsby is a powerful, customizable and easy-to-integrate option for recurring billing with some interesting and unique features including a product, plan and cycle hierarchy, plan actions integrations with other tools you use to run your business and Value Score to identify your best and worst customers.
---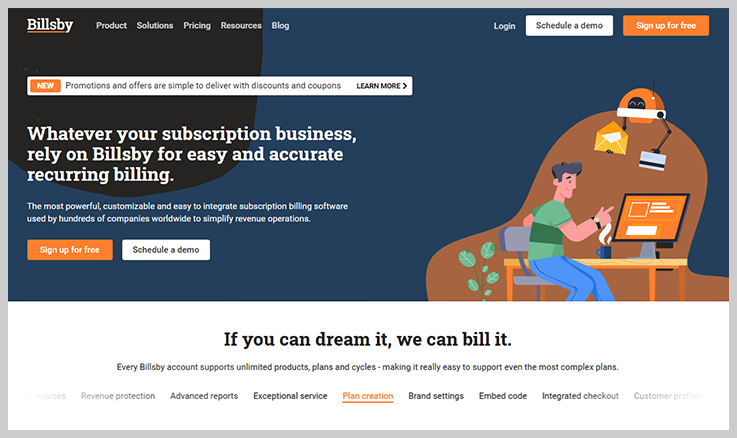 ---
Pricing
Billsby is unique amongst subscription management tools in that all of their features are included across all price plans – so there's no need to go for a more expensive plan to get the features your business needs. And there's also no minimum monthly fee, so if you're not making money, Billsby doesn't charge you. There's also a free trial – Billsby doesn't charge any fees until you've made $5,000 of revenue.
After this, the fee is just 0.4% of any revenue you generate. So for example, if your business makes $10,000 per month, Billsby charges $40. The only other charge is to add their white-label add-on if you don't want to have any mention of the Billsby brand on your emails and invoices, but the branding is very minimal if you don't pay this.
The most interesting and unique features of Billsby are:
Advanced Invoices – Billsby invoices come with a sidebar that help customers to manage their account, so rather than just receiving a static PDF they can take actions like charging their card for a failed payment, talking to your support team or changing their plan.
Embedded Checkout – The Billsby embedded checkout supports features like plan selection and custom fields, so it's a lot easier to get started taking subscription payments with less work for your development team.
Dunning & Retention – The Billsby dunning and retention flow is highly customizable, so you can choose exactly how failed payments are handled and how you want to try and retain customers who want to leave your subscription.
---
3. FastSpring – Recurring Payment Service
FastSpring is the best and amazing subscription handling software which makes the recurring billing management easier. This service is trusted by many big companies like Adobe, Microsoft, Sketch, Macphun and many more.
---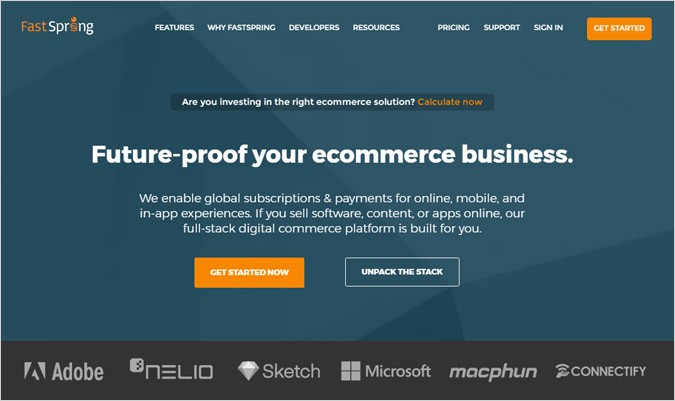 ---
Pricing:-
Pay As You Grow Plan
The cost of this GROW Plan is 5.9% of your revenue plus 95¢ per transaction. Let's make it easy with an example:-
Suppose your business generates $5000 revenue per month and you made 200 transaction then the actual cost of this plan will be

5.9% of $2000(revenue) = $118

95¢ of 30 (transactions) = $28

So, the total cost is

$118 (revenue generation) + $28 (per transaction) = $146 per month
Business Plan
Starting cost of BUSINESS Plan is $199 per month along with this you have to pay an extra charge of monthly subscription plus a transaction fee.
So, then the total amount will be equal to

5.9% of $2000 (revenue) + 95¢ of 30 (transactions) + $199 (basic charge)= $345/month
Enterprise Plan
In ENTERPRISE Plan, you will find dedicated onboarding, ERP, CRM, and legacy integrations. To know the pricing of this plan you have to contact the FastSpring support team.
Some amazing features of FastSpring are mentioned below:-
Easy Subscription Set-up
The FastSpring subscription set-up process is very quick, by just completing a few simple steps, you can easily design several pricing plans as per your requirement.
Multiple Structures & Custom Options
Additionally, this software virtually supports every kind of subscription model, including free and paid trials, one-time setup fee, multiple subscription plans prorated plans and more.
Fraud Protection Platform
Here, you will get information about coupons & discounts integration, refund management, support notes from individual customers, multiple plan configuration and much more.
---

---
4. Zoho Subscription – Subscription Billing Software
Zoho is the smartest recurring billing solution to manage the entire subscription billing customer lifecycle i.e from accepting recurring payments to handling customer subscriptions all at a single place.
---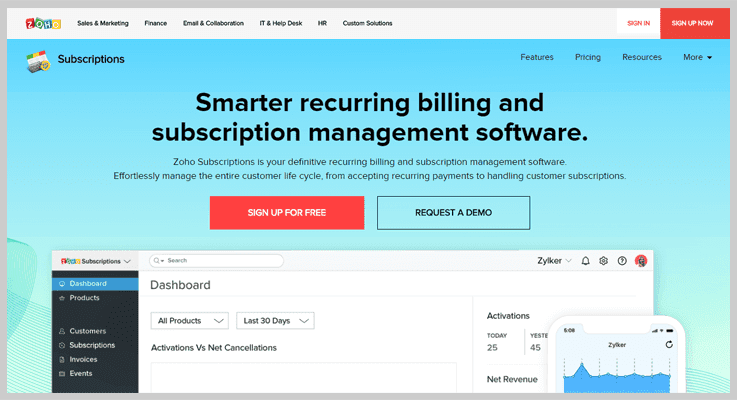 ---
Pricing:-
Zoho provides simple and straightforward pricing for its customers and also gives free 15 days trial pack so that, you can test the working and performance of this service.
Basic Plan
For the BASIC Plan, you need to $49 per month. With this, you will get features like 500 customers, dunning for automatic payments, etc.
Standard Plan
If any organization buy this STANDARD plan then they have to pay $99 per month for 2000 customers and you will get hosted payment page, multi-currency support, dunning for automatic payments and a lot more.
Professional Plan
To get the PROFESSIONAL Plan, you required to pay $249 per month. For 5000 customers and the rest of the features similar to the Standard plan and much more, this plan suits best.
Following are some amazing features of Zoho subscription:-
Easily Handle Your Recurring Billing System
With this management software, you can easily manage every aspect of your subscription business from billing & charging the customers to informing them about the card failure, each and everything can be handled here very quickly.
Support Multiple Payment Gateways
Apart from this, Zoho subscription is also integrated with the most widely used payment gateways such as PayPal, Stripe, Forte, Authorize.net and more. Choose your preferred payment gateway, and set up it in a minute.
Real-time Subscription Metrics
Now, you can get instant and real-time insights updates on your business with this excellent service. This data will help you to make an informed decision which will lead to the growth of your business.
---
MoonClerk is the best billing solution with the help of which you can solve the complexity of subscription billing & management of your business in just a minute. Rather than this, it also gives some additional features like payment gateways, 3rd party integration, analytics & insights, etc.
---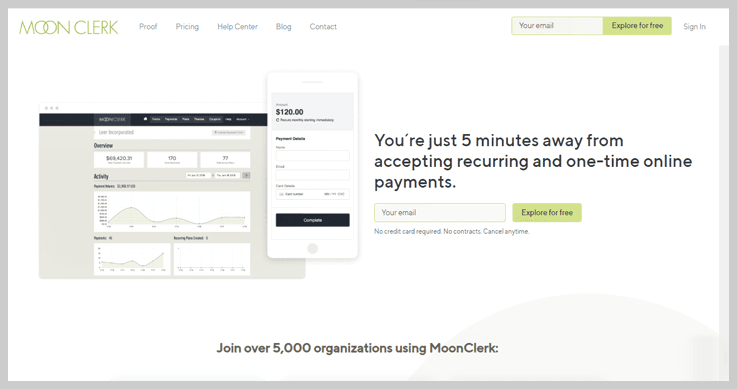 ---
Pricing:-
The pricing plan of MoonClerk is varied from $15 to $110 for the monthly volume of $0 – $2000 to $12,500 – $20,000 respectively. You can choose according to your need.
Following are some detailed description of features that MoonClerk gives:-
Better & Faster Support
With MoonClerk, your support team can quickly locate the plan information, billing history, issue credits, process refunds. The convenience in the process makes support team comfort to work and provide faster service to the customers.
Frictionless Sign-up Form
MoonClerk offers multiple ways to sign up for new customers and helps you to convert more prospects into a paying customer.
Provide Easy Communication With Your Customers
This service ensures you that customers receive the subscription information they need via automated email communication. With this mailing service, you can maintain the branding of your company by sending welcome emails on sign up, new updates and more.
---
Subbly subscription management and recurring billing software is not yet another management tool that scratches the surface of your billing problem, it's a comprehensive service provider that helps to manage your entire subscription-based business.
---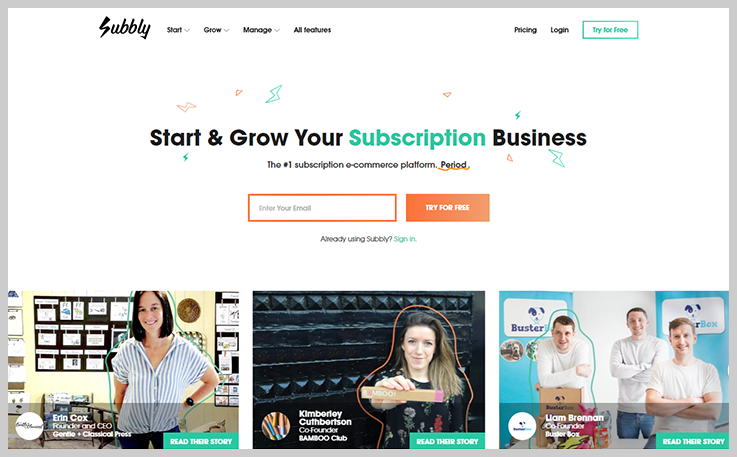 ---
Pricing:-
It provides two plans for their users
Checkout only – It will cost $14 per month in annual billing and $19 per month in monthly billing with all the features of checkout and live chat, email, and community support.
Website + Checkout – In this plan you will get all the core features of the Subbly at the price of $29 per month for annual billing and $39 per month for monthly billing.
Here are some amazing features of Subbly:-
Automate Your Subscription Business
With Subbly subscription automation tool, you can customize all your customer communications such as failed payments, expired credit card, or past due invoices, etc.
Create Coupons & Promos For Customers
If you want to offer a seasonal discount to your customers then, Subbly will be a one-stop solution for you. Here, you can create coupons and promos in seconds, whether it's for one-time use or multiple uses.
Provides Flexible Subscription Catalog
In addition, the catalog feature enables you to control many aspects of your business such as the type of billing, the frequency, add-ons, upgrades, promo/discounts, usage or product expiry, etc.
---

---
Sellfy is the best software that provides you with the details of the key metrics of your business growth. This service is integrated with many companies like Salesforce, Netsuite, Quickbooks and much more.
---
---
Pricing:-
Sellfy provides three plans for their users that billed annually
Starter –  This plan is useful for sales up to $20k per year. The cost of this plan is $19 a month that will be billed annually.
Business – Best for sales up to $50k a year. In this plan you will get the 10,000 email credits at the cost of only $39 per month.
Premium – The most expensive plan of Sellfy in which you will get priority support at the price of $89 a month.
Let's have a look at some amazing features of this Sellfy:
Gain Actionable Insights
For your key subscription metrics, you can collect meaningful data through advanced analytics which will help you to optimize your subscription-based business.
Save & Speed Up Your Values
Recurly helps your business to run quickly by choosing multiple billing models, payment gateways, payment options, integration, revenues recognition, taxes and hosted payment pages as per your requirement.
Ensure Security & Compliance
Additionally, your customer data will be fully secure as this service is PCI compliance, so there is no risk of data loss or hack.
---
PayWhirl is the fastest subscription and recurring profit maximization company. This recurring billing software provides the number of payment gateways such as – PayPal, Stripe, Vantiv, Braintree and more.
---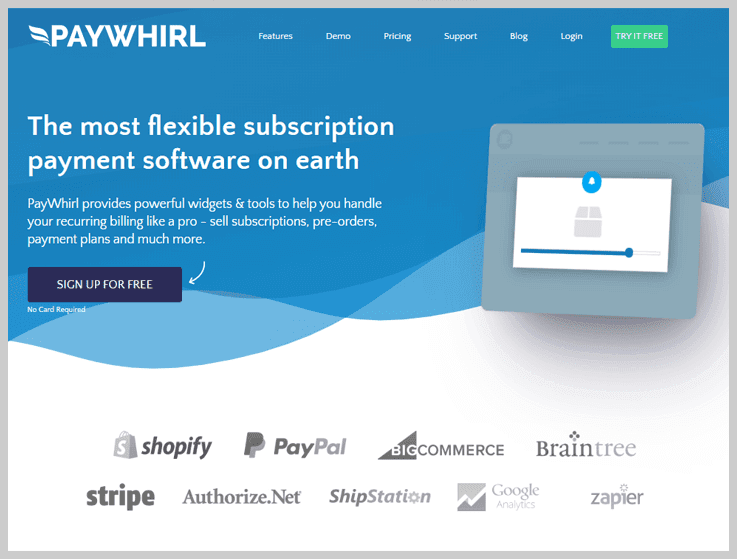 ---
Pricing:-
It provides the following plans:
Business Pro – The charge of this plan is $49/month in which you will get 3 account managers and priority support.
Business Plus – The cost of this plan is $149/month that provide phone support and 10 account manager
Business Ultimate – This plan provide unlimited account manager at the only cost of $249 a month
PayWhirl gives you a comprehensive set of powerful features, some of which are explained below:-
Multiple Merchant Account Management
You can manage multiple accounts from dozens to hundreds very easily with PayWhirl. In fact, you can also define rules in the rules engine to tell PayWhirl that which merchant account is to be used for the transaction.
Rich In Reporting & Forecasting
Besides, this service let you dive deep into your customer, transactions and payment gateways data. And, also gives rich and visual charts in a report, which will help your marketing team to target more profitable segments for your business.
Dispute Management System
The most tedious part of subscription billing – the dispute process, with PayWhirl, automate this process. And, it also lets you import chargebacks, generates proper documentation, cancel the subscription and even you can prevent future chargebacks.
---
9. Invoicera – Invoice Billing Software
Invoicera is an online subscription management system which helps businesses to automate and manage their recurring billing which is generated on a regular basis.
---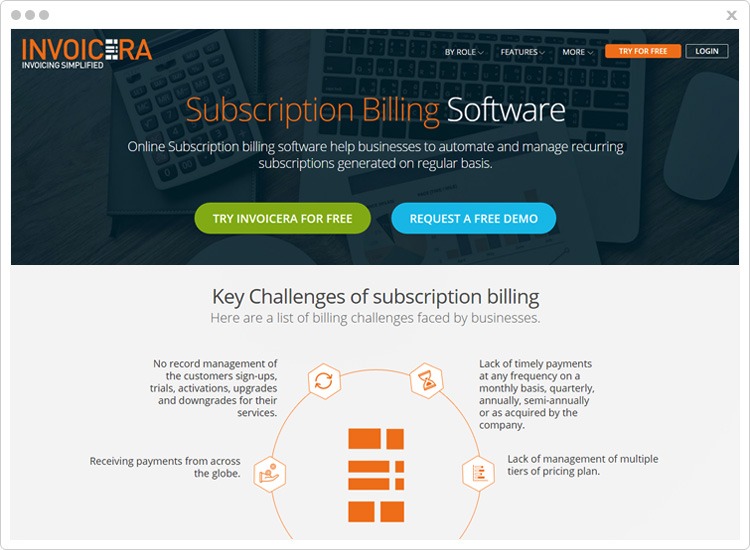 ---
Pricing:-
Invoicera gives 4 pricing plan along with a free trial version. Here, you can also request a free demo to see the working of this software.
Starter Plan
The STARTER Plan is totally free for a lifetime. In this, you will get 1 recurring profile, 3 active client account, 0 staff.
Pro Plan
For 100 active clients and recurring profile, you have to switch to the next plan which is PRO. To buy this plan, you have to spend ₹2499/Year which contains features like clients/vendor portals, multiple language invoicing, automatic invoice scheduling, 25+ international payment gateways and much more.
Business Plan
For 1000 active clients, you need to pay ₹9999/Year. With it, you get features like 10 staffs, PDF Protection, approval process and much more.
Infinite Plan
For unlimited clients and staff, you can buy this plan. To get this, you need to pay ₹19999/Year.
Below are some features that this software provides:-
Real-time Report
Here you can generate a variety of client report such as outstanding invoices, payments received, can see the amount billed or paid & invoice aging all in real-time so that, you can get a better customer management system.
Automated Billing & Payments
With the help of auto-billing profile, you can automatically receive customer payments online. It is also very helpful at the time of getting paid when the invoice becomes due.
Manage All Aspects Of Your Business..!
Furthermore, these features assist you in sending bills to the customers on a periodic basis, which will improve the productivity of the invoicing process.
---
10. Chargebee – Subscription Management & Recurring Billing Software
Chargebee provides all nuts and bolts that are required to manage subscription, recurring payments, invoices and much more, with an additional one elegant API layer.
---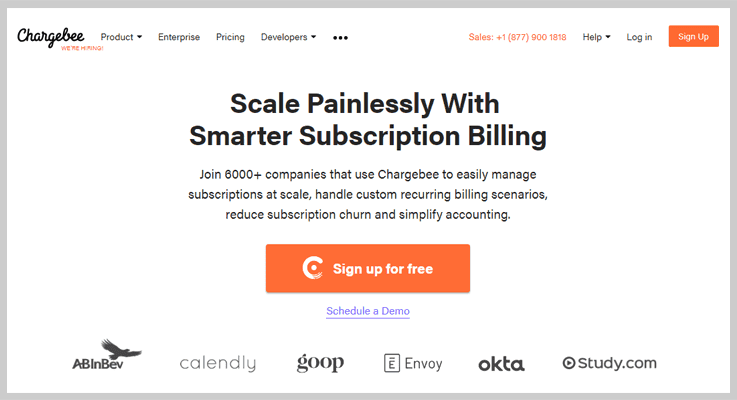 ---
Pricing:-
Similar to other services, Chargebee gives amazing 3 pricing plan which is also briefly discussed below and you can try this powerful software for free.
Rise-
The Rise plan gives numerous features like invoicing & subscription management, payment and checkout page, reporting, etc., and if your organization generate $25k revenue per month then for that you just have $299/month.
And, if in case your business produce an extra revenue then you have to pay 0.5%(of that extra revenue)
It would be easy to understand it with an example:-
If your organization generates $30k revenue per month then overage revenue is calculated as:-

0.5% of($30000 -$25000) + $299(basic charge) = $324 per month
Similarly, if your business generates $50000 revenue per month and the extra revenue % for this plan is 0.6%, then RISE Plan will actually cost you –
0.6% of($55000 -$50000) + $299(basic charge) = $329/month
Scale-
Further, the SCALE Plan is for those businesses who generate $75000 revenue per month and the extra revenue rate for this plan is 0.9%. So, then the actual amount will be –
0.9% of(80000 -$75000) + $599(basic charge) = $644 per month
Enterprise-
To know the pricing details of this plan, you need to contact the sales team of Chargebee.
This software is a PCI level 1 compliant and will provide many features to its customers such as:-
Flexible Plan Management
With this management software, you can set-up unlimited subscription plans and analysis all that from a single dashboard.
Manage Your Trial Pack Easily
With Chargebee's flexible trial management, you can easily set up trails that suit your business because trials are the perfect way to make your users fall in love with your product.
Baked-in Coupon System
Make your marketing campaigns easy with Chargebee's in-built coupon management system along with tracking features also.
---
11. ChargeOver – Billing Software
ChargeOver is a simple recurring billing and subscription management software with the help of it you can automate recurring payments and subscriptions. Apart from this, the tool also works with many companies such a QuickBooks, Xero and more!
---
---
Pricing:-
Based on the number of monthly active customers each month, this subscription management platform provides numerous pricing plans.
For 0-50 Customers-
To buy this plan, you have to pay $65 per month. And with 0-50 Plan, you will be able to manage 50 active customers.
For 51-150 Customers-
The amount that you have to pay for this Plan is $115/month. With this, you can manage 150 active customers.

For 151-500 Customers-
The 151-500 Plan costs $299 per month and allows you to handle 500 active customers.
For 501-2500 Customers-
For this plan, you need to pay $549 per month. And with this, you can handle up to 2500 active customers.
For 2501+ Customers-
To handle more than 2500 active customers, you have to buy this plan. And to know the pricing detail of it, you have to contact ChargeOver support team.
Here are some features of ChargeOver:-
Offer Flexible Billing
This software provides flexible billing options for one-time fees, free trials, prorated charge, split payments renewals, etc.
Accept Credit Cards
Besides, you can also accept recurring payments through credit cards, ACH and PayPal by using the payment processors of your choice.
See The Growth Of Your Revenue
By this service, you can get real-time visibility of your subscription business such as open balance, lifetime value, churn, recurring revenue and more.
---
 12. Zuora – Recurring Payment Service
Zuora is an amazing recurring billing and subscription management solution that keeps your customer information, monthly recurring revenue detail, transaction list, etc in a well-managed format.
---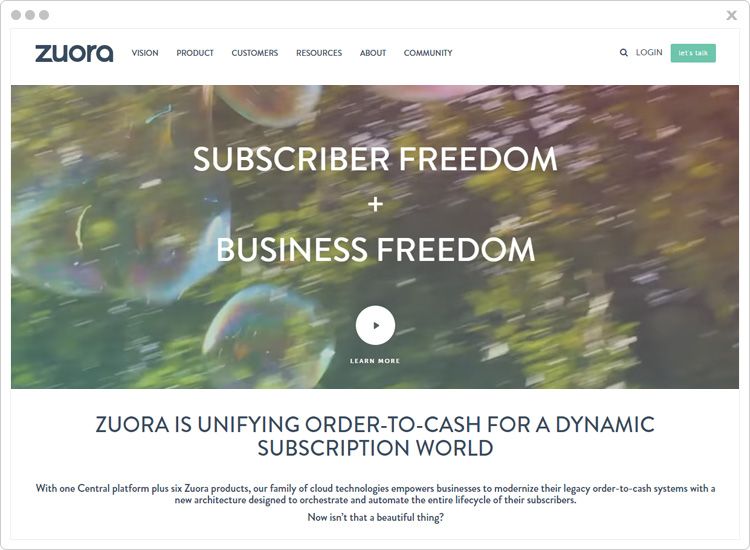 ---
Pricing:-
Zuora has many services along with subscription-like analytics, multi-channel commerce, global payments and a lot more. And, if you want to know the pricing plans the contact Zuora support team.
Following are some features of Zuora:-
Mix & Match Pricing Strategies
The pricing strategies are usually the mixture of 7 segments that are billing frequency, upgrades, add-ons, tiers, promos, usage and internationalization. This mix and match strategies are designed to create attractive offers that can retain subscriber and help your business to grow.
Provides Clean, Clear & Accurate Invoice
Zuora provides some services like grouping, subtotals, and conditional logic to design and configure a wide range of invoice template that will help your customer to understand invoices easily.
Easily Generates Bills For Complex Accounts Also!
Further, no matter how many accounts a company has if it wants to receive a combined bill for every account then with Zuora you can easily roll-up recurring billing, invoice ownership, invoice transfer and even payments to match a customer's billing preference.
---
Conclusion
Above you have seen the list of 10+ best subscription management & recurring billing software. So, without wasting any more time to integrate your business with any of these services and let it handle all the subscription & billing task of your business.
Hope this information helps you. Read some more blogs on this popular niche-
Further, for more info, Contact us!