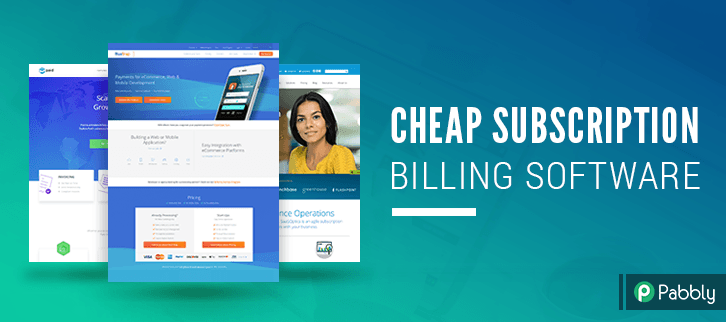 ---
Subscription management is an effective way of handling your financial matters. You can keep an eye on the money flow and the plans that have been created by you.
These kinds of software should also give you security in terms of the financial transfers that will take place at your end, any sort of leakage of such data can be a threat to you and your customers, which in any case should be avoided.
That's why this article contains some cheap subscription billing software that will do all work for you. They will work to reduce the burden that you have regarding the flawless management of your subscription.
Most Affordable Subscription Billing Tools
Also, some of the services allow creating limitless recurring subscriptions for all of the customers which does not bound on revenue generation too.
That's what all you want for your business. You will find more interesting features in the services mentioned in this article. All you have to do is to read it out & finalize the best tool according to your requirements.
Throw some lights on these fantastic articles also –
---
Let's go through the amazing software one by one:-
A trade-off between subscription billing tool and low cost is something we always keep on hunting but fail to find. Here we have listed Pabbly Subscriptions as the cheapest yet a robust software for all the subscription-based needs under one wide umbrella.
It is designed to manage all the subscriptions and recurring payments related work in one place. You can put your trust in Pabbly as for your numerous billing problems it always has the right solutions.
---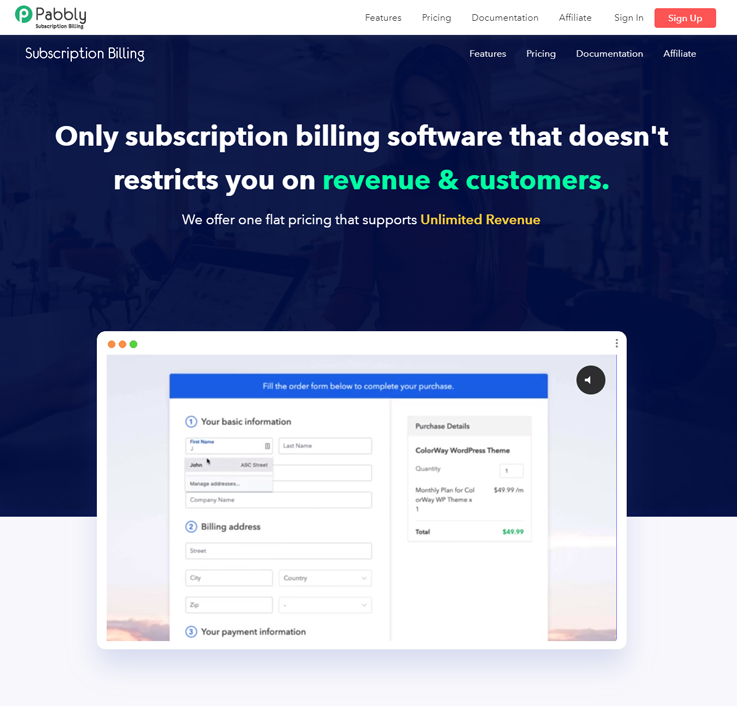 ---
Pricing:-
Starter Plan:- Purchase this plan at $19/m ( yearly basis ) and $39/m ( monthly basis ) and manage 500 customers along with various features such as invoice billing, dunning emails, unlimited revenue and more.
Rookie Plan:- The Rookie plan is best for managing subscription billing for 2000 customers at just $29/m if you opt for a yearly plan and $59 if you opt for a monthly plan.
Pro Plan:- Through this plan, you will be able to work on unlimited customers at $49 on a monthly basis charge in a yearly plan and you will be charged $99/m if you go for a monthly plan. It will come with features like setup unlimited products, plans, coupons & so on.
Features:-
Through this tool, you will be able to collect one-time as well as recurring payments in more than 25 global currencies.
Also, you can create & manage an unlimited number of subscriptions of your customers without any limitations.
Now, it has a new feature of refunds. Through it, your customers can wish to cancel their subscriptions & apply for refunds from you.
Attention!
Looking forward to take your subscription business to new heights?
At a low cost?
So Pabbly Subscriptions is here to serve all your subscription billing needs at an affordable price.
Subscribe the services of Pabbly Subscriptions at $5 and enjoy
for a month.
This opportunity is valid only for the first 500 customers.
More info click the button below!
Click Here For More Details
---
2. Zoho Subscriptions
Zoho Subscriptions is one of the finest subscription billing software providers which manages your recurring and subscription billing effectively. You can manage the entire customer lifecycle smoothly and covering things in the full spectrum from accepting recurring payments to handling customer subscriptions.
---

---
Pricing:-
Standard Plan:- In the standard plan you will be able to handle the subscription management of 500 customers and share it with 3 users in $29/m.
Professional Plan:- In the professional plan,  the user can have all the features and services that are included in the standard plan which will be for $69/m and you can manage unlimited customers and share it with unlimited users.
Features:-
Have an edge over others by quickly sending professional invoices automatically and setting up the preferred recurring billing schedule.
Create a smooth checkout experience using customizable and PCI-compliant hosted pages that are configured with the payment gateway of your choice.
Monitor all the important subscription metrics like MRR, ARPU, and LTV by using the software's powerful business reporting.
---
3. Bluesnap
Bluesnap is a remarkable subscription billing software that will increase your recurring revenue on a global stage, the software has an automated subscription reminder to make renewal easy for shoppers.
---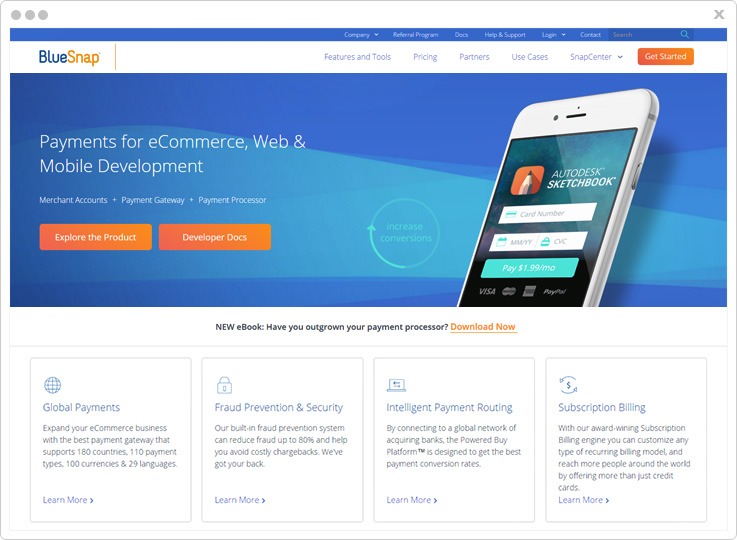 ---
Pricing:-
For pricing, you need to get in touch with the service providers.
Features:-
The various models that have been incorporated into the recurring billing model can be customized with flexible and dynamic subscription plans.
You can integrate the software's API easily to your internal systems, the library of the subscription makes it easy to switch plans, issue cancellations, update payment details and more.
The built-in subscriptions have dunning management which automatically retries subscription purchases during a grace period to propagate customer conversion globally.
---

---
4. Avangate
Avangate allows you to build a long-term recurring revenue management system that will enhance your customer relationships, plus, you can see the customer and subscription data through a single interface.
---

---
Pricing:-
Growth Edition:- In the growth edition, the plan is – 3.99% per transaction  + 0.99$ merchant account fees for the revenue limit up to 15000 $ per month.
For example:- If there is a $150 transaction, so the 3.99% of $150 would be $5.985 per transaction + $0.99 merchant account fees at your business.
Standard Edition:- In case of the standard edition there is no revenue limit unlike the growth plan and you would have to pay 4.9% per transaction + $2.5 merchant fees.
For eg:-  If there is a $150 transaction, so the 4.99% of $150 would be $7.485 per transaction + $2.99 merchant account fees for your business.
Features:-
You can manage subscriptions and get an insight into the customers and subscription value and stats.
Allow customers to have control over their profile, subscriptions, and billing, and extend management capabilities.
The magnificent account management tools give CSRs a single-page and a 360-degree view of customers' subscriptions along with entitlements.
---
5. FastSpring
FastSpring operates well for the companies in terms of the subscription management and recurring billing platform. The software is a powerful & intuitive which can setup easily and through the software, you can test the entire lifecycle of an order also.
---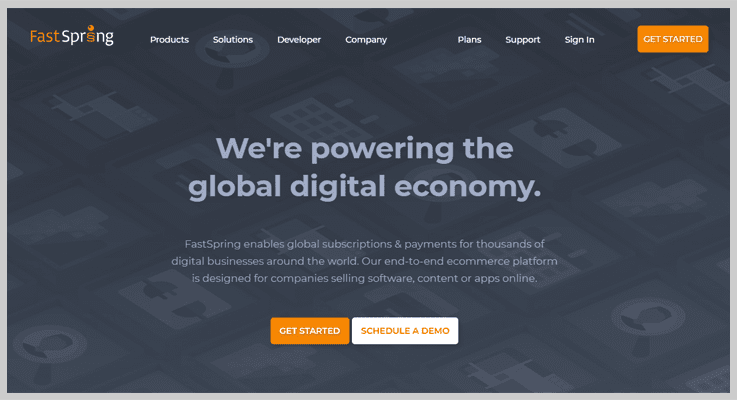 ---
Pricing:-
'Pay As You Grow' Plan:- the plan offers low competitive rates in which you have to pay 5.9% per transaction + 95 cents for the account fees.
For example:- If there is a transaction of $100 then the payment would be like 5.9% of the transaction which is $ 5.9 + 95 cents that go as $ 6.85, that you would be required to pay.
Business Plan:- In the following plan you will get an optimized business solution, in which you will have monthly subscription plus transaction fees, the plan will give you extra premium services starting as minimum as $199 per month.
Enterprise Plan:- In the enterprise plan, you will get multiple pricing structures with tiered volume discounts, the plan will include additional enterprise service for the business patch over 2 million annual sales.
Note:- Business and Enterprise plan are customized plans for that you will have to get in touch with the service providers.
Features:-
The software supports numerous subscription structures which have a subscription model, including free and paid trials, on-demand subscriptions, one-time setup fees and more.
Fastspring gives you a full-fledged platform which is crafted to improve subscription management and recurring billing for businesses.
The system offers your clients with a localized experience via multiple payment methods, multi-currency support and multi-language support as a whole.
---

---
6. Braintree
Braintree subscription billing software is a reasonable software that is customized for all sorts of business ventures to accept, process and split payments. With an added value of scale, backing, and confidence of partnering with a PayPal service.
---
---
Pricing:-
Standard:-  In the standard plan you would be charged 2.9% per transaction + $0.30 , for example if there is $100 transaction so, then you would be charged 2.9% of $100 =  $2.9 + $0.30 = $3.20
Enterprise:- In the case of the enterprise plan you need to contact the service provider.
Features:-
The user can easily accept repeated online payments from the software for the subscription-based businesses, any sort of donations and more.
You can give your customers prorated subscriptions options in which the user can upgrade or downgrade their subscriptions at any time.
The system provides you a robust reporting that will enable you to search plans and subscriptions, filter them by pricing plan, subscription ID, billing periods remaining and more.
---
7. SaaSOptics
SaaSOptics streamlines the order to renewal process which means you manage the entire subscription journey, in this way you will have the proper visibility of the most vital part of your business and that is your customers.
---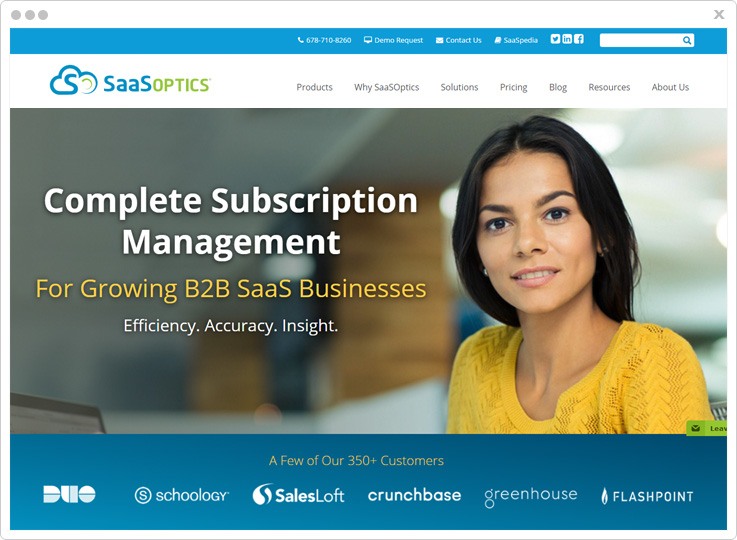 ---
Pricing:-
Early Stage:- The particular plan is for people who have revenue generation of 1 million for 3 months and it will be for $150 which will keep on increasing further proportionally as per the revenue generation.
Emerging:- The emerging plan is for businesses between $1million to $50 million in revenue trailing for 12 months for $4000 and increasing further accordingly.
Enterprise:- In the enterprise, the plan subjects to businesses over $50 million in revenue trailing for 12 months for the pricing of which you need to contact the service provider.
Features:-
The software keeps the records and reports on all key revenue numbers, including reportable revenue, deferred revenue and unbilled accrued revenue (AR).
You will free yourself from the calculation part as the software automatically calculates key metrics with standardized calculations, all tied to your financials and in one system.
The system allows you to synchronize in order to invoice and give you the platform that can scale and provide top to bottom in-depth financial metrics.
---
8. Aria Systems
Aria gives you an ideal subscription management system which works on recurring revenue models through the appropriate monetization system offering products in new ways and expand your market to people.
---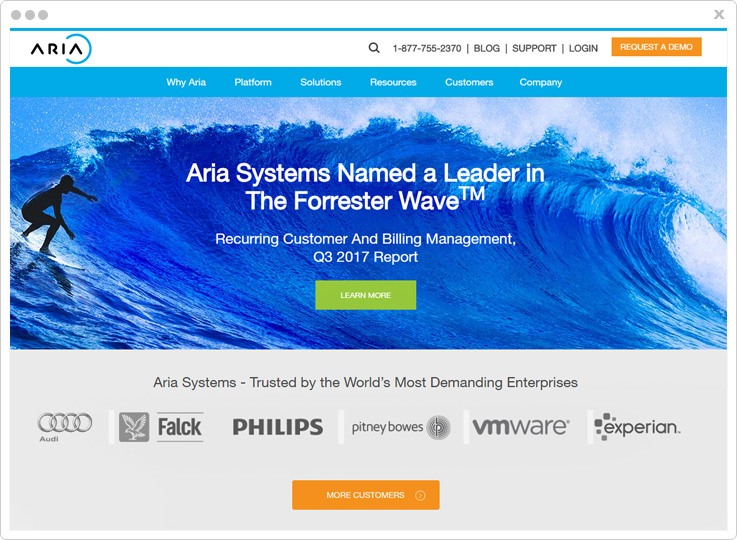 ---
Pricing:-
For the pricing, you can contact the service providers who will help you with all the details.
Features:-
The software gives you a platform to manage recurring revenue enables your company to cultivate an ever-expanding base of new customers.
You can maximize lifetime value by giving subscription and usage-based solutions to make it easy to upsell and cross-sell your products.
The platform that is used in the software is PCI compliant, in addition, get deeper insights into your products and customers to help you easily identify trends.
---
9. PaidLabs
PaidLabs is an effective billing software which will let you handle automation billing for all sorts of businesses, the system delivers invoicing services which will help the user to get paid on time and monitor and track all the subscription.
---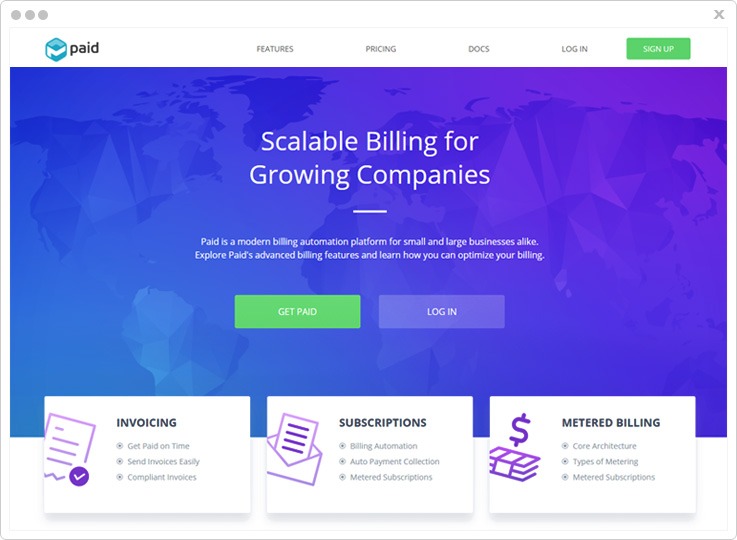 ---
Pricing:-
Free:- In the free plan you can you can avail the plan free up to 10 invoices that have been generated in your business.
Pay As You Go:- In this plan, you would be charged $1 for 1 invoice, so if there are 50 invoices that have been generated then you would have to pay $50
Custom:- In the custom plan, you will get customized services that will be as per need and will, and for the pricing details of the specific plan you need to get in touch with Paidlabs.
Features:-
You can send invoices to your customers and handle your billing automation as well, the system handles the auto payment collections and metered subscriptions as well.
Metered and usage billing is another feather in the cap fpm the software to the users which will give precise and accurate billing.
An unparalleled reporting and accounting from the software providing customer level data and custom reports.
---
10. ChargeeBee
ChargeBee is a great platform for handling your financial activities which include the subscription and recurring billing management. It also includes multiple features like built-in proration in which if a customer switches from a freemium plan to premium plan then the charges are automatically calculated and added to the next invoice.
---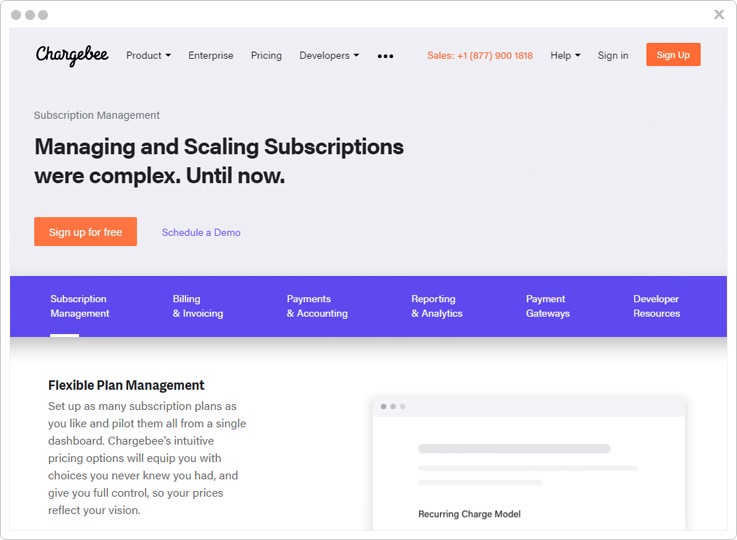 ---
Pricing:-
Go Plan:- For the respective plan, you would be charged $99 for a month, valid up to $25K monthly revenue and if that exceeds then you have to pay 0.5% of the extra revenue generated.
Rise Plan:- In this plan, you would be charged $299 per month up to $50000 monthly revenue and 0.6% of extra revenue.
Scale Plan:- Here you have to pay $599 per month and the bandwidth rises to $75000 monthly revenue and 0.9% of extra revenue.
Extra revenue or the overage revenue:- It's calculated as –
Monthly revenue – 30000
As per plan limit – 25000
The overage revenue = 0.5% of ($30000 – $25000 = $5000) + base fee ($99) = $124 per month
Features:-
The software gives the flexible trial management, which set up trials that suit your business, the system gives the trial ending reminders as well.
The layer of abstraction and eliminating complexities for the trials and the Chargebee API is built to handle all your billing edge cases.
You can add customizable add-ons, the software provides a range of add-on options which will help you add value without changing a plan.
---
11. Chargify
Chargify allows you a faster subscription management, the software gives an easy and customizable API to integrate into your existing signup process, you can also communicate to customers through emails which ensure the right information is delivered.
---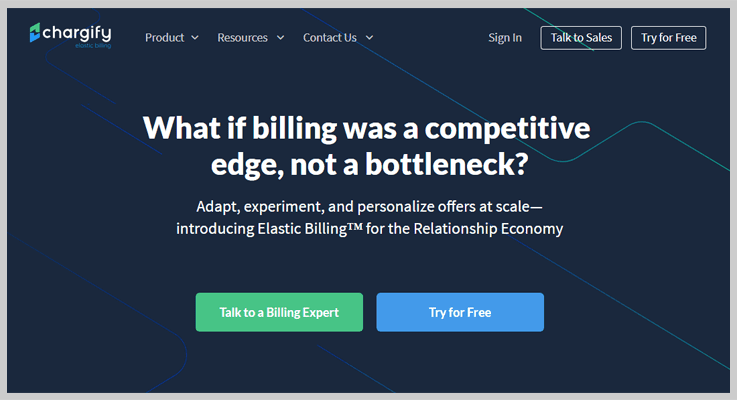 ---
Pricing:-
Essential Plan:- The user has to pay $149/month + 1.2% of revenue that has been generated at his business.
Eg :- Let us assume that  revenue generated is $10000, in that case 1.2% would be $120
then, $149 + $120 = $269
Advanced Plan:- In the advanced plan, the user will be required to pay $299/month + 1.2% of revenue generated.
Eg. Similarly, for this plan, the payments would be calculated as:-
$299 + $120 = $419
Enterprise:- Need to contact sales to build a custom plan for your business.
Features:-
The customers will get a self-service experience through which they can upgrade or downgrade the service subscription that has been provided by you.
The system also allows you to access billing history, and manage account related information throughout the customer lifecycle.
Within the software highly customizable templates allow you to consistently maintain your company's branding.
---
Conclusion:-
The subscription payment and invoicing software which covers all the financial task related to your business have been presented to you. In addition, the software will let you manage the plans that are provided by you and keep you updated for the same.
You can pick the best software for the cheap subscription billing software which best customizes your business needs and requirement.
For more related stuff you can go through the following blogs:-