"Subscription allows businesses to automate the customer billing process on the recurring basis."
---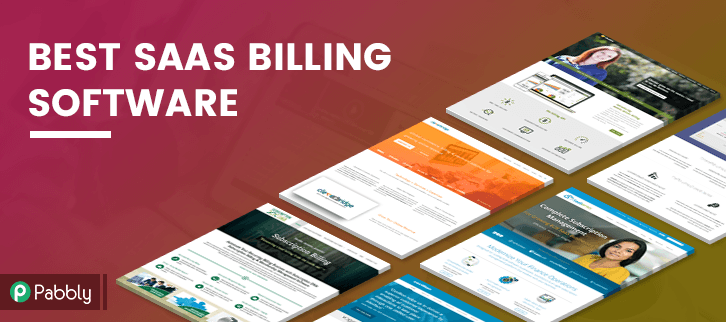 ---
With subscription billing on invoices, we can charge the customers for every billing cycle or an invoice that can be paid by using different payment methods.
If you find that you are trapped in the process of sending the same invoice every month then you are definitely in need of a subscription billing software.
But the question arises, which software is best for it?
To help you from reaching the state of utter confusion, I would like to present the list of 10 Best Saas Billing & Recurring Payment Management Software.
---
---
Just go through the following detailed description of these services and decide which one is best for your business.
Get Lifetime Offer: Chargify Alternative
---
While subscription business is the new black but managing it can be a hassled task.
For your subscription business, you need an assistant which can take charge of all your subscription needs, and Pabbly Subscriptions exactly does that.
In fact, its comprehensive list of services makes it ahead of the curve.
This SaaS Billing & Recurring Payment Management Software fits in every business scale and is fused with all the tech innovations for your payments and subscriptions management.
Pabbly Subscriptions provides your customers with the flexibility to choose the payment currency, payment gateway, and even the payment option and on your end.
Now, you can enjoy the freedom to expand your business to any limits by adding an unlimited number of customers, products, promo code, coupons without any restrictions.
Pabbly Subscriptions will be happy to serve you at just $5 per month for unlimited revenue.
So, with Pabbly Subscriptions, you can have that one friend which fulfills all your expectations without any demands.
---

---
Attributes:-
Automated Payments and Dunning
This software automates all your recurring and one-time payments without any fail.
If we talk about recurring payments, we cannot ignore the aspect of failed or denied payments and that's when you need an expert. Pabbly Subscriptions dunning feature is built to deal with it.
Pabbly Subscriptions automatically sends a notification beforehand for your customer's upcoming recurring payment and when a payment fails you can continuously follow up with your customer with customized emails for the payments.
Ease of Payments
To give your business a global reach, Pabbly Subscriptions lets your customer use multiple currencies for their transaction and along with currencies, your customers also get to use the multiple payment options for payments.
You also get facilitated with multiple payment gateways to ease payments further.
It has additionally got a feature of PCI-Compliance through which you can make payments even safer for your customers.
Checkout Customizer
You can effortlessly provide your users the checkout page in the language of their own choice. Simply go to the checkout page setting, select the plan you wan to change & here you can change the language.
Not only this, but you can also change the other settings like header, add a countdown timer, order information, etc.
Pricing Plan:-
Starter Plan
Pabbly Subscriptions provides various advanced features with this plan some of them are :
Recurring Payments
One Time Payments
Payment Gateways
Invoice Billing
Dunning Emails
You will get this plan at $39/month but, if you purchase its yearly plan it will costs you $19/month. Hence, you will save an extra 50%.
Rookie Plan
With this plan, you get access to various exemplary features like :
Custom Payment Gateway (Single)
Affiliate Module For 5 Affiliates
Custom Domain (Single)
Upsell/Addon (New)
Tax Management
You can avail of this plan at $59 on a monthly basis. Else, get this at $29 with annual payment.
Pro Plan
This plan provides you with various efficient features like :
Custom Payment Gateways (Unlimited)
Affiliate Module For Unlimited Affiliates
Custom Domains
Invoice Billing
To upgrade to this plan, you gotta pay $99 on a monthly basis or $49 with annual payment.
Remembering every month's payment date of your subscription service provider is a pretty tough task.
Now free yourself from the stress of subscription management and from the task of remembering dates.
Go for Pabbly Subscriptions where all your subscription needs are served at just $19 for a month.
Pabbly Subscriptions is a software you can always count on.
Don't wait, as the offer is only limited for the first 500 customers.
Hit the button below!
---
2. Cerillion
Cerillion is a leading provider of billing, charging and customer management system for more than 20 years. This SaaS billing & recurring payment management software is a complete solution for businesses looking to offer a flexible array of subscription-based services.
This recurring billing handling tool is trusted by many companies like – Tatteaekom, Relish, Telkom and more.
---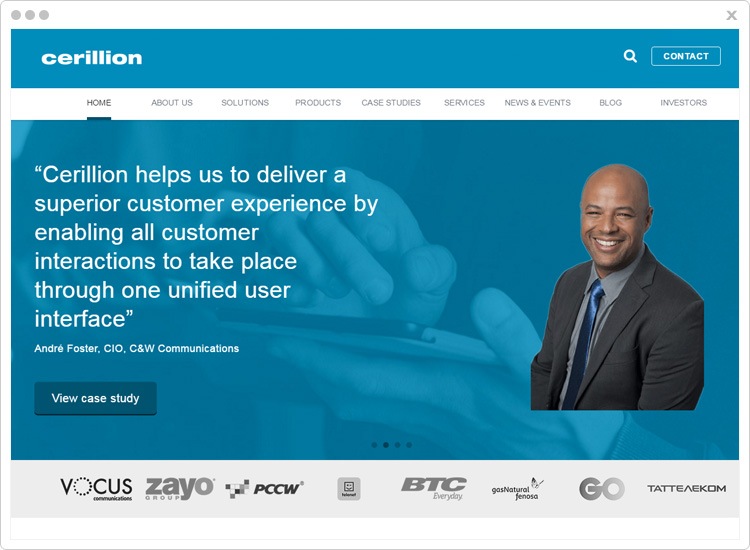 ---
Attributes:-
Manage Products & Price Plans
From here you can easily manage the complete range of products, services, charge elements, discounts, add-ons and more of your business which will help you save time to focus on other work or make powerful strategies for your business.
Automated Payments
This amazing subscription handling software provides a secure suite of tools for accepting recurring payments automatically including credit/ debit cards processing, PayPal, and direct debit. You can also upload a file-based interface for uploading offline payments notifications.
Recovery & Debt Management
This service also lets you manage all the financial exposure associated with high-risk customers of your business with its debt management and recovery tool.
Pricing Plans
Skyline Essential
This is the first plan that Cerillion subscription management software provides. It only charges $140/month for this plan and offers products management, configurable trial periods, manages payment methods and lot more.
Skyline Standard
The Standard plan charges only $410 per month and also gives many additional features such as customer administration, discounts, and promotions, customized invoice, multi-currency, etc.
Skyline Metered
Cerillion recurring handling software's third plan is Metered plan which charges $690/month and offers all the feature of skyline essential and standard plan.
Skyline Enterprise
Enterprise is the last plan whose cost is $2,060 per month with an additional feature of account relationships and hierarchies, rolled-up billing and custom collection profiles, while rest attributes are same as above mentioned plans of Cerillion.
---
3. SaaSOptics
SaaSOptics is a complete subscription management tool for growing business. With this software, you can automate revenue recognition, make a fast data-driven decision and much more. It has 350+ customers some of which are Schoology, SalesLoft, Crunchbase, Greenhouse, etc.
---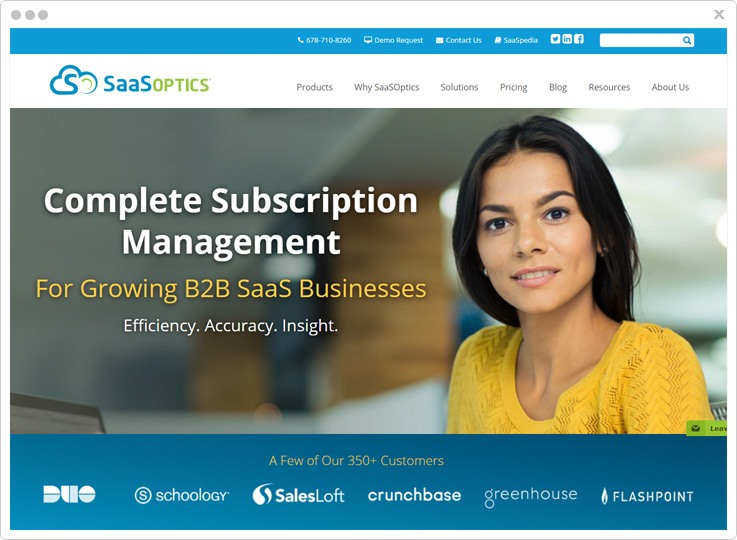 ---
Attributes:-
Easy Calculation Of Your Metrics
SaasOptics automatically calculates all key metrics of your business such as MRR, churn rate, cohort rate, invoices and more with a standardized calculation system.
Scale Financial Aspects
This system allows you to synchronize your orders, invoices, billing and also offers you a platform to scale your product financial metrics from top-to-bottom.
Handy Dashboard & Reports
You can see the stats of MRR, revenues, invoices, payments, customers of your business at a single dashboard which will help you to record and create an understandable report of this metrics.
Pricing Plans:-
Early Stage
The basic cost of this plan starts from $150 on the quarterly basis, for those businesses who generate revenue up to $50k. This cost will vary with the variation in revenue.
Emerging Growth 
The base annual fee of this Growth Plan starts from $4000 for the businesses who generate revenue up to $2M and this amount will increase when the generated revenue increases.
Enterprise
The Enterprise Plan is for those businesses who generate revenue over $50MM. To know the pricing details of this plan contact the SaaSOptics support team.
---

---
4. Wallee
Wallee is another best software for managing recurring payments, it allows you to accept payments via multiple methods and also offers an extensive toolkit for your online business like documents handling, cloud printing, subscription, frauds prevention, payments, etc.
---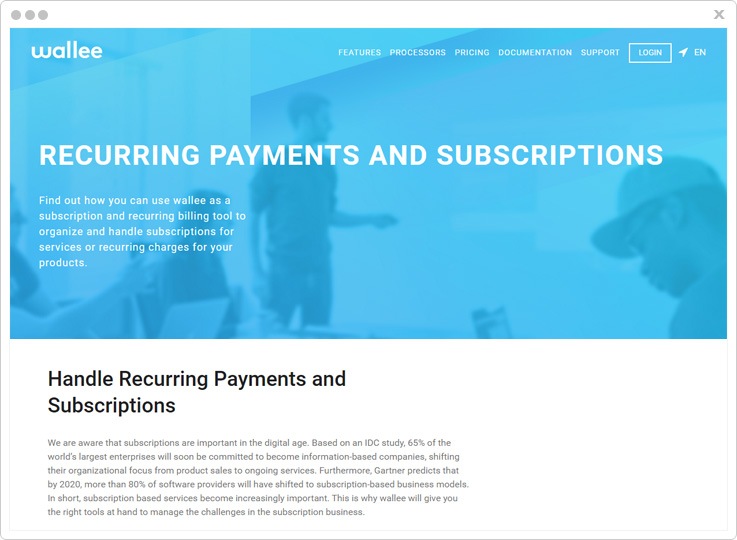 ---
Attributes:-
Intelligent Payment Routing
Since this service accepts the payment worldwide, it will help you decrease your payment rejection rate, optimize your cost structure and much more. So that you can effortlessly boost-up your conversion rate.
Easy Document Handling
The built-in editor of this service let you customize your documents fully. Also, you can create dunning cases which automatically notify your customer of open invoices and other features like you can send reminders to the customer if they forget to edit the document text.
Create A Trial Periods
Easily create a free trial pack for the customer and let them test the working of your product before they commit to a paid subscription. You can also add setup fees to the product component.
Pricing Plans:-
Starter Plan
This is the ideal product for a merchant who wants to explore Wallee. By Paying $4.95 per month, you can activate this plan which includes 300 transactions.
But if you made the transaction more than 300 in a month then you have to pay $0.23 per every extra unit transaction.
Let's make it clear with an example –

Suppose, if you made 400 transactions in a month meaning 100 extra transactions. So, for that the total amount you have to pay is

$4.95 (basic charge) + $23 ($0.23 of extra 100 transaction) = $27.95 per month
Advanced Plan
In the same way, if you switch To Advanced Plan then you will be charged $14.95 per month for 1000 transactions. But if you've made extra transactions then for every transaction you have to pay extra $0.16. Then, the total cost will be –
$14.95 (basic charge) + $16 ($0.16 of extra 100 transaction) = $ 30.95/month
Business Plan
Similarly, the cost of Business Plan is $59.90 per month for 4000 transactions. If you've made more transactions then for that you have to pay $0.065 as an extra amount. So, the total cost will be –
$59.90 (basic charge) + $6.5 ($0.065 of extra 100 transaction) = $ 66.4 per month
Enterprise Plan
This plan is for large companies which have special requirements regarding support, features. So, to know the pricing of this plan you have to contact Wallee support team.
---
5. Cheddar
Cheddar is an amazing SaaS billing and payment management software, it has replaced outdated billing models like retain products and invoice catalogues, with real-time metrics tracking and powerful billing engine.
Many companies like Kin, Goodebox, StoryAMP, Periodic and more have assurance over it since many years.
---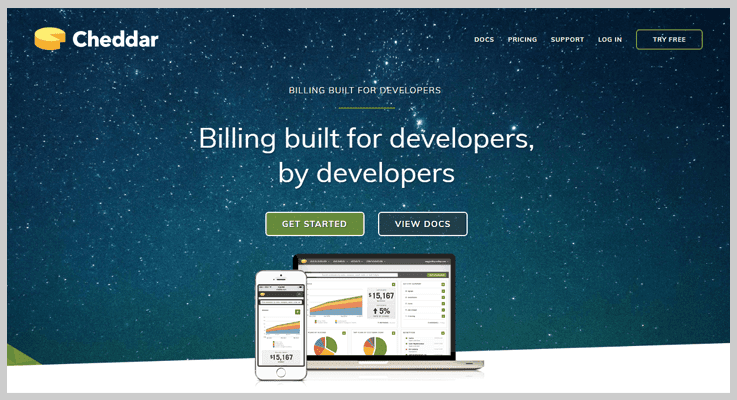 ---
Attributes:-
Secure & Reliable Billing
Cheddar provides security, scalability, and redundancy at every point and also ensures your transactions run on time accurately. Not only this, it also minimizes your PCI compliance burden.
Complete Subscription Metrics
Get full real-time information of every important aspect of your business like monthly recurring revenue, churn rate, average lifetime value, etc. Other than that you can also change your industrial metrics into marketing data.
Maximize Your Revenues
As we know that 15% of recurring transactions fail. But with this SaaS billing tool, you can prevent those failing transaction before it occurs and can reduce your churn rate.
Pricing Plans:-
Cheddar gives 2 pricing plan to its customers, first is the Developer Plan for unlimited testing and integration can be taken for FREE.
And the second one is Production Plan worth $99 per month + 2.9% of the generated revenue + 30¢ per transaction
Let me make it clear with an example-
Suppose if your business have generated revenue up to $10000 in a month and the total transaction made was 30 then, the total cost you have to pay is equal to –
$99 (basic charge) + 2.9% of $10000 ($290) + 30¢ of 30 transaction ($9) = $398 per month
---

---
6. PayMotion
PayMotion subscription billing and payment handling software not only helps you to process online payments but it also assists you to maximize AOV, recurring revenues, manage new streams of revenues and a lot more.
---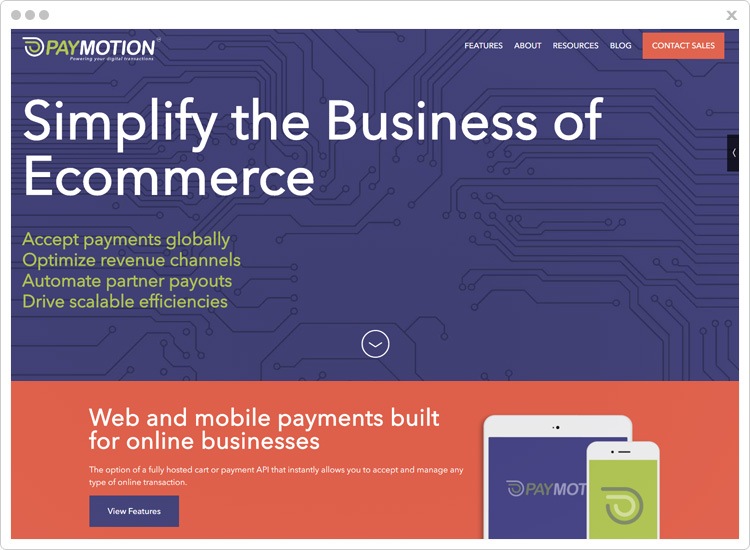 ---
Attributes:-
Real-time Reporting & Dashboard
You can effortlessly track your business success with the sales data that is updated in real-time and it can be segmented by referral source, country, product, time, etc. Also, you can export this report in CSV format.
Multilingual Customer Billing Support
Give access to your customer to the friendly and professional support team of Paymotion so that, they can help out them with all inquiries related to billing and payments.
Multiple Currencies, Languages & Payment Methods
PayMotion supports 24 global languages, 33 currencies, and 15 payments methods. As they do business in over 200 countries and territories, so they better understand the difference in payment preferences across the world.
Pricing Plans:-
To know the pricing plan of this subscription handling tool you have to contact the PayMotion support team.
---
7. ChargeOver

ChargeOver is a simple recurring billing software, which saves your time, get you paid sooner and make the customer happy by offering automated subscription and recurring payments.
You can make payments using mainly gateways such as – PayPal, Worldpay, Payment express, Sagepay, BluePay and more.
---
---
Attributes:-
Sell Multiple Plans
This SaaS billing & recurring payment management software let you sell multiple products through a single platform. And can also set up many pricing plans as per your business requirement.
Offer Flexible Billing
ChargeOver supports every type of billing tactics such as one-time fees, free trials, prorated charges, split payments, renewals, customs tax rate and much more.
Automate Tasks & Stay Secure
From here you can automatically and accurately generate invoices, send receipts, usage details, charge customers, etc. Also, it is a PCI-compliant so feel safe as your customer's credit card data is in secure hands.
Pricing Plans:-
ChargeOver gives 4 pricing plan all along with 14 days free trial pack.
Starter Plan
The cost of Starter Plan is $65 per month and with it, you can easily manage 50 active customers at a time. This plan is generally suitable for small businesses.
Basic Plan
With the Basic Plan, you can easily handle 150 active customers and for that, you just have to pay $115 per month. This plan comes with numerous attributes like you can automate customers notifications and reminder, custom branding on email templates and a lot more.
Professional Plan
The Professional Plan cost is $229 per month, with which you can manage 500 active customers. This plan has all the features of Basic Plan and it is suitable for medium scale businesses.
Commercial Plan
In the Commercial Plan, you can manage 500+ active customers. To know the cost of this plan you have to contact the support team.
---
8. Cleverbridge
Cleverbridge is a best global commerce, billing and payment solution for online growing revenues of your business. It has clients all over the world some of which are like – Dell, Parallels, Avira, Sony, Corel and a lot more.
---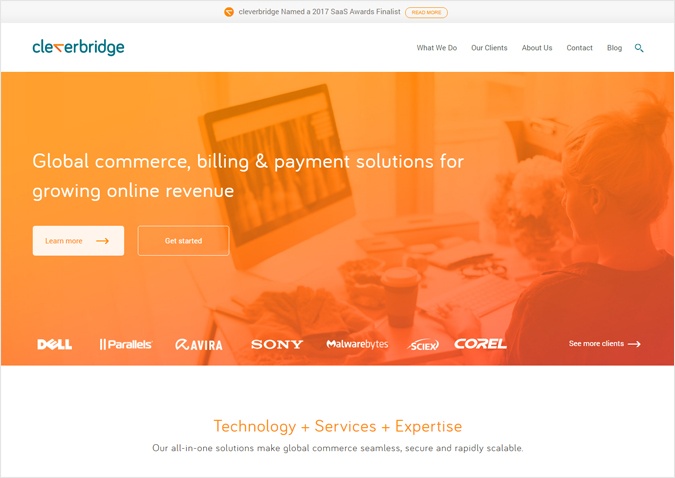 ---
Attributes:-
Hosted Sign-Up Process
This will help you acquire new subscribers as it supports various sign-up scenarios such as trials, discounts for designated periods and direct payments. Other than this you can also integrate your existing sign-up process with this subscription platform.
Get Accurate Report & Analytics
You will be able to always receive up-to-date insights of your business such as churn rate, trial conversion rate, customer lifetime value, recurring revenues, and much more.
Multiple Payment Methods
Cleverbridge supports multiple payment methods like credit card, debit card, PayPal or direct debit bank transfer.
Pricing Plans:-
The fee structure of Cleverbridge is based on the percentage of the transaction amount. So, to inquire about the pricing plan of this service you have to contact to its support team.
---
9. Subscription DNA
Subscription DNA is a powerful SaaS billing and payment management platform with it you can quickly manage accounts, automate recurring invoicing, analyze reports, communicate with targeted user groups, process transactions, generates payment requests and much more all at a single place.
---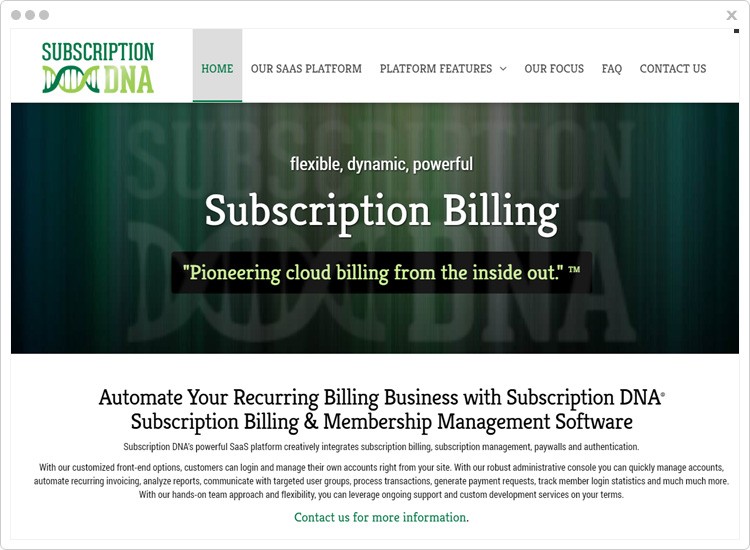 ---
Attributes:-
Free Or Paid User Registration
Subscription DNA software allows you to fastly capture vital user information as they sign-up with free or paid service. Also you can store this details for future need.
Secure Subscriber Portal
This portal allows you to self-serve the functionality for managing your own subscriptions, account profile, payment methods, transaction history and more. With its REST API key, you can easily integrate this service with your business.
Robust Membership Management
This software lets you handle and support your customer through their entire lifecycle. Also, you can easily work with their subscriptions from multiple perspectives.
Pricing Plans:-
Contact the support team of Subscription DNA service to know details of its pricing plans, which they provide for their customers.
---
10. Aria
Aria is an active monetization platform for your growing recurring revenue business. It has numerous functionalities like with it you can acquire more customers, manage recurring billing, maximize customer lifetime value and more.
Aria system is trusted by world's most demanding enterprises such as – Audi, Falck, Philips, Experian, etc.
---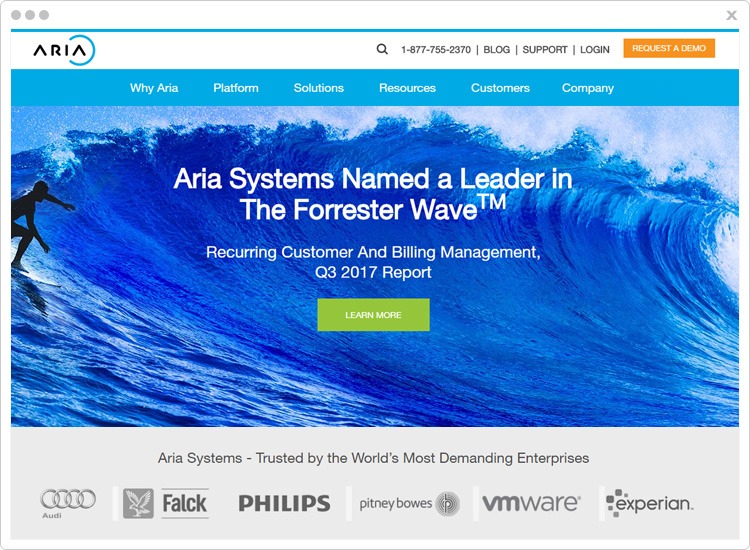 ---
Attributes:-
Synchronized Information
Now without coding, you can synchronize your customer and account information across the ecosystem. Aria system ensures you that the customers will receive delightful experience by synchronizing to new orders, plan upgrades, payments and more.
Integrated Dunning
With Aria recurring payment system dunning is not a just add-on, it's an integrated and automated piece of your monetization platform. You can easily manage service availability of past-due accounts, etc.
Secure Payments & Charging
With the Aria system process your payments securely and accurately. Also, can consistently monetize recurring revenue of your business. This tool is a PCI compliant and supports over 15 global payment processors.
Pricing Plans:-
Aria system is an amazing subscription handling software. If you want to integrate this service with your business then contact the Aria system support team to know the pricing detail of it.
---
Conclusion
Hopefully, this blog has helped you out in finding a perfect recurring billing and payment management software for your SaaS-based business.
So, now integrate any of the above-mentioned services. Further, it will handle the churn rate, MRR, customer lifetime value, cohort rate, recurring revenues of your business.
Not only for managing the metrics of your business but it will also save your time. Now, you can focus on another important part of your business or can design a powerful strategy to lead your business to a better place in the market.
For more information on recurring billing and payment management software go through following blogs –
Lastly, contact us for queries and suggestions. We'll be happy to hear from you.