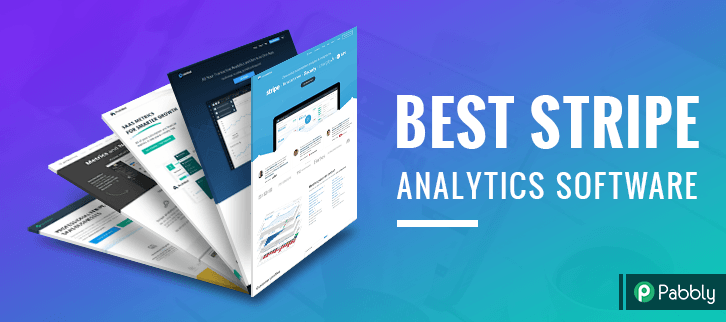 ---
Payment analytics is a process that derives insights and revenues from your transaction data and improves your payment handling task from top to bottom line.
As we very well know that the payment business is driven by information.
And, if you manage that important information with strong strategies and correctly executes the insights, then it will help to optimize revenues of your business which will lead you to a profitable state.
So, if you are making your business's transactions with Stripe payment gateway and finding lots of difficulties to handle all the data, then following are the 10 best Stripe payment analytics software given below that can help you solve this problem in minutes.
Cheapest PayPal Analytics Solutions
Some of these services also allow handling unlimited customers having countless subscriptions. But that's not a tough task for those tools. Also, you will be able to generate unlimited revenue from them. And yeah, it is possible as well as profitable for you.
All you have to do is to readout this article & choose the best Stripe analytics software according to your needs!
Have a look at the following links too :
---
Pabbly Subscriptions is the cheapest and perfect analytics software, that manages and gives a clear picture of your sales, new subscriptions, rebills and more at a single handy dashboard.
It's a SaaS analytics software that shows all subscription-related metrics such as – customer lifetime value, refunds and a lot more.
Payment Gateway that Pabbly Subscriptions supports –
---

---
Pricing Plans
Starter Plan 
Buy this plan at $19/m ( yearly plan) & $39/m (monthly plan)  to manage 500 customers and get access to all the essential features such as invoice billing, dunning emails and a lot more.
Rookie Plan
For the Rookie plan, you have to pay $29/m if you opt for yearly plan & $59/m if you go for a monthly plan for 2000 customers along with unlimited subscriptions & product creation.
Pro Plan
The Pro plan charges around $49 per month in a yearly plan and $99 in a monthly plan for unlimited customers & their analytics reports. Also, you will get the feature of client portal (upcoming) where your customers can know about all of their details easily.
Attributes
Complete Subscription Matrices
The best part of this software is that it shows the clear and understandable graph of all the essential points that help in magnification of your organization. Some of them are –
New subscription & Customers
Net Revenue
Monthly Recurring Revenue
Active Subscription & Customers
Custom Domain & Multilingual Checkout Page
You may customize the domain of your checkout page according to the name of your business. This tool also has a multilingual functionality through which you can change the language of checkout page easily.
Multiple Currency Support
It supports 25+ global currencies and also gives a TEST payment gateway where the customer can check all the transaction procedure without paying a single amount.
Grab Pabbly Subscriptions!!! the best and cheapest payment analytics software among all other services in the market today.
Buy it at $19 [Monthly] and start knowing your SaaS metrics.
!!Snatch the service NOW!!
Click Here For More Details
---
2. ProfitWell
Let your business grow smartly with ProfitWell, the best payment analytics. With this software, you can align the right product to the right customer for the right prices in an order to boost your revenues.
Manage your Stripe account data with this smartest payment monitoring tool. Along with Stripe, it gives integration of other services also:-
Braintree
Zuora
Chargebee and more.
---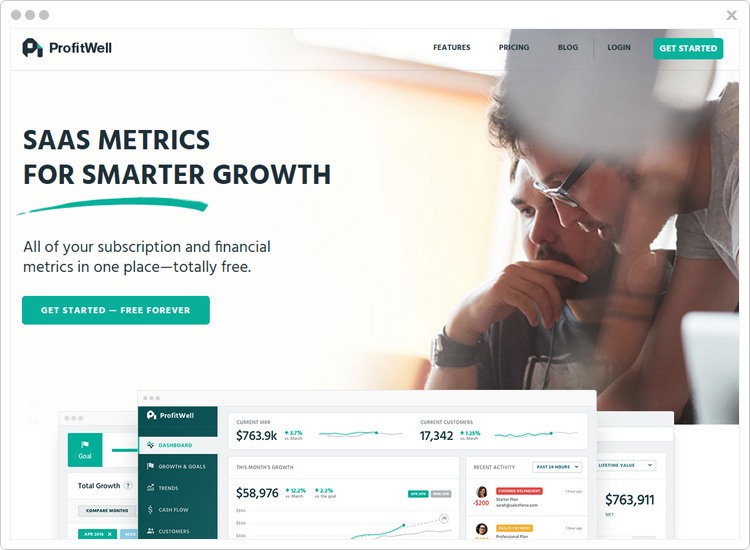 ---
Pricing Plans
The best part of ProfitWell is its cost i.e $0/month means which is completely FREE for everyone.
Attributes
Report On Retention
By keeping the customers you can sustain the growth of your business. From here you can generate a cohort report with the help of which you can visualize how much time did the revenues and customers stay.
Count The Cash Flow
This feature will help you understand the impact of an annual subscription, refunds, and fees on your cash flow and get you a snapshot of monthly and annual subscription breakdowns.
Discover High-performance Plans
Here you can deeply analysis the MRR, customer lifetime value, revenue growth across each offering.
---
3. Putler
Putler is the best software to monitor and manage the payment metrics of your business easily. This enables you to integrate your stripe account with it so that you can easily maintain all the data of your stripe account in just a few clicks.
Other than stripe it also gives integration facility for:-
PayPal
Shopify
WooCommerce and more.
---

---
Pricing Plans
The service gives 14 days free trial package to test its services and it gives different pricing packages which are discussed as follow:-
Starter Plan
In STARTER plan you will be able to make 500 orders by just spending $25 per month. Here you can also view 2 years historical data along with 3 integration at a time.
Growth Plan
With GROWTH plan 3000 orders can be made by giving $75 per month. This plan also helps you to manage subscription and refund issues and also provides 5-year historical data with 7 integration at a time.
Scale Plan
The SCALE plan allows you to make 10,000 orders in a month only by spending $250. Also, gives 20 integration for a single time with 7 years historical data.
Attributes
Clear Analytics View
Putler gives you a better way to understand all your business aspects by easily monitoring the performance of 153+ keys. With such kind of accurate data, you can take confident decision for the growth of your organization.
Faster Reporting
It lets you perform the common transaction tasks 10x faster than any other payment gateway. Getting instant answer of all your questions related to conversions, customer's analysis, transactions and a lot more is much easier with the respective software.
Get Business Suggestions
Putler generates a practical business suggestion for you every month via sophisticated AI algorithms and data. By using this generated data, you can build a better business month after month.
---
4. Statsbot

Statsbot is a one-click solution to get metrics and notifications of your payment account instantly. The dashboard of this payment analytics software is very easy to handle and understand about events, subscription metrics and more.
This payment monitoring solution only supports a single payment gateway and that is:-
---

---
Attributes
Weekly Reports
It provides you with the latest data about the metrics if your work is actually paying off. This feature enables you to receive the instant updates of your Stripe account such as- refunds, failed & successful charges, disputes, etc.
Automatic Card Updating
Existing card information will be automatically updated by this service, you don't have to do it manually. This feature will mostly work with MasterCard, Visa and Discover cards.
Complete SaaS Metrics Details
Gives complete details about the payment metrics which are required to run a SaaS business like monthly recurring revenue, net revenue, subscribers, new subscribers, churn rate and a lot more.
---
5. GetControl
GetControl is an amazing analytics software with which you can easily integrate your stripe account and start knowing the payments success or refund, invoices, revenues stats of your business all at a single dashboard.
Along with stripe, it gives integration of two other gateways which are:-
---

---
Pricing Plans
GetControl gives 4 basic plans all with 14 days free trial pack. Following are the details of these plans:-
Starter Plan –
If you generate a sale of $10,000/month or less, then you should go with a STARTER plan whose basic cost is $19 where you can manage up to 200 transactions events.
If you exceed the limit of transactions, you need to pay $10 for every 100 transaction events.
For example:

You have made a sale of $10,000 with 300 transactions events in a month then,

the actual amount you have to pay is:

$19(for your sales) + $10 (for extra 100 transactions) = $29

(as this plan gives a limit up to 200 transactions only but here you've made 300 transactions i.e extra 100 transactions)
Growth Plan:-
Similarly, if you produce a sale of $50000 or less, then you have to pay $79 per month in the GROWTH plan with the transaction limit of 750.
If the transaction limit extends then, you have to pay $20 for every 500 transactions.
i.e $79 (for your sales) + $20 (for extra 500 transaction) = $99 
Scale Plan:-
In case if you cause a sale of $250000 or less then you can buy this SCALE Package by just spending $149 per month with the transaction event limit of 10,000.
If this transaction limit increase then you have to pay extra $30 for every 5000 transactions.
i.e  $149 (for your sales) + $30 (for extra 5000 transaction) = $179
Enterprise Plan:-
If your business sales are more than $250000 per month then for the pricing of this ENTERPRISE plan you have to contact GetControl team.
Note: GetControl also offers its yearly plans by choosing which you can save 17% in cost of all 4 monthly plans.
Attributes
Multi-source Analytics
GetControl helps you to track Saas and commerce metrics of your business. Additionally, you can also review the historical data and can compare your business performance over the specified range of data.
Real-time Transaction Alerts
Get alerted about every activity of your business like a new high-value sale, acquiring a new customer, anomalies like fraudulent transactions and much more.
Customer Insights
Discover the hidden insights by filtering history of your payment and customer data, this will help you to keep long-term and high-value customer up on the business list.
---
6. FirstOfficer
With FirstOfficer say bye to uncertain data and say hello to new data analyst that delivers you the real count information of your Stripe account.
This powerful analytics software not only shows the data of your Stripe account but it also analyses data of the following:-
GetFeedback
Envoy
Olark and more.
---

---
Pricing Plans
FirstOfficer gives 5 pricing plans all with the 30-day free trial pack and email supports. 
Hobby Plan
The HOBBY plan charges $29 per month for up to 250 customers with a weekly report. For more feature switch to its other plan.
Startup Plan
Buy STARTUP plan at $79 for up to 1,000 customers with weekly email reports, cohort retention, import non-Stripe payments and also invite your team members.
Professional Plan
Everything in this PROFESSIONAL plan is similar to Startup plan except cost and customers. Here you have to pay $149 per month for up to 2,500 customers.
Business Plan
One additional feature in this BUSINESS plan is – you can custom CSV exports files by requesting for it and buy it at $249 per month for up to 5,000 customers.
Enterprise Plan
For more higher plans you can go with following 3 ENTERPRISE Plans:-
Lite Enterprise:- This plan charges $349 per month for up to 10,000 customers.
Pro Enterprise:- Buy the PRO plan at $499 per month for up to 20,000 customers.
Elite Enterprise:- The ELITE plan can be purchased by spending $699 per month for up to 30,000 customers.
The above all three plan have a similar feature as the business plan.
Attributes
Get MRR Details
FirstOfficer not only shows the new, lost, expansion MRR but it also lets you drill deep into those data. Go throw each group and understand the direction of flow of customers.
Know Churn Rate In All Glory!
No one like churn, as it's a devil in your business! So, FirstOfficer let you compare the performance between your revenues and churn easily.
Weekly Reports
Get most significant data straight in your inbox and with the help of rolling metrics, you can see if the lines of graphs are turning on or not.
---
7. ChartMogul
Effortlessly integrate your stripe account with ChartMogul the top class payment management software and let it manage all your payment metrics, invoices, revenues, churn rate and more. Along with payment, this service can also handle your subscription-based task.
ChartMogul can also be integrated with different payment software like:-
---

---
Pricing Plans
There are 3 plans that Chartmogul provides. Let's have a look over what this plan contains:-
Launch Plan
The LAUNCH plan is completely FREE of cost for the first $10000 revenue generated by your business.
Mogul Plan
Buy this MOGUL plan and handle 1000 customers in $100/month.
Volume Plan
If you are having a high-volume business i.e customers from 10,000 to million then, VOLUME plan is suitable for you. But, you have to contact for the pricing detail of this plan.
Attributes
Automated Payment Reporting
Enables you to calculate all the key metrics such as revenue churn rate, customer growth, MRR movements, gross cash flow, failed payments, etc automatically in the real-time scale that you need to run your business.
Geo-mapping Feature
This feature gives you a global picture of your business and helps you to uncover the opportunities to expand your business in a right region.
Decrease Churn Rate
Chartmogul facilitates you to create such plans with which you can understand the impact of pricing on the customers and reduce the churn rate of your business.
---
8. Metricsco
Metricsco is the easiest way to reduce the churn rate of your business. This excellent payment tracking software silently retries the declined payments or send the dunning message via emails, text messages and even phone call to your customers.
Rather than Stripe it also gives integration of other payment gateways:-
---

---
Pricing Plans
Starter Plan
If you go for the STARTER plan then you need to pay $49/month per 1,000 monthly unique subscriptions and gives access to only 1 payment service provider.
Professional Plan
If you generate unique monthly subscription up to 10000 then the PROFESSIONAL plan is best for you. Just pay $199 per month for it and it also gives access to 3 payment service providers.
Enterprise Plan
To know the pricing of ENTERPRISE plan you need to contact Metricsco support.
Attributes
Retention Management
Design some acquisition campaigns successfully and re-engage your subscription back into the recurring revenue stream and get reduce your churn rate automatically.
Frictionless Card Update
In Metricsco you don't have to log-in all the time for small work also. this service enables its customer to update their card information in safe and secure manner.
Available On All Of Your Devices
You can manage your business anytime, anywhere as Metricsco supports all major platform from the web to tablets and ensure you to have a unified view of your subscription from any device.
---
9. Baremetrics
Baremetrics is an amazing analytics software which gives incredible insights of your monthly business growth. With this, you can easily integrate your Stripe account and can manage your payment data in a simple way.
Along with Stripe this gives insights of some other services also:-
---

---
Pricing Plans
Baremetrics gives 2-week free trial pack on all of its plans. Let's have a look on the following plans:-
Startup Plan
The STARTUP plan allows you to generate monthly recurring revenue up to $10,000 and it charges only $50 per month.
Professional Plan
With the PROFESSIONAL plan, you can generate recurring revenues up to $50,000 and you just have to pay $100 per month for it.
Business Plan
If you have a big organization and the net revenue is up to $200,000 then BUSINESS plan suits you best because here you just have to pay $250 per month for this.
Enterprise Plan
If the monthly revenue of your business is up to $500,000 the just go with ENTERPRISE plan by spending $500 per month.
All the plan includes same features some of which are email reports, instant notification, slack notification, historical metrics, plan comparisons and much more.
Attributes
Customer Profile
This feature enables you to know detail about each and every customer. Also, you can you can easily find out the customer's lifetime value, MRR and more along with their entire history with you.
Numerous Metrics Details
With zero configuration you can effortlessly get details about many functionalities such as net revenue, upgrades/downgrades, user churn, active customers, annual run rates and much more.
Handley Dashboard
Here you will be able to see the stats of all necessary aspects such as coupons redeemed, failed charges, cancellations, Add-on MRR, a new subscription, plan quantities and many more all on a single platform.
---
10. Grow
Grow is an amazing payment analytics and customer retention software help you to manage and analyze each and every data of your Stripe account and apart from this, you can also monitor MRR, funding, customer lifetime value and much more.
The service gives integration of some other software also like:-
Google Merchant Center
AdRoll
Shopify Plus and much more.
---

---
Attributes
Segment Customers
With the help of this feature, you can leverage the collected data to filter and sort the customers to specified groups and can also view how the metrics vary across these segments.
Export Client's Data To Other Tools
As we know that the company is not running by using a single software so, Grow facilitates you to spread the collected data to the places where it's more useful to be for the growth of the business.
Simple Data Manipulation
If there's any change made in your stripe account then this analytics software automatically moves your customers through a real-time funnel and rescue the risk like credit card expires, end of the trial pack and more!
---
So the culmination is..!!
Above we have almost covered all the crucial feature of above mentioned 10 best stripe analytics software. Hope you have better understand that which among this perfectly fits with your business requirements.
So don't think much just integrate your Stripe account with any of this payment monitoring service and let it take care of all the vital aspect such as – invoice, revenues, insights that help in the growth of your organization.
For more information relate to payment analytics check out the following blogs:-
Wait..!Are you thinking that with a best and perfect analytics software you can take your business to the high level?Then,
You're wrong.
Without marketing your product, you can not achieve your goal. Don't worry I have the solution for this problem. Try the best and affordable email marketing service – MailGet Bolt with the help of which you can make everyone aware of your organization.