Managing & tracking every activity of your subscription-based business is one of the tedious and overwhelming processes.
Nowadays Payment Analytics Software is considered as a blessing for SAAS business. These tools turn data into information, and information into insights. And, these insights help you to dive into the hearts and minds of your customers, so you can serve your customer in a better way.
"Comparison Between Top Payment Reporting Services"




Services
Dunning Emails
Multilingual Checkout Page
Revenue
Pricing
Pabbly Subscription Billing
✓
✓
Unlimited Revenue
$19/month
Baremetrics
✕
✕
Up to $10,000 MRR
$50/month
Grow
✕
✕
Custom
Contact Sales
Woopra
✕
✕
Contact Sales
$999/month
Putler
✕
✕
Contact Sales
$29/month
If you are looking for such tools to improve your subscription business, this article is exclusively for you. Below you will find 9 best and trusted analytics software tailored for SaaS business.
Have a look at some popular articles :
Let's explore these payment reporting services one by one:-
---
Pabbly Subscriptions delivers top-class payment reporting services along with various other features & facilities. You can analyze different types of payment & customer related using it.
This software also provides a full-fledged framework for API along with subscription management tools which can be accessed without paying any extra penny.
Pabbly Subscriptions supports multiple payment gateways:-
---
---

Other than Payment Reporting and Analysis, you can perform Subscription Management tasks, create & manage multiple plans under products by paying the price of $19 per month.

The same software helps you handle plan upgrades & downgrades, track MRR, refunds & more and simplifies complex payment calculations.
---
Characteristics:-
Advanced Sales Analytics
Dashboard designed by Pabbly Subscription Billing is extremely description and comes well equipped with sales insights like New Subscriptions, Recent Customers, Rebill Details, Cancelled Subscriptions, etc. All of them can be analyzed straight from the dashboard screen.
Detailed Reporting
Extract detailed and customized reports on the most critical fields like MRR, Net Revenue, Active Customers & Subscribers and more. These reports will help you analyze and filter the data based on dates and more.
Supports Multiple Currencies & Gateways
Pabbly Subscriptions supports 25 global currencies as well as multiple gateways, in order to facilitate the global transactions of your business.
Pricing Packages:-
Starter Plan:-  Buy this plan at $19/month  on a yearly basis and $39/month on a monthly basis & get access to all the features of Pabbly Subscription Billing like collecting one-time & recurring payments, sending dunning emails, multilingual checkout page, etc.
Rookie Plan:- With this plan, you can set up unlimited plans & products, invoice billing, collect payments in more than 25 currencies and a lot more. All this in just $29/month (yearly plan) & $59/month (monthly plan).
Pro Plan:- If you want to upgrade to a Pro version, then the cost will be $49 /month if you opt for yearly plan & $99/month if you go for monthly plan. Moreso, you can also send dunning emails, provide a multilingual checkout page, client portal, etc.
---
2. Putler:-
Putler is an amazing payment reporting software which is specially designed for all types of online business whether it is based on subscription or not. It gives you 153+ key performance indicator and reports that will help you to understand your business performance.
Putler also supports multiple payment gateways:-
PayPal
Stripe
Authorize.Net
Braintree
SagePay
---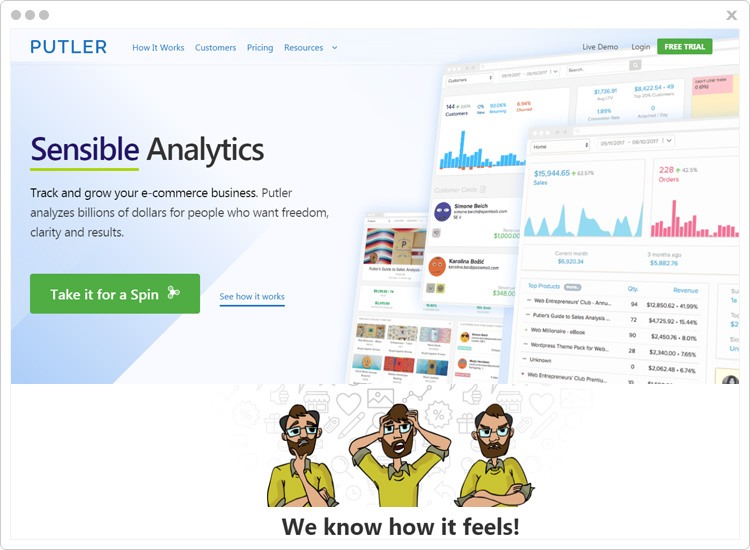 ---
Characteristics:-
Different Tracking Analytics
Putler provides you 6 different tabs in dashboard such as Sales, Subscription, Transaction, Product, Customer and Visitors dashboards. All these dashboards will give you every last detail that you need to run your business.
Use Different Themes
This analytic software gives you 11 vibrant themes for customizing the look and feel of your dashboards so that you can choose a theme which suits yMulti-Currency
Currency Support
Putler supports multiple currencies, so you can see sales, products and customer dashboards in any currency you want.
Pricing Packages:-
Putler has three different pricing plan like Starter, Growth and Scale plan. All these plans come with 14 days free trial.
Starter Plan:- Starter plan allows you to manage 500 orders in a month in just $25. Under this plan, you will get 2 years historical data, 3 integration along with all common features.
Growth Plan:- Growth plan allows you to make 3000 orders in a month by spending $75 and provides all common features, 5 years historical data with 7 integration at a time.
Scale Plan:- Scale plan will charge $250 per month and will be able to track 10,000 order in a month. In this plan, you will get 7 years of historical data, 20 integration plus all the features that you have in the growth plan.
---
3. Woopra:-
Woopra is a wondrous payment tracking software through which you can track all aspects of a subscription business. Also, it automatically generates analytics reports on the basis of subscription changes.
Woopra supports only one payment gateway:-
---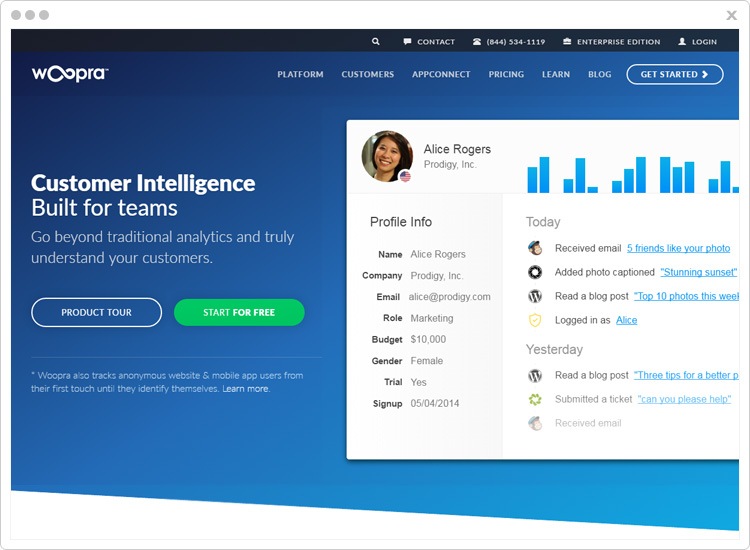 ---
Characteristics:-
Stay Up To Date
Automatically send a notification when specific events occur like customer upgrade or downgrade their plan, cancel their subscription, etc so that you will always be updated about your customer activities.
Analytics Reports
Get all the important key metrics such as MRR, ARR, Average revenue per customer, net revenue, funnel reports, and much more at your fingertips.
All In One Place
This analytics software can be connected to multiple tools like Slack, Mandrill, HubSpot and much more so you can easily keep your customer data in a single place.
Pricing Packages:-
Woopra offers both monthly and annual pricing plan for every type of business.
Small Business Pricing Per Month
Free up to 30,000 actions/month
$79.95 for up to 400,000 actions/month
$199.95 for up to 1,250,00 actions/month
$399.95 for up to 2,500,000 actions/month
$599.95 for up to 4,000,000 actions/month
More than 4,000,000 action/months you can contact Woopra sales team.
Small Business Pricing Per Year
Free up to 30,000 action/year
$799.50 for up to 400,000 actions/year
$1999.50 for up to 1,250,000 actions/year
$3999.50 for up to 2,500,000 actions/year
$5999.50 for up to 4,000,000 actions/year
Enterprise edition:- Enterprise pricing available only upon request.
---
4. Grow:-
Grow is a unique and revolutionary tool which track your payment transaction and provides productive key insight that will give you a comprehensive view of your business activity.
Grow supports two payment gateways:-
---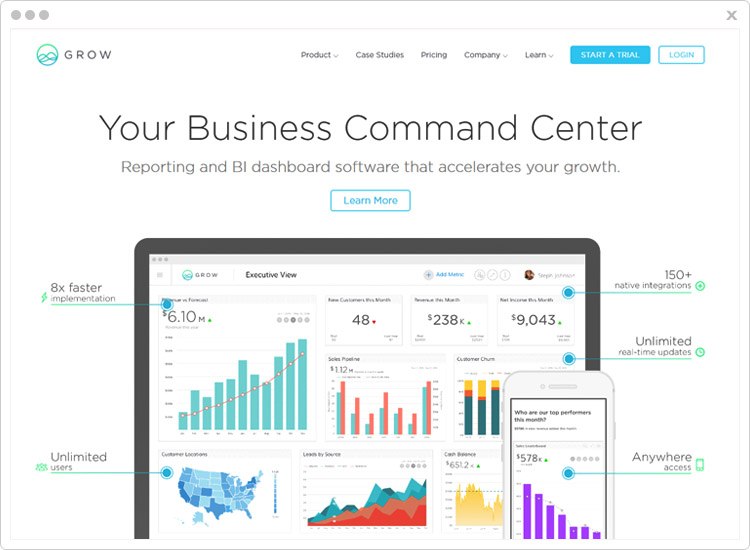 ---
Characteristics:-
Data Manipulation
This analytic tool offers you robust functionality like data cleanup, pivoting, filtering, formulas and much more, so you will get meaningful data in a few clicks.
Send Automated Emails 
Automatically send dashboard screenshots to your team, company and investor in pdf format on a daily, weekly, or monthly basis.
Historical Snapshots
With the help of this tool, you can review historical snapshots of your data and see your business progress, measure business performance, and recognize real trends.
Pricing Packages:-
Grow payment analytics tool offers a three different plan Professional, Premium, and Branded plan. For pricing quotes, you need to contact Grow sales vendor.
---
5. Baremetrics:-
Baremetrics is an analytics software which is specially designed for subscription-based business. It takes all of the manual work and gives you actionable analytics and customer insights that you need to run your business.
Baremetrics supports only two payment gateways:-
---

---
Characteristics:-
Email Reports & Notification
This payment analytics software automatically sends email reports and notification to you and your team on a daily, weekly and monthly basis, so that you are always updated about your business activities.
Customer Profiles
Keep an eye on your customer activity and find out their lifetime value, monthly revenue and more along with their entire transaction history.
Easy Access Dashboard
Get all the essential business details such as MRR, ARR, net revenue, refunds, upgrades/downgrades, user churn, and much more on a single dashboard.
Pricing Packages:-
Startup Plan:- Startup plan costs $50 per month where you can manage up to $10,000 in monthly revenue.
Professional Plan:- Under this plan, you can manage $50,000 in revenue in a month and it will charge you $100/mo.
Business Plan:- In the Business plan, you would be charged $250 for one month and can manage recurring revenue up to $200,000.
Enterprise Plan:- Enterprise plan is the best option for those businesses who have monthly revenue up to $500,000 and it will charge you $500 per month.
---
6. ChartMogul:-
ChartMogul is a SAAS analytics tool through which you can track all SAAS metrics like monthly recurring revenue, annually recurring revenue, customer churn rate and so on.
This payment analytic software trusted by 800 big companies like Typeform, Docker, Pipedrive, PivotalTracker Calendly and much more.
ChartMogul supports multiple payment gateways:-
---

---
Characteristics:-
Financial Metrics
It provides you with all the important financial key metrics such as MRR, ARR,  refunds, customer lifetime value, cohort reports and a lot more.
Geo-Mapping
ChartMogul's Geo-mapping feature gives you a global picture of your business and uncovers the opportunity for your business.
Currency Conversion
ChartMogul supports multiple currencies, if your customer is charged in a different currency, it will automatically convert the monthly revenue into your predefined currency.
Pricing Packages:-
ChartMogul has three pricing plans namely Launch, Mogul, and Volume plan.
Launch Plan:- It is a free plan which is valid until you generate your first $10K revenue.
Mogul Plan:- Under this plan, you will manage 1000 paying customer in $100/mo.
Volume Plan:- Volume plan is perfect for those businesses who have a large amount of data to process. For pricing details, you have to contact ChartMogul sales team.
---
7. Databox:-
Databox is a cloud-based business analytics platform which organizes your business activities and tracks them all. It saves your valuable time and gives a much better way of measuring and keeping the overview over your SAAS business.
Databox supports two payment gateway:-
---

---
Characteristics:-
Change The Visualization
With the help of drag and drop editor, you can easily create beautiful dashboards and also customize the views and change the visualization by adding metrics at any time.
One-Click Integration
In just a few clicks, Databox can connect with multiple data sources like Adobe analytics, Salesforce, Hubspot, Github, QuickBooks and a lot more.
Transaction Summary
Get a daily or weekly summary of your business activities like net sales, refunds, expenses, and pending transaction on a single dash.
Pricing Packages:-
Databox provides different pricing packages namely Free, Basic, Business and Custom with their 15 days free trial.
Free Plan:- This is a free plan which allows 3 user access, 3 data connection, and 3 data boards.
Basic Plan:- The basic plan is the best option for individual and small teams which allows 5 users access, 10 data connections, and 10 data boards. It will cost you $59 per month.
Business Plan:- The Business plan would charge you $299 in a month and provides you with 50 data connections, 50 data boards, and 20 user access. This plan is suitable for small and medium-size companies.
Custom Plan:- This plan is the best for larger companies who have a bigger need. In this plan, you will get unlimited data connections, unlimited users access and data boards. For pricing, you have to contact Databox sale team.
---
8. MRR.IO :-
This is an online analytics software which provides you with valuable metrics and insights that will help to understand your customer behavior as well as your business revenue.
MRR.IO supports only one payment gateway:-
---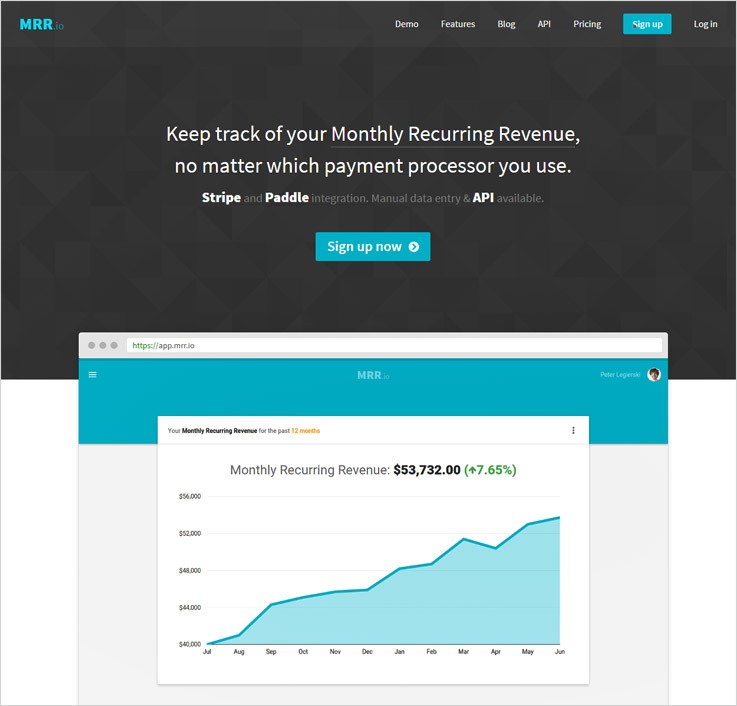 ---
Characteristics:-
Discover Valuable Segment Of Customers
With the help of MRR.IO, you can easily discover who is your most valuable client, which client is at risk, which plan has the most churn, how much money you are making or losing and a lot more.
Get Business Insight
By using this software, you will get a full suite of SAAS metrics including MRR, ARR, customer LTV, net revenue, churn cohort analysis, trial conversion cohorts and much more on a single dashboard.
---
9. Whatagraph:-
Whatagraph automates the analytics reporting process by collecting data from marketing channels and presenting it as visual infographic reports. You can generate a quick overview of your website and social media performance in seconds and instantly share the reports with clients and teams.
Digital marketing agencies and businesses use Whatagraph to save time and present analytics data in a way their clients and teams can easily understand.
Characteristics
Use visual reports to help you track and understand the data behind your website, e-commerce site, and digital campaign performance.
Set up automated report delivery to selected email recipients, so everyone is up-to-date with the latest data.
Create custom reports with selected metrics, add own logo, and change color scheme.
Generate your reports within seconds and download PDF straight from the dashboard or your email.


---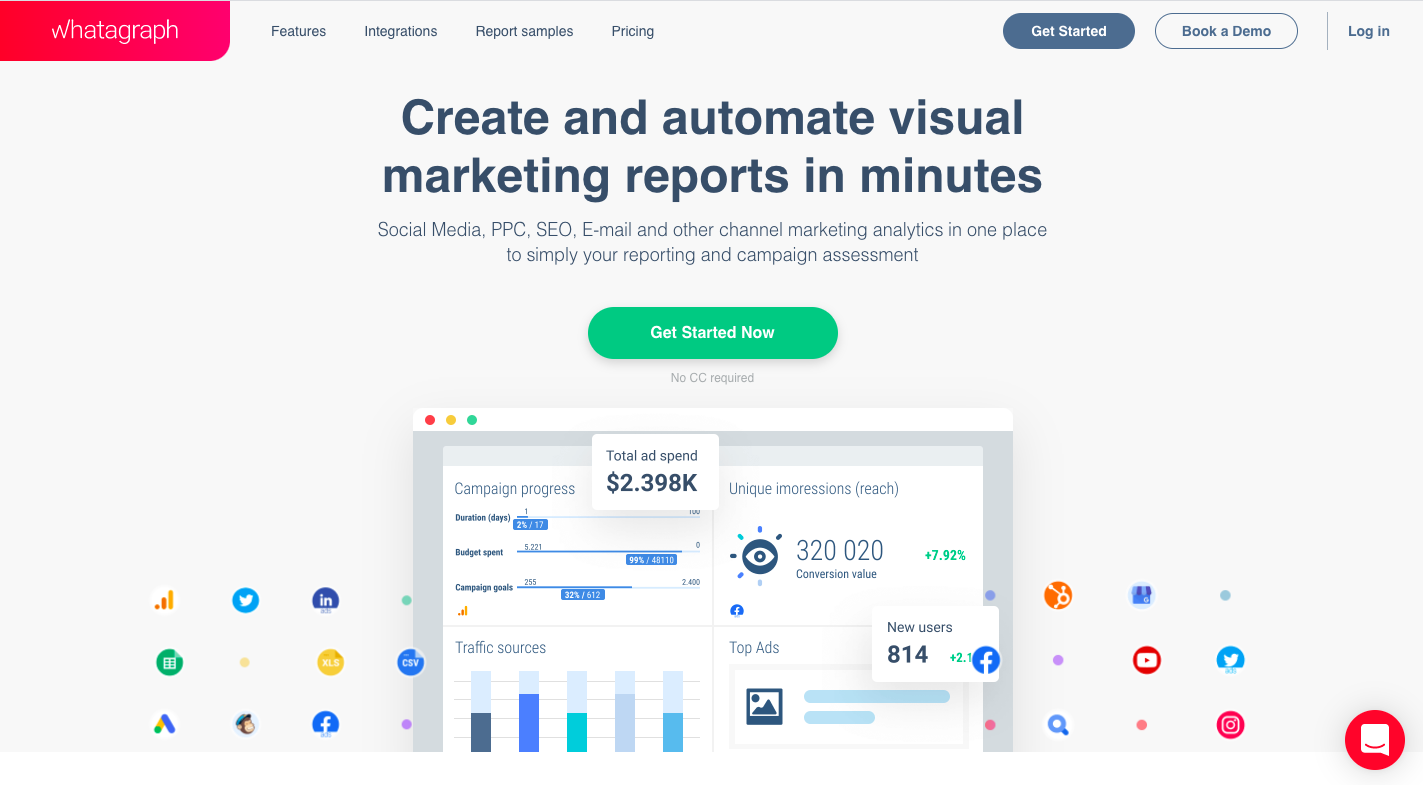 ---
Whatagraph clients:
Are simplifying the process of sharing analytics data between departments and their clients.
Find infographic reports are more engaging and more helpful in understanding key analytics data.
Save time by preparing targeted reports and deliver them more frequently.
---
10. AccountDock :-
AccountDock is a secure, convenient and more affordable subscription analytics software which will handle all your payment data effortlessly. Further, it also provides you with all the essential details that you need to understand your business performance.
AccountDock supports two payment gateway:-
---

---
Characteristics:-
Upcoming Payments 
This subscription analytics software displays in the dashboard when customer signup for trial or paid subscription, customer upgrades their plan from a trial plan to a paid plan, and customer cancels their subscription.
Account Credit
Automatically calculate and display monthly recurring revenue and annually recurring revenue per customer and subscription.
Multi-Currency
This service supports almost all in currencies which are supported by Stripe.
---
Conclusion:-
If you really want to grow and scale your business to a new height, then you need to adopt one analytic software for your SaaS business.
Above I have mentioned payment reporting tools which give you accurate stats and uncover the profitable insights that will help you to understand your business health, so you can take much-informed decision for your business.
Still, if you are confused and want more information about payment analytics software, then you can also go through these blogs:-
Done with the payment reporting services.?
Now comes the task to promote your product/service globally at an affordable price and it is only possible with email marketing software MailGet Bolt.