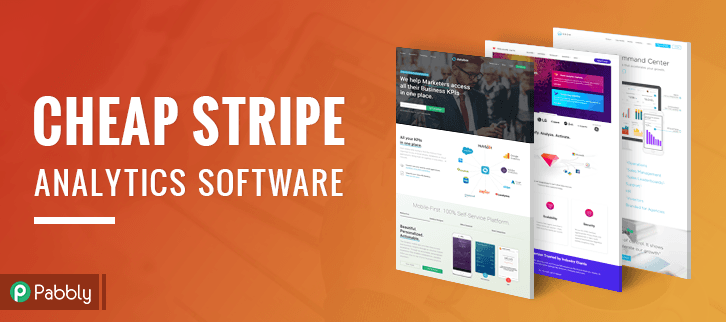 ---
The payment business is driven by the information, powerful strategies and proper execution of insights which will optimize revenues and costs of your service and help you improve the profitability of the business.
I have identified some analytics pillars that can assist you in finding a dynamic payment analytics software for your business.
They are –
Cost of software
Services provided by the software
Capability of handling information
Data security
By keeping these points in mind I have found some payment monitoring software for you which basically gives the analytics for Stripe. All you have to do is to integrate your stripe payment gateway with the respective software. Before everything else, let's have a quick view on various services.
Most Affordable Stripe Analytics Software
Some of the tools mentioned in this article allow collecting a one-time as well as recurring payments via multiple payment methods. Also, they allow generating unlimited revenue according to subscriptions & customers.
That's what people really want!
So, I'd suggest you to go through this article once & choose the best Stripe analytics tool as per your needs!
Popular Tracking Tools :
---
Pabbly Subscription Billing is one of the cheapest analytics software through which you can effectively handle & analyze Stripe payments.
You just have to integrate its account and all the details related to payments, subscriptions and refunds will be projected directly on the dashboard. Along with it, when you collect payments for your business products then you will also be able to generate unlimited revenue, unlike other services. That's a neat trick for more growth!
This tool enables you to analyze payments from the following Gateways:-
We are currently using Pabbly Subscription Biling to do Payment Analytics & Subscription Management of our business and it has refined various aspects of our business.
This software will charge $19 for a monthly subscription in which you will get full access to all features, unlimited invoice creation, revenue management and more.
Should Try Pabbly Subscriptions Once
---

---
Pricing Plans
Starter Plan
In this plan, you will get to use all of the features of this software only at $19/m on a yearly basis and $39/m on a monthly plan basis. You can manage 500 customers, accept payment from multiple gateways along with 25+ currency support & multilingual checkout page.
Rookie Plan
The Rookie plan costs around $29/m in a yearly plan & $59/m in a monthly plan through which you can accept unlimited payments of 2000 customers & their subscriptions.
Pro Plan
For the Pro plan, you have to pay $49/m if you are opting for a yearly plan and $99/m if you want to opt for a monthly plan for an unlimited number of customers. You will also get a client portal system (upcoming).
Characteristics
Full Sales Analytics
This feature will fetch deep information about new subscribers & customers, net Revenue, MRR, active subscribers & customers and more.
Custom Domain
Through this feature, you can customize the domain of your checkout page as per your business or any other name.
Plan & Subscription Management
You can create and manage unlimited plans & subscriptions under different products. The checkout pages are also fully customizable and you can change it according to your needs.
Multiple Gateway & Currency Support
This tool allows you to collect payments from multiple payment gateways. In addition, it also supports 25+ different currencies for global transactions.
---
2. Grow
Grow is one of the best, simple and affordable analytics software. If you are having a Stripe account then, integrate it with this tool and let it handle every payment functionality of your business.
Rather than Stripe it also gives integration for other services:-
Authorize.Net
FigPay
Square
Recurly
Zuora
Xero
LightSpeed and more.
---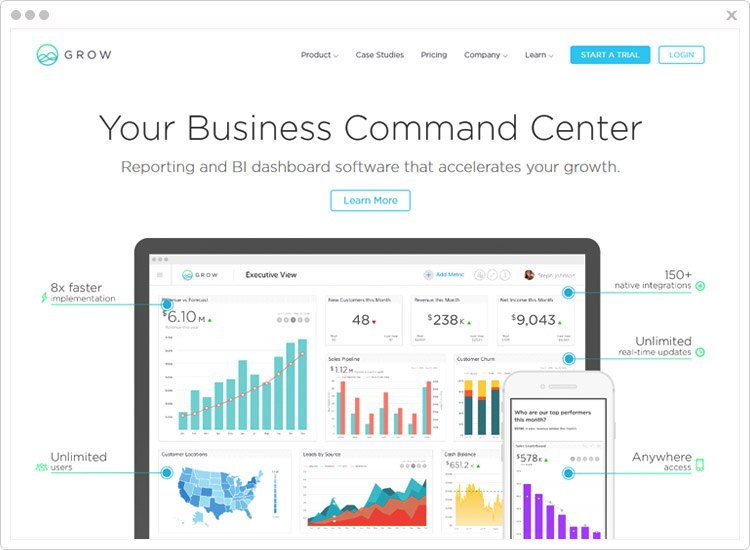 ---
Pricing Plans
Grow offer 30 days free trial package for the customer so that they can easily check the workflow of this payment analytics service.
Professional Plan
In PROFESSIONAL Plan you will get unlimited users, dashboards, data updates and much more. So, to know the pricing for this plan you have to fill the quotation asked in it.
Premium Plan
Everything that you get in the Professional plan is same here but along with it, you will also get some additional feature in PREMIUM Plan such as – extra admin control (2-factor authentication), blend data from specialized integration, etc. To know its pricing detail fill out the given form.
Branded Plan
The BRANDED Plan offers every feature of Premium Plan along with extra features like improved communication, real-time client report and more. To know the cost of this plan contact Grow support team.
Characteristics
Simple Data Manipulation
Grow is a platform which has a booming capability of data cleaning, grouping, pivoting, filtering, can also apply functions and formulas to the data so that, you can track what is more meaningful for the growth of your business.
Unlimited Real-Time Updates
This service provides you a facility to refresh and update the business data by setting a timer according to your requirement, either it could be for once in a day or for every 5 minutes.
Send Automated Email Reports
You can send the snapshots of the dashboard to your team, company, and investors in the PDF format. And also can automatically send the report to multiple recipients on daily, weekly or monthly intervals.
---
3. MRR.io
Analyze all your Stripe account data such as net revenues, annual run rate, lifetime value, refunds, new paying customers, etc with MRR.io – the brilliant payment monitoring software, and help your business grow higher.
Other than Stripe this give integration of
---
---
Pricing Plans
MRR gives 2 pricing plan along with 30 days free trial pack on Pro plan.
Basic Plan
The BASIC Plan is completely FREE for everyone and it offers upto 100 paying customers, 3 team members, basic email reports and all metrics.
Pro Plan
The starting cost of PRO Plan is $19/month for 250 paying customers, as the number of paying customers increases, the per month cost rise-ups. So, visit its site to know the pricing plan in detail.
Characteristics
Advanced Email Reports
You will be able to receive each and every alert of business metrics via emails such as – if any refund is done then you will be immediately notified by an email.
Multiple Data Sources
This software lets you connect multiple data source with it so that, you can easily analyze the data that you received from the different source.
Get Accurate Information For SaaS Business!
Currently, MRR.io gives information of 21 metrics, recently some more metrics were also added in it like gross revenue churn, expansion MRR, contraction MRR, net revenue churn, cancellations and more.
---
4. DataBox
Databox is the foremost way to track the charges, revenues, paid or failed transactions, LTV, new subscriptions, new MRR, total customers, pending balance and much more of your Stripe account in real-time. With Stripe, it gives integration of some other services like –
PayPal
Mixpanel
Localytics
Xero
Salesforce
Optimizely
Pinterest and more.
---
---
Pricing Plans
Databox facilities its users with 4 different plan all along with 15-days free trial pack.
Free Plan
The FREE Plan is suitable for the tiny amount of data as it is completely free for all with 3 data connections, 3 users and 3 databoards and it also includes daily data refreshment & goal tracking.
Basic Plan
The BASIC Plan is for individuals and small teams, this charges $49 per month for 10 data connections, 5 users, 10 databoards along with every hour data refreshment, company branding and push data via API.
Business Plan
In BUSINESS Plan you will get 50 data connections, 20 users, 50 databoards, query builder by just paying $249 per month. This plan is generally for small and medium size companies.
Custom Plan
For large companies with bigger needs, you have to switch to this CUSTOM Plan, as it gives everything unlimited like data connections, users, databoards, and API calls. To know the pricing of this plan you have to contact Databox support team.
Characteristics
All KPI's In One Place
Now don't find most important metrics in excel sheet, database or anywhere, with Databox, bring all those important metrics together at a single place in just a minute.
Build Your Office Datawall In Minutes
With this analytics software, you can effortlessly display data from numerous data source without typing a single line of code. And, you can also keep your data secure by choosing which customer or IP address can access the Datawall.
Business Metrics At Your Fingertips
This is the most user-oriented tool, it provides instant business insights through smartphones, tablets or wearables devices. With its help, you can take stats wherever you go, also forget canned reports now you can easily pick the metrics that matter you.
---
5. AccountDock
Get your Stripe billing history in just a minute with this powerful analytics software AccountDock, It's amazingly easy to get started with this tool.
This service is trusted by some amazing companies like –
Keyhole
Helpjuice
Baremetrics
Readme
iDoneThis
---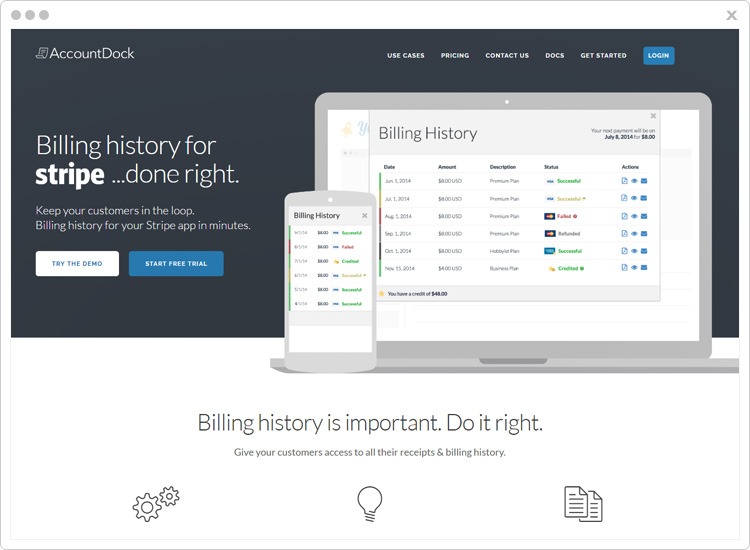 ---
Pricing Plans
The AccountDock give 1 super simple pricing plan, it charges $45/month for up to 5,000 paying customers, 2500 notification emails, bulk receipt download, PDF receipt rendering and premium email support (generally respond within 48 hours). And other than that it also gives 14-days free trial.
Characteristics
Notification Of Upcoming Payments
If you keep this feature on then whenever your customer has an upcoming payment then this tool will automatically display it to them. This will keep customer update about the next charge.
Supports Multi-Currency
AccountDock currently supports USD, CAD, AUS, EUR, GBP, SEK, DKK, NOK. if you wish to add more list than you can request them for the addition of new currency.
Plan Switches & Proration
Whenever you switch a customer to a new plan then they will see an odd charge which makes them confuse so, to remove this confusion AccountDock display & explain the reason of seeing a strange amount with unexpected data.
---
6. Treasure Data
Treasure Data is the most secure and scalable cloud analytics platform, its main work-frame is sales ops analytics, marketing analytics, IoT analytics, log management. But along with this, it also gives payment analytics for Stripe.
Except for Stripe, it gives integration of over 100 services like –
Zuora
Docker
Branch.io
Salesforce Pardot
Hubspot
Netsuite
Marketo and more.
---

---
Characteristics
Unify All You Raw Data
With Treasure Data you don't have to write custom scripts for individual service, now you can easily combine all the data of different services in a single place.
Live Reports & Dashboards
The dashboard of this analytics software is user-friendly, easy to access and you can also see the live reports of all business metrics.
Flexible, Secure & Reliable
This is very flexible tracking tool as it won't lose data if any new field appears within it. Also, securely transfers the data across systems and save the encrypted data in Treasure Data storage.
---
7. Statsbot
Statsbot is a platform which provides each and every information about the payments stats, churns, insights, MRR, invoices and a lot more all on a single platform.
So integrate your Stripe account data with it and let this software handle every aspect of your payment process. Along with Stripe, it gives integration facility for other 45 services. Some of which are as follows:-
PayPal
Sagepay
QuickBooks
Insightly
Magento
Slack
Xero & more.
---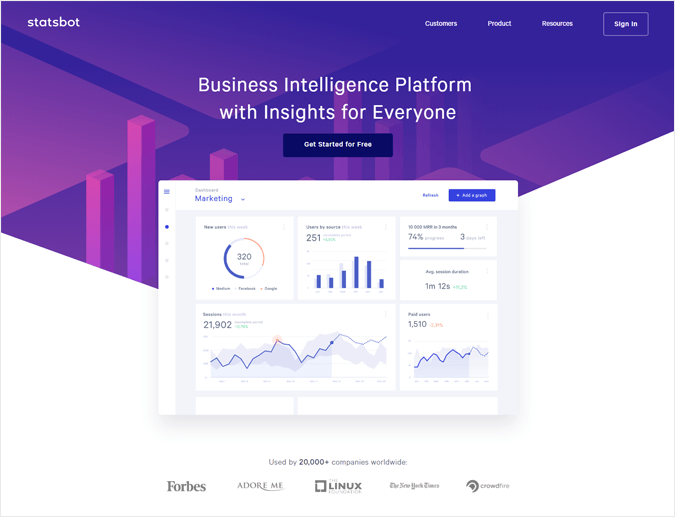 ---
Characteristics
Designed to Work with Big Data

To make your company earn more, it is very necessary to set a targeted goal like increase online revenue, improve cost per acquisition and much more. With Statsbot you can easily track relevant KPI's and update them throughout the month.
Bring All Data into One Place

Statsbot will flourish all your invoices, payments, MRR, customer retention, churn, cohort data onto one beautiful dashboard. You can view this information on a pre-built front-end or create your own custom dashboard and keep monitoring the key metrics of your business.
Get Personalised Insights

Continuously track insights of your data and keep watching what is happening with your business data and after analyzing those metrics make a foolproof strategy for the growth of your business.
---
Conclusion
Hopefully, the above-mentioned information solves your problem in choosing a better payment analytics software for the business. So get integrated with any of this service and let them handle all your Stripe account data such as – churn rate, payments, revenues, ARR, and more.
By using the smartest analytics software for your firm, you can achieve a better position in this competitive digital world. So just choose the best tool from the above list according to your needs!
For more related information about payment and subscription management software, go through the following blogs:-
---
Done with management and supervision of your Stripe account?
So now pay attention to the marketing of your business.
Give a look on this terrific email marketing tool – MailGet Bolt with which you can send emails in bulk and spread your business all over the world.