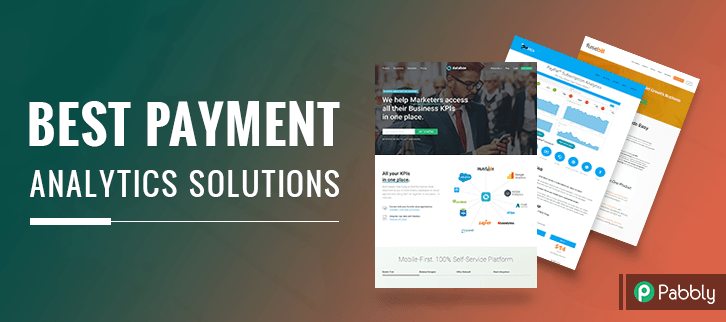 Data produced in the form of sheets and CSV files by any payment business is increasing day by day. That is why payment analytics software is being used by organizations to analyze and process the huge amount of transactional data.
We all know the current market is flooded with a variety of Payment Analytics Software which are loaded with various feature, facilities and premium services that help you retrieve insights into your business.
Information like revenue fluctuation, churn rate, transaction details, dunning, refunds , reporting and more can easily be automated with a payment analytics tool.
But most of the software majorly lack in PayPal integration which is one of the leading payment gateways.
That's why we have mentioned some of the best payment analytics solutions in this article.
Cheapest Payment Analytics Solutions
Although, you can save a lot of money by opting for any of the tool mentioned in the article below. The reason is that when we are talking about revenue, you always think of it to be unlimited. That's why we've also mentioned a special service in this article which doesn't bind on generation limitless revenue!
To achieve this state, all you have to do is to read out this article with a free mind & finalize the best PayPal analytics solution according to your needs!
Have a look at the following links too:
---
Pabbly Subscriptions Billing holds the top spot in this list, as it can hand all types of payments & transaction details from both PayPal as well as Stripe. You can perform complex calculations and track different profit-generating insights of your business.
The reports generated by its payment analytics solution are much simpler and easily filterable as per your business needs.
---
Pabbly Subscriptions Payment Analytics Insights & Metrics
Most of the software in the market majorly lack in PayPal integration.
So, if your business has goods & services whose payments are received via PayPal gateway. In that case, I will recommend Pabbly Subscriptions for payment analytics & transactional tracking.
This software comes loaded with a variety of advanced features, at a very low cost of $19 per month on a yearly basis.

Access To Pabbly Subscriptions For $19/m
---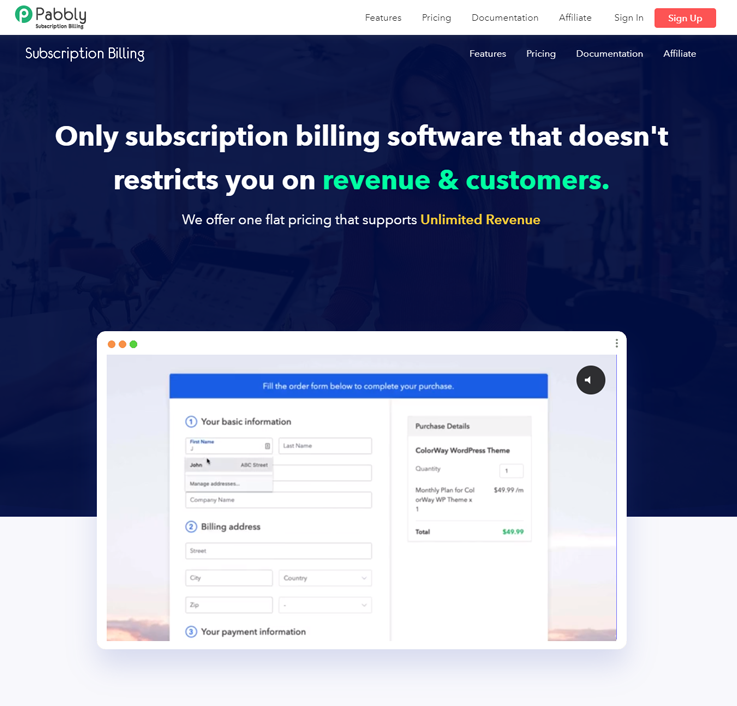 ---
Pricing
Starter Plan: This plan will cost you $19/m on a yearly basis and $39 on a monthly basis where you can manage 500 customers along with features like multiple payment gateways, dunning emails and more.
Rookie Plan: The Rookie package charges $29 per month (yearly plan) & $59 per month (monthly plan) for managing the payments of 2000 customers.
Pro Plan: In this Pro plan, you have to pay $49/m if you opt for a yearly plan and $99 if you go for a monthly plan for unlimited customers & their payments.
Features
Reporting feature helps you extract and filter details for Net Revenue, MRR, Active & New Customers and more.
It has a custom domain feature for the checkout page in order to display the business name in the domain area of URL itself.
You can do high-level sales analytics and extract insights about Total Sales, New Subscriptions, Refunds, Recently added customer and more.
Integration of 3rd party tools is not a difficult task in Pabbly Subscriptions and it also facilitates your business.
---
2) GetControl Transaction Analytics Platform
With GetControl you get all transaction analytics and payment alerts from multiple sources like PayPal, Stripe, Square and more. The data produced by different gateways is analyzed and information helpful for your business is delivered. This information will allow you to make beneficial decisions and increase the revenue of your business.Get
---
Control Best Payment Analytics Insights & Metrics
It web-based application provides PayPal analytics and customer essentials which are easily accessible from mobile as well as desktop.
It also has some advanced analytical features like country and currency filtration, a user-friendly dashboard for SaaS as well as eCommerce platforms and more.
---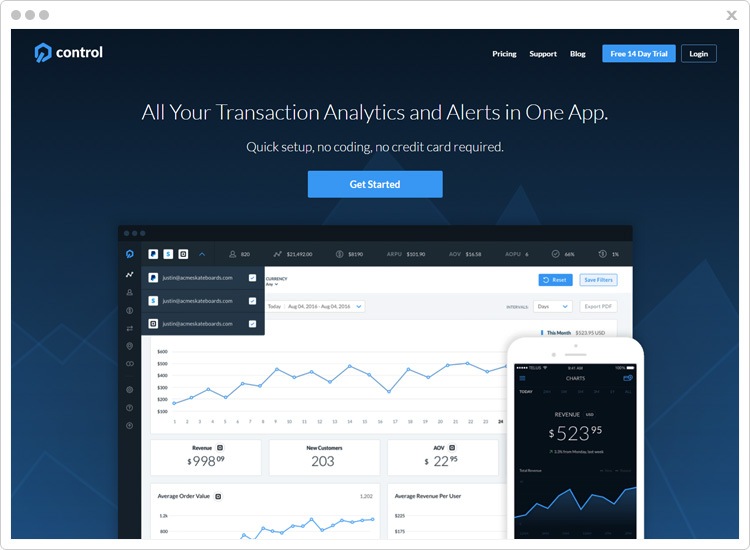 ---
Pricing
Starter Plan: Will cost around $19 monthly for every 200 data points [Data points are basically new customer, a new charge, new refund or other transactional events]. If the monthly limit is exceeded, $10 per 100 data points will be charged.
Growth Plan: The price of this plan is $79 for a month and you will get 750 data points. $20 per 500 data points is added if limit is passed.
Scale Plan: Cost of this plan is $149 monthly and 10,000 data points are assigned every month. Additional $30 for 5000 data points, if the limit is exceeded.
Enterprise Plan: For the price details you have to contact the Sales team.
If you opt for a yearly subscription, a straight 17% on the monthly price is deducted from each plan offered.
Features
The Map feature of this payment analytics software allows you to locate revenue, declines, chargebacks, and customers on the globe.
Delivers various alerts of new sales, new customer, default payments and more, instantly.
Control has also got iOS and Android apps which is one of the advanced features of this payment analytics software.
---
3) Putler Payment Analytics Solution
Putler is a solid payment analytics software which shows understandable analytics of your business extracted from different payment gateways. With this software, you can get all key metrics details from various gateways. Putler payment analytics software displays a centralized view of transactions, customer, and products on the dash and simplifies analytics.
---
Putler Payment Analytics Insights & Metrics
This software comes with built-in PayPal reporting feature which permits you to track all transaction details and other essential information with ease.
Once fully implemented this software helps you deliver good customer services, increase the productivity of your business and minimizes mistakes.
---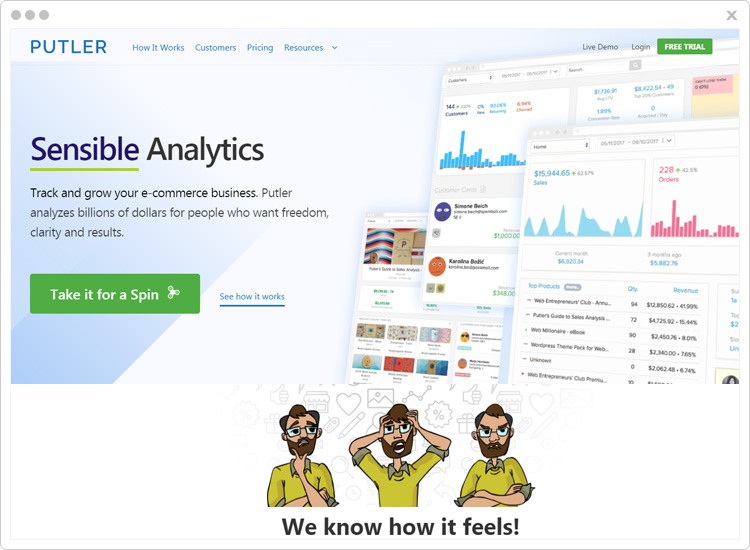 ---
Pricing
Starter Plan: This is the basic plan which costs $25 for 500 orders access [Number of orders means a number of products or services bought like a SaaS or an e-commerce product]. You also get the viewing access of 2 years as well as 3 integration [any payment gateway, shopping cart, software] with this plan.
Growth Plan: Plan cost is $75 a month for 3,000 orders, along with 7 integrations and 5 years data history.
Scale Plan: Top most plan which is priced around $250 monthly. With this plan you get 10,000 orders access, 20 integrations and 7 years transactional data access along with all the features of the Growth plan.
Features
Allows various payment gateway and software integrations like PayPal, Stripe, Shopify, MailChimp and much more.
This software supports multiple currencies, e-commerce platform, businesses, time zones and more.
Monitor all the essentials details about your business from a pre-build, user-friendly dashboard.
---

---
4) PaySketch Payment Data Analytics Software
PaySketch is a payment analytics software which is capable of performing real-time analytics and reporting of bulk payment transactions, customer details, products data and other important information. This software is PayPal centric and only deals with transaction done through PayPal payment gateway. All the essential details with the complete analysis are displayed on the dashboard.
---
PaySketch Payment Analytics Insights & Metrics
PaySketch is one of the best payment analytics & reporting tool which is built for businesses who sell goods and services through PayPal payment gateway.
You get all the updated details about PayPal sales, payments, and every information about the performance of your products.
---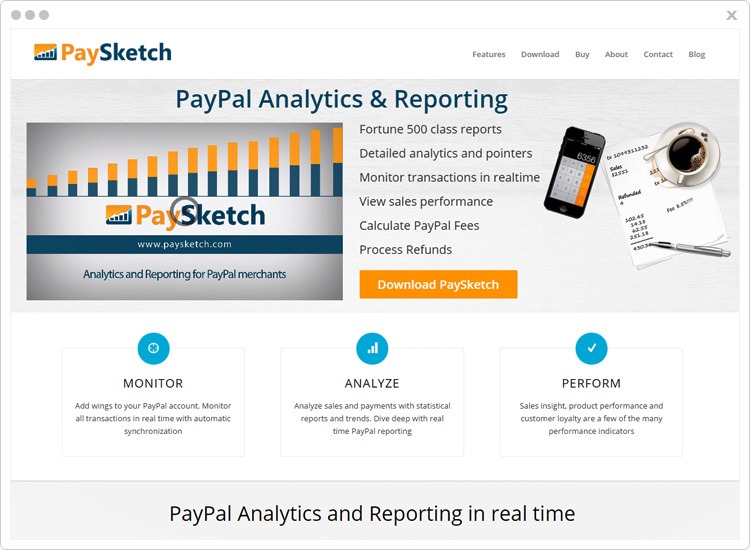 ---
Pricing
Monthly Plans
Standard: This plan will give transaction visibility of upto 5,000 transactions at a monthly cost of $7.99.
Business: You will be charged $9.99 every month and will have access to 20,000 transactions a month.
Professional: It will cost $11.99 for a month and will handover 50,000 transactions access to you plus you can connect 5 different PayPal accounts in this plan.
Yearly Plans
Standard: For the yearly subscription of this plan you have to pay $59 a year for 5,000 transaction access per month.
Business: $69 a year will be charged for this plan and you will be allowed to have transaction visibility of 20,000 transactions
Professional: This plan has got a price tag of $79 for a year which gives 50,000 transactions visibility access. You can also add 5 different PayPal accounts for payment analytics.
Lifetime Plans
Standard: At the price point of $99 for lifetime, you are given access to 5,000 transaction visibility per month.
Business: For $125 you get a lifetime access to this plan and you are allowed to access 20,00 transaction every month.
Professional: $150 will be charged for this lifetime plan. You get transaction visibility of 50,000 transactions every month and you can connect 5 PayPal accounts for analytics data.
Each lifetime plan also offers 6 years of transaction history along with other features.
Features
This software is fast, secure, easy to install & set-up and measure the performance of products & services.
Automatically extracts data from PayPal and deliver real-time analytics and reporting.
Dedicated customer dash which provides instant information about customer payments, refunds and more.
---
5) Databox Payment Analytics Software
Databox is a payment analytics software that permits you to design your own dashboard through which various metrics can be analyzed quickly and with ease. It's active reporting tool instantly hands over daily, weekly and monthly reports of MRR, LTV, ARR and other analytics.
---
Databox Best Payment Analytics Insights & Metrics
PayPal payment gateway easily gets connected with Databox and you can perform perfect analytics on the transactional data.
All the metrics beneficial for your business can now be accessed from one place. This software also has some pre-built dashboards for proper monitoring.
---
---
Pricing
Free Package: In this plan, you can integrate 3 data sources, have 3 user access and also get 3 data boards free of cost. The data in the plan is being refreshed daily.
Basic Package: This will cost you $59 for a monthly subscription and $49 every month for a yearly subscription. With this package you get 10 data connections, 5 user access & 10 databoards and the data is refreshed every hour.
Business Package: Monthly plan cost for this package is $299 and a yearly plan cost is $249 a month. You get 50 data connections, 20  users & 50 databoards and the data refresh rate is every hour.
Custom Package: This plan is for big business, in this, custom features and services can be added and for the price of this plan, you need to contact the Sales Team.
You can try out all the plans for free as Databox gives 15-days trial on every package offered.
Features
Databox gives you all analytics access through desktops, mobiles[iOS & Android] as well as you can view them through apple watch and get updates on the go.
This software fetches out details like top sales in a particular country, top selling product and more.
View all the data from different payment processors as well as software at a single place.
---

---
6) ChartMogul Payment Processing Analytics Solution
With this software, you can simplify the process of payment analytics as ChartMogul is built to automate all key metrics reporting of your business. It is a powerful reporting and analytics tool which efficiently analyze all PayPal transactions. All the calculations are done in real-time which helps to keep the data updated and automatically calculates them all.
---
ChartMogul Best Payment Analytics Insights & Metrics
ChartMogul is easily integratable with PayPal payment gateway. With just a few clicks you can start doing the analysis of your subscription business. This is among some of the rare software that has support for PayPal.
---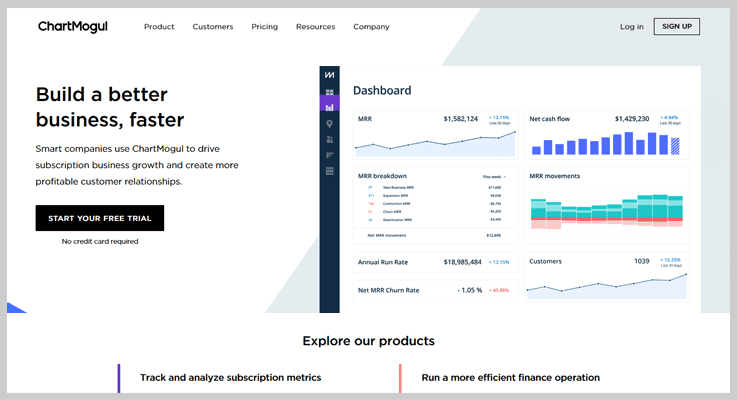 ---
Pricing
Launch Plan: This plan is entirely free of cost. Yet, the free trial lasts until 10,000 MRR limit is not attainable by your business. With this plan, all the feature are given except cohort and subscription mapping.
Mogul Plan: The price of this plan is $100 a month for every 1,000 paying customers of your business.
Volume Plan: This is a plan which can be customized according to the needs and requirements of your business. For the cost of this plan, you have to provide details to the sales team
Features
ChartMogul provides easy integration through PayPal as well as with multiple other payment gateways.
Automatically calculates MRR, ARR, churn rate, lifetime value of customers, cohort analysis, and other metrics.
You can filter customers by their location through the map feature of ChartMogul payment analytics tool.
---
7) Paltrics PayPal Analytics System
Paltrics analytics enables you to track and view various key metrics of your business. This software only supports PayPal payment gateway and will allow you to conduct analytics for PayPal transactions. It has an attractive dashboard which exhibits MRR gained from subscription, number of active customers, LTV, revenue refunds, rate of churn and more with separate green and red indicators.
---
Paltrics Best Payment Analytics Insights & Metrics
This is a payment analytics software which is capable of handling PayPal payment transactions and other details. It works exclusively of PayPal payments. Customer satisfaction is one of the major concern other than analytics as this software ensures 60-days money guarantee.
---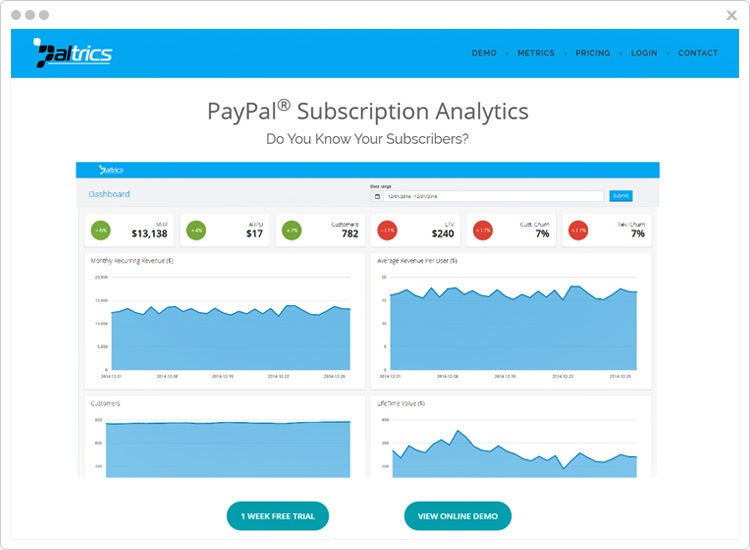 ---
Pricing
Basic Plan has got two versions based on the number of customers.
First Basic Plan: The monthly cost of this plan is $14 for 100 paying customers.
Second Basic Plan: The cost of this plan is $37 a month for which you get to handle 500 paying customers every month.
Standard Plan: This plan will cost you $97 every month and will grant you access to 2,000 paying customers.
Ultimate Plan: This plan is the most expensive and comes preloaded with lots of features. The cost is $147 a month for 5,000 paying customers.
Each & every plan offered by Paltrics Payment Analytics Solution provide 1 weeks free trial for proper testing as well as 60-days money back guarantee if not satisfied.
Features
User-friendly dashboard that projects most recent translations of your business.
Helps you analyze weekly, monthly and yearly MRR, customer churn, LTV and more.
All the price plans are affordable and come loaded with lots of feature and services.
---
Analytical Conclusion
I am sure that after going through this blog on best payment analytics solutions you will find one good analytics solution for your business. Each & every software defined here gets perfectly connected with PayPal plus some software also supports other payment gateways integration too.
Other than Paypal support facility the price packages define will also help you choose the most affordable and perfect software for the growth of your business.
If you have got any other queries related to payment analytics or subscription management, then below are some blogs which can help you clarify them: –
---
The goal of this blog was to elaborate of some of the Best Payment Analytics Solutions that support PayPal integration. What's next once you are all done with payment analytics of your business?
The next important task is the promotion of your products and services which can easily be done through an email marketing tool.
I have in mind a popular and premium email marketing service, MailGet Bolt which will handle all your emailing needs with ease.