"Empower your workforce with these 5 Best Integromat Alternatives with advanced automated processes"
Running a business always requires juggling with multiple applications. The next step is even more painful when you need to flick in and out of these apps to sync them.
Here comes the role of automation platforms that integrate different applications in minutes using powerful workflows which these automation tools provide.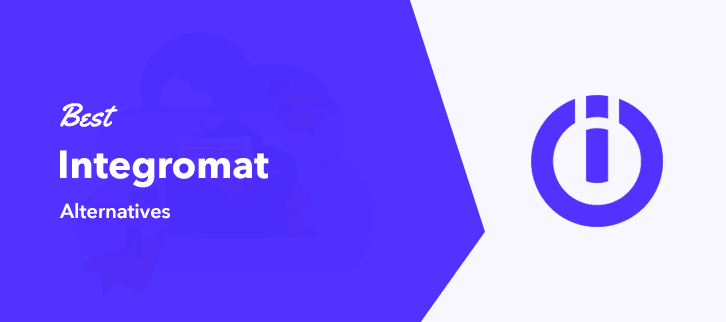 One such tool is Integromat which many find worth using seeing its impressive features, while I personally felt a need to find some better options.
With this evolving service, you will miss easy configuration, better user experience, documentation , flexible filter options, pre built templates, custom logic etc.
Therefore, today I am sharing 5 best Integromat alternatives (free & paid) that not just sufficed my business needs but also comprised those features which I somehow felt were not as good in Integromat as they should be.
A Quick Comparision Of Best Integromat Alternatives
Services
Price
(Billed Annually)
No. Of Tasks
No. of App Integrations
Pabbly Connect
$21/m
Unlimited
Unlimited
Automate.io
$39/m
10,000
82
Tray.io
$595
Unlimited
Unlimited
Zapier
$49/m
2,000
1185
Jitterbit
Contact Sales
750
11
Trusted by renowned brands, Pabbly Connect is currently one of the highest selling Integromat competitor. This is because it comes with all the required components to streamline various processes involved like automated email, social campaigns etc.
Also, you can also set up cross-functional internal workflows with triggers, actions, and scheduler for creating one-to-one integration & multi-app workflows etc.
Using Pabbly Connect is as simple as choosing the apps you want to sync and setting up the proceeding modules to get the desired end result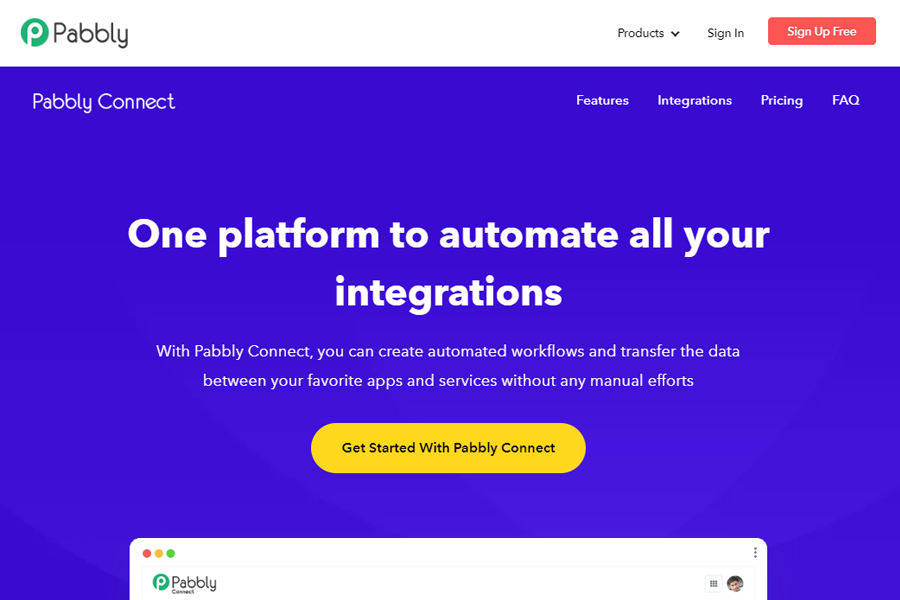 Features
Besides collaborating with applications such as email marketing, sheets, form builder, cloud-based software, it also provides JSON, XML, HTML, FormData, Encoded form, and plain text for connecting different web services.
The path router lets you split the actions into multiple paths for a single trigger. Hence,  you can perform several operations, set up filters, redirect data to different streams based on various conditions.
It allows simple & multi-step workflows with conditional logic, in-sequence processing, formatters (convert numbers, dates, text, currency, percentage, aggregate, etc. into different formats).
The filters provided with Pabbly Connect lets you build up complex workflows with "If/Else" conditional triggers for the workflow. You can also define the conditional or comparison functions such as Does not equal to, Contains String, Does not exist, Is Exist etc.
One of the perks of using this Integromat alternative over other services is that it does not restrict you on features (whichever plan you choose.)
Pricing
Pabbly Connect provides you with unlimited number of automation workflows with most affordable price plans:-
Starter – This plan is available at $9 with 12,000 tasks, unlimited workflow, instant triggers, multi-step calls, formatters, etc.
Rookie – Get 50,000 tasks with all the features of Starter plan at just $29/month.
Pro – This advanced plan is available at $37/month for 60,000 tasks.
Advanced – The custom pricing based on tasks starts from $57/month for 80,000 to $3000/month for 9,000,000 tasks.
Automate.io is very popular among the business heads these days who are primarily involved in multi-app collaboration. Some of the regularly used apps like Slack, Facebook lead ads, Salesforce, Trello, Zendesk, Shopify, etc. can be easily connected.
This effective substitute of Integromat takes security quite seriously & takes all the necessary steps like data encryption, data retention controls and audit logs.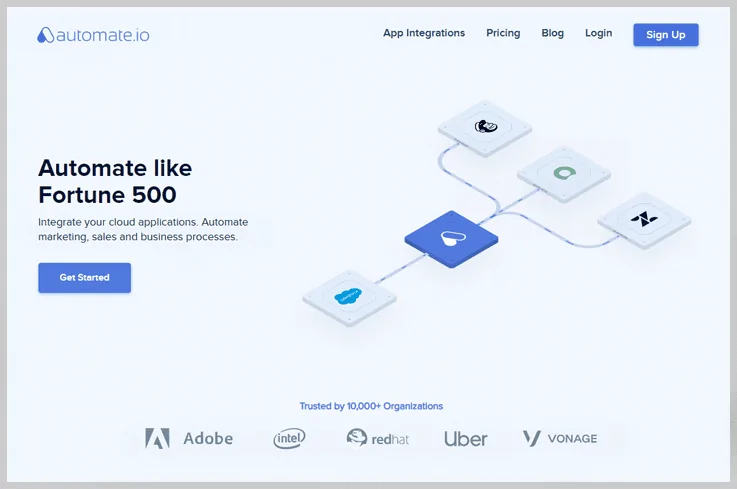 Features
Automate.io allows you to integrate different applications of multiple niche. For instance, CRM, Payments, E-Commerce, CMS, Database and what not.
It provides you with connectors for all leading cloud / SaaS applications that you are upto or willing to use in future with its Webhooks / Rest API.
You will get functions for your workflows like data formatting, adding conditional logic, time delay, creating complex workflows spanning across multiple apps etc.
Furthermore, you can create one-to-one automation workflows, or sync data between two apps with its easy-to-use drag-drop data mapping.
Pricing
Avail the free trial with 250 actions per month and 5 bots.
Startup – Get 10,000 actions/month and 50 bots & the cost of $49/month.
Growth – For 30,000 actions and 100 bots pay a reasonable amount of $99 per month.
Business – Buy this plan at $199 for a month & avail 100,000 actions and 200 bots.
Enterprise – Along with 500,000 actions and unlimited bots get a lot more premium feature like multi-action bots, premium apps, auto-retry, excess actions, data controls, and team account at $399 per month.
Its visual workflow editor lets you seamlessly create & streamline processes to integrate with any web-based software.
The Tray Platform connector press includes hundreds of connectors, supporting over 4,500 APIs (that's pretty much any organization would need)
In addition to the elaborated features given below, avail the following options as well – flexible logical operators, automation of CSV file management, email & form submission triggers, high-end data security etc.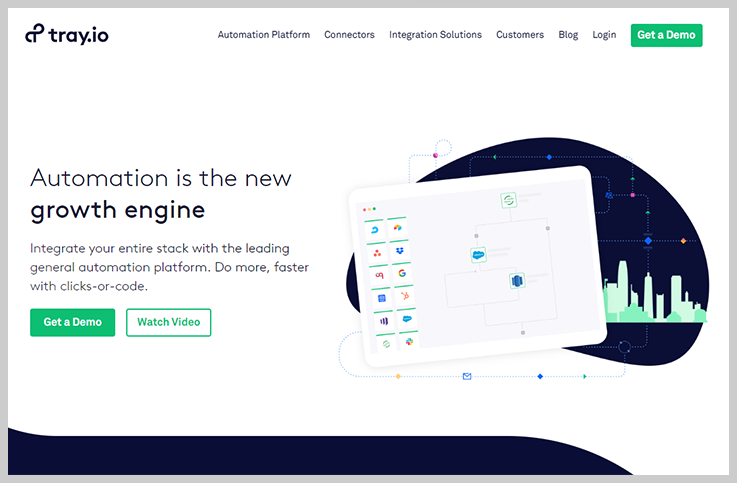 Features
One of the best attributes includes its customisable alert system. This means you will get to know whenever a workflow process fails.
Its advanced dashboard provides you a quick overview of workflow success so that you do not have to inspect each one of them manually. Also, you can access real-time data on system performance and security.
The toolkit includes universal connector, triggers, database connectivity, flat-file helpers & much more. You can add new endpoints, access new apps, listen for real-time events, and transform data directly from its source.
This scalable iPaaS includes branching, conditionals, looping for data integration & process automation with clicks-or-code. Connect to any integration API with HTTP connector or use Webhooks.
Pricing
The price mentioned below are calculated on annual billing
Standard – This plan will cost you $595 per month, where you will get a universal connector, access to quickstarts, standard success plan, and automation templates.
Standard Plus – With this plan available at $1450/month, you get options like custom connectors, shareable workflows, and access to any success plan.
Professional – Get other amazing features like roles-based access, big data processing, and configuration consulting just at $2,450 per month.
Enterprise – Contact the Tray sales team to know the custom pricing based on workflow volume.
With its 14 days free trial, you can go with Zapier to kick start the integration for around 2000+ web apps. It is known to provide as high as 99.9% uptime supporting all kinds of workflows.
Zapier allows you to automate multiple actions / tasks with just a trigger which makes it even more easy-to-use application.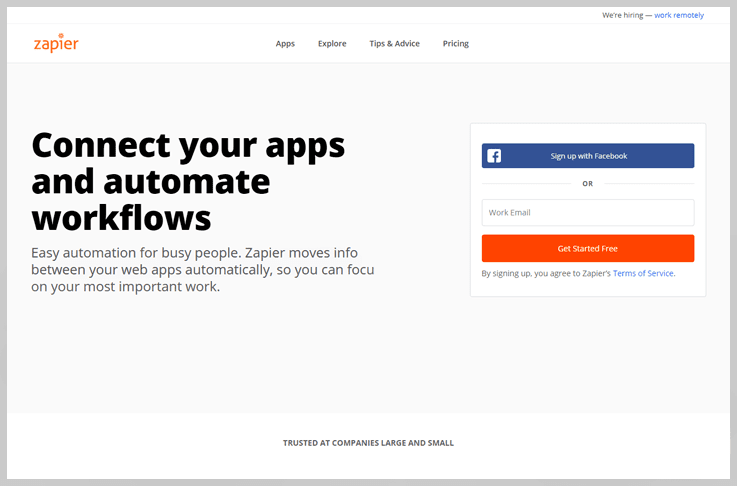 Features
It provides you with various pre-made templates (Zaps) with the trigger and actions already selected.
By using the branching logic, you can have a single workflow without having to create multiple Zaps.
Your need for customization satisfies here as it empowers you to build a system just the way you want.
Zapier takes all the key steps involved in your data security related to data & account privacy (2 factor authentication, GDPR & CCPA Compliant) , External Audits and Pentests (Threat Detection and Management), Security Monitoring & quality control, Responsible Disclosure
Pricing
Zapier pricing is based on the number of tasks from large to small scale businesses.
The free trial provides you 100 tasks and 5 zaps per month.
Starter – Get 750 tasks and 20 zaps per month along with the integration of 3 premium apps with this plan. All you need to pay is $24.99 for the same.
Professional – Get 2000 tasks, unlimited zaps, and premium app integration at the cost of $61.25 per month.
Team – If you have got a team to collaborate & work with, this plan is apt with the cost of $373.75 per month for 50,000 tasks and unlimited zaps.
Company – This enterprise level plan costs $748.75 for 100,000 tasks and comes with a lot more advanced features of Zapier.
Jitterbit has come up as one of the popular Integromat alternatives for every kind of integration project.
It comes with intuitive graphical interface that includes drag-and-drop configuration & easy-to-use point-and-click connectivity for users.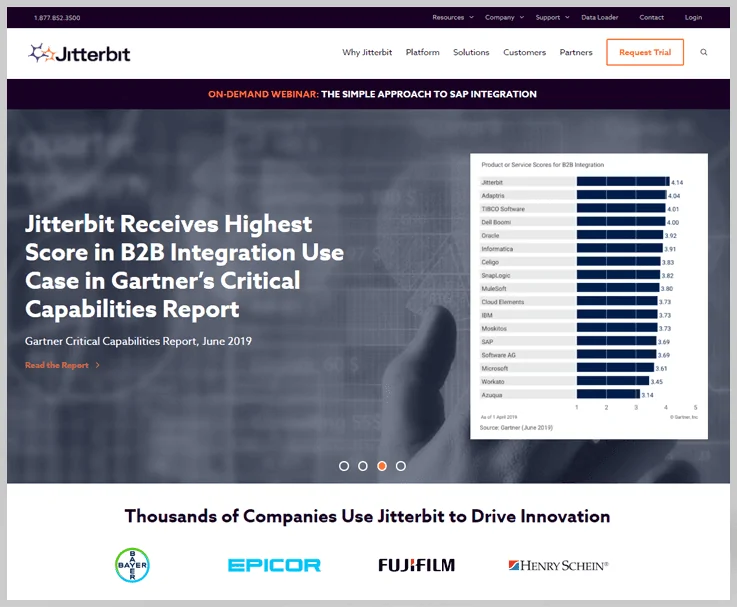 Features
The AI used (such as real-time language translation, product upsell recommendations, speech recognition) in the service will further help you to saturate the applications effectively.
You can design or use real time APIs with connectors using its API platform. Furthermore, Jitterbit iPaaS lets you run & control the data on SaaS, cloud, on-premises, or hybrid and complete the integration in few time.
You can easily perform a lot of operations like feeding consolidated data into real-time analytics, real-time monitoring with comprehensive alerts, securing team permissions etc.
The pre-built recipes further reduces the combining where you can also re-use the business logics and existing codes. And you can always create, customize, edit and recipes.
Pricing
Jitterbit iPaaS offers custom price plans based on business requirements for which you need to contact its sales team.
Conclusion
Needless to say, you will always need an integration tool for different applications to automate your business end-to-end. All the above mentioned alternatives of Integromat are in high demand and holds great reviews by users.
Before making your final decision, make sure you try these 5 best Integromat alternatives that are ruling the market these days.
For any queries or suggestions, feel free to drop a comment in the below section.
Related Posts:-