Have you been searching for an automation tool like Automate.io?
Well, this is the best place to get all automate.io alternatives under one roof. Read the article below to find the best alternatives to Automate.io.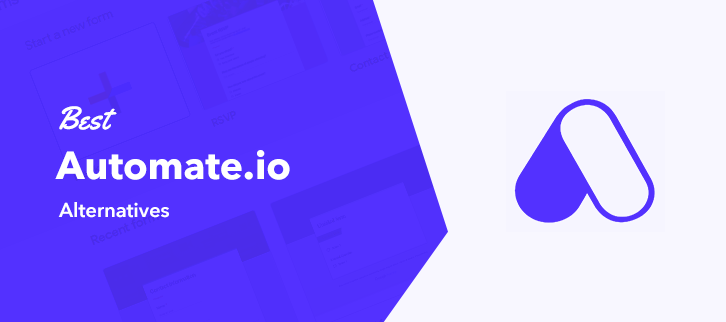 Automate.io is an automation platform for integrating cloud/SaaS applications. With this, you can create simple one-to-one integrations or multi-app workflows in minutes. Moreover, it supports 100+ popular apps such as Salesforce, Google Apps, Trello, Hubspot, Quickbooks, Shopify, and many more.
However, no tool is perfect for all, as each of us has different specifications and agenda. Also, the pricing of Automate.io is not affordable for everybody. So, if you have been looking for automation tools other than Automate.io that provide advanced features at the most affordable prices, then we are here for you. Here are the 10 best Automate.io alternatives you should use in 2021.
A Quick Comparision Between Best Automate.io Alternatives
| | | | |
| --- | --- | --- | --- |
| Services | Pricing (Billed Annually) | No. of Tasks (per month) | Automation Workflows |
| Pabbly Connect | $96 | 12,000 | Unlimited |
| | $228 | 10,000 | Limited |
| Tray.io | $595 | Unlimited | Unlimited |
| Zapier | $299.88 | 750 | Limited |
| PieSync | $108 | 1000 | Limited |
1. Pabbly Connect – Best Automate.io Alternatives
"It is an online automation platform that eases your tasks by automating your workflows. Apart from this, it is the only software that gives you access to all the features even in the basic plan at an affordable cost without any limitations."
The first Automate.io alternative in our list is Pabbly Connect. It is an automation app that helps individuals as well as businesses. Using this single platform, you can integrate all your favorite apps and services such as marketing sales, eCommerce, CRM, payment, and much more. Along with connecting apps, it can also transfer and transform data.
Apart from this, using it you don't need to oversee what Pabbly Connect is doing. All you need to do is choose the authorized app, set the operation modules according to your specification, and leave the software to do the hard work at any time of day or night. It performs all the simple and complex tasks for you. This can also enable you to connect almost any web service via webhook so you can virtualize a lot more of your technology landscape.
Moreover, you can easily streamline sales processes, social campaigns, and set up cross-functional & multi-step internal workflows with bunch of triggers, actions, and scheduler within a few minutes.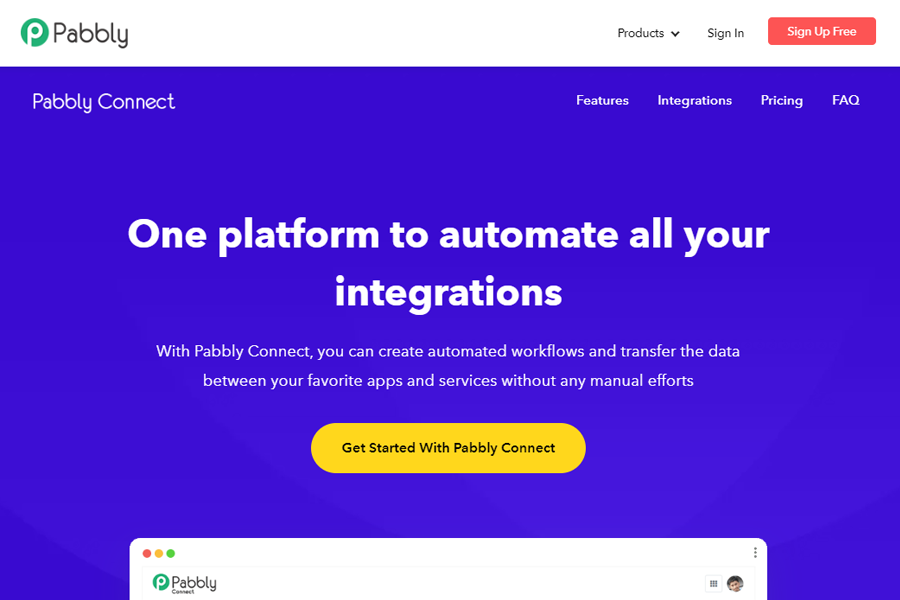 Features
Pabbly Connect has a drag-and-drop editor for creating the workflows that take very limited time to learn and ensure a user-friendly experience for newbies.
It is integrated with hundreds of popular apps and services. Furthermore, you can easily connect nearly all the web apps without writing a single line of code through JSON, XML, HTML, FormData, Encoded form modules.
Besides this, it lets you create your own multi-step workflows across several apps with logics, filters etc.,  to cater for specific projects.
Set the specific time intervals like specified date, day, or time for performing a particular action.
Pabbly Connect allows more than one trigger per workflow, and triggers can have multiple filters, conditions like If/Else, AND/OR etc.,so, you can create and deploy complex workflows.
It provides Excel functions such as number, date, text, currency, percentage, total etc. to save time and effort.
Associates Pabbly Connect to unlimited premium apps like Facebook Lead Ads, Google Sheets, Gmail, Linkedin, Stripe, WordPress, Chargebee, Gravity Forms and much more.
Pricing
Pabbly Connect provides 4 plans, starting from free to $359+ that are based on the number of tasks/operations that includes:
Starter – Buy this cheapest plan at the cost of $9 and get 12,000 tasks unlimited workflow, instant triggers, multi-step calls, formatters, etc.
Rookie – Get 50,000 tasks at $29 per month with all the above-mentioned features.
Pro – Pricing of this plan is $37 per month for 60,000 tasks.
Advanced – This plan offers custom pricing based on tasks like $57/month for 80,000 and $3000 per month for 9,000,000 tasks.
2. Integromat – Top Automate.io Substitute
Integromat is another Automate.io alternative that lets you connect multiple apps, services, and devices with each other without requiring any programming skills. It will automate processes that you currently handle manually and transfer & transform data. You can connect multiple apps such as Google Drive, Facebook, Twitter, Slack, Dropbox, etc. Integromat works 24*7 so it does not require your intervention. Furthermore, it is used by some popular companies including Uber, Cisco, and Adidas.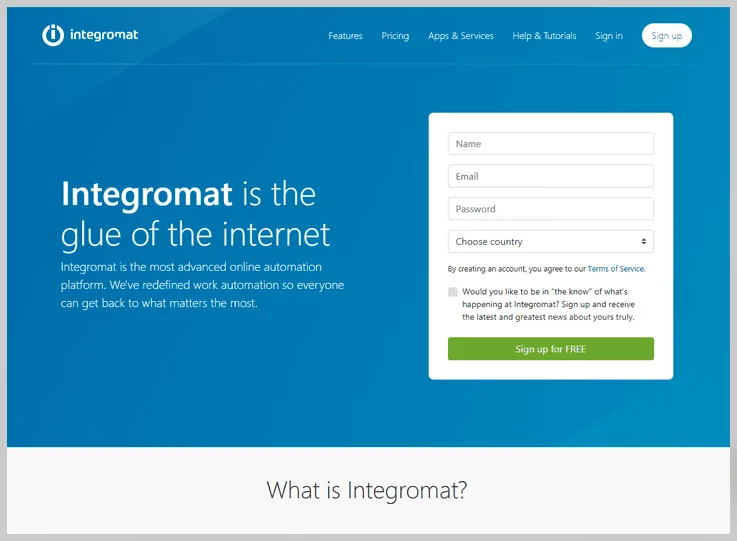 Features
It provides 1500 ready-to-use templates that help in setting up the module.
Integromat has a live execution feature that empowers you to run scenarios in real-time and view the detailed information about each & every workflow.
Using its Excel functions, you can sum up multiple values, or move a date value within a matter of seconds. Functions like text, numbers, dates, aggregate, percentage, and lists are provided.
Divide the execution scenarios into multiple routes to process the data within each route differently.
Create a complex and multi-step workflow using custom logics and filters. Furthermore, this filter helps in handling errors by implementing special commands or instructions during execution.
Process each data separately with the help of built-in iterations and merge individual data into a single bundle through its aggregator feature.
Pricing
Free – Integromat offers free plan in which you get 1,000 operations and 100MB to transfer the data.
Basic – Purchase this plan at $9 per month and get 10,000 operations,1GB data with a minimum interval of 5 minutes.
Standard – You can get this plan at a cost of $29 per month and get 40,000  operations with 20GB data.
Business – Besides the above plans, this one will allow you to perform maximum operations i.e. 150,000 operations and 70 GB data at a cost of $99 per month.
Platinum – You can purchase this plan at $299/month to get 800,000 operations and 220 GB data.
Custom – If you want to perform more than 800,000+ operations then you can go with a high volume plan. But for this plan, you need to contact the service provider.
3. Tray.io – Automation Tool
Tray.io is a full-fledged webhook and automation tool for large businesses and growing startups.  It allows you to connect several apps that aren't listed in your app library. On every aspect, it stands head & shoulder above Automate.io and brings many of the user-friendly features that Automate.io is popular for. Furthermore, it has a drag-and-drop editor to create a seamless workflow visually.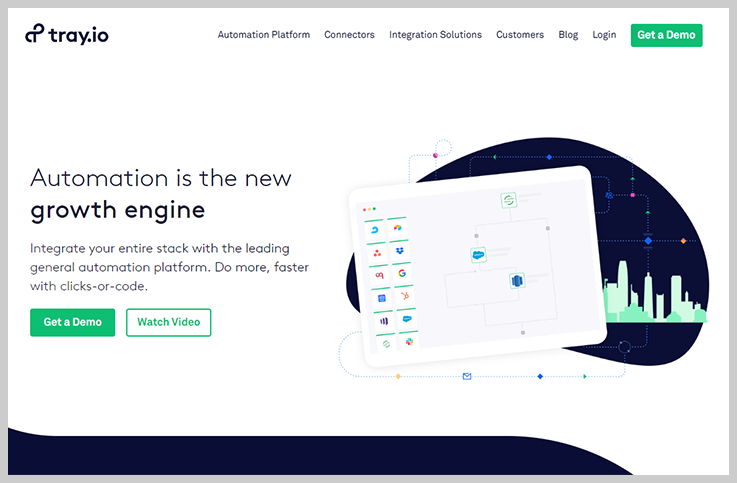 Features
Tray lets you configure the most complex workflows by adding customized logic for strategic competitive advantage.
You can trigger the workflows using Webhook URL if you want extra flexibility on your workflows.
With this, you can create web forms and trigger your workflow on the basis of form submissions.
Further, it offers more than 4500 APIs from popular services like Salesforce, Google, Facebook, Mailchimp, and Dropbox.
It has a callable triggers feature that breaks the workflow into several sections so that you can call them from another workflow.
Pricing
Standard – Start automating with this plan at the cost of $595 per month when you billed annually. It includes a universal connector, access to quickstarts, standard success plan, and automation templates.
Standard Plus – This plan provides you a facility to connect custom connectors, shareable workflows, and access to any success plan at the pricing of $1,450 per month.
Professional – Billed annually at the cost of $2,450 per month and get environment promotion, roles-based access, big data processing, and configuration consulting.
Enterprise – The pricing of this plan is based on workflow volume, but you will need to contact the Tray sales team for pricing information.
4. Zapier – Versatile Automate.io Compitetor
Zapier is another Automate.io alternative on our list it automates your workflow by connecting different applications at the business or personal level. The platform features new and powerful technological innovations that automatically move data across different web applications. In addition, it provides over 1,500 integrations, so if you don't find the technology stack listed in your app directory, you can integrate them instantly via Zapier. It offers an easy, powerful, and cost-effective automation solution.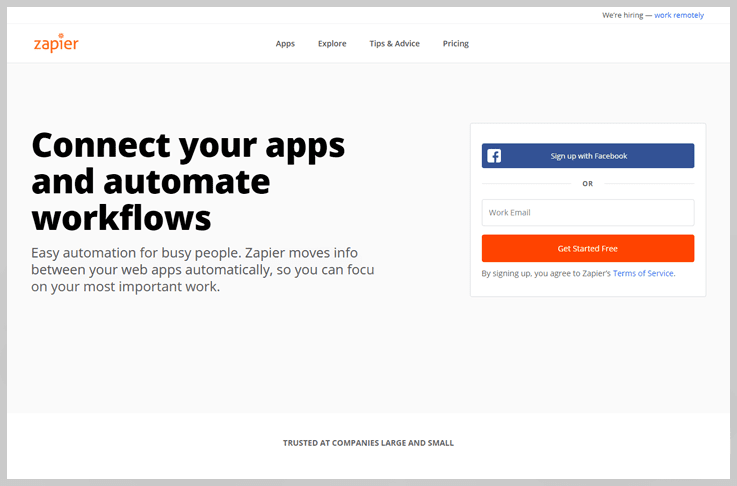 Features
You can add many triggers and actions to one zap to create multi-step zaps. That way you can automate complex workflows across many systems at once.
It allows users to look up specific data in a system integrated with Zapier thorough search action feature.
Zapier has a very powerful feature named formatter that lets you convert any kind of data before putting it into one of the apps such as operating on dates, date formats, currency converters, and many more.
Also, it offers online workflow templates that you can customize according to your requirements.
Zapier connects more than 2000 apps such as Facebook Lead Ads, Slack, Quickbooks, Google Sheets, Google Docs etc.
Pricing
Zapier offers four pricing plans along with a free trial for large to small scale businesses.
Free – Anyone can automate their work with the free trial of Zapier. With this, you will get 100 tasks and 5 zaps per month.
Starter – Pay $24.99 per month for 750 tasks and 20 zaps with the integration of 3 premium apps.
Professional – Buy this plan at $61.25 per month and get 2000 tasks, unlimited zaps, and premium app integration.
Team – You just need to pay $373.75 per month for 50,000 tasks and unlimited zaps.
Company – Pay $748.75 for 100,000 tasks and get all the advanced features of Zapier like unlimited zaps, unlimited premium apps, filters, formatters, etc..
5. PieSync – iPaaS Software
PieSync is the Platform-as-a-Service (iPaaS) tool that connects all professional B2B services and offers seamless two-way sync between them. With this, you can quickly build the sync between SaaS, on-premises, and cloud applications. Besides, it supports 140+ apps and adds a new one every week. PieSync offers syncing solutions for businesses of all sizes so you can make more data-driven decisions by using the most up to date data.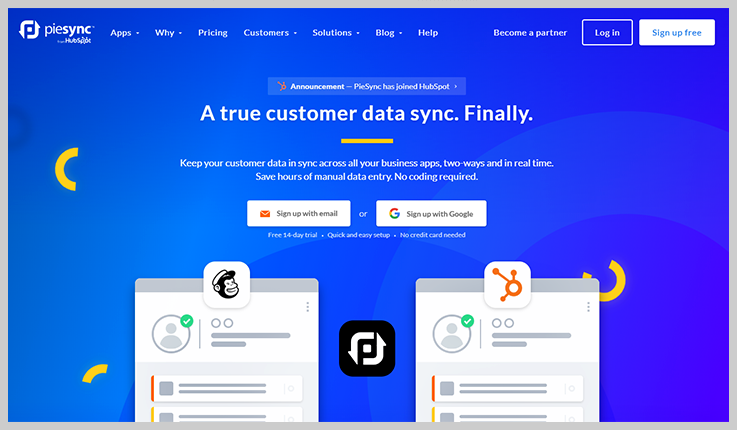 Features
It provides complete security to your data by encrypting the workflows. Apart from this, it uses advanced authorization methods like Oauth to ensure all customer info is safe and secure.
PieSync not only connects multiple apps but also ensures that the data flow between these apps in both directions as well as syncing and updating.
With its 2-way sync, apps can sync and talk to each other on a real-time basis.
Besides, it automatically detects and manages duplicate data points and removes them.
Quickly set up the configuration and create personalized rules, map how you want to sync different information fields across apps, etc., with zero coding required.
Pricing
Starter – Create simple syncing with two if/then rules per connection at the cost of $19 per month.
Pro – Buy this plan at the cost of $59 per month and create unlimited rules per connection.
Conclusion
As you can see, there are a wide assortment of Automate.io alternatives for you to select from. So, choose the best automation tool for your organization or project to reduce the time spent on manual tasks.
Which one of these Automate.io alternatives has caught your eye? Please share your experience with us in the comments below.
You May Also Like To Read: