Subscriptions are replacing the traditional product sales model and are fundamentally changing the face of businesses and industries these days. You should know that the subscription and recurring billing economy are becoming pervasive for varieties of reasons like –
Customers are demanding for the more flexible billing system.
Automated invoicing model and a lot more.
So, to make you aware of this changing I have found 10 Top Recurring Billing & Subscription Management Tools along with the powerful API key. With this API key, you can integrate any of the billing handling services with your business.
"A Quick Comparison Between – Recurring Billing Tools"



Services
Pricing 
Dunning Emails
Recurring Payments
Unlimited Revenue
Multilingual Checkout Page
Pabbly Subscription Billing

 $19/m

✔
✔
✔
✔
Rebilly
$149/m
✖
✖
✖
✖
Chargebee
$99/m
✔
✔
✖
✖
Recurly
Contact Sales
✖
✖
✖
✖
Hiveage
$19/m
✖
✔
✖
✖
Get Lifetime offer: Chargify Alternative
Just go through the blog and decide which software is best for your business.
---
Pabbly Subscription is a bracing recurring billing tool to manage all your subscription billing related needs in a simple and affordable way.
It has an incisive approach towards all your billing hassles, and meanwhile, its support team is responsive all the time and goes an extra mile to help you out.
Pabbly Subscriptions gives you numerous payment options for your customers.
PayPal, Stripe, and tons of more online payment gateways.
Payment through wire transfer.
Offline payment option to accept payment by cheque/ cash.
---

---
Features-

Automated Management
Pabbly Subscriptions replaces the manual management of your monthly recurring payments with automation. It automates all your recurring and one-time payments and also keeps all the records well organized in a comprehensible dashboard.
Also, with its dunning feature you can follow up with your customers and look after failed or denied payments, so you never lose your precious customers.
Coupon
With Pabbly Subscriptions, you can create coupons for your customers & offer them a discount. You can also validate these coupon discounts for a specific time period, call it a day, few hours, lifetime, etc.
Custom Domain

This is a very efficient feature which allows you to change the custom domain of the checkout page. All you gotta do is simply add a DNS record & create a CNAME. Once the CNAME is created, you can send a request to Pabbly Subscriptions. Further, It will take some time & your link will be ready to use.
Pricing-
Pabbly Subscriptions provide you with the 3 different pricing plans these are –
Starter
For this plan, you gotta pay $19 per month on a yearly basis and $39 per month on a monthly basis. Along with this plan, you also get various features like :
500 Customers
One-time Payments
Recurring Payments
Unlimited Revenue
Rookie
This plan will cost you the amount of $29 for a month (yearly plan) & $59 for a month (monthly plan).  Plus, you also get access to various features like :
2000 Customers
Setup Unlimited Products
Setup Unlimited Plans
Multiple Payment Gateways
Pro
If you want to opt for this plan, you will have to pay $49 per month if you opt for yearly plan and $99 per month if you opt for monthly plan. Moreover, you can use all the features like :
NOTE!
Your Subscription business needs an effective tool with a lot of features but you certainly do not need a bottleneck of heavy pricing.
Cater your business needs in your budget.
Choose Pabbly Subscriptions!
All the infused features for your subscription billings needs at just $19 for a month.
Don't give a second thought as this offer is only for first 500 customers.
Hit the button below
---
2. FastSpring
FastSpring subscription billing software enables global subscription & online payment for you. Integrate FastSpring with your business by simply using its REST API key. This software is trusted by numerous companies like Adobe, Microsoft, Sketch, Connectify and more.
It allows you to accept payments in 3 different ways, that are –
Wire transfer
Physical check
PayPal
---

---
Features-
Multiple Subscription Structures & Custom Options
This billing platform virtually supports every type of subscription model, free & paid trials, on-demand subscriptions, one-time setup fees, promotional pricing and plans, installment payment plans and a lot more.
Number Of Languages & Currency Options
FastSpring supports more than 20 languages and accepts more than a dozen of currencies, as it covers the world.
Customize & Configure Your Store
With FastSpring you can fully customize your business as per your need. It offers branded order page, custom shopping carts, usage tracking, testing tools and more.  
Pricing-
FastSpring gives 3 pricing plan named as – Pay As You Grow, Business Plan, Enterprise Plan which has all the common feature that a subscription management software required. To know the price plans for this tool contact FastSpring sales team.
---
3. Chargebee
Chargebee an athletic billing management software gives all the nuts & bolts that you need to handle subscriptions, recurring payments, invoicing, etc. You can easily merge this software with your organization by using its API key. It also provides powering subscriptions and billing management to 5000+ companies like Soylent, Freshworks, Study.com, Sharetribe, Calendly and much more.
And it also accepts payments from 4 different gateways, which are –
PayPal
Stripe
Braintree
Authorize.net
---

---
Features-
Flexible Plan Management
Chargebee let you set up as many subscription plans you like to generate and also can pilot all of them from a single dashboard. This software's intuitive pricing option will equip you with maximum choices to manage the plans.
Baked-in Coupon System
You can now easily run marketing campaigns and drive revenue as Chargebee offers an in-built coupon management system with tracking feature.
Manage Trial Packages
This is the perfect way to make your user fall in love with your product. With the management software, you can create flexible trial packs that suits your business.
Pricing-
Go Plan
The Go plan is perfect for those businesses who generate revenue upto $25k per month, for this plan you have to pay just $99 every month.
But if generate revenue of more than $25k then for that you have to pay 0.5% of the extra generated revenue [sometimes this extra revenue is also named as overage revenue]
Let me make this clear with an example –

Suppose you make a business of $30k revenue in a month then for that the total amount you have to pay is –

$99 (base price) + 0.5% of ($30k -$25k) = $124 per month
Rise Plan
Similarly, with the Rise Plan, if you generate $50k revenue per month than for that you have to pay $299/month. If you generate revenue more then, for that you have to give 0.6% of overage revenue.
$299 (base price) + 0.6% of ($60k -$50k) = $359 per month
Scale plan
Same with Scale Plan, here you have to invest $599/month for revenue upto $75k in a month. And 0.9% if any overage revenue is generated.
So, the total amount will be –
$599 (base price) + 0.9% of ($90k -$75k) = $734 per month
---

---
4. Chargify
Chargify is the complete package of subscription and recurring billing software. With it, you can manage the entire customer lifecycle, customize sign-up forms and a lot more. So use the API key of this software to integrate it with your business.
This recurring billing management software allows different payment gateways like –
Stripe
Braintree
Authorize.Net
QuickPay
E-way and more.
---

---
Features-
Communicate With Your Customers
With automated email communication system, you can be always connected to your customers, through their entire lifecycle. Chargify allows you to send highly customized template that maintains your company's branding.
Automate Tax Calculation
Chargify is the partner with Avalara, the leading cloud-based software for sales management, so know don't worry your tax calculations are in safe hand.
Accurate & Flexible Recurring Billing
You can easily handle the most complex scenarios like fixed-price subscriptions, trials, setup fee, multi-currency and more.
Pricing-
You can sign-up for a free trial of 30 days & use the software.
Further, if you want to opt for the paid version, you can contact the sales team of the Chargify.
---
5. Recurly
Another word for best subscription handling software is Recurly, which is trusted by thousands of companies like Hubspot, Sling, Speedo, Canary, etc. Effortlessly unite this software with your business by using its REST API key.
Recurly supports numerous payment gateways some of them are –
AmazonPay
PayPal
Braintree
Authorize.Net
Stripe
Recurly Gateway and more.
---

---
Features-
Power Up Your Enterprise
With Recurly you can improve efficiencies, reduce operating costs and delivers more satisfying customer experience. This software is a partner with leading businesses such as Salesforce, NetSuite, Xero, Intuit, etc.
Reduce Churn -& Increase Revenue
With this amazing subscription handling tool, you can recover an average of 7% of credit card revenue from repaired transaction every month.
Compliance, Security, & Confidence
Recurly is a PCI compliance so don't worry about your customer data it is safe and secure. It is providing only the level of access to the limited user because Recurly understands that not every user in an organization needs full access to the app.
Pricing-
Recurly offers you three plans to choose from:-
Core Plan
The Core Plan is best for the businesses that required simple online payments as it charges nothing i.e., not even a single penny.
Professional Plan
Similarly, in the Professional Plan, you get features like volume pricing, two-way salesforce integration and a lot more. If you want to opt for this plan, you can contact the sales team.
Enterprise Plan
The Enterprise Plan is for those businesses that deal in high volume pricing and white-glove service. You can contact the Recurly sales team to know the pricing of this plan.
---

---
6. Stripe
Stripe is the best platform for running an online business. As this is basically a payment processing software. But along with this it also gives subscription management, analytics i.e you can say complete pack to handle your business.
It offers you API key for smooth integration.
Stripe supports following payments methods –
ACH Debits
Bitcoins
Alipay
WeChat Pay
---

---
Features-
Target New Users With Discounts & Trials
You can easily design trial periods into your plans to let customers preview your service, or use coupons to test the impact of different discount offers.
Save Customer Cards Smartly
Stripe stores the card details of your customer so that, the user can continue to work if the card number or expiry date got changed. This tool works directly with the card network so without any interruption, the customer can make use of this service.
Store Your Customer Billing Info
Now you can securely keep payments, subscriptions info on file and can renew the subscriptions or upgrade the plan without worrying about PCI compliance.
Pricing-
Pay As You Go
Go plan is suitable for small businesses as it charges 2.9% of revenue and 30¢ per successful card charge.
Let's understand it with an example –
If your business generates $10,000 revenue every month in 300 transactions then the amount you have to pay for this plan is –

2.9% of $10,000 (generated revenue) = $290

30¢ of 100 transactions = $30

Total cost

$290 + $30 = $320 per month
Enterprise Plan
The Enterprise Plan offers everything that is needed to run an online business at larger scale. Get in touch with Stripe sales team to know the pricing details of this plan.
---
7. PaySimple
PaySimple makes businesses run easily as it a better way to accepts payments, market service and retain customers. This service is trusted by over 17,000 businesses and offers its API key so that you can effortless unite this service with your business.
---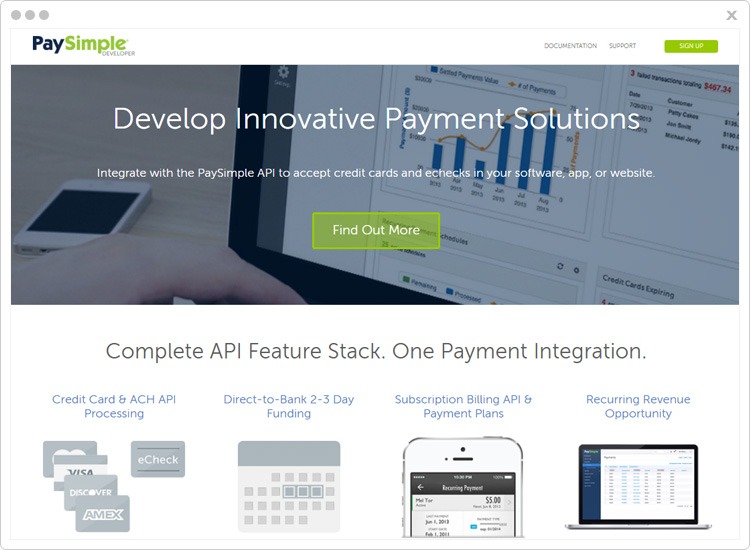 ---
Features-
Get To Know Your Customers
With the help of customer reporting tools, you will get to know who is your best customers, which product or services drive more revenue and a lot more.
Flexible Payment options
This recurring billing tool accepts all major payment methods including credit cards, debit cards, ACH, eChecks etc so that your customer find a convenient payment method.
Real-Time Alert
With this online tracking software, you can see which invoices have been paid and which are overdue.
Pricing-
PaySimple provides very low pricing for its customers, you only have to pay 2.49% of generated revenue plus 29¢ per transaction.
Make it clear with an example –
Suppose, if your business generates $10,000 revenue every month with maximum 100 transaction then the cost you have to pay will be –

2.49% of $10,000 (generated revenue) = $249

29¢ of 100 transactions = $29

Total cost is –

$249 (generated revenue) + $29 (100 transactions) = $278/month
Note – If made payment using e-check process then, you have to give 60¢ for every transaction
---
8. Wallee
Wallee the perfect subscription and recurring handling solution that offers you an extensive toolkit for your online business like documentation handling, subscriptions, payments, cloud printing, frauds and a lot more. This tool offers its REST API key so that you can easily integrate it with your business.
The payment gateway Wallee supports are –
PayPal
Paylib
DaoPay
Alipay, etc.
---

---
Features-
Intelligent Payment Routing
With this subscription management software, you can increase your availability by setting up failover payment processors. In case if your primary payment processor is down the transactions will automatically start routing through the second processor.
Documentation Handling
The generation and customization of PDF documents or email templates are the harder tasks. But with Wallee it is very easy to handle this all as it provides a standard email template that you can choose and modify according to your requirement.
Reconciliation Management
Wallee helps you import acquiring or other payment files and also let you reconcile and check the payments that you receive from the customers.
Pricing-
Starter Plan
The Starter Plan is best for a merchant who wants to discover Wallee, as it only charges $4.95 per month for only 300 transactions. If you made more transactions than for each unit you have to pay an extra charge of $0.23.
Let's take an example –
If you made 400 transactions in a month i.e 100 extra transaction, as the limit of this plan is 300 only.

Then the extra charge will be of –

$0.23 of 100 transaction = $23

And total cost will be

$4.95 (base charge) + $23 (of extra 100 transactions) = $27.95 per month
Advanced Plan
The same is with Advanced Plan also, the basic charge is $14.95 for 1000 transactions in a month. And if you further made any transaction then for that you have to pay $0.16 as an extra charge.
Then, the total cost will be –
$14.95 (base charge) + $16 (of extra 100 transactions) = $30.95/month
Business Plan
The basic charge of Business Plan is $59.90 for 4000 transactions in a month. And for an extra transaction, you have to pay $0.065 on every extra unit.
So, the total cost is –
$59.90 (base charge) + $6.5 (of extra 100 transactions) = $66.4 per month
Enterprise Plan
This Enterprise Plan is for large companies which have special requirements regarding support, features and volume price. To know the details of this plan contact Wallee support team.
---
9. Rebilly
Rebilly is the world's first subscription and recurring profit maximization company. It also provides REST API key so that, you can easily integrate Rebilly with your organization.
The payment gateways that Rebilly supports are –
PayPal
Stripe
Braintree
WorldPay and more.
---

---
Features
Multi-Currency
Rebilly supports 140 currencies, you can configure plan, pricing and charge customers in any currency you want.
Alternate Payment Methods
This software supports a number of varieties of payment methods like check, wire, bitcoin or barter, cash, etc. So, that the customer can find convenient payment options.
Rich Reporting & Forecasting
With Rebilly take a deep dive into your customer's transactions and payment gateway data. You can view nearly any report in rich, visual charts format and can give this data to your marketing team to target more profitable segment for your business.
Pricing
Rebilly gives first 3 months completely free in all its plan.
Pioneer Plan
The Pioneer Plan is completely FREE for the revenue up to $1000 per month and if you break this revenue goal than you will be charged as per the criteria of Rebilly software.
Entrepreneur Plan
In the Entrepreneur Plan, you have to pay $149 per month for $50,000 revenue. But other than that you have to pay $0.10 per transaction.
Let us understand it by an example –
Suppose your business generates$50,000 revenue in a month with 150 transactions.

Then the actual amount you will be charge is

$149 (base fee for $50,000 revenue) + $15 ($0.10 for 150 transaction) = $164/month
Executive Plan
Similarly, in Executive Plan, you have to pay $1497 for $150,000 revenue every month. And in addition to this, you also have to pay $0.10 as a transaction fee.
So, the actual amount will be –
$1497 (base fee for $150,000 revenue) + $15 ($0.10 for 150 transaction) = $1512/month
Enterprise Plan
If your business generates revenue of more than $150,000 then the cost of Enterprise Plan starts from $3000 per month. To know its pricing plan you have to contact the Rebilly sales team.
---
10. Azimio Systems
The next outstanding, scalable and smart subscription billing management system is Azimio. It is built to deliver a solid and reliable web-based service in a simple self-service mode or you can also use its API model which is suitable for all kind of business operations.
The payment gateway it supports are –
PayPal
Stripe
Authorized.Net
---

---
Features-
Self-Service System
By using the customer portal, the customer can see their subscriptions list, invoices & payment history, change their subscription and much more.
Invoices & Payments
This software automatically generates invoices when the customer subscribes your product/services and also keep tracks all payments that your customer make.
Easy Access Dashboard
Azimio Dashboard gives a comprehensive view of your business activities and shows you all important key metrics like due invoices, today's payments, pending invoices and much more.
Pricing-
Azimio subscription management software is completely FREE of cost!
---
11. Hiveage
Hiveage is a tremendous online invoicing software, which is trusted by 50,000 small businesses and freelancers from 140 countries. You can use its REST API key and merge this tool with your business to experience better service.
Hiveage supports multiple payment gateways that are –
Stripe
PayPal
Braintree
Authorized.Net
WePay and more.
---

---
Features-
Flexible Scheduling
Now you can set up recurring payments on a daily, weekly, monthly or yearly basis and can even send automated invoices at a custom interval of your choice.
Charge Automatically Or Manually
With Hiveage you can structure a recurring payment profile for automatic subscription charge or else you can send a periodic invoice to the clients for every time payment.
Handle Recurring Payments
If you are a regular supplier and forget to make a payment then, don't worry Hiveage payment tool will remind you about the upcoming payment and save you from the loss occur due to a late transaction.
Pricing-
Every plan of Hiveage gives 14-days free trials to its customer.
Starter Plan
The cost of Starter plan is just $19 per month with all the feature like 250 recurring profiles, 50 auto-billing profiles, 2 staff and 1 GB file storage facility.
Basic Plan
In the Basic Plan, you have to spend $39/ month for 500 recurring profiles, 5 staff, 100 auto-billing profiles and 2 GB file storage capability.
Studio Plan
For Studio Plan you have to pay $69 per month and will get 1000 recurring profiles, 250 auto-billing profiles, 10 staff and 4 GB file storage space.
Company Plan
The Company Plan will be suitable for large companies, which charge $99 per month and provide unlimited recurring profiles, 500 auto-billing profiles, 20 staff and 8 GB file storage.
---
Conclusion

It seems like after going through this blog you will be able to select the right subscription management and recurring billing tools for the enhancement of your business.
All you have to do is to use the REST API key of this software to merge it with your business and help you manage each and every aspect of your subscriptions, payments, invoicing, billing, churn rates and all the key metrics that are necessary for a perfect subscription-based organization.
If you need any more information then you can check out following mention blog –
Lastly, you can contactus for more details!
Thanks for reading! 🙂