Ideal For: All wholesale saffron buyers, kesar manufacturers, saffron suppliers, grocery & gourmet food sellers, and other merchants can use this method to start selling saffron online.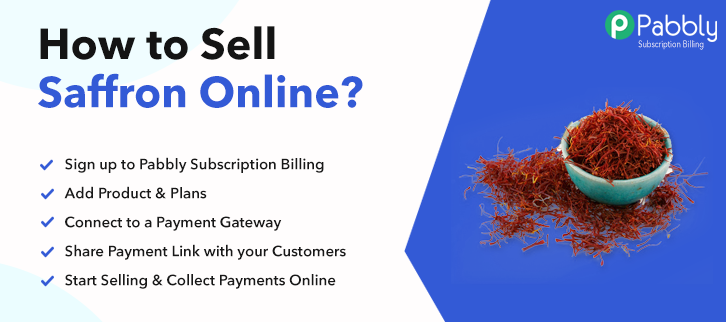 Why Choose this Method for Selling Over any Other Solution?
Unlike any other solution, this method allows you to:
List and sell your saffron for FREE. Absolutely no payment required.
No commission on sales.
Collect payment through multiple payment modes from a single checkout page.
Sell one time or recurring subscriptions of your saffron.
Sell and collect payment in any currency as per your requirement.
Give discounts on your products by offering special coupon codes.
Add sales commission agents to help you in selling saffron online.
Saffron is one of the most expensive spices in the world. It is also known as Zaffran or Kesar. It may take 75,000 saffron blossoms to produce a single pound of saffron spice. Saffron is largely manually cultivated and harvested. That why it sells for $10 to $20 per gram. So it might not surprise you that this "red gold" is also the most adulterated spice. Well, the saffron market gives huge returns on your investments.
Why would you like to sell saffron online?
One of the main reasons for selling saffron online is that it is not easily found in every grocery store. It is used as a spice, flavoring agent, fragrance in perfumes, depression and Alzheimer's disease, and many more. So usually, people may prefer to buy saffron from online stores.
For that, you just need to create the checkout page to sell saffron and share their links on social media or your website so that consumers can buy it directly through links. And all you have to do with the help of Pabbly Subscription Billing Software. With this, you can sell unlimited products online without charging any extra fee and accept online or offline payments. Following are the advantages of using this service without any restrictions:
Create single/multi-plan checkout pages
Integrate it with your website to increase your sales
Collect one-time or recurring payments through offline or online modes
Keep records for all your sales & products
Apply taxes, coupons, and discounts
Share invoices automatically with users
Send email notification to potential buyers
This is How your Checkout Page will Look Like After Creation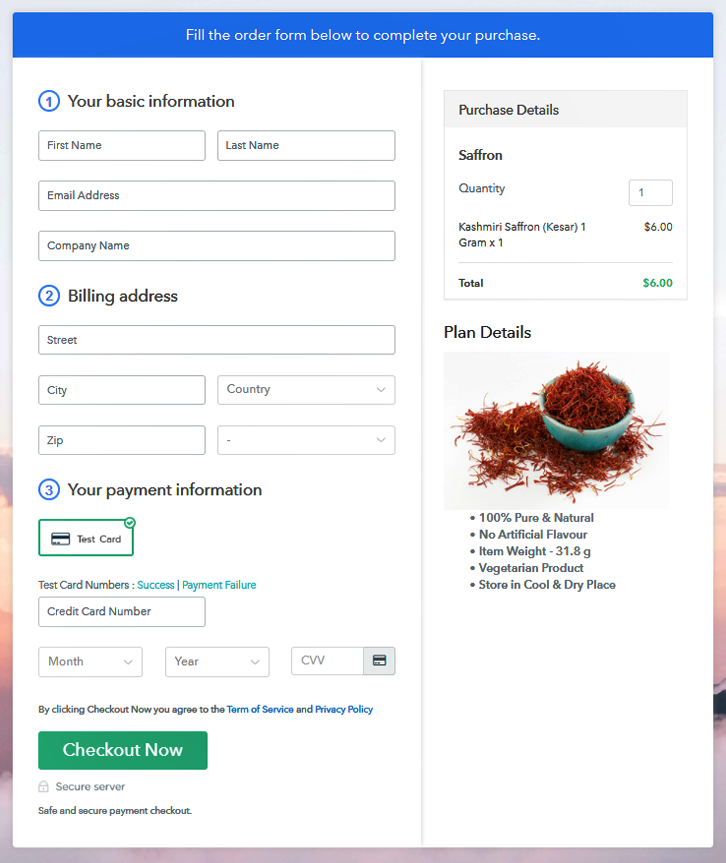 Let's See How to Sell Saffron Online (step by step)
Step 1: Login to Pabbly Subscription Billing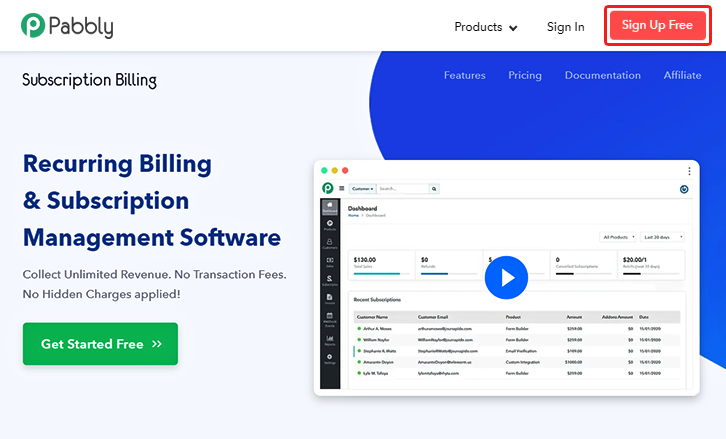 Begin the process of creating a checkout page by visiting the Pabbly Subscription Billing website. Click on the "Sign-Up Free" button appeared on the left-right corner. You'll land on the signup-up page where you can register on the software with Gmail account or manually filled out the details.
Step 2: Select Subscription Billing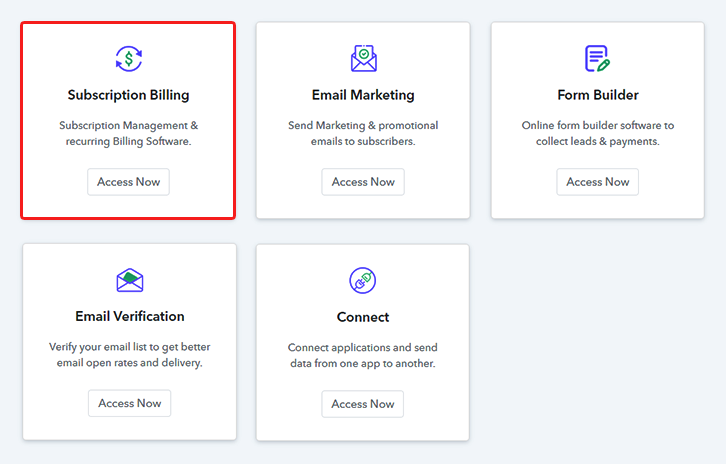 Step 3: Account Setup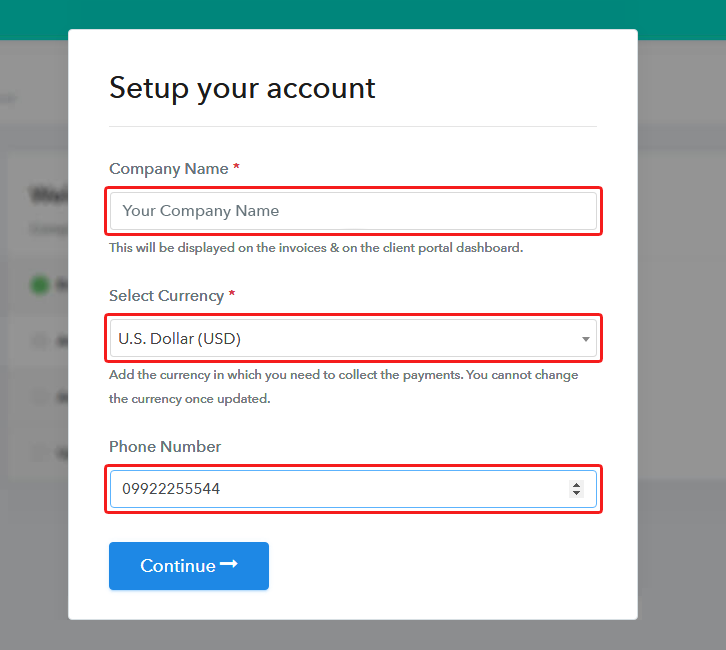 When you are done with the signup process, fill up the basic information like company name, currency, and phone number in the appeared diagonal box.
Step 4: Connect Payment Gateway to Sell Saffron Online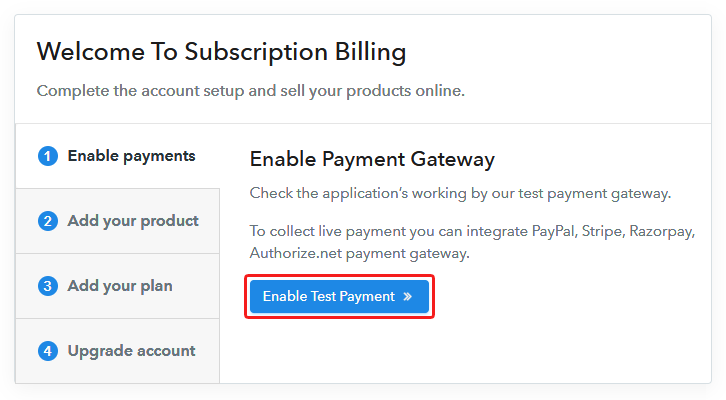 After setting up your account, connect the payment gateway for collecting payments. Here, you can connect multiple payment gateways like PayPal, Stripe, Razorpay, Authorize.net, etc.,  whichever you prefer. Furthermore, Pabbly Subscription Billing provides the "Enable Test Payment" button for testing the payment mode. The complete integration guide for payment gateways is provided below.
Step 5: Add Your Product
In this step, classify saffron into different categories by clicking on the "Add New Product" option. You can add multiple plans in the same product category.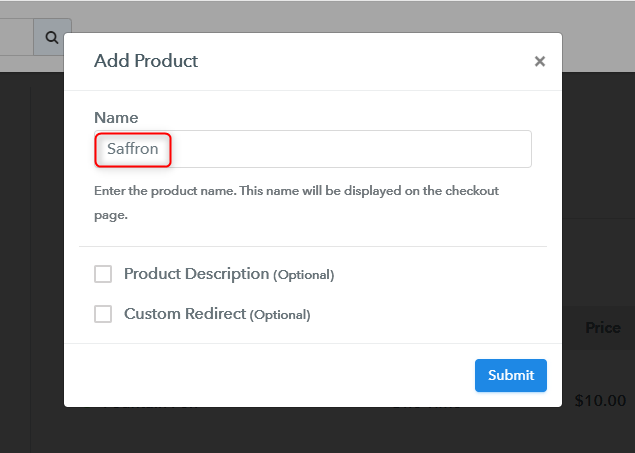 Fill all the details and click on the "Submit" button.
Note: Here you can add all the products related to the similar category by creating plans for each of them.
Step 6: Add Plans
Now, create various plans for all types of saffrons like sargol, pushal, khooshe, konj etc., that you want to sell.
(a) Select Add New Plan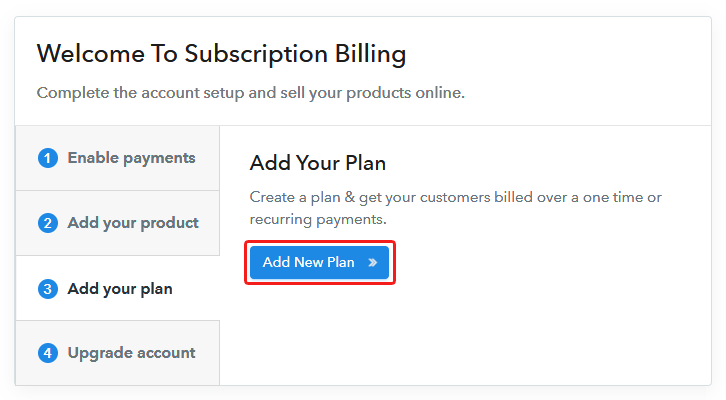 (b) Specify the Plan & Pricing Details
Now, specify the plan details like plan name, plan code, price, setup fee, etc., for selling saffron online.
(c) Add Image & Description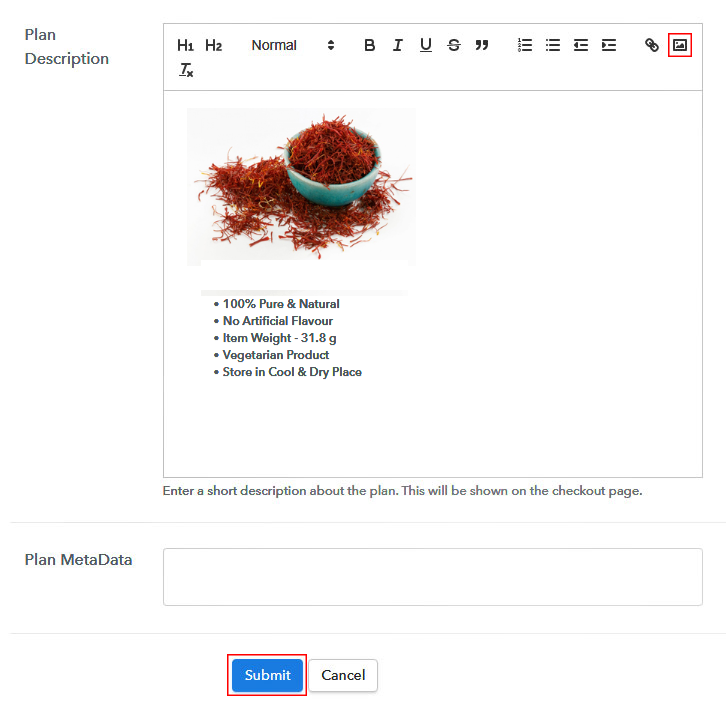 Moreover, you can add the product image, write a brief description of your product, customize the text, and add product links. Once you are done with the changes hit on the "Submit" button and your checkout page is ready to sell saffron online.
Step 7: Share your Checkout Page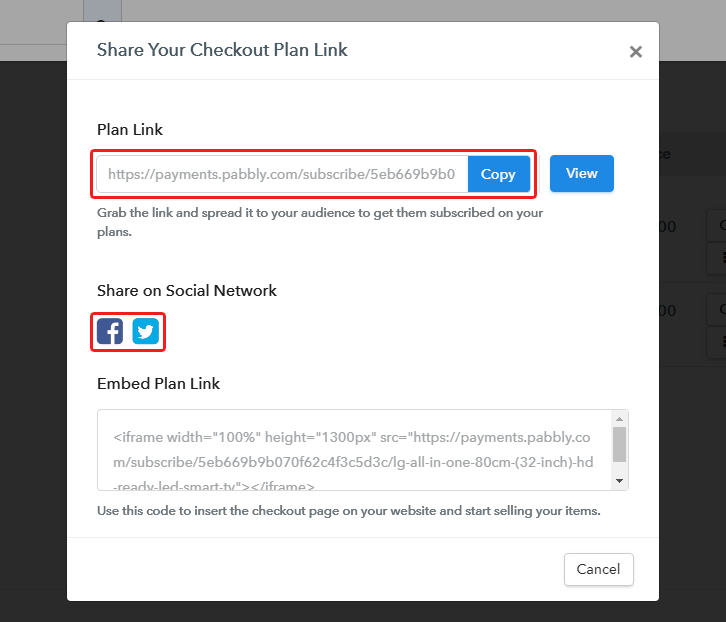 Share the link of the checkout page on social media platforms, SMS, emails, etc.
Secondly, send it directly on Facebook and Twitter.
Furthermore, you can embed the page link on your website as a button & text anchors so that your customers can be landed on the checkout page directly.
Step 8: Preview Checkout Page
Let's preview your checkout page by following these steps
(a) Click on the View Button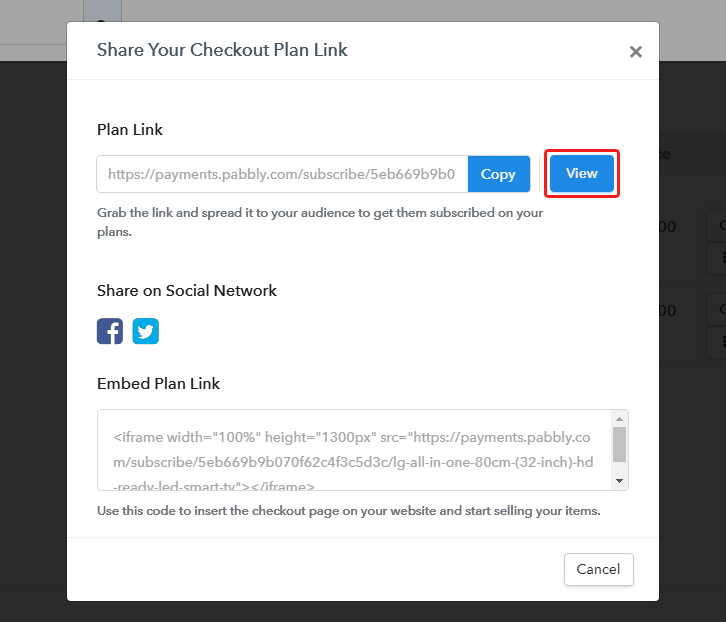 (b) Take a Look at the Checkout Page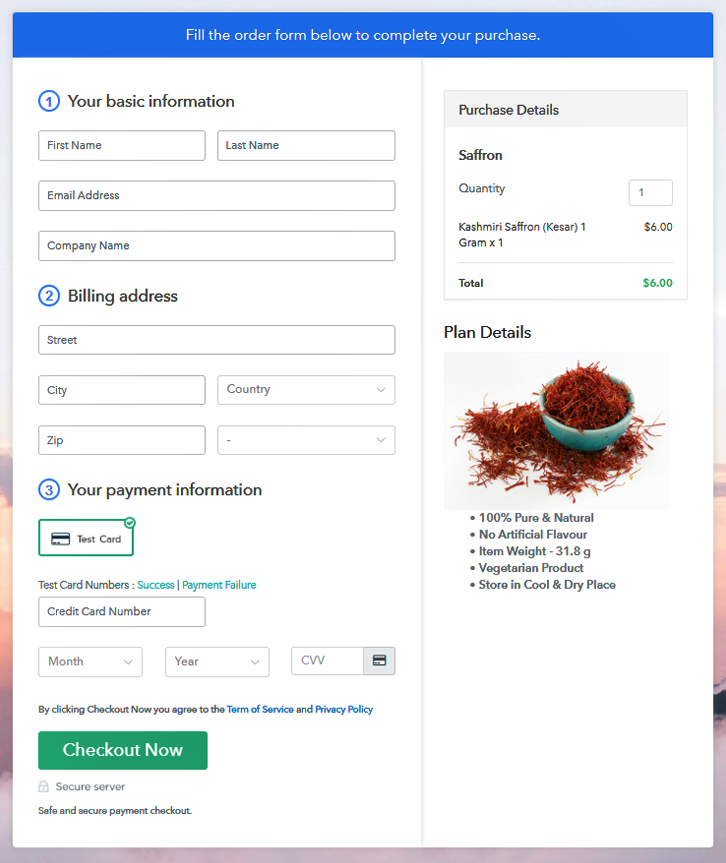 Step 9: Embed Checkout Page in Site & Sell Saffron Online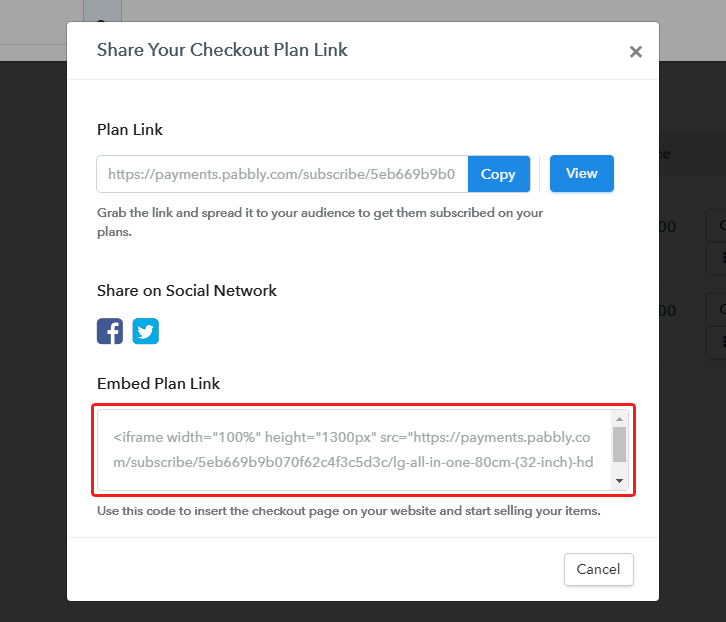 Copy the checkout page link given under the "Embed Plan Link" window for embedding the checkout page on your WordPress.
(a) Edit the Page & Paste the Copied Link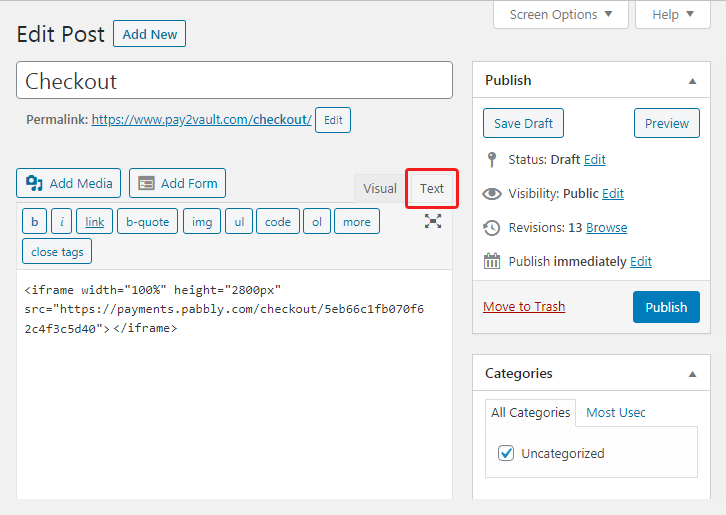 Now, paste the copied link on your WordPress text editor.
(b) Save & Publish the Checkout Page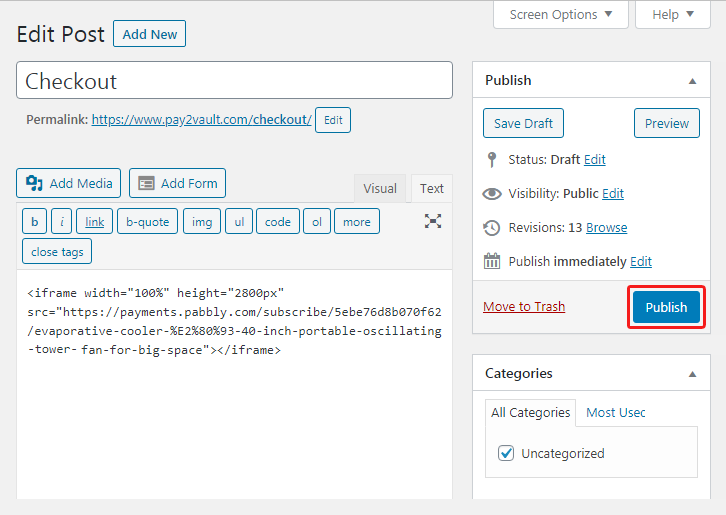 After the code is pasted click on the 'Publish' button to embed your checkout page.
(c) Check out the Final Look of your Checkout Page on WordPress Site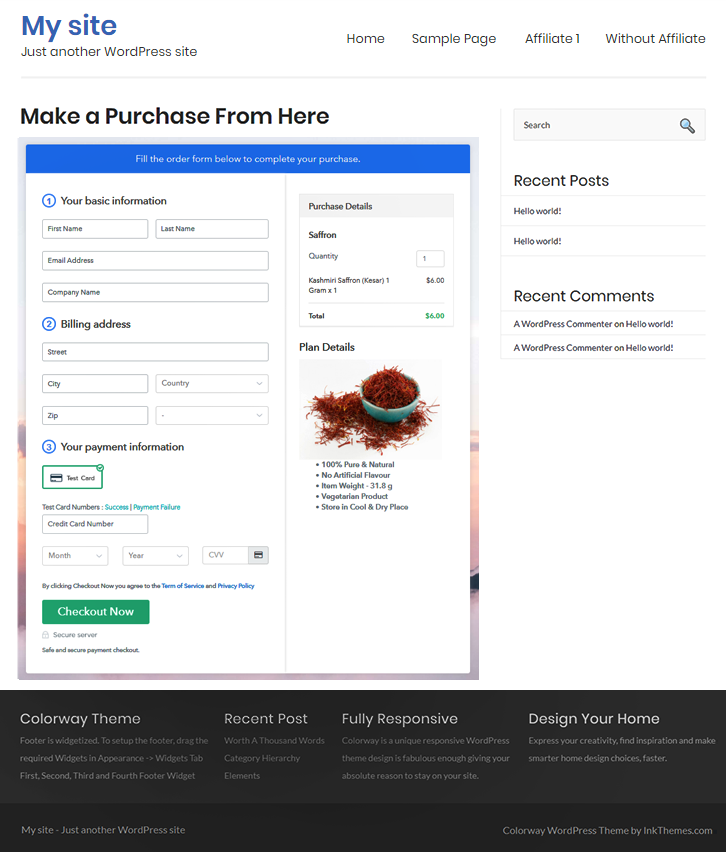 Step 10: Multiplan Checkout Page
Note: In case you want to sell multiple products via a single checkout page, you can create a multi-plan checkout page otherwise skip this step.
(a) Click on Add Mutiplan Checkout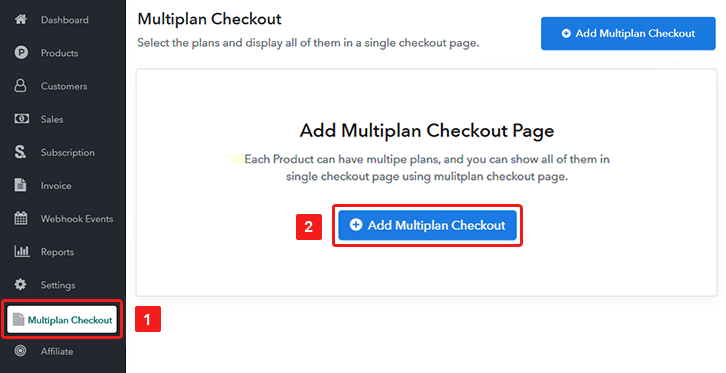 (b) Add Plans to Sell Multiple Saffron from Single Checkout Page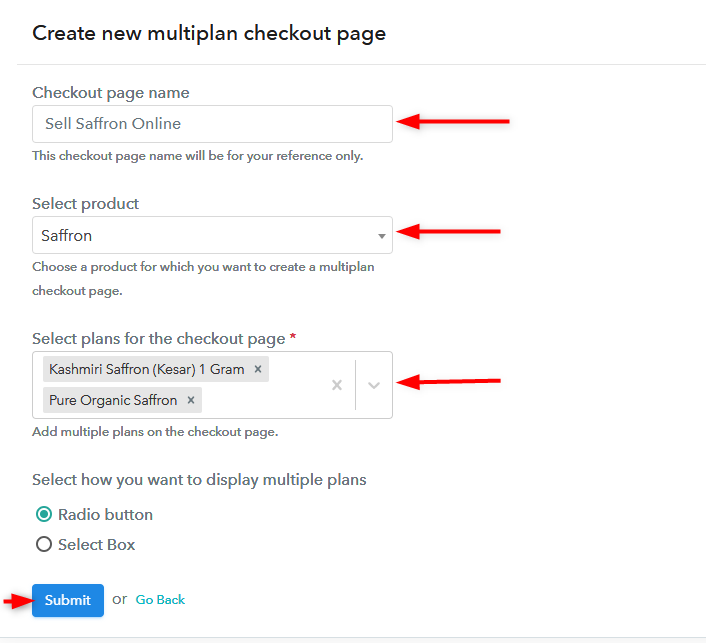 (c) Take a Look at the Checkout Page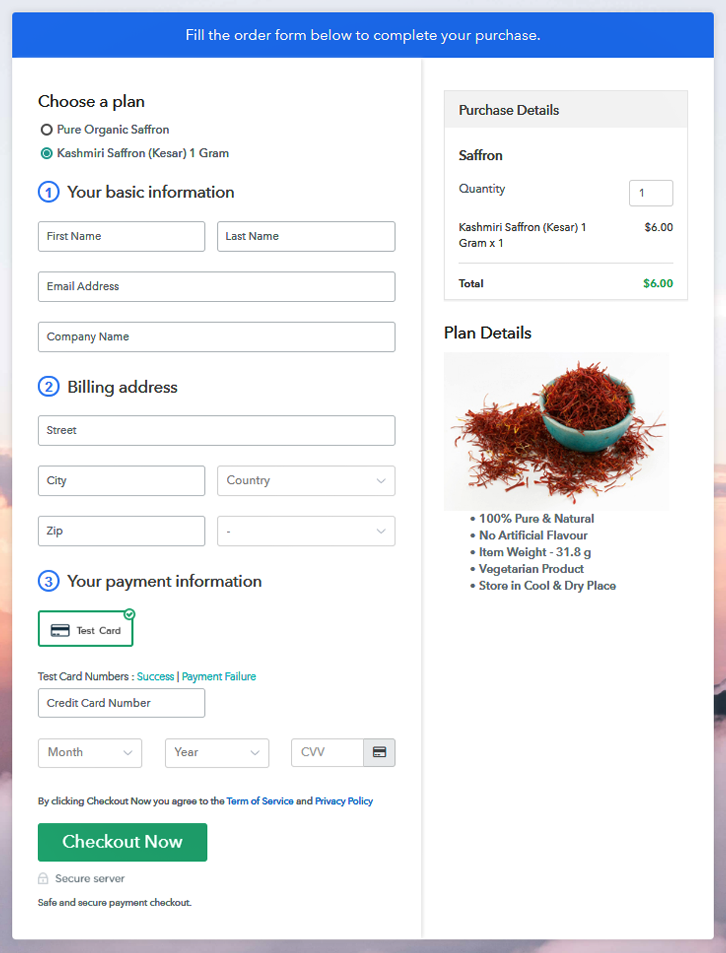 Wrapping Up
Honestly, if we say that saffron is rare to find the original quality in the current day, it actually is. Mainly because manufacturing is low and demands high.
Follow these steps and start selling saffron online using the software Pabbly Subscription Billing checkout page without worrying about any extra commissions. Moreover, you can accept safe and secure online payments using multiple payment gateways.
You May Also Like To Read –