Ideal For: All the mango manufacturers, mango sellers, retail mango shop owners, mango suppliers, mango dealers and other vendors can use this method to escalate their mango selling business online.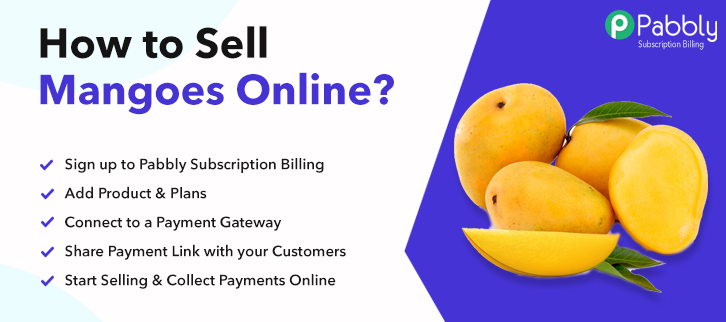 Why Choose this Method for Selling Over any Other Solution?
Unlike any other solution, this method allows you to:
List and sell your mangoes for FREE. Absolutely no payment required.
No commission on sales.
Collect payment through multiple payment modes from a single checkout page.
Sell one time or recurring subscriptions of your mangoes.
Sell and collect payment in any currency as per your requirement.
Give discounts on your products by offering special coupon codes.
Add sales commission agents to help you in selling your mangoes.
Everybody loves Raymond can be denied but everybody loves mango is a fact for sure. That's the reason why mango called out to be a king of fruit. And, if you pay attention to our traditional values it has been said that mango is a food of the gods. However, it is a seasonal fruit but you will find pickles, pulp, and packaged food of mangoes available all along the year.
Why would you like to sell mangoes online?
One of the prominent reason to start selling mangoes online apart from its sweet taste, delicious flavor, and mouth-watering quality, it is known for controlling heart rate and blood pressure. Not just this, mangoes contain an antioxidant compound which provides protection against breast cancer and colon cancers.
If not this, then the second reason to start mango selling business online is to give a thought to Research and Market team predictions where it has been said that the mango product market to grow with a CAGR of 6.2% over the forecast period from 2019-2025.
To be very honest, tap on the phone is way easier than paying a visit to a fruit shop. Owing to all this, you can start mango selling business online using a software "Pabbly Subscription Billing" which lets you create startling checkout pages to sell mangoes online. Some of its rarest features involve:
List variety of mangoes through the single checkout page
Offer discount and coupon codes to customers
Send email notification to potential buyers
Aforesaid are some of the points of software and now let's cast light on creating a checkout page for selling mangoes online using a tool.
This is How your Checkout Page will Look Like After Creation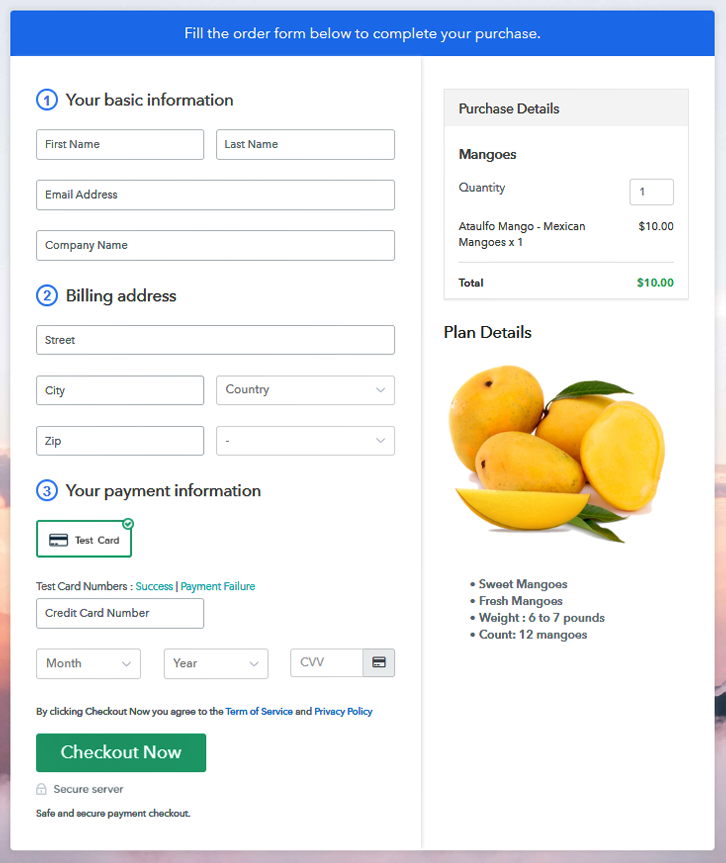 Let's See How to Sell Mangoes Online (step by step)
Step 1: Log in to Pabbly Subscription Billing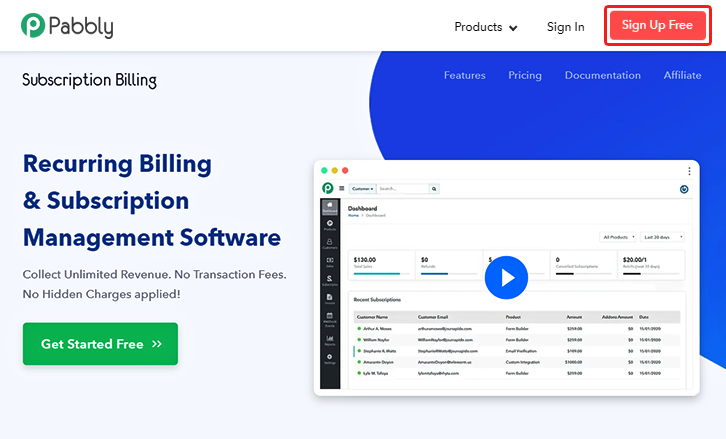 The former step to do is visit the Pabbly Subscription Billing in your browser and then click on "Sign up Free". Further, you can always sign in using your Gmail account or manually filled out the details.
Sign Up For Free!
Step 2: Select Subscription Billing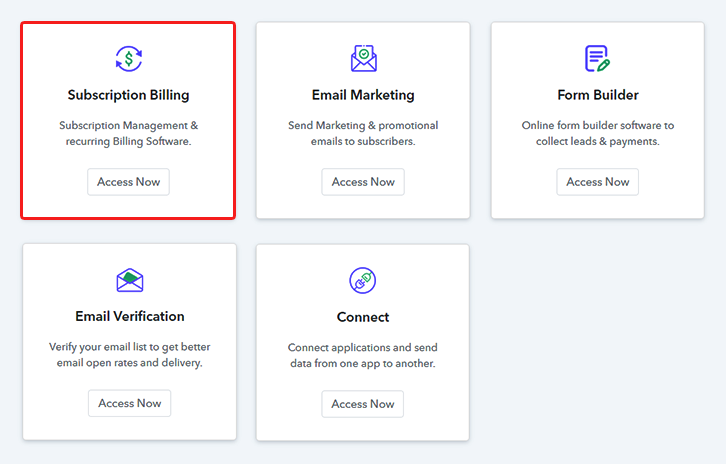 Step 3: Account Setup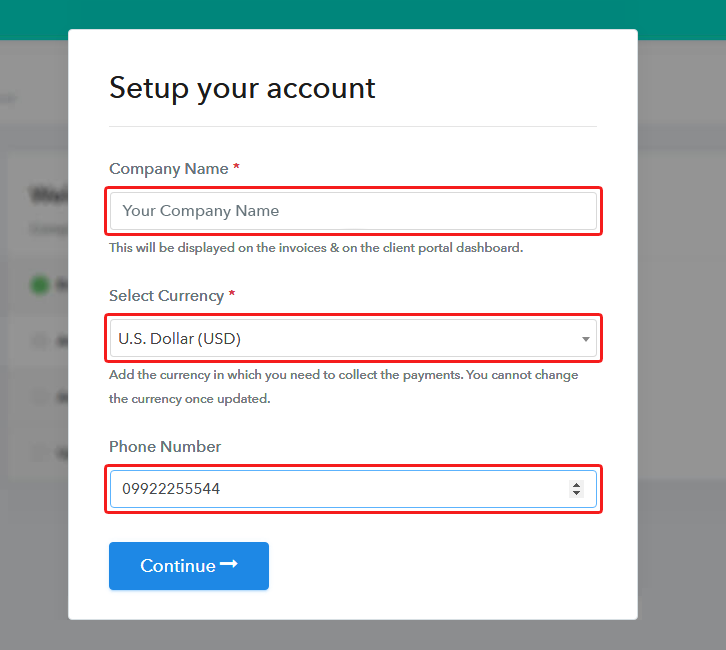 Next, after clicking on the "Access Now" button of the software, a page will open with fields like company name, select currency, and phone number. Just fill out those details to continue creating a checkout page for mangoes.
Step 4: Connect Payment Gateways To Sell Mangoes Online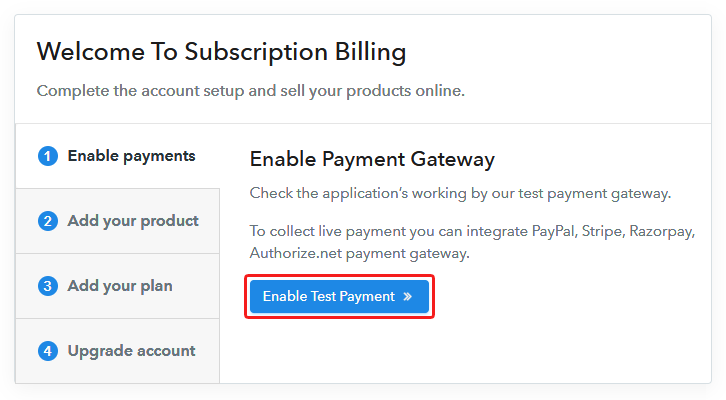 The following step is to make the user informed of the payment procedure. This's why the software offers a test payment gateway, so you can gain knowledge about the software payment procedure. Here, we are proceeding the checkout page process for mangoes using a test payment gateway. Additionally, it is stuffed with payment gateways like PayPal, Stripe, etc. Further, beneath we are addressing the payment integration guides to help you out.
Step 5: Add Your Product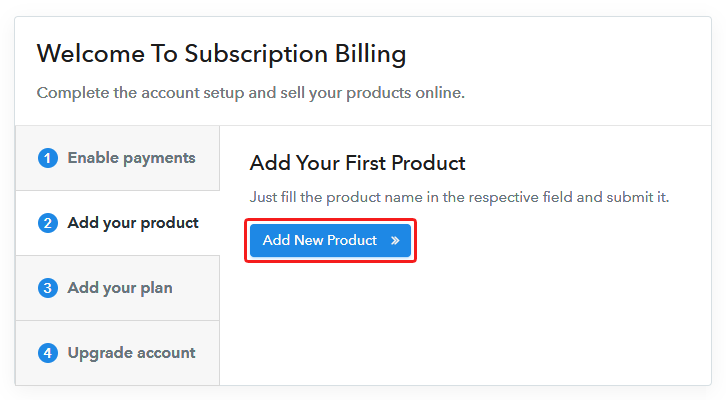 Furthermore, add the name, which in our case is mangoes. Here you can specify the type like Alphonso, Badami, etc. Also, write a short description of the mangoes to grab the customer's attention.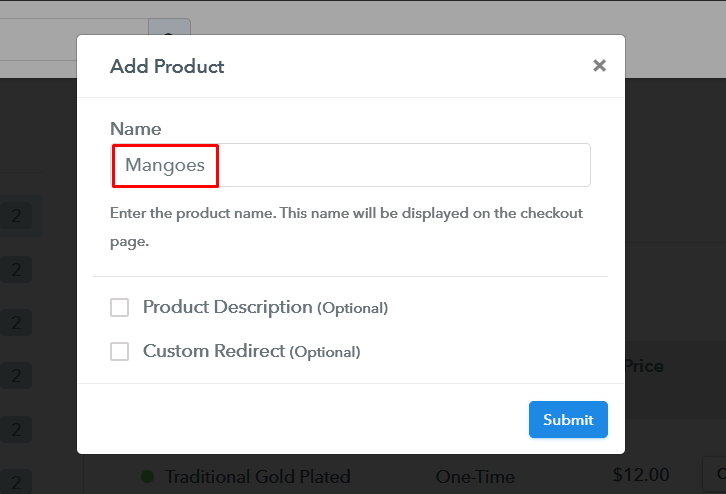 Next, click on the "Submit" button after filling the details about mangoes.
Note: Here you can add all the products related to the similar category by creating plans for each of them.
Step 6: Add Plans
Let's uncover plans for different kinds of mangoes available in your store.
(a) Select Add New Plan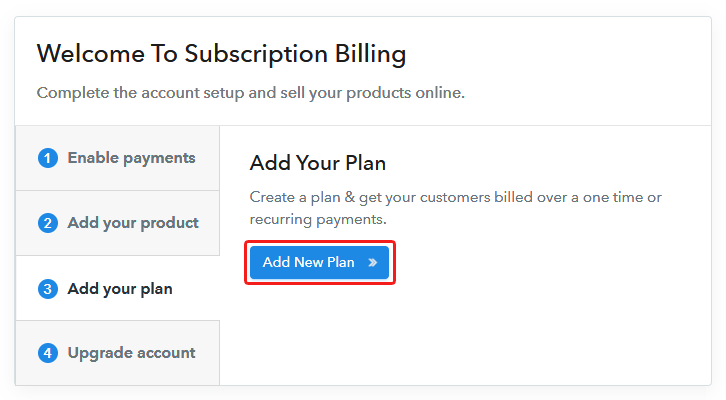 (b) Specify the Plan & Pricing Details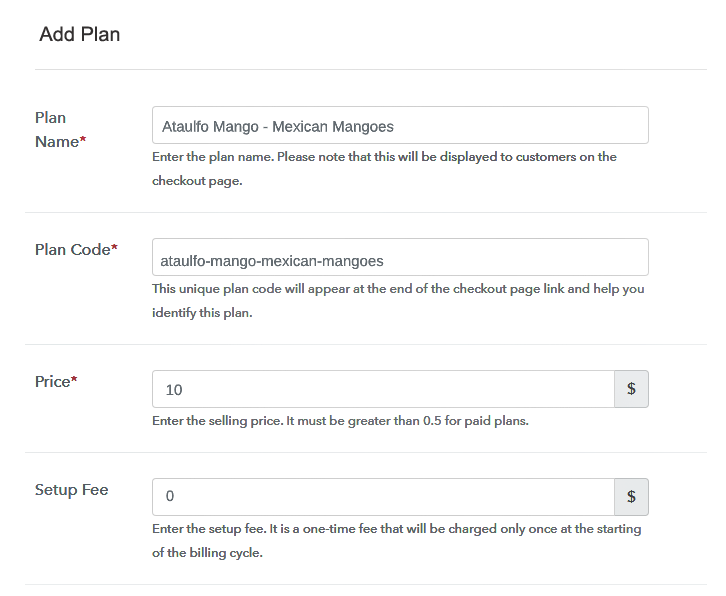 The succeeding thing to do is fill all the details of mangoes like plan name, code, price, set-up fee, and much more to move on.
(c) Add Image & Description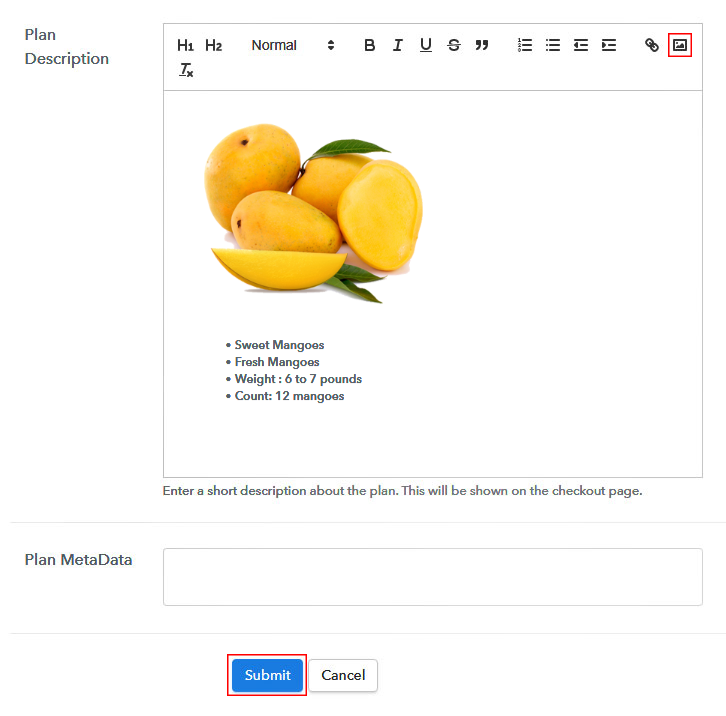 Furthermore, it is necessary to write a brief description of mangoes using bullets, images, etc, to bring natural shoppers to the checkout page.

Next, click the "Submit" button to add mangoes on the checkout page.

Additionally, you can add multiple plans and kinds of mangoes in your product list which you want to sell online.
Step 7: Share your Checkout Page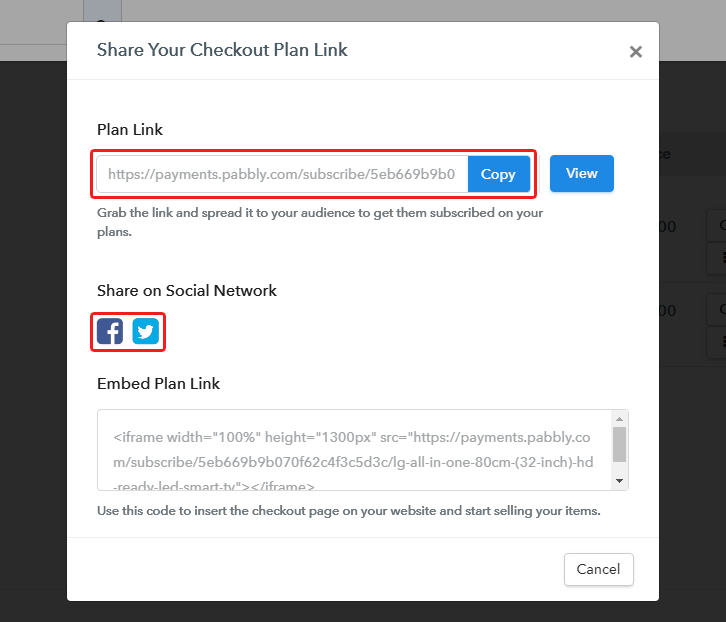 Moreover, share the checkout page of mangoes on social media accounts like Facebook & Twitter to catch the buyer's attention.
Plus, you can share a direct link of the mango's checkout page with your customers via SMS or email marketing.
Additionally, embed the provided plan link of mangoes in the buttons or any anchor text on your website.
Step 8: Preview Checkout Page
Follow up the recommended steps to preview the checkout page for mangoes:
(a) Click on the View Button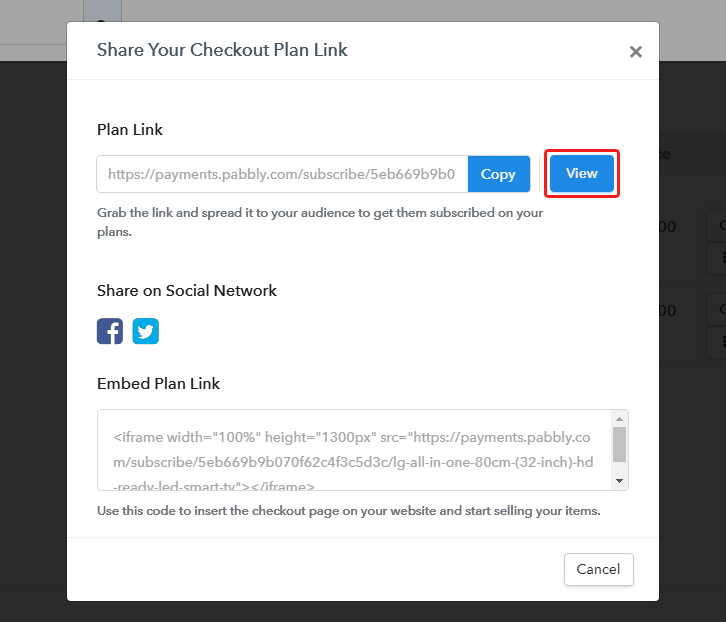 (b) Take a Look at the Checkout Page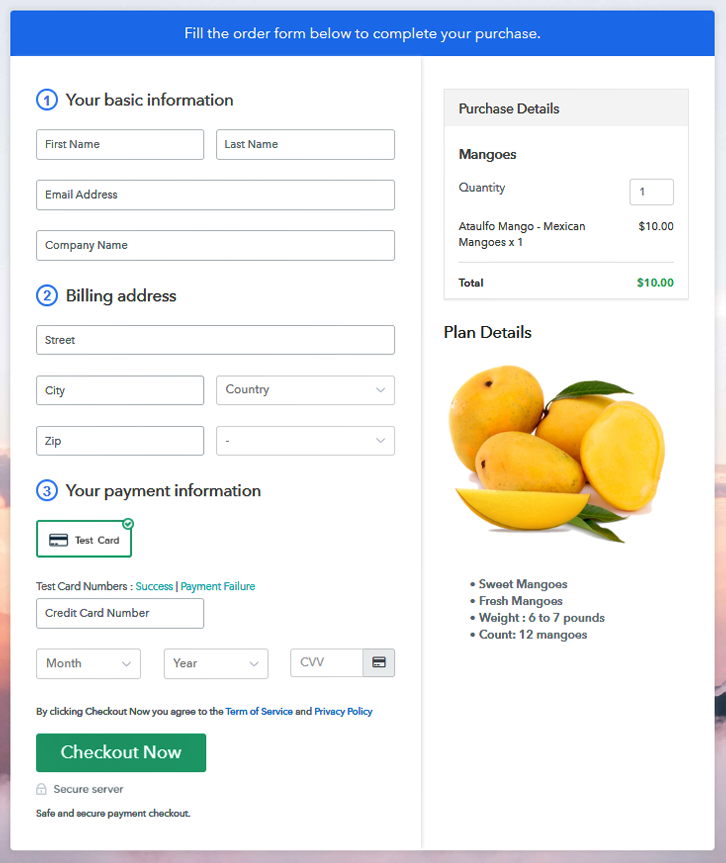 Step 9: Embed Checkout Page in Site & Sell Mangoes Online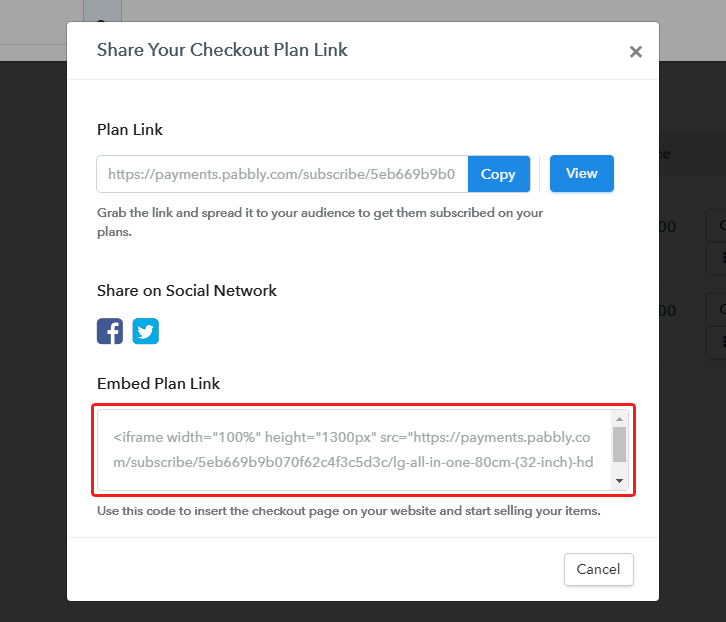 Just copy the link and add the checkout page to sell mangoes online at any proper place on your WordPress site.
(a) Edit the Page & Paste the Copied Link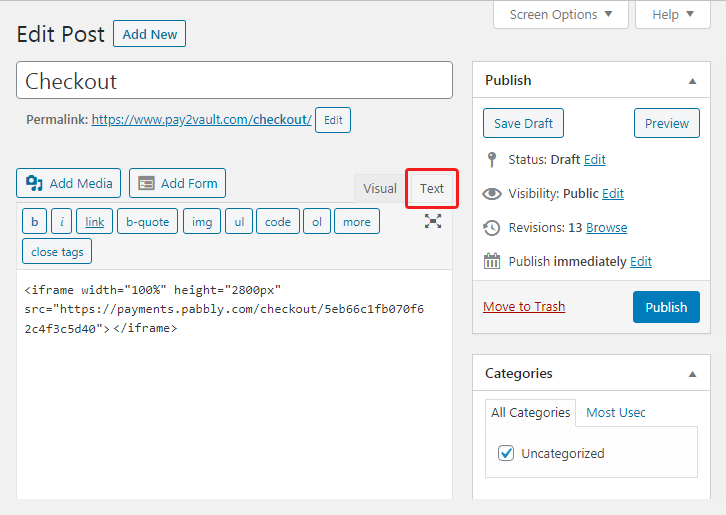 Furthermore, paste the plan link of mangoes on a text editor of the WordPress dashboard.
(b) Save & Publish the Checkout Page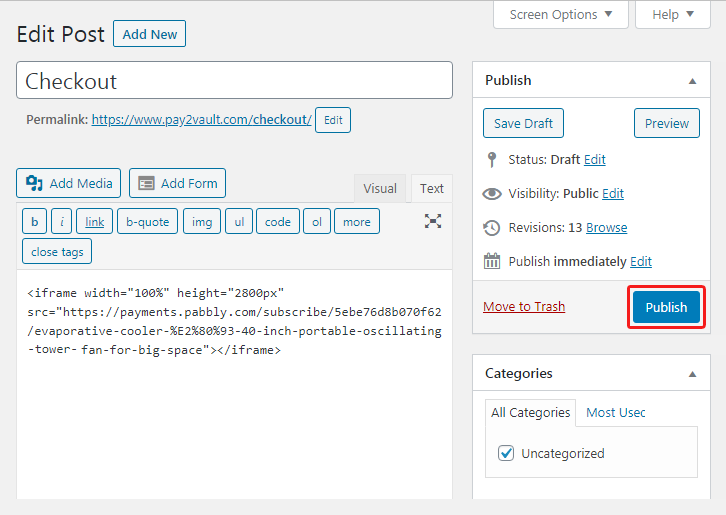 Push the "Publish" button, after doing changes.
(c) Check out the Final Look of your Checkout Page on WordPress Site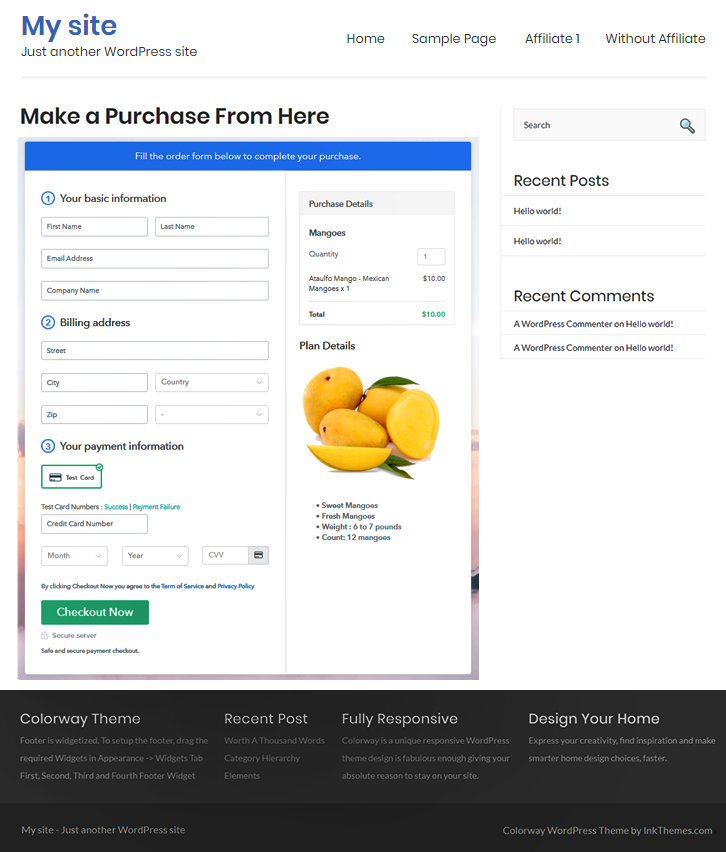 Step 10: Multiplan Checkout Page
Note: In case you want to sell multiple products via a single checkout page, you can create a multi-plan checkout page otherwise skip this step.
(a) Click on Add Mutiplan Checkout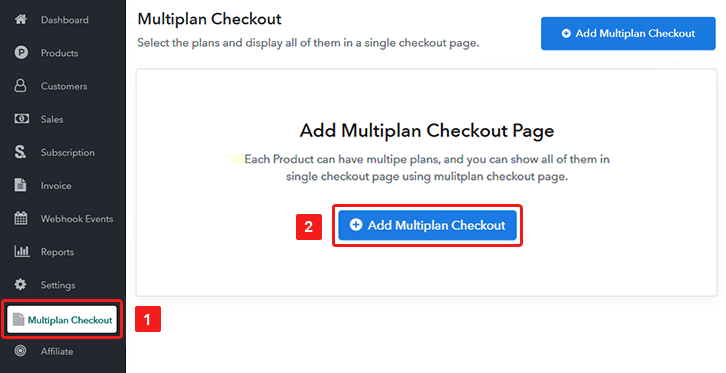 (b) Add Plans to Sell Multiple Mangoes from Single Checkout Page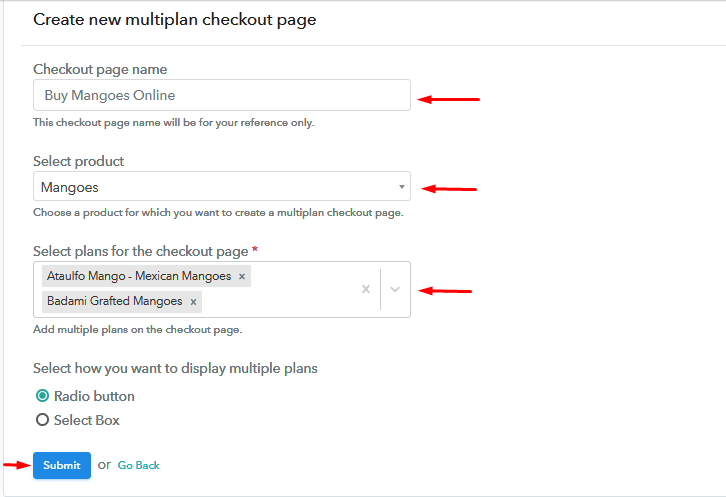 (c) Take a Look at the Checkout Page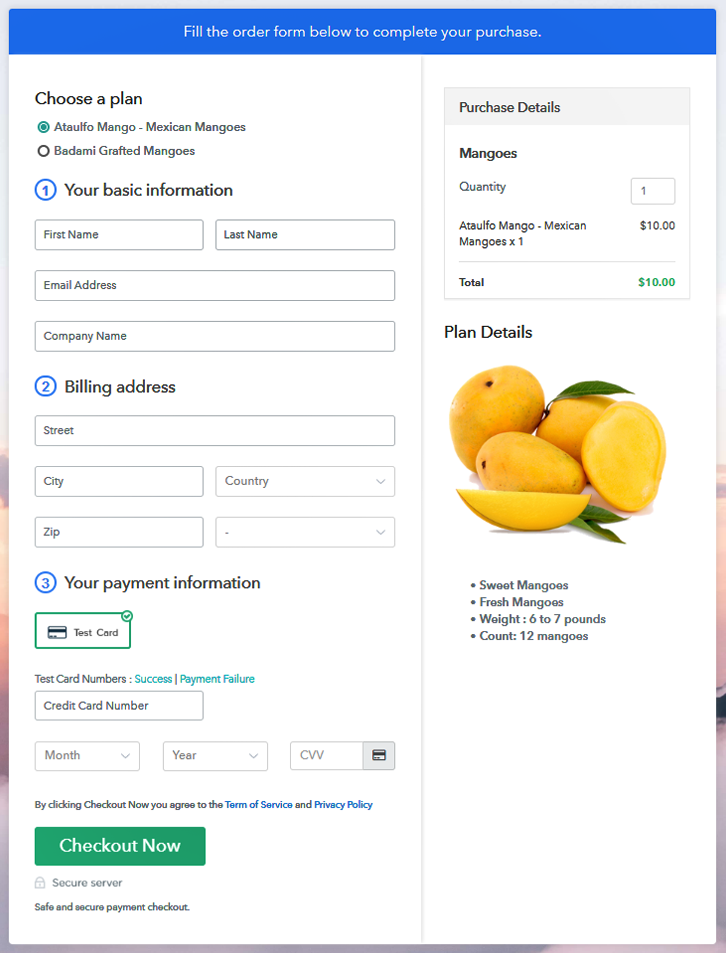 Wrapping Up
There is a reason for saying "Mango among fruits" as mango is loved by almost everyone. And, starting your mango selling business online is definitely a holy idea using the software Pabbly Subscription Billing. Just follow all the mentioned steps and you're good to go.

So, try the tool and knock us out with any queries regarding the same.
You May Also Like To Read –