Ideal For: All the machinery manufacturers, machinery shops, machinery suppliers, machinery traders and other merchants can use this method to sell machinery online.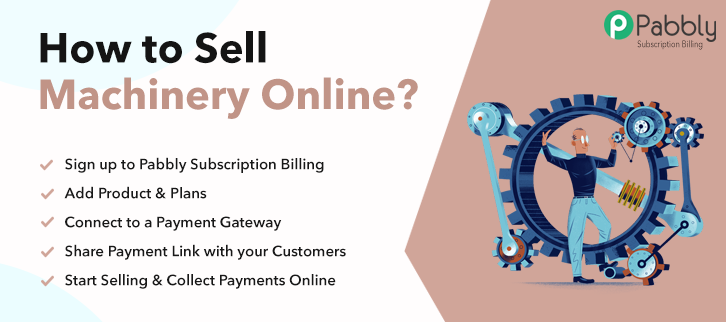 Why Choose this Method for Selling Over any Other Solution?
Unlike any other solution, this method allows you to:
List and sell your machinery for FREE. Absolutely no payment required.
No commission deducted on sales.
Collect payment through multiple payment modes from a single checkout page.
Sell one time or recurring subscriptions of your machinery.
Sell and collect payment in any currency as per your requirement.
Give discounts on your products by offering special coupon codes.
Add sales commission agents to help you in selling your machinery.
Nowadays, there is a rapid increase in the machinery industry that several industrial leaders are stepping towards online marketing to upsurge their sales. And, in order to beat the competition, numerous industries have started machinery business online.
Why would you like to sell machinery online?
The answer is quite easy, when you start selling machinery online, you start getting orders from around the world that helps you to increase your business widely. Thus, building an e-store to sell machinery could be beneficial for your business as people can directly place orders using your website. Therefore, I would like to recommend Pabbly Subscription Billing that helps you to create checkout pages in just a few easy steps.
It allows you to list unlimited products, plans, etc through its outstanding checkout pages. Not only that, but you can also offer unlimited coupons and discounts to entice your customers. Some of its other functionalities are:
Comprehensive Sale and Analytics Data
Customer Data Import/Export
No Additional Transaction Fees
Tax Management
Unlimited Revenues
Easy Plan Upgrade/Downgrade
Besides these functionalities, you can also share its checkout pages on various social media account and websites. Henceforth, let's get started by creating wonderful checkout page to start your machinery business online by following the steps mentioned below.
This is How your Checkout Page will Look Like After Creation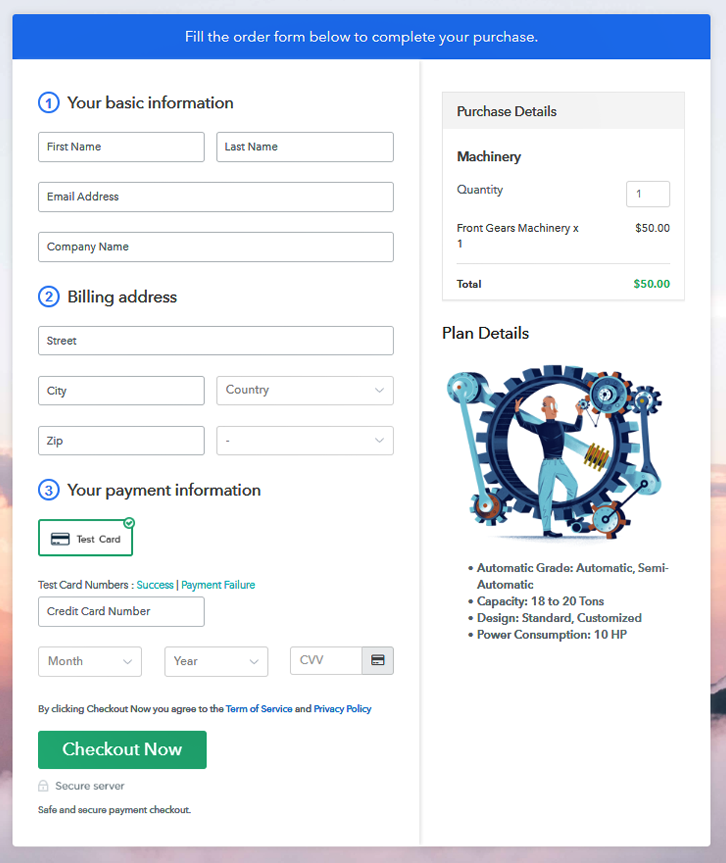 Let's See How to Sell Machinery Online (step by step)
Step 1: Log in to Pabbly Subscription Billing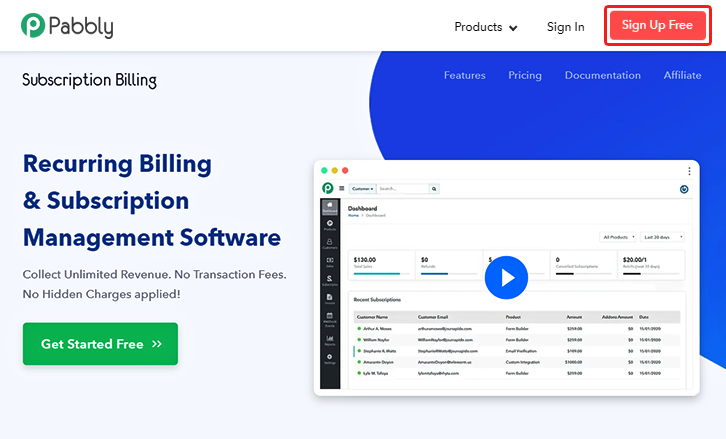 Go to Pabbly Subscription Billing website and click on "Sign up Free". Here, you can either sign in using your Gmail account or else fill up the required fields manually like name, email, etc. After that just click the "Sign Up" button.
Sign Up For Free!
Step 2: Select Subscription Billing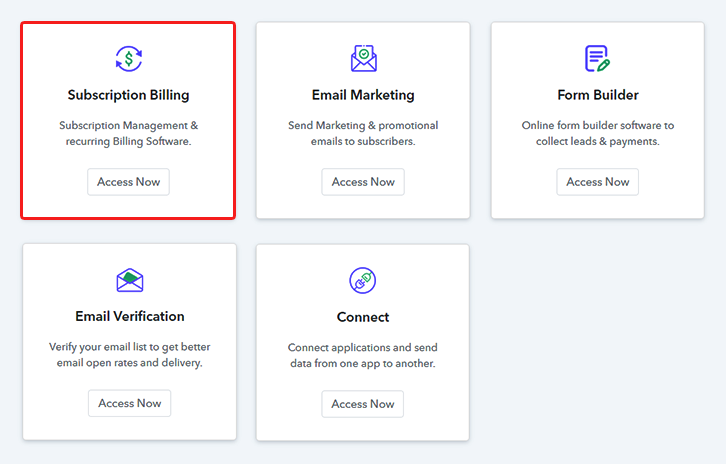 Step 3: Account Setup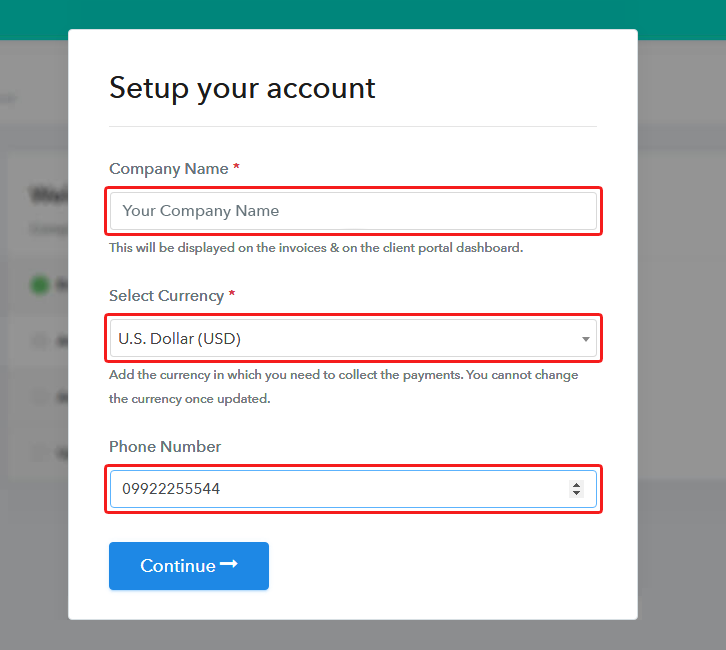 Now, you need to fill out a dialogue box asking for the company details such as name, currency, and phone number. Just, press the button "Continue" after filling the details.
Step 4: Connect Payment Gateways To Sell Machinery Online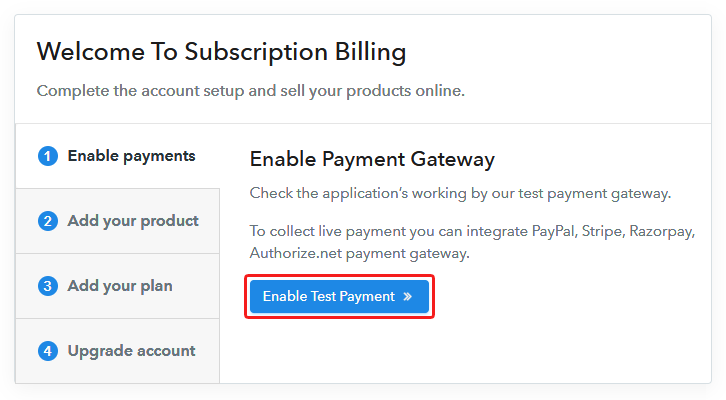 Hence, to provide customers a safe and smooth payment experience, Pabbly Subscription Billing comes with a dummy payment gateway to ensure the payment procedure in advance. Thus, I am clicking on the "Enable Test Payment" option to demonstrate the test payment method.

Additionally, it also comes with multiple payment gateways like Stripe, Razorpay, PayPal, Authorize.net, etc that can be integrated with the help of guides given below.
Step 5: Add Your Product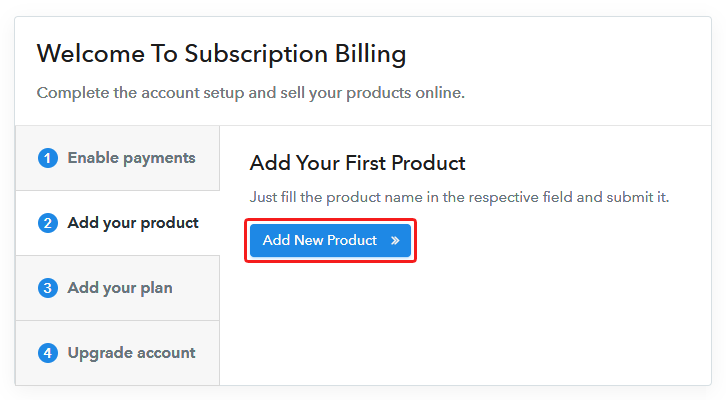 Now, its time to move towards the next segment that is to add products by clicking on the button stating "Add New product". This will generate a dialog box where you have to add the product title, like in this case, it is the machinery.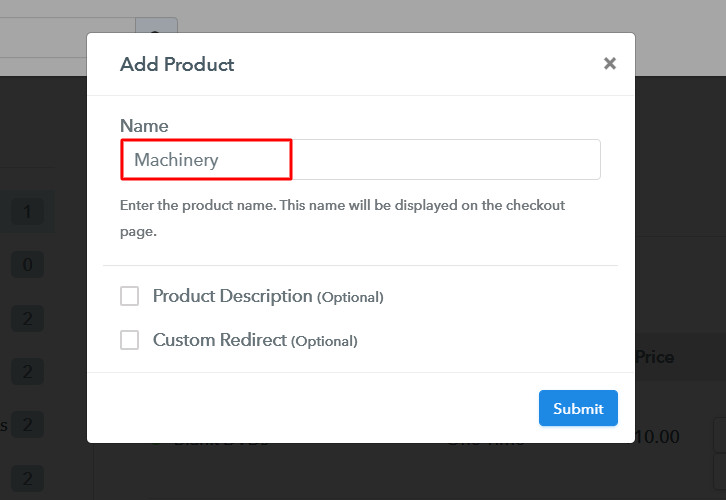 Just add the details and your product is created.
Note: Here you can add all the products related to the similar category by creating plans for each of them.
Step 6: Add Plans
Now, we are going to create plans to start a machinery business online.
(a) Select Add New Plan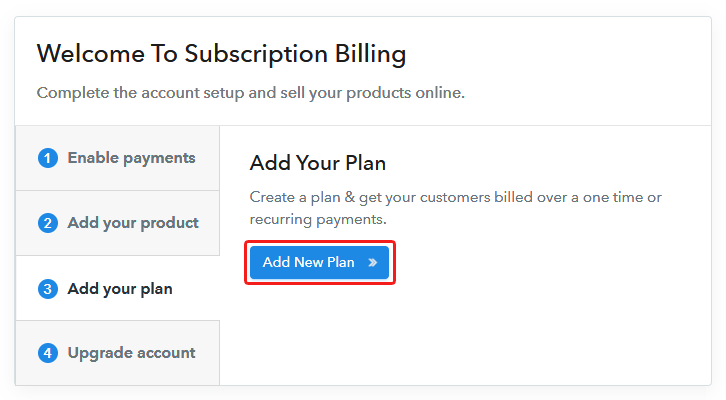 (b) Specify the Plan & Pricing Details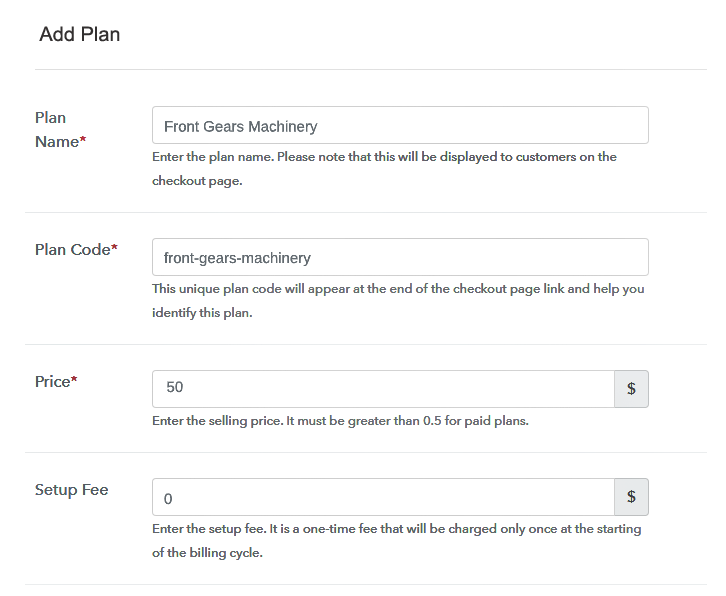 Our next step is to add product pricing details like plan name, code, price, setup fees, etc.
(c) Add Image & Description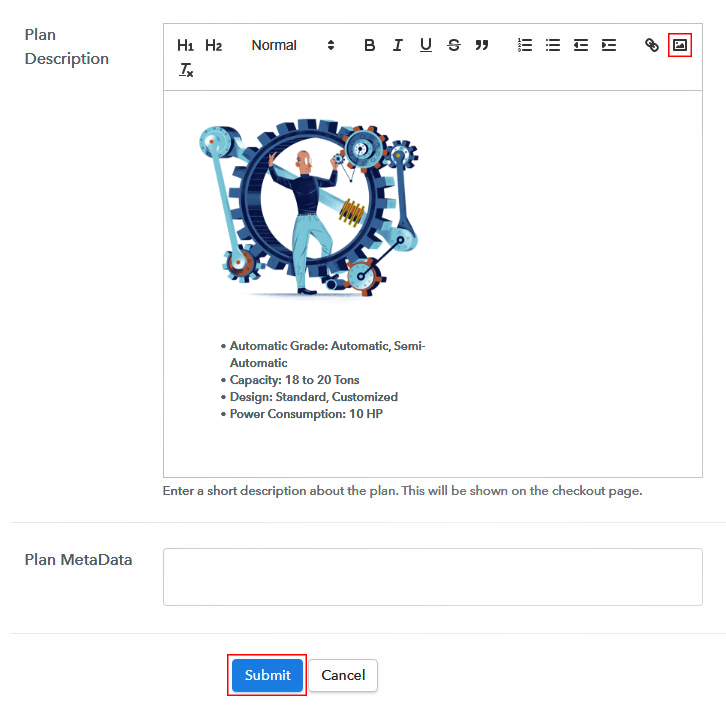 Now, upload some astonishing images of your machinery that you want to sell online.

Moreover, also add some specifications regarding machinery like weight, voltage, motor rpm, etc in bullet points then press the "Submit" button.

Similarly, using the same process, you can also list more products.
Step 7: Share your Checkout Page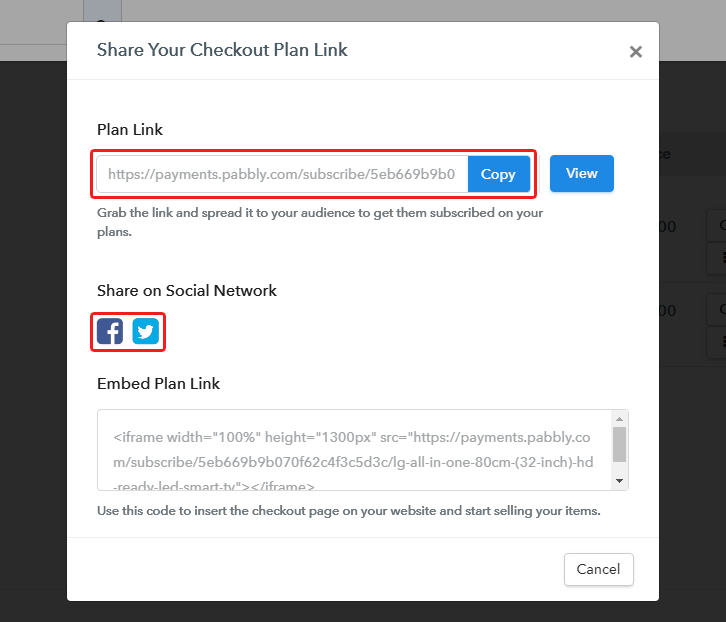 Now, the checkout pages are ready to be shared on Facebook and Twitter using their respective buttons.
Not only that, but you can also embed checkout pages in SMS, emails and send it to your customers directly.
Moreover, you can build buttons on your website and embed these checkout pages on them. Furthermore, you can also place anchor text anywhere on your website to redirect users on the checkout page.
Step 8: Preview Checkout Page
Just, follow up these steps to preview checkout page:
(a) Click on the View Button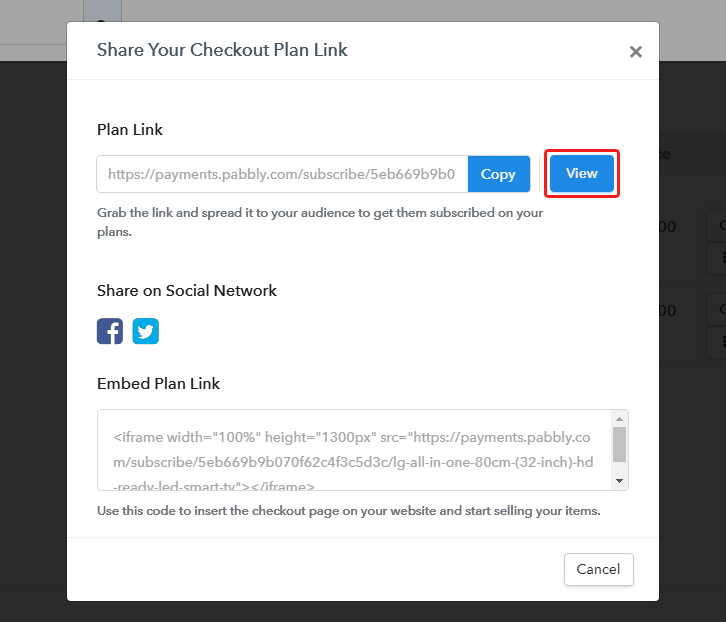 (b) Take a Look at the Checkout Page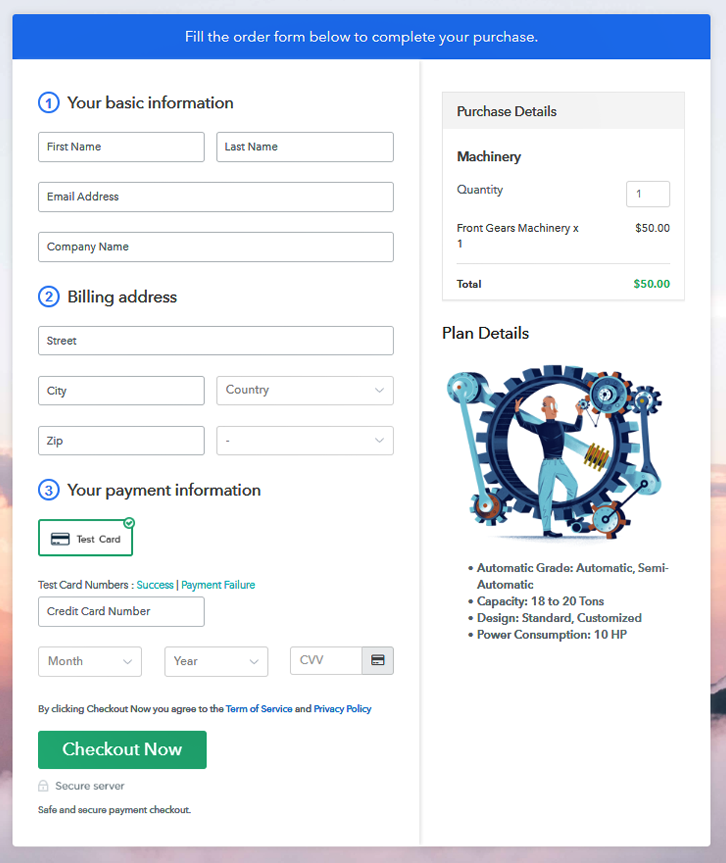 Step 9: Embed Checkout Page in Site & Sell Machinery Online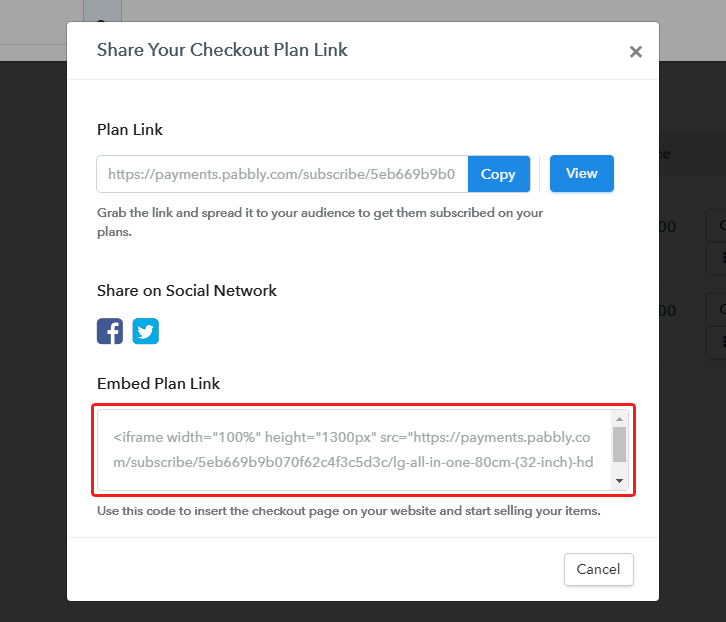 Now, simply copy the embed plan link in order to insert the checkout page on your WordPress website.
(a) Edit the Page & Paste the Copied Link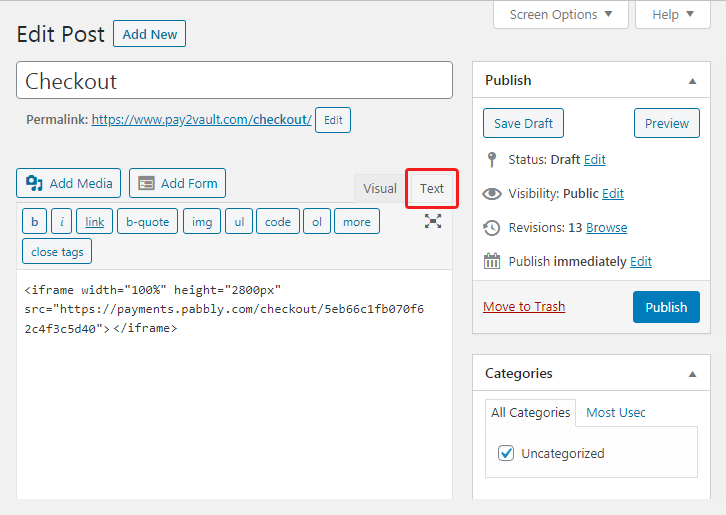 Once you copy the link, just paste it to the text area of the editor.
(b) Save & Publish the Checkout Page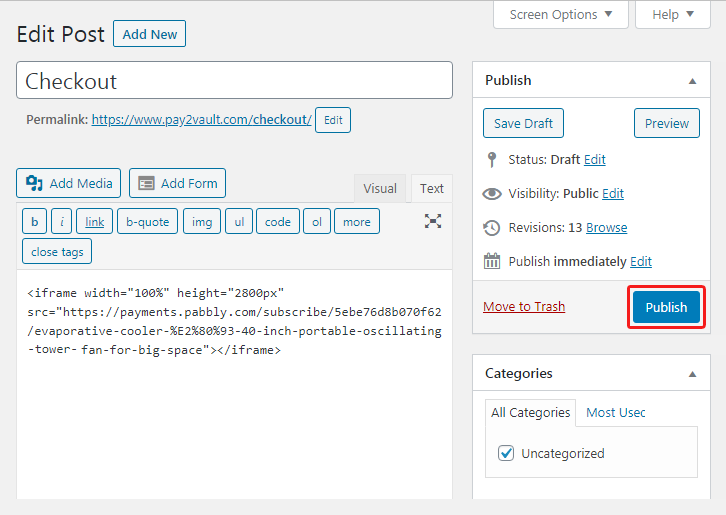 After pasting the code, press the 'Publish' button and your checkout page is embedded.
(c) Check out the Final Look of your Checkout Page on WordPress Site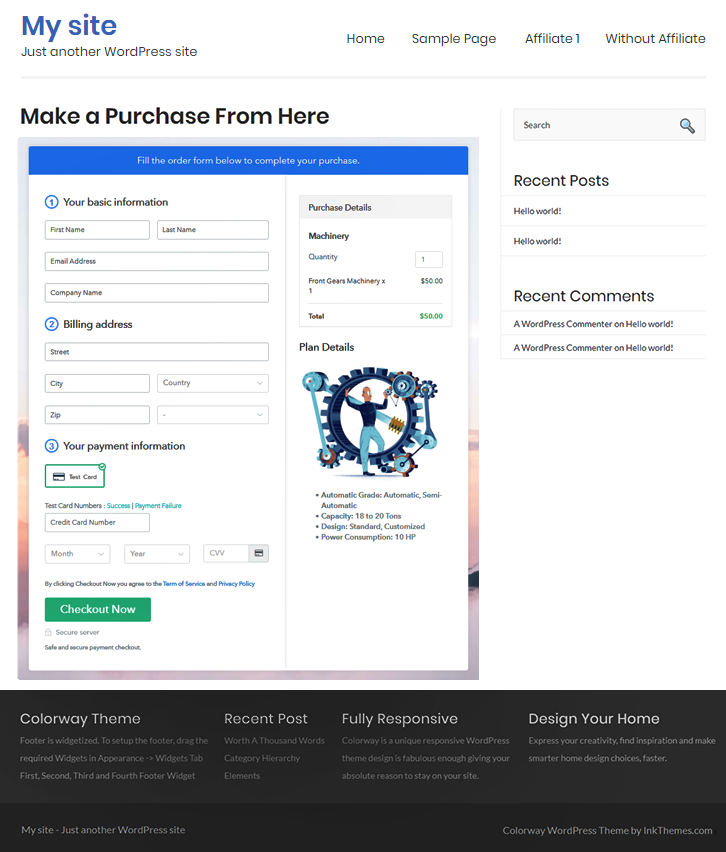 Step 10: Multiplan Checkout Page
Note: In case you want to sell multiple products via a single checkout page, you can create a multi-plan checkout page otherwise skip this step.
(a) Click on Add Mutiplan Checkout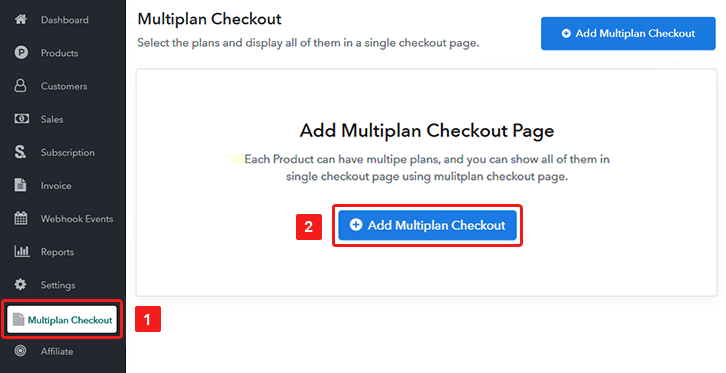 (b) Add Plans to Sell Multiple Machinery Online from Single Checkout Page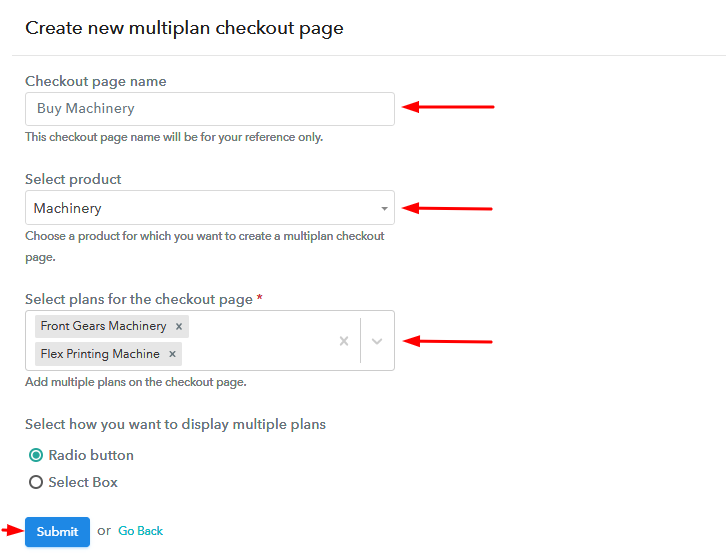 (c) Take a Look at the Checkout Page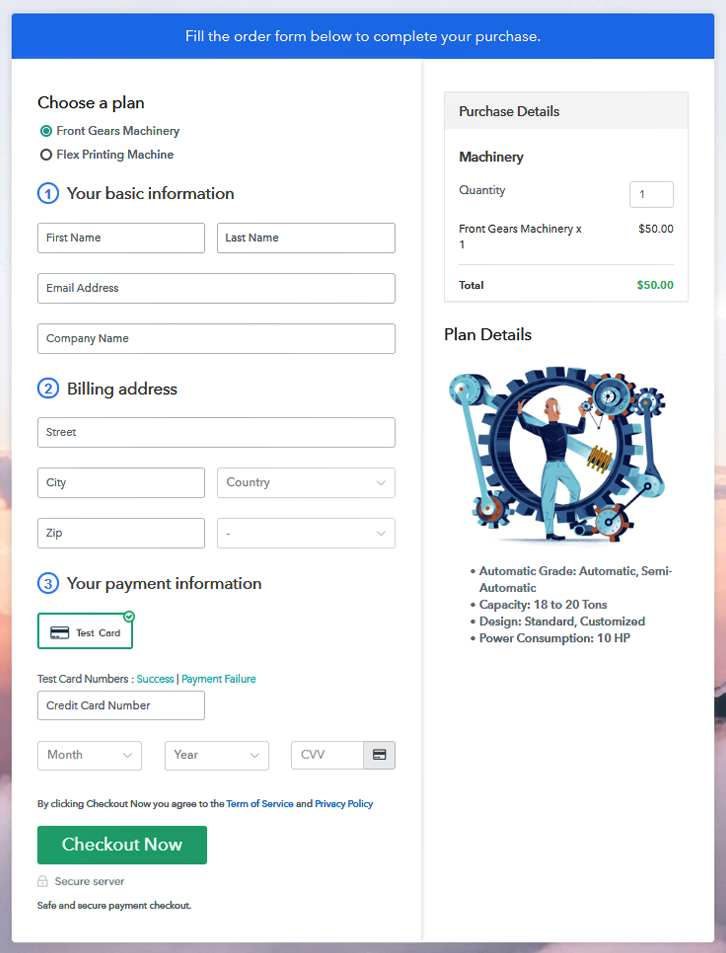 Wrapping Up
That's all we have for now! This is the most easiest way to kick start your machinery business online. Just follow the steps that are mentioned above and you are good to go. So why wait anymore? Sign in to Pabbly Subscription Billing and sell machinery online hassle-free. Thank You!
You May Also Like To Read –