Ideal For: All cattle farmers, livestock farm owners, online retailers, local wholesale vendors, cow-based entrepreneurship, and other merchants can use this method to start selling cow dung online.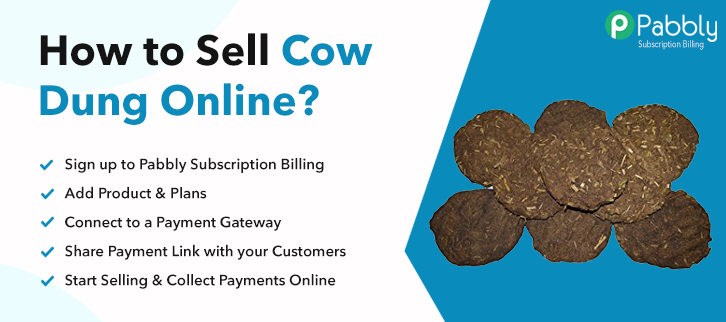 Why Choose this Method for Selling Over any Other Solution?
Unlike any other solution, this method allows you to:
List and sell the cow dung for FREE. Absolutely no payment required.
No commission on sales.
Collect payment through multiple payment modes from a single checkout page.
Sell one time or recurring subscriptions of cow dung.
Sell and collect payment in any currency as per your requirement.
Give discounts on your products by offering special coupon codes.
Add sales commission agents to help you in selling cow dung online.
Nowadays the world has changed and everything is being sold online. We buy clothes, footwear, makeup, groceries, etc online, why can't we buy something like 'Cow Dung Cake' or 'Gobar Ka Upla'?
Many of the established online retailers such as Flipkart, Amazon, and eBay have become the suppliers of Gobar Upla. However, cow dung is the newest entrant into the market of exoticized Indian goods.
Why would you like to sell cow dung online?
Cow dung cakes are made of cow poop which is then mixed with hay and dried in the sun.  It has been used for centuries as cheap, natural cooking gas, heating and is also widely used for religious purposes. Retailers in India claim the demand for cow dung increases when Hindus perform prayer rituals in their homes and offices. So, here is a service named Pabbly Subscription Billing which could help you start your business of selling cow dung online via checkout pages for free.
With this, you can sell unlimited products and takes care of the online as well as offline payments without charging any excess commission. Check out its some features for generating unlimited profits without any restrictions:
Create single/multi-plan checkout pages
Easily create an invoices
Keep records for all your sales & products
Charge taxes according to the location
Besides, you can embed its checkout page on your website and share the link on social media platforms such as Facebook, Twitter, Whatsapp, SMS, etc. to engage your customers.
This is How your Checkout Page will Look Like After Creation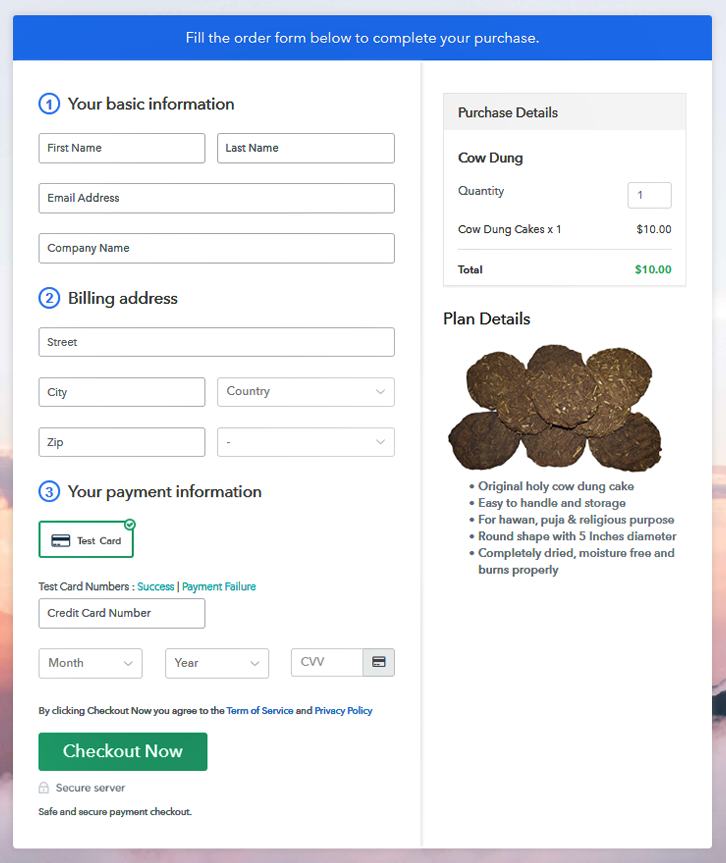 Let's See How to Sell Cow Dung Online (step by step)
Step 1: Login to Pabbly Subscription Billing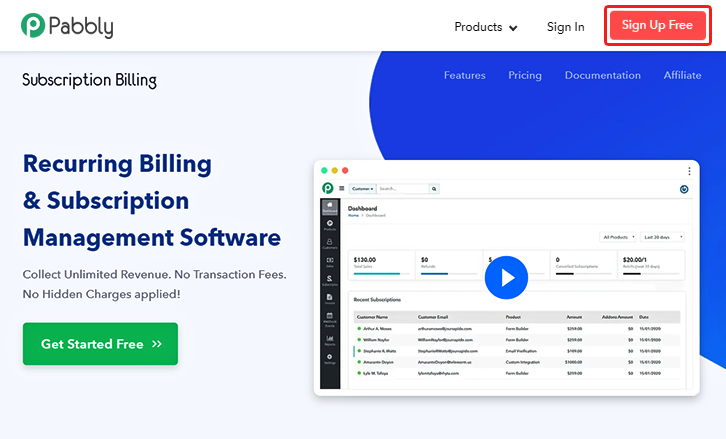 Initially, you need to visit the Pabbly Subscription Billing website and click on the "Sign-Up Free'. You will be redirected to the signup page where you can easily signup either manually or using your Gmail account.
Step 2: Select Subscription Billing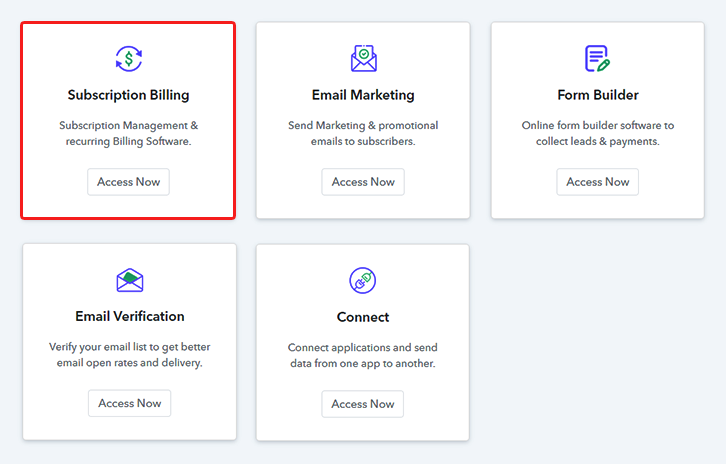 Step 3: Account Setup
After completing the signup process, a pop-up box will appear on the screen asking for basic informations like company name, currency, and phone number.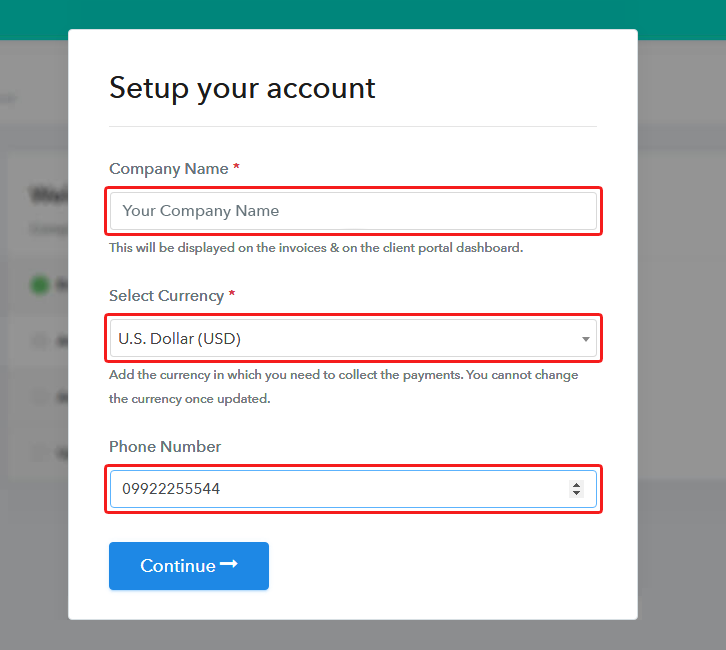 Step 4: Connect Payment Gateway to Sell Cow Dung Online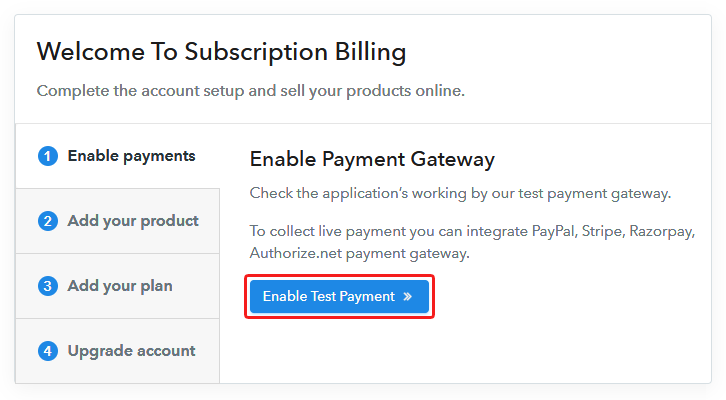 Pabbly Subscription Billing provides a testing payment gateway to test the payment collection process of software. Moreover, you can connect multiple payment gateways like PayPal, Stripe, Razorpay, Authorize.net, etc., to collect payment. Here below we provide the integration guides to help you out
Step 5: Add Your Product
Now, you have to specify the product name with details by clicking on the  "Add New Product" option. This way, you can also add multiple types of cow dung products like cow dung cake, dried powder of cow dung, agricultural manure, etc., to the same product category by creating different plans.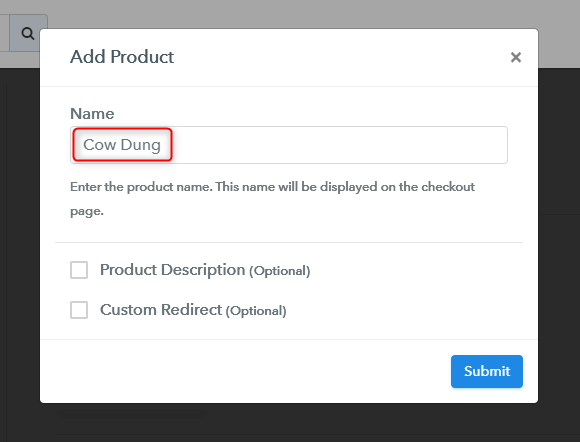 Click on the submit button after filling the details, and your product is created.
Note: Here you can add all the products related to the similar category by creating plans for each of them.
Step 6: Add Plans
Let's create numerous plans for all types of cow dung products that you want to sell.
(a) Select Add New Plan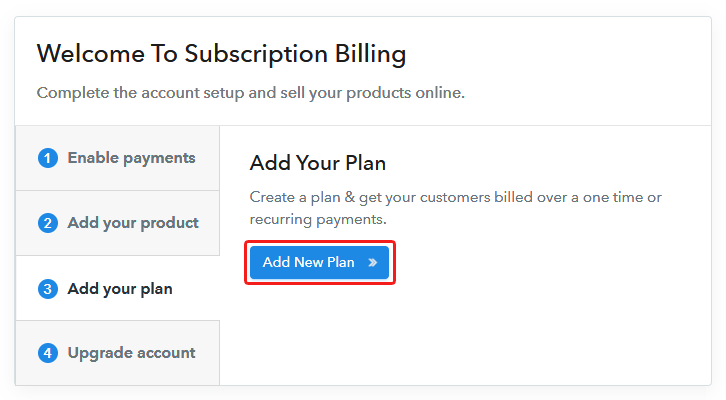 (b) Specify the Plan & Pricing Details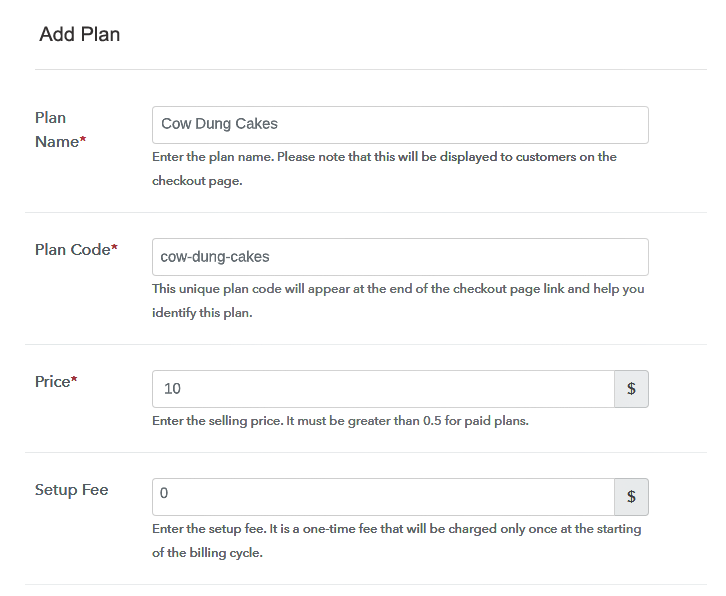 For adding a plan click on the "Add Plan" button, you will be redirected to the plan page. Therein, you can specify the plan details like plan name, code, price, setup fee, etc., for selling cow dung online.
(c) Add Image & Description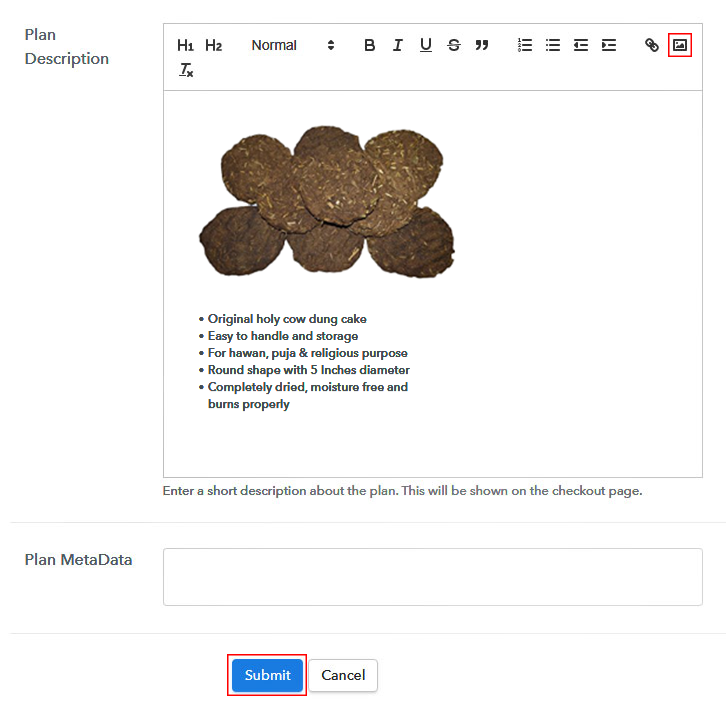 Subsequently, you can write a brief description of your product with an image in the "Plan Description" field. Moreover, you can also customize the text and add product links. Once you are done with the changes hit on the "Submit" button and your checkout page is ready to sell cow dung online.
Step 7: Share your Checkout Page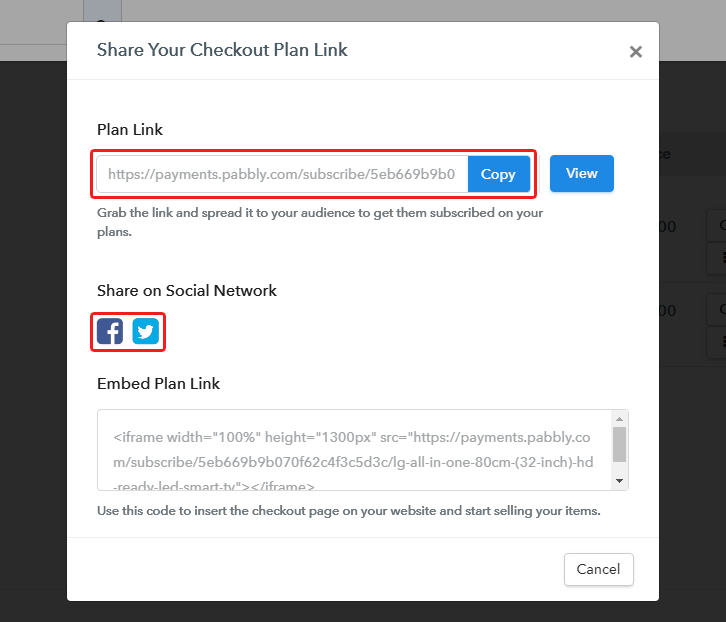 You can share it with your audience via social media platforms, SMS, emails, etc.
Secondly, send the checkout page directly on Facebook and Twitter.
Furthermore, you can embed the checkout page on your website as a button so that your customers can be landed on it directly.
Step 8: Preview Checkout Page
Click on the "View" button to preview your checkout page.
(a) Click on the View Button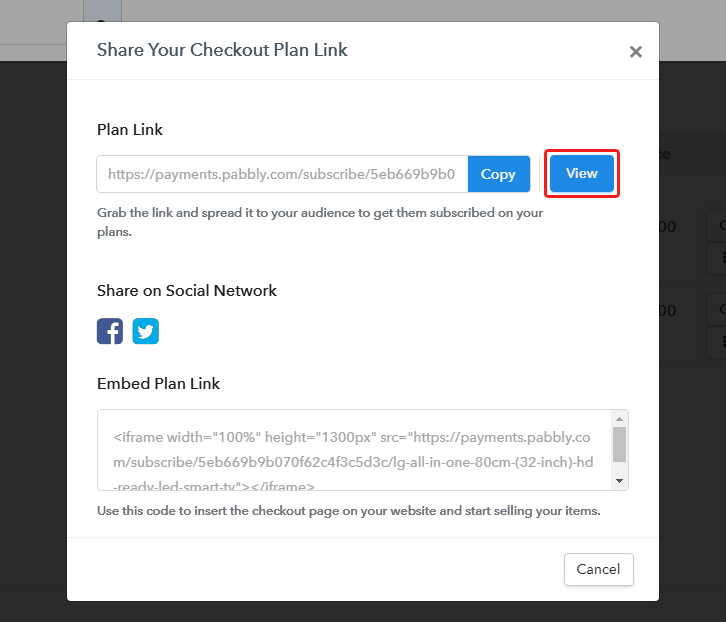 (b) Take a Look at the Checkout Page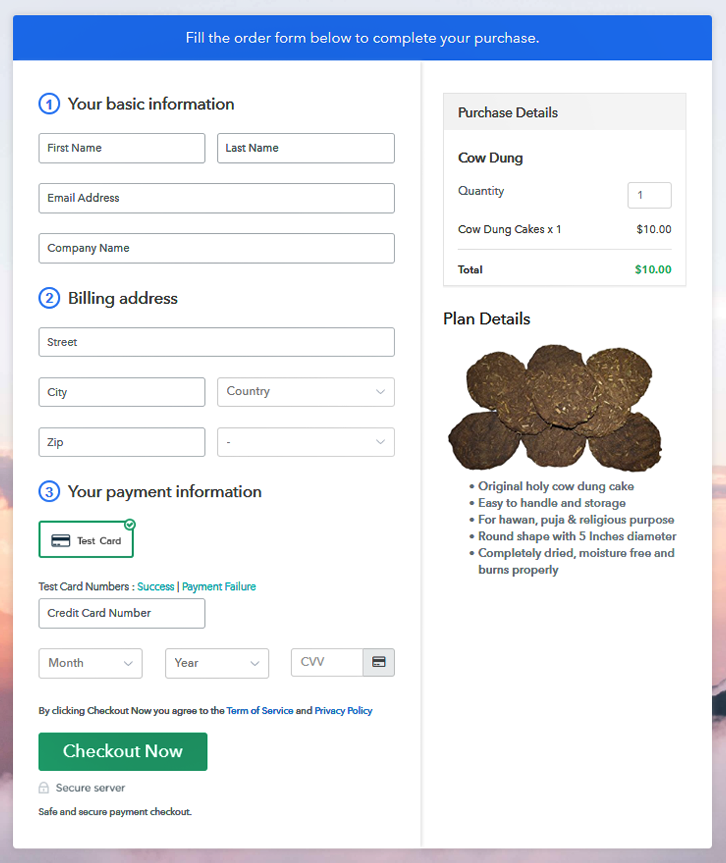 Step 9: Embed Checkout Page in Site & Sell Cow Dung Online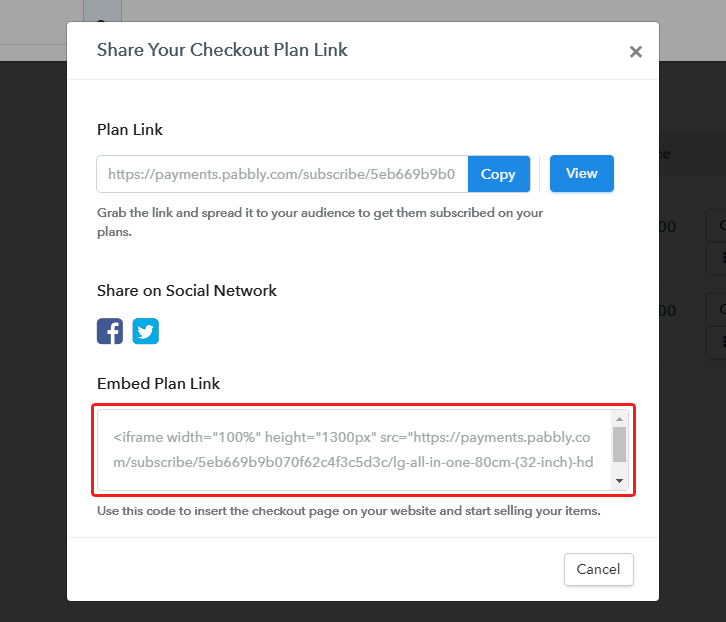 Now, add the checkout page on your WordPress by just copying the checkout page link.
(a) Edit the Page & Paste the Copied Link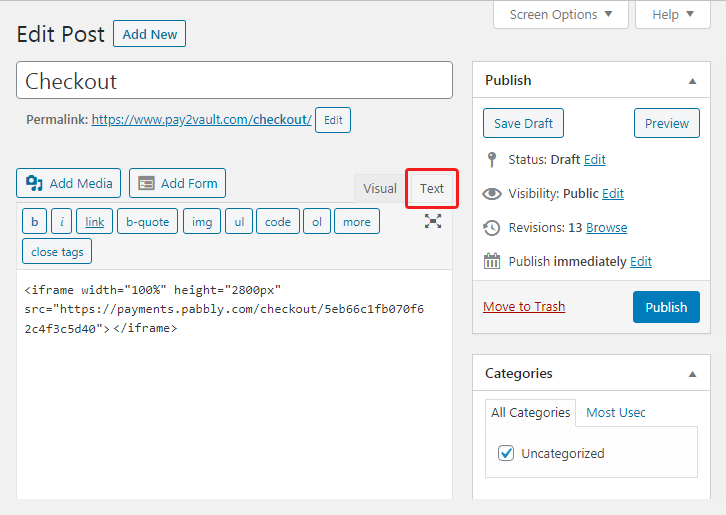 Following, paste the copied link on your WordPress text editor.
(b) Save & Publish the Checkout Page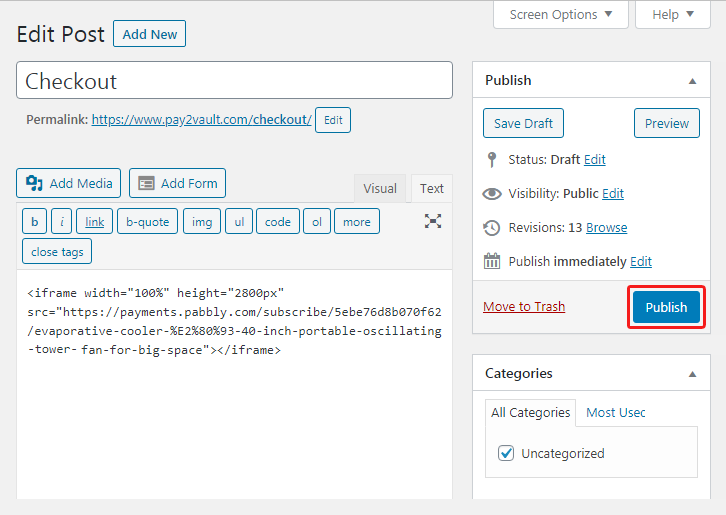 Instantly, click on the 'Publish' button to embed your checkout page.
(c) Check out the Final Look of your Checkout Page on WordPress Site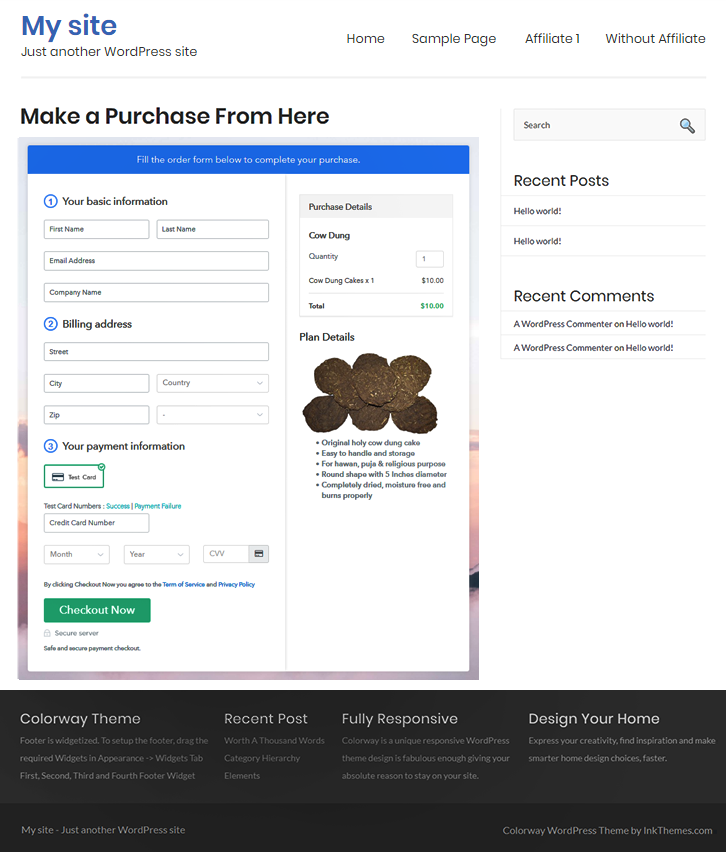 Step 10: Multiplan Checkout Page
Note: In case you want to sell multiple products via a single checkout page, you can create a multi-plan checkout page otherwise skip this step.
(a) Click on Add Mutiplan Checkout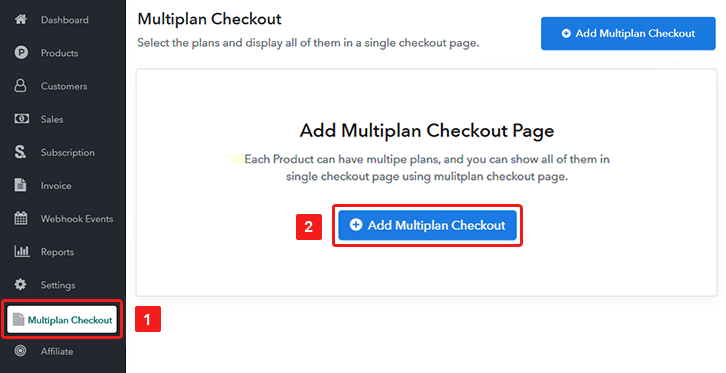 (b) Add Plans to Sell Multiple Cow Dung Products from Single Checkout Page

(c) Take a Look at the Checkout Page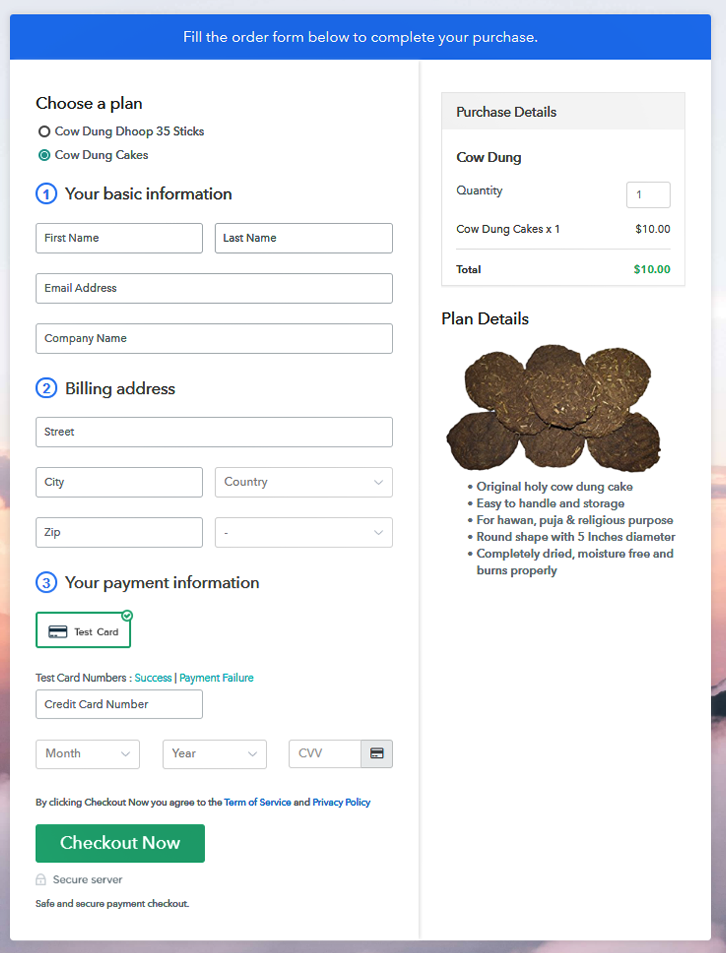 Wrapping Up
That's it! Cow Dung is a useful material and helps us in a variety of ways. Here is all the information on how to sell cow dung online. You just need to follow the above-mentioned steps to create your own checkout page and start selling cow dung online. Besides, Pabbly Subscription Billing comes with various payment gateways to integrate with like PayPal, Razorpay, etc in order to collect payment easily. So, go ahead and start selling cow dung online without any hassle.
You May Also Like To Read –