Looking out for the best Recurly Alternatives?
Then, you have come to the right place.
No wonder, Recurly has been the choice of many people due to feasible interface, detailed account records as well as quick updates. But, sometimes that is not enough to run a business smoothly.
However, when it comes to several features like single payment invoice, re-generating invoice, tax management, analytics, custom branding, etc, Reculry fails to provide all of that even at a high cost.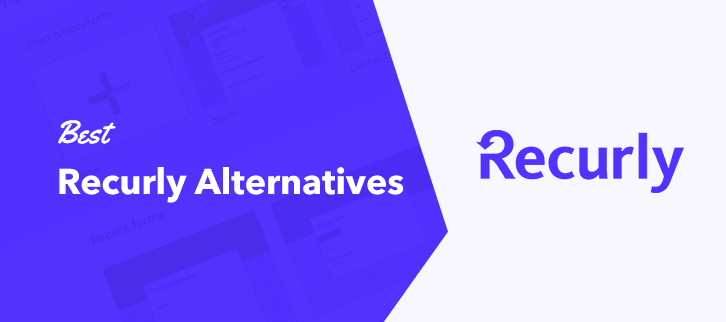 Hence, in this blog, we have shortlisted the 5 best Recurly alternatives just for you. That might help you to choose the best fit for your business/organization at a cheap cost.
Quick Comparison Between The Best Recurly Alternatives
Service
Basic Plan
Affiliate Module
Transaction Fee (in %)
Revenue Threshold
Pabbly Subscription Billing
$19/m
✔
0
Unlimited
FastSpring
Get Quote
✖
NA
Tailor-Made
FreshBooks 
$6/m
✖
NA
NA
Payolee
$8/m
✖
NA
NA
" Pabbly Subscription Billing is the best online billing software available in the market that offers unlimited revenue generation, plans, products, customers, etc, with no transaction fees."
The foremost in our list of alternatives for Recurly is Pabbly Subscription Billing. As, it helps to create unlimited products, subscriptions, coupons, add ons, etc at an affordable price. Moreover, through upgrade/downgrade feature users can easily manage all plan updates requests within the system itself.
Furthermore, Pabbly Subscription Billing provides numerous payment options like PayPal, Stripe, Razorpay, etc to collect payment securely. Besides this, you have the flexibility to generate multiple billing models either one time, recurring or based on the no. of payments. It offers you all the advanced features even in its basic plan that subscription software must have such as re-generating invoice, single payment invoice, etc
---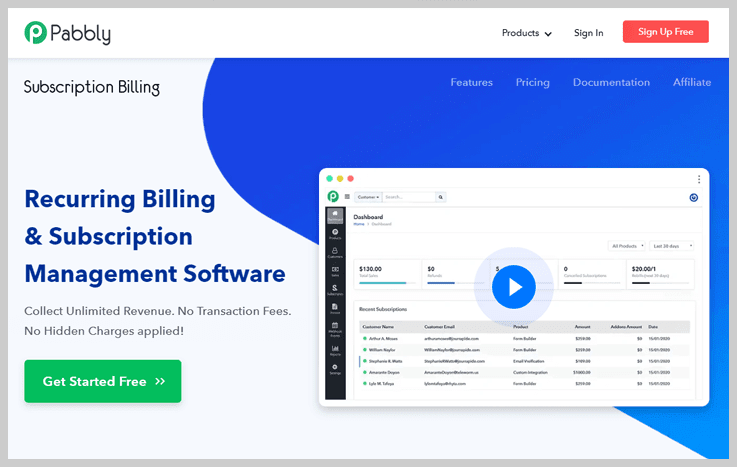 ---
Features
No Transaction Fees – Furthermore, as compared to other softwares, it is the only software that does not charge you any transaction fees.
Auto Email Notification – It notifies via emails automatically for any payment success/failure, refund/cancellation along with upgrade/downgrade.
Analytics – Moreover, you can also get detailed reports on total refunds, active subscribers, net revenue as well as MRR.
Dunning Management – Besides this, it offers you dunning management that enables you to send reminders to your users via email regarding impending closure of accounts caused by insufficient payments.
Tax Management – You can also manage tax by adding separate tax rules based on your business type, country, state, region, etc.
Client Portal Access – With the help of this feature your users can have an access of their billing activities so that they could keep a track of it and manage it as well.
Affiliate Module – It also offers affiliate program to start your own referral program to promote your services/product online.
Custom Branding – This feature enables you to add your brand logo, background image including custom domain for customers interface.
Pricing
Starter – Its starter plan offers all the features at the cost of $19 per month.
Rookie – Further, it charges $39 per month for 100 customers.
Pro – Next, its pro plan costs $57 per month for 150 customers including all the features.
Advanced – Lastly, for 250 customers it charges $79 per month.
2. FastSpring – Subscription Billing Software
Next in our list is FastSpring with easy to use interface along with full-service Saas e-commerce. Moreover, it comes with dunning management, automated renewal reminders, payment alerts, etc to provide users all the best services in one place.
---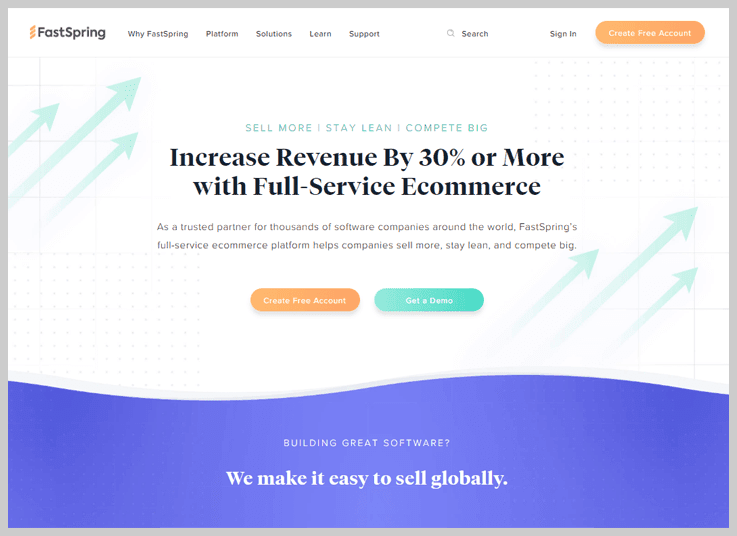 ---
Features
Payment Routing – FastSpring comes with several payment gateways to choose from such as PayPal, Visa, Mastercard, etc.
Custom Branding – It enables you to customize your brand logo on every checkout page.
Tax Compliance – Further, it comes with all the tax regions regulation such as DSS, PCI, GDPR as well as VAT.
24×7 Support – Moreover, you can also get quality support that pops up whenever you go to their website.
Automated Notifications – It always keep you notified by constantly sending notification regarding failed transactions, renewal notices, etc.
Pricing
FastSpring comes with customizing pricing which is based on the customer's requirements.
3. FreshBooks – Subscription Management Tool
Another Recurly alternative that I would like to suggest is FreshBooks. It comes with numerous applications such as recurring billing, tracking, accounting, etc. Moreover, they also offer you thier own payment gateway named FreshBooks Payments.
---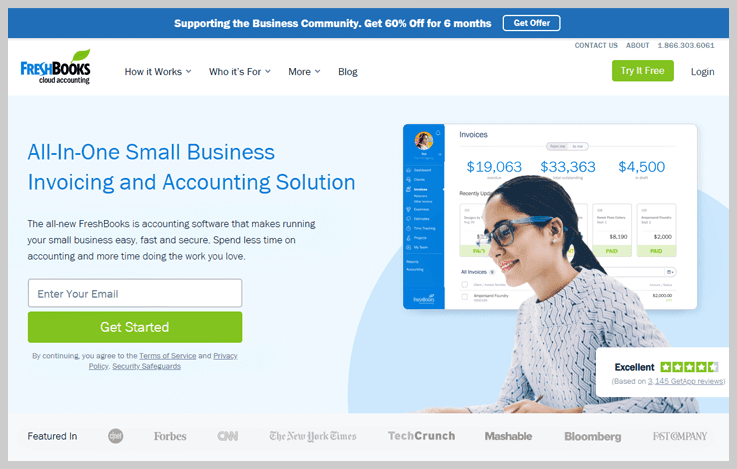 ---
Features
Applications – It offers an app that can be installed in your mobile or tablet so that you can keep a track of billings and stay in sync.
Invoices – You can easily customize your invoice as well can add a custom logo in it.
Payment Gateways – Besides its own payment gateway, you can also opt for Stripe.
Pricing
Lite – In its lite package, it offers 5 clients at the cost of $6 per month.
Plus – You can also opt for its plus package that offers 50 customers at $10 per month.
Premium – At $20 per month you can choose its premium package which allows you 500 clients.
Select – In its select package you can opt for tailor-made pricing with more than 500 clients.
4. Payolee – Recurring Billing Software
Payolee is another best alternative available in the market that you can opt for. It accepts both one-time as well as recurring payments. Payolee is a flexible recurring billing software that comes in affordable pricing for small and large business.
---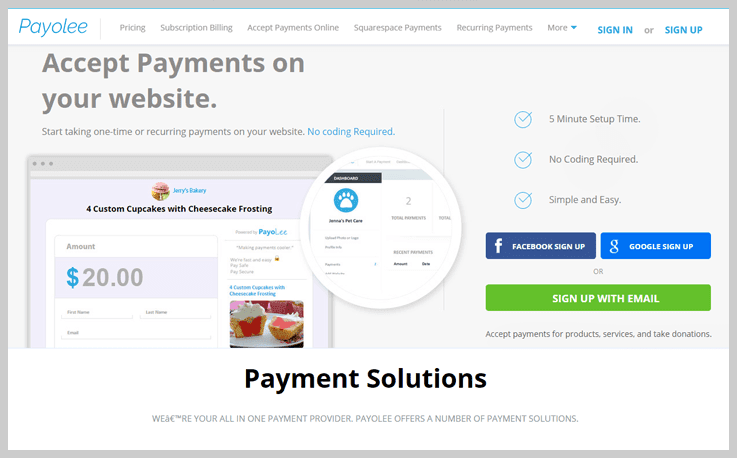 ---
Features
Integrations – Payolee allows you to integrate with Webhooks, Facebook.
Payment Processing – It doesn't matter what kind of bussiness you have Payolee makes payments processing fast and simple by accepting credit card payment using your website.
Accept Donations – Payolee is a best option for those who have charitable trust/organization due to its robust security and capability of accepting donation online.
Pricing
Payolee pricing starts from $8 per month for $0 to $115 in sales. Apart from that, It also offers different packages based on the sales so that you can easily choose the best fit for your business and at your desired budget.
5. 2Checkout – Recurring Billing Tool
Subsequently, another Recurly alternative in our list is 2Checkout. It is the most flexible digital commerce platform that helps you to boost your business by offering global payments, account updater service, dunning management, etc.
---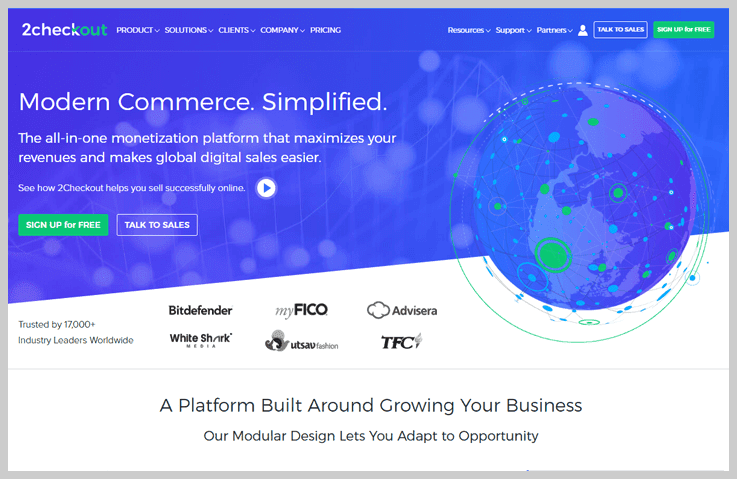 ---
Features
Subscription Pause – Through, this feature you can pause your subscription plan whenever you want and can renew it anytime instead of canceling.
Dunning Management – It helps users to recover the revenue even from hard declines.
Advanced Retry Logic – Moreover, you can easily recover the failed transactions up to 20% due to soft declines.
Expiration Reminders – Further, it reminds customers to renew their services before they are about to expire.
Pricing
2Sell – You can opt for its 2Sell plan that comes at a cost of $0.35 with 3.5% of sale cost per month.
2Subscribe – Next, is its 2Subscribe plan at $0.45 with 4.5% of sales cost per month.
2Monetize – At $0.60 with 6.0% of sales cost per month, you can opt for its 2Monetize plan.
Enterprise – You can easily customize this plan on the basis of your requirement.
Conclusion –
We hope this article has helped you to find the best alternative for Recurly. You can easily go through the above-mentioned features as well as pricing that comes in your budget. So what are you waiting for? Give them a try and choose which fits best for your business.
You May Also Like To Read –