Are you exploring the best dunning management software lately? Then, surely here we have something to help you out.
Generally, the challenges Saas based company encounter is a decline of payment, credit card gets blocked or freezing account which results in loss of clients. That's the reason why companies prefer dunning management.
---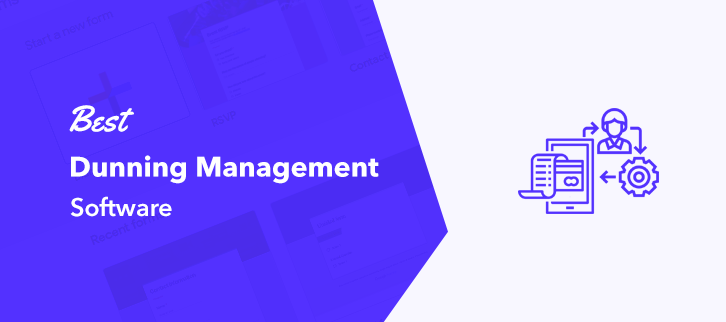 ---
Dunning management is essential for all businesses whether it is small or big. Most of the companies exist online are subscription-based and it is important that the recurring billing cycle would not be stopped. If so, then it will surely affect the organization's growth.
For those who are not aware of dunning management, it is the process to keep the customer updated about their billing cycle. Moreover, it removes all the complications related to recurring payments and sends a notification about the declined payment.
The benefits of dunning management include:
Improve customer relationship
Saves a lot of time
Better work efficiency
Remove customer churn
Enhance revenue stream
Most of the start-ups prefers free or cheap recurring billing software. And gladly, there are so many budget-friendly subscriptions based software exist.
So here, in this piece of writing, we compiled the best and affordable dunning management software available in the market.
Quick Comparison Between Best Dunning Management Software
Service
Basic Plan
Affiliate Module
Transaction Fee
Billing Model
Pabbly Subscription Billing
$19/m
✔
0
Multiple
FastSpring
Get Quote
✖
NA
1
Moon Clerk
$15/m
✖
0.8%
1
Bold Subscriptions
$39.99/m
✖
1%
1
Zoho Subscriptions
$49/m
✖
2%
1
Let's unfold out the features and pricing of the mentioned dunning management software in detail.
"The software doesn't restrict on the features by offering unlimited customers, revenue generation, plans and much more at minimum price."
Pabbly Subscription Billing is one of the affordable recurring billing and subscription management software available in the market. The software smoothes the whole recurring billing process by letting subscriber collect monthly and annual revenue without any difficulty. Not just this, it removes customer churn by providing dunning management.
The tool keeps customers updated about their billing procedures. Incase, failed transaction happens it sends a follow-up or reminder email to the subscriber. Further, it also reminds the customer of their past payments and allows a grace period to pay the dues. So that, they don't lose any customer.
Additionally, it is easy to use and comes up with an integrated affiliate management program which makes it stand alone in the crowd.
---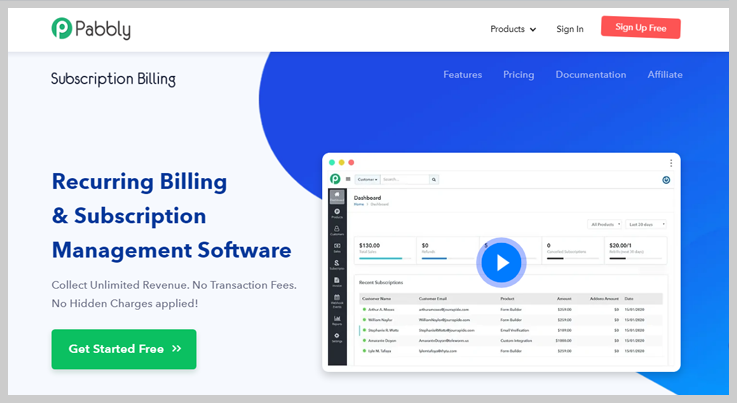 ---
Features
Recurring & One Time Billing – The software allows to collect both recurring and one-time payment easily according to your business demands.
Custom Branding – One can add its brand logo, custom domain and background image for client interface using this feature.
Client Portal Access – This offers access to customers to manage and track their billing activities.
Refund – Using it, one can collect a refund for the cancellation of the services or product.
Easy Invoicing – With the help of it, one can keep all invoices in one place. Further, it also keeps track of the subscribers billing activities.
Coupons, Discounts & Trials – These features offer unlimited coupons, flat discount or free trials to customers.
Offline Subscription Cycle – Moreover, it lets you create an offline subscription cycle for customers who don't prefer any automatic payment method.
Payment Gateways – It has popular payment gateways like PayPal, Stripe, etc to collect payment.
No Transaction Fees – The only software that doesn't charge any transaction fee which most of the software does.
Tax Management – Further, subscribers can manage tax according to their country, region, province, etc.
Sales & Analytic – It provides in-depth statistics of sales which further helps in enhancing the business growth.
Email Notification – Finally, this helps subscribers to maintain good relationships with their customers by keeping them updated about their billing activities.
Pricing
Starter – The starter plan will cost $19/m including all the features.
Rookie – Next, the rookie plan will cost $37/m for 100 customers.
Pro – The pro plan will cost $57/m for 150 customers including all features.
Advanced – Lastly, the advanced plan will cost $79/m for 250 customers.
Note: In yearly plans, customers will get a discount of 50%.
2. FastSpring – Subscription Management Software
The second in our list is FastSpring, that is trusted partner of thousands of software companies around the world. It makes recurring billing easy and also dunning management to reduce churn. Further, it offers customer payment alerts, automated renewal reminders and much more to smoothes the process.
---

---
Features
Recurring Payment – It provides recurring payment using software worldwide by offering different payment gateways, languages and currencies to their users.
Flexible Plan Management – The software comes up with flexible plans which includes free trials, monthly, annual and much more.
Dunning Management – This features streamline the procedure of recurring bills by removing obstructions like payment failure.
Automated Notification – To keep customers for long haul it is mandatory to nurture good relationships by sending them notification about every possible activity like failed transaction, renewal notices, etc.
Pricing
FastSpring decides pricing on the quote basis according to the customer's need.
3. Moon Clerk – Recurring Payment Software
Next, let's cast some light on Moon Clerk which is the perfect solution for small or growing enterprise needs. The software manages all subscription billing quickly and easily. It comes up with a dunning management tool to remove all the billing problems.
---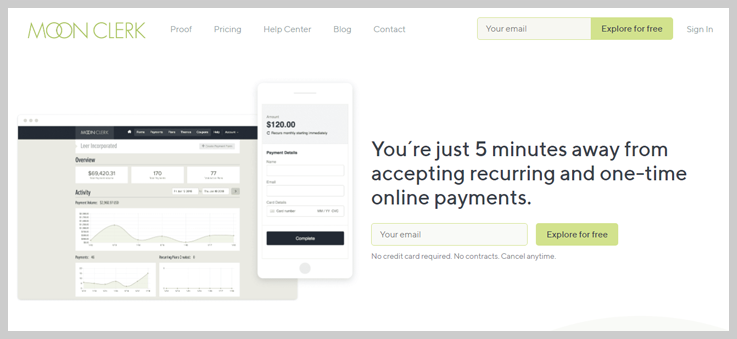 ---
Features
Launch Immediately – The software is easy to use and one can start accepting payment within a minute after launching.
Look Beautiful – It lets you design the checkout experience matching your business which includes adding logo, changing font, etc.
Increase Conversation Rates – It helps in increasing conversion rates by offering payment carry out at the same page without redirecting the customer to another page.
Manage Your Customers – Using this feature, one can manage all the customers queries, billing, invoices in a dashboard. So you can keep track of every detail.
Manage Your Logistics – Further, it allows to keep an eye on customer logistics whether it is size, color, and quantity which helps in checking out the product.
Promote Your Business – Lastly, it binds customers attention by offering discounts, coupon code, and so on. Also, users can promote business on social media sites like Facebook, Twitter, etc.
Pricing
The basic plan will cost $15/m for price volume up to $0 to $2000.
Next, it will cost $30/m for a price volume of $2000 to $4000.
Finally, the highest plan will cost $110 for a price volume of $12500 to $20000.
Following, we have Bold Subscriptions that lets you decide subscriptions in your own way. Using it, one can scale its business to a higher level. Further, the tool offers churn management by managing customer subscription portals. Also, it helps in retrieving declined transactions.
---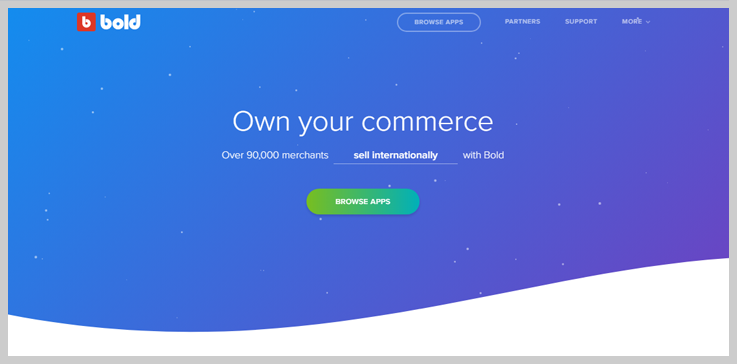 ---
Features
Total Customer Control – The software offers full freedom to customers to change, edit, pause, skip and manage their subscription plans.
Cancellation Prevention – Using it, one can allure customers by giving discounts whenever they try to cancel plans. It helps in maintaining customers.
Subscribe & Save – With the help of this, one can increase conversion by offering discounts on future recurring order.
Dynamic Checkout – This feature allows you to check out recurring and one-time payment checkout in the same cart without any trouble.
Fully Customizable – It lets you design and style invoices according to brand needs.
Email Notifications – Using it, one can send notification via email to customers about their billing status, changed plan and much more.
Pricing
Essentials – The essential plan cost $39.99/m plus 1% transaction fee.
Advanced – The advanced plan will cost $199/m with 1% transaction fees.
Professional – Lastly, in our list, we have a professional plan that will cost $399/m.
Lastly, in our list is Zoho Subscriptions which is well designed for growing businesses. The software caters all the customer billing needs end to end. Further, it comes up with a dunning management feature to deal with all failed transactions.
---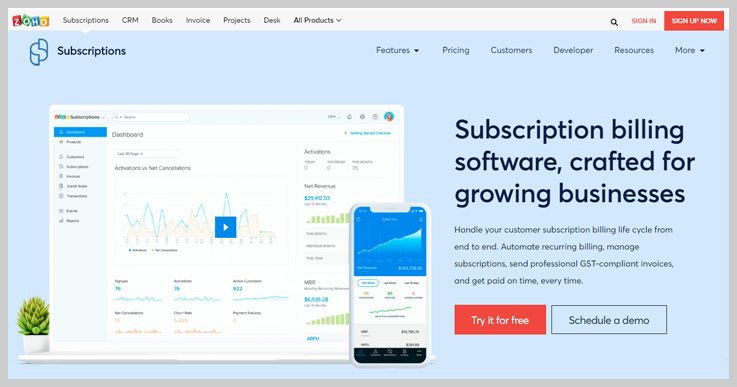 ---
Features
Recurring Billing – It lets you set up billing cycles for your product and services. Everything is automated.
Dunning Management – Further, it helps in keeping track of payment by sending reminders for failed transactions.
Metered Billing – As the name suggests this trait makes sure that customers would be charged according to the use, It allows per unit pricing.
Subscription Management – Using it, one can manage multiple subscriptions of a customer at a single place without any hassle.
Billing Automation – With the help of this, one can set automatic workflows for customers according to the requirements.
Subscription Branding – It let's users design invoices in a way to reflect branding among the customers which develop trust among customers.
Pricing
Basic – The basic plan will cost $49/m for 500 customers.
Standard – Next, the standard plan will cost $99/m for 2000 customers.
Professional – Lastly, the professional will cost $249/m for 5000 customers.
Conclusion –
Gladly, now you know how important it is to have recurring billing software that provides dunning management. It helps in removing bad customer churn and helps to skyrocket your revenue streams. Moreover, it helps in maintaining healthy customer relationships. Keeping your needs in mind, we have mentioned the cheapest subscription billing software to help you out.
So, don't waste any more time. Try it out and let us know your experience in the comment section.
You May Also Like To Read –