Tired of searching for the best recurring payment software? Well, your search finally comes to an end.
This is 2020 and the idea of ownership is ending, as millennials are accelerating towards a subscription-based economy. You see it everywhere from video streaming sites like Netflix to beauty parlors, gyms, and even medical services. From free to cheap, recurring payment software are in plenty and you deserve the best.
---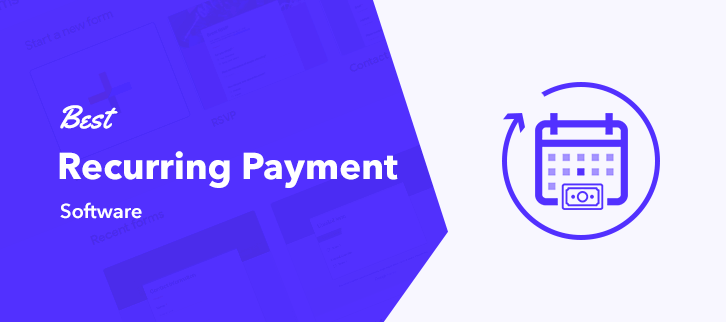 ---
But before jumping into any, you must know that all recurring billing software are judged on a few key aspects like
Payment Gateway Integrations
Security
Pricing
Revenue Limit
The digital market is swamped with numerous recurring billing Saas software that fits these criteria. Therefore, trying each of them may suck some juice out of your clock. That is why I took the initiative and compiled a list of 5 best recurring payment software that were selected on the basis of features and pricing.
---
Quick Comparison Between 5 Best Recurring Payment Software
Service
Basic Plan
Transactional Costs (%)
Affiliate Marketing 
Revenue Threshold
Pabbly Subscription Billing 
$19/m
0
✔
Unlimited
FastSpring
Customizable
NA
✖
Tailor-Made
Chargebee
$255/m
0.5
✖
$600k
Moonclerk
$15/m
0.8
✖
$2000
Zuora
Customizable
NA
✖
Tailor-Made
---
"The only software available in the market that doesn't restrict users on any features by offering unlimited revenues, integrations, products and much more even in a basic plan."
It is the best in business as you can generate unlimited revenues in the most nominal pricing and with no extra transactional fees. Pabbly Subscription Billing has the versatility to engage in multiple billing models like recurring, one-time and payments based on the number of cycles. Furthermore, by just copying and pasting API keys you can integrate it with your Saas applications.
The fun doesn't end here, you can automate emails, create unlimited coupons with flat or percentage discounts for your custom domain. Furthermore, to ace the system in-person training is also provided.
---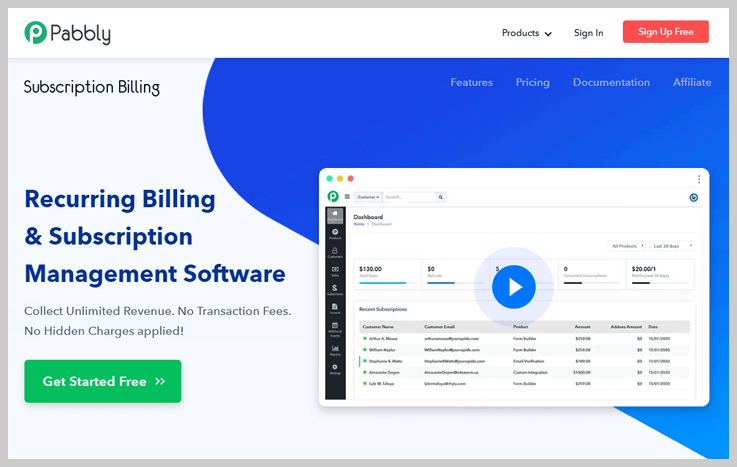 ---
Features
Pabbly Plus – While any other services needs external additions for sending emails. Pabbly Subscription Billing comes as total package with it's own form builders and email marketing services, therefore your process always remains seamless.
Payment Gateways – Not only Paypal and Stripe but also you can customize payment gateway integration with Razorpay, Authorize etc.
Affiliate Module – The affiliate modules comes integrated with Pabbly Subscription Billing. Using this one can begin their own referral program. With some commission, your allies can sign in to become your affiliates to promote your products.
Dunning Management – Dunning Management is offered even in the basic plans which sends reminders to your customers, about the impending closure of accounts due to lack of payments.
Tax Management – All receipts are compatible with tax laws of that region where the customer is based. Furthermore, create multilingual and customizable checkout page according to your discretions.
Analytics – Get a detailed report on MMR, net revenue, active subscribers and total refunds.
Auto Email Notification – You and your customer will be automatically and immediately notified by emails for upgrades/downgrades, refund/cancellation and success/failure of payments.
Custom Branding – Get your custom domain, add logo and even change the background image of the client interface.
Third-Party Integration – Through Webhook & API you can integrate with Xero, Netsuite, Quickbooks, and many more platforms.
Pricing
There are five pricing plans based on number of customers.
Starter – This comes at paltry $19 per month which can service upto 50 customers. Further benefits includes auto-email notification and several third-party integrations. And with a group of dedicated affiliates, you can build your brand exponentially.
Rookie – It is priced at $37/month and you can bills 100 customers.
Pro – Serves 150 customers at $57 per month and this is their most popular plan.
Advanced – Bill to 250 customers at just $79/month and the best part you can scale up the number of customers and the pricing will rise accordingly
Enterprise – This is a super account for customers beyond 50k, you need to get in touch with their sales team to fully explore this functionality.
---
2. FastSpring – Subscription Billing With An Edge
Their motto is simple "sell more, compete big and stay lean" and they run business by these rules. They adapt to changes involving e-commerce and shopping exceedingly fast. You can minimize fraudulent billing by their state of the art privacy & security infrastructure. Its programming collects and remits VAT automatically.
---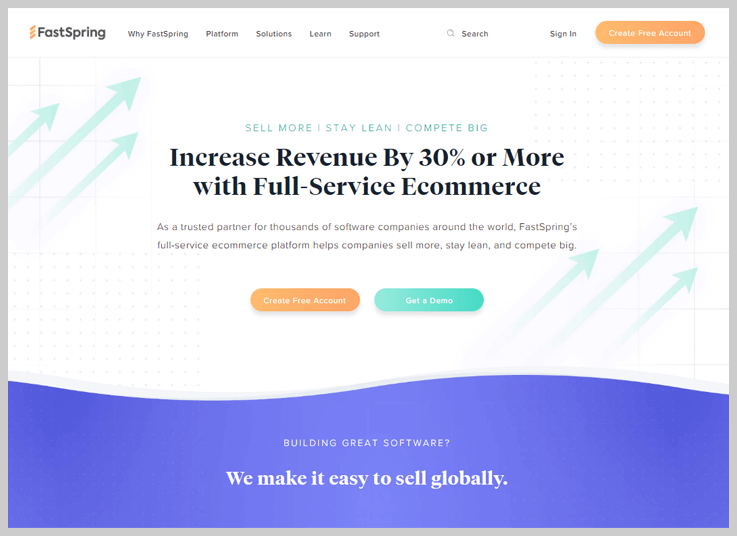 ---
Features
Branded Checkout – You can custom build your brand logo on every checkout page.
Tax Compliance – They are complaint with major tax regions regulations like PCI DSS, VAT and GDPR.
Innovations – As a constantly evolving company, they promise regular updates related to recurring billing, without you doing any investment in developer platforms.
Payment Routing – Has an intelligent payment routing feature which can be channeled through 15+ payment gateways like Visa, Mastercard, Alipay, Amex, PayPal.
24×7 Support – A very responsive support, which pops out just when you land on their website.
Pricing
They don't have any fixed pricing plan, just sign in and get custom made revenue billing plans.
---
3. Chargebee – The Buzzing Recurring Payment Software
Chargebee is here for smarter recurring billing management where you can experiment with the pricing pyramids, the lifecycle of subscriptions and product catalogs. Dunning management is accessible with higher plans to reduce involuntary churn. Moreover, it can work on the upgrade and downgrades at any point in the billing life cycle. Furthermore, it promises easy integration with 23+ gateways.
---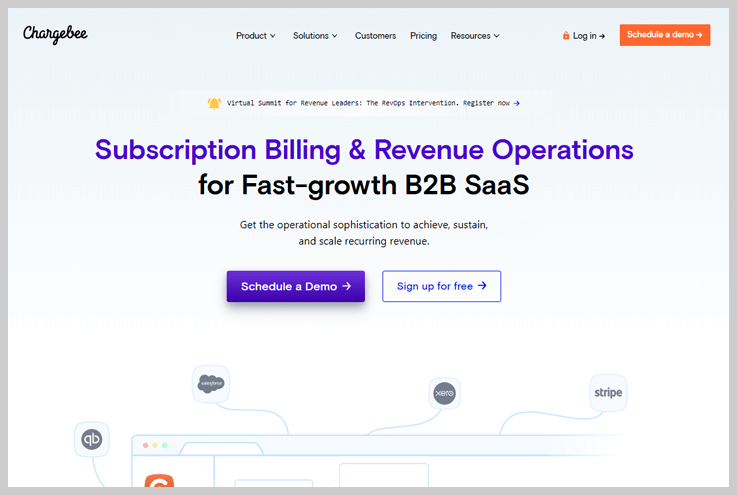 ---
Features
Automation – You can automate many attributes like payment methods, proration & invoicing, billing schedules and tax management by going through 480+ recurring billing scenarios.
Pre Optimised Templates – They come with many inbuilt templates so that you just have to copy & paste to start them running.
Analytics – Prevent errors and discover growth opportunities by analytics in saas, quote-to-cash and order-to-revenue.
Subscription Management – Customer and subscription data can be accessed at one place, also with addon recommendations and product bundles you can create multi-upsell discoveries.
Currencies – Provides pricing options in 100+ local currencies and even PCI complaint checkout.
Pricing
Rise  – This is their least priced product, at $249/month billed annually or $299 every month, this supports 10 users but the upper limit of this plan is $600K/yr revenue. Also, Chargebee will be debiting an additional 0.6% as a transactional fee.
Scale – The most ambitious plan because it bills a massive $900K/yr revenue. But comes at pricey $549/month billed annually or $599 every month. It supports 25 users and gives advance invoices with in-depth subscription analytics.
Enterprise  – If you are a company looking for billing over $1million then this is the one you are looking for. But you need to talk with their executives to know about the pricing and extra features.
---
4. MoonClerk – Versatile Recurring Billing Software
With MoonClerk it just takes 5 minutes to start your recurring billing. For payment gateways, they come integrated with Stripe and email delivery is done by Mailchimp. The customers can even download the page in a format that matches your branding.
---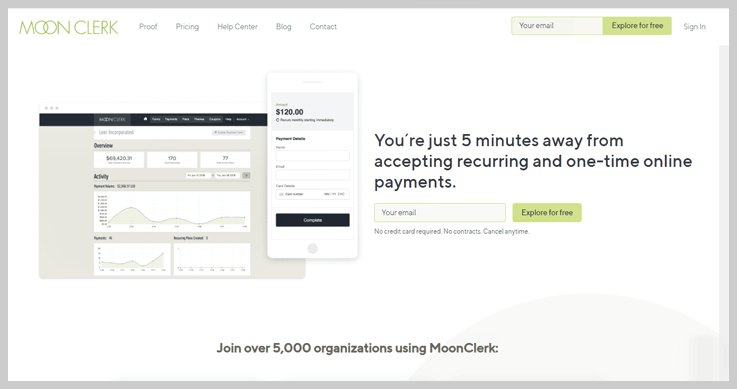 ---
Features
Security – Gives bank-level security with SSL encryption, secure hosting, and even 1st level PCI compliance to guard your precious data.
Customization – You have the power to tailor the entire checkout process by adding matching colors, fonts and even background images. Yes, of course, you can use your own logo.
Mail Chimp Integration – It auto sends customers details like name, email addresses, subscription plans, to Mailchimp. Now Mailchimp auto-sync this data and segments it into different buckets so that you have the luxury to send emails at your convenience.
Device – One can access it on every platform including hand-held mobile devices.
Pricing
They have listed 10 plans charged per month from $15 to $500. At $15, you can do recurring billing up-to $2,000 and their massive volume plan at $500 can do work on revenues up-to $150,000. Also one must note that since their payment is integrated with Stripe, every transaction deducts 0.8%.
---
5. Zuora – A Near Perfect Software
Zuora imbibes innovation, just give a glimpse at their website and you will get a fair idea. It is the only service that perfectly orchestrates your recurring billing with CRM, ERM and the whole IT infrastructure.
---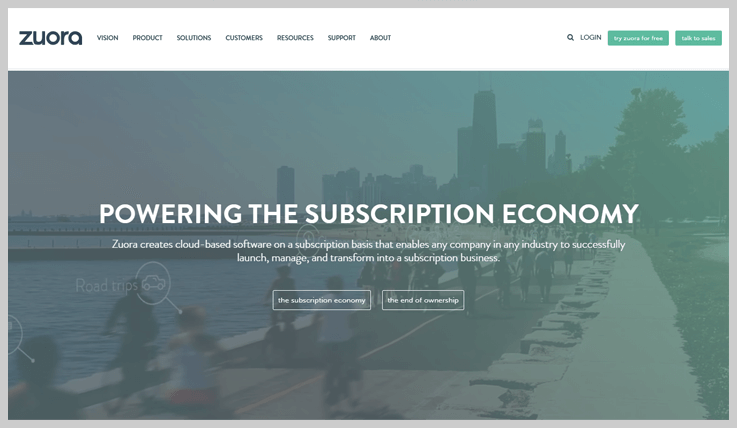 ---
Features
Payment Methods – The motto of this recurring software is simple "let the customer pay what they want, how they want" and that is why Zuora supports plethora of currencies, payment gateways, and payment methods.
Flexibility – Craft pricing tables with the help of widgets and you can switch between offline/online mode easily in subscription payments.
Subscription Models – There are 40+ charge models which range from one – time, recurring to consumption charges
Pricing
Plans in Zuora are tailor-made according to your requirements, therefore you have to contact their sales executives to chalk out a plan.
---
Conclusion –
Well, I have covered the 5 best recurring billing softwares. These were vetted on the basis of pricing and features which I found quite reasonable. But don't take my words for granted, there is either a free trial or a demo account available with each of these services. So try them out individually, before buying.
Also, if you find any incredible feature that I have accidently missed while covering these softwares do comment below. I will surely add them in this article.
You May Also Like To Read –