PayWhirl is a wonderful subscription billing software but some of its irritants like extra transactional costs, lack of dunning management and custom domains are forcing you to look for another service.
Now the question strikes in your mind "Is there any better and cheaper PayWhirl alternative available that provides these features and fulfills all your billing requirements?"
Well, a big Yes!!!
In this article, we'll walk you through 5 best alternatives to PayWhirl that will surely make your subscription billing efforts easier.
| | | | | |
| --- | --- | --- | --- | --- |
| Service | Basic Plan | Transaction Fees (in %) | Affiliate Marketing Module | Revenue Threshold |
| PayWhirl | $49/month | 2 | ✖ | $5k/month |
| Pabbly Subscription Billing | $45/month | 0 | ✔ | Unlimited |
| Chargebee | $299/month | 0.5 | ✖ | $600k/month |
| Sellfy | $29/month | 0 | ✖ | $10k/month |
| Zoho Subscriptions | $39/month | 2 | ✖ | N/A |
| Zuora | Tailor-Made | Tailor-Made | ✖ | Tailor-Made |
Reasons Why You Need To Look For PayWhirl Alternatives?
With a $5k billing threshold per month, PayWhirl looks like a minion when some services can provide unlimited billing.
The SMTP settings are not easy to integrate and this is a bottleneck for you because you want to send trigger or acknowledgment emails to your customers.
There is a significant lag time for the software to load, there are some alternatives with more UIs that loads faster than PayWhirl.
There is no self-service portal and many alternatives provide more custom domains than PayWhirl even in their basic plans.
Dunning management is only available with higher plans not with starter plans.
Because of these drawbacks, one may have a thirst to look for PayWhirl alternatives. So just relax and jot down all the important points. Maybe this small exercise will save big bucks in the long term.
Pabbly Subscription Billing simply doesn't have any limit just opt for any of their plans and keep your unlimited subscription billing going. Moreover, one can create unlimited products and plans even with their basic service. Pabbly Subscription Billing is truly a synonym of limitless.
The fun doesn't stop here, you can automate emails, can create unlimited coupons with flat or percentage discounts for your custom domain. In-person training is also provided to ace the system.
---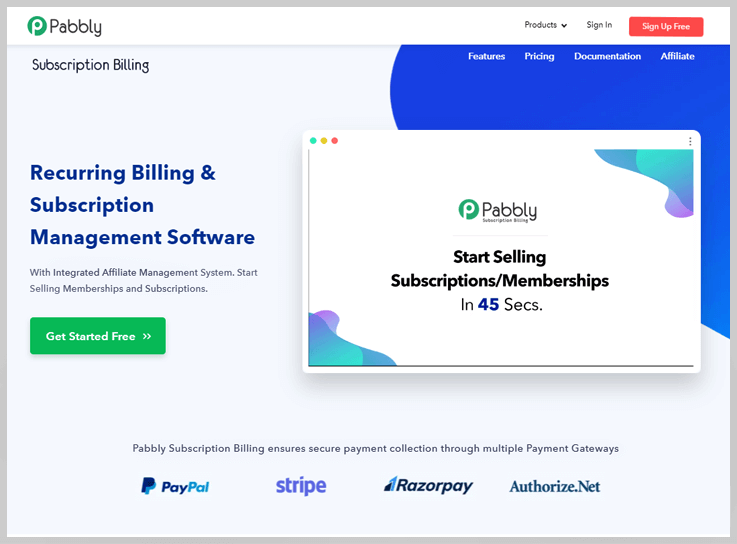 ---
Key Features
The automation of subscription billing along with real-time actionable metrics ensures that you are not wasting time on redundant billing issues but focusing only on growth.
Easy refunding as processing refunds against cancellation and collecting the capital directly from the merchant dashboard using the saved card details.
Dunning management is available even in their basic plan, it can ensure unrestricted subscription billing.
Tailoring tax rules based on business type, country, and even regions are very easy.
Integration is seamless with a full-fledged API framework and webhooks.
With Affiliate Management and Growth Sales Analytics modules, you can keep an eye on your marketing affiliates and helps you to track net revenue, MRR, new subscriber and other customer details.
 Pabbly Subscription Billing Vs PayWhirl

The two main differences between them are the transaction cost and revenue limitation .After every transaction PayWhirl slashes 2% while Pabbly Subscription Billing charges zero. When using PayWhirl you need to remember that your limit is just $5k/month but with Pabbly Subscription Billing, you can do unlimited billing, there is simply no restriction.
Pricing
Starter Plan: This plan is mostly focusing on startups or nascent businesses. Priced at $25/month billed annually or $45/month, it provides services to about 150 customers and has multiple billing systems with the multilingual checkout page. Further, it supports the autopilot mode and can import existing customers. Auto email notification and third-party integration are added benefits.
Rookie Plan: It is priced at $45/month billed annually or $75/month. With a group of dedicated affiliates, you can build your brand exponentially. Pabbly Subscription Billing provides for 2 affiliate management modules with this plan.
Pro Plan: Buy this plan at $65/month priced annually or $105 monthly. It provides 2 custom domains and 2 custom payment gateways. Additionally, the service offers extra 3 affiliate modules, clearly, this package is aimed at large businesses.
Enterprise Plan: Unlike its siblings, Pabbly Subscription Billing also has a fourth plan which is known as the Pro+ Plan. If you are a big enterprise demanding unlimited customers and unlimited billing, you need to contact their sales executive to work on this plan.
All plans have 0% as a transaction fee with no hidden charges. Also while choosing any plan one should go for the yearly plan as the first 6 months are free.
---
2. Chargebee – The Buzzing Subscription Billing And Analytics
With Chargebee you can segment several attributes of your business moreover it is also compatible with French accounting solutions. This subscription billing software provides pre-designed customizable templates, just copy & paste and you can have them running.
In addition, it also supports automated emails to keep customers engaged throughout the journey.
---
---
Key Features
The catalog is flexible to monetize the offerings. One can even use digital wallets as a payment option.
Responsive chat-based customer support and trial periods to avoid uncertainties.
This service handles upgrades and downgrades at any point in the billing cycle. The best part of Chargebee is that they provide segmented notifications.
Personalized and scheduled messages as gift subscriptions. With Chargebee it is not necessary for a customer to cancel a subscription, they can simply pause and then retain subscriptions after some time.
It provides for intelligent routing which basically means that the rules for payment gateways can be configured according to your customer's wishes.
Dunning management is provided in the upgraded plans.
Chargebee Vs PayWhirl
When comparing with PayWhirl, Chargebee's initial pricing plans are on the higher side but it can serve unlimited customers up to $600k revenue. Chargebee also offers better segmentation than PayWhirl because it provides multiperiod recurring billing.
Pricing
Rise Plan: At $249/month billed annually or $299 every month, this is their lowest pricing. It supports invoices for multiple tax regions, supports 10 users but the upper limit of this plan is $600K/yr revenue. Though they will be charging an additional 0.6% as a transactional fee.
Scale Plan: The most popular plan because it supports a massive $900K/yr revenue. But comes at not so cheap $549/month billed annually or $599 every month. It supports 25 users and gives advance invoices with in-depth subscription analytics.
Enterprise Plan: This is their most ambitious plan, if you are a company looking for billing over $1million then your search ends here. You can talk with their executives to know about the pricing and extra features.
---
3. Zuora – Flexible Subscription Billing 
Just have a look at their website, the user interface clearly shows that they understand both customers and business. The flagship product is called Zuora Billing which gives versatility to integrate your subscription billing according to industry-specific applications.
With Zuora, you can do experiments and trials to trigger third-party systems such as entitlements and provisioning.
---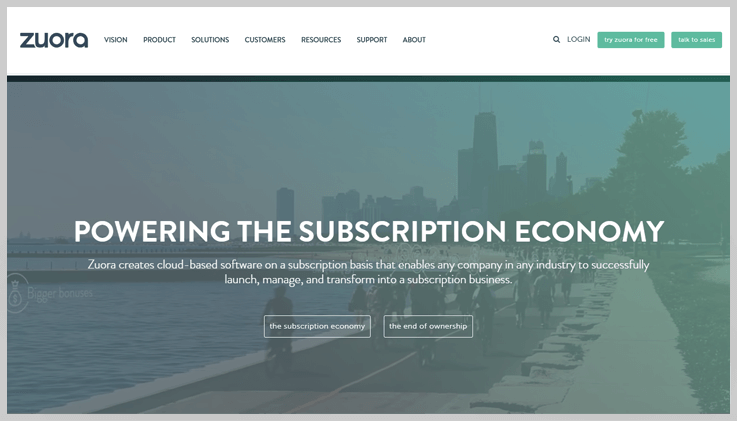 ---
Key Features
Their metrics engine automatically calculates your total contracted billing, monthly recurring revenue and total contracted value.
Zuora supports multiple currencies, payment gateways, and payment methods. The motto of this recurring software is simple"let the customer pay what they want, how they want".
The flexibility offered to build their subscription form is unparalleled. For example to change the pricing plan instantly all you have to point and click. One can change billing timing, billing triggers, and billing frequency with ease.
There are 40+ charge models which range from one – time to recurring to consumption charges.
The only platform that orchestrates your subscription service and serves as the connective tissue between CRM, ERP, and the entire IT architecture.
Zuora Vs PayWhirl
You can do more experimental trials in Zuora than in PayWhirl. Moreover, Zuora offers more payment gateways and payment methods than PayWhirl. Also, all the plans in Zuora are tailor-made according to your requirements, therefore, more flexibility and features than PayWhirl.
Pricing
Zuora doesn't list any pricing plans on their website. To avail details, one may have to contact their sales executive.
---
4. Sellfy – Platform for Digital Products Recurring Billing  
This business model suits well for bloggers and digital studio creators. Sellfy offers mobile-optimized stores and seamless checkout experience so that your customers can access from any device (Mobile or Laptop).
Besides, if your country restricts payments from PayPal and Stripe then you can still bill subscriptions using Sellfy to offer free products.
---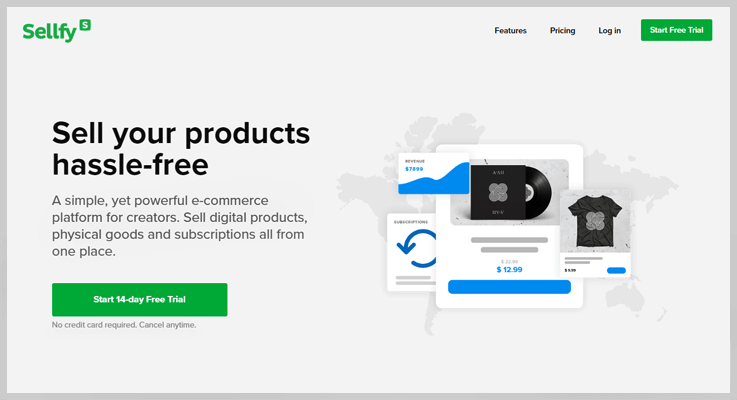 ---
Key Features
Sellfy predominantly focuses on subscription billing in digital works like ebooks, videos, audio, and music so if your products are any of the mentioned above, Sellfy is your winner.
With Sellfy you can provide the customers with invoices and e-bills directly to their emails.
You can have multi-payment gateways, email credits, and store customization in all of their plans.
A custom domain is offered even in their basic plan.
Sellfy vs PayWhirl
You can save a large sum using Sellfy because they don't charge any transactional fees. The subscription billing limit of Sellfy is also higher than PayWhirl in all their plans. If you are a nascent digital studio creator and can't afford extra fees, for you this is clearly one of the major alternatives of PayWhirl.
Pricing
Starter Plan: Their initial plan which is either $19 per month billed yearly or $29 billed monthly. Though there is no limit in the number of customers with this plan, the revenue threshold is only up to $10,000.
Business Plan: The upgrade of the starter plan which costs $39 per month billed yearly or $59 billed monthly. This plan allows for increasing the threshold up to $50,000. Other additional benefits of up-gradation are product upselling and allowing email credits up to 10,000.
Premium Plan: The final plan which is yearly billed at $89/month. This up-gradation involves increasing the revenue threshold to $200k and also increasing the email credits to 50,000.
Of Course, in all the plans the extra transaction fee is 0%.
---
With Zoho Subscriptions, you can switch between offline and online mode easily in subscription payments. You can also track subscriptions with webhooks. Furthermore, you can craft pricing tables with the help of widgets and have a choice from a wide range of invoice templates.
---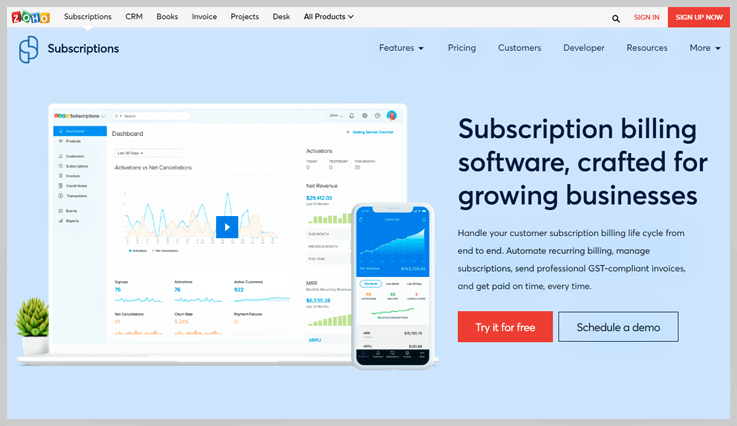 ---
Key Features
Auto-Renewal of subscriptions is an extremely powerful feature.
Has out of the box integration which includes all major payment gateways (PayPal, Stripe, Razorpay, Zendesk and many more). It doesn't stop here, you can also integrate with messaging platforms like Slack, G Suite and even wordprocessors like Office 365.
You can send professional GST invoices to customers. It makes Zoho Subscriptions undoubtedly one of the best PayWhirl alternatives.
Can track subscription changes with webhooks.
You can create workflow rules to automate actions.
It can handle the entire customer subscription billing life cycle.
Zoho Subscriptions Vs PayWhirl
Zoho Subscriptions is significantly older than PayWhirl and therefore supports a larger number of payment gateways and currencies. It also allows building tax invoices of more countries than PayWhirl.
Pricing
Basic Plan: This plan starts at paltry $39/month billed yearly. It can serve 500 customers, allows 3 users and provides automated workflows.
Standard Plan: The second plan starts at $79/month. This plan serves 2000 customers, allows 5 users and gives multi-currency support. Additionally, dunning management is provided in this upgraded version.
Professional Plan: This ultimate plan which serves 5000 customers and allows 10 users.
---
CONCLUSION
PayWhirl alternatives like Zoho Subscriptions and Sellfy look appealing with their pricing but they come with their own limitations which are the mark of any relatively cheaper services. Pabbly Subscription Billing, however, being cheap also offers nearly all necessary features along with extra stuff like reliable growth analytics, unlimited revenue, and affiliate module.
You May Also Like To Read:-