Looking for MailerLite alternatives? Here we came across the best suitable similar services available in the market.
Generally, to enhance or outgrow business on the internet, users prefer Email Marketing services. Whether you're running a business or operating a blog then you came across the name MailerLite. If you're not familiar with it, let me help you.
Basically, MailerLite is an email marketing service provider that helps users to expand their business by reaching out to a wider audience. Also, the software is easy to navigate and the interface is quite attractive.
Apart from its attractive features, people are looking for MailerLite alternatives?
It has come into light that the services offered by it are expensive and that is the main reason people jumping on different software which is cheap and relatively better.
Therefore, in this particular piece of writing, we are going to discuss the best possible 5 MailerLite alternatives.
---
Currently, it is one of the best and cheapest MailerLite alternatives available in the market. The interface is easy to operate and you will find software user-friendly.
Above all, the software is well known for its in-built delivery engine. Other than this it also provides users to connect through 50+external providers.
---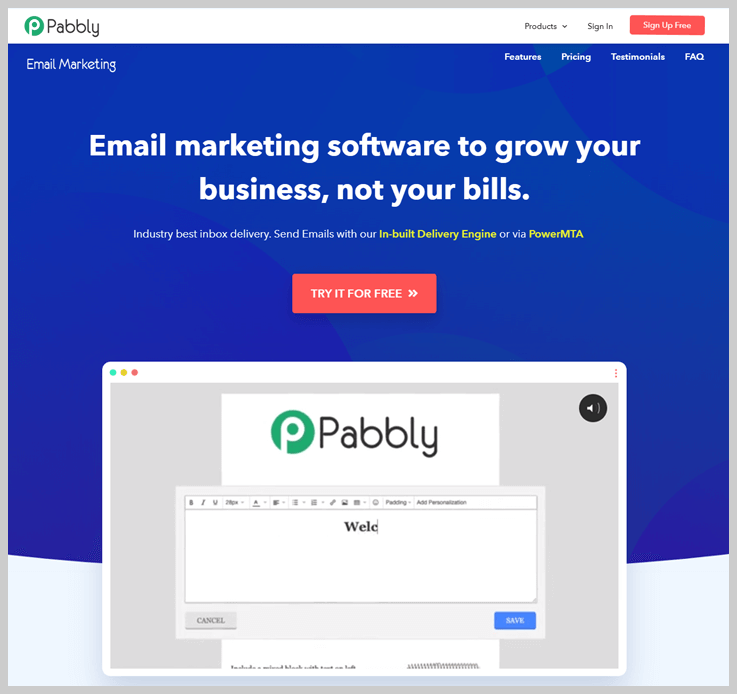 ---
Features:-
Pabbly Email Marketing offers certain features that make it better from others.
It involves drag & drop builder and plain text/HTML editor which makes the email customization easier.
Also, it provides Email List Cleaning functionality which helps in filtering all the spam, bounce and suspended emails.
Autoresponder feature allows the sending of welcome emails and personalized emails to customers.
Drip automation service offers email scheduling to engage users through which you can reach out to the customer at the right moment.
Furthermore, the software is well known for its outstanding 99% inbox delivery rate.
Other than this, you can make any last-minute changes using the 'Email inbox preview' feature.
 Pricing:-
Talking about the pricing, it has different plans based on the number of subscribers you need.
To know more about the software you can access the free trial plan. Other plans include the Rookie package which delivers unlimited mails to 5000 subscribers at $29/m. The second one is a Pro package that delivers unlimited mails to 15000 subscribers at $49/m.
Lastly, the advance package offers limitless emailing services to 50000 subscribers at $99/m.
However, you will get 20% discount on all your yearly subscription.
---
2. SendinBlue – Email Marketing Platform
Sendinblue is one of the software that not only provides email marketing but also SMS marketing too. The fastest-growing software with over 80,000 users and 10 years of experience in the email marketing field.
---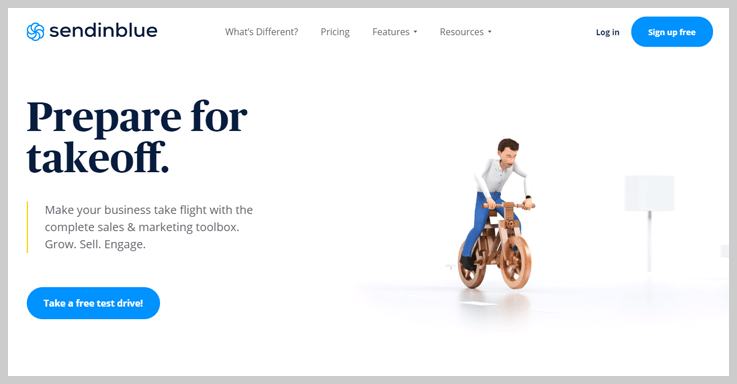 ---
Features:-
Let's cast some light on the features offers by it.
The software grabs its users by sending a marketing message to a targeted audience.
About their advance automation, it includes web tracking and leads scoring that helps to boost performance.
In addition, with the help of real-time statistics features, users can stay in touch with performance.
It offers CRM and Transactional email too.
Also, it uses an algorithm feature to optimize the time of email click rates.
SendinBlue is your guy if you prefer one on one campaigns.
Pricing:-
Lets cast some light on its pricing, it offers different plans according to customer's needs.
The plan includes Free, Lite, Essential, Premium and Enterprise. Firstly, the lite plan offers 40,000 emails at $25/m. Secondly, with the Essential plan, you can send 60000 emails at the pricing of $35/m. Thirdly, the Premium plan costs you around $65/m where you can send 120000 emails.
Lastly, the Enterprise plan is a quotation based plan which can be designed according to need. All you have to do is reach out to their sales expert. However, you get multiple login access only on Premium and Enterprise plans.
---
Constant contact is well-known for its attractive interface and providing services to its users for more than 20 years. The software is easy to use. That's why it is considered a user-friendly email marketing service provider.
Moreover, it is one of the software which can connect with the customer on every device.
---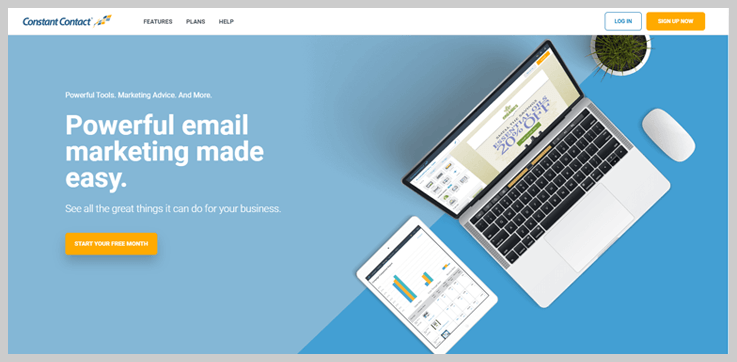 ---
Features:-
Let us dig deep more into the features offered by it.
It greets every new customer with a welcome mail.
Also, its Drag-drop editor makes designing easy.
Additionally, it provides your email marketing results in no time.
Constant Contact geared themselves up in 2019 by launching in-app Facebook and Instagram Ad creation.
Moreover, you can keep track of your campaigns.
Pricing:-
It has two ongoing plans which are Email and Email Plus. Email plan subscription allows you to send an unlimited amount of emails at the cost of $20/m. While Email Plus will cost you $45/m.
In addition, the Email plan is for the consumer with small business and Email Plus for those who have vast needs.  Besides, it also offers free access for 60 days. However, you can send emails to 100 contacts only.
---
4. Pepipost – Tool For Email Marketing
One of the most trusted and appreciated email service provider with over 20000 customers. The software is well known for its easy integration.
Moreover, the service not only provides you SMTP but HTTP API too. One of the most lovable features about Pepipost is it doesn't charge anything for unopened mail.
Also, to make users aware of the software, it offers training sessions which include documentation and online live training.
---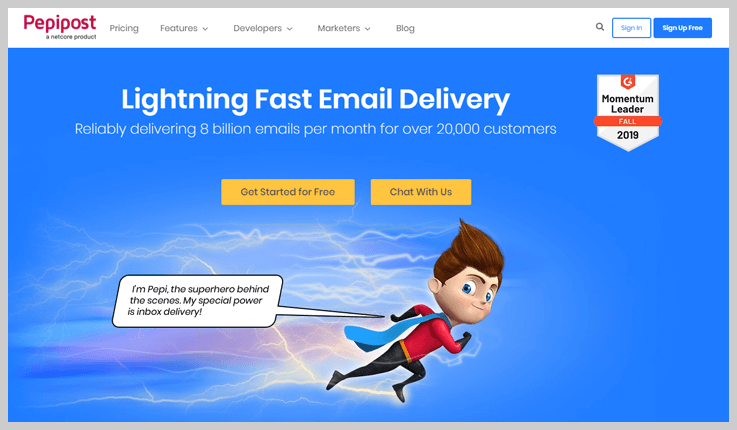 ---
Features:-
About its features,
It provides real-time reports through which you can get detailed logs of failed or undelivered emails.
Through SMTP, you can easily connect it to your applications or platform.
Also, using its webhook feature you can keep track of all your email activities.
Moreover, its AI feature makes email delivery smarter and quicker by prioritizing the time of delivered emails.
Above all, it gives special attention to user's data safety by inviting the third party to perform the VAPT testing.
Pricing:-
Let us make you all aware of the pricing.
It has plans according to emails per month. The least pricing involves 150,000 emails at $17.5/m. The highest pricing involves 2,000,000 emails at $311.5/m.
Other than this, if you crossed the limit of sending emails then you will be charged accordingly. Although your service won't be stopped.
---
5. GetResponse – Email Marketing Alternatives
It is an efficient email marketing service providers. Also considered as one-stop for all marketing needs. With the help of its Marketing Automation feature, you can increase traffic on your websites.
Further, using its advanced analytics feature you can keep an eye on your omer needs.
---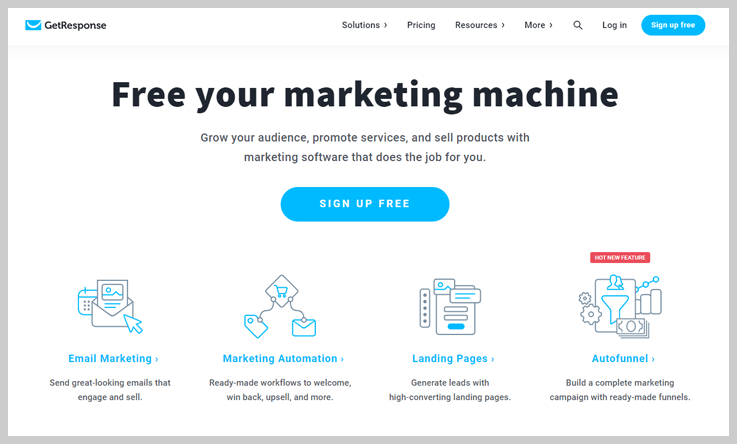 ---
Features:-
Its features include:
It offers Auto funnel feature which helps in generating traffic and converting customers.
You can easily design your landing page using a drag & drop builder. In addition to this, it offers 150+ pre-designed templates.
Furthermore, using its eCommerce feature, you can set up your store.
Intelligent list automation helps to add a subscriber list.
Also, the Automation services include contacts tagging, data updates, segmentation and much more.
 Pricing:-
It has a Basic plan at $15/m. Other than this,  the Plus plan at $49/m, Professional plan at $99/m and Enterprise plan at $1199/m.
However, it only provides 30-day free trial access to their service.
---
Conclusion
Hereby, this is the list of best suitable MailerLite alternatives which will surely help you in reaching out to potential customers. Here we tried to focus on all the cheapest services available in the market.
All the above-mentioned services allow users to test their platform by offering a free trial. So you can give it a try.
Further, if you have any queries regarding the same you can reach out to us anytime.
You can also browse our different blog as well:-