Want to know some cheap recurring billing software? Well, your search ends here.
Let's say you are managing a startup dealing with subscription business and want to cut down the inventory cost to save money for more expansion. While tallying the revenue numbers you discover your current subscription payment software is the source of leakage. That is why you are looking for cheap or perhaps a free but decent enough recurring billing software.
---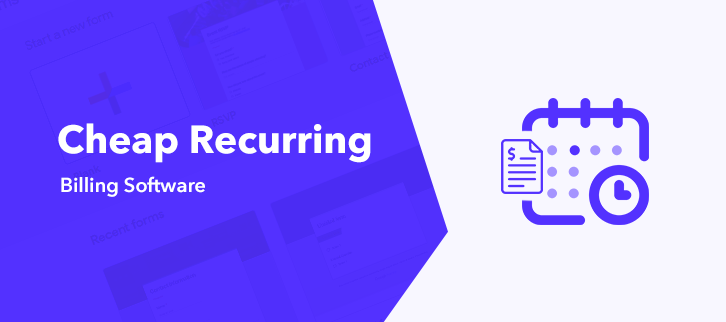 ---
However, the problem with any cheap product is that there is always something missing i.e features. In the case of recurring billing software, these are some attributes you need to have
Unlimited Billing
Dunning Management
Tax Complaint Receipts
That is why I have compiled a list of 5 best recurring billing software that comes with the above mentioned necessary features and also are relatively cheap.
Quick Comparison Between The Cheap Recurring Billing Software
Service
Basic Plan
Affiliate Module
Transaction Fee
Revenue Threshold
Pabbly Subscription Billing
$19/m
✔
0
Unlimited
FastSpring
Get Quote
✖
NA
Tailor-Made
FreshBooks 
$6/m
✖
NA
NA
Payhip
$29/m
✖
2%
Unlimited
Moon Clerk
$15/m
✖
0.8%
Tailor- Made
"The only software available in the market that doesn't restrict users on any features by offering unlimited revenues, integrations, products and much more even in a basic plan."
Pabbly Subscription Billing tops the list as you can bill unlimited revenues at no transaction cost in a very nominal price. Here, you can create unlimited coupons and products with zero or percentage discounts, automate emails and print invoices in your custom domain.
Also, the best part is Pabbly Subscription Billing has the flexibility to work in multiple billing models like recurring, one-time and even payments based on the number of cycles. Furthermore, to integrate it with your Saas application is easy, just copy & paste a few API keys and have them running.
---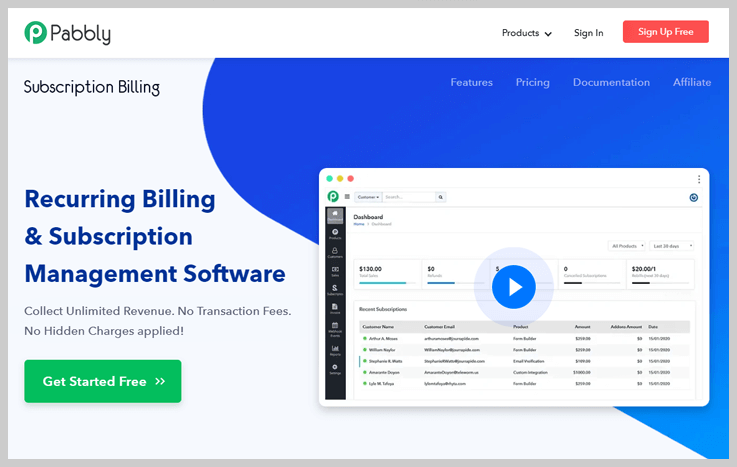 ---
Features
No Transaction Cost – Your former recurring billing software may have deducted some money as transaction fees. Putting together 1+1=2, you figured that a ton of money could have been saved if you have used a software that doesn't pull any hidden charges like Pabbly Subscription Billing.
Affiliate Module – Using this feature one can begin their own referral program. With some commission, your allies can sign in to become your affiliates to promote your products. And these affiliate modules comes integrated with Pabbly Subscription Billing.
Auto Email Notification – You will be automatically notified by emails for any upgrades/downgrades, refund/cancellation and success/failure of payments.
Third-Party Integration – Through Webhook & API you can integrate with Xero, Netsuite, Quickbooks, and many more platforms.
Custom Branding – Get your custom domain, add logo and even change the background image of the client interface with ease in Pabbly Subscription Billing.
Tax Management – All receipts are in accordance with the tax laws of the region where the customer is from so that he can have a smooth day with the IRS. Furthermore, you can create a multilingual and customizable checkout page according to your discretion.
Dunning Management – Even the basic plan offers Dunning management, which sends reminders to your customers, through emails about the impending closure of accounts due to lack of payments.
Analytics – Get a detailed report on MMR, net revenue, active subscribers and total refunds.
Pricing
There are five pricing plans based on the number of customers.
Starter – This comes at paltry $19 per month which can service up to 50 customers. Every above-mentioned feature is available with this plan.
Rookie – It is priced at $37/month and you can bill 100 customers.
Pro – Serves 150 customers at $57 per month and this is their most popular plan.
Advanced – Bill to 250 customers at just $79/month and the best part you can scale up the number of customers and the pricing will rise accordingly.
Enterprise – This is a super account for customers beyond 50k, you need to get in touch with their sales team to fully explore this functionality.
---
2. FastSpring – A Simple Recurring Billing Software
"Sell more, compete big and stay lean" is their motto and they work on these principles. They are betting heavily on machine learning to constantly evolve in the e-commerce market.
Automated renewal reminders, payment alerts, and Dunning Management are provided to streamline the customer's experience. Have access to their tough security apparatus that prevents forced entry and fraudulent transactions.
---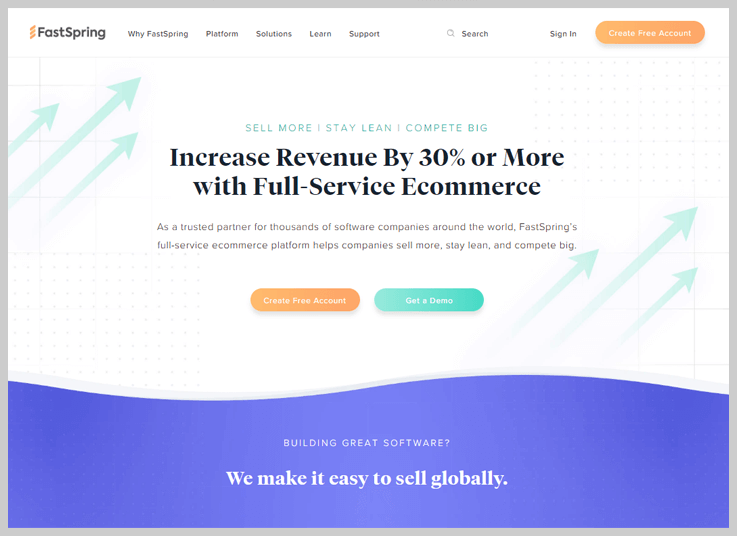 ---
Features
Tax Compliance – Their invoices abide by all tax regions' regulations like PCI DSS, VAT, and GDPR.
Branded Checkout – Custom build your brand logo on every checkout page.
Innovations – Regular updates related to recurring billing and e-commerce so that your billing is seamless.
Payment Routing – A perceptive payment routing which channels transactions through 15+ payment gateways like Visa, Mastercard, Alipay, Amex, PayPal.
24×7 Support – A very responsive support, which pops out just when you land on their website.
Pricing
They don't have any fixed pricing plan, just sign in and get custom made revenue billing plans.
---
3. FreshBooks – A Bundle Of Billing Software
FreshBooks comes as a bundle with applications like accounting, recurring billing, estimates, tracking and more. They have in this game for a significant amount of time and therefore have come up many trial-tested features like double entry reports, automated bank import, and recurring invoices.
---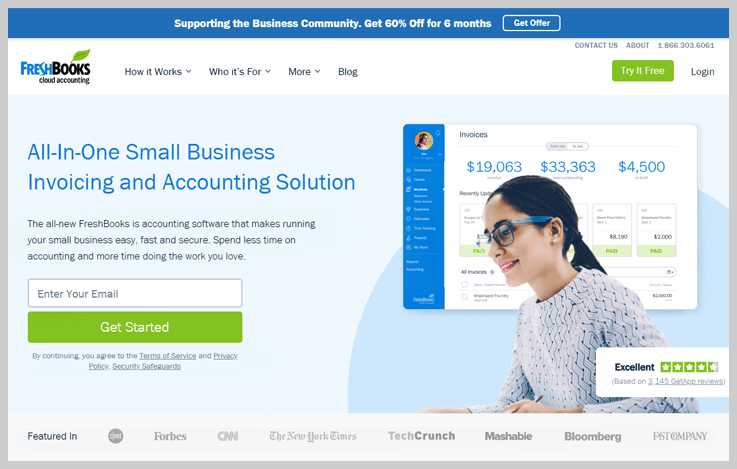 ---
Features
Payment Gateways – They have their own payment gateway called FreshBooks Payments, so there won't be any extra charges because of external payment processors. However, if you want you can add Stripe.
Invoices – Also, you can create professional-looking invoices that are compatible with any tax laws.
App – A light app for your mobile and tablets which will help you to check your billings if you are on the go. Also, this stays in sync across all devices which you are currently using.
Pricing
Lite – At $6/month it is advertised for self-employed to make their recurring billing easier. This package allows 5 clients.
Plus – For a small business that have 50 customers this comes at dirt cheap $10/month.
Premium – With 20$ you can bill 500 clients which is suffient for a growing company with dynamic teams.
Select – Directed at thriving business to bill above 500+ customers. The pricing is tailor-made however one can try their demo account.
Note: You can try FreshBook's recurring payment feature for 30 days without mentioning your credit card details.
---
4. Payhip – Recurring Billing With An Edge
With Payhip you can sell and even promote software, work design, memberships and music directly to your customers. Create your own affiliate system by recruiting friends and colleagues then rewarding them a certain percentage if they make a sale. Harness the full power of social media by giving discounts to those who have tweeted your product.
---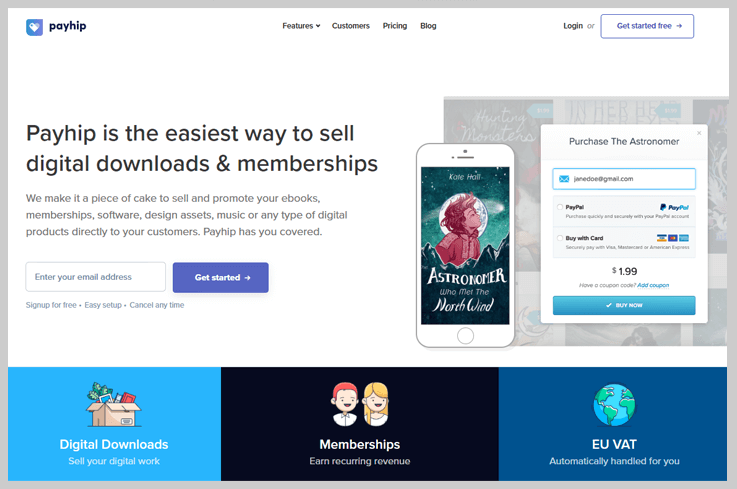 ---
Features
Coupons – Offer coupons with the flexibility of adding expiration dates, bar codes and run promotional campaigns
Checkout – Build a very responsive checkout with a seamless experience for customers accessing any device like mobile, laptop or tablet.
Digital Market – Furthermore, conjure digital market anywhere from your website to blogs and even social media.
Instant Downloads – The costumers can instantly download the files in any format after purchase and the best part is the download page is also emailed to them.
Conversion Rates – Also, get very high conversion rates as the customers can complete a purchase in seconds. Moreover, your customers can do the transaction through PayPal and from all major cards.
Pricing
There are three pricing plans.
Free Forever – At 0$ you have access to all their features including unlimited products and revenue but the transaction cost is very high at 5%.
Plus – With $29/ month you can have unlimited product billing but with a reduced 2% transaction fees.
Pro – Well everything remains the same except the pricing is on the higher side at $99/month but off course there are no transaction fees.
---
5. MoonClerk – A Saas From Heaven
Start your recurring billing with MoonClerk in just 5 minutes, it is that easy. Stripe loans their software for payments and email delivery is done by Mailchimp. The best part is your clients will download the invoice in a format that resonates with your branding.
---
---
Features
Mail Chimp Integration – Fully integrates and auto-syncs data with Mail Chimp, which acts as delivery agent to send emails to your clients at your discretion.
Fast Conversion Rates – Since the payment is carried out in the same page without any unneccesary redirection, the payment process is faster.
Security – They provide high bank-level security with SSL encryption, secure hosting, and even 1st level PCI compliance to protect your client's data.
Customization – Furthermore, you can tailor the full lifecycle of the checkout process by inserting resonating colors, fonts, and even background images. While you are at it, you can add your own logo.
Device – Access it on from every device like mobile phones, tablets, and desktops.
Pricing
There are 10 plans currently listed from $15 to $500 charged per month. With a paltry $15, you can do recurring billing to a limit of $2,000 and their massive volume plan at $500 one can do work on revenues up-to $150,000.  However, every transaction deducts 0.8% because Stripe their payment gateway deducts it.
---
Conclusion –
Well, these are the 5 cheap recurring billing software. These were selected on the basis of pricing and features which I found quite noteworthy. But don't take my words for granted, there is a demo account or a free trial available with each of this software. So do try them out individually, before buying.
Also, if you find any attributes that I have accidentally missed while going through these software do comment below. I will surely take a note of it.
You May Also Like To Read –