Are you searching for Braintree alternatives?
There can be many possible reasons. Maybe you are not happy with the fee it is charging for receiving money. I too agree that the money is comparatively higher if we compare it with the other payment transfer services. All in all, it does not stand up to your commercial expectations and you need a better one then Braintree.
---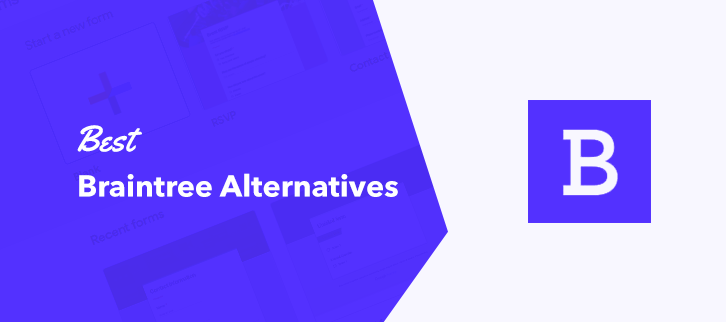 ---
There are many subscription and billing services providing alternatives to Braintree in their payment methods.
These services not only provide excellent security against scammers but also provide other advanced facilities beyond that. Such as the affiliate module and the marketing opportunities.
Quick Comparison Between Best Braintree Alternatives
Service
Pricing
Affiliate Module
Transaction Fee
Revenue
Pabbly Subscription Billing
$19/m
✔
No
Unlimited
FreshBooks
$6/m
✖
Yes
Limited
Sellfy
$29/m
✖
No
$10K
Payhip
$29/m
✔
Yes
Not Specified
Bold Subscription Pro
Custom
✖
Yes
Not Specified
Here, in this article, we've discussed the best Braintree alternatives in subscription billing services. Let's have a brief about them.
---
"Pabbly Subscription Billing is the only service that does not restrict you on using any feature even in the lowest plan."
This service could be a universal solution for your payments as it is providing an affiliate module along with subscription and billing. This is the best recurring billing & subscription management software that can help you in your big or small business needs related to payments.
Most importantly, you can collect one time as well as recurring payments using multiple gateways. It provides PayPal and Stripe gateways, also you can connect to any other gateway via API provided.
---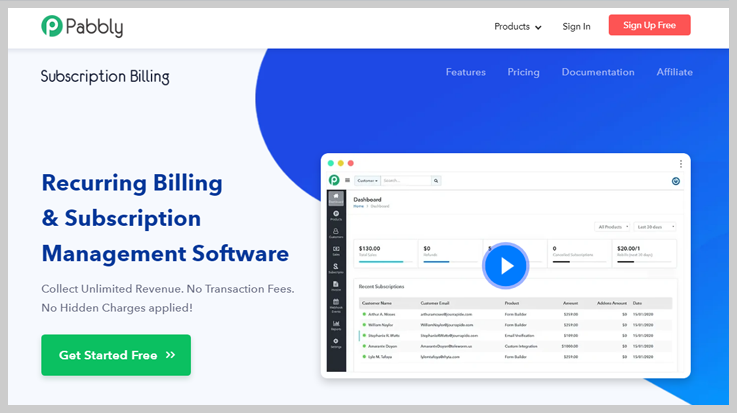 ---
Features
Affiliate Module – This feature is much like a cherry on the top of this advanced subscription service. As it enables you to manage all your affiliates side by side.
Tax Management – Pabbly Subscription Billing provides excellent tax management. You can easily add separate tax rules on the basis of your business type, country, state/province etc.
No Per-transaction Fee – As per now, you are well aware about the per-transaction fee that almost every other payment service is demanding. But, Pabbly Subscription Billing is not charging any that's another big advantage of using it.
Unlimited Revenue Generation – There is no limit over the amount of revenue generated by your campaigns/company.
Unlimited Customers + Plans + Products – Pabbly Subscription Billing is offering almost every advanced feature unlimited. There is no limit over the number of customers that you add. No limit on plans you create as well as the products that you sell.
Basic to Advanced – From making coupons up to the refund everything is very smooth,
Pricing
Pabbly Subscription Billing offers four pricing plans with all features and a limit over the number of customers. Moreover, it offers annual plans on some discount as well.
Starter – This is the very first plan and allows up to 50 customers. It costs $19 per month.
Rookie – The rookie plan offers pricing of $37 per month for 100 customers.
Pro – You can use this plan for 150 customers and the price will be $57 every month.
Advanced – In this plan, there is a particular range set for customers as well as pricing. It will cost $79 every month for 250 customers and can cost up to $3K for 50K customers.
---
2. FreshBooks – All In One Accounting Solution
FreshBooks is an all-in-one solution for small business invoicing & accounting. It provides many features for invoicing, projects, expenses, estimates, time tracking, payments, accounting, reports and mobile.
---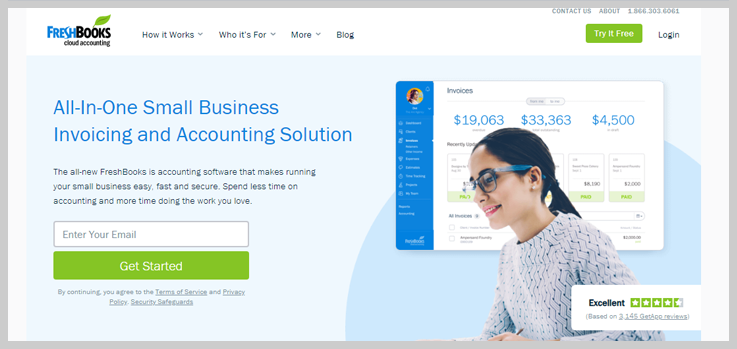 ---
Features
Invoicing – FreshBooks allows you to customize invoices for all one-time and recurring payments. Also, it allows you to set reminders, apply discounts and use multi-currency billing.
Expense – This feature let you manage the expense receipts with tax-friendly categories. Moreover, it supports multi-currency to track all your business expense.
Estimates & Proposals – It also provides an excellent mechanism for estimates and proposals. This way it will help you in changing your estimates into invoices.
Time Tracking – FreshBooks allows you to track daily breakdown, bills as well as your team.
Pricing
Fresh Books offers 3 pricing plans based on the features it unlocks with every pricing plan. Furthermore, it also allows you to choose a custom plant by contacting its sales team.
Lite – The lite plan costs $6 every month for 5 billable clients. It offers all the basic features along with the functionality to use for a team. Moreover, it costs $10/person.
Plus – With 6+ additional features and all the Lite plan features this plan costs $10/month. Above all, you can use it for 50 billable clients.
Premium – This plan prizes $20 for 500 billable clients.
---
3. Sellfy – Simplest Amoung Braintree Alternatives
For a hassle-free product sale, you can also use Sellfy. It is a powerful eCommerce platform for selling and managing product subscription. Most importantly, it has in-built marketing tools to increase your sales.
---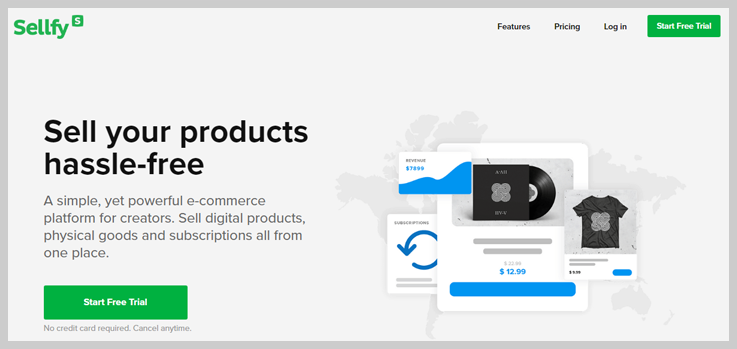 ---
Features
Payment Options – Sellfy allows you to choose from two payment gateways to accept payments. They are PayPal and Stripe.
Embed Anywhere – You can embed the 'Buy Now' button almost everywhere. You can embed it in your website or you can also make use of various social platforms like YouTube and Facebook. Moreover, you can use it for single products as well as whole stores.
Analytics – You can check stats of your best-performing products in proper graph and charts.
Integrations – Apart from many advanced built-in integrations, it allows many more integrations. Such as Zapier, Vimeo, Facebook live chat etc.
Pricing
Sellfy has three pricing plan based on the sales amount generated using the platform every year.
Starter – In this plan, all the basic features such as unlimited products, store customization, discount codes, and custom domain are included. The cost of this plan is $29/month. Above all, you can accept up to $10K in sales every year
Business – Business plan costs $59/month for addition 10K email credits and product upselling. Moreover, you can receive up to 50K sales every year.
Premium – The premium plan prices around $129 per month for priority support as well as free migration. Further, the generated sales amount increases up to $200K yearly.
---
4. Payhip – Best Digital File Selling Platform
Payhip is an extremely advanced platform to sell digital files. To grow any business it follows an "If you can save it, then you can sell it" approach. It is excellently prepared and optimized to increase sales.
---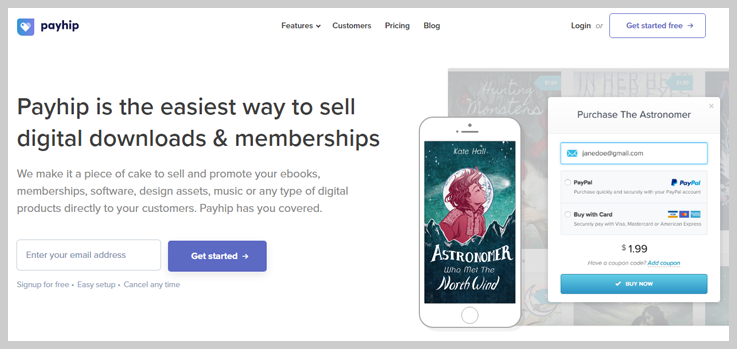 ---
Features
Beautiful & Responsive Checkout – Payhip renders very beautiful and responsive checkout pages that will look good of all the changing screen sizes.
Instant Download – Your customers can instantly download the file after purchasing. The file is sent automatically to the customer's email address.
Automatic Workflow – You'll only need to upload any file of your choice (ebooks, software, video etc) and the system will take care of the rest. From payment and download email to thank you page and payment done.
Social Discounts – Using this feature, you can offer discounts to customers who tweet and like your posts.
Pricing
Payhip is amongst those Braintree alternatives that doesn't restrict you on using all the features. This service is offering three straight forward pricing.
Free Forever – As clear from the name this plan is absolutely free. You can use all the features can sell unlimited products and can generate unlimited revenue. Additionally, in this plan, there is a 5% transaction fee over the payments.
Plus – This plan prices around $29 per month and 2% transaction fee.
Pro – The pro plan costs $99/month with no transaction fee.
---
Bold Subscription Pro is a very easy to use service. You can create as well as configure any subscription using its API driven customization options. Moreover, it also supports custom recurring revenue offerings.
---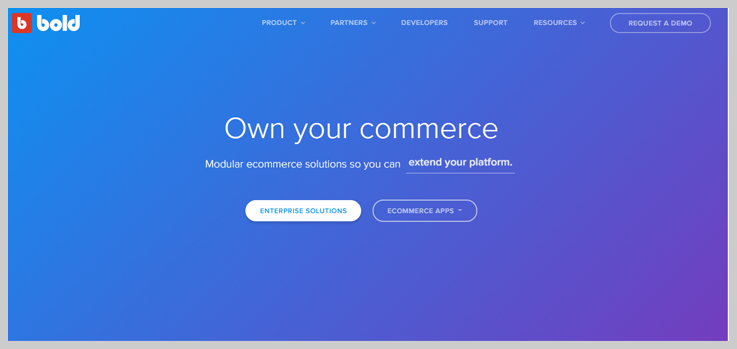 ---
Features
APIs & Webhooks – Using this advanced feature, you can easily create custom workflows. And the API will help you to support your subscription business.
White-labelled Widgets and Checkout Theme – This feature of the service will allow you to fully customize the design & styling of your subscription and checkout.
Grow International Sales – You can accept sales from over 150 currencies & can also integrate it with language translators.
Integration – This service allows you to integrate team management. You can choose to manage the service with the help of your team.
Pricing
Bold Subscription pro offers custom pricing along with some transaction cost. You must contact this service for the price details.
---
In Conclusion:
This was our catch on the best free and paid Braintree alternatives available online for subscription and billing. After a comparison between these services, you can select an affordable option for your large or small business.
You May Also Read: