Wondering about Stripe payment analytics software? Then, definitely here we have something which will catch your attention.
Most of the Saas based business relies on a recurring payment because it keeps cash in-flow. When the payment stops, it will definitely affect the company revenue. Further, it is also crucial to keep the updated status of customers billing activities and dues.
That's the reason why organizations prefer payment analytics tools to keep track of the subscription billing, cancel payment, refund and much more using the single software. The payment gateways provided by most of the subscriptions management tool is Paypal and Stripe as it is widely preferred.
---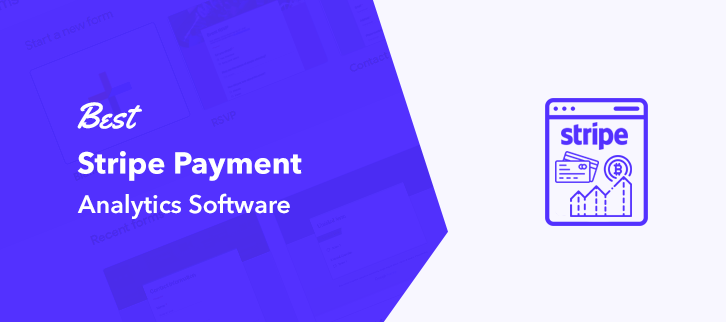 ---
So, if you're one who uses Stripe for collecting payments then you must know how important is to keep track of all the billing and dues.
And honestly saying, you will find plenty of free and cheap recurring billing software online but picking best requires an analysis that we had already done for you.
Here, in this article, we are going to share budget-friendly Stripe payment analytics software.
Quick Comparison Between Best Stripe Payment Analytics Software
Service
Basic Plan
Multilingual Checkout Page
Transaction Fee
(In %)
Revenue
Pabbly Subscription Billing
$19/m
✔
0
Unlimited
Putler
$29/m
✖
NA
✖
PayWhirl
$49/m
✖
2
✖
Baremeterics
$50/m
✖
NA
✖
ChartMogul
$100/m
✖
NA
✖
Let's see in detail the features and pricing of all the mentioned software.
"The only subscription billing software that doesn't restrict on any features by allowing users to collect unlimited revenue, customers, plans, products and much more."
Pabbly Subscription Billing is one of the cheapest and budget-friendly payment analytics software in the market. It allows you to keep track of each and every payment made through Stripe, PayPal, RazorPay and more. Not just this, the billing tool provided a detailed report of the failed, canceled and due transaction which helps in sending follow up reminders to customers.
Additionally, the software is easy to use, one can handle it without any hustle which makes it distinct from others. It is trusted by 1000+ customers all across the globe.
The thing which makes the software a real gem is it offers all the features like tax handling, dunning management, etc in a starter plan too which most of the subscription billing software restricts.
---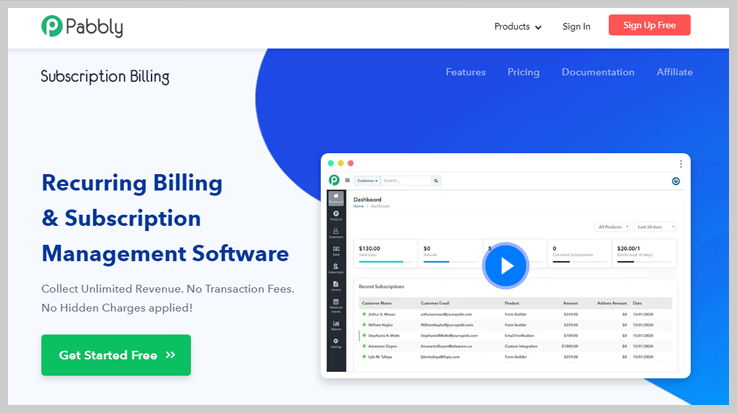 ---
Features
Stripe Gateway Integration – It allows you to collect unlimited payments using the Stripe payment gateway.
PayPal Gateway Integration – Not just Stripe, one can integrate PayPal gateway too.
Other Payment Gateways – The software offers other payment gateways like Razorpay, Authorize.Net, etc.
Sales And Analytic – This feature provides deep insights into the sales made by your business.
Offline Subscription Cycle – The tool comes up with an offline subscription cycle for those who can't keep up with the automatic payment cycle.
Client Portal – With the help of this feature, one can manage multiple subscriptions of clients easily.
Embed & Autofill Checkout – Using it, one can embed a checkout page on the website which helps in customer buying the product plus it also allows to autofill the details of an old customer using simple code.
Tax Management – With the help of it, one can manage tax of customers based on countries, province, region, etc.
Plan Upgrade/Downgrade – As the name suggested it allows users to upgrade or downgrade the plan using the software.
Email Notification – Further, it sends an email notification to customers about their failed transaction, dues and much more.
Credit Notes – When someone upgrades/downgrade the plan, it generates some sort of credit that they can use later.
Subscription Cancellation – Without any trouble users can cancel their subscription plan instantly or at a time of payment.
Pricing
Starter – The starter plan offers 50 customers at the price of $19/m.
Rookie – Next, the rookie plan offers 100 customers for $37/m.
Pro – Further, in a pro plan, one can access 150 customers for $57/m.
Advanced –  The advanced plan offers 250 customers for $79/m.
Enterprise – Finally, to avail the enterprise plan, one needs to reach out to the sales team of the company.
2. Putler – Analytics Tool
The next in our list is Putler which offers sensible analytics to track and enhance your business growth. It is one of the solid analytics tool which provides a comprehensive report of sales, visitors, purchase made and much more using the software.
---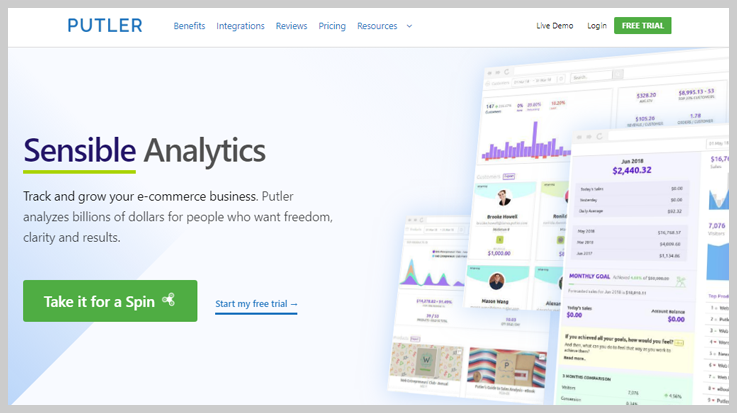 ---
Features
Dashboard – It comes up with easy to use dashboard which keeps all the details of a customer in a single frame.
Performance Metrics – As the name depicted, it keeps an eye on the performance of a business and shared a detailed report.
Trend & Problem Indicators – It helps in knowing what's in trend and what kind of issue a customer is facing.
Profitability Analysis – Further, this feature helps to know what brings more revenue to your business.
Strategic Planning – It offers a detailed strategy to boost the business.
Pricing
Starter – The starter plan costs $29/m for 300 orders.
Growth – Next, the growth plan costs $79/m for 3000 orders.
Scale – Finally, the scale plan will cost $249/m for 10,000 orders.
3. PayWhirl – Subscription Payment Software
Further, we have PayWhirl that is the most flexible subscription payment software on earth. The tool is very simple to set up and users can do it on their own without any help. One can handle sell-subscriptions, pre-orders, payment plans and much more using the tool.
---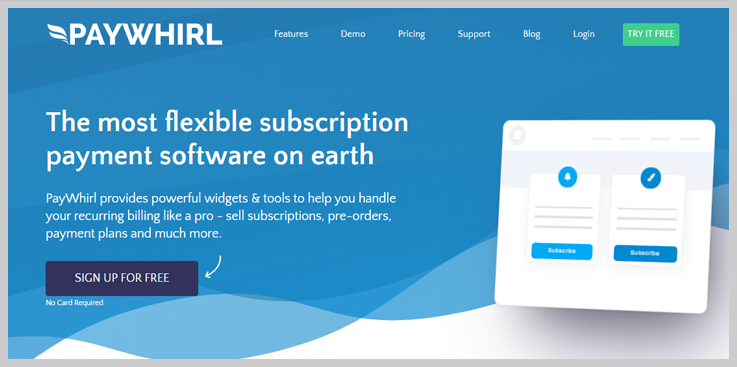 ---
Features
Recurring Billing & Subscriptions – It allows you to manage all your recurring and subscriptions plan using the single software.
One-Time Payments – Using it, customers can check out both the one-time payment and subscription plan at a same time.
Embedded Payments Widgets & Checkout – This feature allows to embed the checkout page on the website without any developer help.
Customizable Emails & Invoices – As you can imagine it lets you design invoices and emails according to the need of your business.
Gain New Customer Insights – Further, it provides an analysis of customer churn which helps in not losing customers.
Predictive Growth & Forecasting – This feature pushes in the right direction by providing growth rate, revenue rate, and churn rate.
Pricing
Starter – The starter will cost $0/m which is basically a free trial with restrictions on features.
Business Pro – Next, the business pro plan will cost $49/m for 3 account managers.
The Business Plus – Further, the business plus will cost $149/m for 10 account managers.
Business Ultimate – Finally, the business ultimate will cost $249/m for infinite account managers.
Succeding in our list we have Baremeterics which claims to grow your startup right. The software is packed with dunning, metering and engagement tools to take up the business to other heights. Moreover, it has a payment analytics feature that provides deep insights about the every purchase made by the customer.
---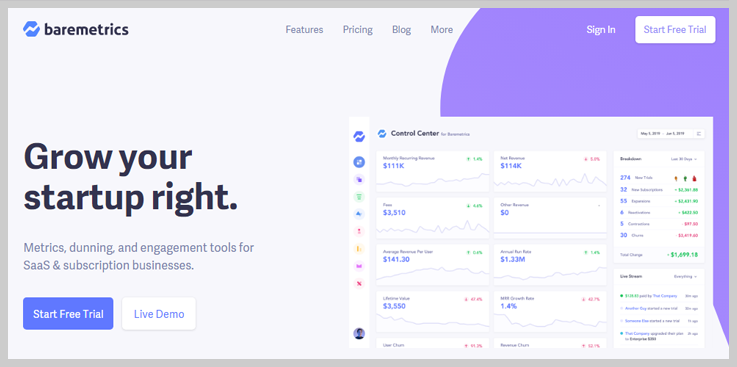 ---
Features
Smart Dashboard – The software has a smart dashboard that provides statistics of recurring revenue which is essential for comparison.
Control Center – This feature allows users to take control of the business and help it to grow by analyzing every little detail.
Email Reports – It sends a detailed report of monthly, weekly and daily revenue.
Forecasting – As the name suggested, it helps to see through the future which helps in deciding the plan best for your business.
Cancellation Insights – The tool that provides insights into the canceled plan. So that you can take necessary action to avoid it.
Recover – Further, it observes every failed transaction which results in losing customers but with the help of recover feature, one can put dunning on autopilot.
Pricing
For a business with MRR $0 – $5000/m, it will cost $50/m.
Next, the business whose monthly revenue is $15,000/m, it will cost $75/m.
Further, for business with revenue of $250,000/m, it costs $300/m.
Finally, for the business with higher needs, it has a custom plan.
5. ChartMogul – Recurring Data Platform
Lastly, we wrapped our search on ChartMogul that claimed to be the world's first subscription data platform. It helps in understanding the dynamics of your business. So that one can put all its energy in the right direction.
---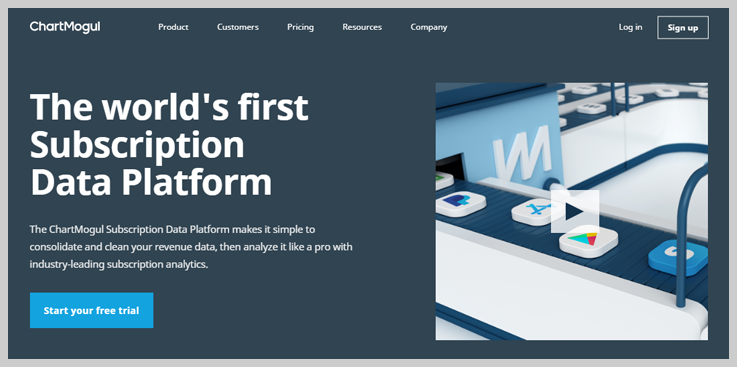 ---
Features
Data Analysis – This feature helps in analyzing the data of customers so that one can access it and takes the necessary steps to improve the revenue.
Improve Subscriber Retention – Using Cohort analysis, one can know how their subscription plans evolve over time and further strengthen the relationship with customers.
Performance Metrics –  It allows to keep an eye on billing activities, canceled plans and much more.
Subscription Histories – Further, it provides the subscription history of clients or old customers.
Customer Profiles – It helps in creating the customer profile for all their recurring billing through which you can manage all their invoices easily.
Pricing
Launch – It will cost $0/m with a limitation on features.
Scale – The scale plan will cost $100/m with an unlimited user account.
Volume – Finally, the volume plan will cost $2000/m for unlimited users. It is the best suit for businesses with higher needs.
Conclusion –
There you have it! We have mentioned all the best available Stripe payment analytics software in the market. With the help of this tool, one can definitely skyrocket the business performance as there would be no barriers regarding payment. This software provides deep insights into customer billing activities like due dates, decline payment and so on. Moreover, it also allows multiple payments and one can keep track of all the collected payments.
So, don't waste any more time, pick the suitable software and start using it.
You May Also Like To Read –