Want to know the best payment tracking software? Well, you reached the right place.
Let's say everything was going great in your billing cycle, payments were on time and your products were flying off the shelf. But slowly, you started noticing that there has been a consistent drop in revenues. To fix this decline you began looking for the source of leakage but can't figure it out. This is because you can't properly track or record the payment information from its origins.
---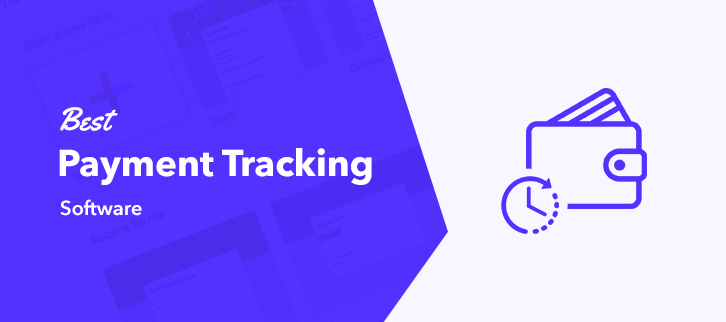 ---
However, you don't have to worry as this is 2020 the digital market is swamped with both free and cheap payment tracking software. But before we begin you should know there are certain features any payment tracking software must-have.
Interactive Dashboard
Multiple Filters For Segmentation
Dunning Management
Tracking Indicators
So, what is their purpose? Well, these features will help you to track and then plug those holes to stop revenue bleeding. So, these are the five worthy software which have incredible payment tracking attributes in a reasonable pricing range.
     Quick Comparison Between The Best Payment Tracking Software
Service
Basic Plan
Payment Tracking 
Dunning Management 
Revenue Limit
Pabbly Subscription Billing
$19/m
✔
✔
Unlimited
Putler
$29/m
✔
NA
300
Paywhirl
$49/m
✔
✖
Unlimited
Baremetrics
Get Quote
✔
✖
NA
Inetco
Get Quote
✔
NA
Tailor- Made
"The only software available in the market that doesn't restrict users on any features by offering unlimited revenues, integrations, products and much more even in a basic plan."
Pabbly Subscription Billing tops the leaderboard as it comes with an incredible payment tracking system that filters complex data, then segments it and conveys in a format that even a child can understand. Moreover, you can generate unlimited revenues at zero transaction costs at very affordable pricing.
Furthermore, you can auto-enable for customers a dedicated portal to upgrade/downgrade subscriptions, track their account details, available credit, and even outstanding invoices.
---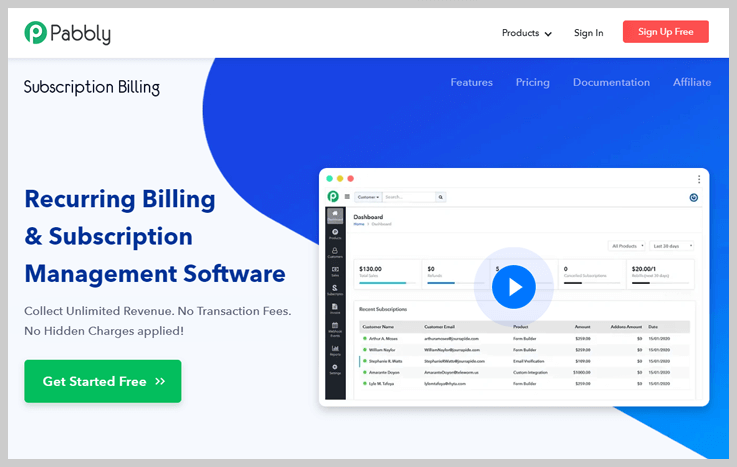 ---
Features
Dashboard – Have a glimpse at total sales, a new subscription, refunds, canceled subscriptions and rebills in a single panel per customer. Moreover, on a segment below, key consumer attributes like live status, email, name, and product type are displayed.
Reports – Furthermore, this segment can filter data like subscriptions, net revenue, affiliate commissions, MRR, active customer and more on the basis on days, weeks and months. Also, clicking on any of these sections, you will be provided with data in the form of graphical representation which helps you to track and compare.
Email Notification – Pabbly Subscription Billing sends notifications through emails to both merchants and customers on events like successful payment, failure of payments and expiration of the subscription. Furthermore, as a merchant, this can be very useful in tracking the payment flows and keeping your customer in the loop.
Client Portal – As mentioned earlier the customers can track several attributes related to transaction, download invoices and even alter card details. Moreover, they can also edit their profile and cancel their subscriptions.
Dunning Management – This feature sends reminders to your customers, through emails about the imminent closure of their subscription because of lack of payment. So, as a merchant, this help you to keep a watchful eye on customer behaviour.
Tax Management – Also, the invoices are compatible with the tax laws of the country.
Third-Party Integration – The Webhook & API allows you to integrate with Xero, Netsuite, Quickbooks, and many more platforms.
Custom Branding – Furthermore, in Pabbly Subscription Billing, built your custom domain, insert logo and even change the background image of the client interface.
Affiliate Module – Start your own referral program by giving some commission, your friends can sign in to become your affiliates to promote your products. Also, these affiliate modules comes integrated with Pabbly Subscription Billing.
Pricing
Based on the number of customers there are five pricing plans
Starter – At just $19 per month service up to 50 customers and do unlimited revenue billing. Every above-mentioned feature is available with this plan.
Rookie – Priced at paltry $37/month and you can bill 100 customers.
Pro – Bills 150 customers at $57 per month.
Advanced – Serves up to 250 customers at just $79/month and scaling up the number of customers so that pricing will rise automatically.
Enterprise – Called as the super account for customers beyond 50k, you need to get in touch with their sales team to fully explore this functionality.
---
2. Putler – Payment Tracking Made Easy
Putler markets itself as a self-functioning employee as under it you can make data driven confident decisions without any guesswork. Moreover, it gives access to 150+ key indicators to segment and track your payment data. Their business intelligence will help you to analyze macro trends and micro details.
---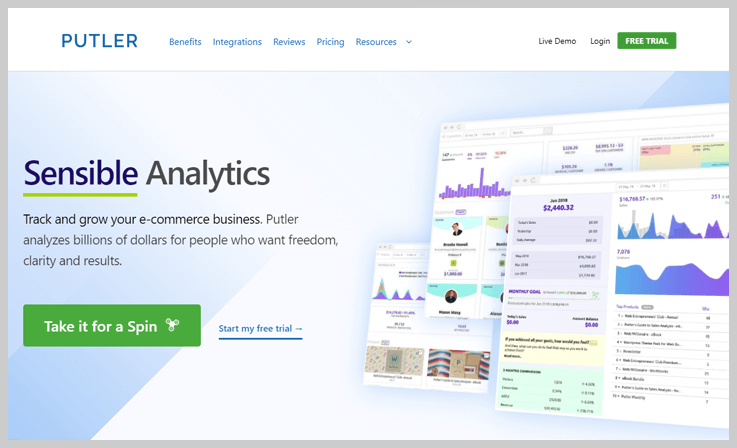 ---
Features
Marketing – In Putler's own domain you can view stats from Google Analytics, export mailing lists from Putler to Mail Chimp and run target campaigns on Facebook.
Dashboard – Moreover, the dashboard is the central unit for your activities like monitoring transactions, managing subscription. And issuing refunds.
Payment Integrations – Also, you can consolidate multiple payment gateways, stores and even do automatic de-duplication.
Subscription Management – Manage all types of subscription models with ease. And while you are at it, export data to CSV, engage in timezone conversion and currency enrichment.
Pricing
Comes in three pricing plans
Scale – At $29/month get 300 orders
Growth – Manage 3,000 orders with 5 years of historical data at just $70/month. Once can issue refunds and RFM segmentation.
Scale – Have analytics on 7 years of historical data at $249/month. Plus you will be provided with a dedicated manager.
---
3. PayWhirl – Billing With An Edge
Provides the most flexible subscription payment solutions along with state of the art tracking features to ensure a seamless flow of revenues between the merchant and customer. Also, one can create and then chain their widgets together to create a custom checkout tunnel that sends alerts everytime there is an upswell/down swell in revenue motion.
---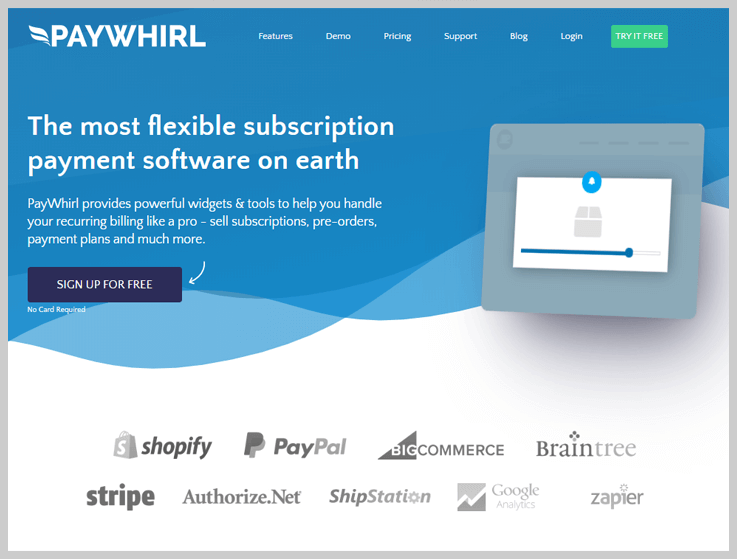 ---
Features
Tracking Revenues – Furthermore, one can track your MRR, sales metrics, and annual run rate easily in your dashboard in the form of graphs, pie chart and more. Also, gain new customer insight on their life- time value, monitor revenue coming from a location and customer churn.
Security – Every transaction in Paywhirl works in SSL certificates. Also, you can expect PCI-complaint security with TLS crypto-protocols. Besides, they don't save your information only encrypt it and the payment gateways decrypt it.
Customizable Email – Moreover, it comes with beautiful templates and HTML editor to create stunning emails for effective communication with customers
Forecasting –  Also, there is an inbuild growth calculator that will predict your future growth, churn rate and trends in revenue.
Pricing
They have three pricing plans.
Business Pro – Comes at $49/month and one can enjoy reports on MRR, subscription, and churn. However, it deducts 2% as transaction fees.
Business Plus – At $149 this is their prime plan with 10 account managers, priority support, white-label and more deduction per transaction is just 1%.
Business Ultimate – Moreover, process $10k per month in just $249/month. The transaction fees are reduced to 0.5%.
---
4. Baremetrics – Payment Tracking Laid Bare
They have come a long way as this is their 3rd software iteration. Baremetrics reduces unnecessary data noises and produces insights for you to make worthwhile decisions. Moreover, they have aced integrations with multiple software like Stripe Braintree, Recurly, Google Pay and App Store Connect.
---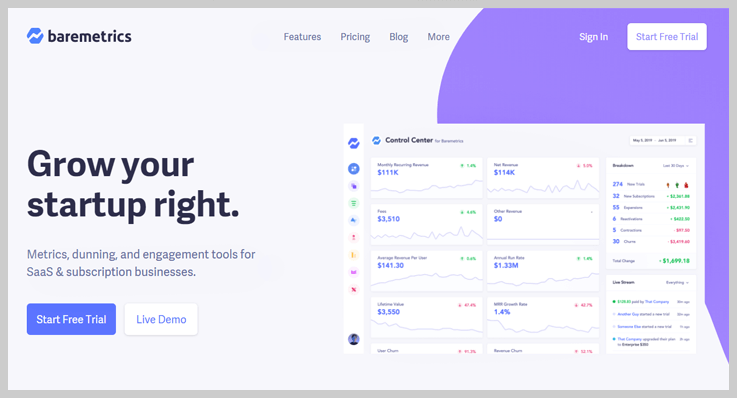 ---
Features
Forecasting – It is like a magic crystal ball where you can predict future events on the basis of the pattern shown by past data.
People Insight – Moreover it,  provides rich segmentation, resonating consumer feedbacks to improve your conversion rates.
Control Hub – Also, one can ee several benchmarks like recurring revenue to consumer churn and get an idea how do you stack up against the rest of your competitors.
Analytics API – Extend and insert Baremetrics to other platforms by just adding a couple of APIs.
Slack Tools – Furthermore, merge metrics with your data and send important updates to your group's slack channels.
Pricing
There is a slider that gives the value of money axiomatically in proportion with the monthly revenue rate. Also, they insist you take their 14 days free trial period to explore their applications.
---
5. Inteco – Payment Tracking With An Edge
One can gauge INETCO's dedication from their motto " Every transaction tells a story". Quite a leader in payment monitoring and multi-channel payment processing. Also, as a fintech, they are constantly evolving towards bundled mobile apps, integrated payment models and even POS for banks.
---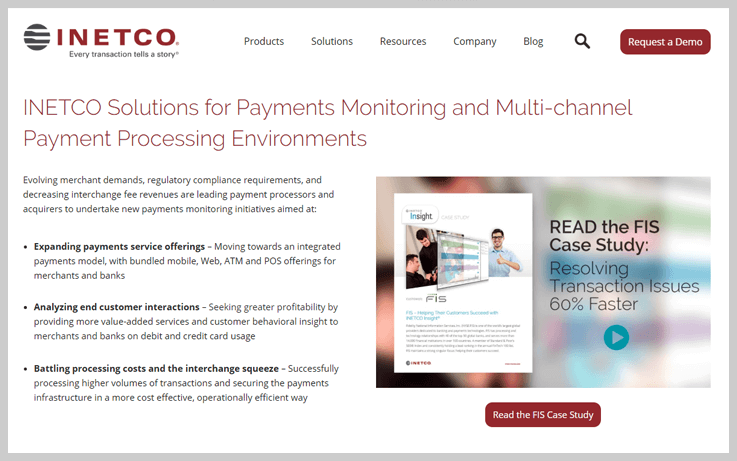 ---
Features
Monitoring – With Inteco real-time transaction monitoring, you can reduce the blind spots in data streaming, payment rails, and switches.
Management – Moreover, the workings of front end payment devices, to rear-end banking connections can be centrally managed with ease.
Revenue Stream – Offer more value-added service by monitoring the entire life cycle of a customer's billing to increase the face line resolution rates. Also, reduce the transaction time outs.
Analysis – Furthermore, you can even isolate certain customers through refined analysis. And even do background finance history checks.
Pricing
To get their pricing, one needs to contact their sales representative via email.
---
Conclusion
Well, these are the 5 cheap recurring billing software. The rationale behind listing this software was its incredible features and affordable pricing. Moreover, do remember that there is a demo account or free trial available with all this service. Do try them out individually before taking out your credit card.
Also, if you find any attributes that I have accidentally missed while going through these software do comment below. I will surely take a note of it.
You May Also Like To Read –