Constant Contact is a well-known software for the email marketing method and aimed at small businesses or nonprofit organizations. This is the all-in-one marketing platform that comes with handy features like email deliverability, lead capture, email customizations and more.
Hence, we can say that definitely Constant Contact is the best business tool but also can't deny that it includes several drawbacks such as expensive pricing, insufficient capabilities, limited automation tools, outdated email templates designs, etc.
Fortunately, there are a plethora of alternatives available out there for it that can help you to get rid of all the above-mentioned limitations and provides reliable email marketing solutions.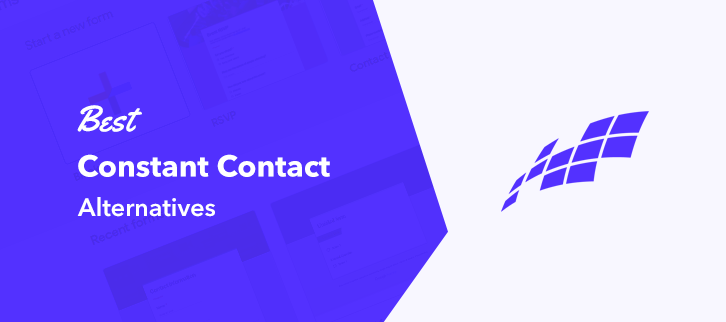 In this article, we are comparing the 5 best alternatives to Constant Contact that comes with free as well as cheap pricing plans. So, pick the best one as per your needs among all the options available.
---
Quick Comparison between Best Constant Contact Alternatives
Service
Basic Plan
 Multiple SMTPs
Feature Access
Emails
Pabbly Email Marketing
$29/m
✔
Unlimited
Unlimited
Sendinblue
$25/m
✖
Limited
40,000
SendPulse
$5.2/m
✖
Limited
Unlimited
Mailjet
$9.65/m
✖
Limited
30,000
ActiveCampaign

$15

/m
✖
Limited
Unlimited
"Pabbly Email Marketing software never restricts you on useful features like SMTP routing, automated emails, marketing automation and much more"
This is one of the greatest alternatives for Constant Contact that lets you send bulk emails at a very affordable price.
The differentiating factor of this alternative from others is that it allows both the options to either use it's in-built delivery engine or add your own SMTP‌ server. Thus, with this tool, you can add an unlimited number of SMTP servers and always be able to continue your email sending process, it will never hinder you on that.
Moreover, this is the only software that provides access to its unlimited features like Google Analytics integration, auto follow-ups, email tracking, etc. in its all plans whether you purchase a small plan or the big one.
This is not it, with the marketing automation feature, you can also create a fully automated workflow by scheduling the delivery time of emails. Therefore, the emails will automatically be sent to your subscribers at a particular time without any restraint.
---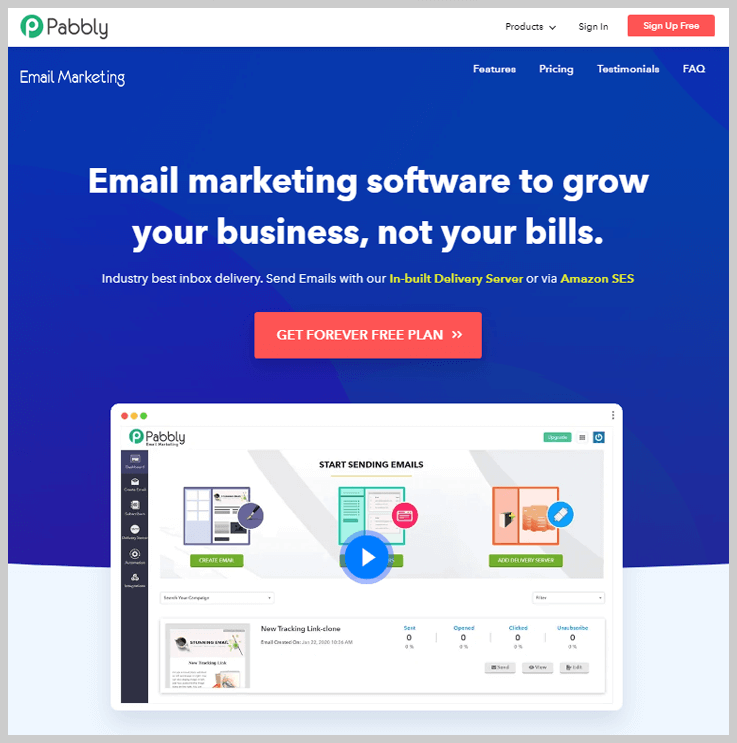 ---
Features
Highest Email Delivery – It renders you 99% of email deliverability and assures that your emails will always be delivered in customers' inboxes without any bounce.
Send Autoresponders – This feature lets you send personalized welcome emails to newly joined customers in automation.
Supports All Kind of SMTP's – It is the uppermost feature of this software since it supports all kinds of servers for email delivery. Hence, you can attach multiple external servers like Amazon SES, MailGun, SendGrid, and more according to your needs.
2X Open Rate – Pabbly Email Marketing service transfers automatic follow-up emails to non-opens. Consequently, you can make sure that none of your emails will be dropped by customers.
Easy Email Creation & Customization – This email marketing software offers thousands of predefined beautiful email templates to easily design your emails. Also, with a simple drag and drop editor, you can customize various attributes like important fields, heading, font size, color, images and much more.
Lead Capture – By displaying simple subscription forms on a website you can grab more attention from visitors. Thus, you can capture more leads and convert them into potential customers.
MX Cleaner – MX Cleaner tool always helps you to keep a clean and sophisticated email contact list by removing all invalid, fake and bad contacts.
Analytics Report – This feature assists you to keep an eye on all campaigns' performances. You can get details on different attributes like open rates, CTR, bounces, spams, etc. and analyze more improvements in emails for future.
24×7 Support – With Pabbly Email Marketing service, you will always get round-the-clock customer support whenever you need. They will supervise you with your queries in a very fast way.
Pricing
This service provides a forever free plan through which you can send 12,000 emails to approx 1,100 customers per month. Moreover, it also has cheap paid plans, you can get all the details here –
Rookie – Send multiple emails to 5,000 subscribers at a price of $29 per month. Also, receive an advantage to access convenient features like MX Cleaner, import emails, subscription forms and more.
Pro – This plan assists you to send emails in a bulk to your customers at a price of $49 per month. You can deliver emails to 15,000 subscribers.
Advance – It will cost $99 per month and lets you send endless emails to 50,000 subscribers. Plus, to transfer emails to more than 50,000 subscribers, you can upgrade this plan and pay according to the subscribers' count.
Enterprise – If you want to send emails to more than 1 million subscribers, then you can contact the support team.
---
2. Sendinblue – Bulk Email Marketing Software
Sendinblue works as another Constant Contact alternatives that help you to develop relationships with customers via sending bulk emails. Also, you can create attractive dedicated landing pages for each of your campaigns and target more new customers.
---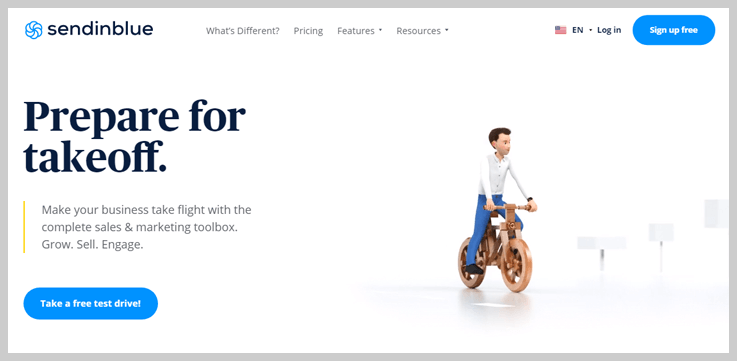 ---
Features
Display Facebook Ads – Sendinblue software helps you to target existing contacts as well as new customers by showing Facebook ads from your account.
Pre-defined CRM – With the CRM, you will be able to manage & track full details of all your customers in one place and build stronger relations with them.
Data Privacy – This software is a complete GDPR compliant and always focuses on data security or privacy. Therefore, you can make sure that your customers' information is fully secured.
Signup Forms – You can turn your website visitors into permanent members via displaying simple sign up forms.
SMS Marketing – This is the most helpful feature of the Sendinblue email marketing tool through which you can send SMS to your customers to directly contact them.
Pricing
Free – To get started with this service, it is the perfect plan which allows you to send 1000 emails per day to unlimited contacts for free of cost.
Lite – You can purchase this plan at a price of $25 and send 40,000 emails per month.
Essential – In this plan, you can get the advantage of numerous features like SMS marketing, advanced statistics, etc. at just a price of $39 per month with 60,000 emails.
Premium – Buy this plan at $66 and send 1,20,000 emails per month. Also, you will get a facility to increase the count of emails from 1,20,000 to 3,50,000 emails at a price of $173.
Enterprise – To Purchase this high volume plan, you need to contact the service provider.
---
3. SendPulse – Most Reliable Alternatives for Constant Contact
SendPulse is a multi-channel marketing automation platform that allows you to combine different platforms like emails, web push notifications, SMS, transaction emails, & chatbots in one place. Thus, you can send multiple messages from any of these platforms either separately or combined.
Further, with the automation 360 feature, you can set up automated or scheduled emails in response to customers' actions. So, the customers will always receive follow up emails regarding your product details, abandoned carts, bookings, upcoming events, and more.
---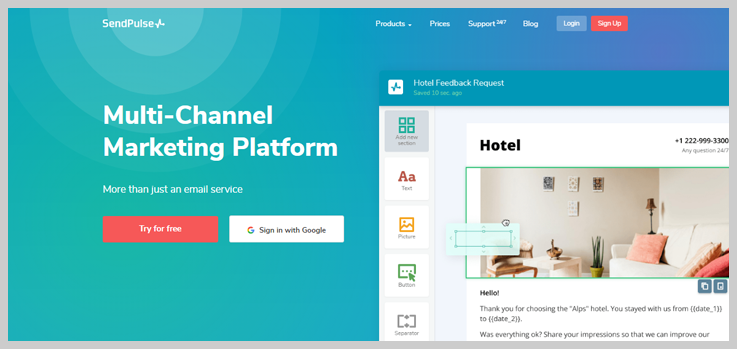 ---
Features
Drag and Drop Editor – You can create responsive and beautiful emails without any coding knowledge with the help of a simple drag and drop tool. Also, this software provides you with 130+ inbuilt templates for email creation.
Display Sign-up Forms – This software enables you to build sign-up forms and display them on website to collect more customers. You can fully customize the forms like adding different fields, images, change color and much more.
Segmentation – With a segmentation feature, you will be able to send your emails in a more personalized way. It means you can send emails based on customers' age, gender, location, interests, etc. and boost more engagement.
A/B Testing Option – This feature assists you to better examine the various versions of your single email campaign. In this way, you can identify the best version of email on which you are receiving best responses from customers & customize all emails according to that.
Analytics – With Google Analytics, you will get the complete details about emails like opens, clicks, bounces, errors and much more.
Pricing
SendPulse is one of the most affordable Constant Contact alternatives that comes with free as well as paid plans.
In a free plan, you can send unlimited emails to 500 subscribers.
The basic plan has a price of $5.2 and allows you to deliver emails to 1 – 500 subscribers.
Additionally, to acquire the VIP plan you need to contact the service provider.
---
4. Mailjet – Versatile Constant Contact Alternative
Mailjet email marketing tool enables you to focus on creating attractive, successful campaigns to engage readers. It comes with an advanced email builder through which you can design responsive emails in just a few clicks. You can add different fields, columns, buttons, images, text and much more.
---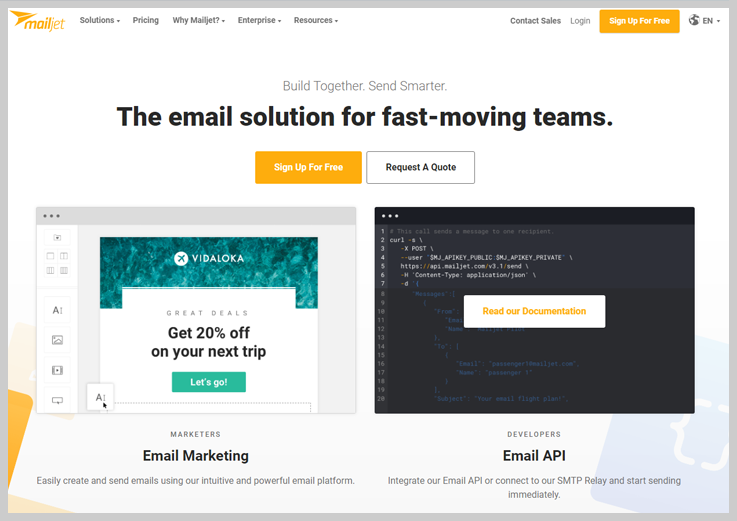 ---
Features
Contact Management – With this service, managing email contacts is very efficient since it allows you to create different segments for your customers' details like name, city, hobbies and more. Thus, you can send personalized emails to customers based on their interests.
Email Tracking – Email tracking lets you know the performance of your emails with details like open rate, bounce rate, unsubscribes and more.
Flexible Email Delivery – Mailjet email marketing software ensures the deliverability of your emails in customers' inbox and reduces bounces.
Email API – This service offers you to integrate its email API to your platform and easily start sending your emails immediately.
SMTP Relay – You can use Mailjet software's inbuilt and free SMTP server to send bulk emails in minimum time.
Pricing
Free – You can send 200 emails per day and 6,000 emails per month for free of cost.
Basic – The basic plan will cost $9.65 per month and let you send 30,000 emails per month.
Premium – This comes with plenty of features like segmentation, A/B testing, etc. at an amount of $20.95 per month. Also, enables you to send 30,000 emails.
Enterprise – For acquiring this high volume plan, you can contact the service provider.
---
5. ActiveCampaign – Email Campaign Software
ActiveCampaign has emerged as one of the best alternatives to Constant Contact that help you to grab more engagement via emails. You can send personalized emails & newsletters based on customers' interests and allow them to feel special.
Further, it comes with a convenient segmentation option by which you can arrange customers based on certain parameters like their location, demographics, choices, etc. & target them more precisely.
---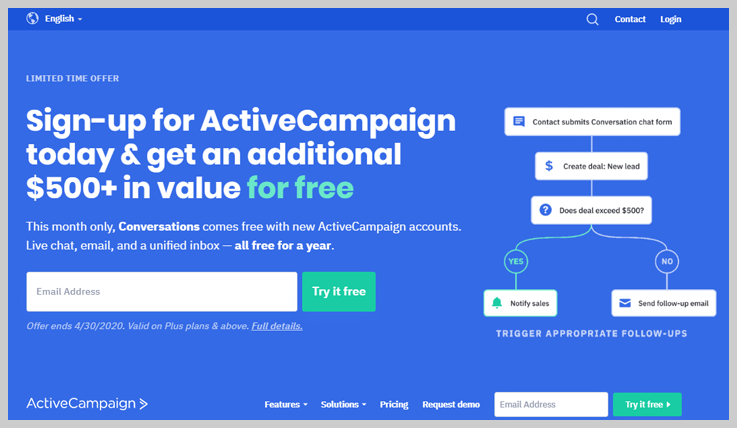 ---
Features
Integrated Forms – This software facilitates you to add custom sign up forms on your website and easily obtain more leads.
In-built CRM – This software comprises an inherent CRM‌ that keeps all your customers' data in an organized form in one place. Consequently, you can easily view the details of a specific customer whenever required.
Easy Migration – The migration option lets you switch to ActiveCampaign software from any of your old email marketing providers. Also, you can import your subscriber lists, email templates, automation, etc.
Automated Emails – It helps you to deliver personalized automated emails to customers. Thus, if any new subscriber registers with you, then automatically a welcome email will be sent to him.
Event Tracking – This feature assists you to examine what actions visitors are taking on your website. Consequently, according to their visits & interests, you can transfer follow up emails to them.
Pricing
Lite – You can send unlimited emails at a price of $15 per month.
Plus – Buy this plan at a cost of $70 per month.
Professional – This is the most popular plan which has a price of $159 per month and also holds features like automation, site messaging and more.
Enterprise – In this plan, you will get the advantage of handy features such as custom mail server, free design services, etc. at just a charge of $279 per month.
---
Conclusion
In this article, we have described the 5 best Constant Contact alternatives along with their unique features, and cheap pricing plans. Hopefully, now you are prepared to make the right decision and decide which will be the most reliable service for your business.
You May Also Like To Read