You can always rely on a contact form to grow email subscription and for using a contact form you'll need to create one. To help you through this hustle, there are many free as well as paid form builder services available in the marketing. These services offer to create, embed, manage and some times further using these emails for marketing.
---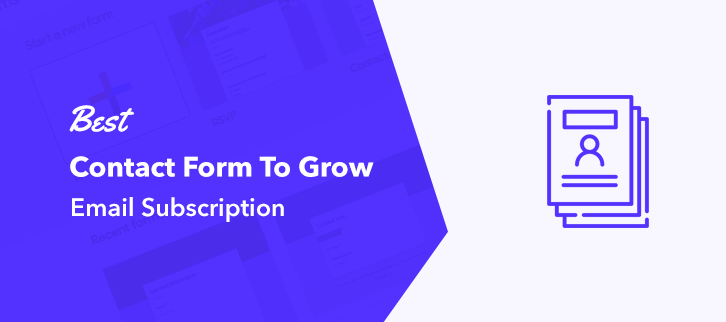 ---
There are a few points to keep in mind when looking for a suitable form builder service. Always keep your business needs in mind, whether it is for small business or a large one. No need to to go with the cheapest if it isn't worthy. Instead, look for an affordable one.
As we are looking for service to increasing subscriptions we may need an email marketing service integration. So here in this article, we've picked out the best contact form services to grow email subscription.
Quick Comparison Between Contact Form To Grow Email Subscription
Service
Pricing
Payment
User
Webhooks
Pabbly Form Builder
$10/m
Limitless
Unlimited
✔
WPForms
$39.50/y
✖
1
✖
Formidable Forms
$99.38/y
✖
1
✔
Ninja Forms
$49.50/m
✖
1
✖
HubSpot
$35/m
✖
1
✖
---
"Pabbly Form Builder is the only form builder service providing unlimited advanced features in the price of a single form."
This is the only service that does not restrict you on using features like payment collections, form submissions, uploads etc. It is providing many advanced features like Webhooks, form stats, email autoresponder & numerous integration along with the user-friendly interface.
---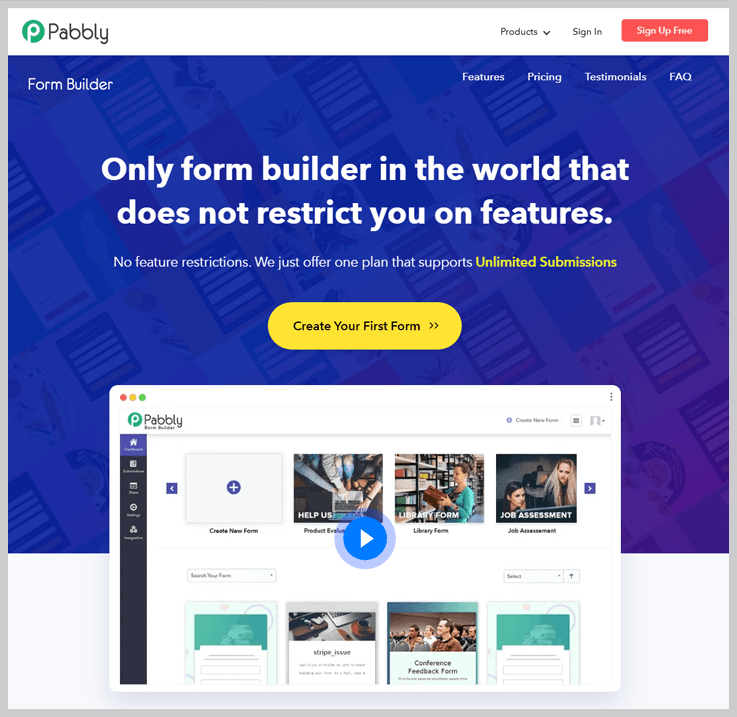 ---
Features
Conditional Logics – You can apply advanced conditional logics with ease to make your forms more engaging and user-oriented.
Unlimited Payments – You can collect unlimited payments as well as add as many accounts you want. Furthermore, it also allows you to connect PayPal & Stripe gateway for payment collection.
Auto-populate Form Fields – This feature of Pabbly Form Builder service allows automatic filling of the form fields.
Multi-Page Forms -You can use this feature and create forms on multiple pages. This particular feature is widely used for very large forms.
Form Embedding Options – Pabbly Form Builder enables embedding form in multiple embedding types such as single-page forms, pop-up forms, sliding forms etc.
Security – Pabbly Form Builder is a GDPR compliant service and has a standard SSL encryption.
Pricing
Pabbly Form Builder allows using all the unlimited & advanced features in just $10 per month.
---
2. WPForms – Top Contact Form To Grow Email Subscription
WPForms is a user-friendly WordPress form builder software. It has many good features for form creation such as templates, file uploads, multi-page forms etc. Also, it supports adding up multiple addons and integrations.
---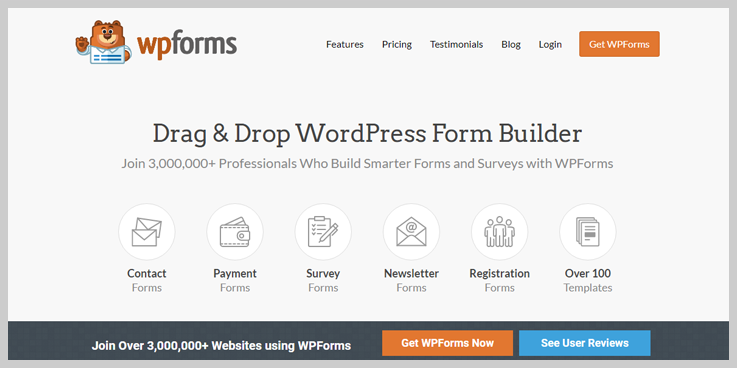 ---
Features
Drag & Drop Form Builder – You can easily create amazing forms using the drag and drop fields available.
Mobile-Friendly – WPForms is 100% responsive and your forms will look good on all the devices such as mobiles, desktop, tablets etc.
Entry Management – To streamline your workflow, this service places all your leads at a single destination.
Spam Protection – This particular form builder service has smart security mechanism to protect against spam.
Pricing
WPForms service offers four pricing plans based on the features it unlocks on every level.
Elite – This plan costs $299.50/year. It includes all the properties up to the pro plan. In addition to this, it supports unlimited sites, WordPress multisite and many more integrations.
Pro – The pro plan has all the features up to the plus plan. Moreover, payments, advanced form options, security and templates are added to it. This plan will cost around $199.50/year for 5 sites.
Plus – This plan costs $99.50/year for 3 sites. This plan has additional features as newsletter, drip and integration to some email marketing services.
Basic – The Basic plan includes all essential form building features for a single site. The cost of this plan is $39.50/year.
---
3. Formidable Forms – Solution Focused Form Creator Service
Formidable is a powerful form creator service offering many advanced features for forms. These features include advanced conditional logic, multi-page forms, cascading lookup fields, reports and much more.
---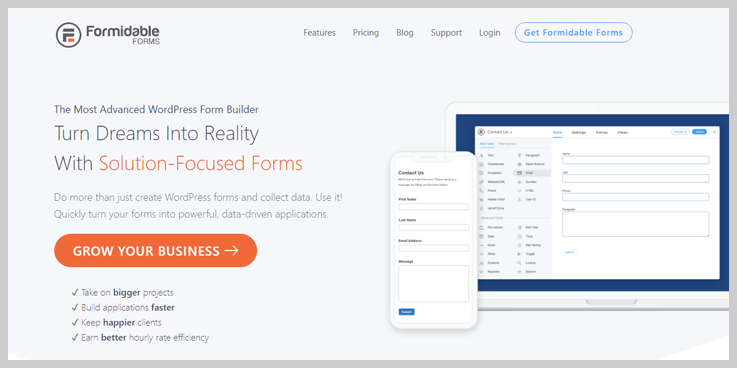 ---
Features
Display Form Data with Views – This feature helps you in displaying the captured data in tables without using PHP.
Multi-Page Forms with Progress Bar – This features enables breaking long forms into parts and the process bar helps the user in getting an inside of the progress of the form filling.
Reports, Graph & Charts – You can have a look at all the form submission at one place using the display charts and graphs.
Mobile-Friendly – Formidable form creator renders responsive forms that can automatically adjust to changing screen sizes.
Pricing
Formidable Forms provide three pricings based on the functionalities that it's providing based on different business sizes.
Elite – This plan costs $399.53/year. It includes all the feature of the other two plans. Integrations support is added to this plan with access to all the form templates. This service also allows using it for multiple sites.
Business – Business plan costs $199.43 per year. along with the Business-Level features many advanced options came with it. Such as PayPal, quiz maker, Zapier etc.
Basic – This plan costs $99.38 per year with the basic form-functionalities. You can use this service for a single site. Also, it enables connection with some specific email marketing services.
---
4. Ninja Forms – WordPress Form Maker
Ninja Forms is an easy-to-use WordPress form maker. It provides an intuitive beginner-friendly interface. It has many advanced functionalities as well as integrations at different pricing levels. These functionalities include CRM integration, multi-site support, SMS and slack notifications and many more.
---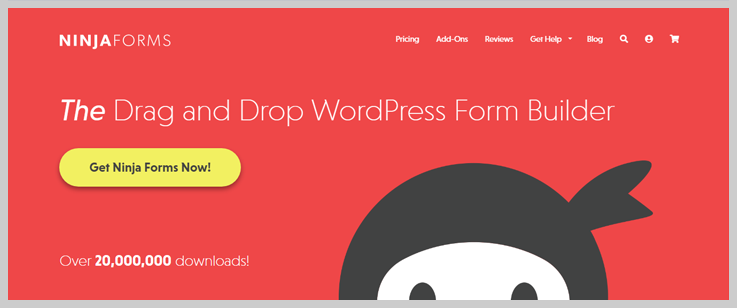 ---
Features
Drag & Drop Interface – Ninja Forms renders drag and drop form builder interface for creating contact form to grow email subscription. In addition to this, you can also make use of the various form layout and styles that came with it.
Integrations – This service allows multiple integrations such as email marketing service. This way you can use your leads in an efficient way.
Analytics – Ninja Forms shows advanced agency-level feature and provides proper reports of your forms.
CRM – You can integrate a CRM software with the professional plan where you can make use of the forms on 20 sites.
Pricing
Ninja Forms offer three pricing plans based on the usage of its services on various levels.
Agency – In this plan, you can access all the features as well as the old and new addons of Ninja Forms. It will cost $249.50 for a year. Also, it enables using the form for an unlimited number of sites.
Professional – This plan costs $99.50 yearly. You can use the forms on 20 sites & can make use of the client-user management. Furthermore, it also allows payments, Zapier and Webhooks.
Personal – For all essential features, this plan costs $49.50 annually. It allows single site usage, basic form builder functionalities & email marketing service integration.
---
5. HubSpot – Online Form Builder with CRM
HubSpot is an all in one solution for all marketing needs. It is providing free CRM. You can use this service for all your form building needs without any technical knowledge. You can make use of these forms and can convert the anonymous visitors into leads.
---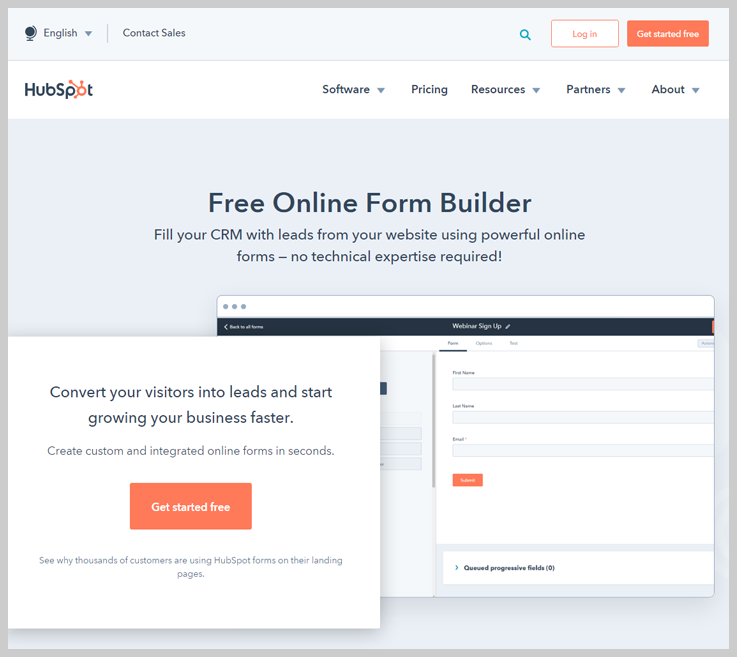 ---
Features
Forms Features – This feature includes Pop-up forms, external form tracking & native form support.
Filtered Analytics View – HubSpot renders reports and you can filter those on the basis of the content. For instance filter by country, domain, URL etc.
User Roles – The team management module of this service will help you set certain roles to your account users.
SSL Certificate – It offers standard SSL certificate in the professional and enterprise level.
Pricing
HubSpot has three pricing available based on the use of the service through various organizations & contacts.
Starter – The plan costs $35 every month that is billed monthly. It includes all the basic form builder features plus the email marketing service integration. Further, this plan has a 1K contact limit.
Professional – This particular plan has a cost of $560 per month that is billed monthly. Most importantly, marketing automation and campaign reports are the additional features of this plan.
Enterprise – This plan has a limit of 10K over contacts. Advanced features such as team access and revenue analysis come under it. This plan can cost $2,240 per month.
---
In Conclusion:
This was the brief description of the best contact form to grow email subscription. You can choose to use any of these services for your form builder needs. Furthermore, almost all of them enable you to add up integration as well as addons so as to enhance the functionalities as per your needs.
You May Also Read: