Are you head over heels in search of the best WordPress contact form plugins? Then, here you can sign in relief as we have decided to put brakes on your search.
But, before jumping on that let's understand little about contact form plugin.
Contact form plugins for WordPress site is basically the perfect way to collect leads or receive messages from your customers. It helps in building good customers relationship. By only that, you allow a potential customer to reach out to you in a couple of seconds which helps in skyrocketing your business.
---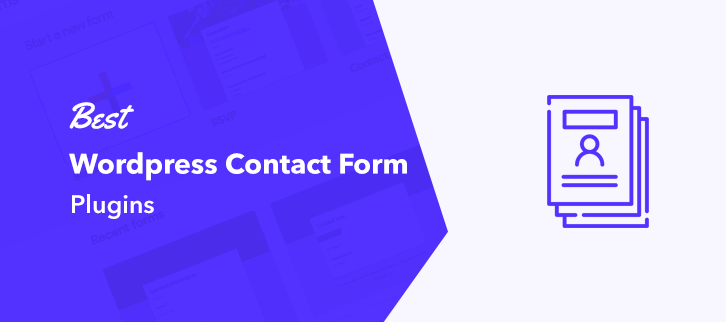 ---
There is no doubt in the fact that there are a collection of form builder software available in the market. Few of them are free and some cost money. Now, the real question is which one to pick and what to look for in the best form creator tool.
So, the thing you should go for:
Cheapest Pricing
Responsive Layout
Payment Gateways
Embedding Options
Further, to select you the best, we have compiled the list of affordable WordPress contact form plugins software.
Quick Comparison Between Best WordPress Contact Form Plugin
Service
Basic Plan
Payment Accounts
Storage
Sites
Pabbly Form Builder
$120/y
Unlimited
Limitless
Unlimited
Formstack
$228/y
ProPay Only
500 MB
1
 Ninja Forms
$99/y
PayPal Express
NA
1
Gravity Forms
$59/y
NA
300 MB
1
Formidable Forms
$149/y
NA
NA
1
"The only software available in the market that doesn't restrict users on any features by offering unlimited submission, views, embedding and much more even in a basic plan."
Pabbly Form Builder is a one-stop destination for all growing businesses need. The software lets you create beautiful contact forms for WordPress plus other websites using its easy drag & drop editor. Further, it is the only tool with more than 250+ responsive templates.
Additionally, the thing which makes this software a distinct among its competitors that it offers all the advanced features in the basic plans too. That's a thing which most of the online form builder restricts but Pabbly Form Builder doesn't disappoint us here by giving limitless options such as analytics, payment and much more.
---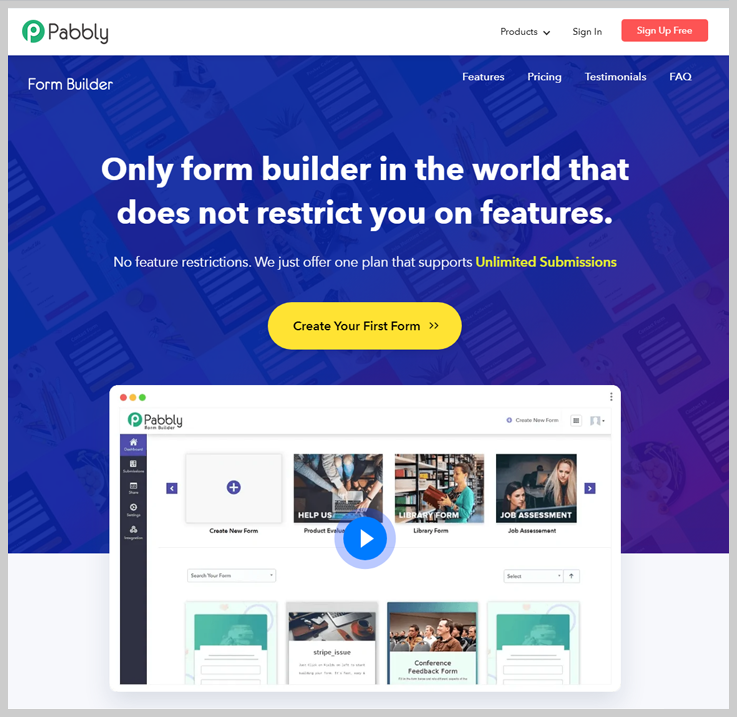 ---
Features
Custom Branding – It allows to add custom logo on your contact form which will help in building trust among respondent.
Collect Payments – The software lets you collect unlimited payments via contact forms using multiple payment gateways like PayPal, Stripe, and Razorpay.
Email Autoresponders – This feature of the online form builder helps in maintaining healthy relationship with the respondent. Using it, one can send confirmation messages to user after the successful submission of a form.
Conditional Logic – When comes to create a dynamic form, this trait of software helps you by offering limitless "If/Then" and "And/Or" logics for section jump based on the respondent's answer.
Form Scheduling – Next, form scheduling allows us to put a start and end date on forms. Additionally, you can allow restrictions on a submission limit too which is necessary when you have to gather limited responses only.
Embedding Options – Moreover, the tool allows 3 different kinds of embedding which are sliding, pop-up and full form not only for WordPress but also for other websites too.
Partial Form Submission – Tired of filling long forms in one sitting? Guess what! The tool lets you finish a form at later time by offering save and resume options.
Captcha – Further, it protects the form from bot, spam, and abuse which is crucial to maintain the reputation of a business.
File Uploads – Using it, one can submit any kind of files like PDF, images, document, videos, etc without any trouble.
Integrations – It offers seamless unlimited integration to automate the workflow with third parties like Google Analytics, Mailchimp, GetResponse and so on.
Responsive Form – The software lets you build responsive form which can be accessed in mobile, tablets, laptops, etc.
Pricing
The software bundled with unlimited features like multiple users, submission reports and much more in a basic plan of $10/m for year.
2. Formstack – Online Form Builder
Further, next in our list is the most widely preferred for WordPress contact form plugin which is Formstack. Not just contact form, one can build any kind of forms using the tool. It is easy to use.
---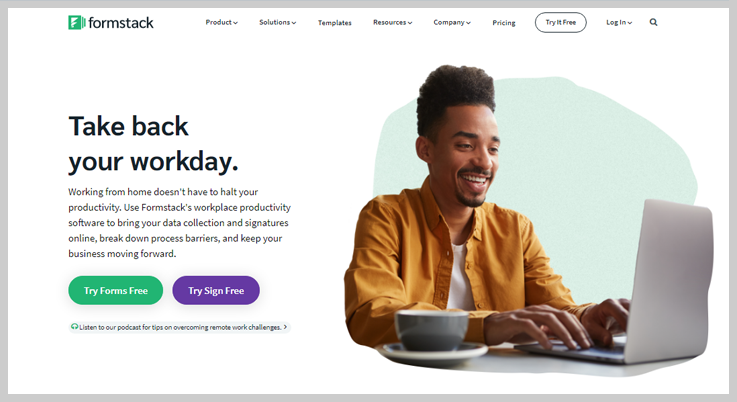 ---
Features
Form Builder – Using its editor one can build responsive form without troubling about codes in a minute.
Data & Analytics – This feature allows you to collect data to get business done. It is packed with A/B testing, field validation and much more.
Responsive Mobile Friendly – The software works fine on mobile, tablets, laptops which makes it 100% responsive.
Encryption – It offers safety. One can encrypt the data so no-one can access it without permission.
Integrations – Using it, one can manage subscribers list, update CRM, collect payments and so on. Basically, it automates the work-flow.
Email Notification – The beauty of the software is it let sends customized email to customers for order confirmation.
Pricing
Bronze – The bronze plan will cost $19/m for 1user.
Silver – Next, the silver plan will cost $49.6/m for 1 user.
Gold – Further, in a gold plan, one will get 5 users for $82.50/m.
Platinum – Subsequently, it will cost $207.50/m for 10 users.
Enterprise – Lastly, to avail enterprise plan, users need to contact company's sales team.
3. Ninja Forms – Form Builder Software
Following, we have Ninja Forms best known for making form creation an easy and simplified process. The tool lets you make professional WordPress contact form without any trouble. Further, the tool is packed with advanced features for which you don't have to rely on a developer.
---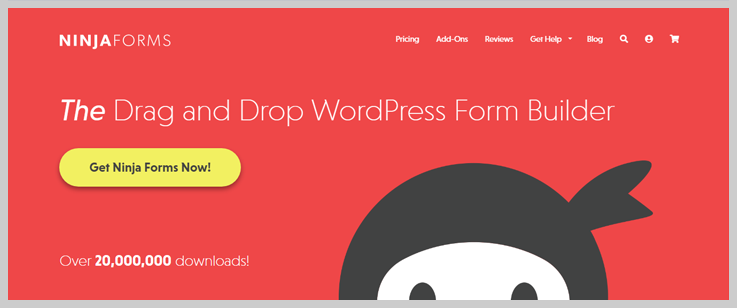 ---
Features
Conditional Logic – It allows to build dynamic forms where you can show or hide the fields to grab a user's attention.
Multi-Part Forms – Using it, one can break long forms into a multi-part forms.
Layout And Styles – With the help of this, one can change the layout, style, background, etc of a whole form.
Save Progress – It offers flexibility to the respondent to save their form and fill it later anytime according to suitability.
File Uploads – Further, users can upload any kind of files using this feature.
PDF Form Submission – Lastly, it allows to export form submission results as a PDF.
Pricing
Personal – The personal plan will cost $99/y for single site.
Professional – Next, the professional will cost $199/y for 20 sites.
Agency – Further, in agency users has to pay $499/y for unlimited sites.
A La Carte – Lastly, it will cost $29- $129/y for 1-20 sites.
The second in our list is Gravity Forms that is a most powerful, extensible and reliable solution for WordPress form. The tools help you in capturing valuable leads which definitely skyrocket your business growth.
---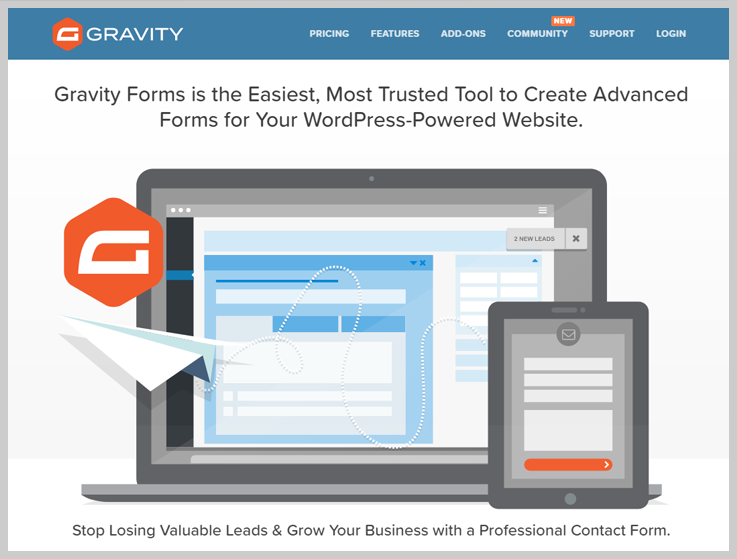 ---
Features
Email Notification – With the help of this feature one can stay updated about every filled forms via email.
File Uploads – Using it, one can upload any kind of files in a file upload field.
Save And Continue – This is best suitable for lengthy forms where user can save the details and continue it later.
Fight Spam – It boost the immune of form by preventing junk, spam and bot.
WordPress Post Creation – It allows us to create user-generated content at the front end of WordPress websites.
Limit & Schedule Forms – As the name suggested, one can limit the number of responses. Further, scheduling allows when and how users wants its form to be live.
Pricing
Basic License – The basic plan costs $59/y for 1 site.
Pro License – Next, it costs $159/y for 3 sites.
Elite License – Finally, we have the elite which will cost $259/y for unlimited sites.
Lastly, we have formidable forms called to be one of the most advanced WordPress form builders. The software is well known for capturing solution focussed lead. Either it is simple form or complex, one can build it within a blink of an eye using this software.
---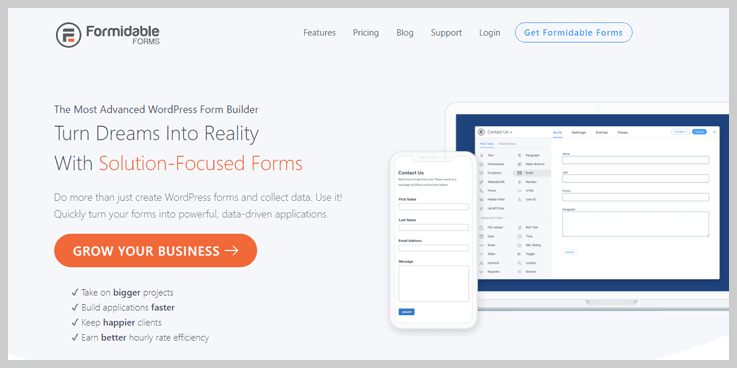 ---
Features
Display Form Data with Views – Using it, one can view its submitted data in a custom views.
Drag and Drop Form Builder – It lets you create complex or easy forms in seconds using drag and drop form builder.
Repeater Fields – This feature lets the respondent adds new fields in form according to their convenience while filling out the form.
User Submitted Posts & Pages – With the help of it, one can submit posts & pages with personalised image.
Multi-Page Forms with Progress Bar – Using it, users can split long forms into multi-page form.
WordPress Front End Editor – This feature lets users correct their mistakes or resubmit the form at the front editor of your site.
Pricing
Basic – The basic plan will cost $149/y for use of 1 site.
Business – Next, the business plan will cost $299/y for 15 sites.
Elite – Lastly, the elite offers the use of unlimited sites for $599/y.
Conclusion –
Gladly, now you know-how beneficial can be contact form plugins for your WordPress and other websites. However, deciding the suitable form builder can be tricky. That's why we have prepared the list of affordable form builders tools that can go with even small businesses needs too.
All the mentioned software are worth giving a try.
So, what's stopping you now? Go and try your hands on it and let us know your experience in the comments section.
You May Also Like To Read –