Want to know the 5 best data collection form? Then, you have arrived at the right place.
Gone are those days when one used to jot down responses on a paper. The dawn of online form builders is here upon us, as they can collect data and tally information more efficiently. Some of these softwares are totally free, while others are dirt cheap but each has its own attributes which makes them unique.
---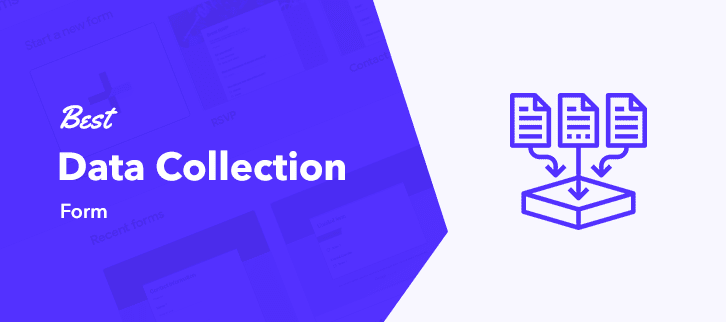 ---
However, the presence of numerous form builders has swamped the digital arena, and therefore trying out each of them may cost your time. That is why, I took one for the team and pronounced the 5 best data collection forms available in 2022.
Quick Comparison Between 5 Best Data Collection Forms 
Service
Basic Plan
 Storage
Submissions
Users
Pabbly Form Builder
$10/m
Limitless
Unlimited
Unlimited
Formstack
$19/m
500MB
700
1
Gravity Forms
$59/m
300MB
Unlimited
1
Leadformly
$37/m
NA
250
2
---
"Pabbly Form Builder is the only form builder that does not restrict you on features like form submissions, file uploads, payments, etc."
The reason why, Pabbly Form Builder tops the list is because you have unlimited submissions at the most affordable price. Also, you can set up multiple payment accounts to receive unlimited revenues. Furthermore, you can automate notification emails according to submissions and even place automatic responders.
Its form building magic doesn't end here. Using this form creator, you have unlimited storage, viewing, and multiple integrations through Webhooks. Isn't it awesome?
---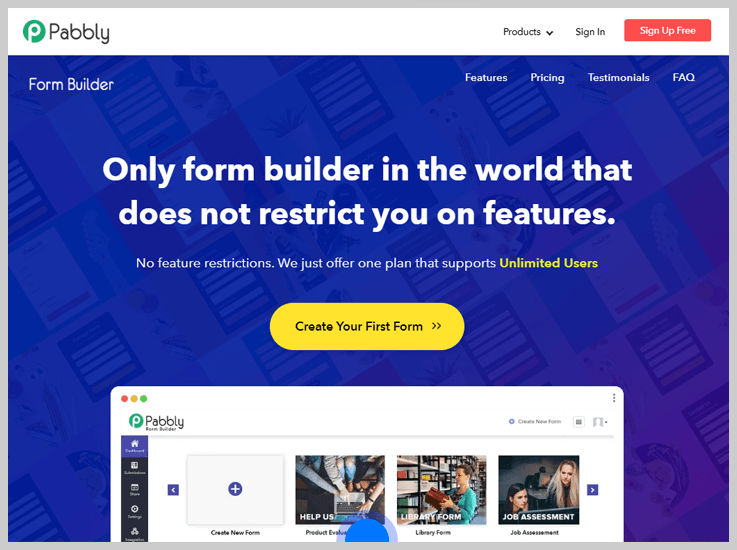 ---
Features
Embedding – Pabbly Form Builder is amenable to permit unlimited embedding with variations like sliding form, full form, and pop-up forms.
Drag & Drop builder – Comes with a very perceptive drag&drop builder by which you can create any kind of data collection form in a blink of an eye.  Also, there are a ton of stunning pre-built templates to make your work easy.
Advanced Conditional Fields – Easily weave complex conditional logic to guide your users to multiple pages which in turn increases the response rate.
ReCaptcha – Bring security against spammers and bots by inserting ReCaptcha.
Save & Resume – When working, if you are stuck with data, you can simply save the form and build it later
Storage & Uploads – Unlike its competitors, Pabbly Form Builder doesn't limit storage to 1-2GB, it grants unlimited storage with unlimited upload fields.
No Websites – The best part is you don't even need a website to collect the data. Once you create a form, you can view all the entries through the Pabbly Form Builder's dashboard.
Pabbly Plus – Easy integration with Pabbly's suite which allows inbuilt SMTPs, email campaigning and subscription forms.
Pricing
There is only one pricing plan with Pabbly Form Builder. At $10/month billed yearly or $15/month, this comes as a Santa bearing gifts like unlimited lead capturing and multi-users engagement. Moreover, with this cheap pricing, you have unlimited webhooks, refined analytics and creating multi fields. I mean what more you want !!
---
2. Formstack – The Most Versatile Form Building Tool Available
Formstack wants you to have the least trouble while you are working on their forms. That is why they have come up with data collection tools like auto-fills, online signatures block and automatic workflows.
---
---
Features
Complaint Forms – You can even build HIPAA compliant forms to  capture a person's healthcare data from any device.
Salesforce App – Create a Salesforce specific survey within minutes with any external integration tools.
Insights – Get insights into customer's behaviour with help of analytics to predict their future engagements. Also, you will get loads and loads of webinars to ace their form building.
Subdomains – Can create your own brand recognition with customized form URL. Furthermore, you can save hours by importing old forms data at one click.
Question Display – You have the flexibility, to display only one question at a time in mobile devices, this keeps respondant's focus only on the form.
Pricing
Bronze – This plan starts at just $19/month billed annually, and can build 5 forms. But, the payment option is through ProPay only.
Silver – The upgrade of the first plan is priced at $49.16/month billed annually. One can build 20 forms and can use multi-payment platforms.
Gold – It is their most popular plan as it gives 10,000 submissions and 2GB storage.
Platinum – Provides access to 10 users. Offers priority support and advanced data collection. At $207.5/month billed yearly, this offers unlimited form building and form submissions.
---
3. Gravity Forms – Data Capturing With An Edge
Gravity Forms has been in this game for over 10 years. Create high powered data collection forms for your WordPress websites through Gravity Forms. One can easily select fields, configure their options and embed it. Integration with third party services such as Stripe, PayPal and Twilio is easy in Gravity Forms. Furthermore, you can create elite forms with quizzes, polls, surveys and even do video recording.
---

---
Features
Email Notifications – Comes with top-notch email responders to give an idea of the feedbacks when the response is submitted.
Calculations – It has an inbuilt calculator that can perform advance calculations on the basis of submitted field values.
Responsive Design – The forms are very sensitive and also comes in a mobile-friendly style.
Save & Continue – Sometimes you haven't finished building your forms and want to do it sometimes later. In such cases, you can do it with the save&continue feature.
Limit & Schedule Forms – You can control the number of form entries and even schedule the forms to control the time and method to capture the data.
Pricing
Basic License – At $59/year, access 1 site with unlimited form entries and conditional logic. Design multi-page forms with ease.
Pro Licence – Build forms on 3 sites in just $159/year.
Elite License – Their most popular plan allows you to create forms for unlimited sites with just $259/year. Offcourse add-ons include
priority support and WordPress multi-sites.
---
4. Leadformly – A Very Intelligent Form Builder For Data Collection
Leadformly promises to build, interactive and intelligent form to capture 2-3x more leads. You can perform A/B testing and even add hidden fields. Unlike other forms creators, this is pre-loaded with a smart spam block which prevents spams and bots.
---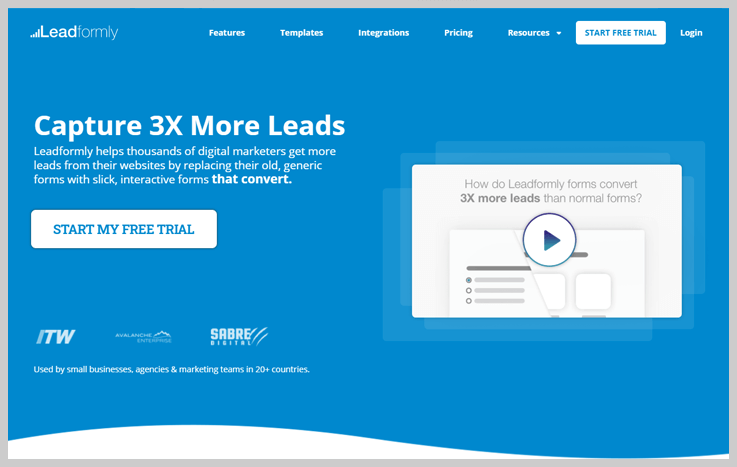 ---
Features
Drag & Drop Builder – Leadformly comes with a number of Create a new form with a drag & drop builder.
Honeypot Spam Reduction – Instead of 'Captchas' they have built an invisible 'honeypot' spam trap which restricts the spammers while giving a serene experience for your visitors.
Lead Segmentation – The templates of the form are pre-optimised meaning you can easily segment the entries into different buckets.
Webhooks – Promises 1000+ integrations through Webhooks.
Intelligent Forms – It automatically finds a visitor's location to prefill personal details like phone number extension to save time and amaze your customers.
Pricing
Essential – At $37/month billed yearly, the leads are limited to only 250 per month but you can build an unlimited number of forms. Moreover, connection with Zapier and refined analytics are added benefits. It restricts users to only 2.
Growth – In this plan, you can brew 1000 leads and unlimited forms at just $74/month billed yearly. It adds 3 extra users and you can do A/B testing.
Team – Their final plan with pricing at $149/month billed yearly, you can have up to 25,000 leads per month. In addition, it provides access to 10 users and build unlimited forms.
---
5. Google Forms – The Ubiquitous Form For Data Collection
One can easily create data collecting forms with Google Forms. It comes with state of the art Google security which ensures safety of your respondents' information. A variety of question field types like checkboxes, multiple-choice questions, lines and uploads can be added.
---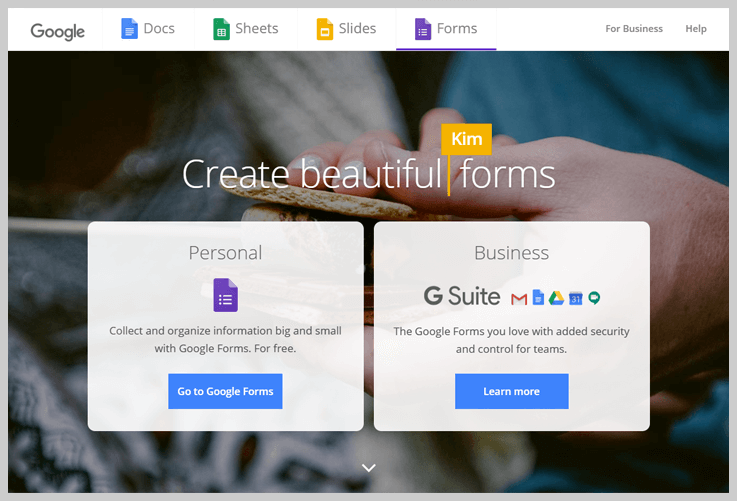 ---
Features
Storage – For something that is free, it comes with good storage options up to 1 TB.
Uploads – One can upload different kinds of files like into the fields and you can build 10 upload fields per-form.
Conditional Logic – Google Forms can create conditional logic in many question fields by introducing section breaks.
Confirmation Messages – Once your respondents have finished submitting the form, you can set up automatic confirmation messages.
Pricing
Google Forms are free, Just sign in to your account and start building your form.
---
Conclusion –
So, I have covered the 5 best data collection form. These were chosen on the basis of pricing and features which I found quite reasonable. But don't take my words for granted, there is a free trial available with all these software for a time limit. Check them individually, before buying.
Also, if you find any information that I have missed while covering these form builders, do comment below. I will surely add it into this article.
You May Also Like To Read –