"Create product selling forms with form builder software & increase your sales!"
---

---
Are you searching for a top-class form builder software??
If yes, then you have landed at the right place!
I have found amazing 6 form builder software with which you can create any kind of forms like payment collection form, feedback forms, registration forms, contact forms, and many others.
Via these forms, you can easily sell your product online and collect a huge revenue without any limits.
Even there are some form buildrs mentioned in this article which allows to collect unlimited payments without any restrictions. Isn't it interesting?
Also, some of these form builders allow creating multilingual forms. So, you won't be able to lose any international client. When most of these features like the above one are combined together, they result in a smart form builder for all kind of purposes.
Eventually, a good looking form with pretentious features will lead to the increase in sales of online products.
That's why you should try to surf down into this article & choose the best form builder according to your needs.
Have a look at the amazing articles below:
So, check out the following software and decide which among them is best for you –
---
Have A Look At Comparison Chart
---
1. Pabbly Form Builder
If we talk about product selling & payment collection then you should also think about Pabbly Forms. Through it, you will be able to design forms with multiple fields without any restriction.
Apart from all of this, it has 260+ built-in templates & color customizer which will help you in designing a persuasive as well as beautiful form.
---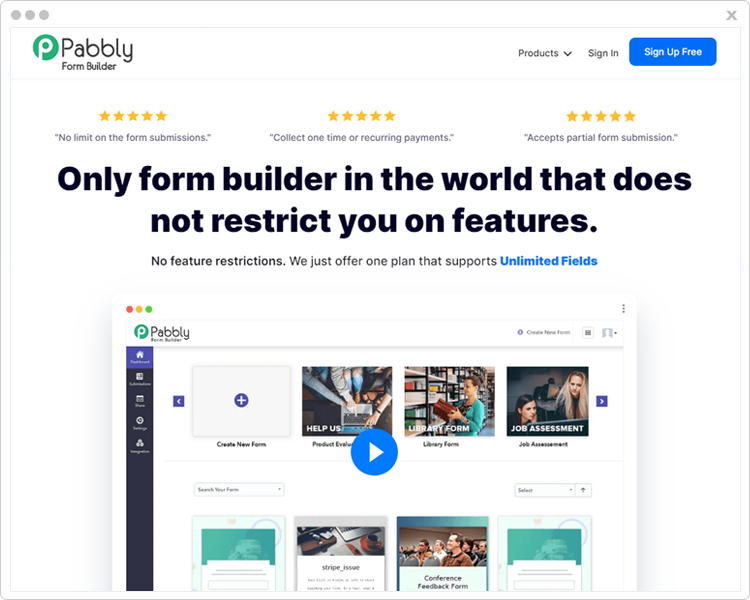 ---
Pricing Plans
Free
As you can understand by the name itself, you don't have to pay even a single penny for creating a single form & using some other features.
Starters
The Starters plan charges $5/mo for using features like 1 form, monthly 1200 submissions, 1 payment account & many more.
Rookie
For small businesses, this plan is best as it charges $35 on monthly basis. With it, you'll get to use some features like 25 forms, embed to 35 domains, 2GB file uploads & so on.
Pro
For medium-size businesses, you can opt for the Pro plan at a monthly charge of $79. With it, you will be able to use some features such as unlimited forms, 250k form views/mo, priority support & many more.
Advance
At last, the Advance plan is especially for big businesses at a cost of $99 per month. You will get to use features like unlimited payment accounts, lifetime upload storage, custom branding & so on.
Attributes
For preventing spams, it comes with reCAPTCHA functionality which can really stop bots from attacking your product selling forms.
Also, it has a form analytics feature through which you can track the growth of your form's success.
As it is encrypted with SSL, everything you & your customers do with your forms will always be hidden to hackers.
---
2. Paperform
Paperform is a digital form builder that helps you create solutions as beautiful as your imagination. From waiting list forms, employee feedback surveys to personality quizzes and questionnaires, the tool can be adapted to manage any type of project.
With its in-app editor, custom theming and embed content wherever you like. You don't need to settle for a boring form that looks like everyone else, you can make it yours. While most form builders are either pretty or designed for powerful conditional logic, Paperform combines both.
---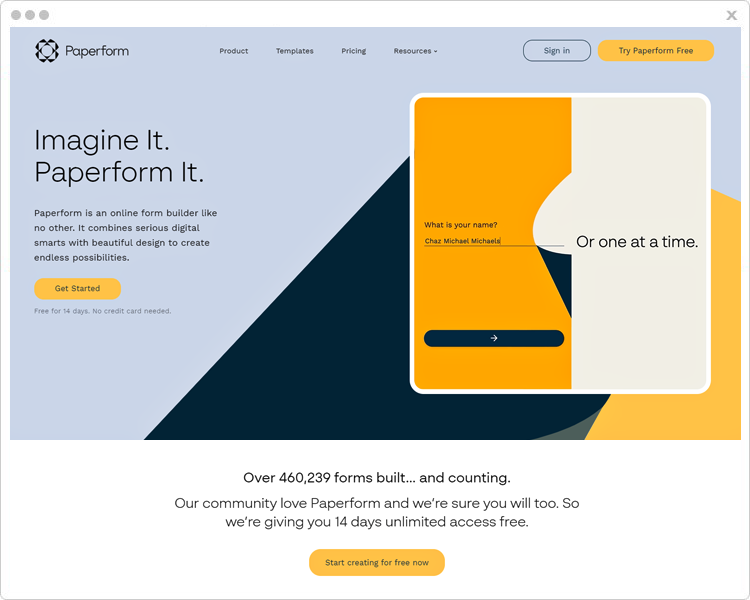 ---
Pricing Plans
Paperform offers a range of subscriptions to suit your needs. From starting plans for solopreneurs to Agency Plans fit for multiple users and priority support.
Essentials Plan
Designed for individuals and small teams in mind, this plan is perfect for people just getting started with Paperform. 
The Essentials plan starts from $20/month. With it you can create unlimited forms, 10,000 form views/month, and 1,000 submission/month. It has unlimited integrations and question fields.
Pro Plan
Made for small businesses looking to create onbrand forms and full functionality. 
Starting from $40/month, you can create powerful forms with their calculation field, built-in analytics, answer piping and custom autoresponders. All forms can also be customised to your unique brand with advanced design features. 
Agency Plan
Designed for organisations and businesses after multiple users and storage as well as custom HTML and priority support. 
Starting from $135/month, you'll have access to unlimited features, integrations, and user management capabilities.  
Major Attributes
Integrates with over 3,000 3rd Party Tools: Add content to your Notion page. Add tasks to Asana, Automate sales calls with Salesforce. Paperform connects you to thousands of popular apps and services, putting manual processes on autopilot.
Full customization capabilities: Paperform can easily be customised to manage any project due to their built-in design features, 27+ question fields and in-app editor.
650+ Templates:

Paperfrom has over 650 templates that give you the freedom to create anything from a simple signup form to complex payment forms and bookings.
---
3. FormGet
FormGet – a powerful form builder software through which you can create responsive web forms without writing a single code. The reason is that it is has a feature of drag & drop. So it is way too easy to design forms through it.
Apart from this, the software accepts payments with PayPal & Stripe payment processing software. That's why it seems to be a good option for selling products online via forms.
Millions of users are using FormGet and collecting Unlimited Leads for FREE. 
So why to go with other expensive paid tools if you're getting the same thing completely FREE FOR LIFETIME.
---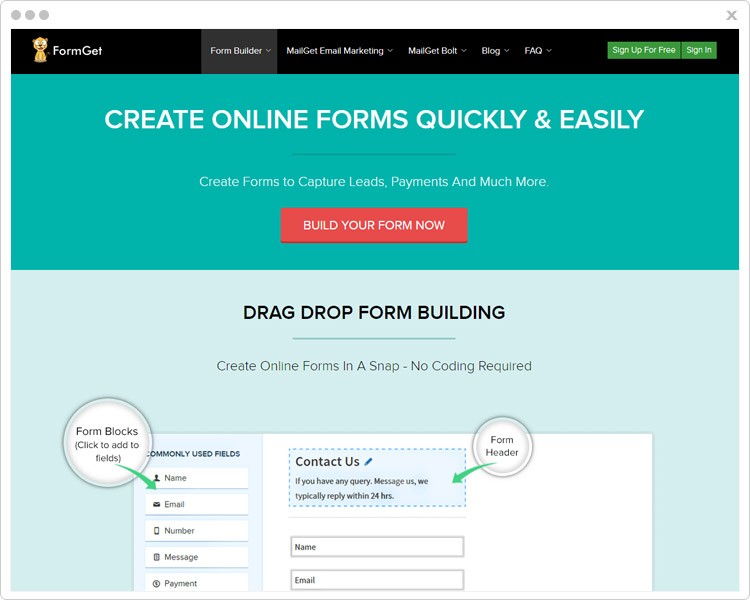 ---
Pricing Plans
FormGet gives 5 plans for their customer's. Let's have a look over it –
Plan 1
This plan is FREE for all where you can effortlessly create unlimited forms & get limitless leads.
Plan 2
For the second plan, you have to pay $50 yearly or $5 monthly for a single form, user & collect payments via PayPal & Stripe.
Plan 3
This plan charges $35/mo or $350/year. Through it, you can create 25 forms, add 5 payment accounts, 35 domain embedding & everything that you have in plan 2.
Plan 4
The fourth plan for which you have to pay $79 monthly or $790 yearly to create unlimited forms, 60k monthly submissions, file uploads up to 7 GB & everything of the plan 3.
Plan 5
At last, the 5th plan has monthly & yearly plans of $99 & $990 respectively. You'll be able to access all features of plan 4 along with unlimited features like users, payment accounts, Google Analytics integration & many more.
Attributes
You can send a customizable email notification whenever a user registers or purchases your product.
With the help of form management feature, you can grant permission of particular form or a particular section in the form to the specific team member.
FormGet provides you an amazing feature – conditional logic by which the form dynamically changes according to the user selection.
---
3. WP Fluent Form
WP Fluent Form by WPManageNinja is a freemium WordPress form builder plugin that seems one of the most underrated form plugins in WordPress. Using this awesome form builder plugin, you can create almost all types of responsive online forms on your website. This drag & drop based form builder plugin allows you to user 30+ input fields of different categories. There are tons of advanced features including conditional logic, email confirmation, scheduling and restrictions features are available within the plugin.
---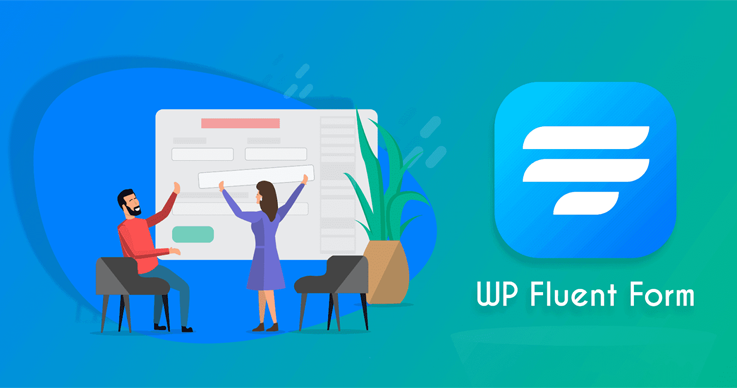 ---
Pricing Plans
WP Fluent Form offers a pro-add on that comprises with 4 pricing plans. Let's take a look over it –
Plan 1
This plan is free of cost and you can get this version from the WordPress directory.
Plan 2
This plan is called Single Site License that can be used by $39/year.
Plan 3
This plan is called Single Site License that costs you $79/year and with that, you will get 2-5 site licenses.
Plan 3
This is an unlimited site license that can be used by $199/year. You can use this to unlimited sites.
Attributes
You can use pre-built form templates with 30+ drag & droppable input fields.
Customizable email notification can be sent when a register or purchase any product.
With the special feature like role management, you can grant permission of particular section to the multiple form users.
Dynamic conditional logic can be used to make your form more interactive and friendly.
There are multiple email marketing software integrations with reCAPCHA functionality.
---

---
4. FormStack
FormStack – a creative form designer tool which has a package of powerful features through which you can create payment forms, contact forms, feedback forms or any other forms effortlessly.
---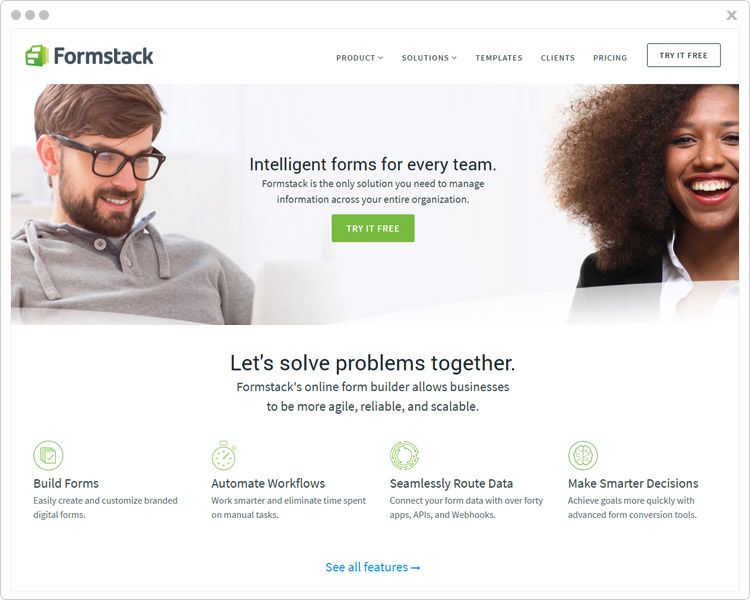 ---
Pricing Plans
Silver Plan
For the Silver plan, you have to pay $32.50 per year where one can create 20 forms, accept 1000 submissions & 5 users can access this account at a time.
Gold Plan
With the Gold plan, you can create 100 forms, accept 10,000 submissions and you just have to pay $82.50 per year.
Platinum Plan
Last is the Platinum plan can be bought at $207.50 per year with which you can create 1000 forms, 100,000 submissions & 25 users access.
Attributes
You can easily show and hide form questions based on someone's previous answers with the help of conditional logic feature. By inserting this logic's into your forms one can design more creative forms instantly.
FormStack supports multiple payment gateways such as – PayPal, Stripe, WePay, Dwolla, Authorize.Net, Beanstream, etc.
With exclusive add-on tools of this software that consists conversion kit, portals, workflows you can collect more information efficiently.
---
5. FormAssembly
FormAssembly – an amazing form maker service which will help you to design fully responsive forms for collecting leads, revenues for your business. Use its drag-n-drop editor to create any forms in just a few minutes.
---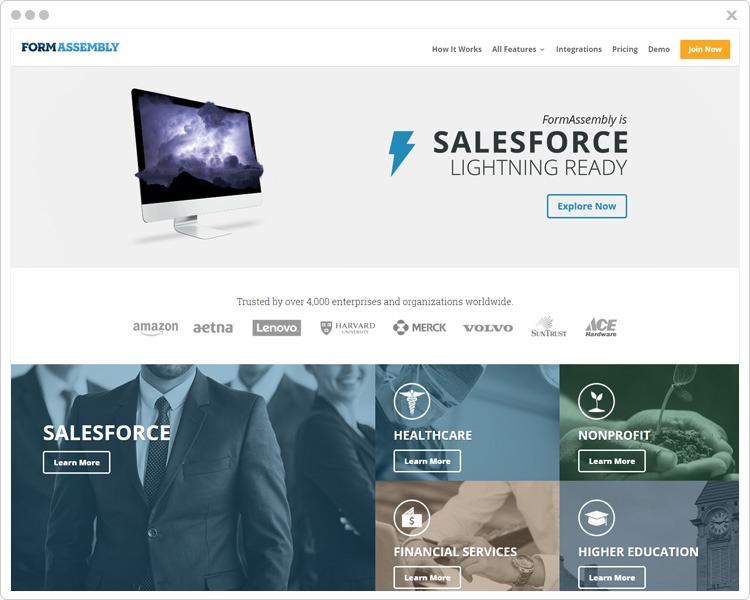 ---
Pricing Plans
Professional
In the Professional plan, you will be charged $89 which will be billed annually. If you wish to buy this plan monthly then you will be charged $99.
Premier
Similarly, for the Premier plan, a single user will be charged $224 per month when paid annually and will have to pay $249 per month if he pays the bill monthly.
Enterprise Cloud
The cost of Enterprise Cloud plan is $599 when billed annually and three users can start using the service at a time.
Compliance Cloud
For the cloud compliance plan, you need to contact the sales team of the service provider.
Attributes
The form builder software gives ample of features such as – email notification, auto-responder, file attachment, spam protection and much more.
The Formassembly – form builder software is trusted by over 4,000 enterprises and organizations worldwide. Name of some big brand that is involved in this list is Lenovo, Amazon, Harvard University, Volvo, etc.
You can seamlessly connect this service with your existing apps like Salesforce, Webmerge, MailChimp, Aweber, Stripe, Authorize.Net, etc.
---

---
6. Formbakery
Formbakery – a top-class form builder services allow you to create forms by using drag and drop editor. Along with this you can collect payments, leads that will help in the growth of your business.
---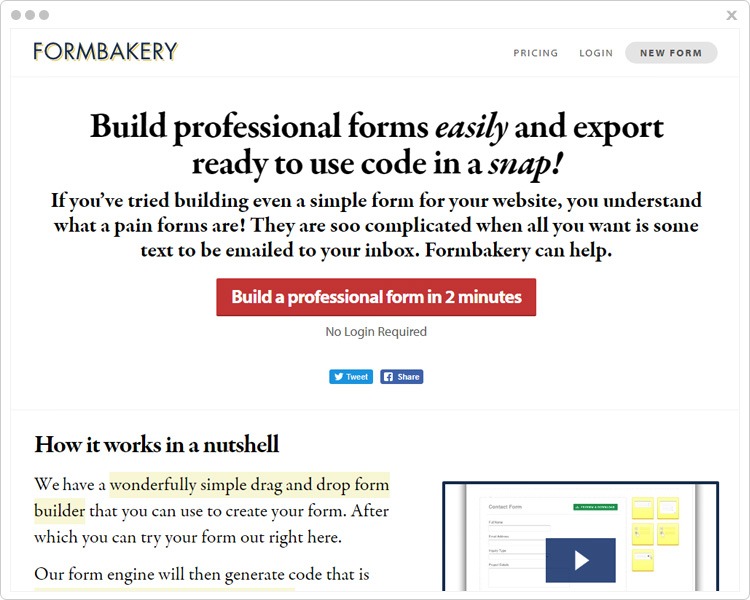 ---
Pricing Plans
Personal Plan
The Personal plan cost is $189 yearly for only 36 forms. You will also find some additional features such as personal use license, zero branding, helpful email support, free license valid forever and more.
Professional Plan
You can buy the Professional plan by paying $306 yearly for 36 forms. Some extra attributes that you will find here are – commercial use license, zero branding, helpful email support, free license valid forever, etc.
5 Form Pack Plan
This is the package plan whose cost is $319/year for 36 forms. Other features of this plan are- 5 commercial licenses, zero branding, helpful email support, free license valid forever and a lot more.
Attributes
With the help of this software, you can design 100% responsive forms, which look stunning on any mobile or devices.
The form maker tool alerts you after every form submission so, you will never miss an update of any form entries.
The form which is design by the Formbakery tool can be embedded on any existing website or can be shared on any social media platform via a unique link.
---
7. Formidable
Formidable – a howling form creator software which allows you to design creative and impressive forms for your organization. Along with this it also accepts payments via Paypal, Stripe & Authorize. Net payment gateways.
---

---
Pricing Plans
Personal Plan
The Personal plan is best for the startup business as it only charges $49 per year where you will get 1-year plugin updates, 1-year ticket support team. Apart from this, you can also buy add-ons separately.
Professional Plan
For this plan, you have to pay $99/year for 1-year plugin updates, 1-year ticket support team, 3 sites visibility, all pro features and 5 premium add-ons.
Small Business Plan
The plan is the best among all, for this, you have to pay $199 yearly and provides 15 sites visibility, all pro features, 1-year plugin updates, 1-year ticket support team, a priority support along with 15 premium advanced add-ons.
Enterprise Plan
The Enterprise plan charges $399 per year and gives accessibility for unlimited sites, all pro features, lifetime plugin updates, 1-year ticket support team and 20 premium + advanced + enterprise add-ons.
Note – Formidable assures that if in any case, you're not satisfied with it then they will refund 100% of your money within 14-days.
Attributes
The Formidable software gives you the facility to double check the email address or password that are submitted in free forms. It does this by applying a confirmation field that compares the entries and allows only when both match each other.
You can easily gather more data about the customers like, images, videos, resume, signature, etc by inserting the upload files field into your forms.
Get a full control of your forms with a comprehensive import and export function of this software.
---
Closure Is!!!
At the last, I will only say that collect leads, revenues for your business through form have become very easy with the help of the form builder software. There are some form builders through which you can efficiently collect payments through limitless forms. All of them are mentioned in this article.
So, try any of this form maker service and punch your business at the top level.
For more related stuff on form builder tool, check the below links –
In case of any queries & suggestions, just drop a comment below & we'll get back to you soon!