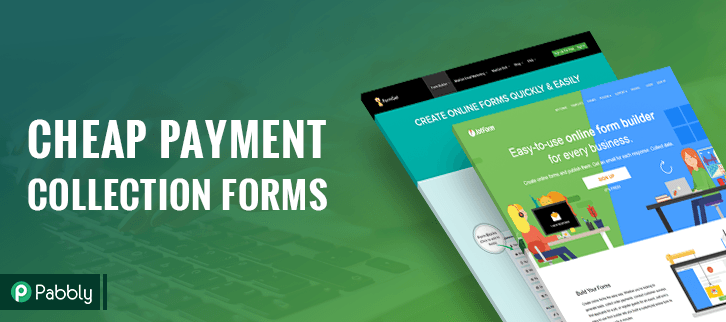 ---
Payments collection forms are the most sensitive forms as it lets you do the payment business in a safe and secure way.
Sometimes it becomes quite awkward and uncomfortable to ask for the payments from the people, but these forms manage all the forms online without bothering anyone.
A great payment collection form is one that allows you to accept payments in the most secure way possible and for that, you require a medium that is most trusted and reliable way of transferring money and that medium is the Stripe and PayPal.
All these software that has been accumulated here work on the above-mentioned gateways which give the clear indication to the user that the money transfer that will take place through these software will be safe enough.
A Quick Glance At The Comparison Chart
Related links :
A list of such softwares is presented here :-
---
1. FormGet – Prime In Payment Collection Forms
FormGet is the most worthy software among the payment collection form creation software. With the efficient use of this software you can receive instant, one-time as well as recurring payments for your business very easily. It is the safest solution for payment as it has the best security mechanism.
In addition, there are numerous features to complement this leading form builder tools. Some of which are Google Analytics, Custom Branding, Autoresponder, Custom Email Notification, Multilingual Forms, Multiple Currencies support etc.
Plus there is a collection of more than 260 pre-designed templates available for free with various custom options.
After trying out all the software I figured out that among all the softwares FormGet is the most reasonable service provider, availing you the best features to frame an awesome payment collection form.
---

---
Features –
Through the payment collection form you will able to receive payments of one time and recurring as well, also, you can collect all the forms at one place.
Another feature termed as the conditional logic is embedded in the system through which you are liable to add or remove fields as per your will, whenever a user input is done in a specific field.
Give form access to multiple users and create these forms in multiple languages, which will give the customers of specific regions a personal touch and they would be able to connect more to it.
Pricing –
Free Plan In this plan, the user will not be charged anything as it is a free plan, you can create numerous forms and get unlimited leads and users also, available space will be 100MB.
Starter Plan: The first plan is a Starter Plan that will cost $50/year which gives a complete package of extensions, single form license & payment form.
Rookie Plan: Second plan is a Rookie Plan, you have to pay $350/year for payment forms, full bundle of extensions & license for 5 forms.
Pro Plan: The third plan is the Pro Plan it charges $790/year for unlimited forms license, complete set of features and payment forms.
Advance Plan: An Advance Plan for the unlimited premium functionalities will cost just $990/year only.
---
2. Pabbly Forms – Robust In Payment Collection Forms
Pabbly Forms are the robust solution for cheap payment collection forms software. This tool provides interface for creating forms through gateways like PayPal & Stripe for collecting payments. There various advanced features which are very helpful for creating forms in timely manner as well as automate the work flow. These features include drag & drop form builder, autoresponder, canned replays, conditional logic and much more.
Furthermore, it provides various security mechanisms at different stages of the form building like SSL Encryption, reCAPTCHA & spam prevention for the email messages.
---

---
Features –
Social Sharing is a unique feature of this software using which you can share the forms on different social media platforms.
The Custom Branding feature will let you add brand to your forms & they helps you easily promote your business globally on web space.
Conditional logic is another great feature of it through which a person can create a dynamic form that will change when certain conditions are met.
Pricing Plan –
The Pabbly Forms has five cost estimate plans namely-
Free Plan: A dedicated free plan for the testing purpose all the advanced functionalities of the product for a single form are avilable. And the user is free to use it any where.
Starter Plan: The starter plan cost $5/month for a single form, a single user & 1200 submissions/month.
Rookie Plan: In the rookie plan the cost estimate is $35/month for 5 users, 25 forms with 25K submissions/month.
Pro Plan: Pro plan will cost $79/month for 10 users, unlimited forms & 60K submissions/month.
Advanced Plan: A dedicated plan for unlimited access to the premium features lifetime.
---
3. FormAssembly – Payment Collection Forms
FormAssembly is an economic payment collection form builder which contains an easy drag and drop builder through which you can construct a productive payment form enabling you to collect payments from both the payment gateways i.e Stripe and PayPal.
---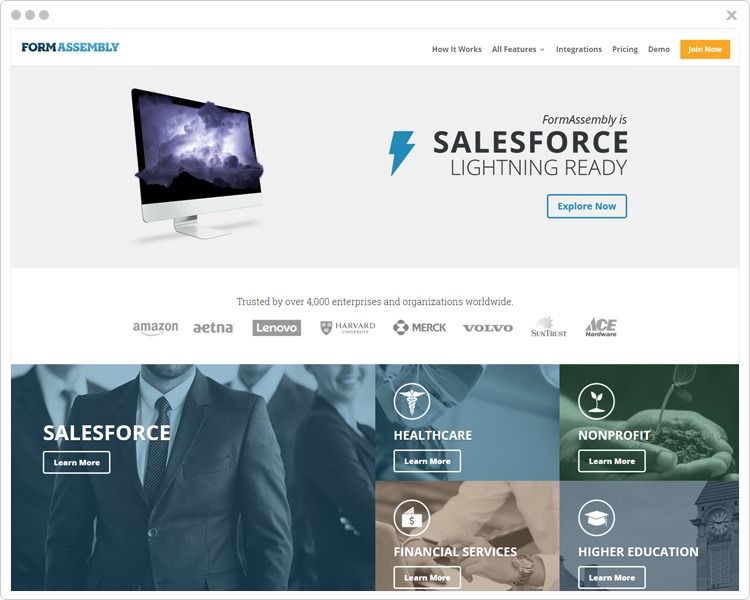 ---
Features –
The software is responsive in nature which means dynamically resizes itself according to all the browsers and mobile devices.
There are also certain smart features that have been included in the tool like conditional logic and calculated fields, these features will simplify your work accordingly.
The system gives you the best security for the data protection as it is HIPAA compliance, EU-US Privacy Shield compliance, and PCI DSS Level 1 certification.
Pricing –
Professional: In the professional plan, per user will be charged $89 which will be billed annually and for the same service will be charged $99 per month when the user pays the bill monthly.
Premier:  For the premier plan, a single user will be charged $224 per month when paid annually and will be charged $249 per month when the user pays the bill monthly.
Enterprise Cloud: In the enterprise plan, three users can start using the service at $599 which will be billed annually.
Compliance Cloud: In case cloud compliance plan, you need to get in touch with the sales team of the service provider.
---

---
4. JotForm – Payment Collection Form
Through the software, you can create a number of payment forms that too at the reasonable price plans, also the software let you create various type of forms like the lead capture form through which you can capture leads, registration forms for an event or so, and much more.
---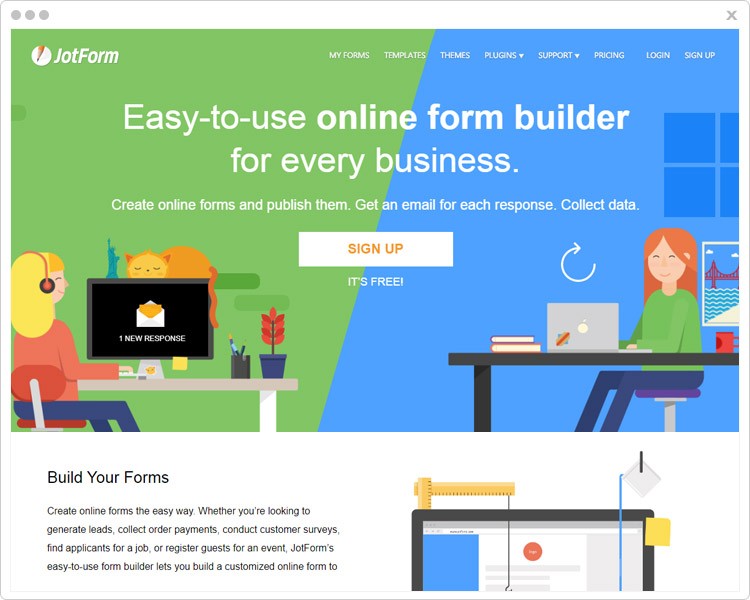 ---
Features –
A flexibility that has been provided by the software is that it doesn't ask for the sign up if it is a free trial and the intimation can be received by email id at the end.
The system also supports a drag and drop mechanism which allows you to create templates and forms through it.
The customization is quite easy with UI interface of JotForm, working as a value addition, there are also more than 2500 templates and 40 themes.
Pricing Plan –
Starter: The starter plan is a free plan which gives a 100 monthly subscriptions and 100 MB available space.
Bronze: In bronze plan, the charge will be $19 per month for 1000 monthly subscriptions and 10 GB available space.
Siver: In the silver plan, the buyer will be charged $39 per month for 10000 monthly subscriptions and 100 GB available space.
Gold: In the gold plan, the purchaser will be charged $99 per month for 10000 monthly subscriptions and 1TB available space.
---
5. CognitoForm – Payment Collection Form
CognitoForms is the finest software for creating an affordable payment collection form which supports both the giant payment gateways – Stripe and PayPal, the particular service enables you to collect data that your customers will fill in the forms.
---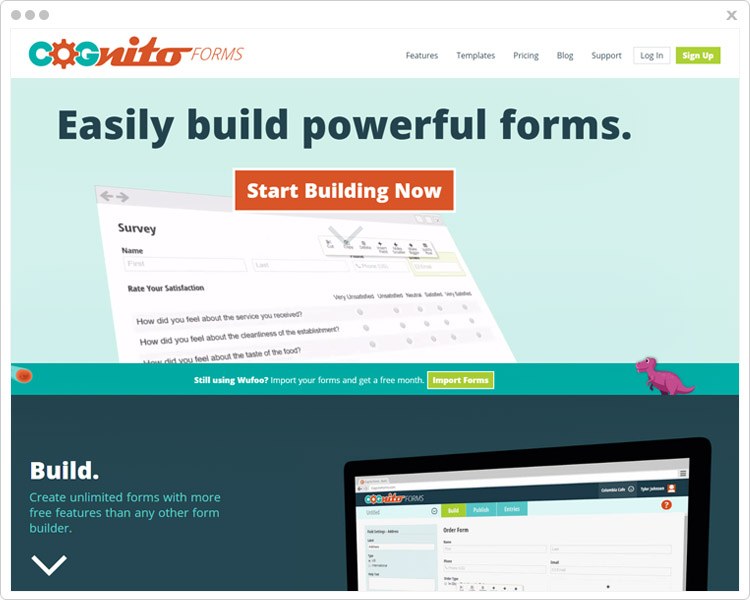 ---
Features –
There is a feature termed as "save & resume" by which you can work and switch on to it sometime later, this feature gives you the flexibility to work as per your convenience.
The forms thus created will be doing the calculations as well for you, all the maths related to the transaction and the money involved can be carried through the software.
Features such as the conditional logic and data encryption are also included in the software which enables you to show or hide the data and keep your data safe at the same time.
Pricing –
Individual: The individual plan of the software is a free plan which means he doesn't have to pay anything for unlimited forms, up to 500 entries per month, 1 percent charge of the payment gateway used by the user and storage space to the user will be till 100 MB.
Pro: In the pro plan the user is required to pay $10 per month for which he has unlimited forms 2,000 entries per month 1 percent charge of the payment gateway used and storage till 1 GB for 2 users.
Team: In the team plan, the monthly charges are $24 per month and valid for 5 users, providing unlimited forms 10,000 entries per month and no transaction fee, and storage space upto 10 GB will be provided.
Enterprise: Likewise, in the enterprise plan, the charges per month will be $99 per month and valid for 50 users, dispensing unlimited forms 10,000 entries per month and no transaction fee, and storage window upto 10 GB is available.
---

---
6. Formsite – Payment Collection Form
Formsite is a magnificent form building software that has a drag and drop builder which is the fundamental building block for creating the forms, the software features give you the license to create a clean payment collection form that will not be corrupted in any which way.
---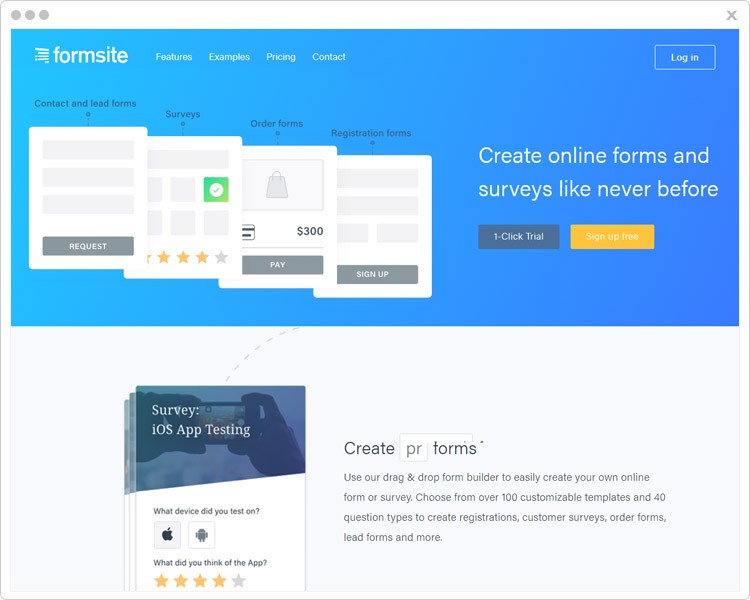 ---
Features –
The software delivers a feature using which you will be able to embed the forms on any page, for which you will be requiring no extra code and you will be simply copying a piece of code.
Calculate values within the fields with the help of the inbuilt feature, the software will calculate the values based on the user input.
You can share account access with sub-users so that you can dispense the workload that you were handling all on yourself.
Pricing –
Free: As it is a free plan, so the buyer won't be charged anything upto 5 forms and will get 10 results per form, also 50 MB file space is provided.
Deluxe: In the deluxe plan, the purchaser has to pay $14.95 per month in which he will get 5 forms and will get 500 results per form, in addition, 500MB file space.
Pro 1: In the pro 1 plan, the user will be charged $24.95 per month in which he will get 10 forms and will get 1000 results per form, also 1 GB file space and ads free.
Pro 2: In the pro 2 plan, the user will be charged $49.95 per month in which they will get 25 forms and will get 2,500 results per form, also, 2 GB file space and also free ads, 5 sub-users, unlimited PDFs and unlimited workflows are also availed to the buyer.
---
Last Words:
If you would have gone through the whole blog from top to bottom you would have known the features in depth about all the softwares and hence it will become quite easy for you now to make the right choice for you.
The softwares will be an great source of managing your payment collections because they provide a great security, along with this you have the freedom to construct multiple forms that too of your own design and format.
You can also go through the following blogs :-