When someone asks you to mentally picture a car, what comes to your mind? Definitely, a yellow Lamborgini, isn't it? Likewise, HubSpot's form builder is the Lamborgini of the form building world. It gives various creative form tools, access to their own huge CRM and unlimited embedding options in their forms.
Moreover, form submissions by 1000 people are free. But like Lamborgini, HubSpot is not for everyone as it is not cheap at all. Well, let's say your website wants to capture leads from more than 1000 people. Obviously, you need to upgrade to their Starter package which not only burns your pocket but also has many redundant features like CMS membership, marketing automation, and tickets that you will never use.
Additionally, these are the necessary features that HubSpot's form builder lacks:
Their form builder doesn't offer options for collecting payments. Even their costlier Professional plan lacks this feature.
Let's say you want to build a form based on age groups and preferences. In such cases, you need to apply conditional logic but HubSpot's form builder doesn't have it.
Email auto-responders and email integrations are unavailable.
Event registrations are not possible unless you are using their Premium plan.
Simply put, you want a form builder that offers unlimited lead capture, good storage options and definitely something cheaper than HubSpot. Fear, not fellas, there are HubSpot alternatives. Have a look.
| | | | | |
| --- | --- | --- | --- | --- |
| Service | Basic Plan | Lead Capture | Users | Storage |
| Pabbly Form Builder | $10/month | Unlimited | Unlimited | Unlimited |
| Leadformly | $37/month | 250/month | 2 | N/A |
| Formstack | $10/month | 700/month | 1 | 500MB |
| WPForms | $39/year | Unlimited | 1 | N/A |
| Cognito Forms | $10/month | Unlimited | 2 | 1GB |
1. Pabbly Form Builder – The Emperor Of All HubSpot Alternatives 
I will make it easy for you. If you want a form builder with unlimited submissions simply go with Pabbly Form Builder. Plus, you can add your own logo in all the forms through its custom branding feature. Further, Pabbly Form Builder can automate notification emails according to submissions and even place automatic responders.
Its form building miracles don't end here. Using this form creator, you will get unlimited storage, unlimited viewing, and unlimited payment options. Isn't it awesome?
---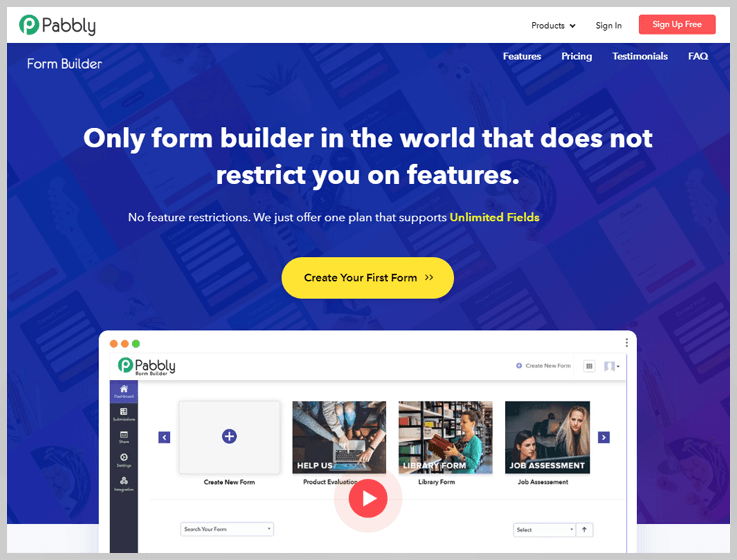 ---
Key Features
While other form builders usually don't allow more than 10 users, Pabbly Form Builder gives access to unlimited users. This effortlessly makes it the king of HubSpot alternatives.
One can build innumerable conditional logic fields with a drag & drop editor. Additionally, you can upload unlimited files to their forms.
With this form builder, you can integrate multiple payment accounts and receive unlimited payments.
When working, if you are stuck with data, you can simply save the form and build it later.
Deep integration with Pabbly's suite which allows multiple SMTPs and email campaigning.
Embedding is easy and Pabbly Form Builder is amenable to permit unlimited embedding with variations like sliding form, full form, and pop-up forms.
Unlike most of HubSpot's alternatives, Pabbly Form Builder doesn't limit storage to 1-2GB. It grants unlimited storage.
Pricing
Pabbly Form Builder has only one pricing plan. At $10/month billed yearly or $15/month, this packs a punch with features like unlimited lead capturing and multi-users. Moreover, with this cheap pricing, you have unlimited webhooks, refined analytics and creating multi fields. I mean what more you want !!
---
2. Leadformly – Intelligent Form Builder
Leadformly is here after years of A/B testing. This HubSpot competitor promises data gathering with their intelligent forms. It segments your leads into different buckets so that you can qualify leads from the starting stage itself.
---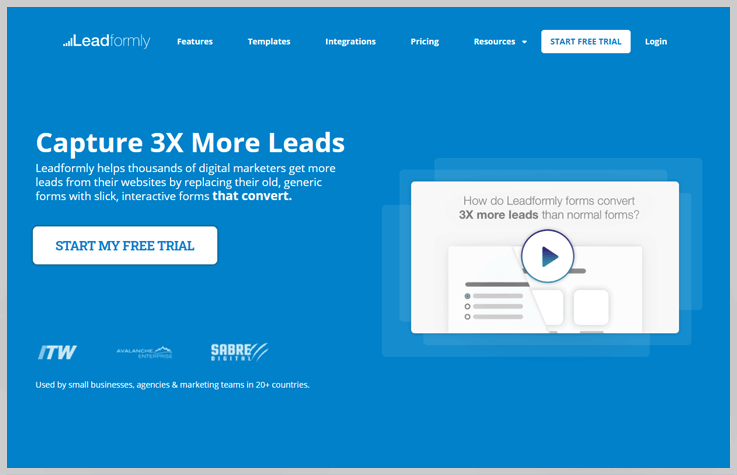 ---
Key Features
With Zapier, you can integrate with 1000+ third-party apps.
Using smart spam block one can restrict the number of spams.
Provides A/B testing even in the basic plan.
Email notification after every form submission to both website owners and potential customers.
The conditional logic is easy to add because it has inbuilt questions and multiple answers for you to automate.
You can track lead value and innovate new insights. Moreover, with this form builder, you can personalize communication with each lead with the right leads at the right time.
Pricing
Essential: The pricing begins at $37/month billed yearly. While the leads are limited to only 250 per month, you can build an unlimited number of forms. Moreover, connection with Zapier and refined analytics are added benefits. It restricts users to only 2.
Growth: At $74/month billed yearly, this brews 1000 leads and unlimited forms. It adds 3 extra users. Furthermore, you can do A/B testing and have all the features from the essential plan.
Team: Their final plan with pricing at $149/month billed yearly, you can have up to 25,000 leads per month. In addition, it provides access to 10 users and builds unlimited forms.
---
3. Formstack – Form Builder With An Edge
Want to capture leads from a person browsing through his phone? Formstack is the one you are looking for because their forms are compatible with all the devices. Additionally, they provide robust data security management and many analytics to reach your potential customers. One can also create government complaint forms with Formstack.
---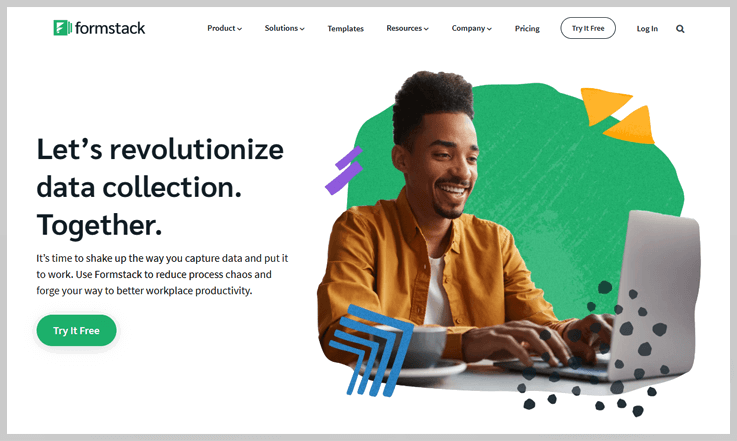 ---
Key Features
They are the only service that offers mobile-friendly forms.
The Enterprise Plan provides powerful data management and security which is unparalleled in all Hubspot competitors.
One can pair their online forms with powerful custom addons. Moreover, you can seamlessly integrate with the Salesforce app without any external connectors.
They also provide HIPAA complaint forms to capture leads in the health care sector.
With Formstack, you can work on real-time data from those users who had abandoned your forms midway.


Pricing

Bronze: Starts at paltry $19/month billed annually, with this plan you can build 5 forms. Though payment option is through ProPay only.
Silver: This upgrade is priced at $49.16/month billed annually. One can build 20 forms and can use multi-payment platforms.
Gold: The plan is quite popular as it gives 10,000 submissions and 2GB storage.
Platinum: Provides access to 10 users. Offers priority support and advanced data collection. At $207.5/month billed yearly, this tenders unlimited form building and form submissions.
Note: One can try freely all their plans individually for a limited amount of time.
4. Cognito Forms – Simple HubSpot's Competition 
Cognito Forms is emerging as one of the HubSpot alternatives because they provide unlimited forms at just 10 bucks. Now, if you are someone demanding electronic signatures from your potential customers, this form builder is the must-have one. Furthermore, it offers access to all payment gateways and provides good storage options.
---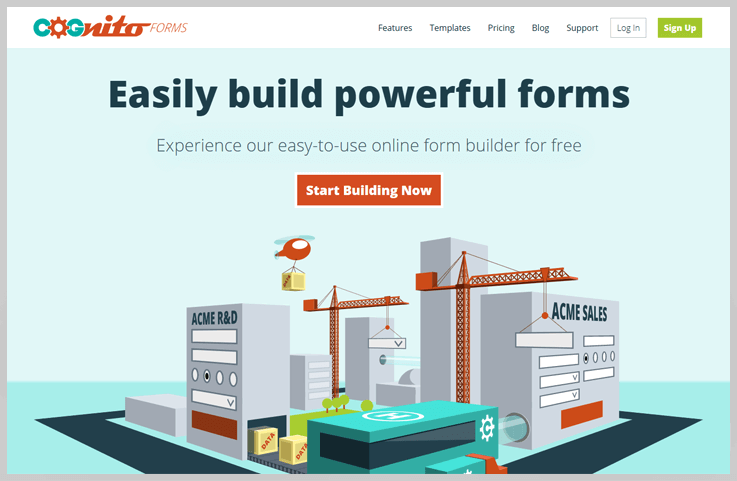 ---
Key Features
File uploads, conditional logic and calculation field are provided in all the plans.
They supply unlimited forms and a good number of lead entries per plan.
Data storage is not unlimited in any of their plans but it is enough for small businesses.
One can place their own branding in all their forms.
Data encryption and lookup field are only provided in the higher plans.
This form builder has custom blocks to fill electronic signatures. This gives it an edge over all HubSpot alternatives.


Pricing

Pro: At $10/month, you can have unlimited forms and gather 2000 entries. Storage is also good enough at 1GB.
Team: With $24/month, it offers access to 5 users, builds unlimited forms and storage capacity increases to 10GB.
Enterprise: Have access to 50 users with this plan priced at $99/month. You can have both unlimited forms and unlimited entries. Furthermore, storage is upgraded to 100GB.
They offer a free version that gives 500 leads, integrated payment options and 100MB storage.
5. WPForms – WordPress's Answer To All HubSpot Alternatives
It is known as the most powerful WordPress form builder. Moreover, it works well for bloggers, designers, photographers, and even real estate agents. Simply, just install WPForms plugin on your self-hosted WordPress site and you are ready to roar.
---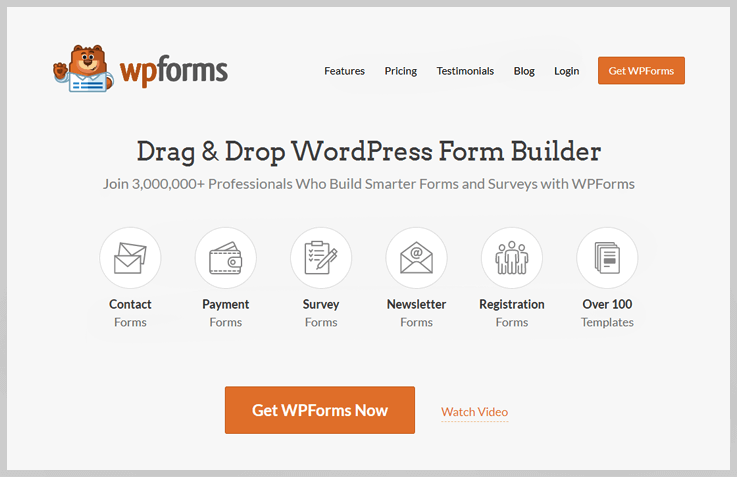 ---
Key Features
By default, any extra addition slows down your website but WPForms is crafted to limit the lag time in WordPress sites.
Being one of the major HubSpot alternatives, it's form builder comes with calculating fields, conditional logic, and payment gateways.
Some of the biggest enterprises use this platform as it supports an unlimited number of websites.
Integration with third-party apps is serene with Zapier.
One should remember that it is one of those form builders which allows unlimited forms even in their basic plan.
Pricing
Basic: Starts at $39/year, supports 1 site and offers unlimited forms.
Plus: This plan is priced at $99/year. With this, one can build unlimited forms on three websites.
Pro: Tabled as the best deal, this comes up at $199. This provides unlimited form building in 5 websites.
Elite: Billed at $299/year, this Godzilla plan supports unlimited websites and of course unlimited forms. Furthermore, you can work on conversational forms and even on form locker.
Conclusion
Every form builder has some unique features, which makes them undisputed kings of their domain. For example, if you want the best security and data management, you will love Formstack. Want intelligent lead capture, then go for Leadformly. But, if you want unlimited form submissions, unrestricted storage and access to unlimited users with just 10$, then you can't miss Pabbly Form Builder.
Want to read some related articles: