Are you looking for the best Google Forms Alternatives at a cheap price?
Then, you have come to the right place.
Consequently, Google Forms have been widely used due to its free of cost tag. But presently, some of the advanced features like autoresponder, sender name, brand logo, etc. are still not provided by Google Forms.
That is the reason why most people look for its alternative that could be available at a cheap price without making their pockets empty.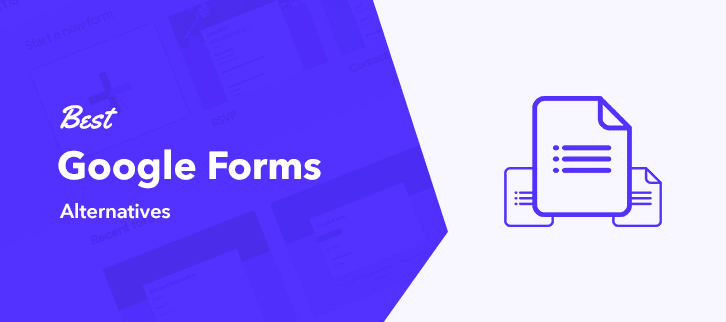 Hence, to help you out with such trouble of searching, we have shortlisted the 5 best Google Forms alternative just for you. So that, you can save both your time as well as money and choose the best fit for your business/organization.
---
Quick Comparison Between Best Google Forms Alternatives
Service
Basic Plan
Submission
Payment
Storage
Pabbly Form Builder
$10
Unlimited
Limitless
Unlimited
Formstack
$19
700
ProPay Only
500 MB
Ninja Forms
$99
Unlimited
PayPal Only
NA
123FormBuilder
$24.99
5000
NA
NA
Cognito Forms
$10
2000
Stripe Only
1 GB
---
"Pabbly Form Builder is the only tool available in the market which does not restrict users on features by providing them unlimited forms, submissions, storage, payment, etc."
This software is the best alternative of Google Forms as it offers you unlimited form submissions at a very affordable cost. With the help of its drag and drop builder, it enables you to create a form effortlessly and it even offers you several pre-built templates to choose from.
Moreover, it comes with the integration of Google Analytics so that you can track your form views, submission, etc all in one place.
Further, this software offers you numerous advanced features like autoresponder, Webhooks, conditional redirect and many more at such an affordable price with no restrictions at all! Hard to believe right?
---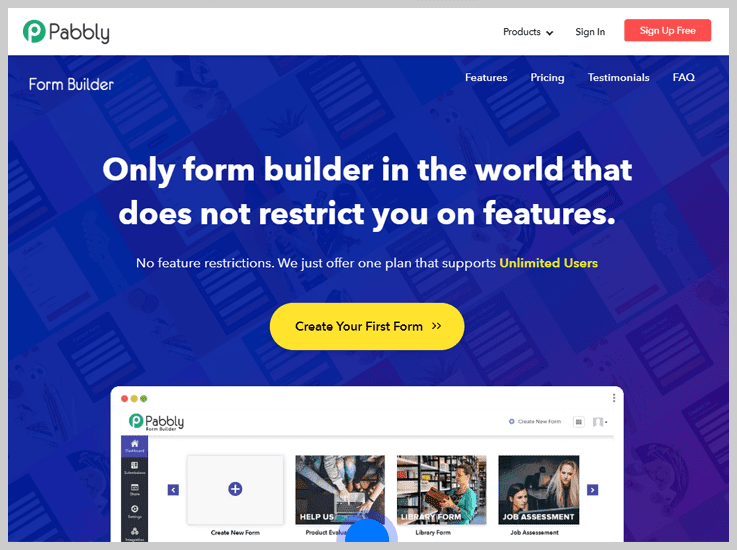 ---
Features
Email Autoresponder – This feature enables you to send customized emails to your users automatically whenever someone submits the form, completes a payment, etc.
Form Scheduling – With the help of this feature you can set an activation as well as expiration date in your form.
Receive Payments – You can receive unlimited payments through your forms using its payment gateways like Stripe, PayPal, Razorpay, etc.
Form Embedding – It allows unlimited embedding of your form with variations such as full form, pop-up form, sliding forms, etc.
Advanced Conditional Logics – Pabbly Form Builder enables you to add advanced conditional logic in your forms without any limits in order to guide responders to multiple pages on the basis of the choice they make.
Storage & Uploads – It offers you limitless storage with endless uploads unlike its competitors with storage limit upto 1 or 2 GB.
ReCaptcha – Using ReCaptcha in your form enables you to add security against spammers.
Save & Resume – This feature allows its users to save their form half filled which could be resume later as per their convenience.
Pricing
At $10, it provides all the advanced features such as unlimited embedding, views, payment submission, etc.
2. Formstack – Online Form Builder
Another form builder in our list of Google Forms alternatives is Formstack which comes with a user-friendly interface. And it offers several data collection tools such as automatic workflow, auto-fills, online signature block, etc, Moreover, Formstack also provides world-class support to all its users.
---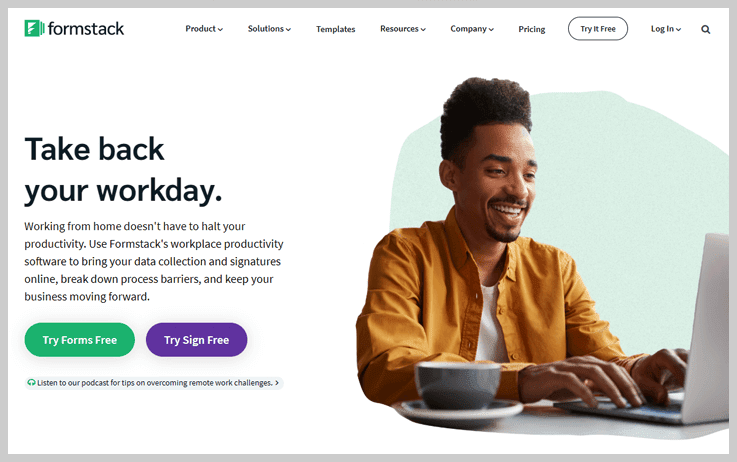 ---
Features
Data & Analytics – In order to enhance the services, data & analytics features helps its users to know about their respondents on the basis of their action.
Integration – Apart from this, Formstack comes with several advanced integrations to automate the data flows.
Payment Security – Moreover, to reduce the risk, it offers PCI compliance payment getaways to its users for security.
One Question Display – To provide a better mobile survey experience, it offers one question at a time feature to keep its users away from any distractions.
Pricing
Bronze – In this package, it offers all its basic features with 5 forms at $19 per month.
Silver – Subsequently, it provides 20 forms at the cost of $59 per month.
Gold – Besides this, it offers 100 forms when you opt for its Gold Plan at $99/month.
Platinum – You can also choose its Platinum package which provides 1000 forms at the cost of $249 per month.
Enterprise – Lastly, this plan is completely customizable which is the best fit for any business. And to avail this plan users have to contact the sales team of the company.
3. Ninja Forms – Online Form Creator
Subsequently, Ninja Forms is one of the best WordPress form creator available online. It comes with easy drag and drop form functionality that helps its users to build a form in no time. Not only that, it also offers a bunch of addons along with premium features.
---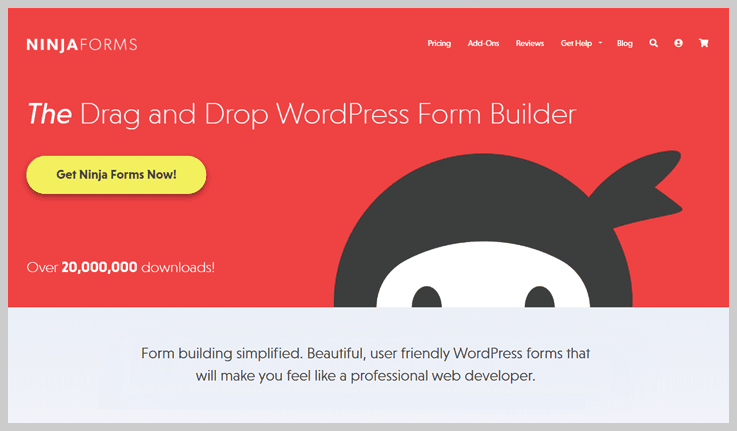 ---
Features
Layout & Styles – Using this feature, it enables respondents to change the appearance of their form through its global styling options such as adding style, elements, labels, etc.
Multi-Part Forms – Filling a long form at once could be a hectic task. And to keep you out from such inconvenience, multi-part forms help you to break a form into parts to fill them with ease.
File Uploads – Moreover, you can also save all the files uploaded by the respondents through setting up the files uploads store and can send files to your Dropbox, Google Drive account, etc.
Conditional Logic – Through this feature one can easily show and hide a particular field of there form or redirect the user to a particular page on the basis of choices that a respondent makes.
Pricing
Personal – In this plan, it offers a single site at $99 per year.
Professional – Next, it provides a Professional package that offers 20 sites at $199 per year.
Agency – This package offers unlimited sites at the cost of $499 per year.
A La Carte – It provides several addons plan that can be added in your package ranging from $29 to $129.
4. 123FormBuilder – Lead Capturing Software
The next in our list is 123FormBuilder which is a simple drag and drop form creator. It offers several elements like multiple choice, dropdown, text, etc, to collect details from the users. Using this form builder could be very helpful to conduct surveys, sell online, etc. with its easy to manage workflow.
---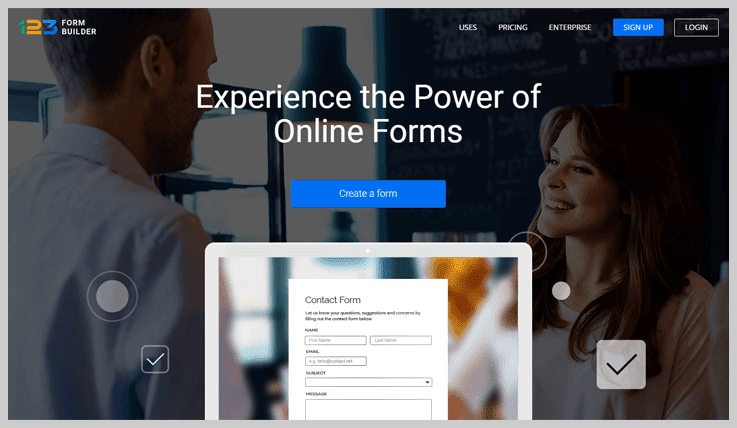 ---
Features
Efficient Form Creator – With the help of drag and drop builder it allows users to create a form with ease.
Payment Collection – It provides 14 payment processors to collect payment online including PayPal, Stripe, Square, etc.
Data Analysis – One can easily organize the data in real-time reports with the help of graphs and charts.
Third-Party Integrations- Moreover, it also offers third-party integrations with WebHooks, Dropbox, MailChimp, etc.
Pricing
Basic – It provides 5 forms for free in its basic plan along with restrictions on advanced features.
Gold – In their Gold package, they offer 20 forms at the price of $29.99 per month.
Platinum – Further, at the cost of $44.99 per month, they provide unlimited forms.
Last but not the least, the next form builder in our list is Cognito Forms with its user-friendly interface at a very cheap cost. Also, it allows its users to seamlessly embed their form on the website and whenever someone fills out the form they get notified with an email.
---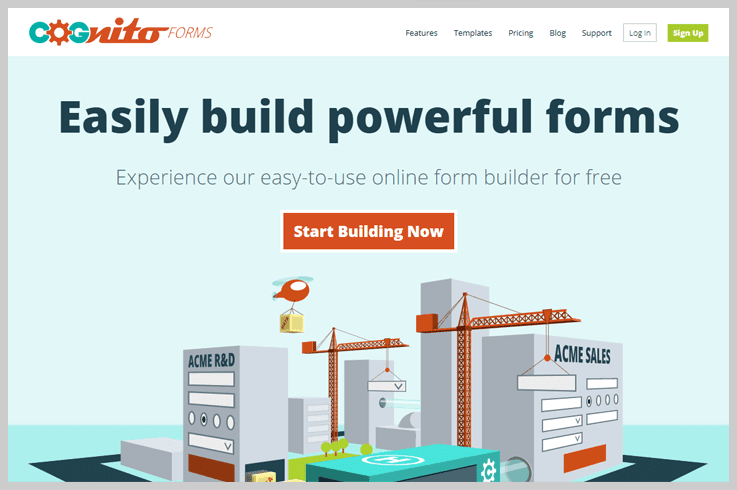 ---
Features
Form Embedding – With the help of this feature one can easily embed a form on the website or blog.
Payments – Apart from that, it also provides secure and easy payment options to collect payment from their users such as PayPal, Square, Stripe, etc.
Entry Sharing –  Through this feature, you can allow your users to change the entries of their form even after their submission.
Electronic Signature – Furthermore, you can also collect signatures on every form as well as on any device.
Pricing
Individual – It offers 500 form entries with access to only one user with 100 MB of storage capacity at zero cost.
Pro – In this plan, it allows two users with 2000 from entries with storage capacity of 1 GB at $10 per month.
Team – Next,  this plan offers 10,000 form entries with 5 users along with 10 GB of storage limit.
Enterprise – Lastly, through this plan it provides unlimited entries with 50 users and 100 GB of storage.
Conclusion –
Online Form Builders are a great way to collect feedback, survey, etc and to do so, several form creators are available in the market. We hope this article has helped you to find the best Google Forms alternatives that fulfills all your requirements at an affordable price.
You May Also Like To Read –