If you're looking for the best online form builders in the market? Then, here your search ends.
Basically, forms are a free and effortless way to grab wider audience attention. It helps in capturing leads, receiving payments, organizing surveys, collecting feedbacks and much more. Whether it is a small or large business they all look for cheap pricing with advance features.
And honestly speaking there are a plethora of form builders available in the market but searching for the affordable form builder is like looking for a needle in the haystack.
---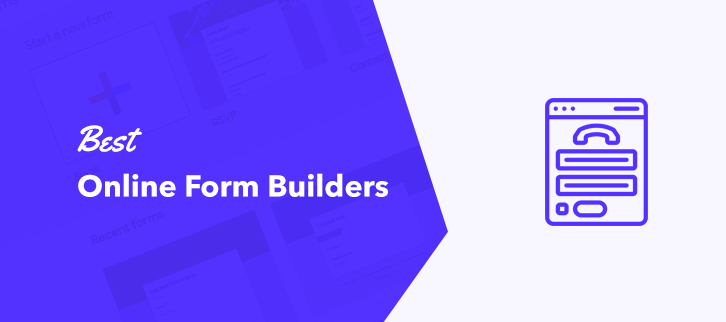 ---
Wondering about what to look in an online form builder tool?
Don't worry! Below is the checklist you should go for
Simple, user-friendly and full of customization to make the form attractive.
Payment collection option.
Embedding options.
To help you out with this we have compiled a list of best online form builders available in the market.
Quick Comparison Between Best Online Form Builders
Service
Basic Plan
Submission
Payment
Storage
Pabbly Form Builder
$10/m
Unlimited
Unlimited
Unlimited
Formstack
$19/m
700
Propay only
500MB
Gravity Forms
$59/m
Unlimited
Unlimited
300MB
Leadformly
$37/m
250
NA
NA
Live Forms
$49/m
Unlimited
Unlimited
Unlimited
123FormBuilder
$24.99/m
5000
NA
NA
 " Pabbly Form Builder is the only software that doesn't restrict users on features by offering unlimited customization options, forms, submission, and much more in a basic plan."
The very first in our list is considered as one of the affordable online form builder software. It lets you create beautiful forms using its drag and drop editor within a couple of minutes. All the forms created are not generic but interactive enough to grab the audience's attention. Not only this, it has the largest collection of beautiful prebuilt responsive templates.
Further, the tool is well packed with growth focussed features like conditional redirect, autoresponder, integrations, Webhooks, etc to take your business to another level.
The thing which makes you bow to software is it doesn't limit users on features, one can enjoy everything in a basic plan too which most of the form builder forbids. In one line it is a one-stop destination for all business needs.
---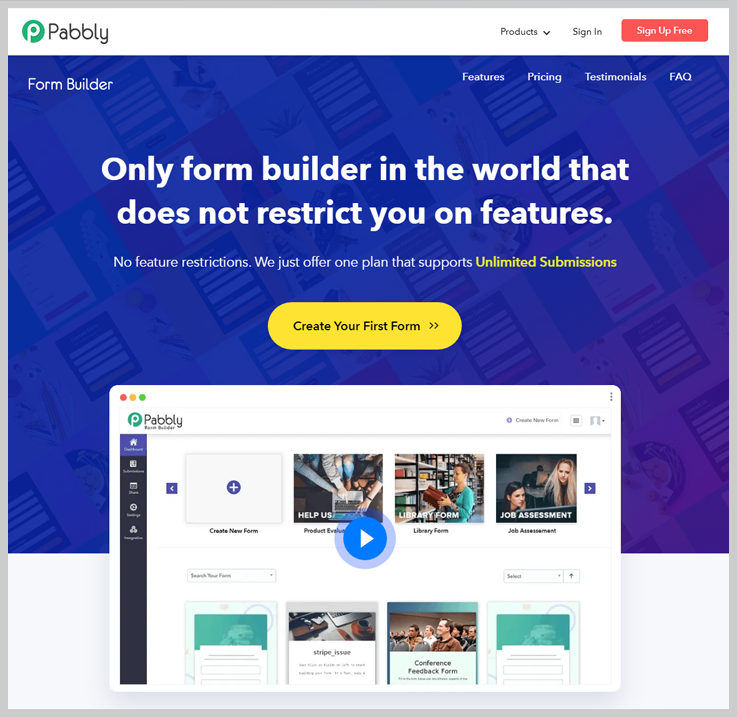 ---
Features
Conditional Redirect – This peculiarity helps users to draw traffic on their business. Using it, one can redirect the respondent to their website which can be a major help.
Collect Payments – Using it, one can collect unlimited payments via forms. It has payment gateways such as PayPal, Stripe, and Razorpay which will ease the whole process.
Email Autoresponders – It lets you send the beautiful customized confirmation email like for successful submission of messages, etc to all the respondents. The whole process is automated.
Conditional Logic – Dynamic forms or section jumps grab the user's attention and using conditional logic one can do it easily. It has limitless "And/Or and If/Then" logic.
Partial Form Submission – This feature is actually a time saver when comes to long-form. It gives the respondent flexibility to save the form and resume it later according to their availability.
Thank You Page – The very crucial thing which helps in maintaining good customer relationships is interaction and with the help of "Thank You Page" one can do that easily. It lets you create beautiful customized email messages plus users can attach a receipt of filled form too for a respondent who filled out the forms.
Integrations – Further, the tool is packed with unlimited webhooks and integrations. Without trouble integrate your form with third-party apps like Google Analytics, Dropbox, Mailchimp, etc.
Embedding – Next, the tool offers 3 different kinds of embedding for both WordPress or normal websites which are sliding, pop-up and full form.
Form Scheduling – This allows us to put an activation and expiration date on forms. Basically, one can schedule the form before it goes live in the market.
Pricing
It cost $10 for a single form including all the advance features like unlimited views, embedding and much more.
2. Formstack – Form Creator software
Succeeding, in our list, is Formstack whose aim is to grow your business with a user-friendly form builder tool. The software is packed with features to streamline the process of generating lead capturing forms. Additionally, it insisted on offering world-class support to its customers.
---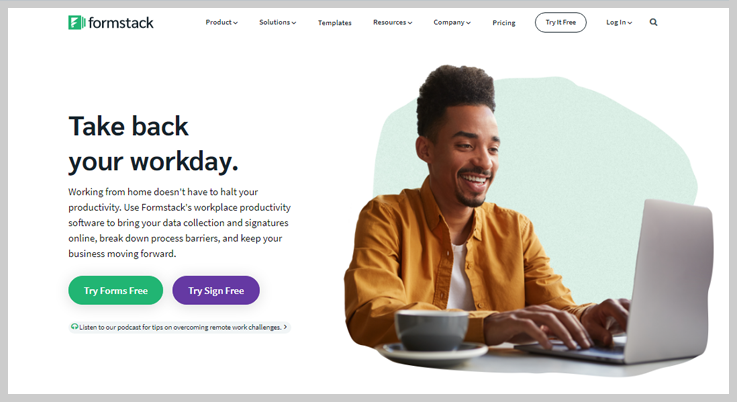 ---
Features
Form Builder – The form builder releases the burden and smoothes the whole process of building forms. Using it, one can build, customize and share form easily.
Data & Analytics – Generally, data & analytics feature is widely preferred for getting to know your respondents better. By analyzing data one can take the required action to enhance the services and this feature does justice with it.
Payments – Further, the software has a PCI compliance payment getaway to minimize the risk and offer security to users.
Security – With the help of this, one can encrypt, create one-time security login and much more to provide safety to sensitive data.
Integration – The software is packed up with all advance integration to automate the data flows.
Pricing
Bronze – The first one in our list is packed with all basic feature and users will get 5 forms at a price of $19/m.
Silver – Further, users will get 20 forms for $59/m.
Gold – Next, Gold will cost $99/m for 100 forms.
Platinum – Subsequently, at $249/m users will get 1000 forms.
Enterprise – Lastly, for business with vast needs, an enterprise plan is best. To avail it, users have to reach out to the company's sales team.
The next in our list is packed with tons of time-saving tools and features to create beautiful forms. It is considered as the professional solution available for WordPress.The software claimed to offer the scalability, reliability, and the best support of the world. Additionally, the tool allows to active or cancel subscription anytime.
---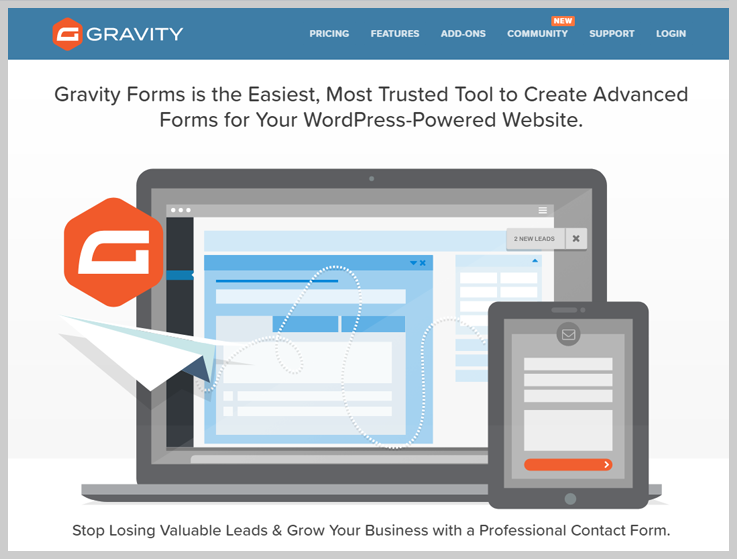 ---
Features
Email Notifications – This feature skyrockets your services by giving a detailed update about filled form through emails.
File Uploads – It lets users accept documents, images, videos, etc through the form itself using file uploads.
Save And Continue – As the name depicted, this lets users finish form according to their convenience. All they have to do it save and resume it later.
Fight Spam – More than anything, users want their form to be valid without getting spam or thrown into junk of mailbox. So to help with this it offers fight spam feature that provides reCAPTCHA and Akismet options.
Limit & Schedule Forms – Using it, one can limit form submission and schedule it any time accordingly.
Responsive Design – The software comes up with a mobile-friendly responsive design to capture leads.
Pricing
Basic License – It will cost $59/y for unlimited forms which include only 1 site.
Elite License – Further, next will cost $259/y for unlimited forms and sites.
Pro License – Finally, it will cost $159/y for unlimited form and 3 sites.
Further, we have Leadformly which is best known for capturing 3X more leads. The tool is packed with 58+ practice to enhance conversion rates which involve differentiating visitors from leads. Moreover, it provides a deep insight into the form.
---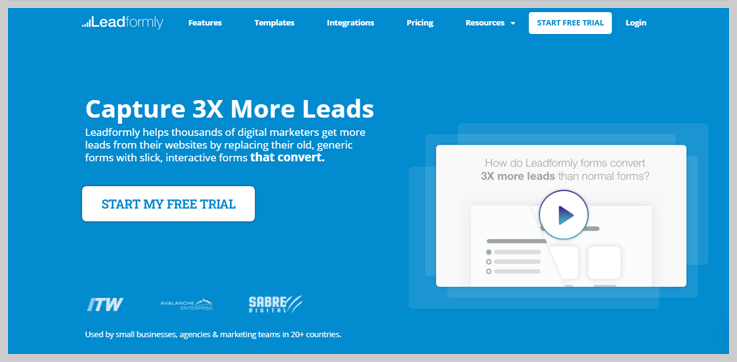 ---
Features
Multi-user Management – As the name suggested this feature allows us to manage multiple accounts in a single software.
Form Analytics – Further, it makes easy to keep track of users' data and activities using analytics features.
Email Notification – With the help of this, users can send email notification for filled form.
Drag & Drop Form Builder – The software lets you create an attention grabbing forms in minutes using its drag & drop editor.
Pricing
Essential – In essential, users will charge $37/m for unlimited forms with limited features.
Growth – Further, the growth plan will cost $74/m for unlimited forms.
Team – Finally, it will cost $149/m for unlimited forms.
WordPress Live Forms Plugin is an elegant way to build and manage any type of form simply using the Drag and Drop Method. Whether You want to build a contact form, subscription form, client review form, payment form, or a form for managing your product support section, Live Form – Visual Form Builder Plugin could be the best choice for you. Live Forms – Visual Form Builder plugin also will give you the capability to assign and manage support agents to each of your forms. Agents can manage and reply to support tickets from the front-end easily without any admin access.
---

---
Features
Visual Builder
Extensive Data Validation
Detailed From Stats/Analytics
Form Entries
Lots of Actions and Filters Hooks to increase its extendability
Conditional Logic
Captcha Protection
File upload
Accept Payment with payment field
Build awesome donation/fundraising form easily
Offer free download on form submission
Pricing
PRO -$49/Year
BUSINESS -$99/Year
DEVELOPER -$199/Year
Finally, our list wrapped up on 123FormBuilder which introduces you with the power of online forms. Using it, one can build any type of form, gather data from all across the globe and manage all workflows at your fingertip.
---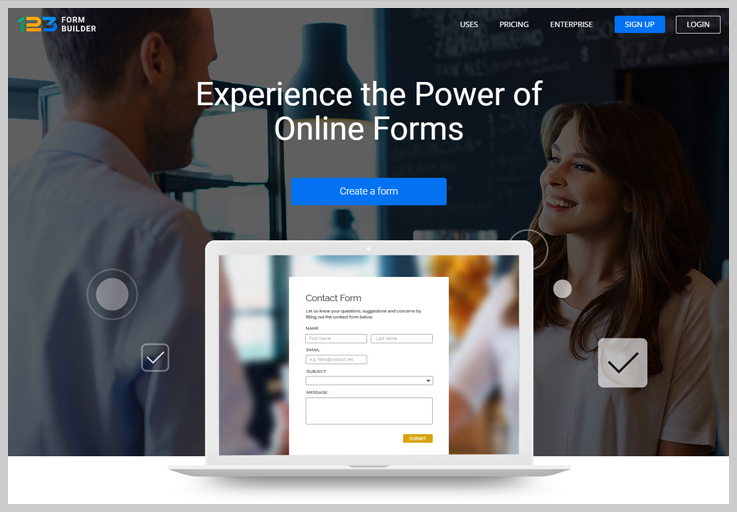 ---
Features
Build Efficient Online Forms – Whether it is contact, feedback, order or any kind of form, using its drag and drop editor one can build it within a blink of an eye.
Collect Accurate Data – Next, the very important thing is to track the detailed insights of form which can be done easily through tracking activities. Further, it provides performance and accurate data of forms.
Accomplish Limitless Goals – The software doesn't put brakes on your goals. On the contrary, it opens a wide market by letting you publish the electronic form anywhere online without any trouble. It lets you provide security to forms by enabling captcha and more.
Automate – Additionally, streamline the whole process by automating your form which means one can connect its forms to other digital services. It is widely preferred for data transfer.
Receive Payments – Finally, It offers payment getaways which are PayPal, Stripe, Square, etc to collect payments through forms.
Pricing
Basic – The basic plan of it offers 5 forms with restrictions on advanced features for free.
Gold – Next, in a Gold plan, users will get 20 forms for $24.99/m.
Platinum – Lastly, the Platinum will cost $44.99/m for unlimited forms.
Conclusion –
Hopefully, we all know, how crucial & affordable forms are to draw traffic on your websites. Forms are an easy medium to gather information that is the reason why they are widely preferred. Considering the same we made a little easier for you to pick the best online form builders. When it comes to select the best, we go for an advanced form builder tool that fulfills all our needs.
Then choose the right online form builders which suits your requirements and thank us later.
You May Also Like To Read –