When it comes to the payments, it's needed to be the safest mode possible. Whether you are selling your products online, collecting donations or accepting fees, you always need a simple way to get paid. More importantly, your customers will need an effortless way to pay you. That's where Stripe payment forms come in.
You can always rely on Stripe for safe and secure payments. But, as there are many form builder services providing Stripe integration, sometimes its tough to judge which service to choose. In this case, you must look for the functionalities that you need to implement in your payment forms. As Stripe's functionality would be the same as always.
---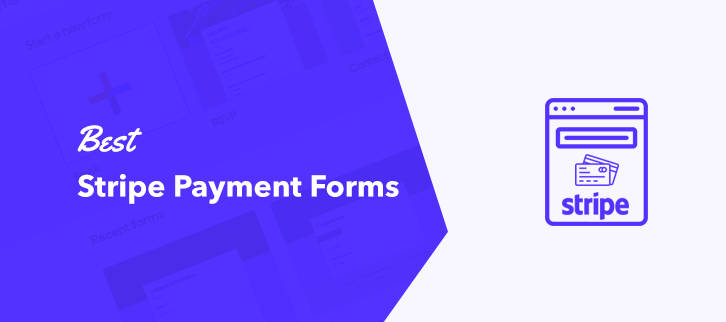 ---
In this article, we've compiled a list of the best Stripe payment form services that are bundled with many more feature that can help you in your business.
Before a brief discussion on the services, let's have a look at the comparison of the upcoming services.
Quick Comparison Between The Best Stripe Payment Forms
Service
Pricing
Submission
User
Webhooks
Pabbly Form Builder
$10/month
Unlimited
Unlimited
✔
Formstack
$19/month
700
1
✔
123FormBuilder
$24.99/month
5K
1
✖
CognitoForms
$10/Month
2K
2
✖
JotForms
$29/month
1K
1
✖
---
Pabbly Form Builder is an all in one solution for all your forms. It is the cheapest as well as the most feature-full service in the market. Along with the Stripe payment forms it is providing unlimited advanced features in the price of a single form. Such as unlimited form submission, submission reports, file uploads, storage, user access and much more.
Additionally, it allows form tracking along with numerous form templates and numerous form features. It also allows Webhooks for improvising your form experience. This is a GDPR compliant service and provides SSL encryption for payment security.
---

---
Features:
Payment Collection- It doesn't restrict you on using almost anything. You can collect unlimited payments as there is no limit on payment collections too.
Form Embedding- These are multiple ways using which you can embed your forms beautifully anywhere online.
Multi-page Forms- There are very few providing this pro feature. You can break your forms based on your user engagement & convenience.
Multiple Payment Accounts- You can use multiple payment accounts to collect payments using this form builder service. Additionally, it also allows using PayPal as your payment gateway whenever you need.
Stripe Payment Form Template- There are multiple payment form templates already designed for you that you can use right away.
Auto-populate form Fields- This is a unique feature that enhances the customer's engagement by automatically filling up the form fields.
Conditional Redirects- You can use unlimited conditional logic on your forms very easily. These logics will work based on the conditions you set and help you show the form fields based on your customer's selections.
Pricing Plan:
Pabbly Form Builder offers many features with unlimited access and usage.
You can buy a $10 monthly form plan with all the basic + advanced unlimited functionalities. Moreover, it will give you 4 months free over the yearly purchase.
Also, you can buy a single $15 form with all the features on monthly charges.
---
Formstack is also a powerful solution for teams of all shapes & sizes. It provides user-friendly form features. This service provides responsive forms that will look awesome on every device.
---

---
Features:
Drag and Drop Builder- This form builder software provides an easy-to-use drag and drop builder for better user experience.
Work In Team- You can collaborate on information with your team. You can set approvals and user permissions to work in a team. The team members can share or edit forms for a single account.
Field Validation- You can set validations on your form fields to get the right information.
Analytics- To monitor you forms performance you can gather insights and accordingly optimize your marketing strategy.
Import/Export- FormStack allows you to import/export data in CSV, Word, PDF, & excel format.
Pricing Plan:
Formstack offers five pricing plans on a monthly basis.
Bronze- Using this particular plan, a single user can make 5 forms. This plan costs $19 for basic features.
Silver- This plan is for additional tools as well as integrations and coherent data collection. In $59 a single user can make 20 forms.
Gold- In $99 five users can make 20 forms. This plan facilitates additional features for growing businesses & adds up customization options.
Platinum- Platinum plan costs $249 to 10 users for making 1K forms.
Enterprise- For this particular plan you need to contact the service itself. As it offers robust data management as well as more security for very large organizations.
---
123FormBuilder is an excellent choice for small business owners. It provides many easy-to-use functionalities for online forms. You can easily use it for collecting payments with many form features for a single user access.
---

---
Features:
Storage- 123FormBuilder allows you to use 500 MB-2 GB storage space based on your plan.
Form Submissions- You can collect up to a maximum of 20K form submissions using this form builder service.
Form Templates- You can choose from 200 pre-designed form templates available for various niches.
Payment Collection- There are a variety of options available to choose from for payment collection. You can implement this feature using integrations.
Pricing Plan:
123FormBuilder offers 3 pricing plans based on the features it unlocks on each plan.
Free- The free plan comes with the basic functionalities as well as specific limits over various features.
Gold- This plan will cost $24.99/month with extended limits and features.
Platinum- This plan enables all the features with the higher limit in $44.99/month.
---
CognitoForms is an another alternate on using stripe payment forms. It provides easy-to-build forms with a great user interface. You can always choose to create basic or advanced forms based on your form needs.
---

---
Features:
Import Form Entries- You can choose to import certain form entries using excel.
Analytics & Tracking- You can connect your Google Analytics account and track the performance of your forms.
File Upload- This feature will help you in accepting multiple files via forms. Also, you can set limits to file type and size.
Data Encryption- To safeguard the sensitive fields, you can enable data encryption on form fields.
Pricing Plan:
CognitoForms offer four pricing plans.
Free- For a single user it enables unlimited form creations. You can accept 500 entries per month and the storage limit is 100 MB. You can also accept payment through these forms.
Pro- The pro plan costs $10/month. Two users can use it for 2000 form entries and with an extended storage up to 1GB.
Team- The cost of this plan is $24/month. In this plan, the number of users is increased to 5, form entries to 10K and storage to 10GB.
Enterprise- For around 50 users and unlimited form entries this plan costs $99/month. Futher, the storage extends to 100GB.
---
This service enables you to create and publish online forms for easy business. It provides multiple varieties of form templates. Moreover, you can set email responses for each form and also collect the data of the form entries.
---

---
Features:
Templates- JotForms provide a wide varies of for templates for card, PDF and online forms.
Easy-to-use- Setting an online payment form is very you only need to follow the simple instructions and you are good to go.
Custom Branding- JotForm renders a WYSIWYG interface that allows you to design your forms by custom branding it as per your business.
100% Secure- JotForm's has a reliable 256bit High-grade SSL encryption that promises 100% security.
Pricing Plan:
JotFroms provide four pricing plans based on the features it enables on each plan.
Starter- This is a free plan rendering 100 submissions, 100 MB space, 5 forms, 1K monthly views & 500 submissions storage.
Bronze- In this plan, there are  1000 submissions, 10GB space, 25 forms, 10K monthly views & unlimited submissions storage. This plan will cost you $29/month with and no branding..
Silver- The silver plan enable accepting 10K submissions, 100GB space, 100 forms, unlimited monthly views, submissions storage with HIPAA compliance and no branding.. The cost of this plan is $39/month.
Gold- In this plan, for 100K submissions, 1TB storage, and unlimited form, views and submission storage. This plan will cost $99/month with HIPAA compliance and no branding.
---
In Conclusion:
We've discussed all the Stripe payment forms and I personally suggest you Pabbly Form Builder as it is the best choice available everywhere. Moreover, you further use your lead on email marketing too. As it provides integration towards many popular services such as Pabbly Email Marketing.
You May Also Read: