If you are into sending bulk emails then you might definitely know the importance of SMTP servers. They are the ones that carry an email from the sender and delivers it to the receiver.  Indeed, a lot of people nowadays tend to use cheap or free SMTP servers to send bulk emails as they are the most reliable and efficient medium for doing so.
---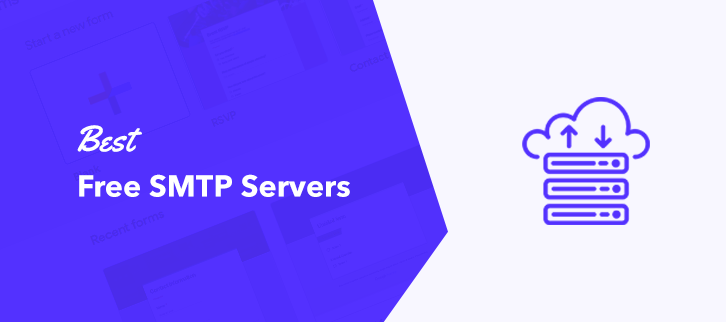 ---
There are countless email marketing services available in the market that provide free SMTP servers. Therefore, in this blog, I will discuss some of the best and affordable email marketing services to help you choose one for yourself.
These are the primary details of all the free SMTP servers mentioned in this blog. Let's move further to get a better idea of these servers.
" Pabbly Email Marketing is the only application that comes with an in-built SMTP server and also allows you to connect unlimited external servers. "
This bulk emailing service comes with a best in class inbox delivery rate of 99%. Also, it allows you to add unlimited external SMTPs and that too without paying any extra money. This SMTP relay service provides unlimited features in the basic plan itself.
Additionally, with its SMTP routing feature, you can send email campaigns via different SMTP servers. And by doing this, you can check which server performs better and use that server for sending other campaigns.  Further, it is the only service that handles bounce and spam complaints of other popular SMTPs.
---

---
Features
Marketing Automation –  With this beneficial feature you can send action-based emails to your customers.  Besides, this SMTP server enables you to create a complete workflow based on your customer's behavior thus allowing you to send emails with a more targeted approach.
MX Cleaner – Obviously having a clean emailing list is very important to maintain a good server reputation. MX cleaner automatically filters your emailing lists by removing all the bad email addresses.
Email Tracking – With its advanced email tracker you can analyze each and every detail of your email campaign like open rate, click-through rate, visitors' location, etc.
Autoresponders – You can also improve upon your customer engagement by sending them an automated welcome email using email autoresponder.
Subscription Forms – This application also enables you to capture your leads by adding a subscription form in your emails.
Pricing
Pabbly Email Marketing offers a variety of plans so as to take care of all different types of user requirements.  This free SMTP server provider doesn't restrict you on features as its paid plans include all of them.
Forever Free – This is a free plan with which you can send 12,000 emails to 1100 subscribers. Contrary to the other plans, this is the only one that comes with limited features.
Rookie – With this plan, you can send unlimited emails to 5000 subscribers at just $29/month.
Pro – This is the most suitable plan for small businesses that comes at $49/month and allows you to send unlimited emails to 15,000 subscribers.
Advance – If you are looking to send emails up to 50,000 subscribers than you get this plan at $99/month.
Apart from all the above-mentioned plans, they offer other high volume plans and if you have any such requirements you can contact the sales team.
---
2. Sendinblue –  SMTP Server For Sending Emails In Bulk
Sendinblue is a popular email marketing tool that lets you create professional-looking emails within minutes. Besides, this handy email marketing tool comes with an authentic SMTP server through which you can send bulk emails with a good delivery rate.
---

---
Features
Responsive Email Templates – It offers 70+ free responsive templates. Whether you want to send a newsletter, transactional emails, B2B email or any other type of email you can easily do so by choosing from their templates.
Personalized Emails – You can improve upon your customer engagement by sending personalized emails with its dynamic personalization.
WordPress integration – This free SMTP server comes with easy WordPress integration.
Email Send Time optimization feature – This feature lets you send an email on the best time of the day so as to get the best open and click-through rate.
Pricing
Free – You can send 300 emails/day to unlimited contacts with their free plan.
Lite – With this plan, you can send 40,000 emails/month at $25 with no daily sending limit.
Essential – This is the most suitable plan for growing businesses. It offers 60,000 emails/month at $39/month.
Premium – The Premium plan consists of two sub-plans. One of them offers to send 1,20,000 emails at $66/month the other one lets you send 3,50,000 emails at $173/month.
Enterprise –

This plan comes with all the premium features and is designed for customers who have more advanced needs. You can get a quote by contacting the sales team.
---
3. Pepipost – Quickest Email Sending Server
Pepipost is a cloud-based bulk emailing service that offers a very quick email delivery. You can either use its free SMTP relay or HTTP APIs for sending emails. Plus, this SMTP relay service provides an easy integration of APIs thus making it compatible with other applications.
---

---
Features
On-time and high inbox delivery – Pepipost sends emails using advanced AI algorithms to get insights on user behavior. This helps in sending the emails at the correct time and also ensures that it reaches the inbox.
Real-time advanced analytics – Details of your email deliverability, emails opened, clicks and a lot of other information can all be easily tracked.
Efficient email tracking – This free SMTP relay provider saves your email campaign's data for 90 days. Thus you can easily track your previously send campaigns.
Pricing
Pepipost offers a range of pricing plans and its monthly plan starts from $25 with which you can send 150000 emails. Besides, the most popular Pepipost plan comes at $145 with an email sending limit of 600,000 emails per month. Also, the highest-paid plan of this free SMTP relay service offers to send 2,000,000 emails at $445/month.
---
4. SendPulse – SMTP Server For Emailing
SendPulse is another service that provides a free SMTP server for bulk email sending at very cheap rates. You can effortlessly and very quickly create successful email campaigns with its efficient drag and drop builder.  Also, with this SMTP server, you can examine your subscriber's behavior using its subscriber rating.
---

---
Features
Email Personalization – With SendPulse you can easily personalize your emails by adding their names and other relevant information.
Add Forms – This SMTP server allows you to create forms and add them on your websites for collecting leads and then sending them emails.
A/B testing – Find out the most effective version of your email by testing their subject line and content.
Spam Checker – It verifies the content of the email just before sending and informs about the improvement required so as to avoid them from landing into the spam folder.
Pricing
This free SMTP relay service offers numerous pricing plans to cover different emailing needs. With its free plan, you can send a maximum of 15000 emails to 500 subscribers. Whereas, its paid monthly plans start at $8 with unlimited sending limit to 500 subscribers. The highest plan comes at $7000 with subscribers limit of 5,000,000. In addition, this free SMTP server provider offers a VIP plan to send emails to over 1 million subscribers for which you can contact their sales team.
---
5. Mailjet – Free SMTP Relay Service
Mailjet is one of the few free SMTP servers that ease outs all the complexities of sending bulk email successfully. It not only improves the deliverability of your emails but also manages your server reputation by using authentication tools such as SPF, DKIM, etc.
Further, its detailed statistics and feedback loops help in optimizing the deliverability of your emails.
---

---
Features
Efficient Email editor – You can create professional-looking and responsive emails in quick time by adding images, buttons, links, etc in your emails.
Contact Management – This feature helps you easily segment and manage contacts. By segmenting the contacts you can send only the relevant emails to your subscribers and reduce the unsubscribe rate.
SMTP Relay – Mailjet's free SMTP server supports numerous other ports with their SMTP relay. You can choose the best suitable port for your campaigns.
Easy Configuration –This software very easily gets configured just by sending an API to the server.
Pricing
Fee – Mailjet's free plan allows you to send 6000 emails/month to unlimited customers.
Basic – This plan comes with a sending limit of 30,000 emails/month at $9.65.
Premium – With the Premium plan of this SMTP server you can send 30,000 emails/month at $20.95. This plan includes all the advanced features.
Enterprise – This plan is designed to fulfill the custom requirements of the users and includes all premium plan features.
---
Conclusion
Finally, I hope this blog proved to be helpful and your search for free SMTP servers has now ended. All the services mentioned in this blog are worth trying. Moreover, I will personally recommend you to visit their sales page, have a brief look at what they offer and then choose the one that suits you.
You May Also Like To Read-