Some of the email marketing service providers in India have carved a loyal customer base by offering bulk email delivery at cheap prices. While others have focussed on refining infrastructures like artificial intelligence, email tracking, segmentation, and even SMTP routing.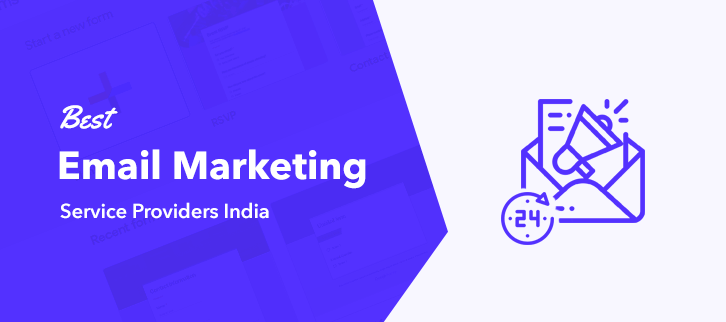 So, choosing the "One" from numerous email marketing service providers will be a tough job for you. That is why I have filtered and selected the five best email marketing service providers in India.
| | | | | |
| --- | --- | --- | --- | --- |
| Service | Basic Plan | Emails | Transactional Emails  | SMTP Routing |
| Pabbly Email Marketing | $29/month | Unlimited | ✔ | ✔ |
| SendinBlue | $25/month | 40,000 | ✔ | ✖ |
| Pepipost | $25/month | 150,000 | ✔ | ✖ |
| Mail Marketer | $27/month | 40,000 | ✖ | ✖ |
| BrainPulse | $54/month | 100,000 | ✖ | ✖ |
Pabbly Email Marketing is the unicorn you are looking for. You can send unlimited emails at a 99% delivery rate, perhaps the highest in the email marketing industry at very affordable prices. Of course, it has its own inbuilt SMTP, but you also have the flexibility to work with other SMTP providers as well.
The best part is "No Technical Expertise" is needed with Pabbly Email Marketing. Just create an account and start your email campaigns at once.
---
---
Features:
Autoresponders – It automatically sends a welcome email when a new subscriber joins your email list.
Import Emails – From your former email marketing services you can easily import old emails to your new list within Pabbly Email Marketing.
MX Cleaner – You can remove bad emails and invalid/unresponsive email addresses thus ensuring a blooming email list to increase your probability of success.
Marketing Automation – It can automatically deliver emails on a pre-set schedule to further captivate your subscribers.
SMTP Routing – As mentioned earlier, you can connect with multiple external SMTP services like Amazon SES, MailGun and others to get higher inbox placements.
List Management – You can easily manage all your subscribers in one place. Also, you can place your own custom logo in your emails.
Email Tracking – You can get a report on the number of emails delivered, emails opened by subscribers bad email address and percentage clicked.
Drag & Drop Builder – Not only it provides a plethora of stunning email templates but also provides a perceptive drag & drop email builder to compose incredible emails.
24×7 Support (Non-Bot) – When you land on their page, you will be welcomed by the support, who will guide you through their various functionalities and solve any of your queries.
Pricing:
It comes in four plans, each priced on the basis of subscribers. They are as follows.
Forever Free – As the name suggests, it is totally free. You can send 12,000 emails to 1,100 subscribers per plan. Just sign up and you are ready to roll.
Rookie – At $29, you can send unlimited emails to 5000 subscribers with this plan. Also, the added benefits include list management, SMTP routing, and email builder.
Pro Monthly –This is their most commercially marketed plan, one can dispatch unlimited emails to 15,000 subscribers at just $49 per month.
Advance – Send unlimited emails to 50,000 subscribers at just $99 charged monthly.
Enterprise Plan – If you want to send bulk emails to more than 1 million subscribers, then you may have to contact their support team to get the details.
Note: As you can see, Pabbly Email Marketing does provide some incredible features for your campaigning. Also, the best part is it doesn't matter if you have opted for the "Basic" plan or "Enterprise" plan, you can access all its features without any restrictions.
---
2. SendinBlue – Email Marketing With An Edge
It provides email marketing automation at some of the most affordable rates thus ending the search for many small businesses. Also, they boast of sending more than 100 million emails per day!! Which is a truly remarkable feat.
---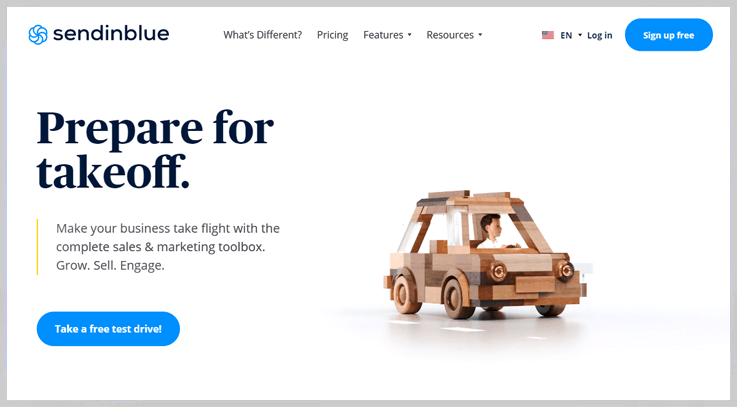 ---
Features:
Email Builder – It has an intuitive email builder which can be even used on mobile phones.
SMS Marketing – Not many email marketing services offer this feature and also, the best part is this feature is provided even in the basic plan.
Facebook Ads – Place Facebook ads and display them, also you can retarget them.
CRM – Has an inbuilt Customer Relation Management system to keep a track of all your customer details in one place.
Marketing Automation – Furthermore, you can save time and boost performance by automating your marketing messages.
Transaction Email – Send transaction emails and even segment these emails to reach targeted audiences.
Pricing:
Lite – At $25/month, you can dispatch 40,000 emails with no daily sending limit.
Essential – With $39/month you increase the email sending to 60,000 emails. Also, you can do A/B testing and dabble with advance statistics.
Premium – Double the email sending to 120000 emails at $66/month.Marketing automation,chat-based support and even insert Facebook ads.
Enterprise – You need to contact the service provider to access the features.
---
3. Pepipost – Artificial Intelligence Enabled Email Marketing
They place themselves as a highly evolving email marketing service providers. This is true as Pepipost is using artificial intelligence to ensure higher deliverability. Real-time reports and subaccount management will help you manage your emails campaigning with ease.
---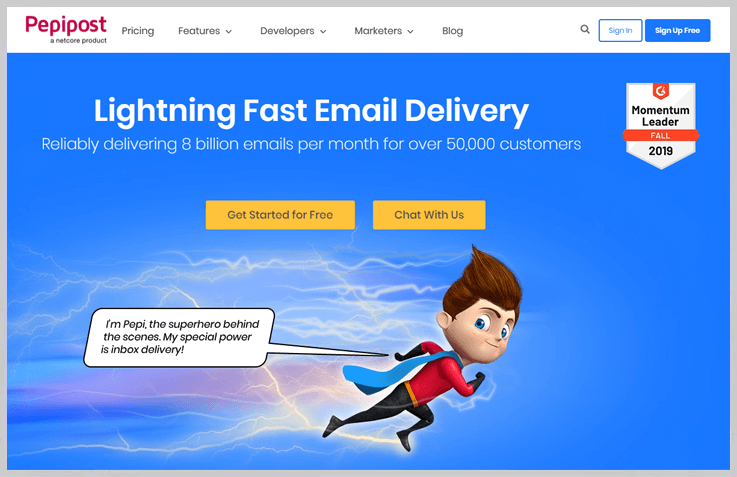 ---
Features:
Email Tracking – Every email can be tracked and the data can be kept for 90 days. Also, you can access the metadata, anytime during the email's life cycle.
Artificial Intelligence – Using machine learning they harness the data to set a number of parallel connections to be opened per sender, work on delivery speeds and reduce bounce rates.
Subaccount Management – These subaccounts are actually child accounts under one master account. Each has its own login credentials, SMTP, IP addresses and statistics.
Email API – The developer can use these APIs to get access and program several features on the emailing platform.
Pricing:
They have a slider on their website which reflects the price according to the number of emails sent per month. If you move the slider towards the right the email numbers rise and axiomatically the price. However, the plan that really will interest you is priced at $145 / month which can send 600,000 emails.
---
4. Mail Marketer – Mass Email Marketing Service Provider
They are an email marketing service provider in India. You can even begin your own bulk email reseller service through them. Furthermore, the best part is, unused email credits that you had purchased won't expire, it simply gets added to the newer ones.
---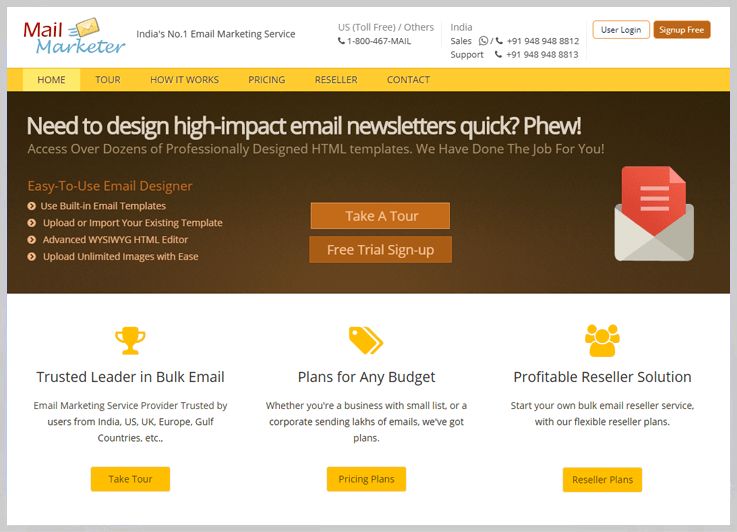 ---
Features:
Email Tracking – It can track every email, link and provides a detailed summary of spams, dead email addresses, and bounce rates.
Import Contact List – Bring, build and manage your old email addresses into your new list.
Google Analytics – Easy Integration With Google Analytics.
Email Designer – Provides advanced WYSIWYG HTML editor to build your emails.
Pricing:
In Mail Marketer, you can opt for either the monthly subscription and the "Pay as you go" option. The pricing is tailored for Indian business and can be purchased both in offline and online mode.
M40K – At $27/month you have 40,000 email credits.
M100K – For just a mere $42/month you can access 100,000 email credits.
M500K – 500,000 email credits for just $141/month with a dedicated IP address.
1 Million – Access 1,00,000 email credit with this plan by paying $241/month.
2 Million – The final plan at $348/month gives you the power to get email credits worth 2,00,000.
---
5. Brainpulse – An Amazing SEO Company
Brainpulse is an SEO company based in India and has been serving the digital marketing field for 17 years. Not only email campaigning, but you can also get bulk SMS marketing services by just signing up.
---
---
Features:
Email Data Mining – It helps you to scrub away bad emails and reduce the bounce rate by validating the potential email address.
Email Marketing Automation – Also, you can personalize, segment and deploy automatically your email campaign according to your discretion.
Open And Click Through Tracking – Automated response summary is provided when a subscriber clicks on the link or opens the email. Moreover, it offers decent list management to remove useless emails.
Bounce Handling – Get a deep perspective into mail bounces so that you can determine whether to delete a particular email address or give it another chance.
Pricing:
Basic – At  $54/month, you will get 1 lakh mail credits.
Starter – A massive upgrade at 5 lakh mail credits for just  $197/month.
Medium – Get 10 lakh mail credits for $325/month.
Silver – At $407/month, get credits worth 25 lakh mails.
Gold – In $1000/month you will have control over 50 lakh mail credits. This pricing email marketing service providers in India.
Platinum – Access 1 crore mail credits for $1480/month.
---
Conclusion:
Well, these are the 5 best email marketing service providers from India in 2020. But, don't take my word for granted. All these mentioned services offer a free trial for a limited window. Do check them out individually.
You May Also Like To Read: