Looking for the best email verification services?
Most of the online businesses that are running email marketing campaigns must be aware of the email verification services. The reason for the same is all the successful email campaign demands, the best inbox deliverability. That is only possible through bulk email verifier.
Keeping the same in mind, the marketer gives preference to email verification services. As the name suggested email verification helps users to reach out to reliable customers by verifying each and every email address.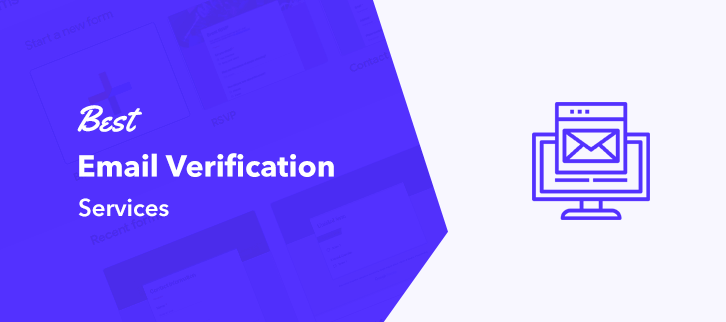 By doing so, one can save so much effort and time, it will further filter out the list by deleting invalid, fake and non-existing email addresses.
So, email verification is a must from a digital marketer point of view and to help you out we have compiled this article to pick you the best. Here, we are going to list the best email verification services available in the market.
| | | | | |
| --- | --- | --- | --- | --- |
| Service | Basic Plan | MTA Validation | Greylisting Verification | Ratings |
| Pabbly Email Verification | $5 for 1000 emails | ✓ | ✓ |  5.0/5.0 |
| MailGet List Cleaning | $4 for 1000 emails | ✓ | ✓ | 4.9/5.0 |
| Xverify | $40 for 5000 emails | ✓ |  ✕ | 4.8/5.0 |
| ZeroBounce | $16 for 2000 emails | ✓ | ✓ | 4.8/5.0 |
| EmailChecker | $14 for 1000 emails | ✓ | ✓ | 4.9/5.0 |
The very first in our list is Pabbly Email Verification which guarantees the most accurate results.
The thing which makes this software stand alone in the market is it takes time to verify each and every email and provides nothing but genuine results. The software makes sure to removes all the bad, false or invalid email addresses.
---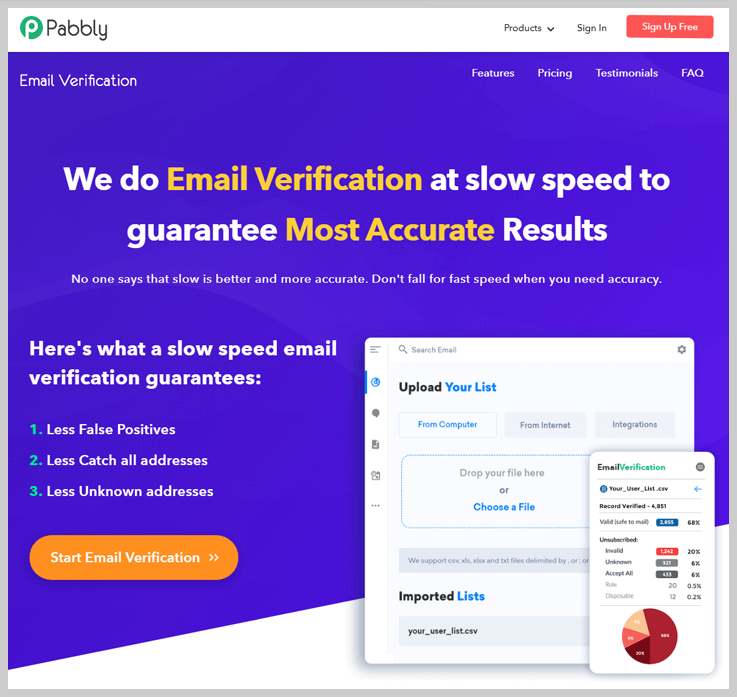 ---
Features
Anti-Greylisting –The software allows anti-greylisting technology to prevent your inbox from spam emails results in providing you the accurate results.
MTA Validation – It comes up with MTA Validation which cross-checks the service provider of an email and makes sure to have a valid MX record.
Email Deduplication –This feature of the software makes sure that all the duplicate email addresses get removed automatically.
Domain Confirmation – With the help of this feature, users can remove all the email addresses that are invalid and inactive. It will eliminate the parked or domain that is not linked with any email hosting services.
Syntax Eliminator – Pabbly Email Verification services offer to eliminate all the invalid syntax from your mailing list, further making it flawless.
Complaints Removed – Further, it offers a pure list of emails by removing all the emails that resemble with a database of complaints.
Pricing
The basic plan starts with $5 for 1000 emails.
Following, 5000 emails, the pricing is $15.
Further, the pricing for 10000 emails is $25.
It will cost $37 for 15000 emails.
Lastly, the highest plan involves $2999 for 10M emails.
The second on our list is MailGet List Cleaning, better known for its quick results. The software cleans all the bad and inactive emails providing you only quality results. Moreover, it trashes out all the unhealthy or inactive emails resulting in only valid email addresses.
---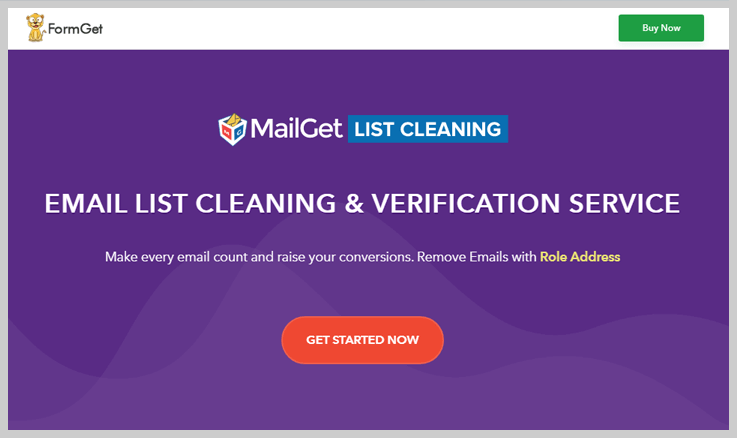 ---
Features
Increase Deliverability – The software offers a better inbox deliverability rate along with a precise list.
Duplicate Email Verification – With the help of this feature, one can easily delete or remove all the duplicate emails from the list.
Disposable Email Verification – It automatically eliminates all disposable or bad emails, provides only a healthy email list.
Email Syntax Verification – The tool helps in excluding invalid emails with the wrong syntax.
Eliminate Hard Bounce – Basically, the hard bounce is when email deliverability failed because of invalid recipient's address. The tool makes sure of this by removing hard bounce.
Suppression Verification – The software cross-checks with unsubscriber lists who don't wish to receive any emails resulting in generating a list of genuine ones.
Pricing
Starters – The starter plan involves verifying of 1000 emails at the price of $4.
Rookie – The next rookie plan includes verification of 5000 emails at the cost of $12.
Pro – Further, in a pro plan, it will verify 10000 emails at the price of $20.
Advance – Finally, the advance plan which involves verifying of 15000 emails at a price of $35.
3. Xverify – Bulk Email Verifier
Further, the next in our list is Xverify which makes sure to improve email deliverability by eliminating all the bad email addresses, removing hard bounce and minimizing fraud.
---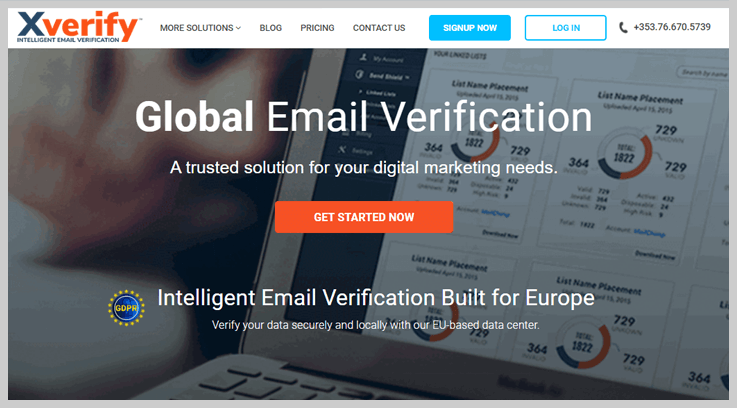 ---
Features
Increase Deliverability – The software provides the best sender score by improving data quality.
Data Intelligence – With the help of this feature, one can take all precautions because it identifies the bad email addresses before sending the mails.
Implementation – It provides fast and quick javascript implementation with your required platform.
Batch Uploading – Using it, one can quickly and easily clean up the large dataset in a single go.
Pricing
Pay As You Go Rates –
The basic plan involves $40 for a minimum of 5000 emails.
Subsequent, at $70, it will provide verification of 10000 emails.
Lastly, the highest plan involves $25000 for 2.5M emails.
4. ZeroBounce – Email Verification Tool
Following our list, the next is zero bounce which provides military-grade data encryption results in secure email validation service. All you have to do is integrate zero bounce with your platform and you're good to go.
---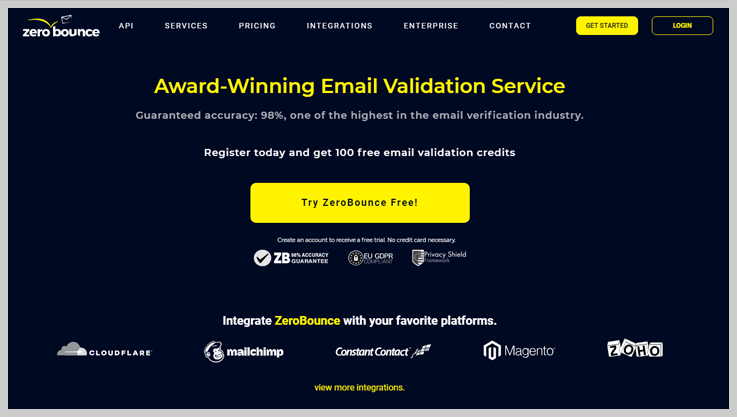 ---
Features
Spam Trap Detection – The software offers a fraud management tool to identify spammers and remove them from your list.
Email Gender Append – Next, it offers the flexibility to identify the gender of users in your email list.
Abuse Detection – With the help of a tool, users can remove bad emails from the list.
Email Bounce Validator – Using this, one can know the bounce rate of the emails.
SMTP Provider Information – Through this, users can know the SMTP server of the email address.
Toxic Domain Detection – Using this feature, one can remove all the abuse, bad and bot created emails.
IP Information Append – This feature provides all the necessary details like country, region, city, etc.
Pricing
Freemium – In a freemium plan, the user will get 100 free credits for a month with conditions applied.
Pay As You Go – Following, at $16, users will get the minimum 2000 credits.
Subscriptions – Finally, for $15/m, the users will get 2000 credits for the month including all freemium features.
5. EmailChecker – Email Validation Tool
Lastly, none other than an Email Checker that guarantees honest results. Using the software, one can capture accurate and active email addresses.
---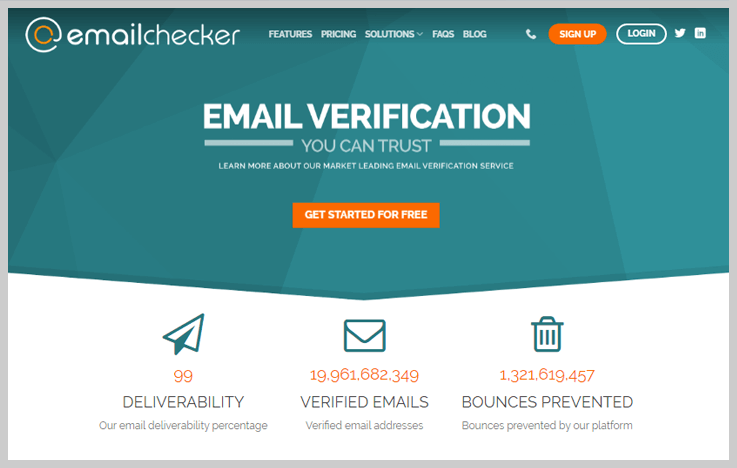 ---
Features
B2B Verification – Email Checker has cloud-based B2B platforms designed especially for email list cleaning.
Common Typo Handling – The software removes common typing errors and recommends suitable alternatives.
Error Correction – Besides, the tool ensures to remove invalid characters like slash, space, etc.
Fast Verification – The software claims to be fast email verification service providers.  Moreover, it verifies email addresses in a blink of an eye.
Yahoo Verification – Further, the tool offers real-time yahoo verification.
Pricing
At $14, users will get 1000 email credits.
For $29, it offers 2500 email credits.
In $49, customers will get 5000 email credits.
At $69, it provides 10000 email credits.
Finally, the maximum plan involves $2499 for 2500000 email credits.
Conclusion
That's it! We have compiled the list of best email verification services in the market to help you out.
When it comes to quick email verification services choose wisely because it lets you boost your email market campaign by reaching out to potential customers.
You May Also Like To Read: