Bulk Email Marketing is found the most cost-effective marketing tool that can provide up to a 43% return on investment. But, saying you have numerous options available to choose the best email marketing services could be an understatement. In fact, there aren't that many worthy services available online.
---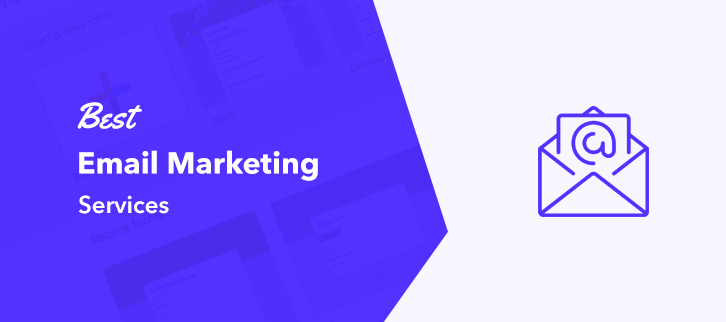 ---
Determining the right service can have a significant impact on the success of your marketing campaign. If you aren't careful enough, you will end up paying a lot more money for fewer functionalities & terrible email deliverability rates. This could cause you to lose even more of your money.
But there's no reason to feel overwhelmed. We've got your back. In this article, we're going to review the best email marketing services & how they stack up against each other. First, have a quick glance at the comparison table.

| | | | | |
| --- | --- | --- | --- | --- |
| Service | Pricing | Subscription | SMTP Routing | Ratings |
| Pabbly Email Marketing | $29/month | 5K Subscribers | ✔ | 5/5 |
| SendinBlue | $20/month | 40K Emails | ✖ | 4.5/5 |
| Pepipost | $25/month | 150K Emails | ✖ | 4/5 |
| Benchmark | $11.13/month | 500 Subscribers | ✖ | 4/5 |
| GetResponse | $15/month | 1K Subscribers | ✖ | 3.5/5 |
---
No doubt that Pabbly Email Marketing topped the list as it has the best features available. You'll be able to automate your marketing workflows in no time. Tracking the stats, sending more as well as better emails, and finally resulting in building a deeper relationship with your visitors.
Moreover, it has a remarkable feature of connecting multiple SMTPs. Firstly, if you already have an SMTP service and thinking of switching to Pabbly you can do it in a few clicks. Secondly, if you don't have any then this service will provide you with one in-built in it. In addition to this, you can also switch between these multiple SMTPs for excellent deliverability.
Above all, a reliable email marketing service ensures that your emails don't end up in the spam folder of your customers. Pabbly takes care of this very well.
---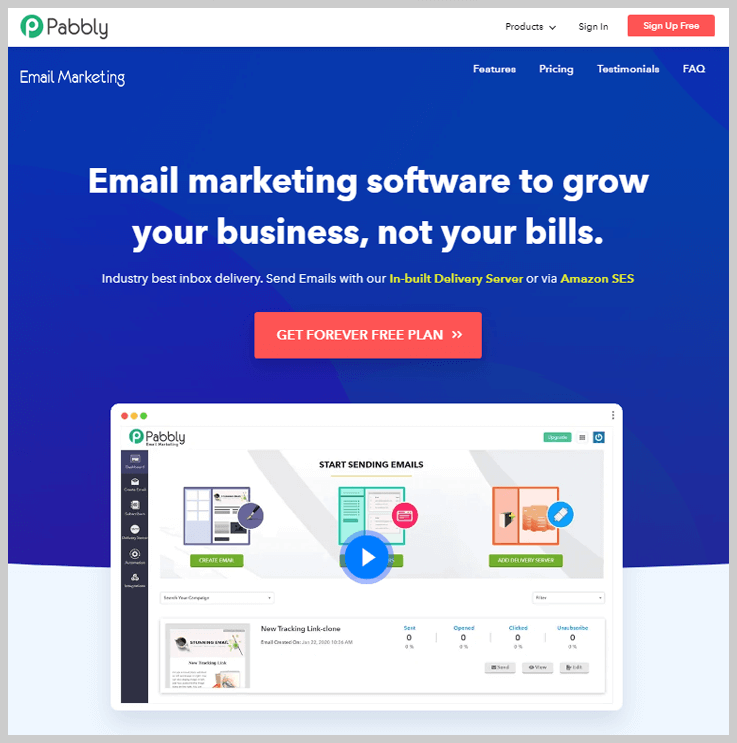 ---
Features:
Marketing Automation: This feature enables you to automatically deliver emails on a pre-set schedule to retain your subscribers. With a user-friendly UI, you can set triggers in no time.
MX Cleaner: This feature cleans your email list & removes the bad emails. To help you reduce the bounce rate.
Automatic Resend: It helps you in increasing the open rate by sending an automatic follow-up email to non-opens.
Subscription Forms: You can capture more leads using the subscription form that Pabbly Email Marketing Provides.
Advanced Personalization: Apart from the 90's first name personalization it also enables advanced personalization options. You can use every single detail that you have about your customer in the emails.
Pricing:
Pabbly Email Marketing offers all its features in almost all its pricing plans and that too for unlimited emails.
Forever Free: In this particular plan it offers to send 12K emails to 1.1K of your subscribers
Rookie Plan: This plan cost around $29/month to send unlimited emails to 5K subscribers.
Pro Plan: To send emails to 15K subscribers, this plan cost $49 charged monthly.
Advance Plan: This plan ranges from $99-$1599 monthly charges for 50K-100K of your subscribers.
---
SendinBlue is the second-best email marketing service available proving almost all the features. This service has many features that provide ease in carrying out your email marketing campaign. Apart from the poor reviews about the customer's support, this is still a service worth trying.
---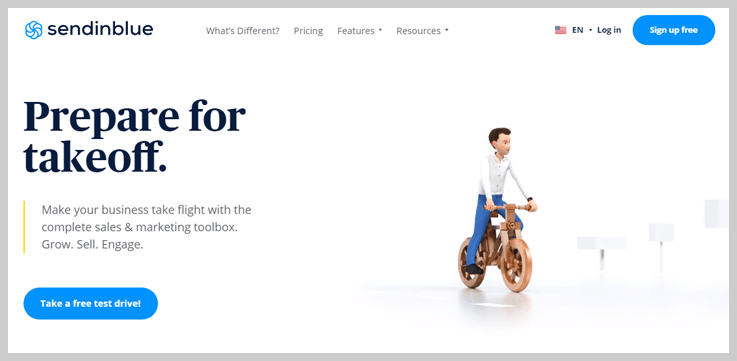 ---
Features:
Drag and Drop Email Builder: SendinBlue provides a drag and drop builder that will give you a very easy-to-use interface.
List Import: Importing a contact list is very easy whether you need to upload it from a file or create one.
Pre-made Templates: This service provides some pre-build email templates as if you are in a hurry and need one instantly.
Automation: It also provides certain limited features using which you can automate a part of your campaign.
Pricing:
Basically, there are 5 plans that SendinBlue mass email marketing service provides. Based on the features it unlocks with increasing valued plans in its monthly plans.
Free: The plants allows you to send 300 emails every day.
Lite: This plan costs $25 for 40K email and unlocks the Lite features.
Essentials: This plan increases the email limit to 60K and price to $39.
Premium: You can switch between two choices of emails i.e, 120K and 350K which will cost $66 and $133 respectively.
Enterprise: You must contact the service for the pricing detail to access all the promised features that it provides.
---
Peripost is the only open-source service among all the best email marketing services. It is developer-friendly. Also, it provides a built-in SMTP server to connect. In addition to this, it provides basic user-friendly services too.
---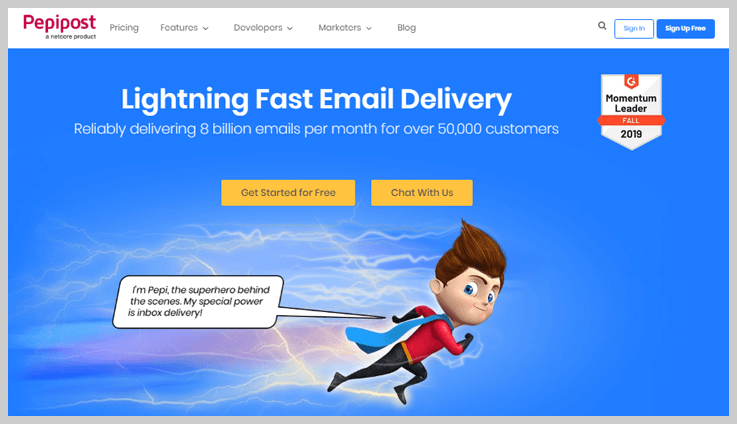 ---
Features:
Email Builder: Pepipost provides a drag-and-drop email builder to create email easily in less time.
HTML Templates: It proves fully customizable pre-designed HTML email templates that you can use for various purposes.
Email API: Using the email API and a hand from the developers you can implement functionalities like marketing automation & multi-user interface.
Webhook: As earlier mentioned it is an open-source service you can use the webhook functionality after some hand-coding.
Pricing:
The pricing of this service is based on the number of emails that you can send every month.
Lowest Plan: The lowest plan is of $25 and you can send 150K emails using it.
Popular Plan: Popular plan for this service costs $145 for sending about 600K emails.
---
This is again an exceptional service amongst all the best email marketing services. As it offers numerous features in both the free and paid plans. In spite of the fact that for marketing automation whos cost is already added in the paid plan.
---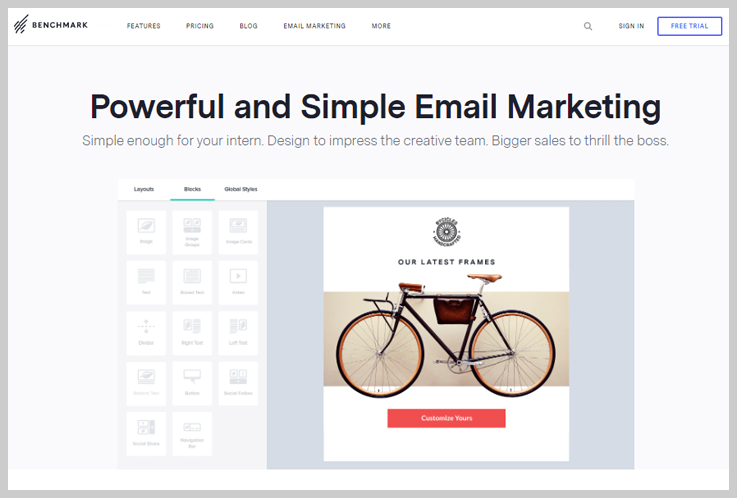 ---
Features:
Drag and Drop Builder: The email builder is very easy-to-use and contains an additional facility to edit images in the emails.
Templates: It has many responsive pre-designed as well as HTML templates. You can edit and customize both type of temples as per your choice.
Analytics &‌ Reports: Benchmark renders excellent reports for your email campaign opens and clicks. You can easily monitor and work in accordance with your campaign's success parameters.
Pricing:
Free: It offers trying many functionalities for 30 days or until the 250 email sending limit lasts.
Medium: The pricing of this plan ranges from $11.13-$251.37 for 500-50K Subscribers.
Large: Large plan cost range starts from $270.19-$474.79 for 55K-100K subscribers.
Extra-Large: The price range is $569.67-$3445.31 for 950K-1000K subscribers.
Massive: For 1070K-1740K subscribers, the price ranges from $3816.34 to $24763.80.
---
GetResponse is a mass emailing service that's providing many additional features. Even the marketing automation comes with auto-funnels and pre-set auto-funnel templates. Although, the pricing of this tool is slightly on the higher side.
---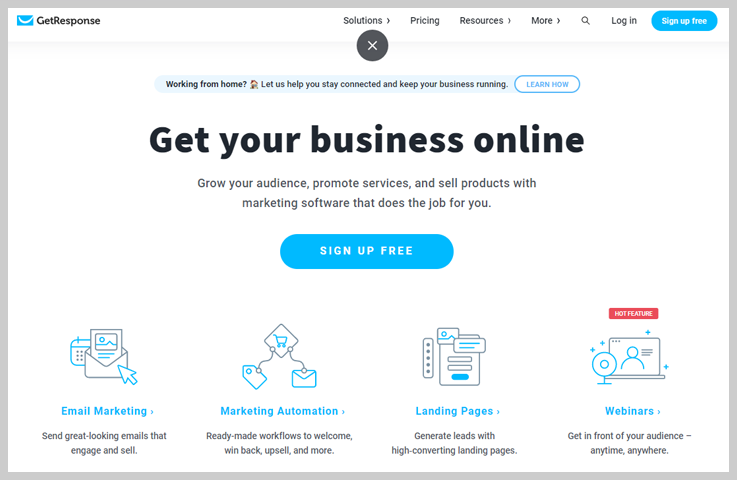 ---
Features:
Pre-made Templates: GetResponse offers around 150+ editable email templates all available to use.
Social Ads Creator: This service offers templates for creating ads for various social media platforms like Facebook and Instagram.
List Management: From creating or uploading the email list to segmenting it through filters it can take care of all your contacts.
eCommerce Support: You can easily integrate the eCommerce functionality in it as it supports implementing the same.
Pricing:
It offers 4 paid pricing plans based on your subscriber list size. All these plans details are on a monthly basis.
Basic: With basic features like autoresponder & landing pages this plan ranges from $15-$450 for about 1K-100K list size.
Plus: This plan costs from $49-$499 for 1K-100K list sizes and 6 addition feature having limitations.
Profession: The cost ranges from $99-$580 for 1K-100K list sizes. There are 6 more additional functionalities added with some limitations over them.
Enterprise: You need to ask for custom pricing for accessing all the advanced functionalities that this service is offering.
---
Concluding
Let's wind up after a closing statement that most of the services that stack up to the competition offer free trials. I recommend you to at least try these services and found yourself the most worthy for your business needs.
You May Also Read: