Looking out for the best drip email marketing software?
Tons of people look for drip email marketing software as it provides the most essential features like numerous integration, list segmentation, etc. which can be incredibly effective for marketing, training programs and many more. It allows you to automate the repetitive task for marketing on different channels. Which is very helpful in growing your business doesn't matter if it is small or large.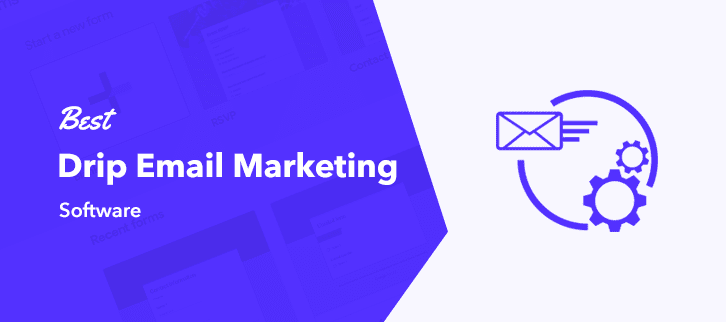 If you don't know what drip email marketing is? Then let me make it clear for you. Basically, it is a series of emails that follows an action. Mainly, action can either be someone subscribing to your newsletter or filling out your form. Therefore, in that case, drip email marketing helps you to send emails in bulk to all the users of your automatically.
Thus, in this article, we have compiled a list of 5 best drip email marketing software so that you can choose the most suitable fit for your company/organization.
Quick Comparison Between The Best Drip Email Marketing Software
Service
Basic Plan
Marketing Automation
Emails
Transactional Emails
Pabbly Email Marketing
$29/month
✔
Unlimited
✔
SendinBlue
$29/month
✖
40,000
✔
GetResponse
$15/month
✖
100,000
✖
Customer.io
$150/month
✖
Unlimited
✔
MailChimp
$10/month
✔
50,000
✔
"Pabbly Email Marketing is the only marketing tool that provides you unlimited access on all its features such as auto follow-ups, Autoresponder, etc with no restrictions."
The prime in our list is  Pabbly Email Marketing that offers you marketing automation feature which enables you to easily schedule a campaign, send a series of emails to your targeted users on the basis of their interest.
Apart from this, Pabbly Email Marketing comes with an in-built SMTP server and also allows you to connect with other external SMTP servers like Amazon SES, Gmail, etc.
Not only that, it even offers you several advance features such as Google Analytics integration, email tracking, auto follow-ups and many more to give you the best marketing experience at a cheap price.
---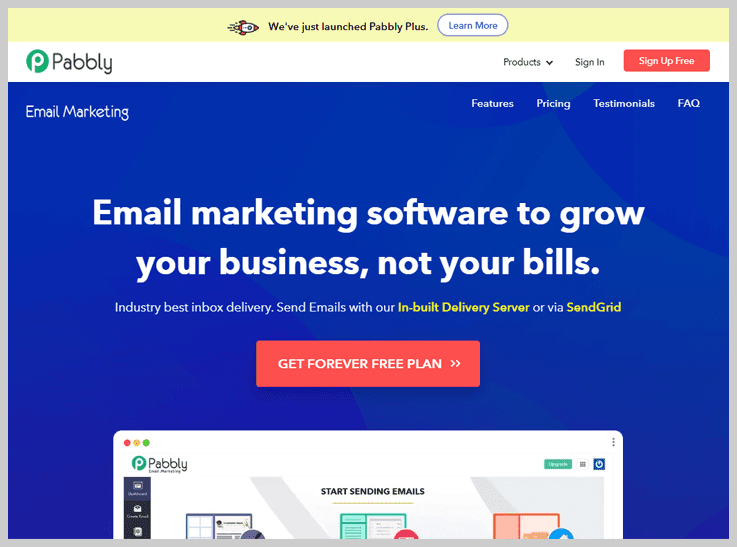 Features
Marketing Automation – It allows you to do several marketing tasks automatically such as lead management, integration, etc. And enables you to send emails so that you can connect with the users.
Multiple SMTP – Apart from its in-built delivery engine, it also gives you access to other SMTP servers as well. For example Gmail, Amazon SES, etc.
Autoresponder – Moreover, it also offers you an autoresponder feature that helps you to send emails automatically to your users whenever someone signup to your software, make a payment, etc.
Enhance Capture Leads – you can also capture leads with the help of its in-built capture tool.
2X Open Rates – It even provides you 2X email open rates by sending automatic follow-up email to non-open emails.
Drag & Drop Builder – Other than this, you can easily customize your email through drag and drop features that make your email customization easier.
List Cleaning – Also, through its list cleaning functionality, it helps you in filtering all the suspended, bounce and spam emails.
Email Preview – Through its email preview feature, you can have a look at your designed email which can be useful to identify if some changes are required before sending it.
No Restrictions – 

Besides this, Pabbly Email Marketing does not restrict you on any of its features and gives you unlimited access to it. 
Pricing
Forever Free Plan – This plan allows you to send 12,000 emails to 1,100 subscribers at $0/month.
Rookie Plan – At $29 per month, it offers its Rookie plan through which you can send unlimited emails to 5,000 subscribers.
Pro Plan – And at $49 per month, you can opt for its Pro plan and can send limitless emails to 15,000 subscribers.
Advance Plan – Also in $99 per month, it enables you to send endless emails to 50,000 subscribers.
2. SendinBlue – Email Sending Software
SendinBlue is an easy to use email marketing service which allows you to create and send emails effortlessly. Its drip emailing feature allows you to send emails to your users automatically on a specific date & time which is completely based on their behaviour.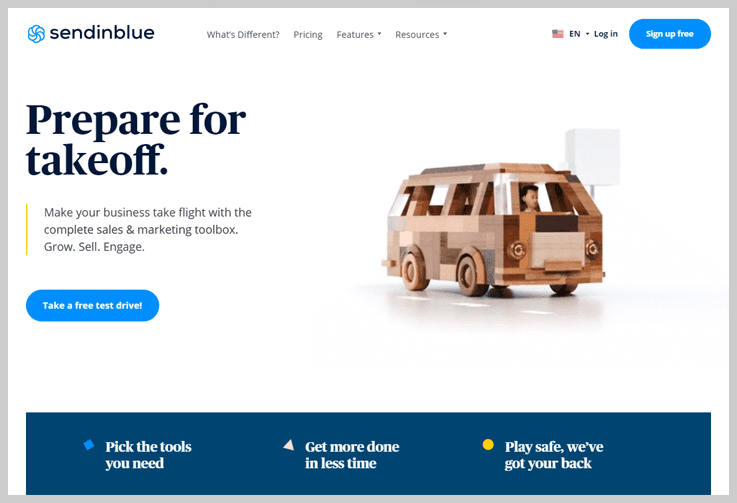 Features
SMS Marketing – SendinBlue not only enables its users to send emails for marketing but also allows its users to send SMS for marketing too.
Advance Automation – Also, in order to boost the workability of users, it offers advance automation features like leads scoring, web tracking, etc.
Real-Time Statics – Through its real-time statistics feature, users can easily manage their performance.
Transactional Email – Moreover, it also provides Transactional email along with CRM.
Pricing
Free Trial – At $0/month, it offers a free trial with 300 emails per day.
Lite – In $29/month, it provides its Lite package with 40,000 emails per month.
Essential – You can also opt for its Essential package at $39/month which allows you to send 60,000 emails per month.
Premium – And at $66/month, it offers a Premium package with 120,000 emails per month.
Enterprise – Moreover, you can also go with its Enterprise package and make your own customized package.
3. GetResponse – Email Marketing Tools
GetResponse is another effective tool that helps you to easily automate emails through drip email marketing feature. You can also track your customers who haven't completed their online purchase and connect with them through its website visitor tracking.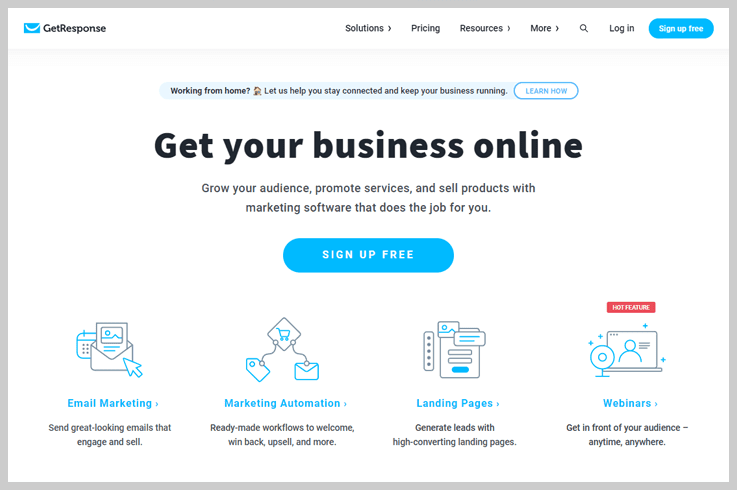 Features
Ads Creator – GetResponse comes with ads creator feature that enables you to create ads on social media.
Image Editor – Through its image editing feature, you can easily customize the image and can also crop it as per your requirements.
Spam Checker – It also comes with a spam checker feature that enables you to check those addresses in which emails are going in the spam folder so that you can remove it from your list.
Pricing
Basic – Its Basic plan starts with $15 to $450 for about 1000-100,000 list sizes.
Plus – You can also opt for its Plus plan that starts from $49 to $499 for 1000 – 100,000 list sizes with 6 additional features along with some limitations.
Professional – GetResponse also offers a Professional plan ranging from $99 to $580 for 1000-100,000 list sizes including 6 additional features with certain restrictions over them.
Enterprise – Its Enterprise plan offers all the advance functionalities for which you need to ask for its custom prices.
4. Customer.io – Campaign Organiser
Customer.io comes with a premium mailing service that fulfills all your marketing needs. Through drip email marketing its users can target their audience and deliver emails to them at a specific time and as per there needs. With the help of its advanced engine rules, it triggers automatic emails to users on the basis of customer's manoeuvre.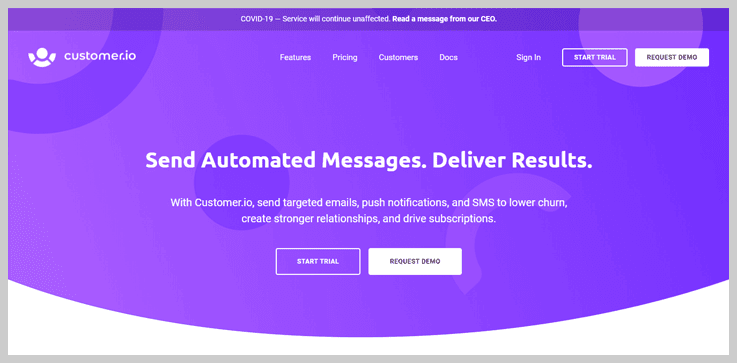 Features
Workflow Automation – Customer.io comes with workflow automation that allows you to create a high-performance campaign in order to reach your users and make an impact on them.
Ad Network Audience – Apart from that, it automatically updates the ad network audience that turns on the ad whenever someone joins or leaves the segment.
Profile Manager – Moreover, it also allows you to manage the profiles of your customer and can easily customize as well as personalize the emails which you want to send to your user.
Pricing
Basic – Its Basic plan offers comes at $150/month that offers all the basic features.
Premium – At $995/month, it offers a Premium package that provides additional features along with all the basic plan.
5. Mailchimp – A Versatile Digital Instrument
Another suitable option that offers drip email marketing is Mailchimp. It comes with marketing automation which allows its users to send emails to their audience automatically. For instance, whenever someone buys something or subscribes to the newsletter, it automatically triggers an email to their action. Which helps you to save time and improves your engagement with your customers.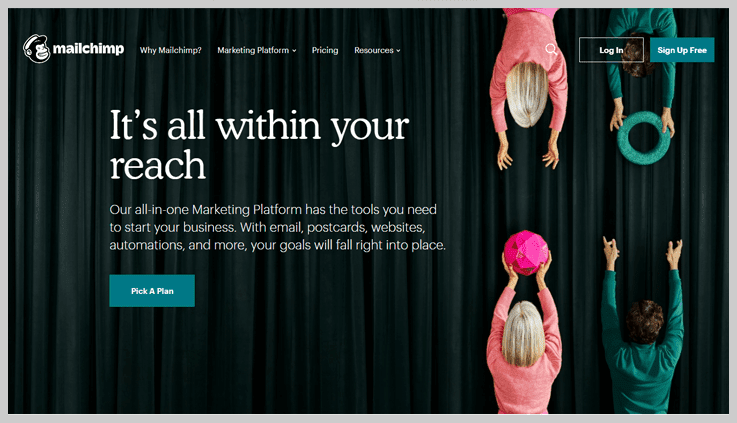 Features
Marketing Automation – With the help of Mailchimp, promotional as well as transactional emails could be sent through the marketing automation platform.
Third-Party Integration – Hundreds of third-party apps could be integrated into the store through Mailchimp in order to fetch significant detail.
Email Tracking – Besides this, it also allows you to track your different email campaigns.
Ads Campaign– On the other hand, you can easily create, analyze as well as execute the ads along with the email campaigns with the help of Mailchimp.
Pricing
New Business Plan – It comes with its New Business Plan that offers you a free trial.
Growing Business Plan – At $10/month, it offers Growing Business Plan that allows you unlimited sending, advanced testing tools, email delivery by timezone, etc.
Pro Marketer Plan – Its Pro Marketer Plan comes at a price of $199 per month that offers enterprise-level features such as multivariate testing and many more.
Conclusion:
We hope this article has helped you to find out the best drip email marketing software that fits all your requirements. All the above-mentioned services offer top-class emailing facilities that all small or large business needs. So what are you waiting for? Go ahead and pick the one which is best for you.
You May Also Like To Read: