Today, for many growing companies, having the best email deliverability service is a basic need for their business expansion. These services greatly assist in email marketing and enable people to reach customers' inbox in order to promote their products and services via emails.
If you are also looking to dip your feet into email marketing, then you can trust email marketing software without any hassle. While using such platforms you will be able to create, send or analyze emails. Also, it helps you to increase customer engagement and lead generation.
Further, to have a successful email marketing strategy, you need to find the best services that help you to manage your subscribers, and email campaigns. Right now, most of the email deliverability services are available having some similar features.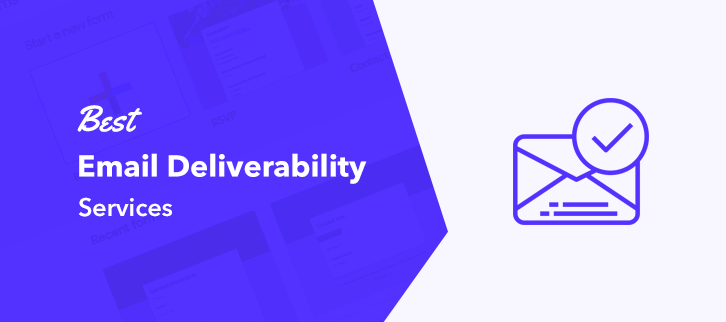 Hence, finding the best software for your business can be challenging. To solve this difficulty, in this article, we are discussing 5 best email deliverability services. So, go through these services and pick the best one among all the options available.
---
Comparison of Best Email Deliverability Services
| | | | | |
| --- | --- | --- | --- | --- |
| Service | Basic Plan | External SMTP | Autoresponder | Bounce Forwarding |
| Pabbly Email  Marketing | $29/month | ✓ | ✓ | ✓ |
| Pepipost | $25/month | ✕ | ✕ | ✓ |
| Moosend | $10/month | ✓ | ✓ | ✕ |
| AWeber | $29/month | ✕ | ✓ | ✓ |
| MailerLite | $15/month | ✕ | ✓ | ✓ |
Pabbly Email Marketing software provides the best mailing solutions and also available at a very affordable price that you can easily purchase. The important attribute is that with this service, the transmission of your emails will never hinder since it fully supports SMTP routing.
Thus, you can either use it's in-built delivery engine or add your own SMTP server to send multiple emails. Besides, Pabbly Email Marketing tool provides you 99% email deliverability. It ensures that your emails are reaching only in the customers' inbox and reduces the hard bounce rate.
Also, with marketing automation feature, you can automate the delivery of emails so that they will automatically be sent to customers on a scheduled time.
---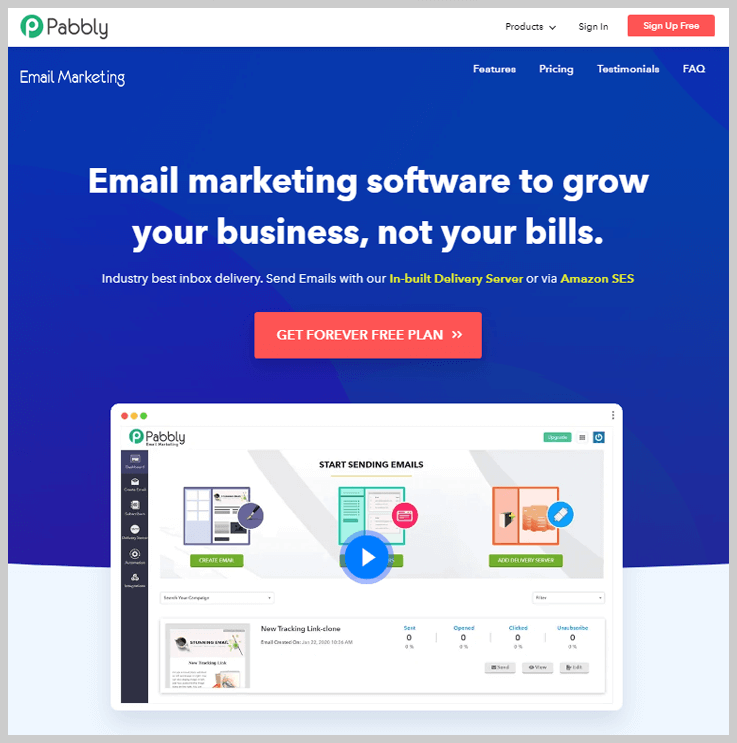 ---
Features –
Automated Emails – This service allows you to schedule emails in advance. So, you can reduce your manual work and the emails will automatically deliver to customers.
SMTP Servers – Pabbly Email Marketing service never restricts on adding SMTP servers. Therefore, you can add an unlimited number of SMTP servers and send emails in a bulk.
Easy Customization – This comes with multiple email templates and a user-friendly drag-and-drop editor that helps you in creating informative emails.
Email Tracking – The email tracking feature enables you to track the complete performance of your all emails. You can easily recognize how many times emails are clicked, opened, bounced, and more.
Attach Subscription Forms – It helps you to convert your website visitors into significant leads by displaying easy sign-up forms that are too simple to fill up.
Contact List Management – Inbuilt MX Cleaner helps you to keep your email contacts list clean by excluding unwanted and bad email contacts.
Pricing –
Pabbly Email Marketing service comes with free as well as very affordable paid pricing plans. You can check all the details here –
Forever Free – This is a forever free plan of this service which empowers you to send 12000 emails to approx 1100 subscribers per month.
Rookie – By purchasing this excellent plan, you will be able to use features like MX Cleaner, import emails, subscription forms and many more. Further, you can send countless emails to 5000 subscribers at just a cost of $29 per month.
Pro – If you need to send emails to your customers in the majority then this plan will be very convenient for you. It permits you to send emails to 15000 subscribers at a price of $49 per month & also provides various useful features.
Advance – You can buy this advance plan at a charge of $99 per month and send infinite emails to 50,000 subscribers. Furthermore, you can upgrade this plan if you need to send emails to more than 50,000 subscribers. In this situation, the pricing will also increase according to subscribers count.
Enterprise – This is the high volume plan and to obtain this plan you required to contact the service provider.
---
2. Pepipost – Email Marketing Solution
Pepipost is another best-known email marketing solution for transferring your emails to customers with a high accuracy rate and in a scheduled time. It also comprises a unique bounce forwarding feature by which you will always receive notifications whenever any of your emails gets bounced.
---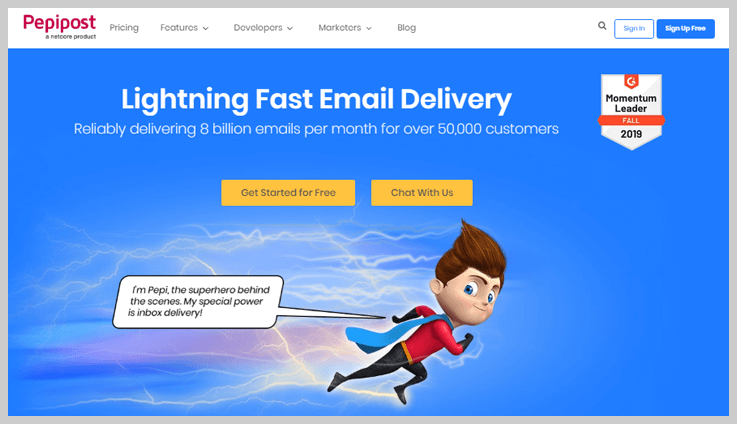 ---
Features –
Simple SMTP‌ Servers – Pepipost provides you the quickest way to send multiple transactional emails with the help of easy-going SMTP servers.
High Email Delivery Rate – This feature assures you that your delivered emails are reaching only to the right persons and also overcomes the bounce rate.
Tracking & Analytics of Emails – You can observe the complete performance of your emails i.e. open rate, clicks, bounce rate, subscribers, and much more. This feature helps you to make better decisions for your future campaigns.
History of Emails – Pepipost email marketing tool lets you see a searchable history of 90 days for all your email campaigns. Therefore, you can view any of your past transactions if needed.
Precise Email Contacts List – You can keep your email contacts in a list in an organized order. With this list, you can easily find any contact whom you want to send the email.
Pricing –
Pepipost email marketing software comprises both free as well as paid plans. With its free plan, you will be able to send 30000 emails to customers for the first 30 days.
Moreover, this product involves different paid plans in which the basic plan has a cost of $25 and allows you to transfer 1,50,000 emails per month. Also, if you want to send more than 20,00,000 emails, then you can buy its high volume plan via communicating with the service provider.
---
3. Moosend – Email Marketing Service
Moosend is a handy service for email marketing that consists of great features for creating and sending attractive as well as informative emails. With its advanced email editor & predefined templates, you can easily design emails in simple clicks without any hard coding.
---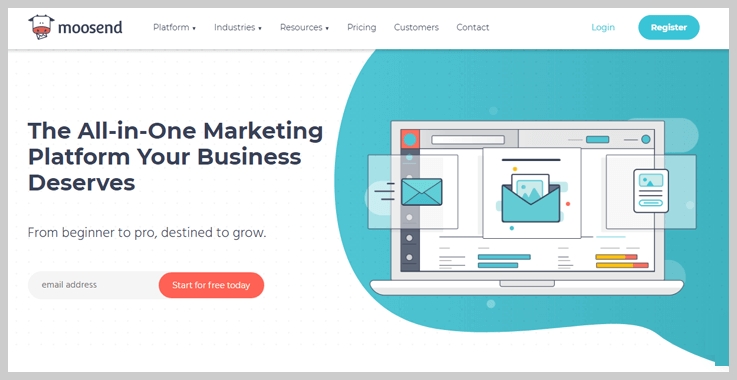 ---
Features –
Contact List Management – Moosend helps you to manage your email contacts in an organized list. Also, you don't need to add contacts manually in a list, since it lets you import all your contacts from different places like CSV files, local storage, cloud storage & more.
Email Automation – This feature allows you to schedule a particular time for all your emails to be automatically sent to customers and overcomes your manual work.
Reports of Emails Performance – This feature assists you to get complete details about the performance of your emails such as emails opens, bounces, clicks, subscribers, unsubscribes and much more.
Details About Customer Location – Moosend permits you to know the specific location of your customers. With this, you can trace that in which countries you are getting the highest engagement & then target audience accordingly.
Easy Sign-up Forms – You can add subscription forms on a website that visitors can easily fill up and become your subscribers.
Pricing –
Moosend email marketing tool has a free plan in which you can send unlimited emails to more than 1000 subscribers per month. Moreover, it also has paid plans along with different pricings. You can check details of all plans here –
You can purchase its basic plan just at a price of $10 and send multiple emails to 1001 – 2000 subscribers per month.
For the advance plan, you require to pay $20 and send unlimited emails to 2001 – 3000 subscribers per month.
Additionally, if you are needed to send emails more than 3000 subscribers, then you can increase the subscribers' count and pay for it accordingly.
---
4. AWeber – Email Deliverability Software
AWeber is the best email marketing tool that is actually known for its excellent email deliverability services. It ensures that all your transactional emails are moving in customers' inbox and not in spam. This helps you to maximize the open rate of your emails and minimize the bounce rate.
---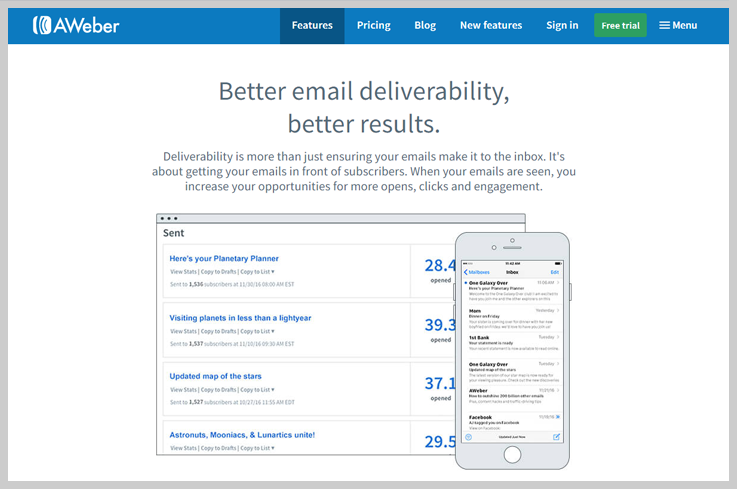 ---
Features –
Subscribers List Management – AWeber email marketing service helps you to easily manage your subscriber list. You will also be able to see complete details of customers like name, email address, transferred emails and more. Additionally, you can create different subscriber segments to send more relevant emails to customers.
Email Templates – This email marketing tool comes with various HTML‌ templates that you can use to build and send professional email newsletters to customers.
Set Autoresponders – You can schedule a simple sequence of autoresponder emails for customers. Thus, whenever any new user becomes your member then a welcome email will automatically be sent to him.
Email Split Testing – This email marketing tool helps you to test and discover the best performing email among all of your emails. Thus, once you get idea that in which section you are lacking, then you can more enhance those sections & gain customers' engagement.
Add Responsive Sign-up Forms – AWeber enables you to add responsive sign-up forms on your website in a nice popup form. Hence, whenever any user comes to your site the form will automatically appear and he can easily fill the form.
Pricing –
To get started with AWeber email marketing you can use its free trial plan for 30 days. Also, it owns various paid plans in which the basic plan has a price of $19 per month and allows you to send emails to 500 subscribers.
Besides, it also has other paid plans which contain multiple handy features like automation, segmenting, email templates and many more. You can check details for all plans here –
501-2500 subscribers at a cost of $29 per month.
2501-5000 subscribers at a cost of $49 per month.
5001-10000 subscribers at a cost of $69 per month.
10001-25000 subscribers at a cost of $149 per month.
Moreover, if you need to send emails more than 25000 subscribers, then you can contact the service provider for an advance plan.
---
5. MailerLite – Best Email Deliverability Service
MailerLite email marketing software empowers you to create professional and beautiful emails with the help of its various customizing tools. It comes with user-friendly drag & drop builder, custom HTML editor, free newsletter templates and photo editor. Thus, you will be able to design emails as per your requirements without any coding needed.
---
---
Features –
Add New Subscribers – This service lets you convert your site visitors into members and for this, you can create responsive landing pages, add attractive popups and signup forms.
Send Personalized Emails – It allows you to send personalized emails to each of your subscribers and make them feel special. You can send emails on special occasions like birthday wishes, welcome messages and more.
A/B Split Testing – MailerLite email marketing provides you a facility to compare two emails and decide which one is more effective. Thus, after testing according to results, you can customize emails and then see customers' reactions on it.
Observe Email Campaign Performance – You can easily track your email campaign activities and subscriber engagement. In this feature, you will be able to watch reports on unsubscribe count, spam complaints, bounces, clicks, opens and much more.
RSS Campaigns – This service assists you to build RSS email campaigns and also schedule a specific delivery time of it. Hence, whenever you post something new, then such information will automatically embed into emails and it will be sent to your subscribers at a scheduled time.
Pricing –
In a free plan, you can send 12000 emails to 1000 users every month. It provides you a facility to pay according to your subscribers' count.
Further for its basic plan, you need to spend $10 and you can easily send unlimited emails to 1 – 1000 customers. Take a look at the details of other paid plans here –
1001 – 2500 users at an amount of $15 per month.
2501 – 5000 subscribers at a cost of $30 per month.
5001 – 10000 subscribers at a price of $50 per month.
---
Conclusion –
In this article, we have elaborated on the 5 best email deliverability services along with their unique features, deliverability solutions, and pricing. Hopefully, now you will be able to make the right decision and select the best service for your business.
You May Also Like To Read –