Email monitoring tools are not just a need when you want your email campaigns to be successful, it becomes a necessity. The reason behind this is while running online email marketing campaigns, most of the emails don't even get a chance to be in inbox. It either gets dumped on the spam folder or considered blocked.
That's not a good sign for a marketer who is relying on email marketing services to boost their business. The very first need of email marketing is the best inbox deliverability which can only be possible through email monitoring tools.
---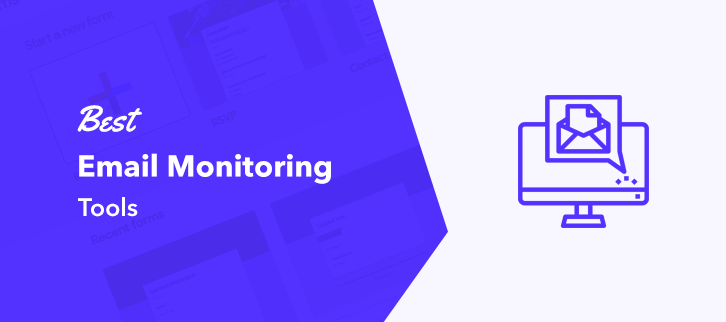 ---
The purpose of email monitoring tools is to make sure that mail servers operate smoothly without any disturbance. It further improves the ability of bulk emailing, provides better delivery and storage.
Here, in this piece of writing, we have listed out the best email monitoring tools available in the market to help you select the best.
| | | | | |
| --- | --- | --- | --- | --- |
| Service | SMTP Routing | Basic Plan | MX Cleaner | 2X Open Rate |
| Pabbly Email Marketing | ✔ | $29/month | ✔ | ✔ |
| Site24x7 | ✖ | $9/month | ✖ | ✖ |
| MXAlerts | ✖ | $12/month | ✔ | ✖ |
| Email Analytics | ✖ | $15/month | ✔ | ✔ |
| GlockApps | ✖ | $49/month | ✔ | ✔ |
| Mail Monitor | ✖ | $149/month | ✔ | ✔ |
The very first in our list is the most reliable email marketing and monitoring tool which is Pabbly Email Marketing. The software comes up with a marketing automation feature to provide better inbox deliverability. Further, it is the tool that provides an inbuilt SMTP delivery server, plus users can connect external SMTP servers like Amazon SES, Mailgun, etc.
With the help of SMTP routing, one can take its business to another level as it provides the best inbox deliverability.
---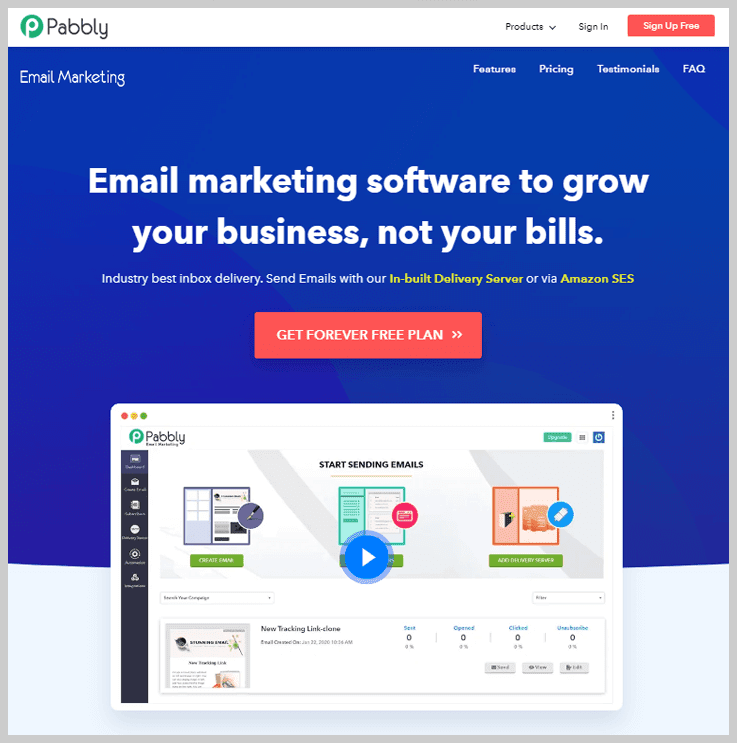 ---
Features
Email Tracking – It tracks each and every email to provide complete insight into the campaigns.
SMTP Routing – It keeps the track of all SMTP servers and provides the best inbox email deliverability. Using it, one can integrate multiple SMTP servers for sending emails.
2X Open Rate – Further, this feature makes sure to keep track of unopened mails and later send a reminder or follow up.
In-built SMTP Included – The software comes up with an in-built delivery engine that claims 98% inbox deliverability.
Connect External's SMTP – Not just in-built delivery engine but also offers flexibility to connect external servers like Sendgrid, Mailgun and others.
MX Cleaner – Further, MX Cleaner makes email monitoring works easy by removing all the bad, invalid and fake email addresses.
Marketing Automation – Marketing Automation is a demand for successful email campaigns to engage the users and the software makes that work easy by providing a pre-set schedule to deliver emails.
Enhance Lead Capture – With the help of this software, one can capture the lead and convert it into potential customers.
Autoresponder – Subsequently, with the help of this feature one can send a welcome message to the new subscriber which is very important to maintain healthy customer relationships.
List Management – Using it, one can keep all subscribers under one roof without any trouble.
Pricing
Monthly
Forever Free – It includes sending of 12000 emails to 1100 subscribers for $0/m.
Rookie – Further, at $29/m send emails to 5000 subscribers.
Pro – It involves sending of emails to 15000 subscribers at $49/m.
Advance – Next, in our list cost $99/m for 50,000 subscribers.
Note: In a yearly plan, the user will get a discount of 20%.
2. Site24x7 – Monitoring Software
The second in our list is Site24x7 whose work is to monitor and provides the best possible results. It claimed to make the end-user experience simple. The software uses more than 60 performance metrics and gives us the best possible result.
---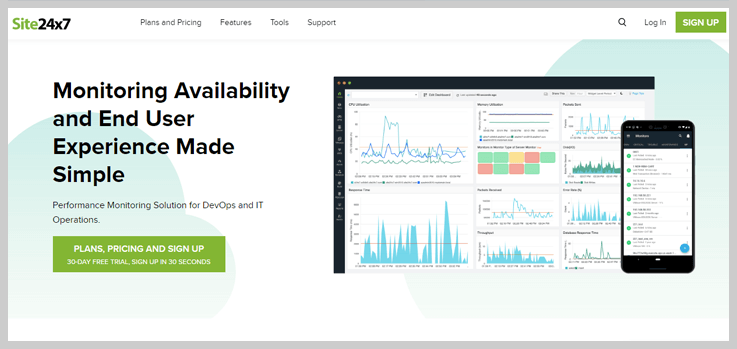 ---
Features
Website Monitoring –  With the help of this feature, one can get whole depth insight about web applications and internet services. The key feature of software involves website performance, web page speed, mail delivery, DNS server monitoring and much more.
Server Monitoring – The main function of it involves monitoring the server whether it is windows, Linux, AWS, Docker, etc. It provides optimal performance. The only work of it to makes sure that the server always remains top of everything.
Application Monitoring – As the name suggested it works, is to provide pinpoint safety to an application by keeping an eye on performance. It supports all kinds of application builts in java, ios, android, etc
Network Monitoring – Following, the next in our list is network monitoring which makes sure to keep track of network devices such as routers, wireless, firewalls, etc. It helps in solving complex network errors by doing deep performance analysis.
Real User Monitoring – Through this feature one can know all about the browser, ISP, platform and much more. The main function of it involves is to improve the web experience.
SLA Management – Finally, the additional feature of it involves Service Level Management (SLA) to ensure that one can get what they are opting for. Under this, they pledge to offer high standard IT services.
Pricing
Website Monitoring
Starter – It will cost $9/m for 10 websites/servers.
Pro – Next will charge $35/m for 40 websites/servers.
Classic – Further, it costs $89/m for 100 websites/servers.
Enterprise – Lastly, the plan is for one who has a requirement in bulk for which it cost you $225/m.
Further, it has other plans too which are mentioned below
Infrastructure – It will cost $9/m for 10 servers/websites.
APM – It will cost $35/m for 40 websites/servers.
All-in-one plan – It cost $35/m for 40 basic monitors.
MSP – The plan is specially designed for managed service provides, IT consultants, etc for which it will charge $45/m for 50 websites/servers.
3. MXAlerts – Email Monitoring Service
Next, in our list is MXAlerts which is specially designed for MSPs and IT service providers. It provides remote round trip email monitoring. Basically, the round trip monitoring keeps you update about the end-users. The software notifies the user if there is a problem in sending and receiving the message.
---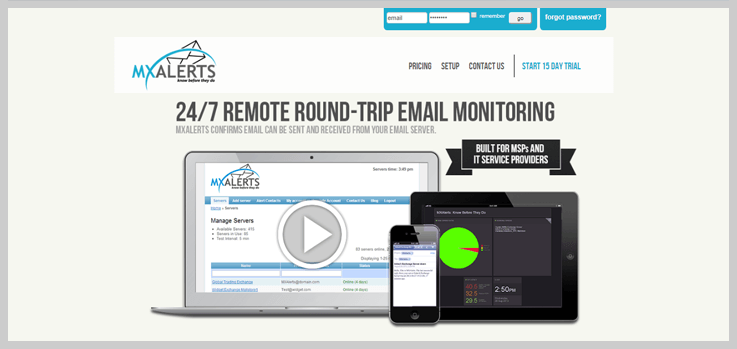 ---
Features
Email Monitoring – With the help of this, users will know every detail about their campaign. It keeps an eye on mails gets spammed, doesn't reach on time and much more.
Email Testing – Further, email testing runs inspection on each and every email.
Pricing
0-1 Server  – It will cost $12/each server/m.
2-10 Server – Further, the next will cost $5/each server/m.
11-30 Server – Subsequently, it will cost $3/each server/m.
31+ Server – Finally, The last one will cost $1/each server/m.
Email Analytics is considered as one of the best email monitoring tools. As the software itself claimed to improve productivity through accountability. The software keeps a record of the email use. Further, it also offers flexibility to add team members then compare results using email analytics.
---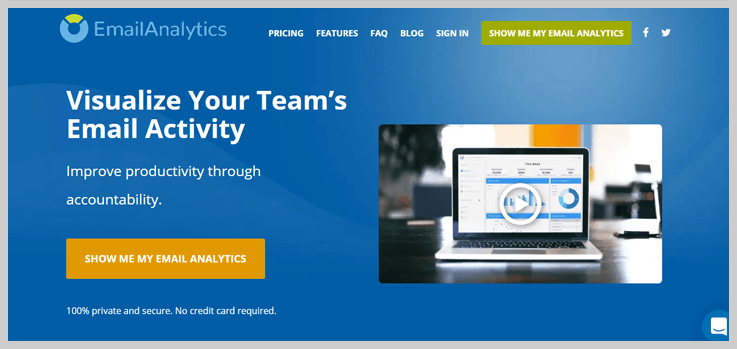 ---
Features
Private & Secure – The software claims to be more private and secure. It has come in light that it uses Gmail API's to offer cent percent security. Other than this, your data won't be stored by the software. Data processed in the server via automated analysis.
Real-Time Email Analytics – With the help of this feature one can get real-time reports of emails. It makes sure to keep everything on track.
Team Management – Through this, one can join respective team members and compare their performance.
Pricing
Pro – The plan is for individuals and teams. It will cost $15/m per mailbox and also offers a 14-day free trial.
5. GlockApps – Mail Analysis Service
Following our list, the next one is GlockApps which considered the most effective mail monitoring system. With the help of this software, one can test each and every email program. It makes sure to improve the deliverability of emails and fix all the issues if there is any.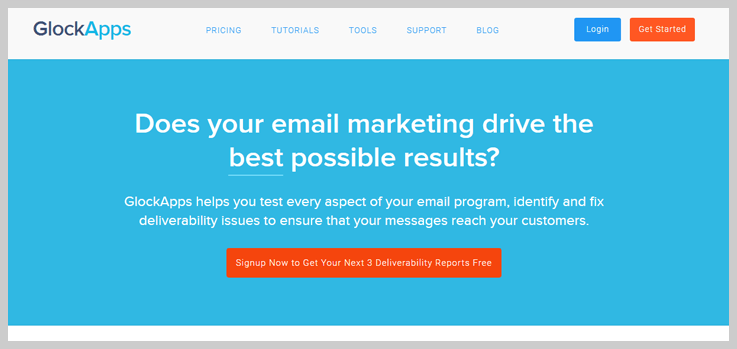 Features
Identify Risky Content – The software helps to identify risky content in emails and later helps users to remove it. It sends the warning message to the mailbox provider.
DMARC Analytics – With the help of this feature, users can block unauthorized messages and secure their domain under the act of DMARC policy.
Delivery Duration Tracking – Most of the email campaigns are transaction emails and this feature helps emails to reach their customers on time. It makes sure to remove all the difficulties in time-sensitive promotions.
Spam Score Testing – Using it, one can run a test on the email content. It uses common spam filters like Google Spam Filter, Barracuda, etc to point out the content issue, if any.
Inbox Rate Tracking – It makes sure that every email of your campaign reaches the inbox by keeping track of spam and missed percentage.
Authentication Testing – In authentication testing, it makes sure that all the messages must go through DKIM and SPF authentication resulting in better inbox delivery.
Pricing
Monthly
Basic – It involves $49/m for 1 user.
Business – Following, the next one will charge $99 for 5 users.
Agency – Further, it will cost $199/m for 10 users.
Custom Plan – In a custom plan, the user will pay $15+/m for the defined users.
6. Mail Monitor – Email Monitoring Software
Finally, the last one is a Mail Monitor that improves email deliverability. Not only the software offers an email delivery monitoring but it also offers blacklist monitoring. It analysis the performance of email and accordingly take the required action to serve its customer the best.
---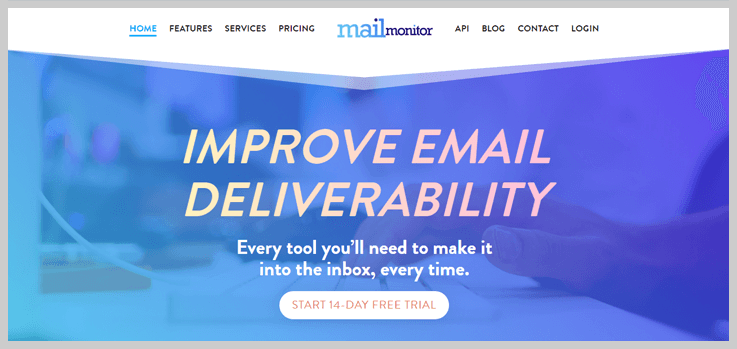 ---
Features
Inbox Placement – With the help of this feature one can get the prior information about the placement of emails.
Spam Filter Analysis – Through this, one can know where its campaigns stand in the largest company spam filter test.
Duration Testing – It keeps a track of the time of sending emails and the time when it reaches to inbox.
All Your Data – Further, this feature helps users to organize their data.
Seed Test – Using it, one can run a Seed test that involves every major service provider like Gmail, Yahoo, etc. It ensures that the campaign reaches out to valid email addresses.
Track – Basically, it keeps an eye on your campaign by observing the sending pattern, the inbox deliverability rate and the reputation of the sender.
Adapt – Under this feature, users will get deep insights of the email campaigns and data related to it.
Pricing
Monthly
Essential – It will cost $149/m.
Pro – Further, It will charge $299/m.
Agency – Lastly, the agency will cost $999/m
Conclusion
Hopefully, now you all know how effective and important can be email monitoring tools to provide us a better delivery rate. It plays a huge role in a successful email campaign and that's the reason we provided you the list. All the mentioned software is most trustworthy in the market and this will definitely help you to select best.
Try your hands on it and thank us later.
You May Also Like To Read: