Are you looking for 5 best Sendy alternatives? Well, you are in the right place.
Sendy is awesome as it can send 10,000 newsletters at just $1!!
However, Sendy is not the one that delivers the emails it simply defers this role to Amazon SES. But, for many users, it is very difficult to install Sendy on the server and integration with Amazon SES takes some serious technical skills. Besides, the setup costs ballons to a figure which makes you think otherwise.
---
---
Sendy also fails to provide even the basic prerequisites of any email marketing services like email editor, pre-made templates and dedicated IP addresses.
So, whatever your reasons are, here are some of Sendy's best alternatives that I have filtered on the basis of features and pricing.
| | | | | |
| --- | --- | --- | --- | --- |
| Service | Basic Plan | Emails/Subscribers | Transactional Emails  | SMTP Routing |
| Sendy | $59/month | 10,000 | ✔ | ✖ |
| Pabbly Email Marketing | $29/month | Unlimited | ✔ | ✔ |
| Pepipost | $25/month | 150,000 | ✔ | ✖ |
| Constant Contact | $5/month | 10,000 | ✔ | ✖ |
| HubSpot | $800/month | Unlimited | ✔ | ✖ |
1. Pabbly Email Marketing – The Best Sendy Alternative In Email Marketing
Pabbly Email Marketing tops the list because you can send unlimited emails at very nominal prices with its own inbuilt SMTP. Through its SMTP routing, it ensures a very high deliverability rate of 99.9 %, which is the highest in the marketing industry.
Don't worry, you can easily import your Sendy contacts to the new mailing list with Pabbly Email Marketing. And no technical skill is needed, just sign in, select a plan and you are ready to roll.
---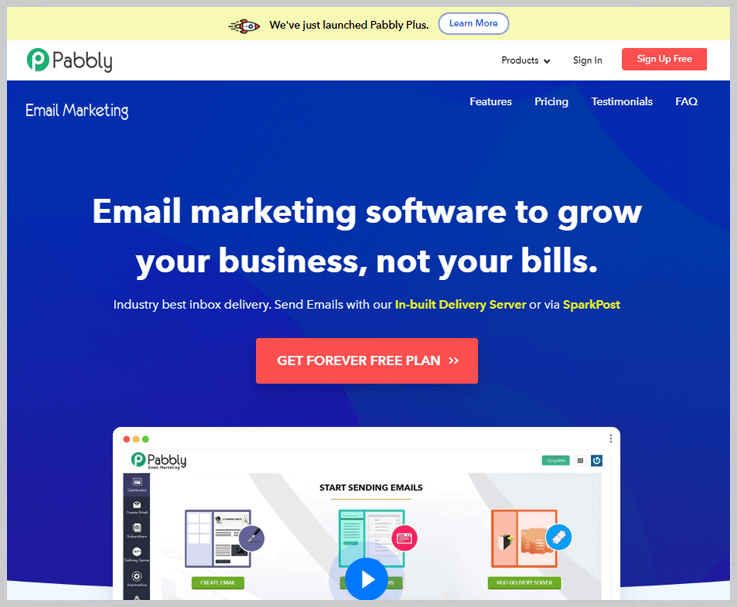 ---
Features:
MX Cleaner – Scrub away invalid/unresponsive email addresses thus ensuring a clean & healthy email list to get higher inbox placements.
SMTP Routing – Not only Pabbly Email Marketing provides you an inbuilt SMTP but you can connect with 50+ multiple SMTPs to avoid any glitches while delivering bulk mails. Also, each account comes with a dedicated IP address.
Drag & Drop Builder – Have access to a plethora of stunning email templates and with a perceptive drag & drop email builder you can compose incredible emails. Moreover, you can place your own logo in every email.
Marketing Automation – You can set behavioral and time-based trigger emails like when a new subscriber joins the email list. Besides, through it, you can send timely emails on clients' personal attributes like birthdays, anniversary and religious events to foster their loyalty with your products.
Email Tracking – Get a report on the number of emails delivered, emails opened by subscribers, bad email address and percentage clicked in forms of charts and graphs.
Storage And Subscription Forms – Pabbly Email Marketing gives unlimited storage for your mails and moreover you can add subscription forms to your email.
2X Open Rates -It ensures higher open rates by re-sending emails to non – opens. That is why it is one of the best Sendy alternatives.
24×7 Support (Non-Bot) – When you open their website, you will be greeted by their amicable support, who will guide you through plans and features.
Pricing:
Pabbly Email Marketing provides services in four simple plans. These plans are based on the number of subscribers.
Forever Free – As you can see, it is totally free. Send 12,000 emails to 1,100 subscribers per month at $0.
Rookie – Send unlimited emails to 5000 subscribers at just $29. Furthermore, you will have access to all the above-mentioned features.
Pro – Their most popular plan as one can dispatch unlimited emails to 15,000 subscribers at just $49 per month.
Advance – You can send unlimited emails to 50,000 subscribers at just $99 charged monthly.
Enterprise Plan – If you want to send bulk emails to more than 1 million subscribers, then you may have to contact their support team to get the details.
---
2. Pepipost – Email Marketing Through Artificial Intelligence
The developers and many enterprises have a positive bias towards Pepipost, this is because it is using artificial intelligence to ensure higher deliverability. It's real-time reports and subaccount management will help you manage your email marketing with extra confidence.
---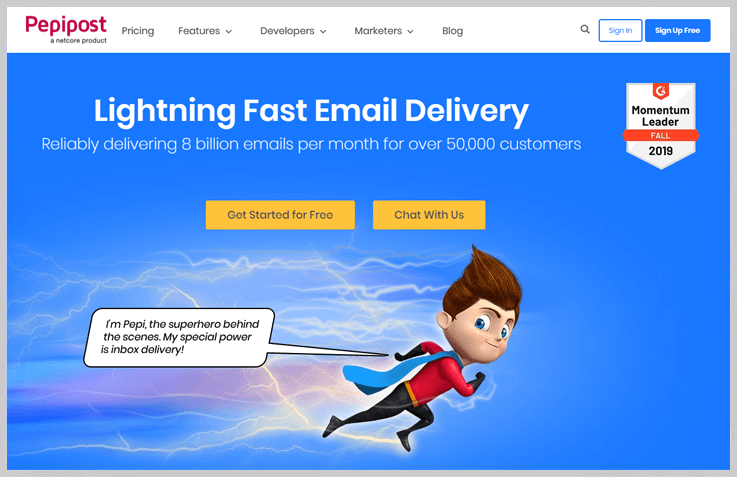 ---
Features:
Email API – With these APIs, the programmer can get access and program several attributes on the emailing platform.
Email Tracking – Pepipost promises to track the email's lifecycle and its data can be kept for 90 days. You can easily do Whitelisting/Blacklisting, spam blocking, response and queue management
Artificial Intelligence – The machine learning utilizes the data to configure a number of parallel connections to work on delivery rates and reducing bounce rates.
Subaccount Management – The subaccounts are actually child accounts under one master account. Each has its own login credentials, SMTP, IP addresses and statistics. Through these subaccounts you do experiments, find glitches and then confidently sent emails. It is the only Sendy alternatives that allow this feature.
Pricing:
On their webpage, there is a slider, which can be dragged left and right. If you move the slider towards the right the email numbers rise and axiomatically the price. However, their most popular plan is priced at $145 / month which can send 600,000 emails.
---
3. Constant Contact – Interactive Email Marketing Software
With Constant Contact you have the advantage of putting email campaigning on the autopilot mode with auto-scheduled and trigger emails. Here you can easily segment the subscriber's data based on the content or link they have clicked which in turn helps you to plan your next steps. It also offers a better list building tool than it's competitors.
---

---
Features:
Drag & Drop Editor – Their editor can easily customize an email template to build professional emails that are responsive on every device. You can even upload content to the email builder from windows outlook and excel which are third-party Softwares.
Real-Time Tracking – It reports the subscriber's behavior with respect to email activities like clicking, opening, and sharing so that you can anticipate their next move.
Welcoming Emails – Welcome new clients with timely greeting emails and you can grab more subscribers by posting emails to your social media sites.
High Open Rates – It automatically sends emails to non-openers and you can perform A/B testing thus increasing your probability of success.
Pricing:
They have only three pricing plans which are based on the number of contacts
Lite – Send 10,000 emails at just $5/month.
Email – At just a mere $20/month you can send unlimited emails and your storage options also get a massive upgrade.
Email Plus – Send unlimited emails at just $45/month and get access to A/B testing, list building tools, surveys, polls, and coupons.
---
4. SendX – Email Marketing With An Edge
This is a new player in the tribe but with their affordable pricing and good email delivery, they are grabbing a lot of eyeballs. You can also run email drip campaigns and ensure high inbox placement with AB split testing.
---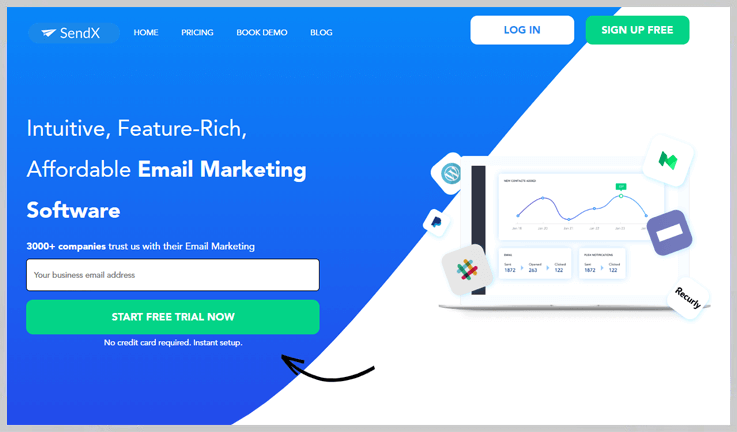 ---
Features:
Email Pop Up Forms – Grow your email list with pop up forms
Autoresponders – You can start, stop and pause autoresponder emails with your subscribers easily by tagging them to nurture your leads.
Support – They offer all channels of support like email, chat, and phone
Pricing:
Their pricing is based on the number of subscribers. And they don't have any free plans but one can test their software for a limited period. As one of the Sendy alternatives, their basic plan is pegged at just $9.99 and can send unlimited emails to over 1,000 addresses. Their premium plan is $79.99 and can send unlimited emails to 15,000 subscribers.
---
5. HubSpot – A Complete CRM Package
Last, not least we have HubSpot. It comes as a full bundle with email marketing, several SEO tools, landing pages, form builders and even blog creating functions. However, it is pricey compared to other options but the package it provides is unparalleled.
---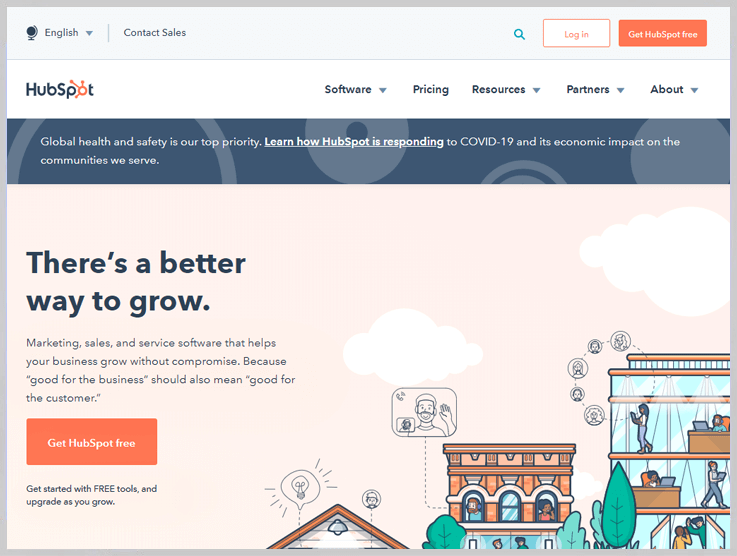 ---
Features:
Email Editor – The goal-based templates make it easy to add calls-to-action, customize the layout and even alter colors to resonate with your brand. It makes it as a probable Sendy alternatives.
Inbuilt SMTP – As a major player in email marketing it comes with its own SMTP, therefore the delivery is fast and reliable without any glitches.
CRM – Hubspot, as mentioned, comes as a total package you will get sate of the art customer relation management software to keep their database.
Email Automation – Send emails on time-triggered events and set automated emails when there is a transaction. In the premium package, one can also insert their logo.
Pricing:
There is a free version available but here we will discuss the total package:
Free Marketing Tools – At $800/month, you have the power to send unlimited emails, contact management, contact insights and placing ads in Facebook, Instagram, and Google. The best part is there is a demo version available to try it out.
---
Conclusion:
So, I have covered the 5 best Sendy alternatives. These were chosen on the basis of pricing and features which I found quite reasonable. But don't believe me, there is a free trial available with all these software for a time limit. Check them individually, before buying.
Also, if you find any noteworthy information that I have missed while covering these services do comment below. I will surely take a note of it.
You May Also Like To Read: