Good email marketing requires a good SMTP service. Nowadays, in the email marketing industry, TurboSMTP alternatives are emerging as professional SMTP servers that ensure the highest deliverability of your transactional emails.
However, the fact is many people aren't aware that such services even exist and they are still using those old average speed SMTP tools. These normal SMTP servers are good for the users who need to send a few emails in a day.
On the other hand, TurboSMTP alternatives allow the delivery of a huge amount of emails every day without any restriction. Also, these servers adopt the most advanced technology to ensure that your emails are sending fast and accurately.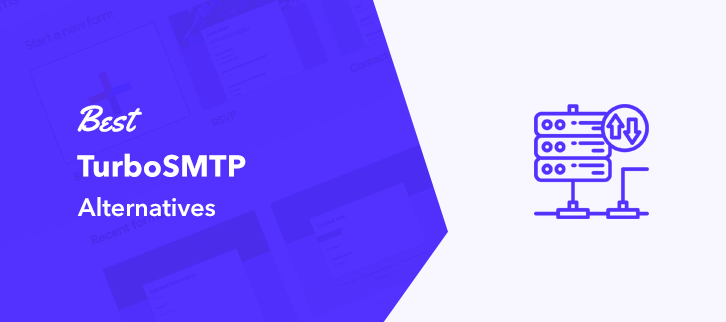 Therefore, in this article, we are going to compare the 5 best & cheap email delivery software along with their free & paid pricing plans. Therefore, go through these services and select the best one among all the choices available.
---
Quick Comparison of Best TurboSMTP Alternatives
Service
Basic Plan
 Multiple SMTPs
Automation
Emails
Pabbly Email Marketing
$29/m
✔
✔
Unlimited
Pepipost
$25/m
✖
✖
1,50,000
Benchmark Email
$11.04/m
✖
✔
Unlimited
SparkPost
$30/m
✖
✖
Unlimited
SMTP Email Relay
$25/m
✔
✔
50,000
Pabbly Email Marketing is the only software that provides unlimited features like SMTP routing, automated emails, inbuilt templates, and more.
This is a great & very affordable email marketing solution to grow your business. It provides you 99% of email deliverability and guarantees that your emails will deliver in inboxes without any bounce.
Pabbly Email Marketing software fully supports SMTP routing for bulk email marketing and allows to either use it's in-built delivery engine or attach your own SMTP server. So, you can add multiple numbers of SMTP servers according to your requirement, this service will never restrict you on that.
Additionally, there is one more unique feature of this software that lets you automate the delivery of emails. Therefore, the mails will automatically be sent to your subscribers on a scheduled time.
---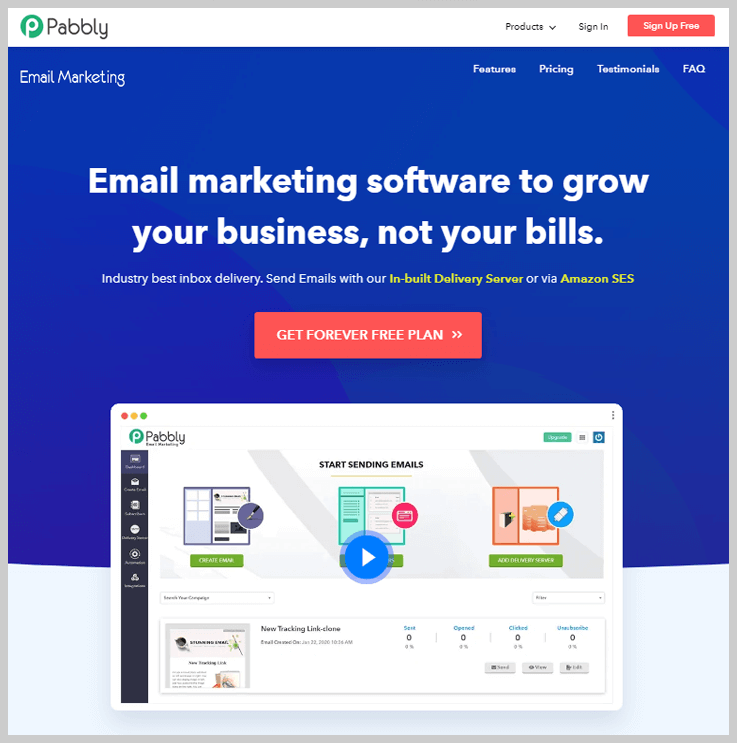 ---
Features
Email Creation & Customization – You can use multiple inbuilt beautiful templates to effortlessly design your emails. Also, with a simple drag and drop editor, you can customize different attributes like heading, font size, color, images and much more.
Important Analytics Records – This feature serves to know the current performance of your emails like open rates, CTR, bounces, spams, & all those essential attributes. So, according to that result, you can decide what more improvements required to do in the future.
MX Cleaner – A clean and sophisticated email contact list is very important for easy email marketing which is definitely possible with this service. It's predefined MX Cleaner tool always keeps your list clean by removing unwanted, erroneousness email addresses.
Automated Workflow – Pabbly Email Marketing software allows you to create a fully automated workflow. So, you can schedule emails in advance and they will automatically deliver to the intended customer.
Lead Capture – It's very important to convert site visitors into valuable leads and Pabbly Email Marketing software perfectly helps you with this. You can add signup forms on a website to capture leads. Hence, the forms will automatically pop up in front of users that they can easily fill up and become permanent members.
Pricing 
Pabbly Email Marketing service provides a forever free plan that allows you to send 12000 emails to approx 1100 subscribers per month. Moreover, it also has affordable paid plans, you can check all the details here –
Rookie – Rookie is a basic plan of this service that enables you to send unlimited emails to 5000 subscribers at just a cost of $29 per month.
Pro – With this Pro plan, you can send emails to 15000 subscribers at a price of $49 per month. Also, get the advantage of various useful features such as MX Cleaner, import emails, subscription forms and much more.
Advance – This plan will cost you $99 per month and allows you to send limitless emails to 50,000 subscribers. Besides, to send emails to more than 50,000 subscribers, you can upgrade this plan and pay according to the subscribers count.
Enterprise – Additionally, to obtain the Enterprise plan, you need to contact the service provider.
---
2. Pepipost – Email Delivery Service
Pepipost software comes with a very useful SMTP service that assists you in sending transactional emails, newsletters, notification emails to the customers. It prevents your emails to deliver in spam and make sure that they always sent into customers' inboxes. Also, if any of your emails get bounced, then it automatically sends a notification to you regarding this.
---
---
Features 
Email Contacts List – This email marketing software assists you to arrange your email contacts in decent order. Therefore, you can easily find contacts and send emails to each of them.
SMTP Routing – Pepipost software comprises TurboSMTP alternatives feature through which you can easily send thousands of emails to subscribers in just simple clicks.
Tracking of Emails – You can easily track all email metrics like sent, delivered, clicks, unsubscribe, spam and more. This will help you to analyze your email performance better.
Full Record of Emails – Pepipost email marketing tool provides you with 90 days of searchable history for all your email campaigns. Consequently, you can see any of your past transactions if needed.
Increase Email Open Rates – This email marketing service makes sure that emails will deliver only in inboxes. Thus, it will increase the open rate of your emails.
Pricing 
With Pepipost software, you can send more than 30,000 emails for free of cost in the first month.
The first paid plan has a price of $25 and lets you send 150,000 emails to customers.
You can also contact the service provider to purchase a high volume plan.
---
3. Benchmark Email – TurboSMTP Alternatives Service
Benchmark is another email sending SMTP service that helps you to send marketing as well as transactional emails to the inbox of your customers. Additionally, it also provides easy email creations with the help of an inbuilt drag and drop tool and attractive email templates. Thus, you can design emails according to your needs in simple clicks.
---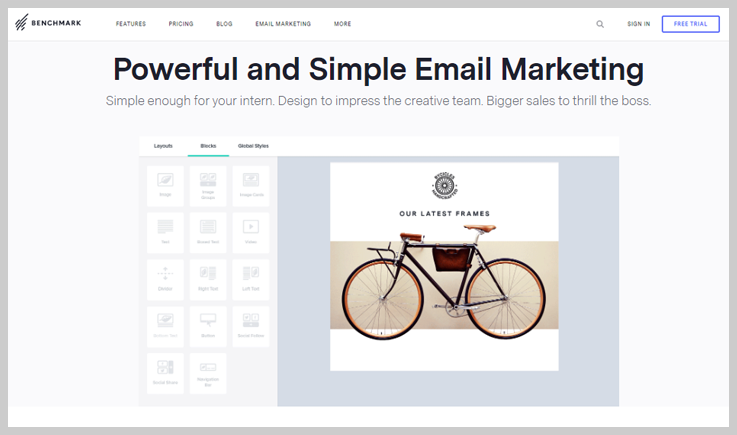 ---
Features 
Automated Emails – You can send automated welcome emails to newly joined subscribers and let them feel special. This will help you to grab more engagement.
List Management – This software lets you sort your subscribers in a contact list based on different factors like gender, location, industry, job role, etc. Additionally, this service has another unique feature which is, it automatically transfers subscribers from your leads list to customers list.
Provide Information about New Service – You can tell about your newly launched product or service in emails along with attractive purchase plans, benefits, special offers. After that, send them directly to your customers and let them take the initiative to buy your product.
Embed Signup Form on Website – By adding custom signup form on a website you can grab new subscribers. Thus, whenever any user visits your site the form will automatically appear which he can easily fill up.
Polls & Surveys – You can run various surveys and polls to learn more about your subscribers' interests. This will also give a boost to customer engagement.
Pricing 
Free Plan – You can use a free plan for 30 days and send up to 250 emails.
Medium Plan – This plan has a cost of $11.04 and allows you to send unlimited emails to 600 subscribers per month.
Large Plan – For this plan, you need to pay $268.01 and you will be able to send 770,000 emails per month to 55,000 subscribers.
Extra Large Plan – It lets you send 1,750,000 emails per month to 125,000 subscribers at a price of $565.06.
Massive Plan – It is the advance plan of this service that costs you around $3785.48 and provides an advantage to send 15,000,000 emails per month to 1,070,000 subscribers.
---
4. SparkPost – Email Marketing Solution
SparkPost email marketing software comes with an efficient email delivery service. It assists you to get the highest email deliverability and also reduces the hard bounce. You will also be able to see details of different factors like open rate, click rate, bounce, spam, etc.
---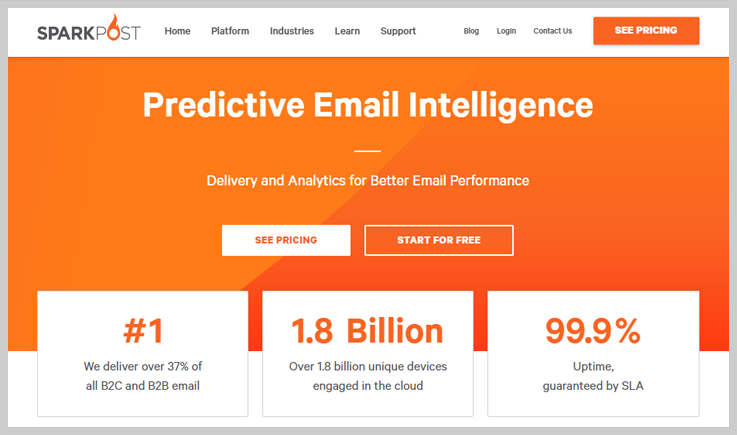 ---
Features 
Get Report on Email Performance – With this service, you can easily grow your business, since it provides you full details of your email marketing. It also lets you know your competitor's current performance in the industry.
Spam Trap Monitoring – This service involves strong visibility across multiple commercial and non-commercial spam trap networks. Hence, it always informs you whenever your email hits the spam.
PowerMTA – PowerMTA worked as an email transfer agent for sending high-volume and mission-critical messages at a very fast speed.
Recipient Validation – This feature lets you know and verify the valid email addresses of your customers whom you want to send emails.
Secure Data – SparkPost email marketing software assists in data protection and ensures you with the security of your confidential data and customer data.
Pricing 
Starter – It will be helpful for new senders to getting started with email marketing. You can buy this plan at a cost of $30 and easily send emails to customers.
Premier – This plan has a price of $75 per month and lets you send multiple emails to subscribers.
Enterprise – To purchase this plan, you need to contact the service provider.
---
5. SMTP Email Relay– TurboSMTP Alternatives Software
SMTP is another well-known email marketing software that includes a very flexible interface and starts sending emails in minutes. It will always make sure that emails will be delivered only in inboxes and also protects them to fall into spam.
---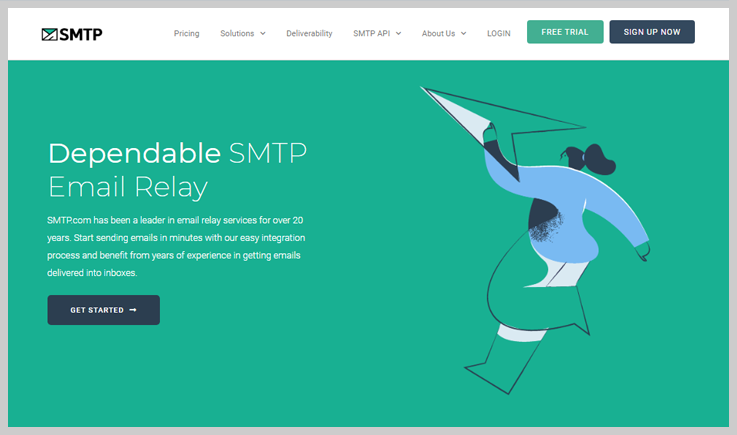 ---
Features 
SMTP for Marketing Emails – This software comprises TurboSMTP alternatives for sending marketing emails. Since marketing emails are different from transactional emails. So, it will ensure the deliverability of such emails in customers' inbox.
Authentication Emails – You can easily send authentication emails to customers to ensure that your customers have a valid email address.
Send Signups in Emails – With this feature, you can gain more subscribers by sending sign-up forms in emails. So, the customers will be able to become your members via emails also.
Send Emails in Automation – This service assists you to keep your customers updated by sending automated emails. You can send emails regarding different information like purchase confirmations, shipping notifications, order status updates, and policy change notices.
Report of Emails – You can easily get access to extensive reports on your transactional and marketing emails like opens, bounces, click-through rates and more.
Pricing 
SMTP email marketing software is permitted to use its free trial plan in which you can send unlimited emails for 30 days. Further, it also includes paid plans, you can check details here –
Essential – It lets you send 50,000 emails at a cost of $25 per month.
Starter – You can deliver 100,000 emails at a cost of $80 per month.
Growth – This plan has a price of $300 per month & allows you to send 500,000 emails.
Enterprise – It is the advance plan that costs $500 per month and provides 1,000,000 emails.
---
Conclusion 
In this article, we have explained about the 5 best TurboSMTP alternatives services along with their unique features, deliverability solutions, and pricing. Hopefully, now you will be capable of making the correct decision and choosing the best service for your business.
You May Also Like To Read