Ideal For: All the artists, mural painters, art studios, freelance artists and other merchants can use this method to sell their wall paintings online.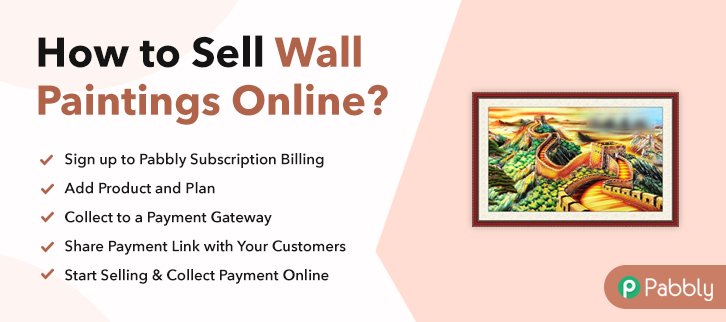 Why Choose this Method for Selling Over any Other Solution?
Unlike any other solution, this method allows you to:
List and sell wall paintings for FREE. Absolutely no payment required.
No commission deducted on sales.
Collect payment through multiple payment modes from a single checkout page.
Sell one time or recurring subscriptions of your wall paintings.
Sell and collect payment in any currency as per your requirement.
Give discounts on your products by offering special coupon codes.
Add sales commission agents to help you in selling your wall paintings.
Our ancestors started painting on walls as early as 40,000 BCE and in ancient Rome, wall painting was a coveted art. It was in the medieval ages especially in the Renaissance period, there was an explosion of wall paintings under Michelangelo, Vinci, Raphael, etc. Now fast-forwarding to 2020 increasingly many artists are selling wall paintings online to get better demands for their works.
Why would you like to sell wall paintings online?
The most traditional art galleries are highly localized, which means their customer traffic is restricted only to a few buyers from around the region. Furthermore, these galleries charge exorbitant rates as rent and security charges.
Now when you start selling wall paintings online, you can say goodbye to all these problems. As you will be inundated with offers from prospective buyers from around the world. Also, the transactions will be only between you and the buyer without any conflict of interest from the middleman. So now after learning the benefits, you may be excited to start wall paintings business online.
But wait! Do you know how to build an e-store to start to sell wall paintings online? Actually it is quite easy, as there are a ton of tools available online. However, here I am going to present an awesome Saas tool called Pabbly Subscription Billing that can list an unlimited number of wall paintings online on negligible commission. Furthermore, you can sell these paintings online in both offline/ online modes. Other advantages include:
Transparent Billing
Multiple Billing Models like Recurring, One-Time, etc
Import/ Export Customer Data
Custom Domains
Multiple Payment Gateways
These listed features will give you a definite advantage over your competitors and make your business flourish. So why waste time lets, get started to build an awesome checkout page to sell wall paintings online.
This is How your Checkout Page will Look Like After Creation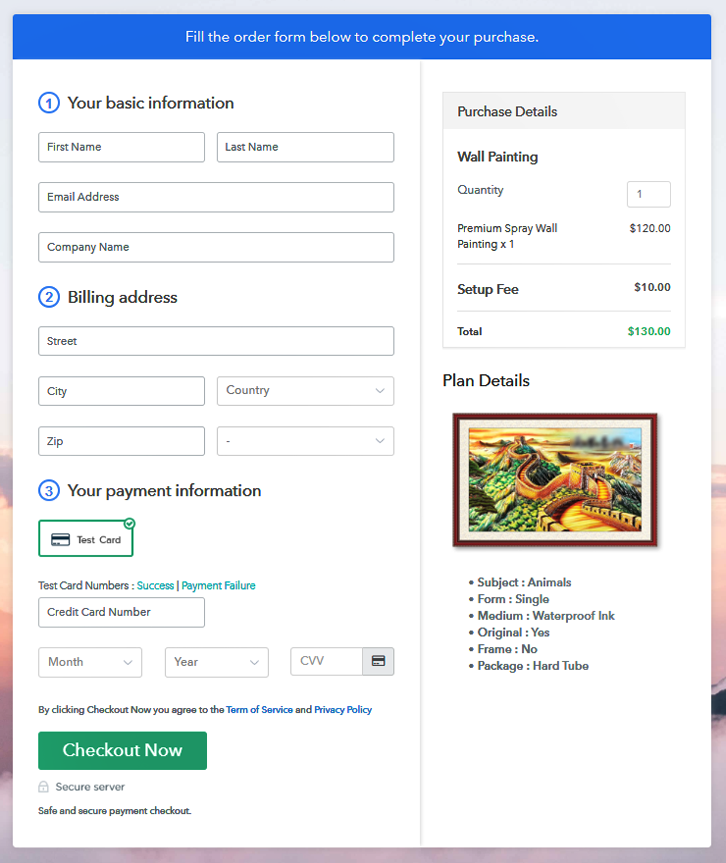 Let's See How to Sell Wall Paintings Online (step by step)
Step 1: Log in to Pabbly Subscription Billing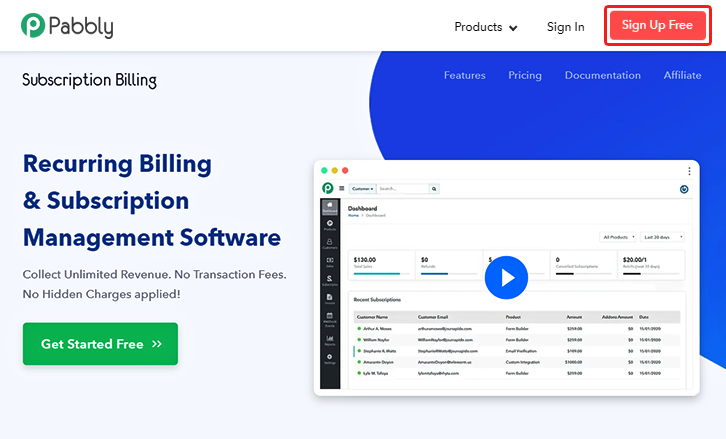 To begin, first search for  Pabbly Subscription Billing in your browser and landing on their website click on "Sign up Free". Either sign in using your Gmail account or fill in the required fields like name, email, etc and then click the "Sign Up" button.
Sign Up For Free!
Step 2: Select Subscription Billing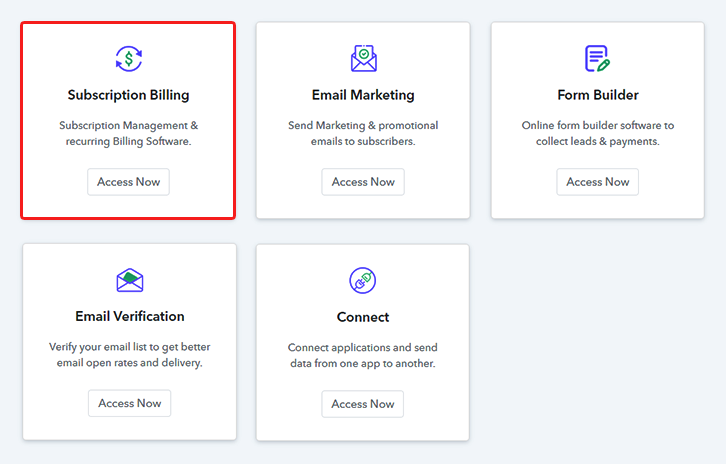 Now you will enter the dashboard, and here click on the "Access Now" button on the Subscription Billing option.
Step 3: Account Setup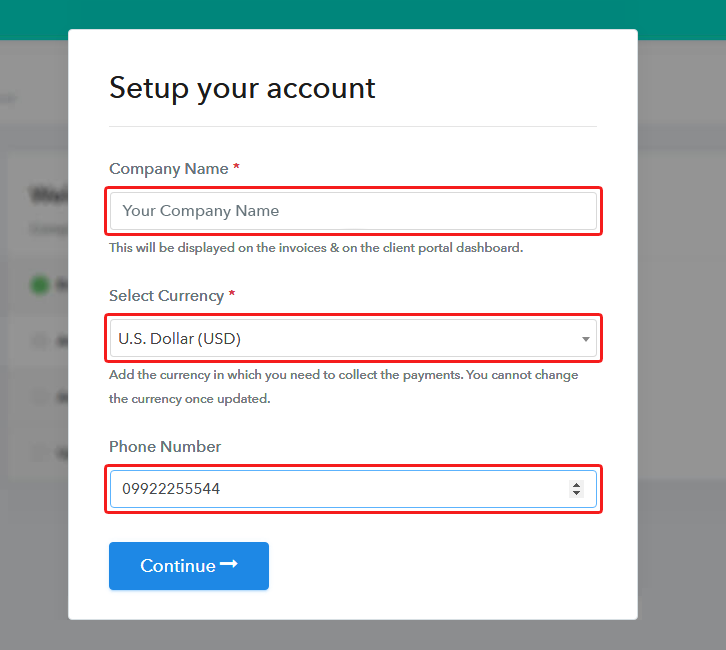 A dialogue box will appear that will require you to fill the company details like name, currency, and phone number. Now, press the "Continue" button after filling in the details.
Step 4: Connect Payment Gateways To Sell Wall Paintings Online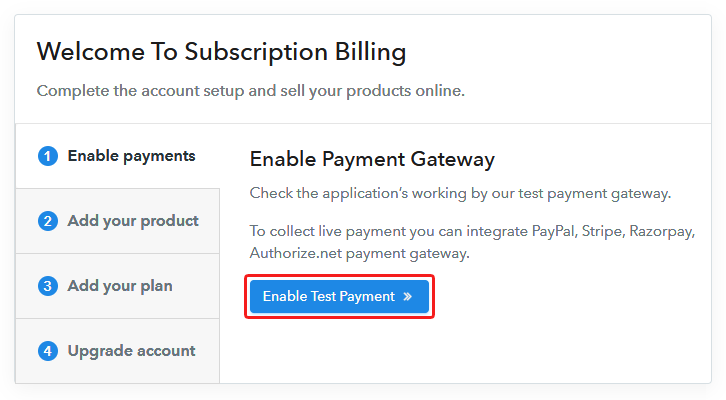 In Pabbly Subscription Billing, you have access to a dummy payment gateway, where you can pre-test the workings of the payment process. This will help you to remove all the glitches beforehand. You can do this by clicking on the "Enable Test Payment" option.

Moreover, Pabbly Subscription Billing, allows you to integrate with multiple payment gateways like Stripe, Razorpay, PayPal, Authorize.net, etc. For the integration of the payment gateways, there are manuals listed beneath this paragraph. But since we have to set up the payment process, we will click on the "Enable Test Payment" option.
Step 5: Add Your Product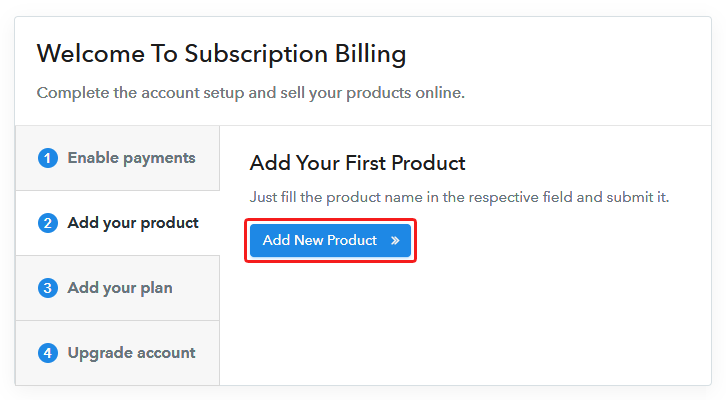 So, now we are going to add the products. Below the "Enable Payments," you will find the section "Add your product" click on it. This will create a dialog box with a blue button "Add New Product". Click it.

This will generate a pop-up box and you have to add the required product title, in this case, it is the 'Wall Paintings'.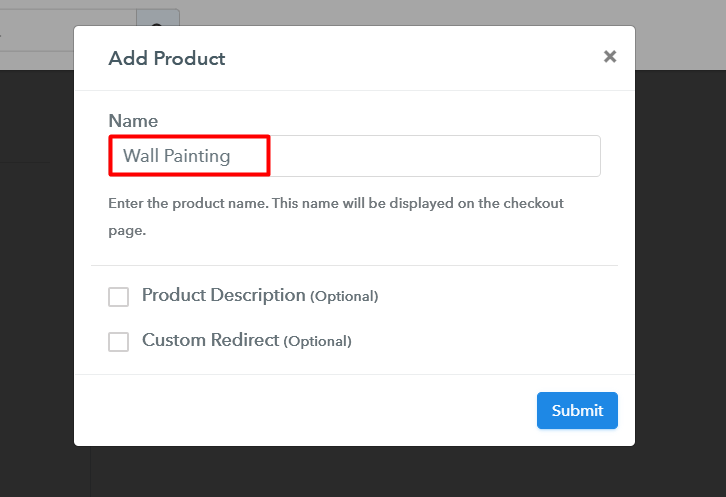 Fill up the details and your product is created.
Note: Here you can add all the products related to the similar category by creating plans for each of them.
Step 6: Add Plans
Now, we are going to create plans to start a wall paintings business online
(a) Select Add New Plan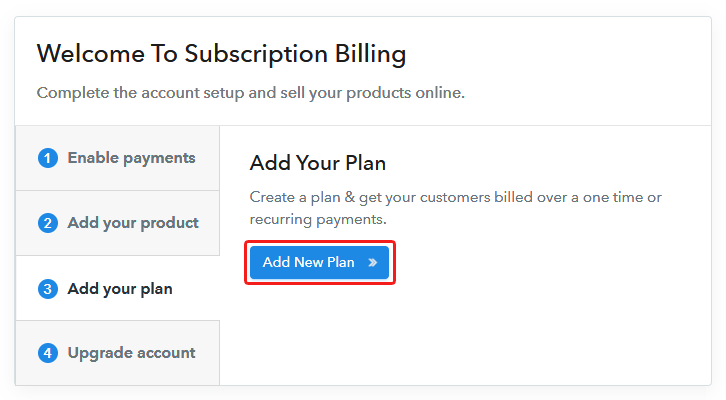 (b) Specify the Plan & Pricing Details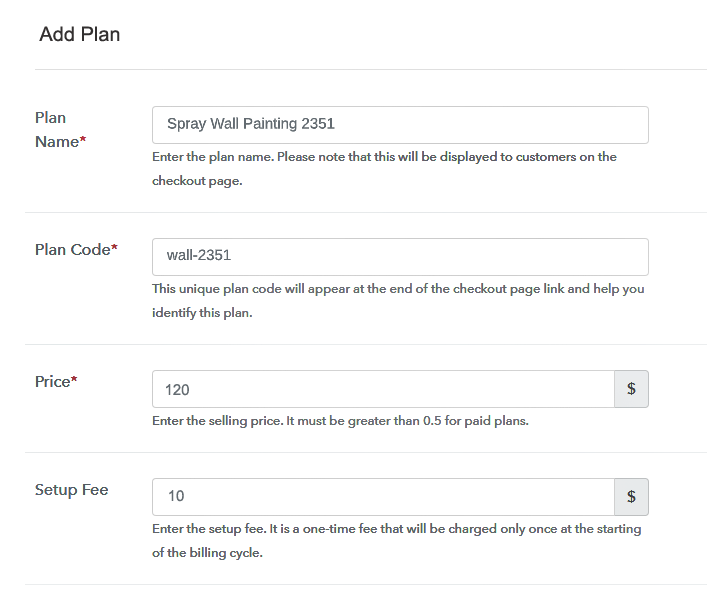 Here you will add the details like name, code, price, setup fees, etc. Also, you can add different billing models like one-time payment, recurring, based on cycles, etc. You can change them whenever you want.
(c) Add Image & Description
Now, upload some stunning images of your wall paintings.

Furthermore, add some information about the wall paintings like subject type, colors used, category, etc in bullet points or numbers and then press the "Submit" button.

Also, using the same methods, you can list more products.
Step 7: Share your Checkout Page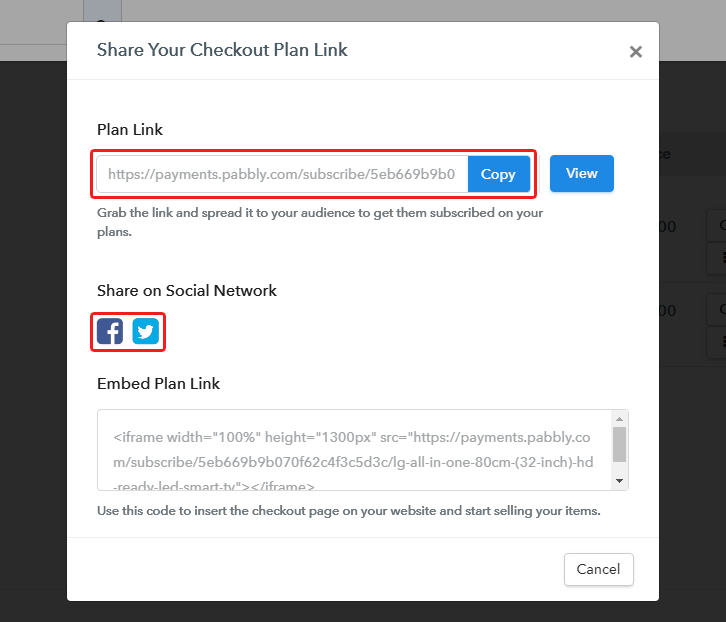 Now for the marketing of your wall paintings, you can share the checkout pages on Twitter and Facebook by pressing their respective buttons.
Furthermore, you can also embed the checkout pages in SMS and emails for more product dissemination.
Also, you can create buttons on your website and embed the checkout pages on them. Furthermore, you can anchor the checkout links so the users will be redirected to the checkout page.
Step 8: Preview Checkout Page
Follow up these steps to preview checkout page:
(a) Click on the View Button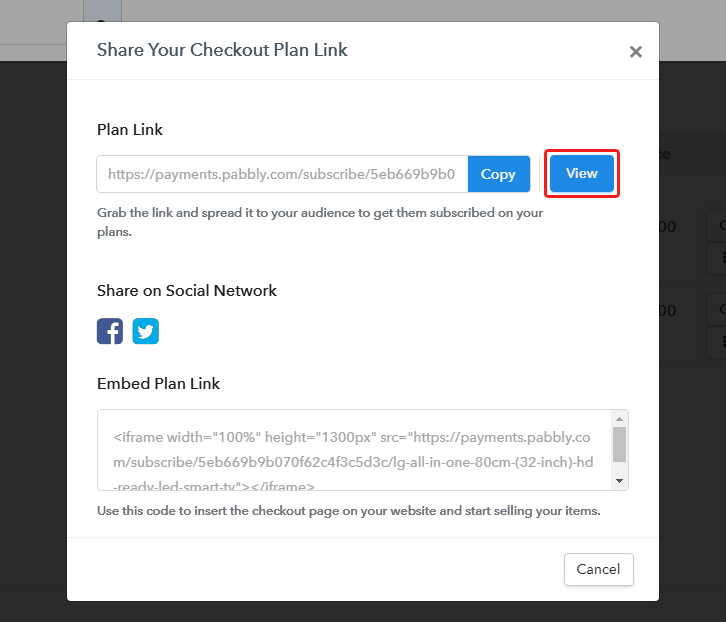 (b) Take a Look at the Checkout Page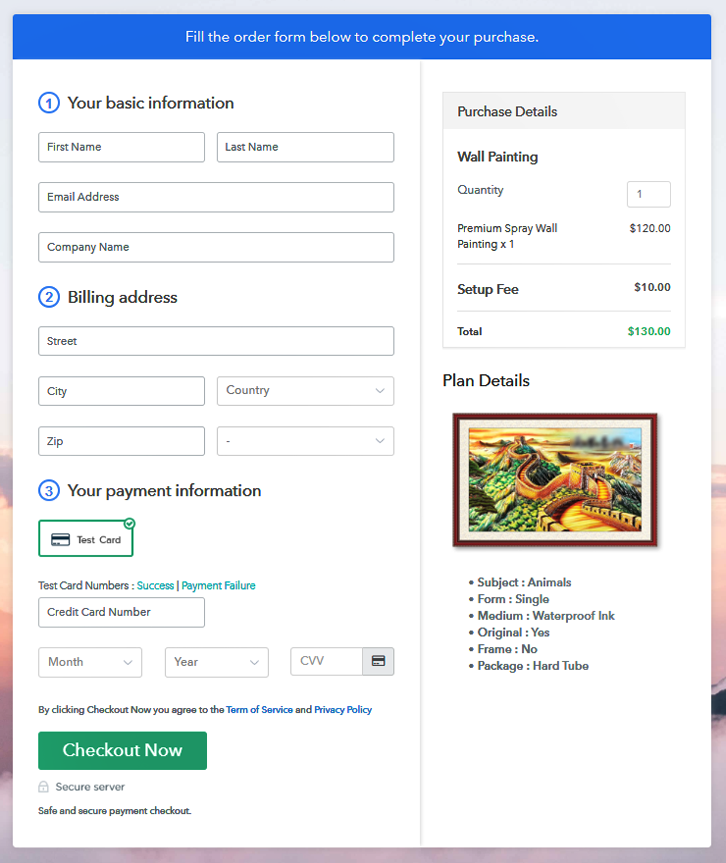 Step 9: Embed Checkout Page in Site & Sell Wall Paintings Online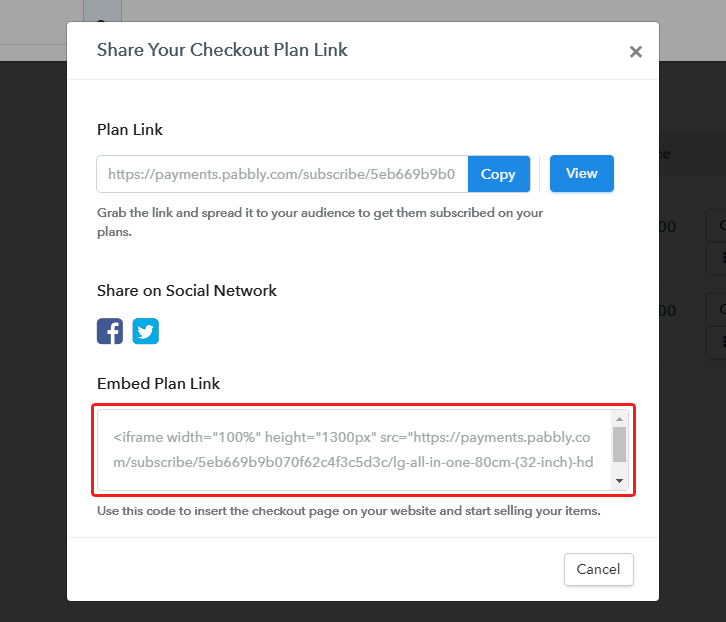 Now,  copy the embed plan link to insert the checkout page on your WordPress website.
(a) Edit the Page & Paste the Copied Link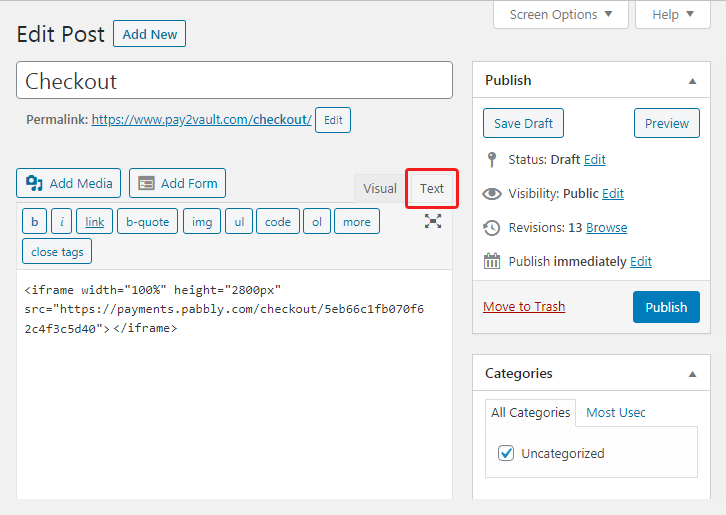 Now, when the link is copied, then paste it to the text area of the editor.
(b) Save & Publish the Checkout Page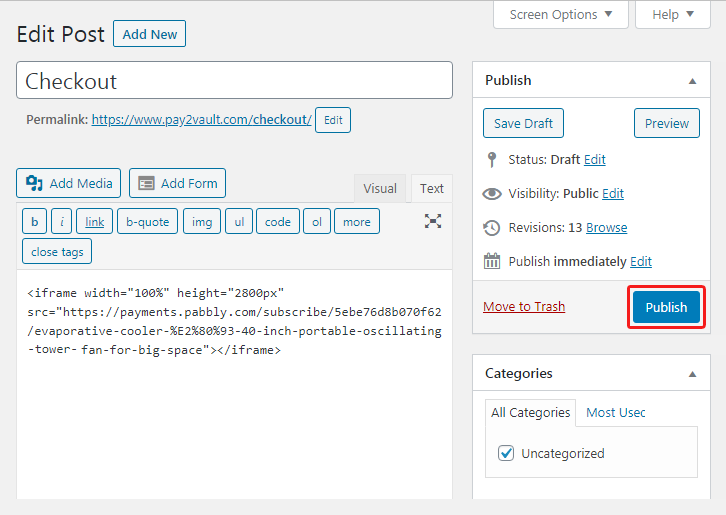 After pasting the code, now hit the 'Publish' button. Your checkout page is embedded.
(c) Check out the Final Look of your Checkout Page on WordPress Site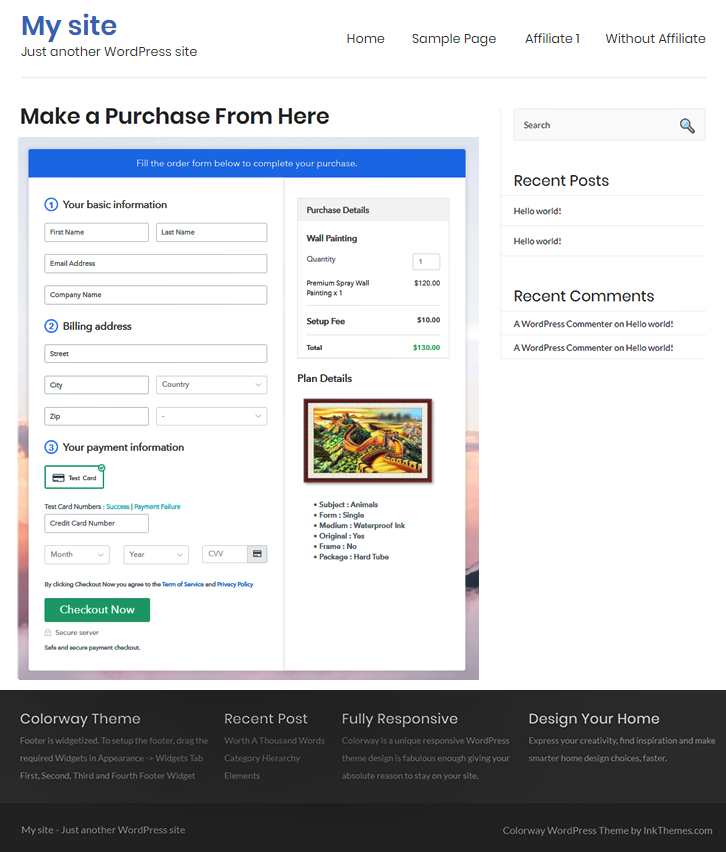 Step 10: Multiplan Checkout Page
Note: In case you want to sell multiple products via a single checkout page, you can create a multi-plan checkout page otherwise skip this step.
(a) Click on Add Mutiplan Checkout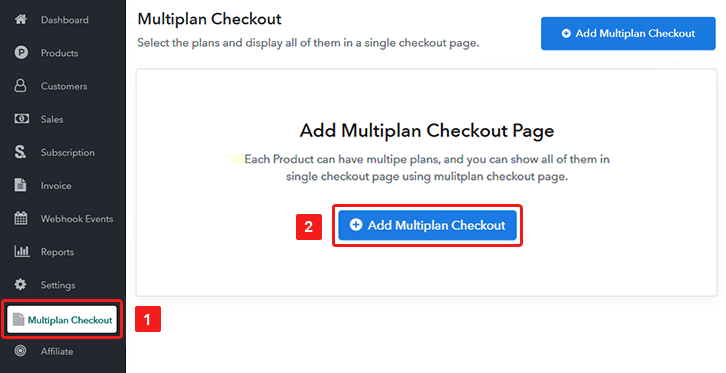 (b) Add Plans to Sell Multiple Wall Paintings Online from Single Checkout Page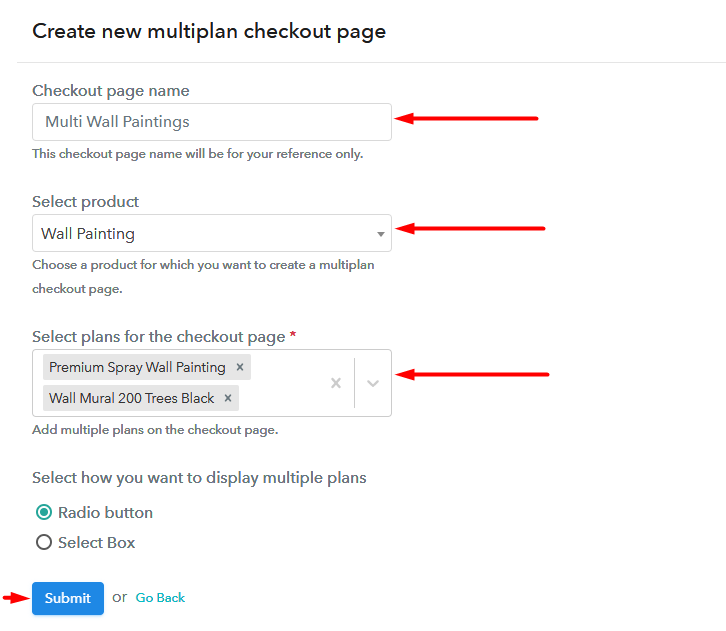 (c) Take a Look at the Checkout Page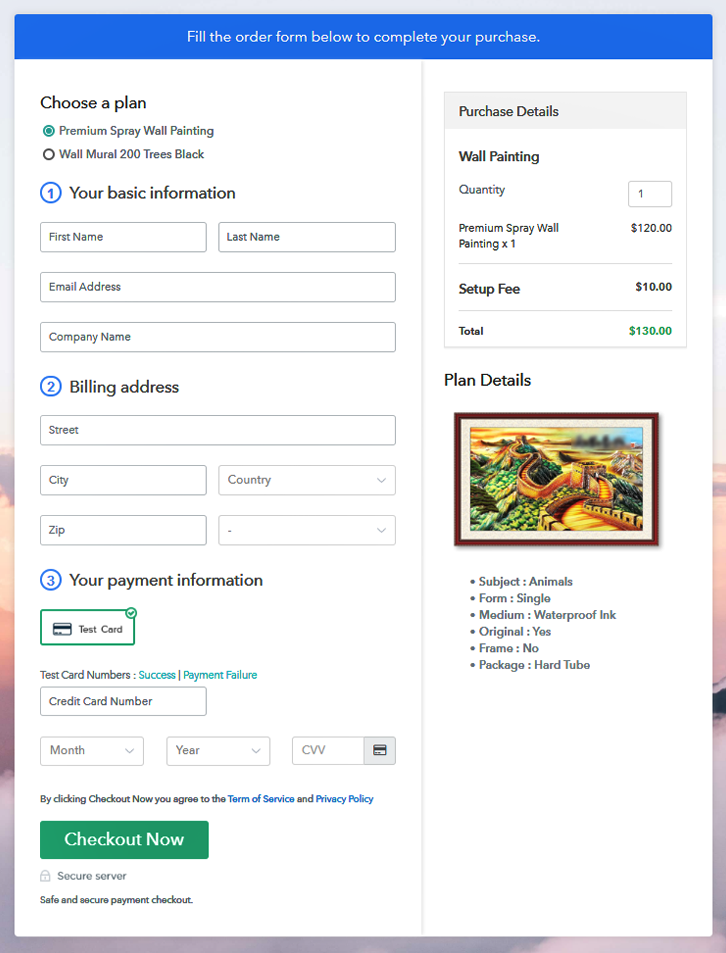 Wrapping Up
Congrats!! You finally created your first checkout page to sell wall paintings online through Pabbly Subscription Billing. Slowly you will fully realize the full potential of this software and its incredible feature to dominate the market in the long run. But since you are new to this endeavor, you may have some doubts regarding the steps. So drop your queries in the comment section below. We shall reply to you at the earliest. Thank You
You May Also Like To Read –