Ideal For: All opticians manufacturers, eyewear sellers, retail eyewear product owners, sunglasses wholesale vendors, and other merchants can use this method to start selling sunglasses online.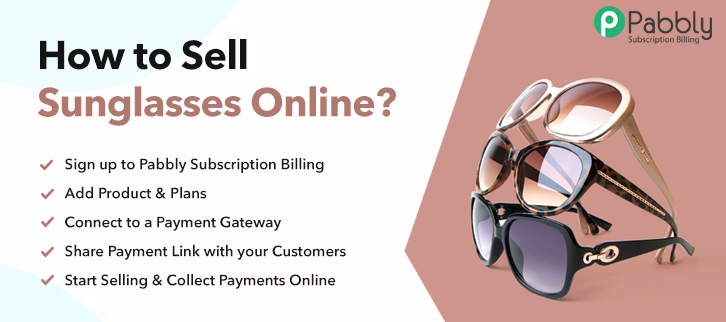 Why Choose this Method for Selling Over any Other Solution?
Unlike any other solution, this method allows you to:
List and sell your sunglasses for FREE. Absolutely no payment required.
No commission on sales.
Collect payment through multiple payment modes from a single checkout page.
Sell one time or recurring subscriptions of your sunglasses & optical glasses frames.
Sell and collect payment in any currency as per your requirement.
Give discounts on your products by offering special coupon codes.
Add sales commission agents to help you in selling your sunglasses.
If you want to get into selling sunglasses online then you need a website brighter than the sun. It might sound simple & easy task to attract potential customers with a stunning website for selling sunglasses. But what if you don't have a website to sell your optics/eyewear online?
Don't worry, in this article, you will get answers to all your questions. Before that let's take a look at the benefits of online sunglasses business.
Why would you like to sell sunglasses online?
According to the report published by Research & Markets in July 2018, the global eyewear business reached 114.9 billion USD in 2017 and is expected to reach 177.8 billion USD by 2023. The online market of optics is growing rapidly and sunglasses are subsegment of the larger eyewear market. This is why both merchants & shoppers jump to an online platform to start the sunglasses business.
Besides, here are some of the qualities that make sunglasses such a good fit for online eCommerce:
Fashion item, so you can show the endless range of brands and designs
Can sell as private label to earn even greater profit margins
Collect online as well as offline payments
Provide coupons & discount
Global demand and so on..
So far, we've looked at many advantages of selling sunglasses online that can lead to profitable business for eCommerce merchants. Now, in this article, we will show you how to stand out among the crowd of competitors by just creating an attractive checkout page to sell optics.
You just need to follow the steps and create a checkout page with Pabbly Subscription Software. With this, you can not only create a checkout page but also share it directly with your customers through email, SMS, social media platforms, etc. Let's have a look:
This is How your Checkout Page will Look Like After Creation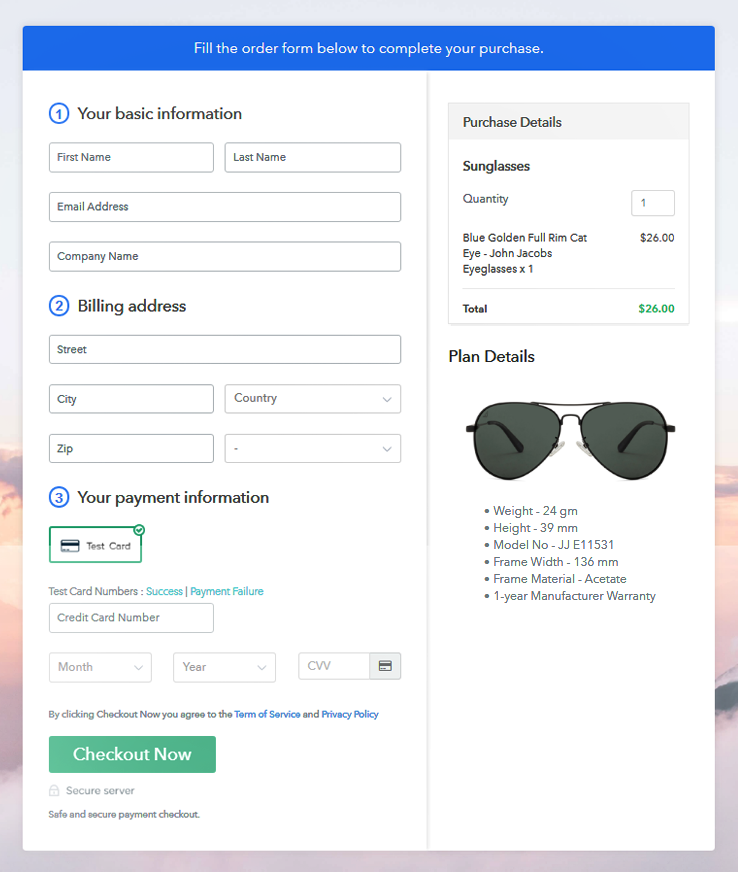 Let's See How to Sell Sunglasses Online (step by step)
Step 1: Login to Pabbly Subscription Billing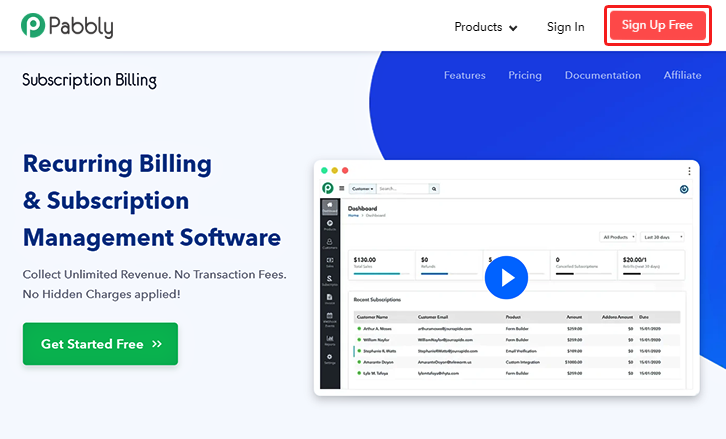 Firstly, visit the Pabbly Subscription Billing website and click on the "Sign Up Free" button. After that, the signup window will appear on your screen, so just enter your Gmail credential or create a new account to log in.
Step 2: Select Subscription Billing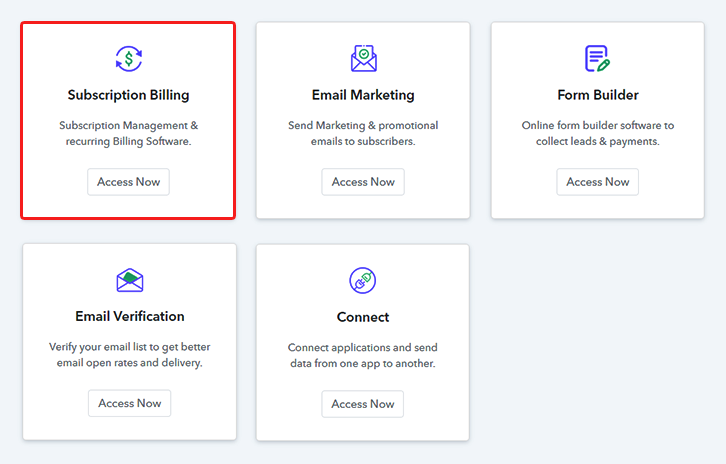 Step 3: Account Setup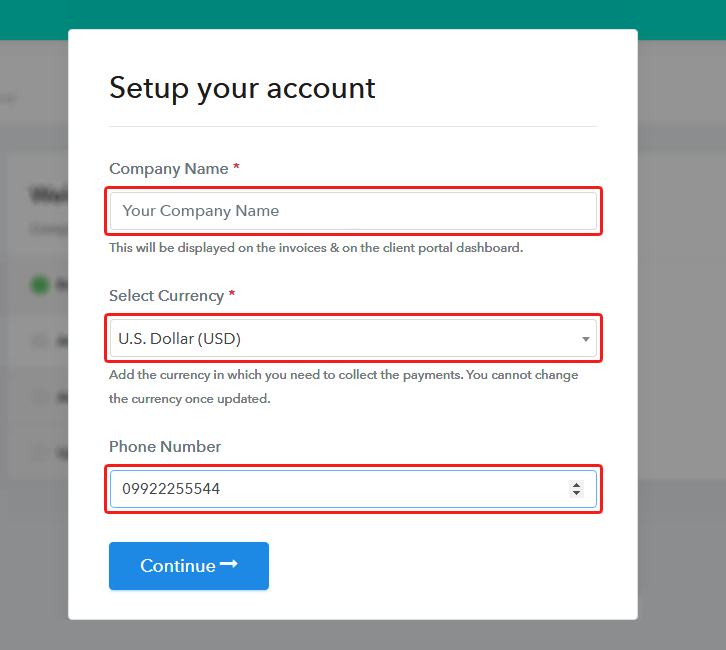 After completing the signup process click on the "Access Now" button of Pabbly Subscription Billing. The popup will open on the screen which asks you for basic information like company name, select currency, and phone number. You'll need to fill out those details for completing the setup.
Step 4: Connect Payment Gateway to Sell Sunglasses Online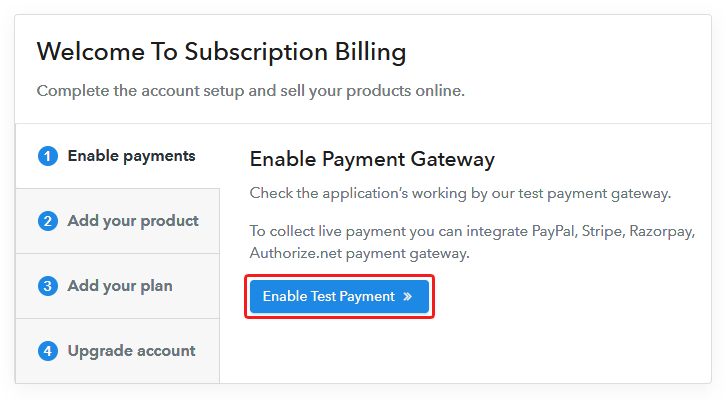 For completing the account setup, you will need to connect the payment gateway. But if you are a beginner, then Pabbly Subscription Billing provides the trial payment mode for learning the payment procedures. All you have to do is to enable the test payment mode by clicking the button "Enable Test Payment".
Besides, it lets you connect with multiple gateways like PayPal, Stripe, Razorpay, Authorize.net, and many more. Below are payment integration guides that might help you.
Step 5: Add Your Product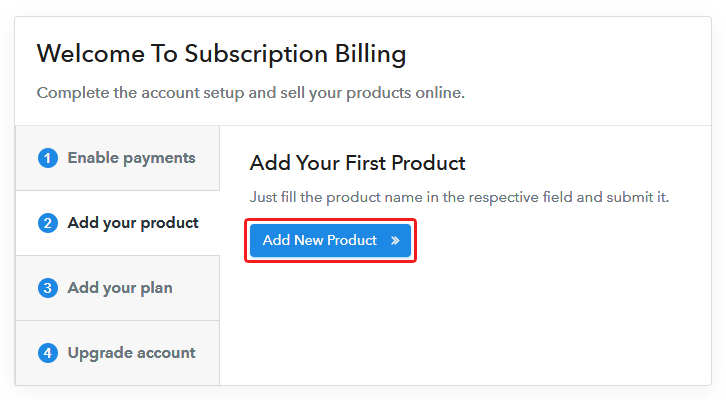 In the next step, specify the product name with details which you want to sell online. Apart from this, you can also fill the additional details about the product like its size, color, material, etc. By doing this, you can add various products belonging to the same category in product section.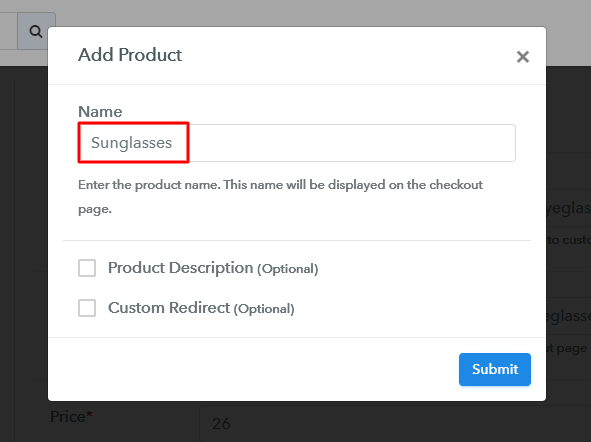 After filling all the details, click on the submit button, and your product is created.
Note: Here you can add all the products related to the similar category by creating plans for each of them.
Step 6: Add Plans
Now, let's create multiple plans for all types of sunglasses that you want to sell in your online store.
(a) Select Add New Plan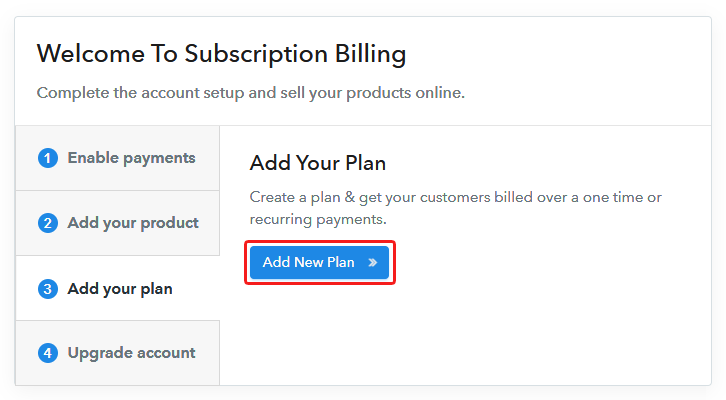 (b) Specify the Plan & Pricing Details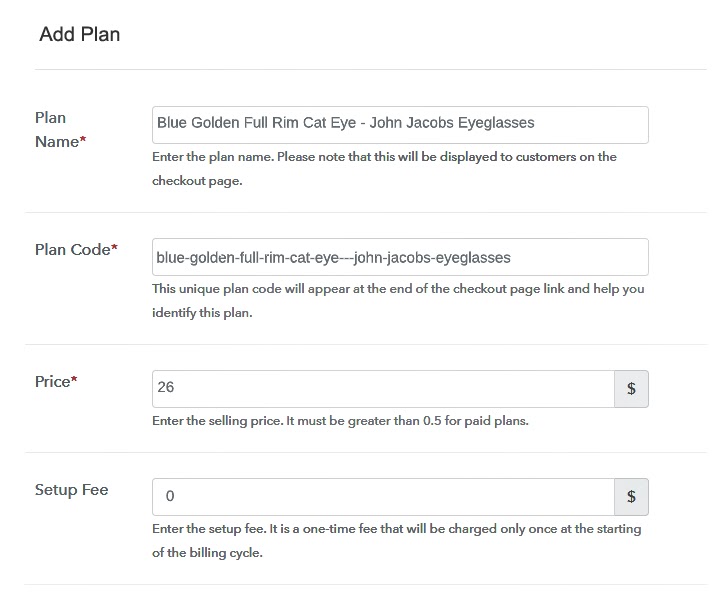 Here, you can specify the plan details like plan name, plan code, price, setup fee, etc., to start sunglasses business online.
(c) Add Image & Description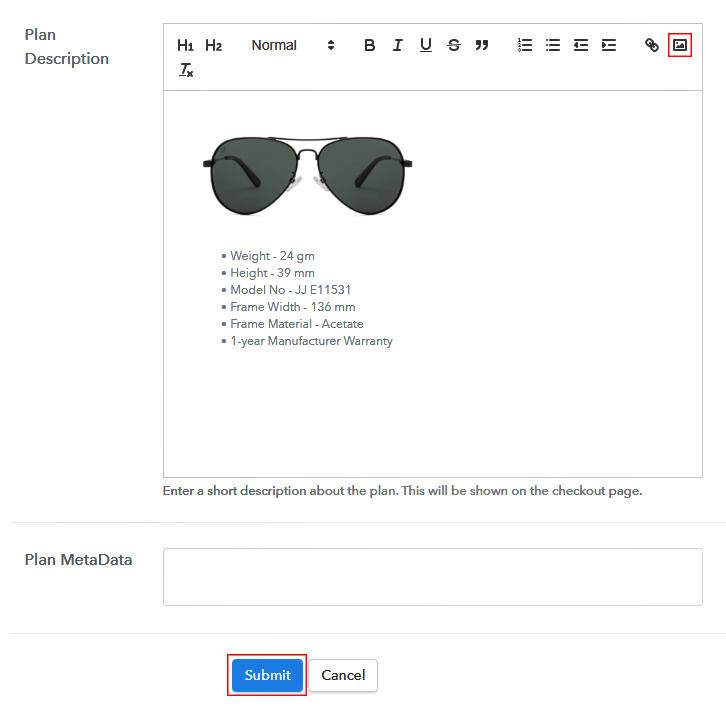 Following the previous step, now you can write a brief description of the product in the "Plan Description" field that you want to show on your checkout page. It could be anything like sunglasses model, height, width, material, and so on. Furthermore, you can also customize the text in different formats, add images, links according to your product.
After filling all the details just hit the submit button and your checkout page for selling sunglasses is ready.
Similarly, you can create multiple plans to sell different types of sunglasses.
Step 7: Share your Checkout Page
Since your checkout page is now ready, you can share it on Facebook and Twitter to increase user engagement.
Apart from this, you can also share the checkout page link with your customers directly through SMS or email marketing.
Step 8: Preview Checkout Page
Momentarily, you can preview your checkout page by clicking on the "View" button.
(a) Click on the View Button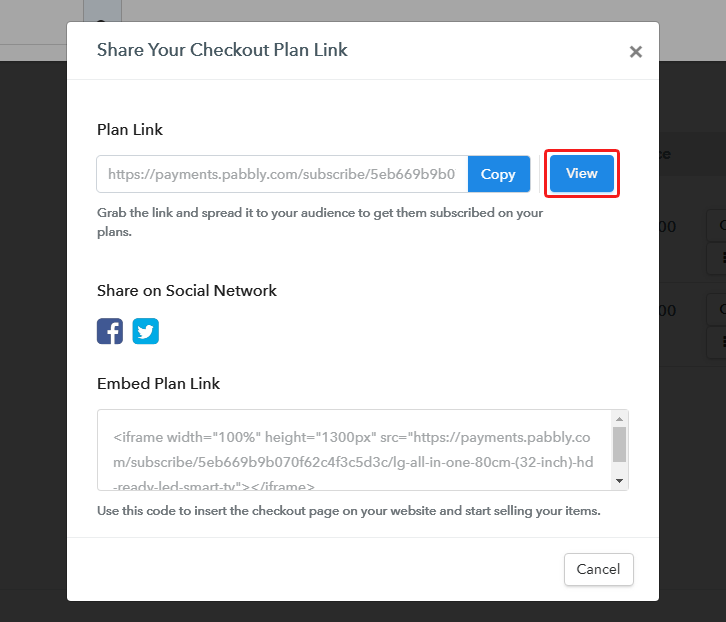 (b) Take a Look at the Checkout Page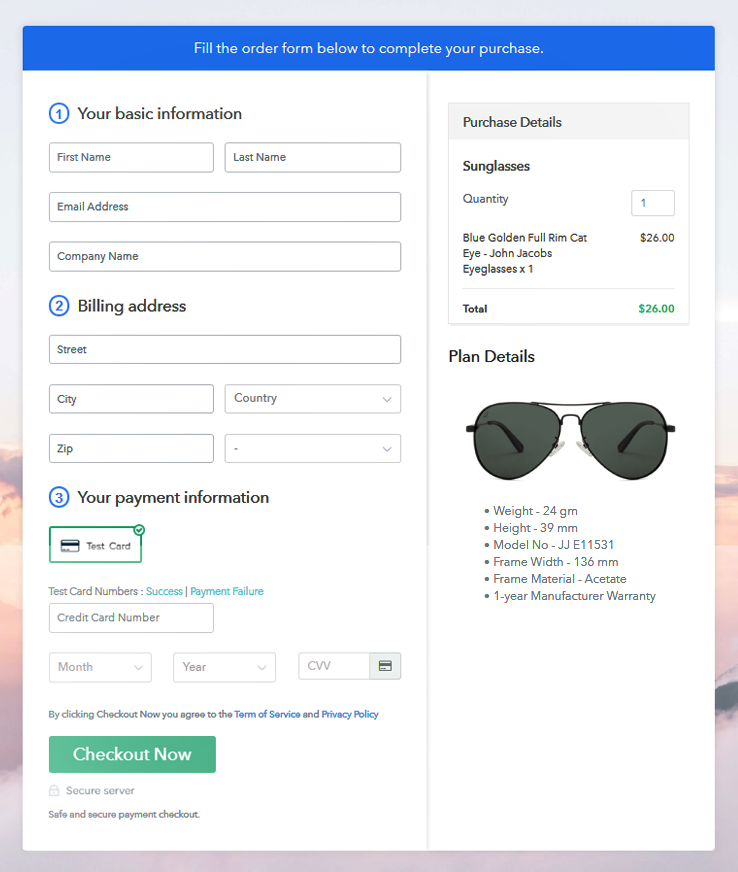 Step 9: Embed Checkout Page in Site & Sell sunglasses Online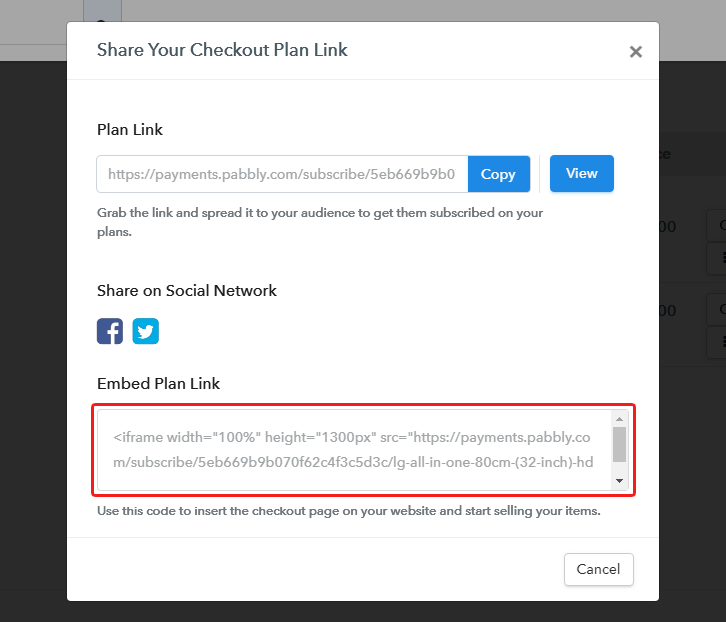 Furthermore, for selling the products online you need to redirect the user on the checkout page, so just copy the checkout page link and paste it on your WordPress website.
(a) Edit the Page & Paste the Copied Link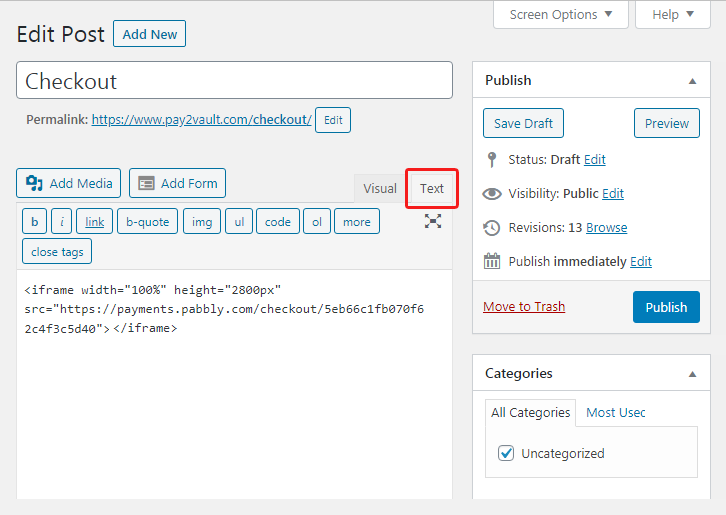 Besides, paste the copied link on the WordPress site's text editor.
(b) Save & Publish the Checkout Page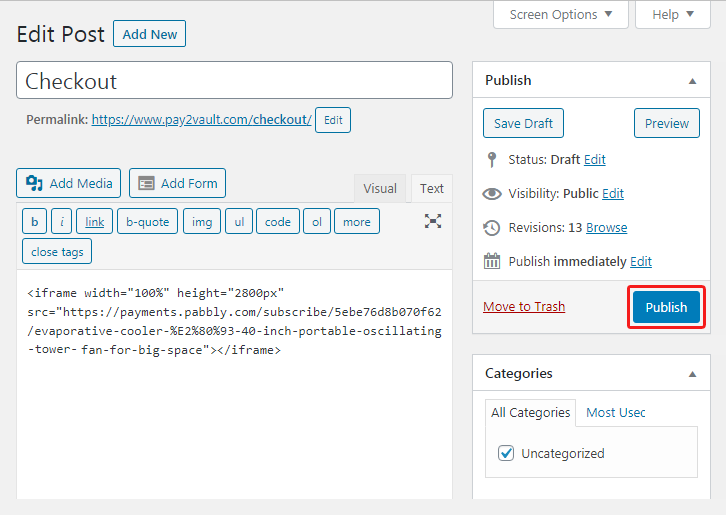 Just click on the 'Publish' button after pasting the code on a text editor and your checkout page will get embedded on the website.
(c) Check out the Final Look of your Checkout Page on WordPress Site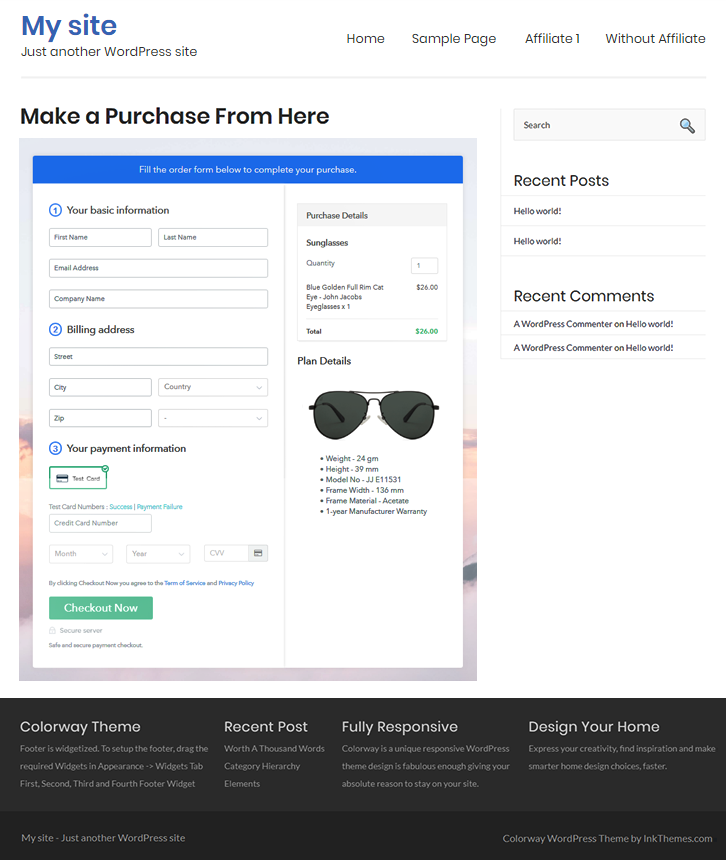 Step 10: Multiplan Checkout Page
Note: In case you want to sell multiple products via a single checkout page, you can create a multi-plan checkout page otherwise skip this step.
(a) Click on Add Mutiplan Checkout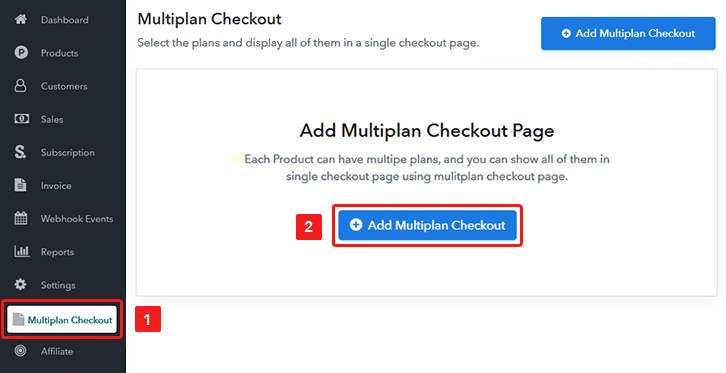 (b) Add Plans to Sell Multiple Candles from Single Checkout Page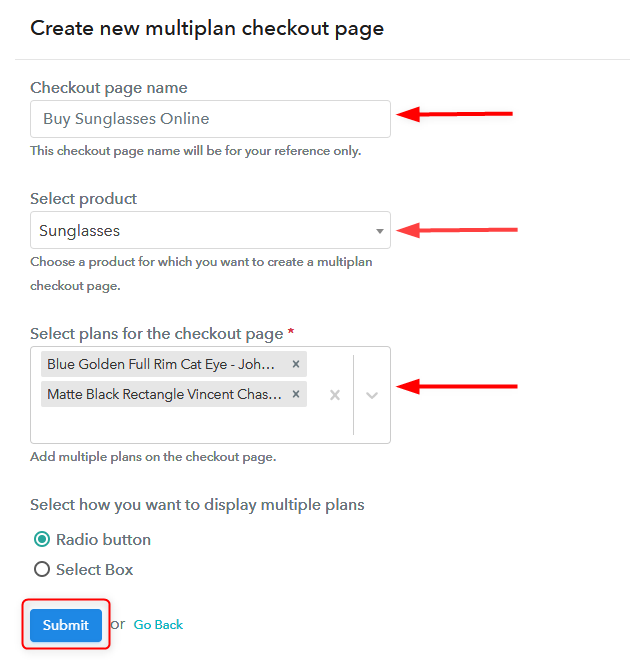 (c) Take a Look at the Checkout Page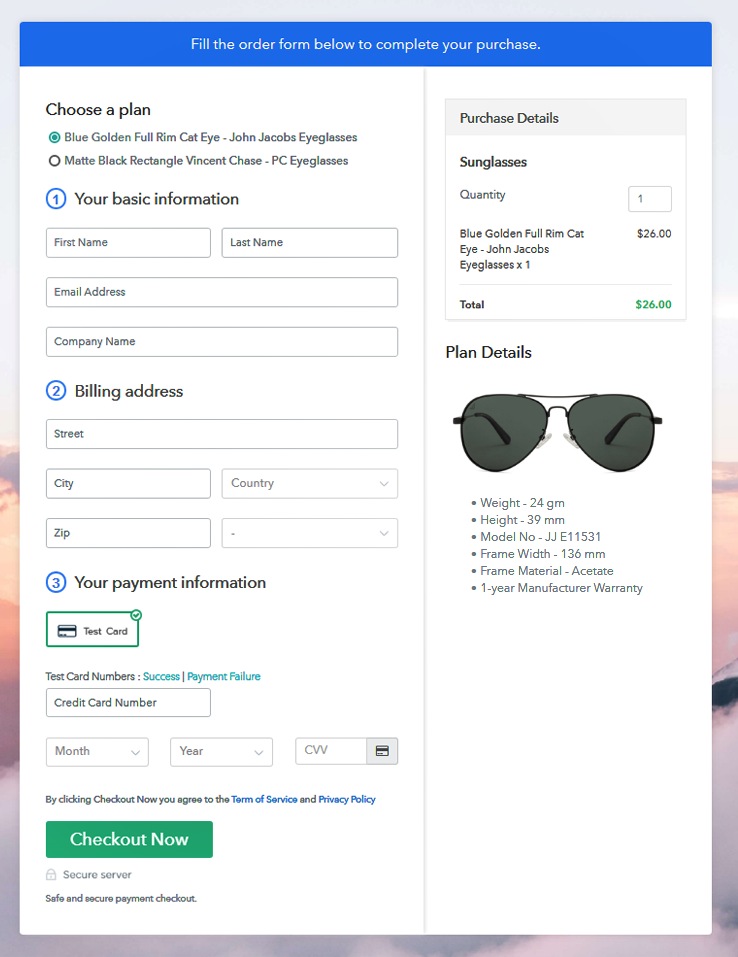 Wrapping Up
If you have always wanted to sell sunglasses online, but were not sure where or how to start, then this article might help you. Here, we recommend you the easiest way to start your business via checkout page. Just follow these simplest 10 steps to create your own checkout page to start sunglasses business online.
You May Also Like To Read –