Email marketing is an integral part of content marketing strategies for any business. As 73+ trillion emails are sent annually both B2B & B2C, real estate email marketing could be revolutionary.
---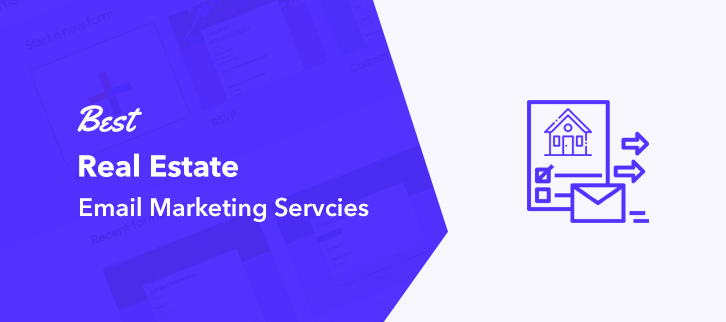 ---
Real estate has reached to many social media and advertising platforms. Email marketing can add up a shove to it. There are many advantages that a real estate business or agent can earn using email marketing services. Such as interaction with the clients, tracking their behaviour, boost sales & saving time.
Quick Comparison Between Best Real Estate Email Marketing Services
Service
Basic Plan
 SMTP Routing
Marketing Automation
Emails/ Subscribers
Pabbly Email Marketing
$29/m
✔
✔
Unlimited
Sendinblue
$20/m
✖
✔
40K Emails
Moosend
$8/m
✖
✔
1K Subscribers
HubSpot
Free
✖
✖
Not Specified
Mail Marketer
$24.69/m
✖
✖
40K Emails
Here in this article, we've taken into account the top real estate email marketing services in the market. Using these services you can find new clients easily, manage your old customers and much more.
---
"Pabbly Email Marketing is the only service that is providing SMTP routing and all features accessible even in the basic plan."
With an excellent combination of multiple unique features as well as the affordable pricing Pabbly Email Marketing is perfect for all large & small businesses.
Most importantly, it has two outstanding features. First is the SMTP routing feature. Using this feature, you can connect to multiple SMTPs. Pabbly provides an in-built SMTP and additionally you can also connect with other external SMTPs as well. And the second remarkable feature is the excellent marketing automation.
Here to mention, marketing automation can ease upto 90% of your manual email marketing tasks. And Pabbly Email Marketing has the best amongst all other bulk email marketing services.
---
---
Features
MX Cleaner – There are many wrong and bad email addresses present in our mailing list which can cause bounce. This bounce and spam causing emails badly affect the deliverability of other emails. For this Pabbly email marketing has came up with MX cleaner that take care of these bad email addresses and removes them before sending email.
2X Open Rate – It has many mechanism just like MX cleaner to double the overall open rate of your email by removing all the inappropriate emails from the list.
Drag & Drop Email Builder – It's very important for any service that the UI is minimalistic and user-friendly. Many services doesn't satisfy this criteria. But, Pabbly has it, as it provides a drag and drop email builder which is super easy to use. Moreover, it provides multiple text formatting tools so that you can format the text according to your will.
Enhance Lead Capture – This service provides an exclusive feature of creating an lead capture form. You can embed this form on your site, social account and where not. Using this, you can capture more leads/clients.
Autoresponder – Apart from marketing automation it also facilitates an autoresponder for sending automatic welcome, thankyou, birthday wishes and more.
Email Tracking – Whats much better than getting to know your customers without physically meeting them. Pabbly email marketing provides clear open, clicks, marked spam reports for your emails. This way you'll get a better understanding of your behaviour about your email campaigns.
List Management – For managing multiple lists at one place but still separately. This service provides an excellent mechanism for that too. You can import multiple list as well as separately manage them at one single place.
Pricing
Pabbly Email Marketing offers four pricing plans for sending unlimited emails along with all the premium features
Forever Free – This plan is absolutely free & you can send 12K emails to about 1.1K subscribers.
Rookie – You send an unlimited number of emails to about 5K subscribers. This plan can cost upto $29/month.
Pro – In just $49 every month, you will be able to send unlimited emails to about 15K clients.
Advanced – This particular plan ranges from 50K to 100K subscribers. Also, the price ranges from $99 to $1599 on monthly base.
---
2. SendinBlue – Real Estate Email Marketing Service
SendinBlue provides many additional marketing features other than email marketing such as chat & SMS marketing. Although, the features are unlocked on the basis of the plan that you choose. Furthermore, you can integrate many other functionalities to it very easily as per your business needs.
---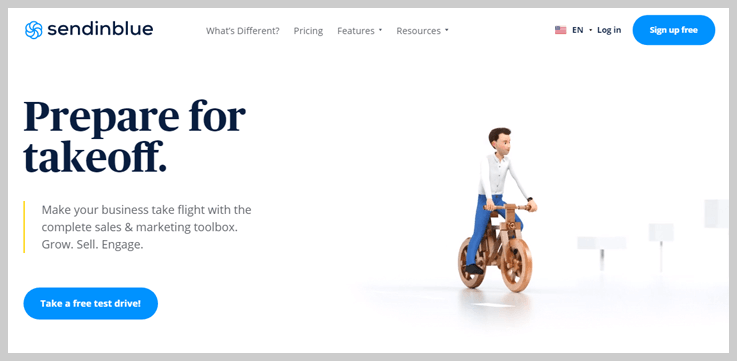 ---
Features:
Communication Features – It provides email marketing, SMS and Chat mediums to communicate with your clients. Further, all the three mediums has many features towards customization. For instance templates, personalization etc.
Personalization – Four advanced personalization options namely CRM, marketing automation, transactional emails and segmentation.
Conversion Options – You can use amongst the four ways it provides to convert your clients. These four ways are landing pages, sign-up forms, Facebook ads and retargeting.
Improve Performance – Using features like A/B testing & reports you can improve the performance of your email campaigns.
Integrate – You can integrate many other service as per your marketing needs via API and plugins.
Pricing Plan:
SendinBlue has five plans based on the features available in every plan.
Free – This plan allows you to send 300 emails per day to an unlimited number of contacts.
Lite – Lite plan can cost up to $25 for 40K emails per month along with all the free features.
Essential – This plan costs $39 for 60K emails per month. It includes all lite features & A/B testing, advanced statistics, enables you to remove the brand logo.
Premium – The cost of this plan is $66 for 120K emails every month. The additional features are Facebook ads, landing pages, marketing automation, chat & multi-user access.
Enterprise – To utilize each and every feature it promises you need to contact the sales team of this service.
---
3. Moosend – All-in-One Marketing Platform
Moosend is another advanced real estate email marketing service provider. It has almost all the basic to advanced features from templates to real-time analytics. To be 100% true you only need to work with its advanced UI a little bit after that all's set.
---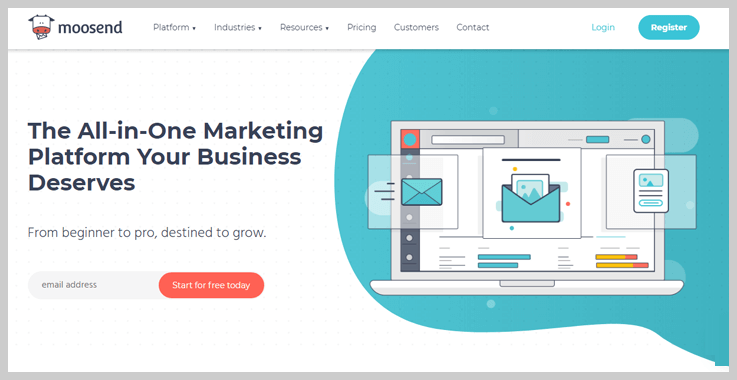 ---
Features
Drag & Drop Dead Beautiful Builder – This service provides an easy to use email builder with simple drag and drop element options.
Automate Workflow – Moosend provides multiple automation abilities. You can set user onboarding. Set automation for abandoned carts. lead scoring etc.
Advanced Personalization – Apart from the traditional firstname personalization it allows you to add more information about the users in your emails.
Pricing
Moosend's pricing plan ranges from $10 to $3.65K for around 1001 to 1000K customers.
---
4. HubSpot – Free Email Marketing Platform
HubSpot is a free email marketing tool in this list of real estate email marketing services. It is providing free CRM along with the  email marketing service. In Spite of the fact that free services have their limitation this could be a better choice for small businesses.
---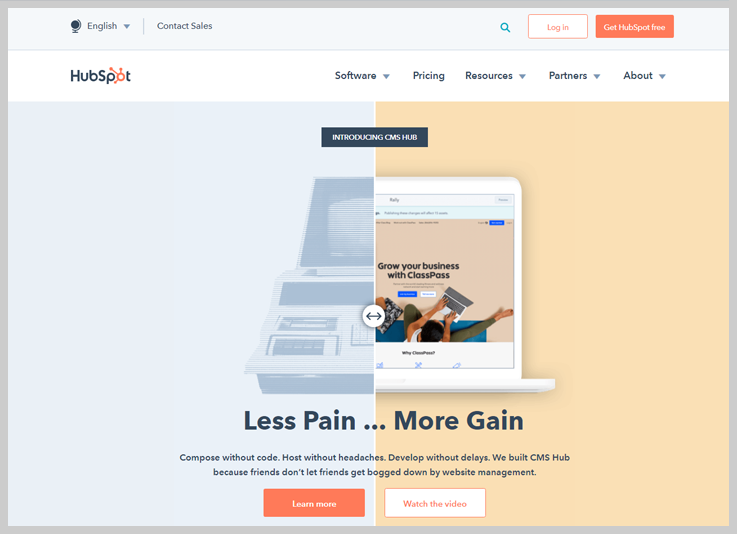 ---
Features
Drag & Drop Editor – To modify content of your email it provides a drag and drop interface. You can customize any email's layout by adding text, images and call-to-action.
Templates – HubSpot provides some ready made email templates that you can use right away or can also customize as per your needs.
Schedule Emails – You can create a library of emails in advance and schedule them to get delivered as per your choice.
Security – Using this feature you can store the customer's data in the HubSpot cloud.
Pricing
HubSpot is a free email marketing service and you only need to register as well as sign-in in the system to get started with the service.
---
5. Mail Marketer – Emerging Bulk Emailing Service
Mail Marketer is an emerging bulk email marketing service for real estate business. It is providing many beginner as well as advanced features like reports and triggers. Also, with the help of a developer you can integrate many more highly advanced features to it.
---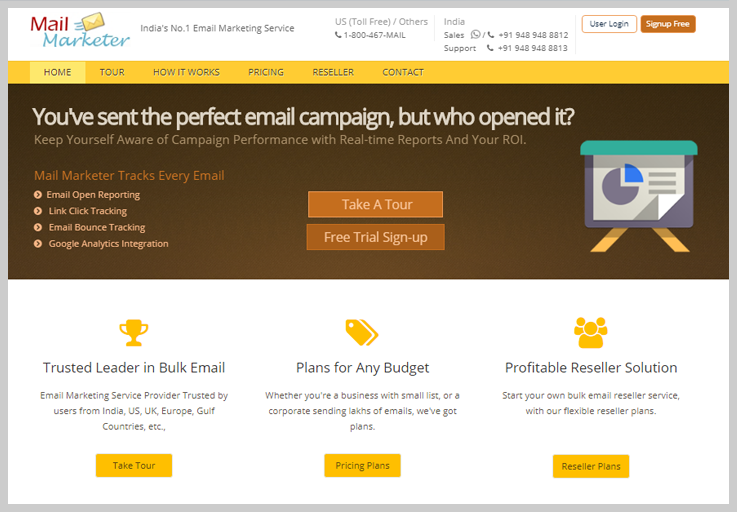 ---
Features
Built-in Email Templates – There are many email templates available with this service that you can use instantly.
Built-In Spam Checker – This service provides suggestions over your email list address that whether an email can cause spam or bounce.
Automatic Bounce Handling – When an email causes a bounce the system deleted it and keep your email list clean.
Triggers – You can set triggers and events for automating the follow-up email taks.
Pricing
Mail Marketer is offering six plans based on the email credits. All the features are available in every plan.
M40K – This plan can cost $24.69 for a month. You can send 40K emails  using this plan.
M100K– The cost of this plan is $37.68 and has a limit of 100K over email credits.
M300K – In this plan, you can send 300K emails and the cost is $89.66/month.
M500K – For sending 500K emails this plan can cost upto $128.64 every month.
1 Million – This plan cost $219.59 per month for a million email credits.
2 Million – Two million emails could cost upto $388.51 monthly.
---
In Conclusion:
This was our catch on the best real estate email marketing services available online both free and paid. All of these services are tested and reviewed for getting an idea of their performance. You can select any of the service based on your business needs. I personally recommend you to use the first one as it is my personal favorite.
You May Also Read: