Are you looking for the best ZeroBounce alternatives? Then, you have arrived at the right place.
ZeroBounce is a great email validation & verification platform which is built to assist businesses to run their email marketing method smoothly.
This software automatically removes incorrect or invalid email addresses from a list, if any found. Thus, it ensures the highest deliverability of emails because after the removal of all invalid addresses the emails will only be delivered to intended customers.
So, the question is why would you search for alternatives to this software? The reason is sometimes it fails to detect spam trap addresses. Also, most of the time when subscribers unsubscribed from particular addresses, still this software lets emails move into their inboxes. However, this situation sometimes becomes quite disturbing for subscribers.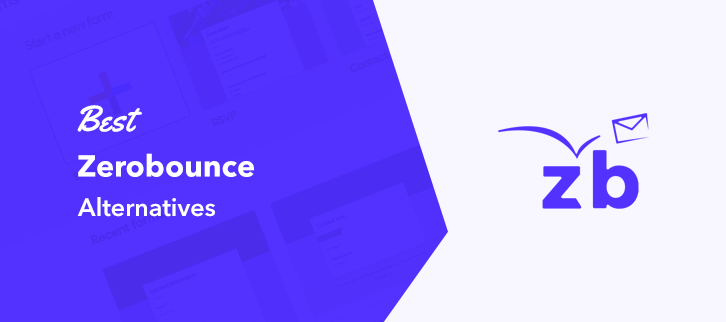 Hence, in this article, we are going to discuss some of the reliable alternatives to ZeroBounce that will surely help you get relieved from the above-mentioned limitations.
Here, you can easily check out the given services along with their free trial as well as cheap pricing plans and select the best one as per your needs.
---
Quick Comparison between Best ZeroBounce Alternatives
Service
Basic Plan
Manual  Verifications
Anti-Greylisting
MTA Validation
Pabbly Email Verification
$5/m
Available
✔
✔

Hunter

$49

/m
N/A
✖
✖

DeBounce

$10

/m
N/A
✔
✔

Clearout

 $20

/m
N/A
✖
✔

EmailListVerify

 $139

/m
N/A
✖
✔
"Pabbly Email Verification is the only software which does the email verification process slower compared to others and provides 100% accurate results without any error"
This is one of the greatest alternatives for ZeroBounce that is available at a very cheap price. It guarantees 98% deliverability of your emails, since it already eliminates all the invalid & unwanted addresses. Therefore, you will always have targeted customers' addresses in a list to whom you want to send emails.
The remarkable factor about Pabbly Email Verification alternative which distinguishes it from others is that it takes proper time and does the email verification process at a slower rate. So, after completion of the verification process, you will constantly receive accurate results without any mistakes.
This is undoubtedly a very unique feature because instead of automation it follows manual work and always available to resolve their customers' questions. Also, this service pings each customer's email server at an individual level regarding email validation queries so that they will get personal attention.
---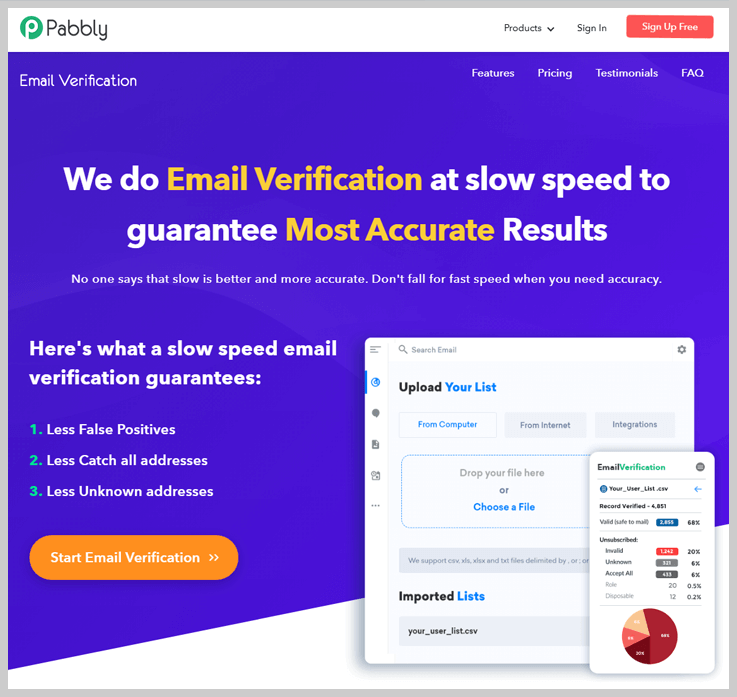 ---
Features
Duplicate Email Removal – This email scrubbing service excludes all the duplicate email addresses automatically from your database. Thus, you will always have a neat & clean database and can search for any address easily.
Anti-Greylisting – The anti-greylisting technology is the most advanced feature of this service that protects your list from spam emails and offers accurate results.
Minimize Bouncing – Pabbly email verification service assures you that your emails will move in the right inboxes and decreases the bounce rate.
Domain Verification – This is a very important factor since it regularly safeguards your domain from spammers. Consequently, you will be able to eliminate the email addresses which are containing inactive, invalid domains.
Syntax Eliminator – It's important to have email addresses which are containing accurate syntaxes and this service perfectly helps you with that as it ejects invalid syntax addresses.
MTA Validation – MTA validation tool makes sure that your email transfer agent has valid MX records. Hence, you can keep your email delivery process error-free.
Search for Risky Keywords – With this feature, you will be able to examine against high-risk keywords and top-level domain names that email addresses hold.
Complaints Removed – Pabbly email verification service serves its customers regarding their complaints on a daily basis. It constantly solves and removes complaints from the database.
Pricing
Pabbly email verification service is the most reliable & cheapest service in the market that you should definitely go for. It has a basic plan only at a cost of $5 in which you can filter 1000 email addresses.
Moreover, it also incorporates other various pricing plans and that too are accessible at very affordable expenses. You can check them here –
5,000 emails at a price of $15
10,000 emails at a charge of $25
15,000 emails at cost of $37
50,000 emails at an expense of $84
100,000 emails at an amount of $165
300,000 emails at a value of $389
500,000 emails at cost of $479
1,000,000 emails at a price of $599
25,000,00 emails at a rate of $1199
50,000,00 emails at an amount of $1799
10,000,000 emails at cost of $2999
Likewise, if you require more than 10,000,000 emails, then you can contact the support team.
---
2. Hunter – ZeroBounce Alternatives Service
Hunter is the best email marketing solution to find and verify professional email addresses. This minimizes the long search process and helps you find required email addresses in just simple clicks. Also, you will be able to search for contacts either in a bulk or one by one in your database.
---
---
Features
Domain Search – With this tool, you can find the email address of any company by entering their domain name and website in seconds. Also, you can upload a list of companies or websites and get all the targeted email addresses related to them in a dashboard.
Email Verifier – It helps you to verify the validity of any email address with the email checker. Hence, you will be able to send emails to only valid email addresses.
API Integration – Hunter email marketing tool helps you with your email finding process by allowing to easily integrate with its API. In this way, you will always be connected to this service and get solutions anytime.
Automated Workflow – You can schedule personalized emails to be automatically sent to customers. In these emails, you can add content as per customers' interest and let them feel special.
Analytics – This email marketing service helps you to get information about the performance of your emails like open rate, bounce rate, unsubscribes, etc.
Pricing
In the free plan, you will be able to get 50 requests per month and easily search for email addresses. Further, you can see the following details for paid plans –
Starter – 1,000 requests at $49 per month
Growth – 5,000 requests at $99 per month
Pro – 20,000 requests at $199 per month
Enterprise – 50,000 requests at $399 per month
---
3. DeBounce – Email Validation Tool
DeBounce is another frequently used ZeroBounce Alternatives that helps you to decrease the bounce rate of your emails and also maximize the deliverability. Also, it comes with useful spam-trap indicators which quickly verify and exclude invalid email addresses from your platform.
---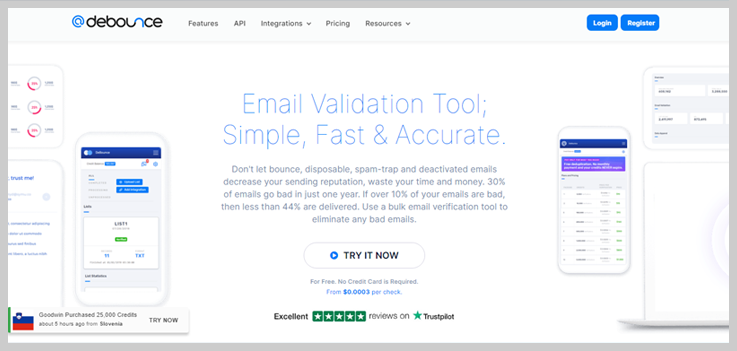 ---
Features
Disposable Email Checker – This tool always searches and makes sure that there should not exist an email address from a disposable email provider. Also, if it finds any, then instantly remove that address.
Syntax Eliminator – DeBounce email list cleaning tool eliminates email addresses with invalid syntax from your mailing list. Further, it removes duplicate email addresses as well automatically.
Download Options – With this software, you can easily download only selectable results which are important for you.
Anti-greylisting Technology – It is one of the most reliable ZeroBounce alternatives which uses anti-greylisting functionality to automatically recognize & remove unknown addresses if any found.
Spelling Suggestion – This service provides suggestions to misspelled email addresses. Thus, it minimizes the possibility to send emails to incorrect addresses.
Pricing
This email marketing software includes a basic plan of cost $10 in which you will get the 5,000 verifications. Also, it charges $0.002 at one verification.
Moreover, the high volume plan provides 5 million verifications at a price of $1,500.
---
4. Clearout – Bulk Email Verification Service
Clearout is mostly used ZeroBounce alternatives that validates, verifies & cleans your email list in real-time. It automatically removes duplicated and erroneous email addresses.
Also, this service protects from email deliverability failure and helps to improve the open rate of your emails. Thus, you can make sure that your emails will reach directly to customers and not get bounced.
---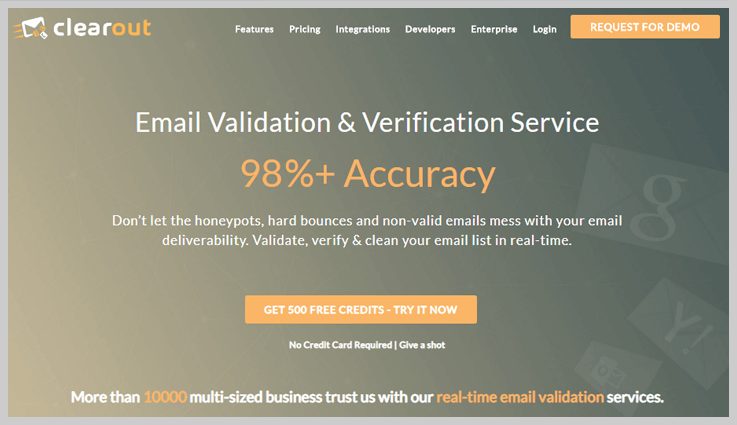 ---
Features
Remove Sub Addresses – This email marketing tool can extract & normalize the subaddresses of Gmail, Outlook, Yahoo or iCloud to avoid several email addresses aiming to the same inbox.
Role Account Verification – Clearout ZeroBounce alternative makes it easy to verify all the role-based email addresses like admin, support or sales from the email list.
SMTP Validation – With this feature, you can check all SMTP servers through which you are sending emails and easily recognize the active and inactive mail servers.
Domain Confirmation – This service constantly inspects and assures that you are working with a successful mail server domain network.
Auto Suggestion – The auto-suggestion feature, assists you to get autocomplete spellings in the email addresses. It will decrease your spelling mistakes.
Pricing
Clearout email validation service includes different paid plans on a monthly and annual basis. The basic plan has a cost of $20 and provides you 5000 credits per month.
Moreover, if you require more than 5000 credits then you can simply go through its other plans that too are available at affordable prices. Also, for custom pricing plans, you can contact the customer support team.
---
5. EmailListVerify – Best Alternatives for ZeroBounce
This email checker tool helps you to get relieved of spam traps, hard bounces, disposable emails from your email list at very affordable prices. Also, when you send emails to your customers it protects them to fall into spam folders and increases the deliverability in inboxes.
---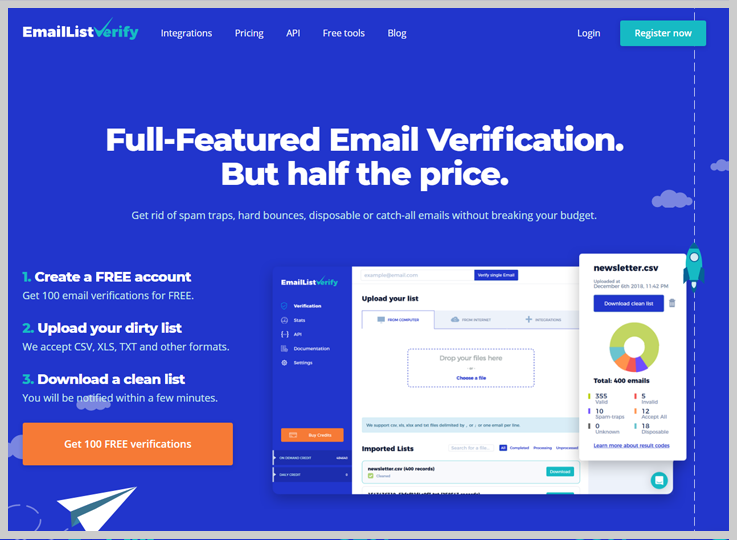 ---
Features
Checks for Domain & SMTP – This email marketing tool checks and eliminates all emails with invalid, parked domains, and accounts. Also, it examines active or inactive servers and makes sure that you are sending emails from a valid SMTP server.
Email Verification API – EmailListVerify service allows you to integrate its real-time API into your website registration process, newsletter signup form or wherever else you ask for emails. Due to this, your emails will always get verified first before they go to your database.
Syntax Errors Validator – The syntax error checker tool discards emails with invalid syntaxes. Also, notifies your website users in real-time by implementing an API.
Email Extractor – This convenient tool helps you to extract email addresses from any text or file. You just need to upload your .txt or .csv files and with one click it provides you email addresses.
Integrations – EmailListVerify email marketing tool supports all famous email services such as MailChimp, SendGrid and many more. Therefore, you can use your favorite service to send newsletters, email notifications or marketing campaigns.
Pricing
This email list verification service allows you to get the initial advantage of 100 verifications for free of cost. Furthermore, it comes with following affordable paid plans –
5,000 emails per day at a price of $139
15,000 emails per day at a cost of $289
35,000 emails per day at a charge of $389
50,000 emails per day at an amount of $589
75,000 emails per day at a price of $689
100,000 emails per day at a expense of $989
---
Conclusion
This is it, hope this article has helped you to compare & analyze some of the best ZeroBounce alternatives. Each of these services has its own advantages based on their features, price, and packages they offer. Thus, you can select the most suitable one for you.
You May Also Like To Read