Want to know the best email marketing service for lawyers? Well, you are in the right place.
The lawyers need a secure & confidential form of communication to send bulk emails between the judges, clients, and the jury.  Also, imagine as a lawyer, if your newsletters with information on free legal clinics, amendments in existing acts, and interpretation of new laws can bring in more clients to the firm. How exciting it would be?
---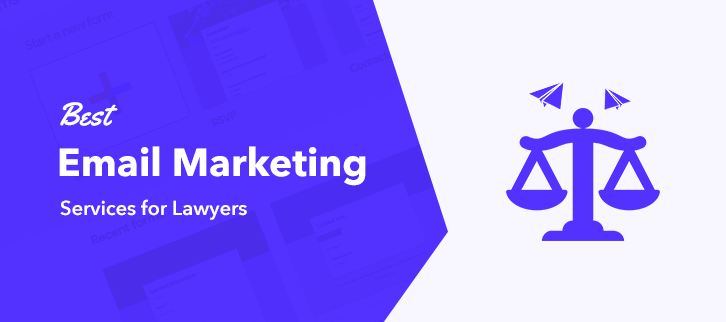 ---
But the problem is there are a ton of free or cheap email marketing services available for the legal industry. Having said that there are few key aspects every email marketing software are judged upon they are:
Dispatching Bulk Emails
Segmentation and Security
High Precision Deliverability
Affordability and Ease of use
Now keeping these features and prices in mind, I have brought five of the best email marketing software for you.
     Quick Comparison Between The Best Email Marketing Services For Lawyers
Service
Basic Plan
 Emails
SMTP Routing 
Workflow Automation
Pabbly Email Marketing
$19/m
Unlimited
✔
✔
Sendinblue
$25/m
40,000
NA
✖
Constant Contact
$5/m
10,000
✖
✔
GetResponse
$15/m
10,000
✖
✖
Hubspot 
$800/m
Unlimited
NA
✔
1. Pabbly Email Marketing – Best Email Marketing Service For Law Firms
"Pabbly Email Marketing is the only software that does not restrict you on features like unlimited emails, autoresponders, custom fields, subscription forms, etc."
For any legal firm, Pabbly Email Marketing always tops the pecking order because, at very nominal costs, you can send unlimited emails to your clients through its own inbuilt SMTP. And this comes with very high inbox placement rates of 99% which is clearly the best by any industry standards.
Don't worry about anyone snooping into your confidential content as it provides an exceptionally high-quality security infrastructure. Also, the best part is there is no need for any technical expertise with Pabbly Email Marketing. Just create an account and you are ready to roll.
---
---
Features
Templates – Stunning pre-build templates based on the legal domain are offered and also it comes with a very perceptive drag & drop email builder to create incredible emails. Also, you can place your law firm's logo in all your emails.
SMTP Routing – While sending bulk email, you have the option of connecting it multiple external SMTPs of your choice like Amazon SES, Sparkpost etc. The division of emails can be done on a flat or percentage basis. This is to reduce bounce rates and increase inbox deliverability.
Security – It takes security seriously hence comes with many layers of barriers to protect the confidential information from malicious attacks. These security layers include active scanning, SSL protection, and firewalls.
Email Tracking – Individual clients reports for all your email campaigns to monitor the opened, clicked, unsubscribed, spam emails along with the client's locations.
List Management – Manage all your law firms' clients in one place and segment their legal information into different buckets so that you can easily send emails on a case basis.
2X Open Rate – It sends the follow-up emails to the jury and clients for non-opened emails.
Import Emails – From your old email list easily import email addresses within Pabbly Email Marketing.
Forms – Add subscription forms to your website to efficiently capture more leads.
Autoresponders – Send welcome emails when a new client or a witness joins your law circle.
Workflow Automation – As a lawyer, you may not have time so you can create unlimited workflows to automate several of your attributes.
Pricing
Pabbly Email Marketing offers five plans, they are as follows
Forever Free – Send 12,000 emails to 1,100 subscribers with this totally free package. Just sign up and you begin your email campaigning at once.
Rookie – At just $29, you can send unlimited emails to 5000 subscribers. More awesome features include list management, SMTP routing, and an email builder.
Pro – One can dispatch unlimited emails to 15,000 subscribers at just $49 per month. And this their most commercially marketed plan.
Advance – Send unlimited emails to 50,000 subscribers at just $99 charged monthly.
Enterprise – If you want to send bulk emails to more than 1 million subscribers, then contact their sales representatives.
---
2. Sendinblue – Email Marketing With An Edge
As a lawyer you need to send the precise letter at the precise time, Sendinblue aces it. Furthermore not just email, with SendinBlue you can send SMSes to your audience to keep them captivated. Also, you can automate many attributes as it comes with an awesome machine learning skills.
---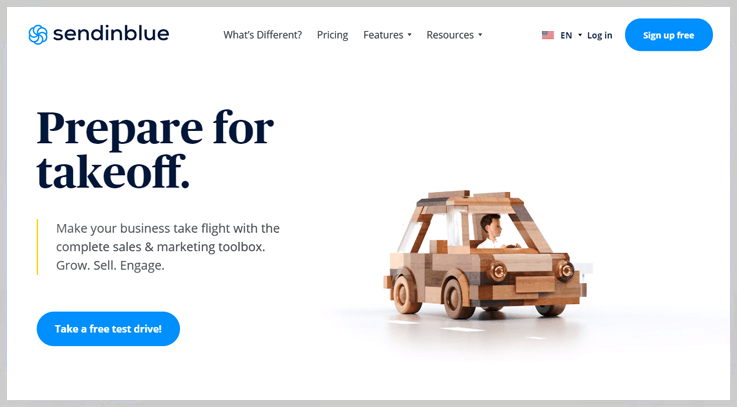 ---
Features
Email Builder – A very perceptive email builder which can build emails even in mobile phones.
Marketing Automation – Save time and increase performance by automatically sending messages whose data was already segmented. While you are at it, can even automate transactional messages
Signup Forms – Growing your emailing list is easy with the help of customized forms that are easily integrated on your website.
CRM – Keep data of your clients in one place and with the help of A/B testing you can send parallel mails to check the best channels for higher deliverability.
Facebook Ads – Place ads in Facebook and even in other websites about your law firm, so that potential clients can be brought accordingly.
Pricing
Lite – Dispatch 40,000 emails at $25/month with no daily sending limit.
Essential – At $39/month upgrade the email sending to 60,000 emails. Furthermore, you can dabble with A/B testing and good CRM.
Premium – Send 120000 emails at $66/month. Other benefits include Marketing automation,chat-based support and even insert Facebook ads.
Enterprise – You need to contact their sales representative to access the features.
---
Imagine building an email related to a new law decree for your customers on your mobile phone. It is that easy with Constant Contact as it comes with several mobile-optimized templates to get your work done. Moreover, you can send bulk emails with high placement rates at some of the most nominal rates.
---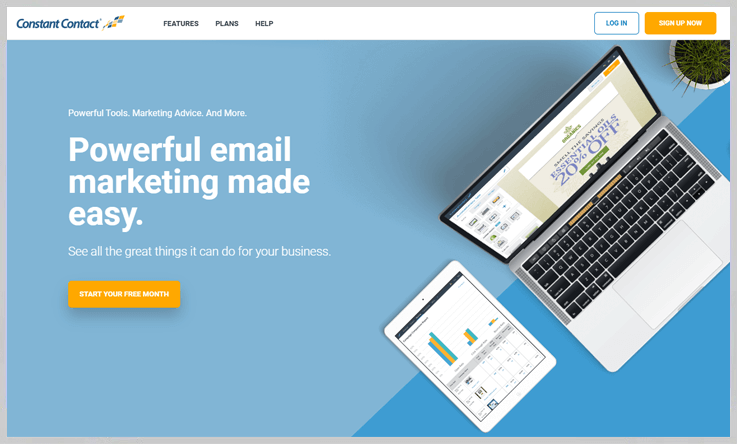 ---
Features
Authentication – To prevent DDOS attacks, it authenticates ISPs to know who is sending legitimate emails.
E-commerce Integrations – Easy to set up a store and sell goods like law books, cups or other merchandise presenting your law firm to bring in additional revenues. Moreover, you can add Shopify store and import contacts.
Social Media – Generate brand awareness in social media sites like Facebook and Instagram.
Deliverability – They ensure a rate of 97% and is complaint with SPAM and CASL rules. Plus they put a lot of proactive monitoring to restrict network abuse.
Incentives – Whenever your clients brings in a referral you can give them an incentive and moreover you share news about the local community, legal clinics, and new charts or amendments.
Pricing
On the basis of the number of contacts, there are three pricing plans.
Lite – At just $5/month send 10,000 emails.
Email – Dispatch unlimited emails at $20/month and your storage options also gets a significant boost.
Email Plus – Send unlimited emails in $45/month and additional benefits include several features like A/B testing, list building tools, surveys, polls, and coupons.
---
4. GetResponse –  Versatile Email Marketing For Lawyers
Don't have time Getresponse gets you covered as you can create automation events based on clients' behavior. Program several attributes based on several conditions like amendments to the law, new client inputs, changes in acts and decrees. Also for the first time, you can track and even rate client actions like assigning points for good actions and deducting points for inaction.
---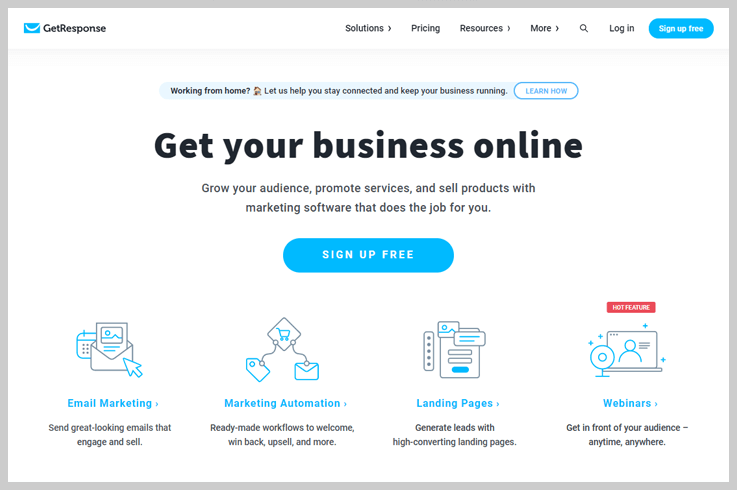 ---
Features
Marketing Automation – There are several pre-built automated workflows available, just drop them to switch them on. Even apply tags for better segmentation.
Win Probability – It gives you a rough sketch of an email's inbox placements based on the past activities of that particular email address.
Email API – Flexibility for developers as they get to access APIs and program several features on their emailing platform.
Email Tracking – Have a glimpse into the life cycle of the email itself with many reports on bounce rates, inbox delivery, and more.
Easy Integration – It doesn't matter what application you are using, just paste a couple of APIs and you can begin emailing.
Pricing
Basic – At $15/month send unlimited emails to 1000 contacts.
Plus – You can generate leads, sell products and of course dispatch unlimited emails to tons of clients.
Professional – Multiple integrations and marketing automation are the benefits of this upgraded plan at $99/ month.
Enterprise – Dispatch unlimited emails at $1,199 to 100000+ contacts.
Note: There are plans on the basis of 12 months and 24 months each saving 18% and 30% respectively.
---
5. HubSpot – Lawyer Suit Up
Hubspot has been providing business solutions in the legal area for some time, hence the expertise. They provide rich and clutter-free email templates that are related to the area of law practice. The best part is they not only offer email solutions but also CRM, SMTPS, form builders and state of the art network security.
---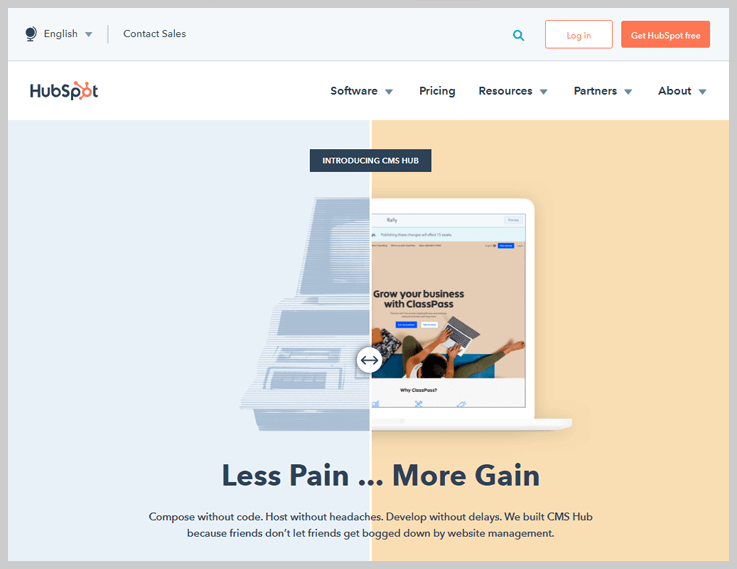 ---
Features
Analytics – Get real-time data on customer behavior to segment them into different tranches on the basis of filters like date, time of opening,
Social Media Engagement – Live data scheduling for social media sites like Instagram, Facebook and Linkedin directly to your Hubspot account.
Auto-sync – Easily sync with Outlook, Google or Office 365 calenders so that your clients can access important dates like court hearings, sentencings, and trials.
CRM – Furthermore, the best arsenal with Hubspot is their CRM as it comes integrated without any need for external connections. Since customer eventually becomes part of the shared database, it is easy to gauge their future patterns based on past data.
Workflow Functionality – Also, the law firms can tailor build workflows on who and how a client gets a message and of course it is fully automated.
Pricing
Hubspot offers a free package but won't satisfy you in the long run and hence will have to but their total package at $800.
---
Conclusion –
So, these are the five best email marketing software for lawyers. These were filtered on the basis of pricing and features which I found quite reasonable. But don't take my words for granted, there is a free trial or a demo account available with all these software for a time being. Check them out individually, before buying.
Also, there might be a chance that I have missed some worthwhile information while covering theses software, so do comment below. I will surely address them in the article.
You May Also Like To Read –