Looking for GetResponse alternatives? You may have your own reasons.
As we all are well aware of its capabilities as well as limitations. It could be anything that brought you here. The buggy email creator. That display problem in the e-newsletters Gmails mobile app. The limitation that does not allow you to design emails to use in autoresponders. Perhaps, those non-responsive data capture forms or maybe you are not happy with the not so interactive as promised drag-and-drop interface.
All in all, you can't compromise with an excellent means of exposure that isn't getable by any other means rather than email marketing.
---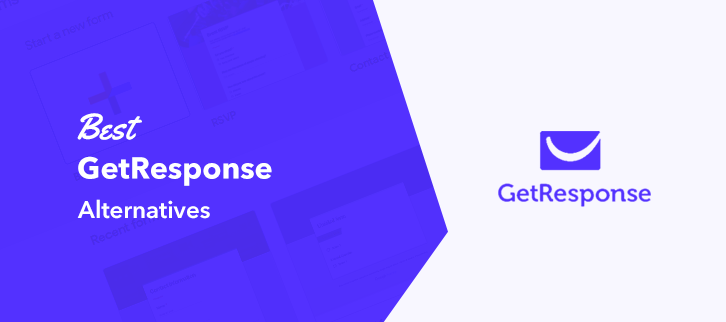 ---
On the other hand, many email marketing alternatives have recently been expanding their feature set, to the point where they have morphed into an all-in-one marketing solution. In this article, I've compiled a list of the best GetResponse alternatives available. Let's get started:
| | | | | |
| --- | --- | --- | --- | --- |
| Service | Pricing | Subscription | SMTP Routing | Ratings |
| Pabbly Email Marketing | $29/month | 5K Subscribers | ✔ | 5/5 |
| SendinBlue | $20/month | 40,000 Emails | ✖ | 4.5/5 |
| Pepipost | $25/month | 150K Emails | ✖ | 4/5 |
| Moosend | $10/month | 200 Subscribers | ✖ | 4/5 |
| Constant Contact | $5/month | $195/month | ✖ | 3.5/5 |
---
This service topped the list because it is the only service in the market providing the best bulk emailing service along with all its amazing email marketing features. You can also compare the pricing as you go up the pricing ladder the GetResponse is found competitively priced.
Further, it has a remarkable feature of connecting external SMTPs. Although, it also provides an in-built SMTP that is absolutely free of cost and you don't have to spend a single extra penny to use it. In addition to this, it allows adding multiple SMTPs so as to achieve the best inbox deliveries.
---

---
Features:
Marketing Automation:

Most importantly Pabbly Email Marketing can automate certain tasks in your workflow to much-advanced customer individualized experiences.

Autoresponders:

This service sends an automated welcome email to the new customers in automation. Also, you can customize these emails as per your interest from the service dashboard.

Custom Fields Options:

It helps you create templates according to your requirements. For instance, multiple options are available along with additional text formatting tools to customize an email template.

MX Cleaner:

This feature will help you in extracting the bad emails from your email lists before sending bulk emails.

Email Tracking:

Pabbly Email Marketing provides individual reports for your email campaigns. As a result, you can easily monitor the opened, clicked, unsubscribed emails along with the visitor's locations.
Pricing Plan:
You can send unlimited emails using 20+ remarkable features available with every plan except for the free plan. So, basically the price division is completely based on the number of subscribers.
Forever Free:

In this plan, you can send 12,000 emails to about 1,100 subscribers by paying nothing.

Rookie:

The Rookie plan cost $29/month for sending emails to 5,000 of your subscribers.

Pro:

This is much like a standard plan that suits most of the buyers as it has a limit of 15,000 subscribers over sending emails in just $49/month.

Advance:

The Advance plan of Pabbly Email Marketing comes with flexible numbers in terms of the number of subscribers. Therefore, the cost ranges from $99-$1599 monthly for 50,000 subscribers onwards.
---
SendinBlue is also one of the good GetResponse alternatives offering SMS campaigns & transactional emails. However, this service does have its downside in terms of the basic templates and the complex and confusing account set-up.
---

---
Features:
CRM:

Using this feature of the service you can organize your team and build a stronger relationship with your customers. It includes keeping track of the customer details in a centralized system.

Email Templates: Sendinblue provides 10+ email template. You can easily edit these templates as per your need and use right away.
Contact Segmentation:

You can make multiple lists of your targetted audience for more engagement.

Facebook Ads feature:

It also allows you to design Facebook Ads and set certain parameters to it. Also, it allows you to keep track of your Ads performance.
Pricing Plan:
SendinBlue provides five plans based on the features it enables in every plan.
Free:

Get started with the SendinBlue service. In this plan, you can send 300 emails/day to unlimited contacts.

Lite:

This plan costs $25 for 40,000 emails/month with all the free features and no daily sending limit.

Essential:

Along with all lite features it provides A/B testing, advanced statistics & you can also remove the Sendinblue logo. This plan prices $39 for 60,000 emails/month.

Premium:

The cost of this plan starts from $66 for 120,000 emails/month. You can opt for this plan based on the number of emails you want to send. With all essential features & additional features like Facebook ads, landing pages, marketing automation, chat and multi-user access.

Enterprise:

This plan includes all the features the service offers for marketers.
---
Pepipost is a good GetResponse substitute in terms if you own a small business or start-up. It also provides an SMTP service if you need one. The integration & add new domain process are a little difficult. However, once your set up gets completed you are all set to send the emails.
---

---
Features:
Open Source:

This the only developer-friendly open source email marketing software available online.

Support Integrations:

As per your business need it allows you to integrate with multiple services. For instance, email automation platforms, Zapier etc.

Email List:

Papipost provides very easy email lists upload & bulk email list management.

Drag & Drop Email Builder:‌

You can create responsive email templates by using the drag and drop email builder.

Email Scheduling:

It provides an easy flow towards scheduling any email campaign.
Pricing Plan:
Papipost has a unique pricing structure somewhat similar to the pay as you go approach.
The basic plan starts from $25 for 150,000 emails/month and cost $0.60 for every extra 1,000 emails.
---
Moosend is the most easy-to-use service available online. All the features it promises work great for user experiences. Except for the complex UI design and the field order arrangement in their landing forms.
---

---
Features:
List Segmentation:

You can make your own best performing lists through various conditions as well as the filters that Moosend provides.

Data Analytics:

With its reports, you can get a clear picture of all your email marketing campaigns.

Advanced Personalization:

Apart form "First name" personalization send highly relevant emails that stand out based on your previous history.
Pricing Plan:
Moosend has divided its pricing based on the number of subscribers as alternatives to GetResponse. Also, it counts a subscriber in multiple different lists as one.
The free plan offers to send unlimited emails to 1,000 subscribers.

$10 plan for sending unlimited emails up to 2000 subscribers.

$20 plan for sending unlimited emails up to 3000 subscribers.
---
Constant Contact helps small businesses create email templates that are mobile-responsive and look great on all devices. In spite of the fact that it has some complexities with the user and manager permissions.
---

---
Features:
Multiple Contact List Upload Options:

This service allows you to upload contact lists from Excel, Outlook as well as Salesforce.

Real-Time Tracking:

You can track the results in real-time. Also, it provides chart representation for better decision making.
Pricing Plan:
Constant Contact offers three pricing plans based on the features it provides in every plan.
Lite:

Based on the number of contacts the starter plan is of $5 for 10,000 email sends per month.

Email:

This plan costs $20/month for unlimited emails. It includes all the premium features except 12 extraordinary features that are available in the plus plan.

Email Plus:

With all the 30+ features for large businesses this plan cost $45.
---
In Conclusion –
In this article, we have examined and compared the top GetResponse alternatives. As we know most of them are offering free trials. In short, try them & choose one that fulfils your requirements.
You May Also Read: